Put a stop to deadline pressure, and have your homework done by an expert.
How To Write A Winning Nature Vs Nurture Essay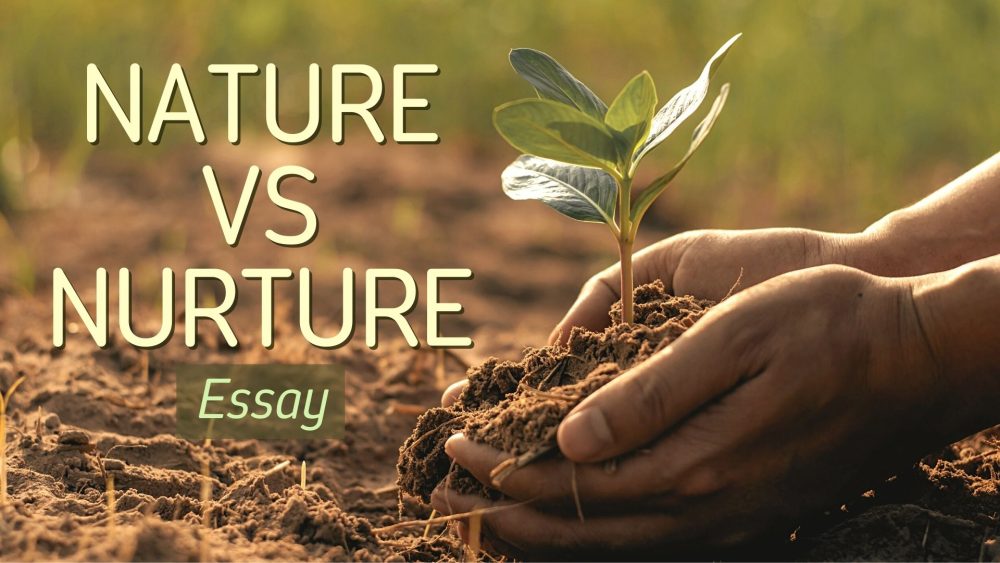 When you are faced with the task of writing an essay, the first thing is organizing your thoughts and ideas. At times, it is possible to get overwhelmed by the ideas you need to work on. As such, getting organized will help you to put aside clutter and craft a winning essay. But how do you do it?
In this post, we are going to look at how to write a winning nature vs nurture essay. It is a comparative essay, and a common type of write-up to expect in your college studies. We will give a step by step account of how to work on such an essay from the beginning to the end.
Develop an Outline of Your Nature vs Nurture Essay
The first step when writing a nature vs. nurture debate essay is creating an outline that should guide you from the beginning to the end. Besides, it will also guide you on the information to look for at different stages. See the example of an outline below:
Introduction Background info Arguments that will be explained in the essay Thesis statement Body: 1 st Paragraph Nature Genetic makeup Why genetic predisposition is not a child's destiny Simply because a child is talented does not mean that he/she is going to be automatically great Body: 2 nd Paragraph Nurture How the environment affects a child's growth Parents and children growth: They provide kids with the best environment for growth Body: 3 rd Paragraph Nature vs nurture: Establish which is better Why the environment is the main determinant of growth The environment that a kid grows in is what makes him/her Ask yourself: which is an example of the influence of nature and nurture? Conclusion Restate the thesis statement and your argument (do not add new ideas at this point)
How to Write a Great Introduction
To write a great nature vs nurture child development essay introduction, it is important to do ample research. Here, you need to understand nature, nurture, and the strengths of each. Within the first one or two paragraphs, make sure to state your nature vs nurture essay thesis statement. That is your personal stand on the argument. Here is a good example of nature vs nurture essay thesis:
"Nature has a significant impact on a child's development; however, it is nurture that has a greater impact on growth and development."
Writing The Body Of Your Nature And Nurture Essay
When planning your essays on nature vs nurture type in college, the main arguments are delivered in the body. Therefore, all the ideas that you will bring out should be carefully interwoven with the main argument (your thesis statement). Besides, you should also bring out the arguments on both sides of the nature vs nurture essay.
After looking at each component, go ahead, and convincingly contrast the two. That is what will determine whether your thesis statement was right or wrong. At this point, make sure to use multiple nature vs nurture examples to support your arguments. Make sure that these examples of nature vs nurture are supported by reliable resources to give your argument more weight.
In addition to the examples, you should also use nature vs. nurture theory to demonstrate the strength of each. When you interweave the theories of nature vs nurture essay psychology well, your write-up will become interesting to the reader. Here are some useful tips to follow when writing the body of your nurture essay.
One argument per paragraph
Stay focused on the main point
Ensure every paragraph refers to the thesis statement
Make the body logical
Writing Conclusion Of Your Essay On Nature Vs Nurture
At the end of your behavior assignments nature vs nurture essay, you need to conclude the argument developed in the paper. Here, you need to summarize the main points stated in the nature vs nurture essay. Here is what to include in the conclusion:
Restate the thesis statement
Sum the entire argument in a single argument
Do not introduce new arguments at this point
When you are faced with a nature vs nurture essay, the secret to getting it right is being organized and doing thorough research on the topic. Make sure to follow the outline provided in this post. If still unsure of how to go about it, make sure to seek help or advice from your department or experts.
Get Nature vs Nurture Essay Examples and Help Today
Now that you have an idea of how to write a nature vs nurture essay, you can get help with your work from our top tier assignment service. Our writers will expertly write any type of essay, and your teachers will not be disappointed. We offer everything, from 24 hour customer support, to additional edits and revisions, all to make you satisfied with our work. So now you can pay people to do your homework , and your nature vs nurture essay will be safe with us.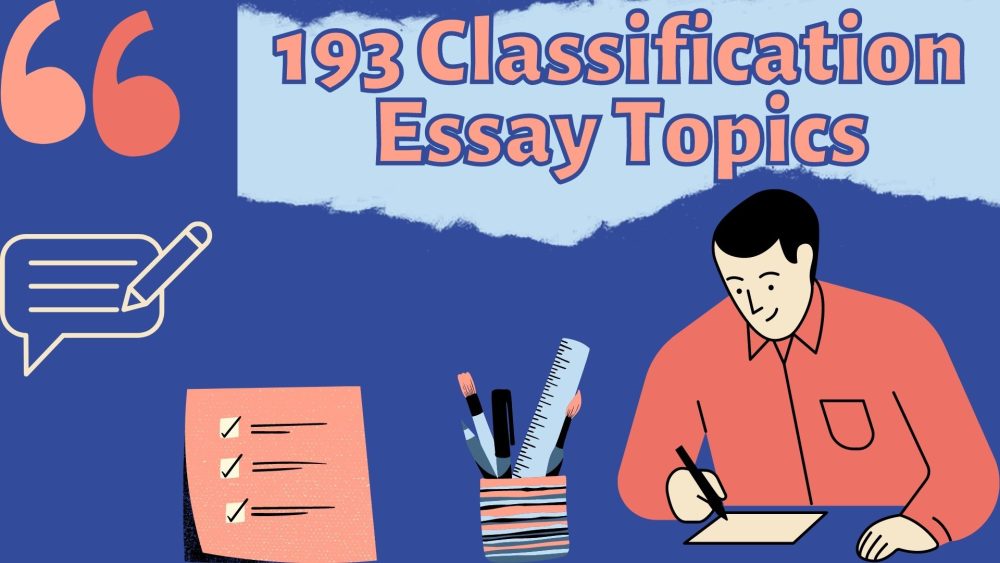 Get on top of your homework.
Leave a Reply Cancel reply
Your email address will not be published. Required fields are marked *

As Putin continues killing civilians, bombing kindergartens, and threatening WWIII, Ukraine fights for the world's peaceful future.
Nature vs Nurture Essay
Our life has a lot of various aspects. Things that influence it may vary significantly. Some people don't bother with the nature of their behavior. They agree that they are the way they are because they are meant to be like this. It does bring some kind of peace to their hearts. But, on the other hand, it could have been easier for them to deal with some of their problems if they knew the reasons. Others choose something to believe in, whether it is genes responsible for their behavior or their life experiences. There are also people for whom defining the difference between nature and nurture has become the lifetime goal. Among them, many bright researchers have dedicated their lives to prove that one of the factors is more influential than the other. The clash of two opposite viewpoints started what we call nature vs nurture debate. Today, it has become one of the most exciting topics for research papers for everyone, including students.
What is Nature vs Nurture Debate?
It seems that nature vs nurture debate has been on for ages. One can explain its popularity and relevance with the fact that we have always wanted to know how we can become better as a society. An absolute answer, no matter what it is, would make our lives much easier. However, there is still no such answer because the spheres that the debate touches upon are very diverse. Students often get demotivated with the thought that this is one of the most controversial topics of academic papers. They may even ask 'Why would people argue about something that wasn't solved for such a long time and will hardly be solved entirely in the future?' To make it clear, the question you should really ask is 'What is nature vs nurture debate?' Is it a pointless argument? Ask yourself if all that people taking part in it want to prove is that they are right? From numerous findings that came to our attention since the debate began, we can see that it is not so.
Why Bother Writing a Nature Vs Nurture Essay
Like many other scholastic confrontations, the debate is the stimulus to progress for both sides. No one expects you to make another breakthrough in this area when you are still at college. The main aim of papers about nature vs nurture is to give you the gist of the topic and broaden your outlook. But who says you can't discover something valuable for you and your fellow students even at this stage of education? Hopefully, this idea will motivate you more than a mere desire to get a good grade.
The Length of the Nature Vs Nurture Essay
A student who has any experience as a paper writer knows that every paper has got three principal parts: an introduction, body paragraphs and a conclusion. The length of each part is predetermined by the type of the paper. In most cases, students have to write a nature vs nurture paper in the form of a five-paragraph essay. In this case, your introduction will have a single paragraph. So, you have to use this volume with the maximum effect and make every word meaningful.
What a Nature versus Nurture Essay Introduction Includes
The introduction is an essential section, in which you make the first impression on your reader. There are different kinds of essays, but if you choose nature versus nurture as your topic, the content of your introduction can be summarized to the following:
Giving the Background This part is the best one for a paper writer to come up with a concise answer to the question 'What is nature vs nurture?' It will provide the background to any problem connected with the debate. Depending on the subject matter and the type of your essay, it can be the history of the debate, the most outstanding nature vs nurture examples, the insight into the current research, etc.
Sparkling the Interest When you read the tips on writing essays, you often come across the term 'audience.' It is usually used to cheer you up because everyone understands that it is quite likely that the 'audience' of your essay will comprise of a single person - your teacher. Of course, some essays are read by a committee, others are declared in front of the whole class. But these cases are rather exceptions to the rule than the rule itself. Now, imagine how many similar essays your teacher reads every week. A good teacher never skips anything and is forced to read every paper to the end. But nobody can force a person to like neverending students' rambling about something they barely understand. So, there is no wonder that students often get lower grades than they expect. You really should attract the attention of the reader from the very beginning. Otherwise, your paper will end up in the C pile. A so-called hook may contain an interesting or a controversial fact, some surprising statistics, a rhetorical question, and so on.
The Thesis Your introduction should also include a clear thesis statement. No matter whether you are writing a five-paragraph essay or a longer paper, your thesis should be as concise as possible and, ideally, take a single sentence. For example, if you write an expository essay explaining what nature vs nurture is, you can phrase your thesis like this:
The dichotomy of these concepts has led to one of the biggest controversies in history that, in turn, produced a considerable amount of valuable data based on the difference between nature and nurture.
And here is an example of a thesis statement for a persuasive essay:
Although some personality traits are proven to be predetermined genetically, it is vital not to underestimate the importance of nurturing children because the consequences of such approach can be disastrous.
If you want to write an excellent nature vs nurture essay, you should take into consideration all its aspects. As the best nature vs nurture examples demonstrate, an excellent introduction contributes to the overall success of your essay significantly. Mastering the skills required to write it will increase your chances to get the highest grade for your essay. Our tips will help you a lot with that.
Nature Vs Nurture Essay
Nature is the influence of genetics or hereditary factors in determining the individual's behavior. In other words, it is how natural factors shape the behavior or personality of an individual. In most cases, nature determines the physical characteristics which in effect influence the behavior of an individual. Physical characteristics such as physical appearance, type of voice and sex which are determined by hereditary factors influences the way people behave. Nurture on the other is the upbringing of an individual according to the environmental conditions. That is, the way individuals are socialized. Basically, nurture is the influence of environmental factors on an individual's behavior. According to this paradigm, an individual's behavior can be conditioned depending on the way one would like it to be. Often, individuals' behaviors are conditioned by the socio-cultural environmental factors. It is because of socio-cultural environmental conditions that the differences in the behavior of individuals occur. Nature determines individual traits that are hereditary. In other words, human characteristics are determined by genetic predispositions which are largely natural. Hereditary traits are normally being passed from the parents to the offspring. They include characteristics that determine sex and physical make up. According to natural behaviorists, it is the genes that will determine the physical trait an individual will have. These are encoded on the individuals DNA. Therefore, behavioral traits such as sexual orientation, aggression, personality and intelligence are also encoded in the DNA. However, scientists believe that these characteristics are evolutionary. That is, they change over time depending on the physical environment adaptability. Evolutionary scientists argue that changes in genes are as a result of mutations which are caused by environmental factors. Thus, natural environment determines individual characteristics which are genetically encoded in the DNA. Conversely, individuals possess traits that are not naturally determined. These are characteristics that are learnt rather than being born with. These are traits which largely determined by the socio-cultural environmental factors or the way the individuals are socialized within the society depending on the societal values. These traits are learnt as an individual develops and can easily be changed by the socio-cultural environment where the individual is currently staying. These characteristics include temperament, ability to master a language and sense of humor. Behavioral theorists believe that these traits can be conditioned and altered much like the way animal behavior can be conditioned. From the discussion it can be deduced that individuals' traits are determined by hereditary genes and at the same time can be natured. There are those traits that cannot be changed in an individual no matter what condition the person is exposed to. These traits are inborn and embed within the individual hereditary factors. In most cases, they constitute the physical characteristics of an individual. They also determine the physical behaviors such as walking style, physical appearance and eating habits. At the same time there are learned characteristics which are normally being conditioned by the socio-cultural values. Individuals learn these traits from the way they are socialized within the immediate social or cultural environment. In other words, such behaviors are conditioned by the cultural values encouraged by the immediate society. In conclusion, nature vs. nurture debate still remains controversial. However, all agree that nature and nurture play a crucial role in determining an individual's behavior. Nature is associated with heredity roles in determining the individuals characteristics where as nurture is associated with the role of socio-cultural environment in determining the individuals behavior.
We will write a custom Essay on Nature Vs Nurture specifically for you for only $11.00 $9.35/page
807 certified writers online
Need a custom Essay sample written from scratch by professional specifically for you?
Chicago (N-B)
Chicago (A-D)
IvyPanda. (2018, November 19). Nature Vs Nurture. https://ivypanda.com/essays/nature-vs-nurture/
IvyPanda. (2018, November 19). Nature Vs Nurture. Retrieved from https://ivypanda.com/essays/nature-vs-nurture/
"Nature Vs Nurture." IvyPanda , 19 Nov. 2018, ivypanda.com/essays/nature-vs-nurture/.
1. IvyPanda . "Nature Vs Nurture." November 19, 2018. https://ivypanda.com/essays/nature-vs-nurture/.
Bibliography
IvyPanda . "Nature Vs Nurture." November 19, 2018. https://ivypanda.com/essays/nature-vs-nurture/.
IvyPanda . 2018. "Nature Vs Nurture." November 19, 2018. https://ivypanda.com/essays/nature-vs-nurture/.
IvyPanda . (2018) 'Nature Vs Nurture'. 19 November.
Nature vs. Nurture: Two Approaches to Intelligence
"Nature" Versus "Nurture": Effects on Child Development
The Influence of Nature and Nurture on Human Behavior
Human Development: Nature or Nurture?
The Nature-Nurture Controversy
Nature vs. Nurture Factors of Human Development
The Difficult Issue of Nature vs. Nurture
Language Acquisition: Nature vs. Nurture
Nature v/s Nurture in Human behaviour development
Nature and Nurture Problems in Early Years
Practical aspects of the field of speech and language development
Conformity, Groupthink, and Bystander Apathy
Students Drinking Behavior at HBCU'S
Seduction and Flirtation Devices
Motivation Theories in Business Environment
Essay Guide
Thesis Guide
Writing Guide
Nature Vs Nurture Essay
August 21, 2022 September 5, 2022
The Nature vs Nurture essay is structured just like other essays. It has an introduction, body, and conclusion. This part highlights various definitions of nurture and Nature besides giving scenarios plus a thesis statement expounding the Nature vs. nurture debate alongside how to start a nature vs nurture essay .
TABLE OF CONTENTS
Introduction to Nature Vs Nurture Essay
Psychologists agree that debates surrounding Nature vs. nurture are the oldest discussions that have elicited various discussions besides reasons that try to justify varying standpoints. So what is Nature vs. nurture?
Nature vs. nurture is an intertwined situation whereby one influences the other; therefore, neither can stand alone. As so many factors influence one's behaviors, one agreeable position among most debaters is that nurture and Nature are of great importance in the growth of humans.
First Paragraph  
The debate pitying nurture against Nature has existed for a very long time spanning years and years;
Amongst prominent philosophers who pioneered the debate whose arguments were that human beings or some of the things they do are naturally inborn included Socrates and Plato.
Nativism, on the other hand, attributed human behavior to the environmental factor and stated that children are born with a clean slate and what they do in the course of their development is influenced by the environment.
Second Paragraph  
Accordingly, the deliberation of nurture against Nature centers on Nature's responsibility to fit behavior. How one develops is not restricted but is always determined by the choices one makes.
There is always a connection between nurture and Nature in human life.
The genetic factors acquired from the family tree and the environmental inputs are responsible for the actions in addition to the development process.
Third Paragraph  
A concept explaining maturation serves as an idea about how children develop right from childhood.
Spontaneous events accompany a child's growth, including speech acquisition.
The child's genetic composition dramatically contributes to their ability to learn and utter speech in a language.
How To Write An Outstanding Philosophical Essay Also Read
Fourth Paragraph  
In every aspect of human life and our interaction with Nature, nurture and Nature are intertwined and therefore, cannot be separated.
Genes and environment are intertwined.
Children who are put in areas whereby they cannot interact with humans develop a way of communicating, and far more, they may develop complications due to lack of care from their parents.
Fifth Paragraph  
Other than the obvious influences that are affected by our genetic composition such as the color of our eyes, hair, and diseases like diabetes, a person's lifestyle, which is mainly environmental, can influence their lifespan.
Sixth Paragraph  
Our immune system can be compromised if we opt for food or a lifestyle that is devastating our health. For example, oily foodstuff, which is full of cholesterol, can clog our arteries and contribute to heart diseases.
From psychologists' and philosophers' perspectives, how are Nature and nurture explained and what is Nature versus nurture?
What is the difference between Nature and nurture and their meaning from both psychologists' plus philosophers' perspectives?
Nature vs. nurture debate: Why the hullabaloos anyway, and why do some people think either side is superior?
Is a behavioral outcome dependent on gene structure or the environment?
Meditation versus past experiences as well as Nature vs. nurture examples
Summary of the main Article
The nature vs. nurture contention has been settled, and there is indeed an equal contribution that both make to the growth and development of man. The structure has provided how to start a nature vs nurture essay , which is helpful. It can also include aspects such as nurture definition in brief. However, there is generally a consensus that Nature vs. nurture is just a debate but cannot be isolated as both complement each other. With that, here is an example nature versus nurture essay.
A Guide To Create The Perfect Sexual Harassment Thesis Also Read
Article Example On Nature Vs Nurture Essay Example #1
Psychologists contend that the Nature vs. nurture debate is the oldest discussion that has elicited various discussions besides reasons that try to justify certain angles or persuasion, elevating either side of the argument. The ever-resurgent question is, however, what are nurture and Nature? Why do they attract a lot of debate in the first place? To begin with, Nature is defined as a wholesome genetic makeup of a person, including the influences emanating from meditation which eventually makes people who they are physically and about their persona. On the other hand, nurture is defined as a composition of all the variables within an environment impacting what man can be defined to be. These factors include experiences people go through during their nascent ages, their upbringing in addition to cultural affiliations, and their relationship with others, including friends, close relatives, and other social gatherings.   The approach to understanding the outstanding issue of Nature vs. nurture has always been put against the other with less regard to the substance of either. This has effectively contributed to a prolonged debate of Nature vs. nurture that has left scholars to decide which side outweighs the other in terms of their influence. While this shouldn't be the case, biologists have fervently pushed their idea that Nature is what influences a person's behavior other than influencing their overall development. The insistence has been that genetic composition within a man, as well as the biological factors, are what defines Nature. Even this school of thought maintains the substance of Nature. In contrast, their counterpart maintains a contrary opinion that the setting influences what one becomes in addition to the behavior thus the difference between Nature and nurture.   However, the argument putting Nature vs. nurture has since taken a new twist abandoning the narrow angle that stressed that one angle was superior to the other. Whether Nature in the context of its proponents is the sole influencer of whom we become or nurture significantly outweighs Nature in its influencing role is an argument that is neither there nor here. The recognition has been accorded that Nature and nurture are critically paramount as they play an equal role in determining what we become and our character as people. In other words, Nature and nurture are interlocked.   To better understand the debate about Nature vs. nurture, the question that has to be answered is whether behavioral outcomes depend on both genetic composition and factors of the environment. Or what is the difference between Nature and nurture? Additionally, does our personality as human beings depend on her meditation and past experiences? The critical aspect of this debate has always been the question challenging the contribution of hereditary traits Vis a Vis the environmental factors and their impact on the development of man in addition to addressing nurture definition. According to Plato, certain things are inborn, and their occurrences are deemed to be natural, far from the influence of the environment. Accordingly, nativists are advancing the argument that inheritance is the cause of character formation and behavior. They define nurture as distant from Nature.   According to other schools of thought, the characteristics and man's behavior emanate from a process of evolution whereby the genes and their characteristics are transferred from the lineage to the child. These traits are carried further to the point of adulthood, and they are what define our uniqueness.   World-renowned philosophers and thinkers, including John Locke, are among the believers in a concept known as a tabula rasa. This concept states that acquiring any traits begins from a mind that is actually empty at the point of birth. Experience is vital in enabling us to learn new things and nurture new behavior.   Then, there is a concept based on behavioral science which heavily hinges on Empiricism, a concept taking a stand that learning is the mother of our behavior and character and further explores Nature versus nurture. Conditioning, according to behaviorists, informs all our behaviors as well as our actions. This implies that people's ability to become what they become later in life results from how they are conditioned but not based on their hereditary affiliation.   Nature vs. nurture examples includes, among others, academic excellence or achievement. The question that is often asked is whether an outstanding academic success results from a predisposition to a good environment with the best learning materials, including access to learning aids, or whether such success results from one genealogy. Abusers and violent people also contribute to whether such behaviors are inherited or just actions acquired from experience and interaction with the environment in which people are brought up. Many try to establish the difference between Nature and nurture based on the above example. Notably, some factors and visible traits transcend the urgings of Nature vs. nurture, given that they are indeed results of biological factors. Height and weight, the color of the hair, the color of the eye, and diabetes are inherited, so they cement the logical role of genetics in that particular angle. But, some biological traits can define nurture given that the environment influences them; for example, lifespan can be reduced by accident.   Theories have also been mooted to advance the idea that biological factors are responsible for some actions, e.g., the acquisition of speech in children or how they learn to speak. Some theories explain that children are instinctively capable of learning and producing language, given their mental ability. Furthermore, the environment is linked to certain characters. It is impossible to rule out the role of parents in bringing us up, thus influencing our behavior. There is a massive connection between words and what they mean. The implication of words is attributable to the environment we are brought up in and the observable things we interact with daily.   Research has shown that Nature must meet with nurture at every step of human life, which is why one cannot function in isolation. Human progression can be termed complete by the virtue that they must interact.   Environmental factors such as affection, and food, might influence Nature in the sense that their absence may imply that one born in a family of tall people and possessing the genes to that effect may not grow to be tall because they lack proper nutrients. A person lacking affection may become introverted and shy away from other people. This shows a significant reliance on the two factors for human beings to develop to the world's expectations.   Historically, astuteness has been thought to be generated by genetics rather than exposure to an appropriate environment. This has drawn a lot of controversy as different schools of thought pulled in different directions. This confirms arguments aimed at exploring the subject 'of what Nature vs. nurture is. In fact, at some point, people were encouraged to get their partners from families who have exhibited high intellectual standards. Far from the previous notion, the newly propagated belief is that Nature versus nurture is no longer a debate of which one is better but that they both influence a person's life and contribute to intelligence.
Nature Vs Nurture Essay Example #2
What is Nature vs. nurture? The Nature vs. nurture debate has been here for a long time, with various scholars, psychologists, and philosophers giving their points of view on Nature and nurture. Essentially, this debate has always been centered on behavioral advancement. What therefore is Nature vs. nurture? According to the pro-nature debate, what human beings develop to be, where they come from, and the genetic makeup, as well as inheritable traits such as our body structure from the parents, define the human being's Nature. These components, in their opinion, are what shape the behavior of man. On the other hand, the proponents of nurture contest the argument of the pro-nature by arguing that nurture is responsible for influencing the character, the physical appearance of man, and actions. Nurture is defined person's upbringing that is largely influenced by environmental factors such as the family, what we went through as children, the friends we had as children, and our way of life or cultural factors. Despite the two standpoints, the relationship between the two variables is such that they depend on each other, and one cannot stand on its own given the important part they play in our life. The genesis of Nature vs. nurture dates back to the times of the greatest philosophers like Socrates and Plato and Socrates. In their contribution to the puzzling debate of nurture versus Nature, these philosophers said that inborn characteristics occasion a natural occurrence. These things are not happening due to the factors of the environment far from the nativism proponents whose arguments were that genealogy was the key influence of all behaviors exhibited by man. Furthermore, the nativist said that children are born with a clean slate as their brain is completely unoccupied by anything, but they learn and make their brains functional when they grow and develop. As human beings progress from childhood into adulthood, several changes occur. These changes are both influenced by Nature and nurture. There is no single point that one can rule out the input of Nature in their life. In other words, there is no major difference between Nature and nurture. Biologically, human beings inherit genes from their parents. The family tree is carried onto the subsequent generations. This has been scientifically proven to be why some people suffer from certain ailments, some do not, and others are tall while others are shot in size. Despite Nature's contribution to such instances, nurture is equally important in changing human lives. The environment influences to a greater degree, our worldview and our behaviors because there is always an interaction between the biological factors that make us and the environmental factors that we interact with. Theorists, in their attempt to explain Nature vs. nurture examples, use the maturation concept that focuses on a child and the development stages of childhood. They argue that determining genetic events that are successively unfolding spontaneously is the basis of development. In essence, the theory expresses that there is a biological process that occurs over a duration based on predictable stages. According to this theory, speech is acquired by a child based on their genetic makeup. The stage involved in the acquisition of speech is the development of interest in signs and sounds at first by a child from their mother and father before they begin to utter words. On the contrary, it is not possible for the genes to fully carry out their functionalities without the important input of the environment. If, for instance, a child, because of the genes inherited from the parents, is born deaf, acquiring the ability to speak becomes impossible. The sign language that can be learned from the child's environment is the only alternative way of communicating with the world. This implies that there is interconnectedness between the two factors, biological composition, and the environment. Some studies went further to suggest or prove that children kept far away from human interaction or kept in isolation will still develop their own way of communicating. This proves the environment's input influences certain things in human life. However, these children may develop mental and physical challenges because they lack parental love, care, and the ability to pick human languages. This underlines the fact that there is indeed a relationship between the environment and genetic factors. In every aspect of human life and our interaction with Nature, nurture and Nature are intertwined and, therefore, cannot be separated. Several instances can attest that these scenarios are also related, other than being the key components in human progression. For example, academic success has to some extent, elicited a debate as to whether there is a genetic modification warranting success for others or whether environmental factors are the determinants of academic excellence. The commonly asked question also centers on domestic violence, where some spouses are physically and emotionally abused, making one wonder if either of the spouses abusing the other was born with such tendencies or if they got such characteristics from the people/environment they interacted with. The truth is that apportioning blame to either factor as a contributor to a given behavior will almost be impossible. Still, the common standpoint is that the two equally contribute to our behavior. Other than the obvious influences that are affected by our genetic composition, such as the color of our eyes, hair, and diseases like diabetes, a person's lifestyle, which is largely environmental, can influence their lifespan. Our immune system can be compromised if we opt for food or a lifestyle devastating our health. For example, consuming oily foodstuff, which is full of cholesterol, can clog our arteries and contribute to heart diseases. To conclude, despite the debate about nurture versus Nature having been here for a very long time, it is seemingly not ending soon, given that the current debates are skewed toward one side that different researchers think is the right argument. This continues to attract counter-arguments, either dismissing their finding or affirming it. However, there is generally a consensus that Nature vs. nurture is just a debate, but they cannot be isolated as both complement each other. However, the difference between Nature and nurture can be established. From the guide to the Nature versus nurture example, you are now fully equipped to write one of your own. If you need some more nature vs. nurture examples, contact us; we have plenty of samples on offer!  Conclusion While trying to grasp how to start a nature vs nurture essay , understanding what is Nature vs. nurture provides the foundation. Given their joint contribution, it is nearly impossible to dichotomize nurture from Nature and vice versa. Therefore, even the ancient belief that one was superior to the other no longer makes sense. There is indeed not much difference between Nature and nurture .
That concludes the article on Nature Vs Nurture Essay . Hope you enjoyed the article. If you liked our blog Best Essayes , please share.
You might also like:
Leave a Reply Cancel reply
Your email address will not be published. Required fields are marked *
Save my name, email, and website in this browser for the next time I comment.
Plagiarism checker
Writing help, paraphrasing tool, nature versus nurture essay.
Adoption , Child , Human Development , Natural Environment , Nature versus nurture , Neuroscience , Parent , Social Psychology
How it works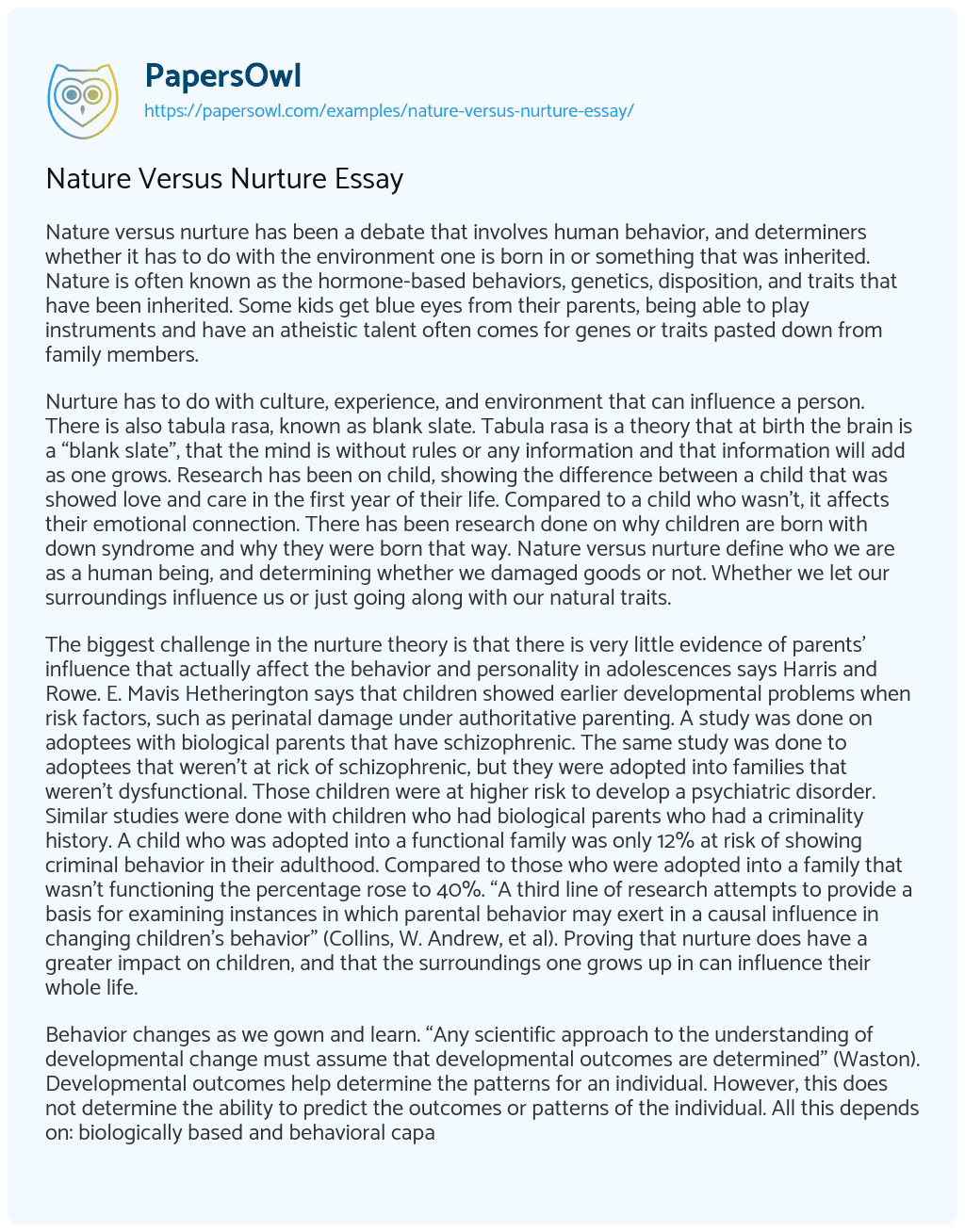 Nature versus nurture has been a debate that involves human behavior, and determiners whether it has to do with the environment one is born in or something that was inherited. Nature is often known as the hormone-based behaviors, genetics, disposition, and traits that have been inherited. Some kids get blue eyes from their parents, being able to play instruments and have an atheistic talent often comes for genes or traits pasted down from family members.
The biggest challenge in the nurture theory is that there is very little evidence of parents' influence that actually affect the behavior and personality in adolescences says Harris and Rowe. E. Mavis Hetherington says that children showed earlier developmental problems when risk factors, such as perinatal damage under authoritative parenting. A study was done on adoptees with biological parents that have schizophrenic. The same study was done to adoptees that weren't at rick of schizophrenic, but they were adopted into families that weren't dysfunctional. Those children were at higher risk to develop a psychiatric disorder. Similar studies were done with children who had biological parents who had a criminality history. A child who was adopted into a functional family was only 12% at risk of showing criminal behavior in their adulthood. Compared to those who were adopted into a family that wasn't functioning the percentage rose to 40%. "A third line of research attempts to provide a basis for examining instances in which parental behavior may exert in a causal influence in changing children's behavior" (Collins, W. Andrew, et al). Proving that nurture does have a greater impact on children, and that the surroundings one grows up in can influence their whole life.
Behavior changes as we gown and learn. "Any scientific approach to the understanding of developmental change must assume that developmental outcomes are determined" (Waston). Developmental outcomes help determine the patterns for an individual. However, this does not determine the ability to predict the outcomes or patterns of the individual. All this depends on: biologically based and behavioral capacities, maturational growth, species-specific, current task demands, and any history of interactions with the environment. However, a lot of that have to do with nurture and not nature. We are born with 46 chromosomes that we inherit from each of our parents. These chromosomes are what determines if a baby is born with blue or brown eye, straight or curly hair, tall or short. The chromosome that have been inherited also determine what kinds of disease one may or may not have. Someone with down syndrome inherited an extra chromosome, the extra chromosome can result in development skills. Identical twins who were separated at birth still show a lot of similarities, and that happens with a lot of twins. That is because twins have all of their genes that same. Meaning that they will have a similar characteristic, even if the twins grow up in two different environments.
The tabula rasa, also known as the blank slate and that the mind is completely blank at birth. The things that give the mind it's foundation are culture, parenting, socialization, and experience. "Man has no nature". (Jose Ortega Y Gassett). Meaning that the traits a person was born with doesn't have anything to do with their behavior and development process. Steven Pinker has a political appeal on blank slake and describes it as "we're all equal", that no one is born with more. Saying that people who have more than other often leads to discrimination and inequality. Steven Pinker goes on about how we prefect mankind being born with a blank slake, rather than being born with traits and "more of it", that can lead the human race into violence, selfishness, and prejudice.
I was raised in a different environment than my older brother was. Being nurtured and taught wrong from right didn't take me down the same path his at. Nurture to me is greater than nature. "the final expression of genetic predisposition is dependent on nurture" (Collins, W. Andrew, et al). Our genes may lay down the foundation we grow on, but nurture can influence those genes. In my second paragraph when with the studies that were done on the children who had been adopted into different environments, the nurture that a person gets determines who they are. If a child has been neglected and isn't showed any care or is growing up with an unstable family, that child will show it. Development may be slower, the ability to make a connect with someone else wouldn't be there and that is because they never had it as a child. Someone who is shy would be taken out other shell with the right people to influence them and encourage them. Nurture trump nature, nurture is who makes us who we are. Nurture has a bigger impact on children, the right parenting skills defines a child's future. One can learn different skills; I wasn't born with the ability to speak English. I learned English, with my surroundings and the influence those around me had.
The deadline is too short to read someone else's essay
Cite this page.
Nature Versus Nurture Essay. (2020, Aug 25). Retrieved from https://papersowl.com/examples/nature-versus-nurture-essay/
"Nature Versus Nurture Essay." PapersOwl.com , 25 Aug 2020, https://papersowl.com/examples/nature-versus-nurture-essay/
PapersOwl.com. (2020). Nature Versus Nurture Essay . [Online]. Available at: https://papersowl.com/examples/nature-versus-nurture-essay/ [Accessed: 3 Mar. 2023]
"Nature Versus Nurture Essay." PapersOwl.com, Aug 25, 2020. Accessed March 3, 2023. https://papersowl.com/examples/nature-versus-nurture-essay/
"Nature Versus Nurture Essay," PapersOwl.com , 25-Aug-2020. [Online]. Available: https://papersowl.com/examples/nature-versus-nurture-essay/. [Accessed: 3-Mar-2023]
PapersOwl.com. (2020). Nature Versus Nurture Essay . [Online]. Available at: https://papersowl.com/examples/nature-versus-nurture-essay/ [Accessed: 3-Mar-2023]
Don't let plagiarism ruin your grade
Make sure your essay is plagiarism-free or hire a writer to get a unique paper crafted to your needs.
Plagiarized Text
Leave your email and we will send a sample to you., not finding what you need, search for essay samples now.
Having doubts about how to write your paper correctly?
Our writers will help you fix any mistakes and get an A+!
Please check your inbox.
Don't use plagiarized sources
Where do you want us to send this sample, attention this is just a sample..
You can order an original essay written according to your instructions.
Trusted by over 1 million students worldwide
1. Tell Us Your Requirements
2. Pick your perfect writer
3. Get Your Paper and Pay
Hi! I'm Amy, your personal assistant!
Don't know where to start? Give me your paper requirements and I connect you to an academic expert.
short deadlines
100% Plagiarism-Free
Certified writers