Top MBA Programs
Harvard Business School (HBS)
MBA Interview
Prepare for your MBA interviews with mock sessions and personalized communications training. Learn More.
What to Know about the Harvard Business School Interview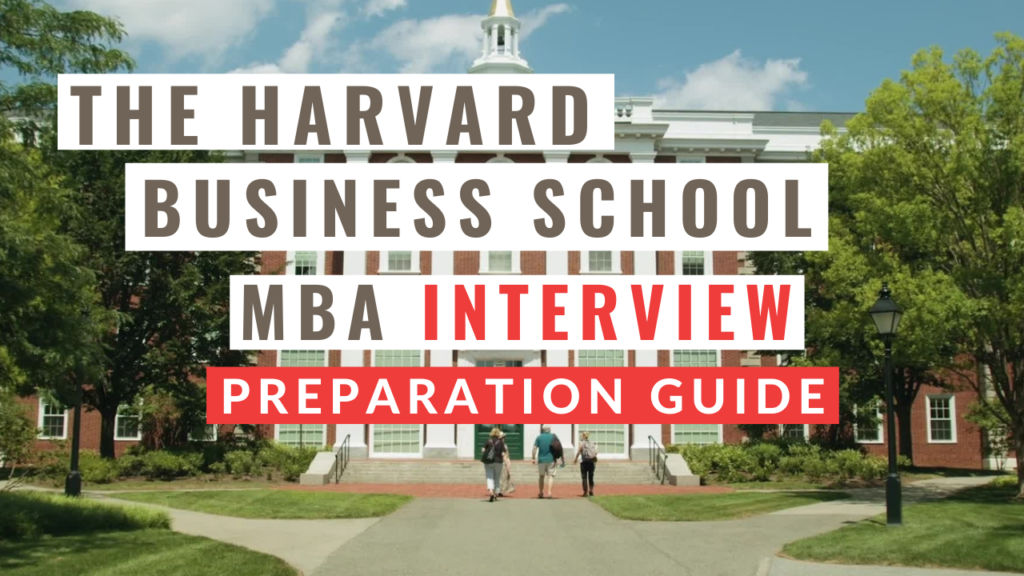 The HBS interview stands apart, both because it is a high-stress component of a top MBA application and because it is somewhat unique in how it is conducted. Receiving an HBS interview invite is a rare and prestigious occurrence, so the pressure is always going to be on. Furthermore, it is a fast-paced interview with 30-40 questions in the span of exactly a half hour!
At its core, the Harvard interview is quite similar to the case study method that the HBS MBA curriculum is famous for. This is intentional, of course—the interview is meant to gauge whether or not you would be a good fit for the HBS classroom.
The HBS Interview as Case Study
We have said that HBS uses a similar approach in its interviews as it does in its classrooms. This means that they won't ask the same, standard questions that many top MBA admissions committees use. The point is, partially, to keep applicants on their toes and try to figure out how you handle giving impromptu responses in a high-pressure environment.
And it is worth noting that the subject of the case study in the interview is, in fact, you. Harvard always conducts its interviews with one or two members of the AdCom, as opposed to some other top business schools that will use alumni and others to help with the process. As a result, they will have always read your application in full and many of their questions are tailored to your HBS application specifically.
High Pressure Before the Interview Starts
As if this very challenging, rapid-fire interview format weren't stressful enough, HBS interviews often begin earlier than you might think they do. Because interviews are held in hub cities around the country, they will often be at a corporate office or a hotel, and you will need to be on your game from the moment you walk through the door.
HBS admissions officers will often check on little things before you even enter the room where the interview is taking place:
How are you handling your time in the waiting room?
Are you making pleasant conversation with other applicants?
They may even try to throw you off by jumping straight from small talk about the weather in the hallway to a hard hitting question the moment you sit down at the interview table, like "when did you leave your last job?" These kinds of wild shifts are meant to weed out applicants that are too comfortable giving pat answers that they have practiced for hours.
HBS Interview Prep with Menlo Coaching
If you're interested in prepping for your MBA interview the Menlo Coaching team, reach out today! We offer mock interviews and school-specific training for HBS, Wharton, and Sloan.
HBS Interview Questions
It is notoriously difficult to get a handle on "standard" HBS interview questions. Looking at any list of sample questions will show you that they are both wide-ranging and markedly different than questions being asked in other top MBA program interviews:
What kind of people do you look forward to meeting at HBS?
How did you find the Harvard MBA application process?
What might your supervisor describe as a weakness?
When did you decide to get an MBA?
What would your 5 closest friends say about you? Why?
Application-Based Questions
In spite of this broad and somewhat random spread, there are three general categories of questions that you can prepare for. The first category covers questions about you, as gleaned from your application. As we mentioned above, the interviewers are thoroughly familiar with your application and you will often be asked to elaborate on a particular aspect of your background, especially where choices have been made:
Why did you leave your most recent job?
Why did you pick your college major?
If you hadn't picked the major you had, what other one would you have gone with?
These sorts of questions are asked to better understand your motivations. Along the same lines, the HBS admissions team will often go into a deep dive on a project you listed on your resume, with many follow-up questions designed to cut through canned responses, getting to the heart of your decisions and values.
Standard Questions With a Harvard Twist
The second category of HBS interview questions tends to include standard MBA interview questions but with a twist that tries to catch the applicant off-guard. A good example comes in the question: "what would your 5 closest friends say about you and why?" That's not all that different from "describe yourself," but it forces you to give a fresh answer and, as a result, step outside your comfort zone. Similarly, instead of asking "what's your biggest weakness?" they might ask "what's an area that, no matter how hard you work, you can't seem to improve?"
Industry Questions
The third category of questions relates to the industries you are working in or plan to go into. They want to see that their applicants are knowledgeable about their past and current roles and have carefully considered where they hope to end up. If you say, "I'd like to work in the tech sector" they might follow up with "what are your top five dream companies and why?" The line of questioning in this category might also cover the implications of major mergers or legislation on an industry. For a while, most healthcare sector professionals were asked about the implications of the Affordable Care Act. They want specifics backed up by the kind of understanding that a working professional in the field should have.
Grab-Bag Questions
Of course, because HBS likes nothing more than to catch its applicants off-guard, the last category includes random, screwball questions. David White, co-founder of Menlo Coaching, recalls an applicant a few years ago who was grilled about how Home Depot ships porcelain toilets all over the country without breaking them. The applicant was a private equity investor who had no history of investing in either Home Depot or toilet manufacturers. There might be some truly bizarre questions like this in your interview.
How To Prepare
Over-preparing for specific questions is absolutely the wrong tactic to take. Because HBS interviewers want to make sure that their applicants can handle the Harvard case study method, they abhor comfortable, well-practiced answers. You are better off, then, practicing for an interview that requires rapid tonal shifts and strange tangents. Even their pre-interview scare tactics aren't particularly hard to deal with if one knows they might be coming.
In terms of answering questions, the best approach in the lead-up is to get comfortable with the many different ways that a question might be asked. Learn to get to your point quickly and practice assessing what an interviewer really wants to know when they ask a question in a strange or novel manner. You should absolutely be familiar with everything in your application. Don't take for granted the idea that a minor job or activity won't become the AdCom's pet obsession for the half hour. Take the oddball questions in stride and, while you can't actually anticipate what you will be asked, try to anticipate how to keep your cool when you are asked something unexpected. You might not know how Home Depot ships its toilets, but you should take the question seriously if it comes up.
In the end, the purpose of preparing for the Harvard MBA interview is to become skilled in giving impromptu responses from a place of self-knowledge and thoughtfulness. If you can keep pace with your interviewer, you are likely ahead of the game.
Leave no stone unturned: Prepare with us for your HBS interview!
Related Articles:
The Harvard MBA Program Overview
How to Get Into Harvard Business School
The Most Common MBA Interview Questions
Wharton MBA Interview: Team Based Discussion
Preparing for MIT Sloan's MBA Interview Questions
We can improve your MBA profile and boost your candidacy. Gain insight into the review process and eliminate weaknesses from your MBA application.
Note: You must have javascript enabled to submit the form.
HBS Interview Prep: Format, Criteria + Sample Questions
Are you one of the lucky applicants who received an interview invitation from Harvard Business School last week? The HBS interview really is the deciding factor as to whether or not the candidate gets in. SBC's team includes several Harvard Business School admissions experts, including former HBS Admissions Officers who also hold HBS degrees. In other words, their expertise is deep.
SBC consultant and former HBS Admissions Officer Andrea has exclusive insider advice about preparing for the HBS interview. Today, we're sharing this wisdom with you.
"The interview really is the deciding factor as to whether or not the candidate gets in," Andrea reveals. "Very few interviews don't go well, so you really have to rise to the top of the good interviews."
Contact one of our SBC Principals to request availability for HBS interview preparation by emailing hbs@stacyblackman.com . HBS interview prep support at SBC is available only after the school has extended interview invites. Here's the overview of SBC's interview prep services.
The Harvard HBS Interview
What is the #1 most important tip?
"The single most important element of the interview is demonstrating deep intellectual curiosity with the ability to develop a point of view or perspective," says Andrea. HBS continues to assess leadership and academic and quantitative capabilities during the interview. Now, the focus turns toward personal qualities that are hard to assess in a deep way on paper.
"You cannot let even the smallest question seem surface level," she warns. "Demonstrating depth of insight and the ability to cross-correlate are so important."
What does the HBS interviewer do to prepare?
Andrea reveals that your HBS interviewer will prepare beforehand by extensively reviewing your application, line by line, to formulate tailored questions. That way, the HBS interviewer is fully briefed, and the questions are forward-moving—not a recap of what was already submitted.
"The interviewer is trying to get into the mind of the interviewee," Andrea explains.
HBS interviews usually have an observer plus the interviewer. The interview observer's presence, the tailored, probing questions, and the post-interview reflection are factors that demonstrate the thoughtfulness of the HBS interview process. Despite the extensive prep, there's always room for spontaneity during the interview. This ensures interviewees stay on their toes. Questions often change, and the interviewer can navigate toward whatever direction the conversation goes.
Be sure to check out the B-Schooled podcast Episode #41, which is dedicated to explaining HBS's unique, personalized interview process, and also covers tips on how candidates can prepare.
HBS Interview: Do's
Prepare to engage naturally, be on your toes. Conversational is better than scripted.
Answer the questions asked. Listen and adapt.
Self-reflect. Open up about growth, learning, setbacks, adapting, and other real-life experiences.
Know your audience. Would Aunt Betty understand your explanation of your job? Avoid industry-heavy jargon.
Roll with any nerves that may surface. A shake, shift, stutter, or twitch is fine, as long as you can articulate answers well.
Ensure you're in a quiet space without interruptions, and turn off all noise-making tech. Even open windows can create distracting noise. Dress in business attire. Test sound and lighting beforehand.
 HBS Interview: Don'ts
Don't fixate on worries or insecurities about your candidacy for HBS. Everyone has some level of fear, especially for interview prep. Most interviewees are in the same boat.
Don't try to be perfect or overly rehearsed. It's not the time for an engineered speech but rather a thoughtful conversation in which you're fully in the moment, reflective and authentic.
Don't tell the interviewer what you think they want to hear.
Don't be a jerk. You'd be surprised how often this happens!
Don't be late. It's unacceptable to be even a minute late.
Don't have any interview prep materials with you. You don't need any papers or your phone.
How to Prepare for the Interview
Remember, at HBS, no applicant is admitted without an interview. The school wants to hear and understand you beyond your application. Your interviewer will want to understand the kaleidoscope of your traits and attributes.
"Each AdCom member is given almost free rein to determine how or what they'd like to assess in the interview. Be nimble and ready to go deep on any topic," Andrea advises.
Make sure you know everything on your resume. Prepare to answer questions ranging from major industry headlines to hobbies and interests. For example, if you've said you're a historical fiction buff, be ready to discuss it.
This interview will also cover the nuances of several of your life choices. Make sure your answers show character and introspection. You won't have any notes in front of you, so become well-versed in your own experiences, both professional and personal.
Share framing and context before explaining details. The interviewer has already read a lot about you. Now, it's your job to make them excited about you—something you fully control with how you shape your answers.
Motivations, learnings, anomalies, growth, hesitations, and realizations are all ways to show depth of character and genuinely connect with the interviewer beyond the facts they have already read.
Since the interviewer's questions are tailored to your candidacy specifically, know there's a reason for each question. The interviewer may be asking in reaction to a recommender comment, the challenges of your industry applicant pool, or other reasons based on your application.
"At the end of the interview, if you are asked what else should we know about you, know that it is not a throwaway question," Andrea says. "You should have managed the interview to that point so that you know what you wanted to share that you haven't and take the opportunity to work it in."
 HBS Interviewer Evaluation
Afterward, your interviewer writes a summary of the experience, including the good, the bad, and the ugly. The interview write-up ends with a recommendation to the director on whether to admit.
There are roughly three recommendations: "No way," "solid—fine to be in class," and "rock star."
Having a rock star interview almost guarantees you get in. If you have a solid/fine interview, the director will use those to fill in the class. Many in this category will not get in.
Of every ten who interview, approximately seven to eight will give a good-to-great interview. Unfortunately, one or two will bomb it. Then, of those seven to eight strong interview performances, two or three will be admitted.
Applicants should remember that there are few hard and fast rules when it comes to admissions at HBS. Admits can fluctuate depending on the round, the quality of the applicant pool, etc.
HBS Post-Interview Reflection Tips
The "post-interview reflection" has no official word limit and is due within 24 hours of the interview. Nonetheless, we suggest you keep it to one page or less in length. In it, you should thank the interviewer(s) and recap what you enjoyed about your conversation. Don't forget to answer the question they asked directly. (In the past, it has been, "How well did we get to know you?".)
If you believe the interview went well, you don't need to write more than a few paragraphs. But what if you felt you could've answered a question better or think there's something substantive you should have included? Then use the reflection to add clarity or dimension in a way that further demonstrates your intellectual curiosity.
End with a 30,000-foot reflection on what the entire process has meant to you, any deep insights you have as a result, and what lies ahead for you.
Sample HBS Interview Questions
Below is a recent set of questions from an interview with Chad Losee from an SBC client:
Where are you currently?
How is your family?
What does it mean to be the head on such a big project?
What does a day look like in your work? Follow up on specific examples.
What's your style of leadership? What would those you manage say about you?
Describe a time you had issues with staff that reported to you. How did you work around that?
What point in life made you want to have a life of impact?
Who have you had an impact on?
Name some companies you like.
Here is another set of interview questions from HBS shared by an SBC client:
How was your experience growing up in [country] and then moving to the US?
Why did you attend your college, and why your [major]?
Walk me through this deal on your resume.
Tell me about a deal that was difficult for you.
How do you manage your analysts?
Why impact investing?
How would you convince potential investors of your vision?
Describe a class that you think would empower you to achieve your goals.
Which class would be hard for you?
How would you increase minority presence in large corporations?
What else do you wish to talk about?
The SBC team wishes you much luck with your HBS application and interview and would love to support your efforts. Contact one of our SBC Principals to request availability for HBS interview preparation by emailing hbs@stacyblackman.com asap. As a reminder, HBS interview prep support at SBC is available only after interview invites have been extended. Here's the overview of SBC's interview prep services.
Baker Library image credit: Dariusz Jemielniak ( CC BY-SA 3.0 )
SBC's star-studded consultant team is unparalleled. Our clients benefit from current intelligence that we receive from the former MBA Admissions Officers from Harvard HBS, Stanford GSB and every elite business program in the US and Europe.  These MBA Admissions Officers have chosen to work exclusively with SBC.
Just two of the many superstars on the SBC team: Meet Erin , who was Assistant Director of MBA Admissions at Stanford's Graduate School of Business (GSB) and Director of MBA Admissions at Berkeley's Haas School of Business.
Meet Andrea , who served as the Associate Director of MBA Admissions at Harvard Business School (HBS) for over five years.
Tap into this inside knowledge for your MBA applications by requesting a consultation .
You May Also Like
5 Common Interview Questions from Harvard Business School
Advice for First-Years from an HBS Alumna
Ace Your Harvard Business School Interview
5 tips for harvard business school applicants, learn about our all-in service, meet the sbc consulting team.
(323) 934-3936 info@StacyBlackman.com
Latest Blog Post
Tips for a killer mba recommendation letter.
It might surprise you that many MBA applicants don't invest time and attention in their reference letters. Most applicants select their recommenders, direct them to the proper forms, and hope for the best. Such ... →
Harvard MBA Interview
Harvard mba interviews.
As with so many other parts of the admissions process, the interview for Harvard Business School is unique – and uniquely challenging. If you've been dreaming about getting an MBA from HBS , it's imperative that you understand the interview process, so you can prepare correctly and ultimately ace your Harvard MBA interview.
Understanding the style of the Harvard MBA interview
The majority of interviews are conducted by two members of the admissions committee: one who acts as the interviewer and one who acts as an observer. They are all limited to 30 minutes.
The style of a typical HBS interview tends to be very rapid-fire, even aggressive in some cases. This is intentional, because of the constrained time frame, and because the admissions committee wants to get a real sense of who you are and how well you perform under pressure.
Defending your background
At the start of the conversation, your interviewer will likely go through your application and resume, pushing you to explain and defend the choices you've made along the way.
You may be asked why you chose your undergraduate degree, how you went about getting your first job and why you chose certain internships.
This is not a good time to be scrambling to remember what you said in your essays, or to be blindsided by information in your recommendation letters. Before your HBS interview, you will want to review everything you submitted as a part of your MBA application.
Typical Harvard MBA interview questions
You should expect the typical admissions interview questions about your long-term goals, why you feel an MBA is the right choice for you, and why, specifically, you have applied to Harvard.
It's not enough to be able to discuss these issues on a superficial level. As with the discussion about your background, you'll need to be prepared to respond to rigorous questioning about your decisions, and to explain the reasoning behind the choices you've made.
Frequently Asked Interview Questions
We've selected interview questions in each category:
Past experiences
Your past experiences can tell a lot about how you've dealt with success and failure. When interviewing with Harvard, "expect to be asked a number of questions that will help interviewers gauge how life has tested you and how you responded to that test," Blackman writes. Sample questions include:
Why did you choose to work for your current company?
Many people go straight from investment banking to a private equity firm. Why do you feel you need the MBA in between?
Describe a situation where you successfully responded to change.
Describe a time when you helped someone at work.
Describe a mistake you've made within the past three years.
Describe your greatest accomplishment.
How would you describe your style for teaching peers?
Tell me about a time you failed.
The interviewer wants to know the rationale behind all of your decisions and how you developed your areas of interest, she says. Successful responses will provide reasoning and details that were sparked by the actions you took.
Present attributes
"These questions present opportunities for you to demonstrate self-awareness and reveal your values and passions," writes Blackman. It's important to build off your past experiences and demonstrate your current personality and views of yourself and the world. Sample questions include:
What is your leadership style?
How would your friends describe you?
What inspires you?
What book are you currently reading?
Name a leader that you admire.
Candidates should be prepared to elaborate and answer the question "why?" to each of the above interview questions. Successful answers will clearly demonstrate your personality, perspective, and values, Blackman says. You want to show you have the drive to learn and grow on a continual basis.
Future goals
Harvard's mission is to "educate leaders to make a difference in the world," and interviewers want to know about your ambitions. Sample questions include:
What do you expect to gain from an MBA at Harvard?
Where will you be five to seven years post-MBA?
What excites you most about your career plans?
How will you continue learning in your next position?
What are the difficulties you face in achieving your goals?
What will you do if you do not get into business school this year?
What do you think of the HBS admissions process?
Clearly describing your future goals should bring the interviewers full-circle. "When answering these questions, it is important to include tangible examples from your past and present, in order to convey that your future goals are not only logical and well-thought out but also achievable.
Harvard MBA Interview Questions – 1
My interview was very standard. It lasted for 30 minutes, I interviewed with two members of the Adcom, who were very nice and tried to make me feel comfortable during the whole process. The questions I was asked were: – Tell me about yourself – You want to work in sector A , why? – You did an internship in sector B, was it related to sector A ? – What was your other internship about? can you explain a technical aspect of your job. – You wrote about this story in your essay, can you give us more details about this aspect? – What does a typical day at your current job look like? – What does the CEO of your company worry about? – Tell me about a time when you received a piece of constructive feedback. – Who is a leader you admire? ( she added that it could be either a leader that I had worked with and that I know professionally or a well-known business leader) – What are your future goals ? – We have two minutes left, is there a question that you wished I asked? – Recommend me something, anything. ( there was 30 seconds left in the interview)
Overall, the interview was very pleasant, and time flew by very quickly. I'd definitely recommend that you prepare using all the interview reports that you can find, and focusing on the specific questions that are related to your application.
Harvard MBA Interview Questions – 2
I enjoyed being on campus and personally meeting HBS students. I was fortunate to attend a class and man was I excited! The interview itself wasn't the typical rapid fire experience I read about in MBA blogosphere, but it was a no-joke ordeal. Particularly, I didn't get much affirmation from the two interviewers I had. They do a pretty good job at maintaining a blank face throughout the interview. 
From what I perceived, the adcoms who interviewed me read my app as most of the questions were tailored to my app content.
The interview was a blur, but I remember a few questions I got. I am a 2+2 student, so much of the questions was about my college and internship experiences. They are as follows:
1.) Tell me about how you choose your college. 2.) How was adapting to U.S. pop culture when you first arrived here for college (I am a foreign student). 3.) Tell me about your internship experiences. 4.) How was your experience as the class president. 5.) What is the dynamics of your family. 6.) Which country has the most malaria incidence in the world (I have a public health experience). 7.) Post-MBA plans.
Frankly, I thought I blew the interview. Right of the bat, I was edgy and was in over my head until I heard "it was nice interviewing you." In retrospect, I felt overwhelmed because of the number of follow-up questions I got, although I think I did justice to all the questions thrown at me. And the fact that they kept a blank face only added salt to the injury. Also I was surprised by a few of the questions I got, especially the "tell me about your family dynamics" one. I felt like it was some kind of a trick question, and as I answered it, I struggled with convincing myself that it wasn't a bait to lure me into a tangle.
If there is a piece of advice for prospective students, it will be to be yourself and tell your story in the most passionate of tone. Also chances are that you might have done better in your interview than you might have thought.
I am glad I got into my dream school. HBS is a great place to be. Judging by the quality of conversations I had with interviewees and HBS students alike, I believe I am going to enjoy my two years there.
Login with your site account
For security, use of Google's reCAPTCHA service is required which is subject to the Google Privacy Policy and Terms of Use .
I agree to these terms .
Remember Me
Not a member yet? Register now
Register a new account
I accept the Terms of Service
Are you a member? Login now
This is a demo store for testing purposes — no orders shall be fulfilled. Dismiss
Harvard Business School Interview Questions
Share on Facebook
Share on Twitter
Share on LinkedIn
Share on WhatsApp
Share on Reddit
graduate job interview
Invited to interview by HBS? Here are the Harvard Business School interview questions from four different candidates.
The transcripts come from clients of Sandy Kreisberg, founder of HBSGuru.com , who in any given year helps to rehearse and prepare more than 100 invited applicants in mock interviews. In all probability, Kriesberg walks through more interviews with HBS candidates than anyone other than a few people on the HBS admissions team who actually conduct the 30-minute sessions.
His sample size–100+ out of 1,900 interviewed in any given year–gives him a unique look at who makes the cut and who doesn't. His advice in How Not To BLOW The Harvard Business School Interview is essential watching.
HARVARD BUSINESS SCHOOL INTERVIEW QUESTIONS FROM FOUR CANDIDATES
The questions an MBA applicant receives in a Harvard Business School interview can vary significantly because each session is tailored to the individual candidate. At HBS, interviews are 30 minutes long and are conducted by an MBA admissions board member who has reviewed a candidate's application. Typically, one admissions staffer asks the questions while another takes notes.
It's important to remember what HBS is looking for in a successful candidate, in an interview or the application one submits to get an interview. There are three core things every candidate must have , according to HBS: a habit of leadership, analytical aptitude and appetite, and engaged community citizenship. All three should be subtly reflected in one's interview answers.
What follows are four recent examples from four very different candidates: a project manager, an analyst in an investment banking firm, an analyst in a private equity shop, and a veteran of the U.S. military.
INTERVIEW QUESTIONS FOR A PROJECT MANAGER 
How has Covid impacted your job and industry? Are people working at home? Are you working at home? How was that? What technologies are you using to keep up to date with remote fellow workers? Do you find some people adjust better to remote work? OK, let's get off of Covid. What was the most exciting project you worked on this year? What role did you play? How did you ramp up? What would you do differently, looking back on this project? How do you handle pushback? Have you ever been criticized unfairly in your opinion? What did you say? What would you say the most valuable feedback you ever received was? What were the circumstances? What kind of leader do you aspire to be? What is going to be hard at HBS besides managing your time? What is going to be less difficult? How do you think you will be different after your two years at HBS? We receive applications from many highly qualified applicants in your industry– why should we admit you?
INTERVIEW QUESTIONS FOR AN INVESTMENT BANKER
How has COVID impacted your business (lots of follow-up about my impact on deals, clients, co-workers, etc)? Tell me about your favorite deal, your hardest deal, and a deal that got away–and why? How do you market yourself to investors? What is your firm's 'secret sauce'? What types of investors are attracted to your firm and why? What has been the biggest challenge in raising money? Tell me about a time you influenced somebody else As you think about the roles you've had — deal maker, working with your portfolio companies, team lead, and fundraising –which have been the hardest for you and why? Would you ever want to run a company full-time? How would your impact be different as an investor vs as a CEO? How have you learned about HBS? What do you wish I asked you about?
INTERVIEW QUESTIONS FOR A PRIVATE EQUITY ANALYST 
Can you talk about the recent deal on your resume (Lots of follow-up questions) What do you do in your current role? I see you have worked in different offices, and on different continents of your Bank, what are some of the cultural and operational differences? Which office did you enjoy most? How would your supervisor describe you? What constructive feedback have you received in the past? What did you learn at JOB 2? Tell me about your goals. Where do you want to work? What could you see yourself doing if those goals do not materialize? What will you get from an MBA? What did you think about doing your exchange semester in D? 1 Can you tell us more about living in A and B? Can you tell us about Extracurricular A? Is there anything else you'd like us to know?
INTERVIEW QUESTIONS FOR A MILITARY VET
What made you decide to join the military? Tell me about the team you currently work with. Lots of follow-up–what is team culture, who is a 'leader,' how do we make decisions, Give me two words your teammates would use to describe you. What is a piece of constructive feedback you've received from your teammates? What were the goals you set for yourself in the military? When did you decide on pursuing an MBA and why? What are you interested in doing? What is a company you would be interested in working with and why? Is there anything else you'd like to tell us about yourself?
Comments or questions about this article? Email us.
Stay Informed. Sign Up! Login Logout Follow Us
Preparing For Alumni-Led MBA Interviews
Who Are You In A Wharton Team Based Discussion?
How to choose an mba admissions coach.
What The MBA Application Decline Means For You
How To Use Poets&Quants MBA Admissions Consultant Directory
How To Select An MBA Admissions Consultant
MBA Admission Consulting Claims: How Credible?
Suddenly Cozy: MBA Consultants and B-Schools
The Cost: $6,850 Result: B-School
Our Partner Sites: Poets&Quants for Execs | Poets&Quants for Undergrads | Tipping the Scales | We See Genius
HBS Interview Prep: Tips, Resources, and Sample Questions
February 1, 2023
Devi Vallabhaneni
On Wednesday, February 1, at noon ET, Harvard Business School (HBS) will send out its 2022 Round 2 interview invitations. HBS will release one batch of interview invites, along with notifications of "Early Release," for applicants who will not be moving forward in the application process.
Now is therefore the time to get ready for the HBS admissions interview, which is crucial step in your application process. mbaMission's Devi Vallabhaneni , a Harvard Business School graduate and former HBS MBA interviewer, has more than 20 years of experience in MBA admissions and readiness. She has conducted thousands of real and mock HBS interviews with candidates across all industries, geographies, and backgrounds and with a wide range of personal stories. As mbaMission's Managing Director and HBS Interviewer in Residence, she works directly with applicants on their business school applications and conducts HBS Intensive Interview Simulations . In the next two sections, Devi shares some of her insights on the HBS interview, then offers some of her best tips for performing your best.
Click the links below to jump to the sections that interest you.
About the Harvard MBA Interview
Tips for preparing for your hbs mba interview, common worries about the hbs mba interview, mbamission hbs interview prep services, common harvard mba interview questions, about the harvard mba interview.
"The [invitation to] interview is a positive indicator of interest, but is not a guarantee of admission; it serves as one element among many that are considered as we complete a final review of your candidacy," the Harvard Business School website states.
I can assure you that your HBS interview is intended to help the school get to know you as a person, not just an applicant. You are more than the contents of your file, your work experience, and your primary accomplishments. HBS strives to admit each person as the individual they are, so let your genuine personality shine through in the most authentic way possible in your interview.
Who Will Your HBS Interviewer Be and How Will They Prepare?
Your Harvard MBA interview will be conducted by someone on the HBS Admissions Board. These individuals are fully trained professional interviewers and respect how important this moment is for you.
Prior to your interview, they will read your entire application front to back, including your letters of recommendation. They might research your company or activities, especially if they have not heard of them before. They spend a lot of time understanding who you are and where you want to go.
When I was on the HBS Admissions Board, I would spend a few hours preparing for an HBS interview. It is something I took incredibly seriously, and I wanted to make sure I had a number of questions prepared ahead of time but also understood enough about the candidate to change up my line of questioning, depending on how the conversation went. Before every HBS interview I conducted, I felt really nervous—probably just as nervous as the candidates I was interviewing—not because I did not know what to expect, but because I knew just how critical this moment was for the applicant and how much time and effort they put into preparing.
What to Expect from Your HBS MBA Interview
After all the hours of preparation from both you and your HBS interviewer, the actual interview is just 30 minutes. The HBS interview really is a conversation—a high-level, cogent, yet personal dialogue between two people. The best way to think of the interview is as a chat with a C-level executive at your company or with a business school dean. They both know a lot about business and can understand you quickly. Your HBS interviewer is the same.
What the Harvard MBA Interview Is Not
So much misinformation is disseminated and exchanged about the Harvard Business School interview, so I would like to mitigate some of that by sharing the way I see it. Let me clarify for you what the HBS interview is not .
A Monologue: I have seen applicants start answering a question and then ramble on for minutes, covering topics that had not even been asked about. Unfortunately, these candidates often lose connection with the interviewer, who is not able to just jump into the conversation and might feel forced to cut the applicant off midstream, which does not feel good for either party.
A Performance: This happened to me recently. My interviewee rehearsed all of his hand gestures and facial expressions to accompany his words and treated our mock interview as a dress rehearsal instead of a true representation of what to expect in the actual interview. In a performance, the temptation is to become someone else—like an actor in a play—which goes against the entire philosophy of the Harvard Business School interview.
An Oral Exam: MBA applicants often feel the need to defend the path not chosen, such as a certain college major or job. Focus on the path you chose by sharing the why—your reasons for doing so. If you felt any regret or disappointment along the way, talk about how it shaped you, how it informed future decisions, and how you incorporated your learnings. We have all second-guessed ourselves at some point, but this is not the right venue for dwelling on them.
A Sales Presentation: How do I sell myself? How do I stand out? How do I impress the MBA admissions committee? These common questions lend themselves to a sales mentality. The Harvard Business School interview is not about "selling yourself"; it is about "expressing yourself." The admissions board has seen every type of background, personality, life experience, and so on. By communicating the most compelling and salient parts of your story, you automatically differentiate yourself.
A Therapy Session: I have seen interviewees misinterpret "authenticity" and "vulnerability" and share too much information about themselves. Remember the context: this is an interview for Harvard Business School; it is not a support group meeting!
A Speech: By thinking of the interview as a speech, some applicants inevitably memorize their talking points, which gives them a false sense of security. Really listening and being present in the moment is difficult when you are busy trying to recall your prepared answers. So these candidates end up answering questions that were not even asked.
Know Your Story Cold
Your story should be within you, right? Well, maybe you wrote about your love of Chinese cookery in the personal section of your resume, but since then, you have not given another thought to the last cooking class you took—which, by the way, was a good story two years ago! Although I was never specifically trying to find weak spots in interviewees' stories, I would sometimes start by asking about interests and hobbies they had listed that sounded interesting, so I just might have asked you about your Chinese cooking. Before your interview, familiarize yourself with your entire application, even the parts you think are trivial.
Master the What and How
How you accomplished something is just as important as—if not more important than—what you actually accomplished. The how shows the real level of effort you had to expend to reach your end result. To me, providing the how also lets you share a deeper version of your story with your interviewer.
I once interviewed an HBS applicant who had worked on a seemingly common financial transaction. Because of the regulatory and political complexity of the transaction, she had to create more than 30 different potential scenarios to anticipate and quantify the client's next steps. In this case, the how gave me better insight into the applicant's depth of analysis, creativity, and experience. Without that information, this project, on its face, might not have stood out to me as something meaningful. Be sure to detail the how of your achievements for your HBS interviewer so that they can better understand the rigor and impact of your experience.
Give Full Answers
I once asked an applicant to tell me about a growth experience he had had while studying abroad. He responded by reporting that he had learned to make his bed. I have to admit that on the surface, this is not much of an answer. However, after a few follow-up questions, I realized that he was humbly trying to explain that he had been coddled up to that point and that he had had an awakening about independence. I wish he had proactively connected these ideas, because we ultimately spent much more time than necessary on this topic, which precluded us from fully exploring other parts of his background. Giving full answers means demonstrating the broader context of your responses and anticipating the interviewer's potential perceptions so that you use your 30 minutes as wisely and efficiently as possible.
Strive for Practiced, Not Scripted
You worked hard on your Harvard Business School application, which is what led to this interview opportunity. But your application probably took weeks or months to complete and required multiple revisions and edits, whereas your interview is a one-shot 30 minutes. This is why practicing your answers verbally is a great idea, but practice should not mean memorization or rehearsal.
I once interviewed a woman I later ran into on campus when she was a first-year student. While we were catching up, she told me how nervous she had been for our interview and how she had practiced by writing out bullet points and verbalizing them in front of a mirror. I still remember her interview to this day. She was natural, conversational, and in the moment. The way she had prepared enabled her to convey what was salient while still being fully present and engaged. In contrast, another candidate I interviewed responded to my every question with "I have three reasons…" or "I have three examples…," and in most cases, his replies did not match my questions! He had memorized premade answers and simply recited them when given the chance to speak.
When preparing for your HBS interview, the most important thing to avoid is memorizing the answers you prepared. Be present and answer the question you are being asked—not the one you practiced. Listening is just as crucial as responding, if not more so. Think of the interview as a dialogue or conversation, which are two-way communications, rather than a speech, which is a one-way communication. Make sure to prepare useful points and stories and practice verbalizing them beforehand, but once you are actually in the interview, pay attention to the questions your interviewer is asking and call on those points and stories as appropriate.
Anticipate Your HBS Interviewer's Homework
I once interviewed an HBS applicant who was working at a start-up in a foreign country. Since I had never heard of it, I read up on it, including its funding structure, mission, and founding team. I even found a news report that explained that one of the funding rounds had not gone smoothly. During the interview, we got on the topic of raising money, and the candidate was shocked when I asked about one of the investors. When he asked how I knew about that investor, I explained that I had researched his start-up—not to create "gotcha" questions but to better understand his work environment. Expect your Harvard Business School interviewer to go beyond just reading through the information you included in your application. The philosophy has always been (1) to meet candidates where they are and (2) that the more we know about an interviewee beforehand, the deeper and more helpful the interview will be.
Enjoy the Moment!
I used to begin my HBS interviews by briefly introducing myself and then enthusiastically asking, "Ready to have some fun?" The candidates would look at me like I was crazy, clearly incapable of thinking the interview could possibly be fun, but by the end of our conversation, they understood what I had meant. Your interview is an opportunity to talk about yourself, your background, your goals, and your experiences—and to let your personality and style shine through. Try to loosen up and enjoy it! The 30 minutes go by really fast. By the time the interview starts, you cannot do anything more to prepare, so try to push through any nervousness you might be feeling and make the most of the experience! The Harvard Business School interview is an extremely human process for both the interviewer and the interviewee. Embrace the opportunity to engage with the school on this next level, and show your readiness for its unique MBA experience.
HBS MBA Interview Prep Methods
No one perfect way of preparing for your Harvard Business School interview exists for all candidates. Feedback from mbaMission clients indicates that each person generally prepares multidimensionally.
Writing: I have heard of applicants writing out talking points to remind themselves of important aspects of their stories. However, make sure that you indeed write talking points and not full answers that you will be tempted to memorize.
Speaking in front of a mirror: Doing this allows you to hear and see yourself answering a question. It might feel awkward at first, but this method could be an important part of your "interview practice repertoire." However, the potential downside is that sometimes, individuals who practice too much in front of a mirror end up editing themselves too much, so their answers sound less natural and authentic.
Dialoguing back and forth with a friend or colleague: This method can help you develop the ability to answer both anticipated and unanticipated questions naturally and spontaneously. The feedback you receive from dialoguing can then be incorporated into your next mock interview.
Getting help from a professional: Finding an HBS MBA interview expert and conducting mock interviews with them can really help you get a feel for what the actual HBS interview will be like. I interviewed hundreds of HBS candidates during my time on the HBS Admissions Board, and I would love the opportunity to help you prepare for your HBS interview .
HBS Intensive Interview Simulations
Devi offers candidates the opportunity to prepare for their Harvard Business School interviews via live intensive interview simulations. Devi has a passion to help applicants feel confident and ready for their HBS interviews, and her extensive experience allows her to do so.
What is included in our HBS Intensive Interview Simulation? 
Through this simulation, you will have the opportunity to experience an HBS mock interview that mirrors the exact way the school conducts these sessions, demystifying the process and positioning you to enter your actual HBS interview with increased competence and confidence.
Before your first session, Devi will spend several hours reviewing your written HBS application, following the same process she used when conducting candidate interviews for HBS.
After each interview session, Devi will provide you with targeted feedback, talking you through her impressions and offering strategic tips and advice for improving your HBS interview skills. She will then give you "homework" intended to help you practice articulating and verbalizing various aspects of your background.
You will have sufficient time between your interview sessions to internalize Devi's feedback and adjust accordingly before practicing with her again.
Following your actual interview with HBS, if you are not already working with an mbaMission consultant, you can have Devi provide targeted support on your Post-Interview Reflection.
For more information and to secure your spot, please visit our HBS Intensive Interview Simulation page .
HBS Mock Interviews and Post-Interview Reflection Support
Another resource to help you prepare is our HBS Mock Interview and Post-Interview Reflection Support service. In this individual interview preparation session, you will speak with an experienced mbaMission Senior Consultant or Managing Director who has been specially trained in HBS's interview approach. Your Consultant will have read your entire HBS application in advance and prepared customized questions based on your candidacy and profile. In the session, you will have a chance to experience what an actual HBS interview feels like. Through Q&A, feedback, and thorough response planning, we will help you improve the content of your answers, your time management skills, and your overall presentation.
HBS asks all interviewed applicants to write a post-interview essay and submit it within 24 hours of their interview. This essay has no word limit, and HBS suggests that candidates think of it as an email they would write to a friend or colleague, rather than as a formal essay.
As part of our targeted HBS interview package, an mbaMission advisor will help you strategize your approach to this special essay. Your Consultant will also review a draft of the essay and provide feedback intended to assist you in making it stronger and more effective. Please note that because the HBS admissions office explicitly states that applicants are not to write anything in advance or receive outside help with this essay, your mbaMission Consultant will not edit your writing but will instead offer detailed strategic direction via comments only.
To purchase your HBS mock interview preparation session, click here .
Harvard Business School Interview Guide
The Harvard Business School Interview Guide provides applicants with insight on the role of the interview in the school's selection process, what to expect when interviewing with HBS, and how to approach the required Post-Interview Reflection.
In creating the HBS interview guide, we have drawn on our extensive communications with HBS MBA students, alumni, and admissions officers, in addition to our vast library of interview reports submitted by mbaMission clients who have interviewed with HBS. Our Harvard Business School Interview Guide provides the following:
Insight into what the HBS Admissions Office is evaluating and hoping to gain from the interview
An explanation of HBS's approach to interviewing (self-scheduled or invite-only, blind versus comprehensive, etc.)
Past applicants' firsthand accounts of their HBS interview experience and multiple sample HBS interview questions
Tips on preparing for and responding to questions that most typically vex applicants
Guidance on formulating compelling questions of your own
Download your complimentary copy of mbaMission's Harvard Business School Interview Guide today.
HBS Interview Workshops
Find out exactly what you need to do to prepare for your interview during our free "Decoding the HBS Interview" workshop . Led by mbaMission Managing Director and HBS Interviewer in Residence Devi Vallabhaneni, the interactive webinar will cover the following topics:
What makes the HBS interview so different from all the other business school interviews
The philosophy behind the HBS approach
Tips on how to prepare for your HBS interview
Coming out of the session, you will have a much better sense of what to expect in your HBS interview and how to prepare for it so you can approach your interview with competence and confidence.
Our next session is February 6, 2023, at 10 a.m. ET. Enroll for free today!
MBA Interview Tip Videos
In our MBA Interview Tips YouTube playlist, you will find videos on frequently asked interview questions, common interview mistakes, and how to respond effectively to the "tell me about yourself" prompt, and even a mock HBS interview with Poets&Quants ' John Byrne and mbaMission's Devi Vallabhaneni. Click below to start watching, and be sure to subscribe to our YouTube channel, where we add new videos on the MBA application process every week.
Being invited to interview with Harvard Business School is unquestionably exciting and a positive step in your admissions journey, but it can also trigger a lot of concerns and questions. Here are some of the most common worries applicants have about the HBS admissions interview.
Not Knowing What to Expect from Your HBS MBA Interview
The HBS interview is unlike any other business school interview or even a job interview. It is designed to meet the interviewee where they are, meaning that it conforms to the applicant's style rather than following a preconceived format set by the school. It is dynamic, extremely personal, and tailored to the specific individual. The interviewer will read your entire application before your interview and will base their questions on that information. As a result, no two interviews are the same because no two applicants are the same. Do not let what you read online or have heard about someone else's interview worry you. Those stories most likely do not apply to you.
Not Having Presentation or Public-Speaking Experience
The HBS interview is not a speech or a typical work presentation but more like a conversation between two business professionals. You do not need to prepare anything formal in advance, and having extensive presentation experience is certainly not required to have a successful interview. What is imperative is knowing yourself and your story extremely well. The interviewer will be focused on you as an individual, your potential contributions as an MBA student, and your career goals. Your personal communication style is less important.
Coming from a Complex or Nontraditional Work Background
HBS has interviewed candidates from all backgrounds, including science, technology, engineering, and medicine. Your interviewer's goal is not to understand the technical details of your job but rather how you work and communicate, who you are as a person, how you think about your career, and what your values are. Think of your HBS interview as similar to a discussion you might have about your job with your company's CEO, which would be a higher-level conversation, beyond the nuts and bolts.
Similarly, having a nontraditional background does not put you at a disadvantage. Whether you work at a start-up of just three people or with your parents and siblings in a family business, your HBS interview will unfold the same way it would for someone who works at IBM, Goldman Sachs, Google, or McKinsey & Company. You should feel confident in communicating your unique professional challenges and accomplishments. Your preparation for your HBS interview should be no different from that of someone who works at a larger or more conventional company.
Being an International Applicant
HBS is a global community and understands that some candidates might feel less comfortable with their ability to speak English. If you feel your English could use some polishing, that is a personal decision, and you should do what will make you most comfortable for your interview. You will not be penalized for verbal errors or accents because of the high-stress nature of the interview. Practice and prepare the same way you would for an important business meeting in English.
Not Standing Out to Your HBS Interviewe r
Your HBS interview is not about standing out per se. It is about viewing your background in the context of what you could contribute to the HBS community. This could include a particular high-impact project, a leadership position outside of work, or a post-MBA career goal that builds on your past professional experience. If you look at yourself as strictly "a consultant applicant" or "a banking applicant," you will likely be limiting yourself in your self-perception. Instead, take your entire life story and career path into consideration when determining how to communicate who you are.
Since Harvard Business School's interview is quite conversational and natural, it is tough to predict exactly what will be asked. Here we present a few possible interview sequences, based on past HBS interviews from our clients and from Devi's time as an HBS interviewer.
Harvard MBA Interview Example 1
Would you go back to [current private equity firm] post MBA?
What skills do you still need to gain for your career goal?
What are you doing now in your day to day? [The applicant was working in a different role at the time of the interview than the one they were in when they applied.]
How did your experience at [private equity firm] prepare you for what you're doing now?
What have you learned about yourself in the past six months?
What kind of classmates are you most excited about meeting at HBS?
What job do you want to hold right after HBS?
What strategy of investing would you pursue?
Why did you choose [office location] at your firm instead of [other office location]?
Harvard MBA Interview Example 2
What is your day to day in your current role?
How many people do you manage?
How does your company make money?
Who are your customers?
Who are your competitors, and what do they do better than you?
Why were you awarded [X award]?
What skills enabled you to get promoted in both your current role and previous role?
You said your goal was [X]. How does business school fit into your goals?
Give me an example of what specifically you'd do if you were in the position stated in your longer-term goal?
What's the most creative icebreaker you've ever come up with?
Types of HBS Interview Questions
Although every HBS MBA interview is completely different and is tailored specifically to each individual applicant, the following main types of questions are generally asked, and we provide here some samples of each:
Interview Questions About Your Past Experiences
Why did you choose your undergraduate program?
Tell me about the work you did at your previous job.
What was your most difficult project? How did you grow from it?
Who was the most difficult person you worked with? Why?
Why was it important for you to share X in your application essays?
Interview Questions About Your Current Role
How does your new role differ from your old one?
Do you have any employees reporting to you? How have you mentored them?
What is the most challenging part of your current role?
What is your company's business model?
What differentiates your company from the competition?
What industry competitor do you believe is doing the best and why?
Where do you think your company could do better when it comes to diversity?
Interview Questions About HBS and Your Future Goals
Why do you think that an HBS MBA would be useful in obtaining your goals?
How would you contribute to the HBS community if admitted?
What will be most challenging in business school for you?
What would the next two years look like if you were not going to pursue an MBA?
What's your ideal internship?
How do you hope to be remembered?
Good luck to all HBS applicants! If you believe you might benefit from one of our interview-planning services—or if you would simply like more information on these offerings or on the interview process in general—feel free to contact us anytime!
Application Tips Harvard University (Harvard Business School) MBA Interviews
Tags: Devi Vallabhaneni Harvard Business School HBS interview intensive simulation interview guide interview tips mock interviews
Upcoming Events
Mar 8, 2023 Choosing the Right B-School (Online)
Apr 4, 2023 Family Business MBA Application Workshop (Online)
Apr 19, 2023 Assessing Your MBA Profile (Online)
Upcoming Deadlines
Feb 27, 2023 UNC Kenan-Flagler (Round 3)
Mar 1, 2023 USC Marshall (Round 3)
Mar 6, 2023 Cambridge Judge (Round 4)
Mar 6, 2023 Toronto Rotman (Round 3)
Mar 7, 2023 INSEAD (Round 4)
Mar 12, 2023 Carnegie Mellon Tepper (Round 3)
Mar 14, 2023 IESE (Round 3)
Mar 14, 2023 Notre Dame Mendoza (Round 3)
Mar 14, 2023 UW Foster (Round 3)
Mar 15, 2023 NYU Stern (Round 4)
Mar 15, 2023 Cornell Johnson EMBA Americas (Round 3)
Mar 15, 2023 Cornell Johnson EMBA Metro NY (Round 3)
Mar 15, 2023 Michigan Ross EMBA (Round 3)
Mar 20, 2023 Georgetown McDonough (Round 3)
Mar 22, 2023 Emory Goizueta (Round 3)
Mar 22, 2023 Oxford Saïd (Round 3)
Mar 27, 2023 Dartmouth Tuck (Round 3)
Mar 27, 2023 London Business School (Round 3)
Mar 28, 2023 Texas McCombs (Round 3)
Mar 29, 2023 Penn Wharton (Round 3)
Mar 31, 2023 Vanderbilt Owen (Round 3)
Click here to see the complete deadlines
2022–2023 MBA Essay Tips
Anderson School of Management
Cambridge Judge Business School
Chicago Booth School of Business
Columbia Business School
Consortium for Graduate Study in Management
Cox School of Business
Darden School of Business
Esade Business School
Fisher College of Business
Foster School of Business
Fuqua School of Business
Goizueta Business School
Haas School of Business
Harvard Business School
HKUST Business School
IE Business School
IESE Business School
International Institute for Management Development
Ivey Business School
Johnson Graduate School of Management
Kellogg School of Management
Kenan-Flagler Business School
London Business School
Marshall School of Business
McCombs School of Business
McDonough School of Business
Mendoza College of Business
MIT Sloan School of Management
Questrom School of Business
Ross School of Business
Rotman School of Management
Saïd Business School
Smeal College of Business
Stanford Graduate School of Business
Stern School of Business
Tepper School of Business
The Wharton School
Tuck School of Business
Villanova School of Business
Yale School of Management
Click here for the 2021–2022 MBA Essay Tips
MBA Program Updates
Berkeley-Haas
Boston University (Questrom)
Carnegie Mellon University (Tepper)
Columbia University (Columbia Business School)
Cornell University (Johnson)
Dartmouth College (Tuck)
Duke University (Fuqua)
Emory University (Goizueta)
George Washington University (GWSB)
Georgetown University (McDonough)
Harvard University (Harvard Business School)
Indian School of Business
Indiana University (Kelley)
Massachusetts Institute of Technology (Sloan)
New York University (Stern)
Northwestern University (Kellogg)
Notre Dame (Mendoza)
Ohio State University (Fisher College)
Oxford University (Saïd Business School)
Penn State Smeal College of Business
Southern Methodist University (Cox School of Business)
Stanford University (Stanford Graduate School of Business)
University of California Los Angeles (Anderson)
University of Cambridge (Judge)
University of Chicago (Booth)
University of London (London Business School)
University of Michigan (Ross)
University of North Carolina (Kenan-Flagler)
University of Pennsylvania (Wharton)
University of Southern California (Marshall)
University of Texas at Austin (McCombs)
University of Virginia (Darden)
Vanderbilt University (Owen)
Yale University (School of Management)

The HBS Interview: What to Expect + Sample Questions
Oct 14, 2022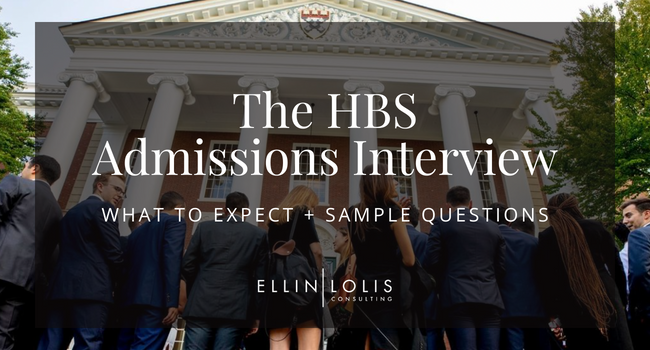 UPDATE : This article was originally posted on February 6, 2019. It has been updated with new information and tips below. 
When many people think "business school," the first MBA that pops into their mind is Harvard Business School. Established in 1908, HBS has been at the forefront of business education for more than a century. 
However, receiving more than 8,000 applications per year, Harvard Business School is one of the most difficult MBA programs to enter. 
That's why we've prepared this guide to help you use your Harvard admissions interview to stand out. We've rounded up not only our best tips, but have also included sample HBS interview questions to ensure you give your Harvard application your best shot.
How the HBS interview works
The Harvard interview is one of the most sought-after – and most difficult – interviews to land in the business school world. 
Thus, if you have passed to the interview phase of the Harvard application process, congratulations! This is already an exceptional achievement. 
The HBS interviews are fast-paced, often including as many as 20-30 questions in the space of 30 minutes! Furthermore, though HBS interviewers do sometimes ask a few standard MBA interview questions, most of the questions you will receive are tailored to your profile and/or are follow-up questions to answers you give during the interview . We believe that HBS adopts this type of interview style to test how well you would fit into the case study classroom environment. 
Despite its fast pace, our clients who have interviewed with Harvard say that the interviewer was very friendly and demonstrated a genuine interest in their answers. 
For some clients, questions were far more personal in nature, covering topics like their childhood and family upbringing. Other clients reported their interview was strictly professional, so make sure you're ready for anything when you interview with HBS.
Who will interview you?
Members of the HBS admissions committee. You will be interviewed by one or two people.
Will the interviewer have read my application?
Yes. Since a member of the adcom will interview you, they will have read your entire application before the interview.
How long will the HBS interview last?
30 minutes. The HBS interview is exactly timed and will not last longer than half an hour.
Where will my interview take place?
After two years of conducting interviews exclusively online, HBS is now offering the option to complete interviews either on Zoom or on campus. After being invited to interview, you will receive a link through which you can schedule a time for your interview. 
If you choose to complete your interview virtually, it will not negatively impact your application in any way. However, if you haven't had the chance to visit campus yet.
The Post-Interview Reflection
Unlike other most business schools, all candidates that are selected to interview at HBS must answer this open-ended question and submit their answers within 24 hours of their interviews. 
As part of the application process, you will be required to complete a Post-Interview Reflection. Here are a few details straight from Harvard Business School:
The Post-Interview Reflection is not intended to be another formal essay. Think of it instead as an email you might write to a colleague or supervisor after a meeting.
We will be much more generous in our reaction to typos and grammatical errors than we will be with pre-packaged responses. Reflections that give any indication that they were produced before you had the interview will raise a flag for us.
We do not expect you to solicit or receive any outside assistance with this exercise.
Your Post-Interview Reflection is due within 24 hours of the conclusion of your interview. Let the interview soak in a little bit…we hate to see people missing activities because they've blocked out the time right after their interview to write their reflections.
There is no word limit for the Post-Interview Reflection. There is a file size limit for the document you will upload, but it is quite generous.
Though there is no "model" for how to respond to this question, we have gathered several tips to help you ace this part of the HBS interview process here .
Who is Harvard looking for?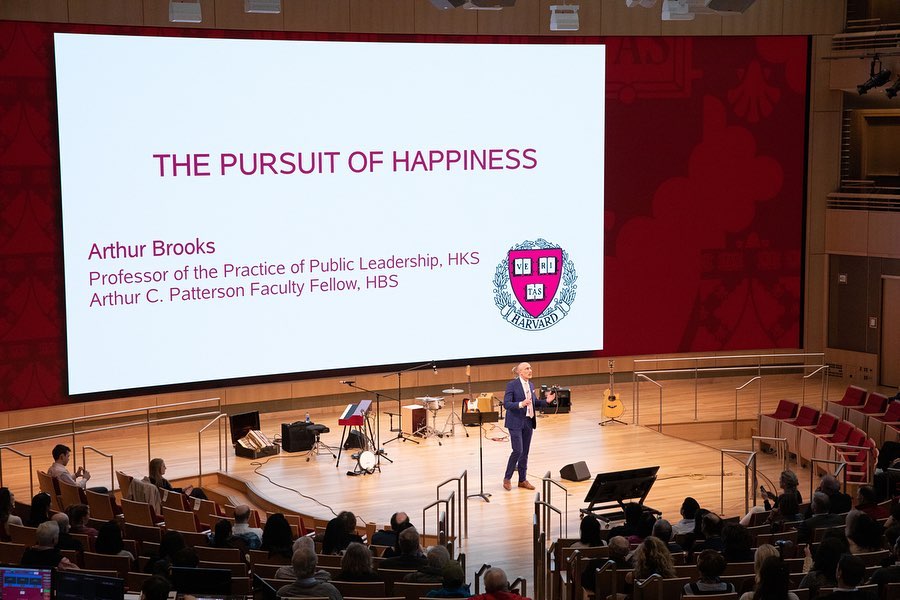 (Photo courtesy of @harvardhbs in Instagram)
"Coming to HBS for two years is a transformational experience. HBS will broaden your perspective on what is possible and mold you into a more capable leader to realize those possibilities." – Chad Losee , Director of Admissions at Harvard Business School
Every year, Harvard Business School admits the largest single MBA class in the world, with around 1000 students starting each year. In general, Harvard tends to admit applicants with 5 years of work experience and outstanding test scores. The median GMAT for the Class of 2023 was 730 and the median GRE was 164Q, 163V.
Harvard also places a strong emphasis on diversity, with the Class of 2023 containing 46% women and 37% international students.   
Nonetheless, despite the famous "case study method" and focus on excellence, Harvard also places a strong emphasis on diversity. 
According to Harvard's Admissions team:

In addition,  some of the key characteristics HBS looks for in applicants are:
Habit of Leadership
Leadership may be expressed in many forms, from college extracurricular activities to academic or business achievements, from personal accomplishments to community commitments. We appreciate leadership on any scale, from organizing a classroom to directing a combat squad, from running an independent business to spearheading initiatives at work. In essence, we are looking for evidence of your potential.
Analytical Aptitude and Appetite
Harvard Business School is a demanding, fast-paced, and highly-verbal environment. We look for individuals who enjoy lively discussion and debate. Our case and field-based methods of learning depend upon the active participation of prepared students who can assess, analyze, and act upon complex information within often-ambiguous contexts. The MBA Admissions Board will review your prior academic performance, the results of the GMAT or GRE, and, if applicable, TOEFL iBT and/or IELTS, and the nature of your work experience. There is no particular previous course of study required to apply; you must, however, demonstrate the ability to master analytical and quantitative concepts.
Engaged Community Citizenship
So much of our MBA experience – including the case method, section life, and student-organized events – requires the active collaboration of the entire HBS community. That's why we look for students who exhibit the highest ethical standards and respect for others, and can make positive contributions to the MBA Program. The right candidates must be eager to share their experiences, support their colleagues, and teach as well as learn from their peers.
We want applicants who have these traits, as well as bring a variety of skills, accomplishments and aspirations. In each class, we create a dynamic environment that mirrors the breadth and depth of our world economy. Our promise to our faculty and to every student here is to create a class of 900 students who come from as many different backgrounds and perspectives as possible.
How can you prepare for your HBS interview?
The questions you get at HBS will be very tailored to your profile and will adapt as the conversation develops. 
For example, if you say: "I'd really love to do my summer internship in a technology company," your interviewer might follow with: "Which 3 companies would you apply to?" As such, make sure you have combed through your application and have considered all types of questions and follow-up questions your interviewer might be interested in asking you. 
Though most questions are unpredictable, HBS does also draw upon some of the more common MBA interview questions, such as those asking why you are interested in attending an MBA in light of your career goals, why you're interested in HBS, and what you bring to the Harvard community. As such, we have prepared some model questions below that previous candidates have received in their past HBS interviews.
Sample HBS Interview Questions
The questions below are drawn from our clients' interview reports, as well as from sites like clearadmit.com . Though these are not all the potential questions you could possibly receive during your HBS interview, preparing for these (and any follow-up questions you think you might be asked) should give you a very solid foundation for your interview. 
BACKGROUND INFO/WHY HBS
Tell me about yourself
Why did you choose to join Company X (something from your CV)?
What are the best and worst things about your current job?
What's the company's position compared to its competitors? How can your company improve this?
What has been the most challenging aspect of your current job?
If you could change anything about your current company, what would it be?
How has your leadership evolved with your career progression?
Who do you admire in your current industry (companies and leaders)?
Where is the industry heading?
Who do you admire in your post-MBA industry?
Where is that industry heading? (post-MBA industry)
Where do you want to do your summer internship? How will you market yourself to these companies?
What do you like to do outside of work?
What challenges do you anticipate facing in reaching your career goals? How will you overcome them?
Why do you want an MBA?
When did you decide to get an MBA?
What kind of people do you look forward to meeting at HBS?
How can you contribute to case method discussions?
What will you get involved in on campus?
What will you do if you don't get into any business school this year?
What makes you unique?
LEADERSHIP & TEAMWORK
Tell me about a recent example where you demonstrated leadership. 
What kind of leader are you?
Who is a leader that you admire and why?
Tell me about a time you dealt with conflict in the workplace. 
Give me an example of a project you've had a difficult time with.
Tell me about a time you had to convince a superior to follow your recommendation. 
STRENGTHS & WEAKNESSES
What would your supervisor say is a weakness? A strength?
What would you say are your greatest strengths and weaknesses?
How would your colleagues describe you?
Give me an example of a project you've had a difficult time with. What did you learn from it?
MISCELLANEOUS 
How did you find the application process? 
Is there something about you that has not been addressed in your application?
What is the most recent book you've read?
What is a common misperception people have about you?
What would your 5 closest friends say about you? Why?
What words would people use to describe you?
Given what you know now, if you could go back to university and pick your subjects, would you change your choices?
What motivates you?
What are you passionate about?
What would be your dream job?
How have you developed your international experience? 
Is there anything else that you haven't mentioned in your application that you would like to share?
Do you have any questions for me?
We have found that answering real interview questions on the spot is a much better means of preparation than reading lists of interview questions for most candidates.
We highly suggest you take a look at mock interview questions and sample interview responses before your interview . 
Our MBA Resource Center has dozens of real interview mocks from HBS, as well as detailed guides to help you prepare for questions ranging from "Why our MBA program?" to "Tell us about a time you failed."
The Ellin Lolis Consulting MBA Resource Center is your one-stop shop to interview success. Click to join !

If you're still not quite confident with your interview skills, our interview experts can help you craft your answers or prepare you for the rigorous HBS interview through mock interviews tailored to your profile.
What to do if you get a question you haven't prepared an answer for
Despite your most diligent preparation, you will almost always receive a question you had not prepared. 
First, stay calm and take a deep breath. You have already made it this far in the process, and one question will not trip you up!
Second, make sure you directly answer the question the interviewer asked you. For example, if the interviewer asks you about a time you had to deal with a difficult manager, make sure to tell a story about a difficult manager and how you handled the situation. 
If you're having trouble thinking of an answer or an example to support your answer , however, take a drink of water to give yourself a few more minutes to think. If you really can't think of an example from your personal or professional experience, you can use a hypothetical answer about how you would act in a certain situation. 
Finally, assume that the interviewer is testing how you think on your feet and respond to questions you didn't prepare in advance. Though your answer might not be as polished as if you'd had weeks to rehearse it, smile and confidently give your answer to show you can respond to any question they throw at you.
Make sure you get into Harvard Business School
Several years ago, I had the pleasure of helping a client, Felipe, put the finishing touches on his MBA admissions essays . A stellar candidate in all regards, those essays secured him interviews at an impressive set of elite programs: Harvard, Wharton, Booth, Columbia, Kellogg. In short, all the schools on his list called him to interview! 
Felipe was overjoyed when he called me with the news but was surprised that the first words out of my mouth (after "Congratulations!" of course) were, "Well it sounds like we have a lot of practicing ahead of us."
Though Felipe knew the statistics — at most elite MBAs, only 50% of candidates called to interview are actually admitted — he felt he'd already overcome the toughest hurdle and could relax a bit. "I'm really good with people," he said, "so I'm just going to go in there and be myself." 
In the end, Felipe got 5 dings and ended up having to reapply the following year. 
Practice is incredibly important. Especially when it comes to public speaking and highly-competitive selective processes. 
Our interview prep and practice service focuses on helping you determine what to highlight in your interview depending on the program while using appropriate, impact-driven language without being artificial, or worse, robotic. We also help you choose (and perfect) culturally appropriate examples based on the schools you're interviewing for.
As our former client Rafael said, " The preparation for my interviews was excellent. During the preparation, you speak with highly capable professionals who evaluate your interview performance in real time. I don't know of any other consultant that offers a similar service. "
Don't undersell your success. Book your interview prep and show that you belong at Harvard Business School.

Ellin Lolis MBA Resource Center
Application Resources To Help You Get Accepted

98.9% Success Rate
With our expertise and 98.9% success rate in placing our consulting clients in at least one of their target schools, we can add more value to your application than you ever thought possible.
Recent Articles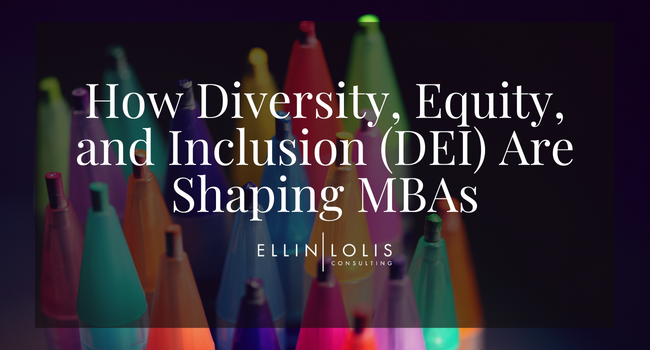 How Diversity, Equity, and Inclusion (DEI) Are Shaping MBAs
Feb 28, 2023
UPDATE: This article was originally posted on April 27, 2022. It has been updated with new information and tips below.  Economic and wealth inequality are at record highs across the globe, causing unprecedented social and political issues. Given this mounting number...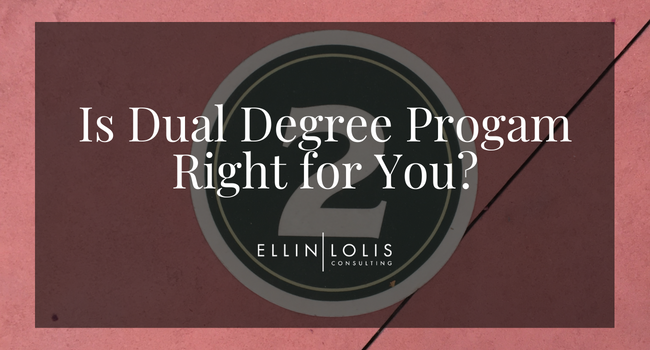 Is a Dual Degree Right for You?
Feb 27, 2023
UPDATE: This article was originally posted on June 1, 2022. It has been updated with new information and tips below.  There are a million and one ways to customize an MBA. As more and more students are demanding programs that suit their specific career objectives at...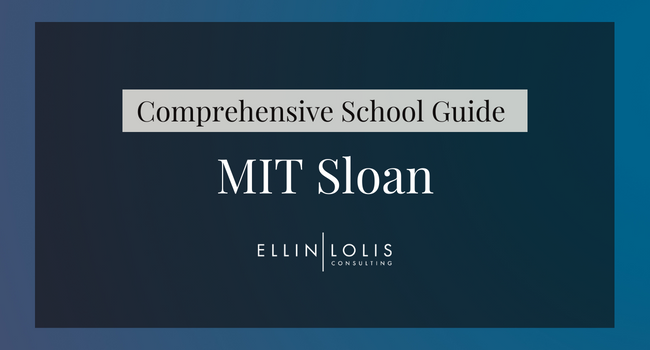 MIT Sloan School Guide: Everything You Need To Know
Feb 21, 2023
School and Program Overview Employment Information Is Sloan Right for You? Academics at MIT Sloan Networking and Extracurricular Activities What Makes Sloan Special? MIT Sloan Resources & Templates To Get You...
Ready to start your MBA Success?
Skip to main content
Skip to primary sidebar
Skip to footer
Additional menu
Admissions Roadmap
Your MBA Applications Roadmap
The Top Harvard MBA Interview Questions (and How to Answer Them)
The acceptance rate at Harvard Business School's prestigious MBA program is just 9% .
With many applicants having impressive work experience and an excellent academic record, it can be crucial to find a way to create a stellar application that stands out from the crowd.
If you're invited to interview, first of all––congratulations! Second, you're probably wondering how to prepare.
We've put together this article to help you to know what to expect at the interview. Keep reading to find the most common Harvard MBA interview questions and how best to answer them.
Will I have to complete an interview as a part of my Harvard MBA admissions process?
Not everyone who applies to Harvard's MBA gets invited to complete an interview.
The school splits its application process into three distinct phases : written application, interview, and post-interview reflection.
During the first phase three things can happen with your application:
You get invited to interview
You get held for further consideration
You receive an early release and are withdrawn from consideration
If your application falls into one of the first two categories, then you will either complete your interview immediately or need to complete an interview at a later phase to move forward with the application process.
That means that no matter what, you are likely to need to complete an interview to get into Harvard Business School.
Types of interview questions
There are several different types of interview questions that you could encounter during a Harvard MBA interview, so it can be useful to acclimate yourself to these as part of your preparation.
Structurally, the interview will typically last around 30 minutes , with the main section lasting 20-25 minutes. Opening questions will usually be broader and more introductory in nature.
Personal questions help Harvard get to know you in a more in-depth way than what can be shared through application materials alone. Questions in this category will typically ask you to expand upon some aspect of your professional or personal background.
Industry questions assess how well you understand the industry that you currently work in or plan to go into after graduation. Interviewers will ask you questions about companies in the industry, what makes them successful, and why you've chosen this career path over others.
General professional questions are also common during Harvard MBA interviews. These aren't personal or industry-specific. Instead, they focus on your general professional goals, skills, and knowledge.
When will my interview take place?
When your interview takes place will depend on which round you apply during , and what happens to your application during the first phase of review.
You may be invited to interview immediately, in which case you would likely interview sometime in October or early November.
Alternatively, your application may be held for further review. In that case, if you do get invited to interview, it may take place in November, December, January, or even later.
Harvard MBA interviews were conducted virtually during the pandemic, and some students will likely continue to have this option moving forward.
Top Harvard MBA interview questions and how to answer them
What is the difference between you and the leaders you admire.
This question is designed to assess how well you can articulate where you're currently at in your career and where you hope to go.
It's also a way for the interviewer to measure your humility and willingness to admit that you still have areas in which you can improve.
This question requires a level of self-reflection and introspection on your part, and you should aim to provide a specific answer. You should be able to reference a leader and state which traits or skills they possess that make you admire them. Then you should be able to talk about how your traits compare to the leader's and denote specific ways in which you could improve them.
Better still, you could mention how your MBA at HBS will help you gain the knowledge and experience that you need to become more like the leader you have referenced.
What would your 5 closest friends say about you and why?
This question tends to catch people off-guard, but it's really just another way of asking you to describe yourself.
Harvard MBA interview questions may use this strategy––slightly deviating from common variations of questions––to get you away from a prepared answer.
When answering this question, it's best to highlight traits and experiences that will relate to your ability to succeed at Harvard Business School. For example, you can talk about past positions and how they shaped you into the type of person who can succeed in Harvard's MBA program and make a positive contribution to the student body.
How is your current company winning in the market? How can they continue to do so?
Interviewers ask this question to get a sense of how well you understand your company's competitive edge. If you need help figuring this out, consider why customers choose your current business over its competitors.
Regardless of what factor you name, it can be helpful to demonstrate an awareness of the overall market and other impacting factors, in addition to knowledge of your competitors.
The second part of your answer will need to be informed by your understanding of how the industry that your company operates in will progress over the coming years. An excellent answer will reference specific actions that your company can take to maintain––or grow––its competitive edge in the face of changing circumstances.
What's something you wish you would've done differently?
It can be tempting to answer a question like this with a response based on the idea of having no regrets. However, doing so isn't usually a great way to impress your interviewer.
Harvard asks this question because it wants to see that you've learned from your mistakes. If you say that you have no regrets in your life, then you miss out on a valuable opportunity to show how you've grown. You also risk coming across as arrogant.
Instead, when answering this question you should try to zoom in on a specific instance in your life in which things didn't turn out the way you wanted them to. Then, speak to how going through that experience helped turn you into the person that you are today.
This will inform your interviewer not only of the way you handle stress or disappointment but also of your ability to critically reflect on your own choices––both of which are critical leadership skills.
What made you go into your career field?
The main purpose of this question is to assess what interests you and where you hope your career will go after you earn your MBA.
When answering this question, be sure to let your passion shine through. It can also be really helpful to highlight a specific experience that made you choose your current line of work.
For example, maybe you had a rewarding internship while earning your undergraduate degree that set you on this course. Or perhaps you had an experience in a specific role that shaped or changed your interests.
The only thing you need to avoid here is saying that you chose a career path for the money. While that may be true, it's unlikely to add any value or depth to your interviewer's understanding of you as an applicant.
What do you do at your current job?
This question is an opportunity for you to talk about some of the cool things that you're doing in the workplace.
Try to pick 2-3 specific responsibilities that you have at work which are relevant to your ability to succeed at Harvard Business School. Then, describe those responsibilities in-depth and be sure to explicitly make the connection between them and your ability to succeed at Harvard.
Valuable points to mention here might include any leadership or managerial experience, ability to think critically, strategic analysis and decision-making, or interpersonal skills.
What's a company you admire? How do you think their technology could be applied to a challenge we currently face?
If you get this question, it's designed to assess how deeply you think about companies and their technologies.
Harvard doesn't just want you to be able to pick a company that you admire. They also want you to be able to talk about why you admire that company.
With this variation, you need to be able to start specific and then expand to look at the big picture. You should be able to describe a specific technology that a company utilizes, which excites you.
Then, talk about why that technology is so important to the world at large. What types of problems can it solve? Who will benefit from it? Why does it matter? If your answer covers some of these questions, then you're likely on the right track.
Need a hand with your Harvard MBA interview prep?
Your Harvard MBA interview is a crucial step in your MBA admissions process, and preparation is key.
It's also why you should seriously consider seeking professional assistance with your interview preparation process. Admissions Roadmap can provide you with the personalized guidance, coaching, and feedback you need to unlock your full potential and maximize your Harvard MBA interview.
We've helped applicants get accepted at the top MBA programs in the country. But don't just take our word for it. Visit Admissions Roadmap today to learn more about what we can do to help you knock your Harvard MBA interview out of the park.
Receive MBA Admissions Advice for 2022
How to Ace the HBS Interview: An Insider's Advice
January 31, 2023 | by Karla Cohen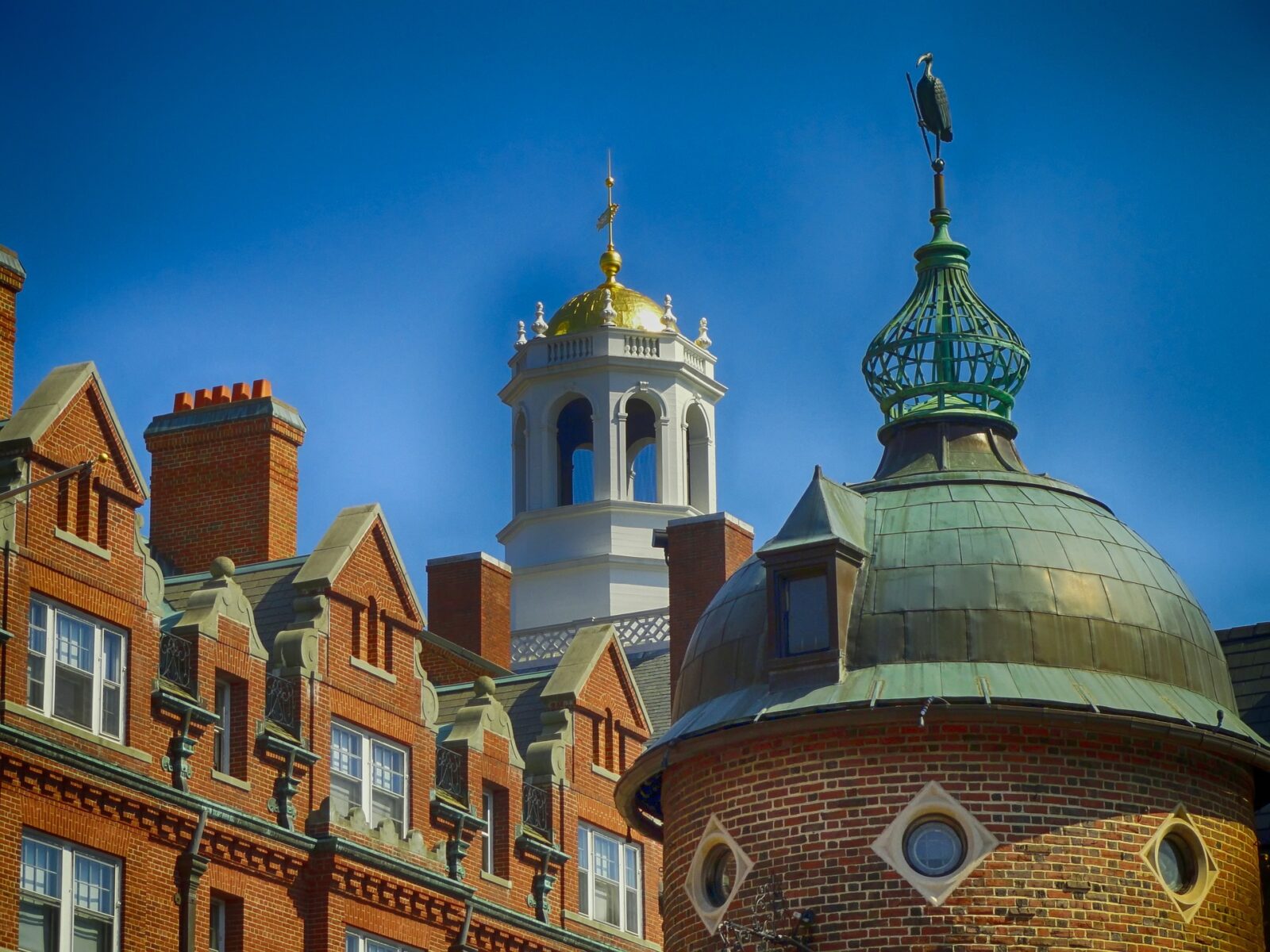 On Wednesday, February 1 at 12:00 noon ET, Harvard Business School will release its Round 2 interview invitations. HBS is offering both in-person and Zoom interviews.  Here's what HBS is looking for, along with seven top tips to make the best possible impression.
The Harvard Business School interview is a search for authenticity – the admissions committee is looking to verify that you're the person they met on paper. The good news is that you don't get an HBS interview opportunity without a really solid shot of being admitted. Meaning, they've seen the seeds of success in you if you're among the lucky few. The interview is your shot at proving you'll be an indisputable asset to the incoming class.
The bad news, however, is that you can have a completely flawless interview with thoughtful and insightful answers and not receive an offer. After more than a decade working in admissions at both HBS and INSEAD , I've seen firsthand the anguish of rejecting some exceptional candidates because of the numbers – for example, 50 bankers vying for 9 spots and some 19 knock it out of the park. It's rare, but it happens.
What to Expect from Your HBS Interview
Unlike other top programs, you have just 30 minutes to impress the Harvard Business School Admissions Board. This year, notably, candidates invited to interview with HBS may choose to do so in person or virtually. In its Direct from the Director HBS Admissions blog last fall, HBS acknowledges that travel can be costly and inconvenient for some individuals, and that "…there is no advantage in the evaluation process to interviewing in person or via Zoom. Really!"
No matter which format you choose, expect a seasoned interviewer who has read your entire file and prepared a set of Harvard Business School interview questions with you specifically in mind. While not always possible, HBS aims to pair you with someone who has experience in the background you're either looking to move into or coming from, which will impact the HBS interview questions you will be asked. HBS knows your sector and will have divided applications accordingly, ready to evaluate you against other applicants in your field.
The HBS interview is unique for several distinctive reasons, including the kind of information the Admissions Committee is looking to hear from you.
"HBS tends to concentrate less on behavioral questions (although these could come up), in favor of delving into your resume to discern your motivations, experience, understanding of your industry (current and future), and decision-making process," says Fortuna's Malvina Miller Complainville in her essential article on the M7 interview landscape . They speak of approaching the interview like "a case discussion." You'll also need to send a  post-interview reflection  within 24 hours.
7 Tips for Making the Best Possible Impression in the HBS Interview
1. know your story and offer a clear rationale for your decisions..
Using your resume as the starting point, Admissions is primarily looking at what you've done professionally. But this has less to do with where you've worked than why you worked there, your understanding of your role, and your rationale for making certain moves at different stages of your career. Your ability to articulate your thinking behind each of those decisions is essential, along with your personal ambitions and motivations beyond the MBA.
2. Persuasively connect your professional ambitions to HBS.
Beyond the power of the HBS brand, the admissions committee wants to know that you understand what its general management program has to offer – what it will do for you, and then how that ties to your specific career vision and goals. You'll need to be convincing and logical, not only about why an MBA, but why now, and how an HBS degree will serve as a catalyst for your own post-MBA success in the future. Many times candidates focus on leadership, and while that's part of what HBS is known for, don't forget that at its core HBS is a general management program, not a leadership school.
3. Display a nuanced understanding of your industry/sector/market.
The interview will be specific to your unique experiences and insights as well as potentially what you shared in your essay. Is yours a thoughtful plan of action, and is it ambitious enough to be compelling? In terms of your MBA career vision , can you cite a few specific ways the industry might change and demonstrate a broader understanding of the market? If you're an aspiring entrepreneur, can you meaningfully articulate the core challenges and opportunities you expect to face, and have you thought it through tactically? It's not necessarily about right or wrong in terms of your planned pathway – your honesty and sincerity are key, so steer clear of any fabrication of your goals for the purpose of admissions. Whatever pathway you choose, be able to convey how deeply you've considered these things. Excelling in a classroom where the case method dominates means you can't just offer different ideas without supporting evidence – you'll have to stand up for your points of view.    
4. Convey your authenticity.
The admissions committee genuinely wants to understand who you are and how you think, so don't try to be someone that you're not. The better prepared you are to articulate how you made certain decisions and choices, and what you were actually thinking, the more persuasive and believable you will be. The best approach you can take is to be yourself – it's your unique rational, thought process and perspectives that distinguish you from others of an identical or similar profile. In sharing your story, you want the enthusiasm to be there, but let your ability to be genuine be the element that weaves through the entire conversation.
5. Exude confidence without arrogance.
There is a fine line between arrogance and confidence, and your ability to discern it will show your maturity and acumen. HBS is seeking accomplished candidates with humility. Having humility is about knowing when to credit "me" or "we," and when to let your accomplishments speak for themselves to a large degree. Don't distort or exaggerate your importance or abilities – given the company you hope to keep in the coming year, it's vital to be honest and forthright.
6. Avoid sounding overly rehearsed.
While it's essential to be prepared, you want the flow to be natural and conversational. Alas, I can conjure numerous interviews when it felt like the person was hitting the "play" button and reciting a script from memory – which is a big turn-off. The best interviews were always the ones that felt like an engaging, detailed conversation. It's always gratifying for the interviewer to walk away with a stronger sense of who you are as a real person and what makes you tick.
7. If you choose to Zoom, adapt to the medium.
While most of us have become seasoned at conducting Zoom calls, you want to ensure the best possible conditions if you choose to interview on video. It should go without saying that your Internet connection should be flawless. Other technical considerations include excellent audio, lighting, and attention to your environment. As my Fortuna colleague Judith Silverman Hodara wrote in her recent post on Virtual MBA Interview Tips :
"Video is just as much about what you see as about what you hear. Make sure the space behind your camera is clear and uncluttered. Film yourself against a plain wall if possible, to keep the focus where it should be – on you. Any larger shot of your room in the background should be clean and organized. No passing people, animals or distracting piles of laundry in view. You can certainly have a small plant or small frame to give a bit of personality to your shot."
A big benefit of interviewing from home is that you can create the conditions to feel more relaxed – no one will know that you're wearing pajama bottoms below your suit jacket, for example, or if that you've doused the room in calming essential oils. That said, pay attention to your posture and other non-verbal cues, such as maintaining eye contact, hand gestures and energy. As Judith cautions, avoid watching the thumbnail of yourself onscreen (you can turn it off) and keep your eyes on your interviewer.
It's true that the school takes the Harvard MBA interview process quite seriously. This is why it's vital to think deeply about each stage of your professional growth, and about why and how you'll be more successful with a general management degree. HBS admissions want to ensure you fully appreciate what you're getting yourself into, and that you'll contribute in a way that's meaningful to the program and the community. If the fit's mutual, both of you stand to benefit.
For more HBS interview details, view this recently recorded strategy session with Fortuna's Malvina Miller Complainville and Judith Silverman Hodara:
Looking for HBS interview prep?
Our Fortuna Admissions team also offers dedicated HBS Interview Prep sessions  to help those preparing for one of the most nerve-racking interviews of their life . In our HBS-specific prep package, you'll learn the key differentiators that make the HBS interview distinctive, what its Admissions Committee is looking for, and HBS interview tips how to make the best possible impression with your limited time. We'll put you through the paces with a mock interview that will include Harvard MBA interview questions , facilitate a post-interview debrief, and brainstorm ideas with you for the written reflection.
Want more advice on applying to Harvard Business School?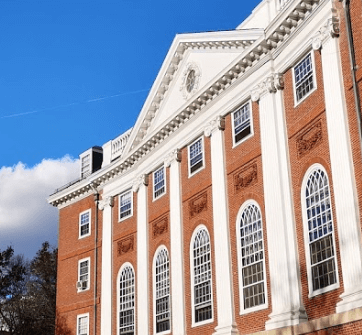 View these essential articles on HBS by Karla and other members of the Fortuna Admissions team:
1. Tips for Writing the HBS Post-Interview Reflection
2. HBS Essay: What Harvard Really Wants
3. HBS + GSB: Comparing Our Deep Dive Analysis on Who Really Gets In
4. Reapply to Harvard Business School: 5 Top Tips
5. Recommender Strategy for HBS & GSB
6. HBS video strategy sessions on our YouTube channel (8 videos)
You can also request a copy of our Insider Tips Report on HBS or the full deep dive reports  on HBS and Stanford GSB.
Updated January, 2023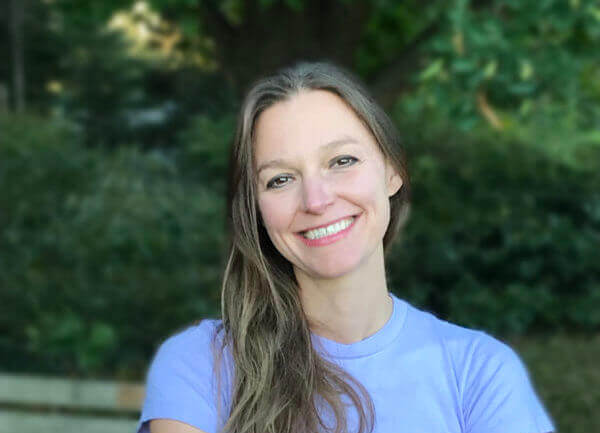 Fortuna Admissions Expert Coach Karla Cohen was Associate Director of Doctoral Programs at HBS and served on the MBA interview board for the Harvard MBA program. Fortuna Admissions is composed of former admissions directors and business school insiders from 15 of the top 18 business schools. For a candid assessment of your chances of admission success at HBS and other top MBA programs, sign up for  a free consultation .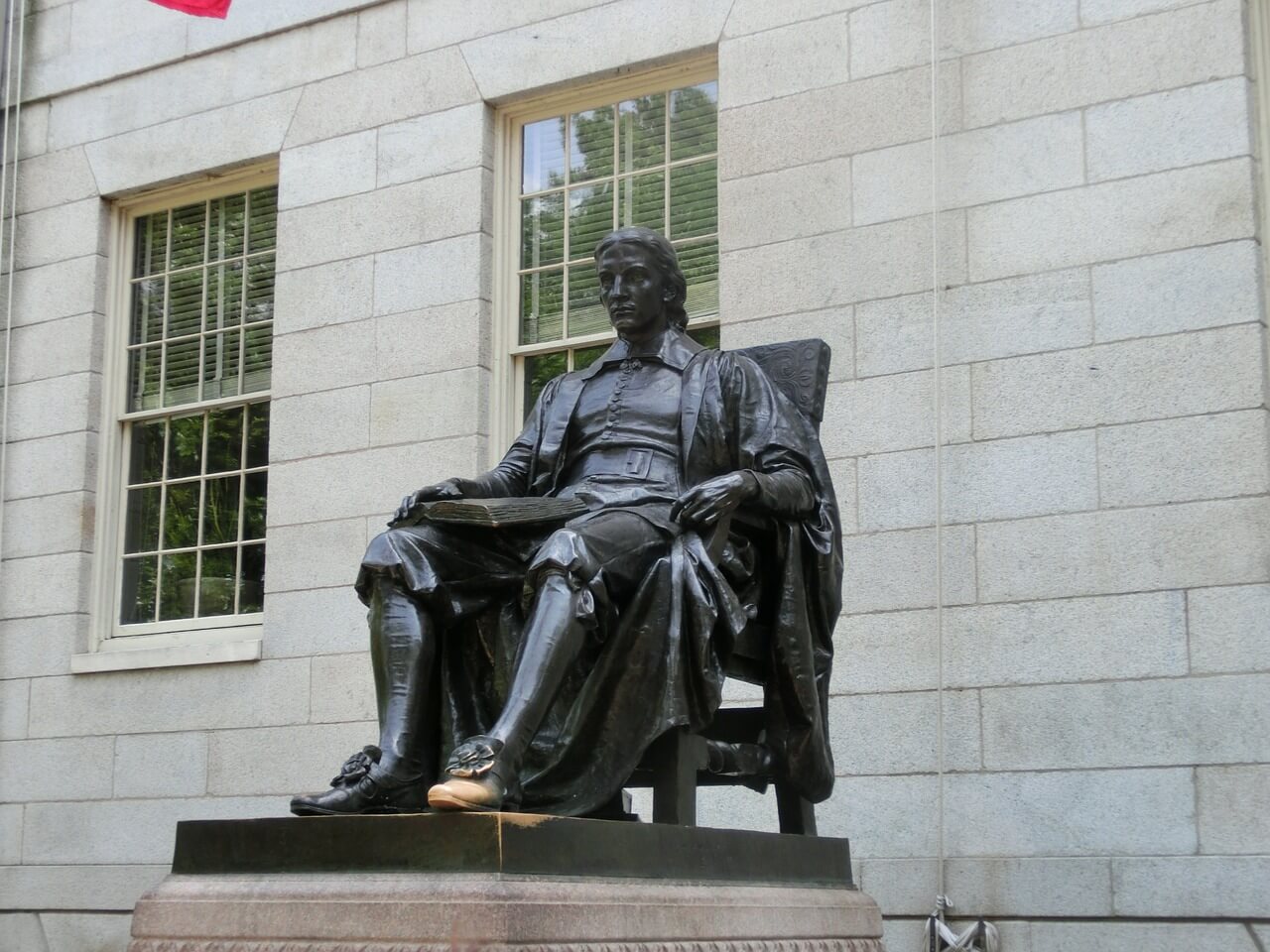 You May Also Be Interested In:
Advice for the wharton 2022-2023 tbd prompt + 5 tips for your pitch, chicago booth mba interview: what to expect & how to prepare, 5 strategies for mba admissions success, sign up for a free consultation.
First Name:

Sign up for our free bi-weekly e-newsletter and stay on top of the latest news.
First Name *
Last Name *
MBA Admissions Tips
Essay Topic Analysis
Interview Tips
Recommendation Forms
Admissions Consulting by Stacy Blackman Consulting
Test Prep Services by Stacy Blackman Consulting
Financial Aid & Scholarships
Financial Aid & Loans with Juno
MBA Career Placement Outcomes
View Overview
Bain & Company
Boston Consulting Group
Goldman Sachs
JPMorgan Chase & Co.
McKinsey & Co.
Investment Banking
Other Industries
Admissions Director Q&A
MBA Admissions Brief
Real Numbers of MBA Admissions
Real Humans: Admissions Officers
Real Humans: Alumni
Real Humans: MBA Students
Fridays From the Frontline
Interview Reports
Babson / Olin
Berkeley / Haas
Cambridge / Judge
U. Chicago Booth
Carnegie Mellon / Tepper
Cornell / Johnson
Dartmouth / Tuck
Duke / Fuqua
Emory / Goizueta
Georgetown / McDonough
Harvard Business School
IE Business School
IESE Business School
Indian School of Business
Indiana / Kelley
Johns Hopkins / Carey
London Business School
Michigan / Ross
MIT / Sloan
Northwestern / Kellogg
Notre Dame / Mendoza
NYU / Stern
Ohio State / Fisher
Oxford / Saïd
Rice / Jones
Rochester / Simon
Stanford GSB
Toronto / Rotman
UCLA Anderson
UNC Kenan-Flagler
UPenn / Wharton
USC / Marshall
UT Austin / McCombs
UVA / Darden
Vanderbilt / Owen
Washington / Foster
Washington U. / Olin
Clear Admit MBA Admissions Podcast
The Best Business Schools for Consulting
The Best Business Schools for Entrepreneurship
The Best Business Schools for Finance
The Best Business Schools for Healthcare
The Best Business Schools for Marketing
The Best Business Schools for Social Impact
The Best Business Schools for Technology
U.S. News MBA Ranking
Bloomberg BusinessWeek Ranking
The Economist Ranking
Financial Times MBA Ranking
Forbes Ranking
Top Deferred Enrollment MBA Programs
In-depth, independent profiles of every leading business school. Get the latest insider tips, news, deadlines, for your target schools.
All Schools
ASU / W.P. Carey
Boston College / Carroll
ESMT Berlin
Georgia / Terry
Manchester / AMBS
Minnesota / Carlson
UCI / Merage
Lauder Institute
Upcoming Events
Anderson School of Management
Chicago Booth School of Business
Columbia Business School
Darden School of Business
Fuqua School of Business
Haas School of Business
Kellogg School of Management
Kenan-Flagler Business School
McCombs School of Business
McDonough School of Business
MIT Sloan School of Management
NYU Stern School of Business
Ross School of Business
S.C. Johnson Graduate School of Management
Stanford Graduate School of Business
The Wharton School
Tuck School of Business
Yale School of Management
Financing the MBA
Recommendation Guide
Waitlist Guide
Juno Student Loan Guide
Reapplicant Guide
Résumé Guide
Becoming a Clear Admit: The Definitive Guide to MBA Admissions
Clear Admit+ Monthly Plan
Clear Admit+ Annual Plan
Interview Questions & Reports All Schools Arizona State / W.P. Carey Babson / Olin Berkeley / Haas Boston College / Carroll Brigham Young Cambridge / Judge Carnegie Mellon / Tepper CEIBS Columbia Cornell / Johnson Dartmouth / Tuck Duke / Fuqua Emory / Goizueta ESADE ESMT Berlin Georgetown / McDonough Georgia / Terry Georgia Tech / Scheller Harvard Business School HEC Paris HKUST IE Business School IESE Illinois / Gies IMD Imperial Indian School of Business Indiana / Kelley INSEAD Johns Hopkins / Carey Lauder Institute London Business School Manchester / AMBS Michigan / Ross Minnesota / Carlson MIT Sloan Nanyang Northwestern / Kellogg Notre Dame / Mendoza NYU Stern Ohio State / Fisher Oxford / Saïd Penn State / Smeal Rice / Jones Rochester / Simon SMU Cox Stanford GSB Temple / Fox Toronto / Rotman U. Chicago Booth U. Illinois Urbana U. Washington / Foster UCI Merage UCLA Anderson UMD / Smith UNC Kenan-Flagler UPenn / Wharton USC / Marshall UT Austin / McCombs UVA / Darden Vanderbilt / Owen Washington U. / Olin Wisconsin Yale SOM
HBS MBA Interview Questions & Report: Round 2 / Adcom / Off-Campus Hub
Much warmer and conversational than I expected! Interviewer started off by telling me she thought my essay was amazing, which instantly put me at ease. She asked me a great deal of follow-up questions about that, as well as dove into one of the extracurriculars I had briefly mentioned in... Read more »
Interview Report Round-Up: HBS, INSEAD, MIT Sloan
Welcome to another edition of Interview Report Roundup. This week, we're taking a closer look at MBA admissions interview reports that HBS, INSEAD and MIT Sloan applicants have recently shared to the Clear Admit Interview Archive. A Round 1 MBA hopeful for Harvard Business School faced an adcom member very... Read more »
HBS MBA Interview Questions & Report: Round 1 / Adcom / Zoom
My AdCom interviewer was very nice and started the interview in a relaxed, conversational way. There was not much back and forth as it was the interviewer asking questions with me answering. Some of the questions were based off my answer to the previous question. We ended the interview right... Read more »
The interviewer had read the entire application in detail (including details I had mentioned only in the application form) and had done basic research on some of the niche parts of my work. The questions were not technical, but did try to gauge basic understanding of the industry. I felt... Read more »
Join the Clear Admit community for free and conduct unlimited searches of MBA LiveWire, MBA DecisionWire, and the Interview Archive. Register now and you'll also get a free copy of our critically acclaimed MBA Résumé Guide!
Click here to register!
Already have an account? Click here to login .
Submit Interview Report
Mba decisionwire.
Research tips
MBA Program Overviews
In-Depth Profiles
MBA Program News
Planning tips
School Guides
Get Expert Input
Resume Guide
Recommenders
Application tips
Individualized Feedback
Interview Guides
Decision tips
Financial aid
MBA News by Metro
Join the Clear Admit community for free and conduct unlimited searches of MBA LiveWire, MBA DecisionWire, MBA ApplyWire and the Interview Archive. Register now and you'll also get 10% off your entire first order.
Please enter your Username and Password
Don't have an account? Register for free
Go deeper into admissions strategy with our NEW product Clear Admit +. Subscribe for only $44.99 annually until Aug 20 and get access to hours of video lessons (Admissions Academy), extensive historical data on admissions outcomes (Data Dashboard), private webinars, and our library of digital publications. Learn more about Clear Admit+, subjects that are covered and watch our FREE episode sample in FAQ.
GMAT CLUB TESTS
FORUM QUIZ - NEW!
QUESTION BANKS
DECISION TRACKER
SCHOOL DISCUSSIONS
MARKETPLACE
T&C and Privacy Policy
GMAT Club Rules
${glob_var/L_LOGIN_LOGOUT}
Quick Search
Harvard Business School (HBS)
"I gave my interview in person and it was a great experience! For the interview know your entire application well - anything you've submitted is available to the interviewer so the questions can come from anywhere. Be relaxed and be yourself- they are interested in learning about you- show them you are an interesting person to speak to and you'll be good!"
Was this Debrief helpful for you?
"Most engaging conversation ever! It did not feel like the Rapid Fire Round description and it was only as I reflected did I realize there were some 20+ questions covered. The interviewer was very warm, wore a smile throughout the conversation and brought in personal anecdotes that really helped build a rapport. We went quite deep into my company, talking about different verticals, industry, competition, sale cycle, product range, client, challenge, what I enjoy the most. I think 70% of the interview was on this and I apologised at one point for talking a lot, that I know I should keep the answers crisp and short but she reassured me that as long as you are doing most of the talking, the interview is going great we covered 1 question about my short term goal and 3-4 on my long term goal as to why, where, how would you realize it etc The last question pertained to hobbies I did not realise how 30 minutes passed. The interview flow was very organic and I felt like it was a conversation with an acquaintence! I enjoyed the process a lot! All the best to all applicants"
"Hello Folks, So I was waitlisted without an interview in R1 and finally got an invite to interview in R2. I was allowed an opportunity to submit additional information where i mentioned my marriage, promotion, international publications, and my hobby of cooking. This letter i believe helped me go up from waitlist to interview. The interview was virtual and very laid back. Sarah Lucas from HBS was the only person on the panel and she started my interview with her wishes for my 1st anniversary. From the get go it was a very laid back interview. Following are the points we covered. 1. Why particular major and college ? 2. How has my firm helped me evolve as a person ( 6 yrs in same company ) 3. Discussion on recent promotion. 4. I had mentioned about restructuring in the company due to covid, she asked for more details on that and my views on it. 5. Why i was promoted when others were getting laid off. 6. Most challenging country to work in and why. 7. I had 10 international conference publications - which was most important for me. 8. Future goals - why i wanted to follow what i wrote. 9. Role of world bank in energy market ( i mentioned i wanted to join world bank ) 10. Do i think subsidy on renewable is good. 11. My hobbies. Sarah was very soft spoken, allowed me to do a lot of talking, was very conversational as she kept expressing her views on what i said too. Overall a pleasant experience, I think I could not have done better. Now fingers crossed for the decision date !"
"The interviewer was friendly and the full interview was quite tailored to my application. Not sure I remember all the questions (the interview was quite intense) but here are the ones I can recall: - Explain your industry and your current job - I mentioned a failure in my essay, he asked me why I thought I failed. - He asked me to rate myself in 3 areas (I don't remember..) - Current challenges in my job - He asked me about a trait I mentioned I had in my essay that didn't seem consistent with my management style - What did I know about HBS? How did I get my info? how would I thrive? What would be my challenges? - He asked about a hobby I mentioned in my resumé - A question I wish he asked."
"My interviewer was friendly but the interview itself was very intense - with high pace, a lot of sudden changes of the topic, a big share of industry-related questions and almost no questions to my CV. Generally I would group all questions I received as follows: 1. Industry-related (very general examples) - 50% - explain what you do - what your competitors are currently doing - what fresh new regulation is there (she definitely informed herself in advance, so I did not fell toooo fit there) - explain your project in plain english 2. "Explain" the stuff in the application - 40% - why exactly you got promoted - how did you persuade your management - explain to me the overall industry environment at the moment you started the project - why you choose exactly that point of time to switch - what have you been doing the last two months 3. Random - 10% - what are your hobbies - what are you doing during Corona She did not stick to the above structure actually, rather she was throwing questions randomly and at a very high pace, sometimes asking 3 questions in a row (I tried to answer them all!). I was not completely satisfied with my answers relating to industry, so I decided to bring some more clarity in the post-interview reflection. I have no clue what reactions my interviewer had as I was very focused to look at the camera. It did not feel like my best shot, but I could not have prepared anything better - it was so tailored to my very specific situation! Best of luck to everyone!"
"Interview went very smoothly, the interviewer set a welcoming and warm atmosphere which made me feel much more comfortable. I also loved that almost all questions were straighforward about specific things from my application, so I basically knew how to answer them. Questions/talking points -specific thing about my essay, family background and how it relates to my background and goals -why did I go to my first job at a Big 4 and how it related to my goals -how did I handle the fact that my college education hadnt provided me with the basics to work with audit, valuation -how my participation at an Innovation and Entrepreneurship program connect to me transitioning careers to a startup -what do you do now (had just changed jobs after sendind application), what does the company do, can you give more detail on what X means? -can you explain more about the problems the industry faces -question about my volunteer experiences during college, if I had done anything since. How do I choose the institutions I work with or donate to -what about other industries, if you were not in industry Y where would you be? what if during the mba you do an internship, where would that be? -anything you wanted me to have asked you? follow up questions done! I don't exactly remember all questions but this is how much I can remember and hope it helps you."
"Interviewer is very friendly and we covered my resume in depth. Generally each topic had the following 3 questions: what do you do, how did you get involved, and why did you do it. Asked how my day was and how was class. Asked about an special internship in college I highlighted in my app. Asked about a sport I played in college and what it was like being a captain. Asked what was the hardest part of becoming captain. Asked about my managerial style on my professional experience. Asked how did I get there and about my promotions. Asked how would I solve a problem in my future industry. Asked about an extracurricular I'm currently in. How did I get involved/ what do I do/ why did I get involved. Asked if there's anything more I would like to share."
"The experience was an absolute blur, but the interviewer kept the conversation very casual and made me feel comfortable. Having said that, you need to be ready and totally focused. The questions and follow up questions come quick, and you should provide thoughtful and concise questions to each to keep the energy of the interview up. Flow of the interview was as follows: Walked through resume from undergraduate experience to present. Random follow ups on personal interests and current events. Undergrad leadership experience Why undergrad major? Why job/company selected out of undergrad? Challenges, achievements in first job. Follow ups Challenges, achievements in second job. Follow ups Current assignment - how has responsibility increased? (I have worked for same company for 5 years, so the whole interview was showing how I've developed and taken advantage of opportunities in development program) Saw one of my interests in resume, asked why I enjoy it and asked me to expand (learning more about personal side) Asked where I learn about current events. What am I interested in in my own industry and other industries? What companies am I following, etc."
"I interviewed last week in New York. Similar to what others have said the interviewer was friendly, but he definitely came at me from the beginning. We did not touch my resume, or any of the traditional leadership questions that I had anticipated, instead he asked mainly curve ball questions really from every direction. I feel like I did well, I made a point to be articulate and conversational in my responses. To echo what others have said though, it was very apparent that his purpose was to get me off of my script and then push me around to see how I reacted. I think I reacted well, and he definitely had me off of my script from the first to the last question. My interview was 44 minutes long though, not sure if that is a good or bad sign! In the beginning he said there wouldn't be time for questions, and as we were wrapping up I knew we were already past time so I was very surprised when he said, "Do you have any questions?", and then after I asked one and he responded, he asked me, "What is another question?"! Whether I get in or not I know I did my best and there is no way I could have been more prepared for the interview. I am grateful that I did plenty of mock interviews and personal preparation beforehand though, had I not there is no way I would not have been a deer in the headlights 5 minutes into the conversation."
"My interview was a blur! Here are a few thinks I remember: 1. Know your resume well. You will be asked specific to your experience. 2. Know about how the recession affected your industry and your life. I know 2 other peeps who had the same exact question asked. 3. 1 other person and myself were asked about entrepreneurship and how often I thought about "getting rich quick" and what business ideas would allow that to happen. Keep in mind I am NOT an entrepreneur! 4. Would you still attend HBS if you won the lottery? 5. Where do you see yourself 30 years from now? 6. What do you think about the M&A market right now? I blanked out on this. 7. Is your job logical? Why or why not? I know of 2 other people who got this same question. Overall a very intense but friendly process. No time for questions at the end. Good luck to everybody! I know I will remember some questions here and there, so I will post more when I have a long enough list but they were fairly farfetched and unrelated to my profession!"
"I had my interview on campus this week! It was a good conversation lasting exactly 30 minutes. The first 15-20 minutes was spent about my current role, my employer and my industry. Later it moved to my post MBA goal (I want to start my company) and details about my business model, challenges, plans etc. We also spoke about my leadership style (what will be team mates say is my biggest leadership trait?). Overall it was a fun 30 minutes and passed by very quickly. I had prepared a lot and though it came handy, wasn't all that necessary. I am glad I did the interview on campus as I was able to participate in the full day of activities (campus tour, chat with faculty, chat with current students, "What's next" with Dee, etc.) and also sat in a class the next day. This has completely changed my impression of HBS and the value it provides. I had a great time!"
"I interviewed last week and have been meaning to post my thoughts on here. I enjoy lurking on the site so I try to be helpful every now and then. . . I would reiterate everything that has been said above by everyone else. My interviewer asked some pointed follow-ups, but overall it was very friendly, conversational and pleasant. I think it went well for me. Thinking back on what we focused on content-wise for my interview the only two things I would add, which have been stated above at various points, are: -Be able to discuss in detail any aspect of your resume (We spent way more time on my present and past than my future goals, etc.) -Be familiar with the macro issues at your company/within your industry. I was asked several questions relating to this and get a feeling that it's very common for us candidates coming from less-represented backgrounds. Good luck to everyone still waiting to interview. I enjoyed the day on campus, particularly meeting the other prospective students. Probably met some of you other gmatclubbers. . . ."
"I had my interview on Monday. 30 mins, about 15 questions. One interviewer who led the discussion, and one observer who was mostly silent taking notes, but asked me some probing questions. Both very friendly and kind, but very formal at the same time. Their last question was "is there anything you wish we'd asked", so I assume that we managed to go through all the questions they had prepared. It was a very intellectually stimulating conversation, and I think it went well. I enjoyed it. The whole application process is now finished and regardless of the outcome it has been a fantastic experience. Good luck to all applicants who are still to do their interview! EDIT - They asked me lots of probing questions to test my mental agility and, I assume, my capacity to contribute to case discussions. A few questions related to my industry, and obviously I knew the topic very well. Some other questions related to other industries, and I had to remain calm, quickly put thoughts together, and go ahead with a crispy and concise answer that I definitely had not rehearsed. I agree that it was exhilarating and not relaxing at all - but definitely a terrific experience!"
GMAT Prep Courses
MBA Programs
Build Your Study Plan
Best GMAT Books
All the GMAT Tests
GMAT Club Tests
GMAT Verbal
Error Log Templates
GMAT Official Guide
Manhattan Prep
Target Test Prep
Experts' Global
Full Time MBA Rankings
Part Time MBA Rankings
Executive MBA Rankings
International MBA Rankings
Best App Tips
Best MBA Books
Application Reference
Free Profile Evaluation
Copyright © 2023 GMAT Club
GMAT ® is a registered trademark of the Graduate Management Admission Council ® (GMAC ®). GMAT Club's website has not been reviewed or endorsed by GMAC.