Entertainment
Environment
Social Issues
Home Essay Samples Entertainment Social Media
Why Social Media Is Bad
Social media networking is the modern way that allowed people to communicate with each other and debate anything regardless of the distances that separate between them. these reasons are the most commune reason that a significant number of people think social media network institute for it only but from another hand, social media networking has two main purposes one of them is the social purpose that many of people know this aspect. the second one of this purpose is the business purpose this purpose is the most important stuff for people who invented social media networking and for people who have a big business because it provides a universal site to display their product. However, social media networking has a positive phase when support business and make the easy way that people use it to contact with each other but it still hurt individuals in many ways. This effect can be harmful especially on teenagers that don't have enough information about social media and the right way that everyone should be used during the time that he or she spends on the social media network.
So, why social media is bad? Nowadays we can see the life becomes more public on social networking like Facebook tweeter Instagram and the way to connect between the people has a significantly changed to become more complicated especially between lovers people who spend long time on social media more likely to have a problem with partner and sometimes that's leads to break up between there individuals one of reasons that make this action happened is when you set on your phone or laptop to surf the internet then you see your partner put like or comment to a nice person here you become upset then if you see the same view another time your problem increase slowly and you be more wondering who is this person especially if you are a jealous person as a resolute that is what I see when I make some research on many websites and asking people who use the mobile phone and have gone through the same condition.
Social media networking is the best place to spread the fake news because it has a huge number of followers that helps anyone to make any post or video universal during a short time from another aspect fake news is more fiction than true news, and that considered the main purpose of why the false much faster and more widely. The last researching shows the number of people who depend on social media to send fake news increase significantly that makes a bad effect on individual, society and the world. From other aspects, social media networking contributed greatly to change the way that people thinking about their life and one of bad result is that most people become lazy because they see some people who use social media networking become rich without any effort for this reasons some people said fake news on social media can destroy all valuable and makes ever thing in society go wrong.
✓Full confidentiality ✓No hidden charges ✓No plagiarism
The most dangerous aspect on individuals that social media networking can make harm effect on daily life is playing online games if we focus on aspects that playing online game can make significantly effect we notes three main parts the first one of them is missing the goals playing online game take your time without you feel and after a long time you feel you can't do any new task maybe that makes you lazy person need long time to start in another work as before then if we move to second part we can see how online games effect on your study if you are students. Spending your time on the games take all your energy so you cant study anything after many hours of playing a game then you feel like you west a long time without real value so that can cause a big problem for you and your future. The last part that online game can affect it is the way you deal with others. Sometimes online game could make you aggressive and you make wrong things with people that require an apology about the thing you don't want to do it but only because you were angry for these reasons online game is considered very bad in all situation Adversely affected on different level in society that social media networking can be caused. Social media networking can make different types of effect on society and that depend on people who use social media networking and their age the search results show us who can have a big effect from social media networking and this person was teenagers because the kind of people don't have enough consciousness about things that happened on this social media website and how do they deal with it.
Initially, we have many ways to avoid using mobile phone for a long time but the most effective way that help everyone to avoid many problems with partner and to avoid wasting time on the game is training yourself with tech breaks. When you start using this way maybe it still so hard especially if you are an addicted person on social media networking. After a short time if you still use this way over and over again you will notice a big difference in your life. Also training your self with tech breaks have another positive effect because it can help you to manage your time and devote more time to study and work and your partner. After all, if you are serious about your life and you need to make a real change in your life you should apply this method accurately then you will be satisfied with your relationship with partner family and friends.
Fake news spreading is a big problem that needs a serious solution and serious rules to face all individuals who try to increase this news during social media networking therefore why we need to find a real solution. First, we need to legally prosecute people who post fake news that means any person who tries to post fake news should go to the court and pay a big fine for government because they try cover-ups that consider important for another people which had lead to avoid much important decision. Besides, the government should support all website to find anyone who helps to post fake news during the change of any real post that has a real writer.
In conclusion, we have three different aspects that social media networking can affect on them the first one is the relationship between individuals this aspect considers very important because it can affect on daily life inside and outside the home and cause any problem. second aspect which is study time the main reason for this problem is that many students wasting their time on the online games without wasting their time on information resources, also this problem has a negative effect because a big number of student fail in their test that's cause to lose time and money which consider very important for all students and their parents. Last point which is fake news and fake information that social media network contribution to their publication and this news may cause a bad affect on the people who read or study this information. From another side, we have a different kind of solation that help to solve this problem some of them depend on users and how they deal with social media and another side depend on the government and their policy with social media, in the end, we see many negative effects and many solutions for this effect overall social media hand a significant number of positive effect, for this reason, it still very important in our life.
*minimum deadline
Cite this Essay
To export a reference to this article please select a referencing style below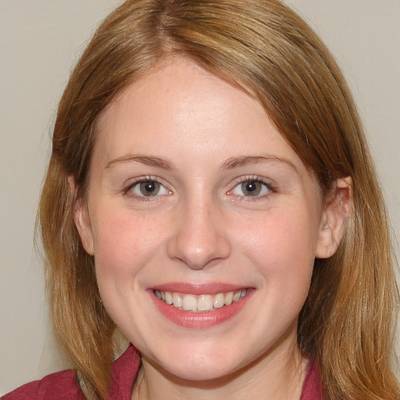 Dance Performance Review
Child Beauty Pageants
Related Essays
Need writing help?
You can always rely on us no matter what type of paper you need
*No hidden charges
100% Unique Essays
Absolutely Confidential
Money Back Guarantee
By clicking "Send Essay", you agree to our Terms of service and Privacy statement. We will occasionally send you account related emails
You can also get a UNIQUE essay on this or any other topic
Thank you! We'll contact you as soon as possible.
StudyDriver in your Smartphone!
Why Social Media is Bad?
"Why Social Media is Bad?"
Media makes making friends so much easier because you get over that awkwardness you'd get talking face to face and getting to know each other before you meet up with them. Social media just is not bad because some people can just use social media to grow and promote what they love, or use it for a support system, and also us use to feel connected to the world when they cant go somewhere
Social media can be good because some kids/adults can rely on it when they need support from someone or something that won't judge them. Like most people have said "Spreading awareness and motivating people is important too. And simply ensuring people that they are not alone – or the only ones with their set of problems – can be really important for some.Caroline Knorr said , "It overall provides genuine support to others. This sort up ties with wanting online acceptance like whether a kid like a certain thing that is considered weird tries to find someone who likes the same thing.
Social media also has such a positive effect on certain kids and people because they use social media to show off their talents so they can grow and be better ."The article Five ways social media can be good for teens states, Caroline Knorr says "it affects the way entire organizations run and grow like It has become the primary means of getting the word out about your business". It's also used to lift their confidence a little because when they show off their talent off they are saying they know people are watching but they don't care. It's giving them more power knowing they are the ones having courage putting it out there. Technology nowadays can just allow kids to share their work with a wider audience. They can even have an opportunity to collaborate with other people and just grow.
Social media can be good because when people can go somewhere because of any reason they go on social media to see what is happening. It makes them feel included to know what is happening so they try to be connected to the outside world. In the article "Reasons why social media is good for teens said,said by Caroline Knorr that " It is an effortless way to connect with like-minded people like you are just a single click away from an incredible number of such people. Regardless of location and religion, social networks help revive and preserve relationships with other people. It lets people know what is happening outside their door or wherever they are. It's good that social media lets people know what is going on because if no one knows what's going on around them it makes them feel useless. So this gives them a chance to not feel left out all the time.
So all in all, Social media is not bad all nad. Especially for kids who need help-seeking for support . Also, how is it bad when you can try and grow your business on it even if you want to get to know and show off your talent. Social media is also considered a place you go to see what is happening in the outside world when your not with your friend it just lets you stay connected. People can't automatically say social media is bad because it has so many myriad things it brings to our lives. So no one can say it bad if they know people depend on it for good reasons like jobs and communication. You just can't say it badly without thinking of how other people see social media. Everyone who likes social media has a different perspective on it. 
Cite this page
Why Social Media Is Bad?. (2021, Jun 23). Retrieved from https://studydriver.com/why-social-media-is-bad/
"Why Social Media Is Bad?." StudyDriver.com , 23 Jun 2021, https://studydriver.com/why-social-media-is-bad/
StudyDriver.com. (2021). Why Social Media Is Bad? . [Online]. Available at: https://studydriver.com/why-social-media-is-bad/ [Accessed: 4 Mar. 2023]
"Why Social Media Is Bad?." StudyDriver.com, Jun 23, 2021. Accessed March 4, 2023. https://studydriver.com/why-social-media-is-bad/
"Why Social Media Is Bad?," StudyDriver.com , 23-Jun-2021. [Online]. Available: https://studydriver.com/why-social-media-is-bad/ . [Accessed: 4-Mar-2023]
StudyDriver.com. (2021). Why Social Media Is Bad? . [Online]. Available at: https://studydriver.com/why-social-media-is-bad/ [Accessed: 4-Mar-2023]
Why Social Media Is Bad?. (2021, Jun 23). Retrieved March 4, 2023 , from https://studydriver.com/why-social-media-is-bad/
Save time with Studydriver!
Get in touch with our top writers for a non-plagiarized essays written to satisfy your needs
Stuck on ideas? Struggling with a concept?
A professional writer will make a clear, mistake-free paper for you!
Leave your email and we will send a sample to you.
Please check your inbox
Interested in this topic?
Please indicate where to send you the sample.
Hi! I'm Chatbot Amy :)
I can help you save hours on your homework. Let's start by finding a writer.

Free Essays
Citation Generator
Why Is Social Media Bad
You May Also Find These Documents Helpful
Negative affects of social media.
Social media is like a game. Once you learn and get along with how to use these websites you get addicted to it. For example, now I am addicted to social media. Before I was introduced to social media I did all of my homework and was one of the top students in the class. From that moment I became engage to websites such as facebook, tweeter, ooVoo and instagram. It affected my life pessimistically. For instance, these days I can't stop checking my facebook and instagram. Furthermore, theses days I am missing lot homework on most of my classes do to the escalating expose of social media. So due to these entire dilemma, I believe social media has many negative effect on teens life.…
Negative Effects Of Social Media
Technology has become very advanced and very important to our society. One thing that has become very big because of our technology is social networking. There are many positives to having easy access to social media, but there are also negative effects as well. The impact of all this social media has overall a negative effect of our daily lives in society. In "'r u online?': The Evolving Lexicon of Wired Teens", by Kris Axtman, Kris talks about how instant messaging has affected the communication of the younger people in our generation. In "Note To Selfie", by John Dickerson, he writes about how people are pausing their lives to post about their happenings on social media. These two authors discuss some negative aspects to having social media…
Social Media Butterflies May Not Be Such A Bad Idea Analysis
Teenagers commonly use social media, majority use it on a daily basis and for many years and there has been an argument between whether it is good or bad for you. In Melissa Healy´s ¨Teenage Social Media Butterflies May Not Be Such a Bad Idea,¨ she talks about many good things about social media while Hilary Stout's "Antisocial Networking?" talks more about the bad in social media and screen time. Social media isn't good for you, especially for today's teenagers being on it for an average of 9 hours, showing that there is no time for any outside activities or exercise.…
Annotated Bibliography
In this article, Gwenn S. O'Keeffe examines the positive and negative uses and effects of the use of social media websites by teens and tweens in America. The "benefits of children and adolescents using social media" that the article lists are socialization and communication, enhanced learning opportunities, and accessing health information. The "risks of youth using social media" are cyberbullying, online harassment, sexting, and Facebook Depression. Overall, she sees social networking websites as a potentially useful tool for tweens and teens to use, but recognizes that most of them will not be using them in the useful way she has in mind.…
Bullying and People
Are social networking sites good for our society? Social networking sites can be harmful because they can affect the lives of many for the worse by allowing cyber bullying and leading to short attention spans. Some people believe that social networking sites expose children to predators, increase vulnerability to computer viruses, lower worker productivity, and promote narcissism and short attention spans. Others believe that these online communities promote increased communication with friends and family, familiarize people with valuable computer skills, and allow contact with people from around the world.…
Social Networking and Social Media
Online social media have gained astounding worldwide growth and popularity which has led to attracting attention from a variety of researchers globally. Social media effects millions of people worldwide daily and many teens spend at least a hour a day on social networking sites, today we will decide whether or not social media is a hindrance or a tool for teens and adults. Although with time all generations have come to accept the new technologies and offspring that it has, one of the offspring from technology in the 21st century is social media. Social networking has brought about, teenagers and young adults are the most fanatic users of these sites. According to various research studies in the field of online social networks, it has been revealed that these sites are impacting the lives of the youth greatly. When using these sites such as Twitter, Facebook or MySpace, there are both positive and negative effects on the youth and today we are going to contrast the two sides to see if the negative effects outweigh the positive effects. Some of the points that will be argued are that many people believe the use of social media helps with communicating but is not allowing us to make connections with the people we are interacting with. One of the most negative effects of social media is the reoccurring cases of cyber bullying; almost all teens that have social media accounts have seen or been involved in cyber bullying. Lastly we will discuss many positive effects of social media and how it can help keep people connected from all over the world.…
Negative Effects of Social Media and Communication
16. Use the find command to find the text "Government Ministries". Format the text to have a border of width 3pt and color turquoise around it.…
Bullying Beyond The Schoolyard Book Analysis
However, the authors inform us that that is not the case. In fact, they state that most teens use social media for good and I believe that that is the most profound point of this chapter (p. 34). Even with cyberbullying being as prevalent as it is today, it is still not the norm, making the take home message from this chapter being that the benefits of social media outweigh the risks. These benefits include things such as giving teens a way to feel connected to their peers, a way to discover who they are as a person and what they believe in, as well as giving them a platform to express themselves that makes them feel as though they are being heard and taken seriously (2015). One quandary that teens experience is a desire to stand out and feel unique, while still desiring to fit in with their peers and feel like they are a part of the crowd; being a part of the smartphone society allows teens to do just that. While this chapter emphasizes how social media benefits teens, the authors surprisingly did not mention any specific instances of these positive experiences that teens have had. Throughout the chapter, they provide 8 different quotes from kids that have experienced the negative effects of social media; however, they did not supply any quotes for positive experiences. In a chapter that focuses on the benefits of a smartphone society, I…
Summary Of American Girls: The Secret Lives Of Teenagers
The gist of the story is social media is not bad unless it gets to profanity level, bullying levels, and sexual intention levels. Social media is to be kept at peace, keep in touch with family and friends. Post/comment on things that are appropriate. Put privacy stuff on so people can't do anything without your permission. Block people when things go downhill such as bullies, harassment, and sexual preditors.…
essay eng/101
In an age where information and interactions are just a few clicks away, it has become easy to blame social media sites for problems in society. There are some who oppose this idea and others who are on board with the notion. Social media can have both a positive and negative effect on today's society; it is up to the individual to decide the effect on them.…
Texting By Teenagers
Texting and social media are getting to be more of an integral part of the lives of future generations. More and more teenagers are getting to connect with the outside world online. In the passage, the author talks about the proliferation of texting by teenagers and the pros and the cons of having teens using social media. She adds reinforcing evidence to get the data to be more accurate. The author builds her argument, that social media affects teens, by including statistics, integrating quotes and references from a variety of people, and discussing the positive and negative aspects of social media.…
What Negative Effects does Social Media have on Teenagers?
The speed of social media's progression is at an alarmingly high rate. New Yorkers received tweets about an east coast earthquake thirty seconds before they had even felt it. To older generations, this social media explosion seems unfamiliar and strange; however, this has become custom for teenagers in their everyday lives. That being said, social media can have great effects, both negative and positive, on teenagers in today's society. For example, research that would have once taken a student countless hours in a library can now be done in a matter of seconds on Google. With smartphones and wireless access, these social media sites can be reached anywhere, anytime. But with this freedom comes a great negative impact, specifically regarding teenagers; it goes to such extent that teens are more concerned about their follower to following ratio on Twitter than any economic or political issue.…
Affect of Social Media on Teenagers
In recent times, people have become more accustomed to using these online websites as it is more convenient to use and easy to access. Modern generations consider most of the old forms of media as a one-way street as you can receive the information but you cannot express your personal views over any matter. Social media on the other hand is known as a two-way street that does not only provide us with information but it also allows us to give back our views and concerns. Though recently, social media has been extensively misused by teenagers. Most teenagers consider social media as a vital part of their life. But what they don't realize is how social media, along with a few of its positive effects, is negatively affecting them mentally, physically and socially.…
Negative Effects on Social Networking
Social networking sites are extremely popular and growing with users every day, but many people do not know the negative effects of these sites which will be explained in this essay .Social networking sites can harm you in many different ways, such as lack of privacy, time consumption and can also be a source of bullying.…
Social Media Controversy
I believe social media is normally a good thing, but can also be used to harm or harass people. In some cases social media has been known to link long lost family members that either didn't know existed or just fell out of touch with. On the other hand social media has been known to spread hate, and this is where I believe most of the controversy about social media comes from. On the very radical side social media has been used to recruit gang and isis members, but even though this happens, it is not very common at all. Another controversy about social media is cyber bullying. I do not believe in cyber bullying, because if you are getting made fun or harassed on social media, you can always just turn off your phone, computer, or go somewhere…
Related Topics
Persuasive Essay about Negative Effects of Social Media
With over 3.6 million individuals using social media, it's an expansive and active growing community around the world. But social media is causing harm and distress to people's mental health. Social media is also manipulating people's thoughts and what they buy. Although young people appear to be increasingly using social media to communicate distress, particularly to peers, it is still harmful because some people don't have the luxury of finding those types of people. Social media is quite harmful because "students who spent more time on Facebook were more likely to feel envious of others and worse about themselves" ( Bronfenbrenner center for translation research 1 ). Also, social platforms manipulate people, "YouTube videos were to convince me that 'the Media is lying.' people should respond by spending less time consuming 'the media,' and probably more time on YouTube. Since YouTube optimizes watch time, these videos will become highly recommended"(How Algorithms Can Learn to Discredit the Media pg 2). Although social media gives young people a place to communicate distress on social platforms, it is quite harmful because young people are manipulated into consuming more media and wanting a better body image.
A distinct benefit of social media is its ability to develop care groups. Young teens around the world are using social media to aid other individuals, recent research shows, "Young people appear to be increasingly using social media to communicate distress, particularly to peers" (The good, the bad and the unknown 2). People construct communities to support each other on social media. In addition, social media's ability to bring small groups of singled-out individuals who are dealing with similar problems to convene from around the world to assist each other with depression and feeling alone. To further my example of how social media benefits people is its ability to help youth seek out support and lessen the chance of self-harm. The Bronfenbrenner Center for Translational Research states, "Social media can have a positive impact on help-seeking and support provision, efforts to understand how to best minimize potential harm and maximize potential benefits are important next steps" (The Bronfenbrenner Center for Translational Research 2). As a society people should take measures to minimize harm to others and maximize the benefits of social media.
One of the biggest negatives about social media is how it manipulates people. Platforms like Youtube try to convince users to believe something, and then show people videos on it to maximize watch time. Some users report that social platforms were trying to manipulate them. Guillaume Chaslot said "YouTube videos were trying to convince me that the Media is lying. I would respond by spending less time consuming the media and probably, more time on YouTube." Since YouTube optimizes watch time, these videos will become highly recommended" (How Algorithms Can Learn to Discredit the Media pg 2). Algorithms make people spend more time on the platform by showing them what they want to see and hear. This is important to know because people are being shown one point of view and it narrows their minds. An additional example is that technology manipulates people's ideas of their bodies. Sites like Instagram and Snapchat use filters to enhance nice facial features and make people look better while hiding imperfections. Jia Tolentino states "I told Smith that I couldn't shake the feeling that technology is rewriting our bodies to correspond to its interests—rearranging our faces according to whatever increases engagement and likes. "Don't you think it's scary to imagine people doing this forever?"(The Age of Instagram Face 3) Technology is trying to make people look better in its internist. It manipulates how we think people should look. It creates a standard people think they have to live up to, but can't, and it makes people feel bad. Social media is manipulating people's minds and thoughts by using tools like algorithms and filters.
Social media has shown that it severely affects people's mental health. The more time spent on social media the more envious and worse we will feel about ourselves. Facebook is making people feel worse about themselves, causing their mental health to deteriorate. Combined with social platforms' impact on mental health it's no coincidence suicide and suicidal thoughts have been going up. As is shown the "Number of young people admitted to the hospital for attempting suicide or having suicidal thoughts has doubled in the past 10 years"(The Bronfenbrenner Center for Translational Research 3). Technology is connected with higher suicide rates. It heavily affects people's mental health and body imagery causing suicide and depression.
Related Samples
Negative Aspects of Social Media (Free Essay Sample)
13th Movie Analysis
Song Analysis of The Show Must Go On
Research Paper Example: Negative Effects of Video Games
Diary Of A Mad Black Woman Movie Analysis
The Vampire Diaries Analysis Essay Example
Personal Narrative Essay: How Music Changed My Life
TV Violence Essay Example
Ford v Ferrari Movie Analysis
Should eSports Be Used At School? Essay Example
Didn't find the perfect sample?
You can order a custom paper by our expert writers
Explain Why Social Media Is Bad
Show More Alaaeddine Tanatra Brianna Whitehall English 100 31 October 2017 Why Social Media Is Bad Social Media is the world that we live in nowadays besides the real world. We spend the whole day using it for either business stuff like buying, selling, trading, stocks, and many other stuff that relates to business. You can use social media for personal using like going on Facebook , Twitter , Instagram, and many other social media websites. Students use social media nowadays to help in studying like for example to get information about the project that they are doing in the class, or to research for their homework and essays. Even though social media have many good things, although social media contains negative and terrible things for its users. The students who uses social media heavily are more likely to get bad grades than the students who do not use social media. Social media can lead to offline problems in the relationships with others, and not just that but it can lead stress to you while using it. Social media can also harm …show more content… It can leads you to lose your job which can leads you to not have money to feed yourself and your family if you have one. It can also leads to a criminal charges and by criminal charges we mean going back and forth to the court and sometimes can lead you to go to jail. So we need to find a solution to this big problem that we facing nowadays and if we do not find a solution in a fast way the problem is going to get bigger and bigger because social media is a part of the technology and the technology is getting bigger and getting improvement in a fast way. So I encourage you to find the right and best solution for this problem to help the people and the community to live a good life without hating and going to
Related Documents
Social media's negative effects on teens.
Cyber bullying and mental illness lead to many struggles. Anxiety, cognitive problems, personality changes, and suicide are very detrimental to society. Social media does have its benefits but the downfalls take more than the benefits can give. Although social media has its merits in providing connection and community,the tumultuous adolescent years run the risk of missing out on those…
What Are The Negative Effects Of Social Media Essay
People all over are signed up on sites like facebook, instagram, twitter, etc. Although these sites are cool at first, they can lead to an addiction to social media. Being addicted to social media can bring on many downsides to a person 's life. For instance, it can be very hurtful to the grades of young kids. Instead of studying and figuring out their school assignments, young people will be spending a majority of their time on social media.…
Summary: The Negative Influence Of Social Media
Overuse of technology and the media has a negative effect on the health of teens and also adults (Rosen, 2011). The daily use of social media usually result in teens and adults being more prone to anxiety, depression, and also making them more vulnerable for health problems in the future (Rosen, 2011). Social media can be very diverting and can negatively affect one's learning skills and abilities (Rosen, 2011). Research shows that students in high school, college and even middle school tend to achieve lower grades because of their time spent on social media (Rosen, 2011). Due to technological advancements, social media has become a new host for bullying.…
Social Media Negatives
When students are on social medias it can be stressful towards them sometimes. Social networking can exacerbate feelings of disconnect (especially for youth with disabilities), and put children at higher risk for depression, low self-esteem, and eating disorders (ProCon). This shows that these sites have a huge part in disconnecting students from school work and life in general. Social media's harm the attitudes of the students, making it incapable of performing at max capacity in school because of the mental stress. But it's crazy how this is not the last reason social media's have a negative impact towards…
Negative Effects Of Social Networking Essay
This is because an easier and faster Internet access at universities may also enhance the risk of university students or mostly adolescents getting involved with the negative effects of the social network sites (Strasburger, et.al., 2003). Furthermore, social networking site plays a negative role on today's society by continuously putting users of social media in danger, limiting face to face socializing skills, exposing our society to explicit materials and not to forget, it may lead to cybercrime. Hence, adolescents are becoming the main victims of social networks more often than anyone else. Thus, bad things about social media need to change as there needs to be more restrictions of blocking access to unappreciated sites and also security needs to drastically tighten the social media privacy from being misuse and fraud. Not only that, parents and government should also take their own initiatives…
Social Society: The Negative Influence Of Social Media
Social media offers a freedom of communication, but the freedom may not be as benefit as we expect since people tend to use social media inappropriately. The social media isn't different from our real life world where social issues may still exist, but social media makes social issues become much more "intense" or serious where they should be a piece of cake, but thanks to social media, the issues become much more complicated. People tend to take social media more seriously that they should that only troubles. This indicates that social media is a "double-edged sword" whether it is a good technology or another technology that distracts people. Thus people should be cautious in using social media.…
Negative Effects Of Internet Essay
Communication using the internet might be fast and time saving but even communication has its own negative effects. The negative impact is addiction. Chatting too much and always checking social media too much can not only lead to addiction but also wasting your precious time. This has more impact on children than on adults as children tend to spend more time on gadgets as compared to adults due to which, they aren't able to spend enough time on studies. Addiction and overuse of the internet and devices can lead to insomnia.…
How Social Media Has Impacted Our Life Essay
Some negative ways it has impacted our lives is, people are more prone to bully online than in person. We tend to speak out more on social media rather than in person. We aren't afraid to say how we feel about a certain topic online. Social media can also have a major impact on our privacy. Revealing personal information can make us vulnerable to identity theft and stalking.…
Social Media's Negative Effects On Adolescent
Becoming addicted to using social sites for any reason can be damaging, because people will procrastinate or not face problems in real life at all. As the use of social media has increased, users are more vulnerable to negative emotions because of their high dependency on these networks. These problems primarily…
Negative Effects Of Social Networking
Unreliable communication, high risk of interventions with strangers, cyberbullying, and a substantial decrease in school grades are some of the main concerns of Frazier. But, in the article "Social Media Isn't All Bad" by Kelly Wallace,…
Related Topics
Social media
Social network service
Ready To Get Started?
Create Flashcards
Mobile apps
Accessibility
Facebook
Twitter
Cookie Settings
Home / Essay Samples / Sociology / Sociology of Media and Communication / Effects of Social Media
Why Social Media is Bad for Us
Essay details.
Sociology , Business
Sociology of Media and Communication , Marketing
Effects of Social Media , Social Media , Social Media Marketing
Please note! This essay has been submitted by a student.
Get quality help now
Verified writer
Proficient in: Sociology of Media and Communication , Marketing
+ 75 relevant experts are online
More Essay Samples on Topic
The internet is constantly growing and becoming a part of our lifestyle. Over the years the internet revolved from a consumer culture to a participatory culture. Back in 1990s, the internet was limited to consumerism, a mere ...
Social media helps in developing new skills. People has learnt a lot through social media especially on YouTube. For examples, cooking recipes, sewing, and hairdressing, or even learning of different types of languages. Many ...
Quick Summary: The author, Nicholas Carr, shares his own personal experiences without technology as a youth, when he has to find information and contact people through the real world, and recounts his first encounters with ...
Nowadays, it is very difficult to find young people that have a phone, but does not have any account of social networking sites on their phone such as Facebook, Instaram, Wechat and whatsapp as the social networking brings more ...
Social media can be defined as; technological platforms where people are able to share information and communicate anywhere in the world on any device that has access to the internet. Social media has grown exponentially in the ...
News is something that contains the outcome of new sources facts and figures but sometimes it can mislead by distributing fake news on social media. Everyone in this world is stuck to newspapers, television, radio and social ...
Over the years, man has evolved different means to communicate with his environment. Early forms of communication included making sounds, use of smoke, drawing, painting and symbols. Primitive hand-delivery of messages, town ...
Ever wondered how easy it is to meet with people with similar opinions as you? With a simple tap on our smartphone's screen, we can open any social media app and instantly have ourselves communicate with someone in a way we may ...
Social media has played a key part in everyone's life. Whether we are bored or not we are constantly on our phones checking people's status, tweet or posts in the last twenty-four hours. This causes an abundance of problems ...
We use cookies to offer you the best experience. By continuing, we'll assume you agree with our Cookies policy .
Choose your writer among 300 professionals!
You cannot copy content from our website. If you need this sample, insert an email and we'll deliver it to you.
Please, provide real email address.
This email is exists.
Argumentative Essay on Social Media
Today our world is full of a whole lot of opinionated people. Everyone loves to share what they think about almost any topic. Whether the topic is very important or completely irrelevant. Although everyone has opinions on things that are somewhat unimportant, some topics are worth discussing our opinions on. One of which that most definitely has some of the most diverse opinions on is social media. Many people think that social media is distracting, negative, and harmful, while others think it is one of the best things that has ever happened and are addicted to it. Some people love to scroll through Instagram or talk to people on Snapchat; However, they still think that the majority of the time social media is much more harmful than helpful. While Social media can provide a place to catch up with friends and things going on in the world, it also has the ability to completely tear lives apart and in some cases lead to depression or anxiety. People with social media should limit their time on these apps or even in some cases, delete the apps altogether due to the negative effects and all of the drama.
How It Really Is
In contrast to what some people think, Social media is far more harmful than helpful. There are numerous reasons as to why social media is harmful, to start with, there is entirely too much drama and false information that spreads quickly all over social media apps. As a result of this, a whole lot of people are substantially more unhappy with themselves and with their lives. In some cases, social media is even likely to encourage people to do things they should not do and will regret later on in their lives.
One example of this could be whenever somebody is bullying someone through Instagram and the pressure of being like everyone else could possibly make someone go along with it just because everyone else is doing it. Although a great deal of people claim they would never bully anyone, it is surprising how quickly social media can change a person and cause them to do things they wouldn't expect to ever do. In the article "Social media websites can harm and help kids" by Nanci Hellmich, she states that "Facebook and other social media websites can enrich children's lives, but they could also be hazardous to their mental and physical health" (Hellmich).
This statement is completely agreeable because at first social media can be fun, but eventually it can become addictive and affect people negatively without them even realizing it. In quite a few instances, social media gets so awful to the point where people should delete it, however, it can be remarkably addicting, so people want to stay on it just to continue to see the drama and negative things happening instead of simply deleting the apps.
Not only does social media cause unhappiness and even depression in some cases, it can also be extremely distracting. For many people, social media is the most distracting out of everything in their lives. Not only does it prevent several important things, like doing chores or homework, it can even prevent spending time with friends and family, or even getting enough sleep at night. To start out, being on social media is mostly fun, however, the more time spent on it the more it gets to the point of taking over a tremendous part of people's lives. One example of this being a distraction is stated in the article "Social Networking: Helpful or Harmful", "A lot of my friends and I spend a lot of time on Facebook, and it is often a big distraction from our work." (Winkler), This is one of the various instances of somebody being distracted by and affected negatively by social media apps. This shows that social media being distracting is a problem many people with the apps face.
Social media is quite a controversial topic in the world today. Some people believe it truly does have a negative impact on the world, while others may argue that social media is very entertaining and allows an opportunity to maintain connections with friends and family. Reports even say these sites and other technology can be useful to kids for staying in touch, socializing, entertainment, and even doing homework and that they can enhance kids' creativity and help them develop technical skills (Hellmich). Although technology can be useful in some ways like for homework, it is more common that people will become distracted and end up on some other app while trying to do homework, which can lead to too much time spent online can squeeze out other important activities (Hellmich).
In conclusion, people with social media who believe that it is good for them should look around and see all of the various other ways it negatively affects others. Maybe if people who think social media is good and are not addicted to it start to encourage others to limit their time on the apps, our world today could become somewhat better with the relief of a little less negative effects caused by social media. With social media being as big of a deal as it is in our society, it is obvious that it is in all probability not going to come to an end. Although this will not happen, our society can prevent things like bullying and drama caused by social media by limiting our time on apps such as Instagram, Snapchat, and Twitter.
Works cited
Hellmich, Nanci. "Social Media Websites Can Help and Harm Kids." USA Today
28 March 2011, pg. 1.
Winkler, Travis. "Social Networking: Helpful or Harmful." The Daily
Pennsylvania, 17 March 2009, pg. 2.
Related Samples
Essay Sample on The Problems of Overpopulation
Abortion Argumentative Essay Example
Narrative Essay on 9/11
Barriers to Voting Essay Sample
Argumentative Essay About Social Media and Teengaers Addiction of It
Argumentative Essay About Social Media in the United States
Why It Is Important Promoting News Literacy
Crippling Masks of Social Media Essay Example
Importance of Women's Health Free Essay Example
Repercussions of Violence Essay Example
Didn't find the perfect sample?
You can order a custom paper by our expert writers
Essay On Why Social Media Is Bad
Why is social media is bad essay? It is harmful because it invades your privacy like never before. The oversharing happening on social media makes children a target for predators and hackers. It also leads to cyberbullying which affects any person significantly. Thus, the sharing on social media especially by children must be monitored at all times.
Why is social media bad for? The more time spent on social media can lead to cyberbullying, social anxiety, depression, and exposure to content that is not age appropriate. Social Media is addicting. When you're playing a game or accomplishing a task, you seek to do it as well as you can.
What are 10 reasons why social media is bad? 10 Negative Effects of Social Media That Can Harm Your Life Reduces Face-to-Face Interaction. . Increases Cravings for Attention. . Distracts From Life Goals. . Can Lead to a Higher Risk of Depression. . Relationships Are More Likely to Fail. . Stunts Creativity. . Encountering Cyberbullies. . Social Comparison Reduces Self-Esteem.
Essay On Why Social Media Is Bad – Related Questions
What are 5 negative things about social media?
How social media affects our life, why social media is bad conclusion, why social media is bad for students, what are the negative effects of media, why social media is bad for teens, is social media helpful or harmful, is social media good or bad for society, does social media cause more harm than good, why social media is bad for mental health, is social media bad for learning, is social media ruining society, how does media affect your daily life, is social media bad for kids, why social media is ruining our generation, is media useful or harmful, what does social media do to your brain, does social media cause bad grades, how social media is destroying the world, is social media ruining society essay, what is social media addiction.
7 Negative Effects of Social Media on People and Users Depression and Anxiety. Do you spend several hours per day browsing through social media? . Cyberbullying. Image Credit: HighwayStarz/Depositphotos. . FOMO (Fear of Missing Out) . Unrealistic Expectations. . Negative Body Image. . Unhealthy Sleep Patterns. . General Addiction.
The negative aspects of social media
However, multiple studies have found a strong link between heavy social media and an increased risk for depression, anxiety, loneliness, self-harm, and even suicidal thoughts. Social media may promote negative experiences such as: Inadequacy about your life or appearance.
Social media has come into the lives of many and nearly depleted the use of face to face interaction. Adolescents adopt this form of communicating early and it basically deprives them of their real life social skills; not being able to hold a cohesive conversation unless the respondent is engaging through a monitor.
It is easy to become addicted, and research shows that students who spend too much time on social media can suffer from poor sleep, eye fatigue, negative body image, depression, anxiety, cyberbullying, and more.
Why limit media use? Not enough sleep. Media use can interfere with sleep. . Obesity. . Delays in learning & social skills. . Negative effect on school performance. . Behavior problems. . Problematic internet use. . Risky behaviors. . Sexting, loss of privacy & predators.
However, social media use can also negatively affect teens, distracting them, disrupting their sleep, and exposing them to bullying, rumor spreading, unrealistic views of other people's lives and peer pressure. The risks might be related to how much social media teens use.
Although there are important benefits, social media can also provide platforms for bullying and exclusion, unrealistic expectations about body image and sources of popularity, normalization of risk-taking behaviors, and can be detrimental to mental health.
The truth is that social media can also be beneficial for society. It can help individuals connect and deepen their relationships. Social media also encourages students to learn and grow. And it can empower businesses to build their audiences and boost their bottom line.
Studies have shown that increased use of social media platforms like Facebook, Instagram, and Tiktok is leading to depression, anxiety, and loneliness. The COVID-19 pandemic has not only pushed more people to the platforms but has also caused people to spend unusual amounts of time cruising their feeds.
When people look online and see they're excluded from an activity, it can affect thoughts and feelings, and can affect them physically. A 2018 British study tied social media use to decreased, disrupted, and delayed sleep, which is associated with depression, memory loss, and poor academic performance.
Social Media platforms are a major factor that are leading to distraction and hindrance of mind. These days students tend to lose their focus from studying and rather enjoy browsing on Social Media. All of this leads to wastage of time without learning anything from it.
Studies have found that the top five social media platforms – YouTube, Facebook, Instagram, Snapchat, and Twitter – are associated with bullying, body image issues, and even the fear of missing out, as well as being linked to depression and anxiety.
Multiple studies have shown that unlimited use of social media causes stress, bad moods and negative mental health. Many people wake up in the morning and immediately check their Instagram, Snapchat or Twitter.
Daily overuse of media and technology has a negative effect on the health of all children, preteens and teenagers by making them more prone to anxiety, depression, and other psychological disorders, as well as by making them more susceptible to future health problems.
Whenever something happens-big or small, good or bad-we feel the urge to socialize that and put it out for others to see. It's become an addiction to our generation." The addiction to social media goes beyond an addiction; it can directly cause depression, anxiety, and eating disorders.
There is no definitive answer to whether mass media is "good" or "bad". Research has shown that it can have both positive and negative effects, and often these effects are dependent on how the media is being used and consumed.
Social media is made to be addictive. Each like or positive comment presents a little hit of dopamine to our brain, thus creating reward pathways in the brain causing you to desire likes, retweets, etc.
Reduced academic performance is one of the most important consequences of social networking overuse for students. The results of a study on medical students showed that students who used social networks and internet more than average had a poor academic achievement and low level of concentration in the classroom [36].
While social media platforms have built money making machines using their users' data, the machines have also torn our nation apart. Conspiracy theories, fake news, and malicious trolling have polarized populations across the globe.
Social media has a major effect on today's society. People are being manipulated, influenced, and even brainwashed from apps and websites they use every day. Social media is used to hold social interactions, promote events or products, and keep people up to date on all kinds of news.
It's something everyone suspected, but now it's official: The under-30 crowd is addicted to their cell phones. Those are the findings of a new survey, which showed that as millennials spend more time engaged on social media platforms, it's causing them to be less social in real life.
Social media addiction is an unhealthy dependence on interactive platforms such as Facebook, Twitter and Instagram. Like most dependencies, social media addiction manifests as overuse and difficulty in abstaining. Ironically, one common effect of the problem is social isolation.
How To Find Someone'S Social Media Accounts By Phone Number
Previous post, how to be a social media manager with no experience.
759 Pinewood Avenue Why Is Social Media Bad For Others
Advantages and disadvantages of social media and easily obtainable information.
Moving forward, social media has been a major convenience and reward to virtually everyone. On an individual basis, social media allows friends and family both near and far to communicate with one another. Also, businesses are flourishing through the use of social media. Advertising has never been easier. Horn (2013) states, "Our profession, unlike any time before, is demanding we become social media (…) experts" (1). Horn (2013) also states, "More than half of reporters (55 percent) use Twitter and Facebook to source stories" (1). Social media has greatly benefited business life and personal life.
Disadvantages Of Media
Social media facilitates open communication, leading to enhanced information discovery and delivery. It also allows people to discuss ideas and post ideas. First of all, social media has made it possible for people, or even families, who live far away from each other to communicate easily. Before, people used to
Toulmin Model in Relation to Social Media Effects
As much as social media has managed to ruin our society, it plays a positive role for the public as well. Social media allowed people to use their networks as a form of reaching out to old friends and family across the world. With America being known as the melting pot of the world, our society has several people with family on the other side of the Earth. With social media in effect, this permits people to stay in touch with long lost loved ones and keep ties tight. Not only has it sanctioned friends and family to keep in touches but has granted people to relocate birth parents and unknown family members as well. Yes, social media has failed our society greatly but there is always a rainbow somewhere after a rainy day. Social media can play a positive role by bringing people back together.
Social Media Is A Big Invasion Of Privacy
Social media has taken over the modern day world. It has helped us to communicate,
Social Media Disadvantages
Knowing the advantages and disadvantages of social media can help a person be good in business, school or personal living. The benefits of social media can help build relationships with people that share the same interest. For some reason, the social web has made people put
Age and Loneliness in The Awakening and The Yellow Wall Paper
Social media has guided us to believe that we need to be connected to others. "…the social media revolution has not made us feel more connected, less lonely, or replete with friends" (Barna Group). Social media has input certain beliefs into the minds of people while also taking away that time that could be spent with friends and family. Social media has allowed people to put on fronts and believe that these are the only means of communication.
Someone To Watch Over Me Analysis
Social media allows us to connect to people all across the world. It allows us to stay connected to friends and family who are far away and people who are somewhat close that you may not see often. For example
Smiley-Face Emoticon Research Paper
People can travel across the world and still be able to connect with their families and friends. Because of social media networks, people are now able to interact with thousands of others all over the world, which is why some people have thousands of Facebook friends or tens of thousands of Twitter followers. Without social media, that would be impossible. Social media networks allow us the opportunity to share opinions with a far wider audience. In the past, unless people spoke directly, there was no way to get a message across. Now people can use social media to get their messages out to thousands or even millions of people
Social Media Sociology
Social media is tool that combines the term social, which refers to the interactions that people have with each other when sharing and receiving information, and the term media, which refers to the instrument of communication. About 12 years ago was when Facebook, Twitter, and MySpace began started this reign of the social media taking over everyone's lives. It connects us with the other parts of the world. Throughout this generation and the past ones, many have questioned if social media is the best thing around or if it's doing bad to us. There are always two sides to everything, one always being the correct one, yet with this topic there isn't, it just depends perspective on how you perceive it.
Social Media 's Grip On Society
People today would be surprised to know that social media has not been around forever. In fact, even more surprising is the realization that people did not really even have or use cell phones almost twenty years ago, and in those days cell phones were only used for calling. We have come a long way. Now, the whole world is in the palm of our hands, or in our cars, or on our wrists. Possibly the greatest thing to come out of this drastic evolution is social media. Social media is where everyone can keep up with family, check in with friends, and share their big time experiences with the rest of the world. However, it has opened up many, many more doors than ever intended, both good and bad. Social media has ironically turned people less social, provided an easy outlet for people to bully and point out insecurities, but also has changed the way we receive important information and news.
Disaster and Emergency Management Essay
In a new form of protection and communication, social media is the main thing that everything is using in today's times. Marketing employees have positions as titled as social media directors. Companies have people watching and monitoring everything that happens with their social media reputation all hours of the day everyday. Young people are seeing the power of social media everyday with teachers demonstrating how fast a picture can be shared across the world. Social media is relatively new and could possibly open many gates for communication. This depends heavily on who is publishing information and news on social media. If news spreads fast on social media, then the use of it can be used for emergencies. If many people are
Social Media and its Impact Essay
Social media is a controversy topic in today's society. Some people think that social media destroys human interaction and real life human relationships. While others think that social media is a bless to humanity. Social media makes human interaction much more convenient and much faster than real life human interaction, it makes globalization a reality, it gives a chance for introverted people to express themselves, and it also benefit develop international relationships whether its business or social.
Is Social Media Making Us Less Social?
Throughout the last decade, social media has drastically changed the way people interact with others. Websites like Twitter, Facebook, and Instagram have taken the world by storm. It has never been easier to have a conversation with family members, friends, or even strangers who live millions of miles away. Due to the rise of social media, people have become more aware of social issues and have become aware of the world around them. They can easily read the news online or catch up on the latest celebrity drama. Social media improves the way humans communicate because it allows ideas to be spread quickly and efficiently to a global audience.
Negative Effects Of Social Media
Social media is used beneficially in a variety of different ways. One way is that it offers access to communicate with individuals instantaneously. Being able to
Social Media As A Negative Aspect Of Their Lives
Many people have begun to perceive social media as a negative aspect of their lives. They believe that they do not get enough face-to-face interaction and this causes their actual social life to deteriorate. However, this is a fallacy. Clive Thompson writes, "Fewer than 20% of kids send more than 200 texts a day; 31% send barely 20 or fewer (Thompson "Teenagers and social networking – it might actually be good for them")." It is a person's choice to spend the majority of their time using social media. Social media has many more positives than negatives. A perfect example of this is global communications. People can speak with relatives, business partners, and friends from around the world. Many others are capable of using social media to their economic advantage as well. There are many companies founded through the use of the internet and use social media to self-promote these companies. Also, the internet and specifically, social media is now used as a valuable source of news and many people's primary way of obtaining recent news. Therefore, although social media may cause less human interaction it does generally make us more social due to the fact that we can interact with others globally within minutes and access news in the same fashion.

RESEARCH PAPERS AND ESSAYS
ESSAY TOPICS
PRESIDENTS OF THE UNITED STATES
Joseph Robinette Biden
Donald Trump
Barack Obama
States Ranked by Size & Population
States Ranked by Date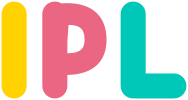 Why Is Social Media Good Or Bad
The upsides of selfies: social media.
In the last twenty years, technology and social media have taken over the globe. Technology has enabled people to connect with each other; they can connect through email, text, or social networking sites. Since this phenomenon of being easily connected has occurred a significant amount of controversy has sparked. A few argue that social media is excellent while the majority of critics argue social media is having a negative effect on people. Two articles in which discuss the different effects of social media are "I Tweet, Therefore I am" and "The Upsides of Selfies: Social Media isn't all bad for kids" by Peggy Orenstein and Kelly Wallace respectively. Peggy Orenstein is an author of the New York Times best-sellers Cinderella Ate My Day and Waiting for Daisy. In her article "I Tweet Therefore I Am", Orenstein argues how social media have negatively impacted how people live their life. Kelly Wallace is a television journalist who currently reports for CNN. She argues that social media is not as terrible and has a significant amount of benefits, especially for young adults, in her article "The Upsides of Selfies: Social Media isn't all bad for kids." Orenstein and Wallace
Informative Speech Outline
Specific Purpose: My audience will learn the importance of social media in today's world, from its history to the many uses it delivers.
Social Media Influence On American Culture
Thesis statement: Social media has become a common staple and main way of communication in American culture and this impact has affected not only adults, but children of all ages.
Boston Bombing
Social media outlets like Twitter and Facebook act as a vehicle for mobilization and change. Activists can garner support from a myriad of sources, many of which can participate nearly anywhere with access to social media. Through hashtags on Twitter, people expressed their opinions regarding Ferguson and brought international spotlight on the case. Furthermore, the use of Twitter during the Boston Bombing itself revolutionized the way news is gathered and processed, as thousands of users on Twitter tweeted about the events in real time. Thus, social media increases political participation and fosters a more interconnected and involved civil society
Rhetorical Analysis Of Isabel Evans Head In The Instagrammed Clouds
She provides examples of how social media has influenced the world, both positively and negatively. The author refers to social media's role in social uprisings: "In the revolution in Egypt to overthrow Hosni Mubarak, Facebook connected and united protestors so well that one Egyptian couple named their new baby "Facebook" as a show of gratitude to the site's positive impact" (Evans 2). In this instance social media was an especially helpful and productive tool for the protestors to use. Often sites like tumblr and Facebook are quicker to provide information about breaking news; however, the speed of these sites becomes an issue in some cases. For example Evans mentions the website Reddit and how its users tried to identify one of the Boston bombers, but ended up accusing the wrong man. These illustrations draw out both the help and harm that social media can provide and makes the reader more cautious to the accuracy of the information they are
Social Media Belonging
In the generation of technology and innovation, the creation of social mediaattract a vast number of people world wide. Aside from the basic necessities of living it may also considered as one of the most important belonging of an individual in this day and age. Primarily because of its accessibility to communication, information, education, and entertainment.
Social Media And Social Depression
As the technology era change over time, the social media becomes an important part of our life. We use social media to connect with friends and family, also to found out the latest news or fashion trends. Especially after the great success of Facebook, many other social media follow along such as Snapchat and Instagram. Numerous young age children gradually sink into the virtual world of Social Media. According to the Pew Research Center survey, that majority of Americans use Facebook and YouTube, but young adults are especially heavy users of Snapchat and Instagram. We see social media as a great way to communicate and socialize, but most of us did not realize that social media "secretly" link to the Depression.
Essay On Social Media Ruining Society
Thirty years ago, the concept of social media would have seemed impossible. A place where a person can show everyone they know what they are doing in two seconds from any city seems insane. Today, it is the daily ritual of the average teenager, including myself. I start my mornings looking at Instagram and end my nights looking at Snapchat. The middle of the day is for YouTube. I have used social media for around five years. This is a topic I am interested in since it takes up most of my day. This is something I enjoy, but this might not be the healthiest hobby. Everyone has their own opinions about social media. Some love it, others say social media is ruining society. I find this fascinating and I believe everyone should have their opinions heard. Social media has changed countless people's lives, including my own.
Persuasive Essay On Social Media
Children's lives have quickly shifted onto the Internet in the twenty-first century. Even the President of the United States has nearly forty thousand Twitter and Instagram posts. Social networks are websites that allow users to interact over the Internet. There are 600 million Facebook users across the globe (Rosenwald 2). 300 million visit Twitter every month (Maney 3). So many people are on one network online, social media has essentially become a second world. That being said, social media should not be encouraged to the public. At first use, social media does not seem dangerous, but it is. These sites diminish its user's privacy to the point that it is accepted (Anderson 1). Not only do social networks hurt us, but users use it in a way for emotional self-harm. People constantly compare their real life to others virtual lives (Stephens-Davidowitz 1). Additionally, social media tends to make users less social in reality, contrary to the name. Modern technology is not always a good thing, sometimes it needs to be limited.
Media Thesis Statement
Because of the power of technology, people find it more convenient to check news online since it is immediately updated. Just a few minutes after a certain event, its details are already published. They can learn about the news whenever they want, wherever they are, through their gadgets; since almost everyone has his/her own laptop, tablet, or smartphone. Through minimal number of clicks and scrolls over their newsfeeds, they can easily know what is going on in the world. Thus, most people use the social media as their main source of news.
Negative Effects Of Social Media On Education
Social media are a websites and applications that enables a person to create and share a content. A person can also interact with someone like family, friends, loved ones all around the world. It deals with the sites that a person uses in order for them to have a communication. It has some negative outcomes that has a aggressive feelings, aggressive thoughts, and aggressive behavior. Social networking describes the phenomena found in, participatory and self-expressive websites such as Facebook, Twitter, My space, and Youtube. Social media is becoming an ubiquitous in today's society and today's youth are spending a great deal of time using some sites to access in a public life.
Argumentative Essay On Social Media
drawback to anything it is our decisions to get most out of it, social networking provide many researchers
Social Complications: The Positive Consequences Of Social Media
We like it, we share it, we debate it, emoji it, ignore it, Tweet, retweet, follow it and Snopes it. Social media, Facebook, Instagram, LinkedIn, Snap Chat, Twitter. We put it all out there for all to see, all to use, all to access, but is it good, is it bad or somewhere in between? IMHO, (in my humble opinion), social media has been one of the biggest social changes in recent years.
Advantages And Disadvantage Of Social Media
The definition of social media is a group of internet-based applications that allows the creation and exchange of user-generated contents such as tweet, post, picture, audio files, video and others more which is created by users of an online system and service. Social media is designed to be shared. Sharing means that is easy to comment on and easy to send. Social media is always available and accessible and there is no costs associated with the viewing of media on the particle social media provided. Since the advent of social networking sites such as Facebook and Twitter, there has been much debate on their advantages and disadvantages. While social networking sites are a useful contraption in our increasingly connected world, they can also resentfully affect our development and the nature of our social interactions. Hence, it is imperative to first identify their advantages and disadvantages to effectively use them in our life.
Essay On Effects Of Social Media On Students
In the contemporary world, most people use social media for news, entertainment, to seek information and to be updated every day. Nowadays, the use of social media has greatly changed how people interact with other people. Today, most people only consider the benefits that the social media brought to the people without thinking about the possible negative implications of using it.
More about Why Is Social Media Good Or Bad
24/7 writing help on your phone
To install StudyMoose App tap and then "Add to Home Screen"
Negative Effects of Social Media on Society
Save to my list
Remove from my list
Social Media Negative Effects
Social media plays a socialegative impacts of social media has drastically changed since it was introduced in 1979 when Usenet systems were first conceived by Tom Truscott and Jim Ellis, and even since Mark Zuckerberg created ", Instagram, Tumblr and Omegle expose today's adolescence to things they shouldn't be seeing, and it is as easy as logging in. The following paragraphs will talk about the three main the negative effects of social media plays on youth today.
These are; one, continuously putting users of Social Media, (and even the internet), in danger, two, damaging face to face socializing skills, and three, exposing our youth to explicit materials.
Firstly, Social media poses many threats in today's society. It is accessible from any Computer, Phone, Tablet or IPod with an internet connection. This means that it is easier for children as young as 8 or 9 to connect to a social media site.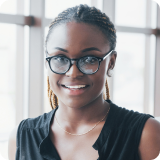 Proficient in: Adolescence
" She followed all my directions. It was really easy to contact her and respond very fast as well. "
This in turn exposes them to nudity, swearing and the worst of all; pedophiles and rapists. Rheana Murray of New York Daily News stated that a whopping one in ten profiles online are fake (May 2013). This means that at least 10% or more of a child's friends on Facebook could be phony. The Carly Ryan incident in 2006 proves that the internet is a very dangerous platform for children, teenagers and even adults to be using. Unfortunately, fake profiles are not just used for using fake aliases. Even if someone has only, say 10 friends on a social media site, and know that all of these are authentic, there are still ways for hackers to access your information; such as your location, photos or even bank details.
By clicking "Check Writers' Offers", you agree to our terms of service and privacy policy . We'll occasionally send you promo and account related email
You won't be charged yet!
Bullying is also a huge danger to youth on the internet. Back before Social Networking was created, bullying stopped when school stopped. Now, a child being bullied is also faced with bullying in the confinement of their own home. Bullying on social media effects on society has become one of the top three reasons for teen suicide, with a further two teens saying that they had attempted suicide as a result of cyber bullying. The main problem here is that only one in ten will inform a teacher or parent of this. Social Media faces today's youth with countless dangers, it should be used carefully and decisively.
Read more: Essay About Positive and Negative Effects of Social Media
Secondly, social media today is damaging the minds of our youth by suppressing their physical socializing skills. Because most of the time teenagers communicate via text and Facebook instead of writing a letter or picking up the phone, they are subconsciously harming the part of the brain that allows them to have meaningful conversations face to face. It worsens for the generation that were born from 2005 on, as this means social media is all they grew up with. Even for teenagers in high school, social media still played a major part in their influential maturing years that the early years when social media wasn't known, don't count towards anything. For instance, studies show that 3 in 5 students are abbreviating their words to acronyms without even realizing (Jasmine Fowlkes 2010).
It is also seen that youth today do not have anything else to talk about other than what they "saw on Facebook last night" or "guess who is dating who". This is a perfect example of what is happening to their socializing skills. Teens are unable to hold a decent conversation without mentioning something they saw on social media on the weekend or night before. This is going to severely damage their interviewing abilities when they want to apply for a job, or when they want to be able to stay in a relationship. It is important that people pay attention to how much they are relying on social media to communicate, and to limit themselves so they do not lose their ability to physically socialize altogether. Lastly, Social media plays a negative role on today's society by exposing them to explicit material that should not be obtainable to today's youth. Many sites have age restrictions , but it's not a challenge for young children to say they were born ten years earlier on a social media account – the desire to explore the internet will drive them to this. Children still in the 3rd grade can have access to anything they desire, and most of the time will not understand what they are looking at but will always remember the basics. This leads to them asking their parents or other young friends what it means. Which leads to more unauthorized "research". Most children at the age of five know what the the basics of sex are, and even more due to the ever expanding social network. When young children are on sites like Omegle (A video chat site where users are connected with another random user from around the globe, which are mostly naked men) they are oblivious to the negatives of social media effects that these images are doing to them. They are also exposed to rude and vulgar words which they then pick up and use as a force of habit in their everyday life. These children unfortunately are as young as six or seven. The internet needs to start using effective filters to stop this explicit material from poisoning the the minds of our future generation, and start paying more attention.
In conclusion, social media plays a negative role on today's society by continuously putting users of social media in danger, limiting face to face socializing skills, and exposing our society to explicit materials. Bad things about social media need to change. There needs to be more restrictions blocking access to inappropriate sites, and security needs to drastically tighten on this essay on social media profiles, or the future generation that will be running the world will incapable of doing the job correctly. –Which effects everybody, and the generations to come.
Works Cited
Dewing, Michael. Social Media. Ottawa, Library of Parliament, 2010.
"The Social Capital of Locative Social Media." Locative Social Media.
"Social Media." Wikipedia, Wikimedia Foundation, .
Negative Effects of Social Media on Society. (2016, Feb 22). Retrieved from http://studymoose.com/negative-effects-of-social-media-on-society-essay
"Negative Effects of Social Media on Society." StudyMoose , 22 Feb 2016, http://studymoose.com/negative-effects-of-social-media-on-society-essay
StudyMoose. (2016). Negative Effects of Social Media on Society . [Online]. Available at: http://studymoose.com/negative-effects-of-social-media-on-society-essay [Accessed: 4 Mar. 2023]
"Negative Effects of Social Media on Society." StudyMoose, Feb 22, 2016. Accessed March 4, 2023. http://studymoose.com/negative-effects-of-social-media-on-society-essay
"Negative Effects of Social Media on Society," StudyMoose , 22-Feb-2016. [Online]. Available: http://studymoose.com/negative-effects-of-social-media-on-society-essay. [Accessed: 4-Mar-2023]
StudyMoose. (2016). Negative Effects of Social Media on Society . [Online]. Available at: http://studymoose.com/negative-effects-of-social-media-on-society-essay [Accessed: 4-Mar-2023]
Is social media ruining our lives? Do you think social networking sites like Facebook have an over all negative effect on society ? Pages: 4 (1175 words)
The Negative Effects of Social Networking Technology on Our Lives in Steve Chazins Is Social Networking Good for Society Pages: 3 (673 words)
Negative Effects of Social Media Pages: 10 (2819 words)
Social Media And Negative Effects Pages: 3 (829 words)
Social Media and Its Negative Effects on Interpersonal Relationships Pages: 2 (573 words)
Social Media's Negative Effects on Young Women's Mental Health Pages: 3 (834 words)
How Social Media Has Changed Our Society Media? Pages: 11 (3237 words)
Effects of Social Media on Society Pages: 3 (801 words)
  Social Media and The Effects It Has on Our Society Pages: 3 (800 words)
Cultural Diversity in Music and its positive and negative effects on Society Pages: 5 (1242 words)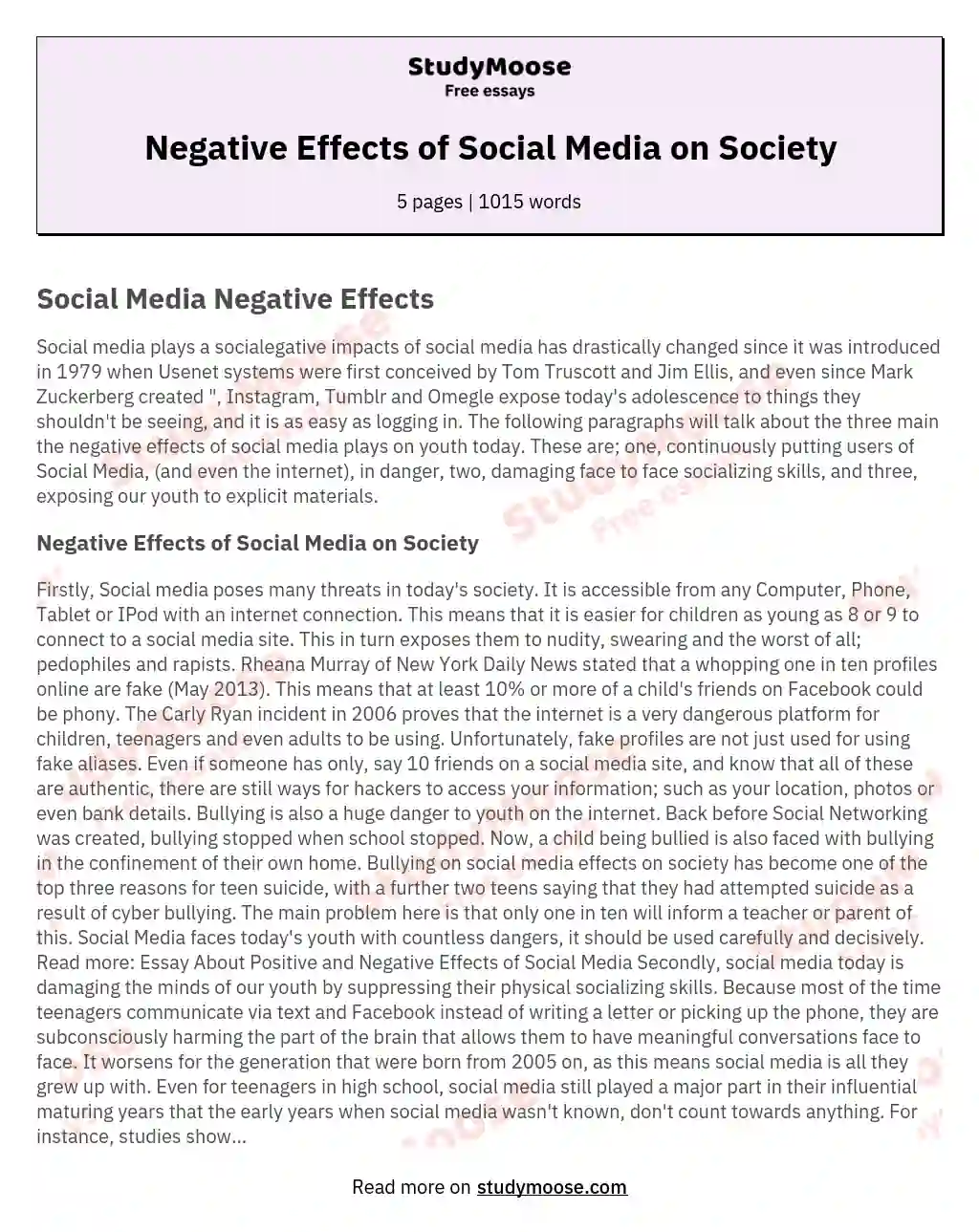 👋 Hi! I'm your smart assistant Amy!
Don't know where to start? Type your requirements and I'll connect you to an academic expert within 3 minutes.
why social media is bad essay
Post author By sayd68
Post date July 12, 2017
No Comments on why social media is bad essay
Social Media First of all before we talking deep to the argument about "Does social media give negative effects ?" statement I would to introduce what is social media first. Social Media are the big platform we can chat and talk with everyone in this world from long distance, and the place we can know many information from all around the world via virtual communities and network. Talking about "Does social media give negative effect?" statement, yes social media give negative effect and I'm agree Social media is very influental on everyone, from small children to adults. Social media as a negative imacts and positive impacts. Social media is being used in ways that shape politics, business, World culture, education, and more. Social media has been blamed for promoting social ills such as cybercrime. Social media is very influental for life. Especially teenegers who are looking for his identity. Social media influence the behavior of adolescent who are looking for his or her identity. The
Conclusion: – Lead to Isolation:
Several studies show that social media can have a serious negative impact on an individual. A study by Forest & Wood (2012) shows a clear negative relationship between low-esteem users and their use of social media and how it jeopardizes their chances of creating meaningful relationships. Another study conducted by Pea et al (2012) show negative physical and emotional outcomes for young girls using social media. A study conducted by Lin et al. (2016) discusses how social media use is linked to depressive Effects of Social Media on Individuals Individuals nowadays have been shaped by many factors including family, environment and personal experiences, but have you ever wondered how social media has contributed to our lifestyle behavior? In the period that before social media the individuals interest and concerns were not so complex, however, since the improvement that has happened in social media, individuals' lives have undergone a great change. As a result of this development of the social
This essay was submitted to us by a student in order to help you with your studies. Social media sites have taken over our lives. We cannot imagine that 10 years ago there was no Twitter or Facebook. 15 years ago people were actually waiting to hear from each other by sending letters. Even sending an email was not that common. Social media has not just been a platform for simple online marketing but it has become the revolution of our century. Whether you like it or not, social media can no longer be ignored. But are social networking sites such as Facebook, Twitter and YouTube a good thing or a bad thing? Social media gives us the opportunity to communicate with our friends and family. You can stay in touch wherever you are at. Friends who you haven??t seen since school, and who have moved away, will be able to know about your latest happenings just as quickly as your neighbours. We can contact anyone around the world, at any time, with just a few keystrokes. Unlike calling your family across the ocean, social media is free. Skyping with your grandmother in America doesn??t cost a thing, however calling her can cost up to 1,78 euro??s per minute. We can share the best elements of our life, through posting photos of ourselves and our friends. Social media makes us more interwoven in each other's lives, we feel closer to relatives and friends overseas, even though we are still kept apart by a long, long distance. Businesses have noticed the value of social networks in our lives, and they are using different techniques to promote their products. Many companies use social media for their awareness campaigns. They can use it to spread their ideas, knowledge and information about their products. Right now Facebook is the world's biggest social network. It is therefore very interesting as a company to interact with Facebook-users via a Facebook page. YouTube is also very popular when it comes to advertising. How often has it happened to you that you wanted to watch a video on YouTube but you first had to watch a 2 minute commercial? It is practically impossible to go online and not see any advertisements. Without even noticing it we come across tons of advertisements every day. And through these advertisements we can find out everything about the latest products such as new books and CD??s, games and mobile phones. Nevertheless we can also found out which companies are looking for people to hire. If you click on an advertisement on a social media website it will send you to the official website where you can find a vacancy for a job. So it is also a simple way to be engaged. Social media is a big source of information. Nowadays we can find everything, literally everything, on the internet and social media. This is because people want to share their knowledge and findings via social media. For example on Wikipedia, everything you need to know can be found on this international social media website. For students this is very convenient. They can use the information on the internet for their own schoolwork, or just for inspiration. For enterprises this source of information is also quite useful. They can gain more knowledge on how to improve their business, and compare themselves with other companies. In this way there will always be competition between companies and they will keep growing if they manage to keep improving their products. Unfortunately, not all consequences of this technology are good ones. For example the way it allows us to hide ourselves behind a screen and limit or even avoid social interaction face to face. Because of social media we don't have to put any work in building an actual relationship. The only thing we have to do is click on a button and you can be friends with anybody. Just think of the people on your friend list on Facebook. How many of them do you actually speak to on a regular basis? To have considered some advantages and disadvantages of social media, I think it is a good thing for society. There are many good things about social media such as the way it allows us to communicate with everyone around the world, the way it can be used for marketing and also all the information we can find on it is a great advantage. However there are also some bad things about it such as the fact that it limits our level of human interaction. For the business world social media is definitely a good thing, but whether it is a good or bad thing for yourself, that depends completely on your own behaviour. If you can keep your real life separated from your internet life and use social networking as a small part of it everything will just be fine.
References:
http://www.socialmediatoday.com/content/social-media-good-thing-or-bad-thing http://www.bartleby.com/essay/The-Negative-Effect-of-Social-Media-on-F3F63RZVC http://www.essaysauce.com/sociology-essays/is-social-media-bad-for-our-society/ http://www.toppr.com/guides/essays/essay-on-social-media/ http://www.ipl.org/essay/Advantages-And-Disadvantages-Of-Social-Media-Essay-P3VM7UHESCF6
Leave a Reply Cancel reply
Your email address will not be published. Required fields are marked *
Save my name, email, and website in this browser for the next time I comment.