How to Write a Good Common App Essay about Art
We received this question via email recently and we thought it was such an important question that we're addressing it in this blog post. The question:
"I'm currently at the end of my Junior year in high school and I just read your article on writing college essays about art to look for some guidance. I noticed that the majority of the article referred to performing arts and film. I am planning on writing my college essay very soon, within this year, but I would like some insight on how to go about writing my topic on the traditional side of art without it sounding cliché. I really wanted to include art in my essay because it is a very important aspect of my life, it allows me to convey my thoughts and emotions."
--Picas So Confused
The answer:
Art is like, really complex. Totally. We get it. We've written about college essays and art , art supplements , and how to craft your college essay to reflect your creative side, and so on. But we wanted to more deeply explore the above question of how to craft an essay about more "traditional" art without it being bad. We had a few immediate reactions to this question that we'll break down:
Art is an easy cliche
Plain and simple, writing about a piece of art, or your artistic approach, is cliche if done without careful thought (and probably a lot of bad drafts ). We can't think of a more boring essay than one about a singular piece of art. That's what your arts supplement is for -- to show your art. Your essay, on the other hand, is an opportunity for you to tell a story. And not a story about how much you love art, but rather a story that shows how much you have invested in and how much of your life is reflective of this creative process.
An essay about art can be good if it's not about art
We know this might sound like a confusing, circular statement, but hear us out: a piece of writing can be thematically related to something without actually being ABOUT it. We advise our students to identify something small, and to make their essay about that small thing while invoking the larger thing, instead of making an essay about the bigger thing.
So for example, a student we had last year is an incredible artist. Their supplement was outstanding, they'd won a bunch of awards, and even sold their art for substantial amounts of money. It was certainly tempting to latch onto one of those big-ticket, flashy pieces and tell a story about it, or to discuss their "approach to the artistic process," by exploring their process. Instead, we worked with them to find a relatively obscure story from years prior when the student came into contact, and ultimately, conflict , with someone in the world as a result of their art. It was barely about the art itself, and more about the human element of this conflict.
In short: no matter what your topic, but in this case it's art, don't knock the reader over the head with your views on art or approach to art, and instead work to find a creative and interesting way to highlight your passion about art by telling a story. The story should not be overwhelmed with description ( a description isn't an essay ), but rather structured in such a way that has a clear beginning, a middle, and an end, with a narrative, individual voice weaved throughout. And on that note:
Make sure it's personal
What made us most concerned about the direction of this question is the phrase "traditional side of art," because it doesn't sound very personal . It's easy to take a subject and to intellectualize your involvement and interest in it. That's not what's going to force admissions officers to wake up out of their fog after reading hundreds of boring essays that end with "What I learned from this experience…" This is where we'll challenge you to make this essay intensely personal (not saying you need to overshare...in fact, please don't ). When we say intensely personal, we mean the narrative voice that you use and the story that you tell. The events that make up who we are, why we care, and how we express that care, are likely small moments that lead up to the big moments. That's what we challenge you to write about when it comes to writing about "art." Do the work ( we've written out a step-by-step guide here ) to isolate some moments you may have forgotten about because they aren't obvious, and explore those. They may very well be where the essay is.
Please feel free to reach out with any and all essay questions -- we love answering questions that are useful to you!
Study Notes
College Essays
Common App Admissions Essays
Common App Essays
Common App Facts
Unlock All Essays
The Colour of Passion
I tried to hold the canvas as close to me as possible without risking touching it. It was dry, but with oil paints you never really know. It's painting care 101: Don't move your painting around when it's wet. Any artist worth her salt knows that. But if you had spent the better part of a month – sometimes fourteen hours straight a day – painting, you couldn't wait to deliver it either.
I used to assume that 'real' artists are passionate about the process of art: the meticulous mixing of colors in search of that right shade, the thrill of sliding down the sleek brush down the white canvas and watching the paint settle in the fibers, the smooth transformation of hues as they fuse together, the slow evolution of the picture.
But not me.
I'd always worried that I must be a lousy artist as far as true passion goes. My enthusiasm lasts for all of the first hour. After that every painful, imperceptible movement of the brush is an irritating itch; every line that doesn't follow the path I dictate, every shade that changes colour without my explicit permission, and all the annoying invisible details that I have to somehow find, decipher and change (and then change again and again, like running blindfolded through a maze, hoping this time I'm on the right path) until it looks about right, is a frustrating process.
But watching the picture slowly fill up the blank canvas like the pieces of a puzzle coming together is somehow fascinating. When the last inconsistency in color is glossed over, the small extra fleck of paint is dissolved and the last touch of white to make sure his eyes gleam a little brighter is duly placed, and you finally get to lay down the brush, take a few steps back and look at your handy work – that's where the true magic lies. A bold face peeks out from his two dimensional world, his eyes following you around as if he knows who it was that sat by him day in and day out.
It often feels as though the face is no longer just layers of dyes that I diligently painted but a life force that sneaked onto my canvas over night when I wasn't looking. The enchantment of the final piece has always been incentive enough for me to chain myself to a piece of cloth for months; so I can 'wear' it around proudly like a badge of honor when I take it to the exhibition.
Yet I often find myself trying to recall every difficult detail of the process to feel in its possession again and reestablish my identity as the artist. Because stepping away also makes everything impersonal. The flat familiar face that had become almost a friend becomes a stranger again. The connection I feel with the portrait ends with the process and I find that as much as I love my finished piece, I miss that intimacy. I miss the sheer exhilaration of figuring out what is wrong and the surge of power I feel when I can set it right.
It's a very quiet unobtrusive sort of power but to feel it, is to truly feel alive. Painting might have once introduced me to it but now I can recognize it for what it is every time I figure out a twisted physics question, or get off a podium knowing I braved every one of my demons by giving a speech: the feeling of triumph over my fears and weaknesses.
I don't worry about the authenticity of passion anymore. It's not about enjoying every second, but loving every second enough to persevere through the boredom, frustration and fear because, inevitably, the realization dawns that the struggle is what makes the destination worth the road. And passion is just my insatiable thirst to overcome that challenge.
Essays That Worked
Read the top 147 college essays that worked at Common App and more. Learn more.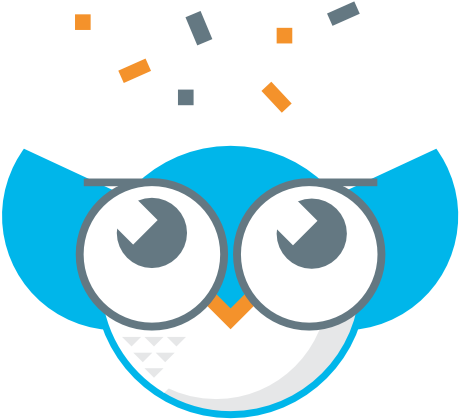 Keep reading more Common App admissions essays — you can't be too prepared!
Previous Essay Next Essay
Tip: Use the ← → keys to navigate!
How to cite this essay (MLA)
Nasim Mirzajani
Chemical engineering, accepted at common app, graduated yale '18, more common app essays.
Defining Yourself
The Pen Drill™
Topic of your Choice - "Rainfall on Ink"
Prompt #5: Transition from Childhood to Adulthood
Evaluate a Significant Experience Essay - "Computer Wizardry"
It's Not Just A Sport
Alcohol's Daughter
Short Extracurricular Activities Essay - "Volleyball Co-captain"
Asian-American Background
Massaging My Malady
How To Be Happy
Lessons from Failure Essay – "Piano"
Piano Improvisation
Common App Prompt #1 – "Half"
Science Fiction
Common Application Activities List
Defeating the Devil Inside
"The Pub"
Football and Journalism
Clarinets, Calluses, and Chemisty
Lifetime Goals
Karate Extracurricular Essay - "Little Ninjas"
Western Civilization
The Power of Daydreams
Passage To New Ground
Living Deliberately
Food Drive Short Essay
Lost in Spain
Describe a place or environment - "The world of mathematics"
Sample Essay
Discuss an accomplishment - "I am my own temple"
Air pollution
Extracurricular activity or work experience – "I am Chopin"
Fruitealicious: Place Where I Feel Most Content
The Ball and The Beast
111,577 views (36 views per day)
Posted 9 years ago

College Admissions Essay: My Passion For Art
When you love to do something, you want to do it every day, all the time, till you get sick of it. Even then that excitement and devotion to do it is still there. That is how I feel about art. I have a great passion for it. It is a form where I can express myself in a way words can't. Ever since I was little, I had this thing for doing whatever I wanted when it came to drawing, coloring, and such. I remember when I was in kindergarten, we would do this activity where the teachers make the students grab a bunch of crayons, and they would tell us in which direction to move them, without lifting them of the page. I never did this activity. Once they gave me the paper and the crayons, I was a goner. I wouldn't even realize we were doing that activity. I just filled the page with color, making it look as I pleased. The teachers never told me anything because they could obviously see I loved drawing, so basically, they would let me do what I wanted during that time. To this day, this still happens. I lose myself in what I'm drawing. Everything else doesn't matter, it's all just blur. Now that I'm more grown, I have more of an appreciation for art. I identify more by it. I …show more content…
In this essay, the author
Opines that when they love to do something, they want it every day, all the time, until they get sick of it. art is a form where they can express themselves in ways words can't.
Narrates how they had a thing for doing whatever they wanted when it came to drawing, coloring, and such. when they were in kindergarten, they would make the students grab crayons and tell them in which direction to move them.
Explains that now that they're more grown, they have more of an appreciation for art. they identify more by it. the good critic gave them that lift to keep working and possibly getting even better.
Opines that they like art because it can hold meaning. the painting "el autobus" by frida kahlo is in reference to the accident where she got impaled by a metal handrail.
Opines that art makes them feel something that they couldn't possibly put into words, but by doing art itself.
Each drawing. Each painting. Each sculpture. It can give you a glimpse of what is going on in the artist's head. Take the painting "El Autobus" by Frida Kahlo as an example. It has been said that the painting is in reference of the accident Frida Kahlo had where she got impaled by a metal handrail. The painting is of a bench with people sitting on it just before boarding the bus. This kind of artwork, where the artist puts a little bit of him/her self in it is something I strive for. I want to make art that reflects me, or that means something to me. I don't want to make something just because, I want it to be where the viewer could possibly see the hard work, the passion, the emotion behind it. Things that most times get
explanatory
Explains that despite being a visual form meant to be looked at, there is more usefulness to it than what meets the eye or is taken into consideration.
Explains that art is used to make one's thoughts, ideas, and feelings come to life through the form of expression which in turn triggers reactions from the eye of the public.
Explains that art can be used to express, and it can also be therapeutically, helping trauma patients sort through their adversities and begin healing.
Explains that art can be used as a form of expression, but it is not vitality to life. it can develop learning capabilities in education and daily lives, showing the darkness of this world and the light.
Argues that art is a form of expression used to communicate ideas and emotions to others, to therapeutically heal, or to add depth to humanity.
Narrates how they met their first inspiration for art, zack smithey, when they were a freshman in high school.
Narrates how they were fascinated by peter mohrbacher's fantasy paintings, and stumbled across the youtube channel, draw with jazza, to develop their personal style.
Explains that they wanted to display iconic figures or pictures of people so generic that the viewer could see themselves in the subject's position.
Explains how they selected the pieces that would be in the show. they stripped the baseball player and the astronaut down to bare essentials and used implied lines to frame the body of the subject.
Explains how they used the same features in the archaeologist, marine, and musician pieces.
Explains how they used accent colors for the jacket in the pirate and the tricorner hat to frame the background, using implied lines to make the viewer see it as natural.
Explains how they decided to add inspirational quotes to the pieces of aspire. they wanted the viewer to have a personalized experience with each of their pieces.
Opines that they will continue learning and connecting with people in the design community as they advance to the next level and end their collage career.
Describes how their first sketchbook consisted of an average eight by eleven inch pacon brand for two dollars. as a child, pictures introduced themselves to them in various forms.
Explains that drawing represented the growth they went through in life. the lessons they learned from their time sketching consists of one word: practice.
Narrates how their dedication and constant practice with a pencil and paper led them to take challenging courses and pursue other passions, like music.
Opines that art continues to grow and improve and mature, much like themselves. as they complete this sketchbook with their experiences since childhood to their final year in high school, they will purchase a new one and continue to pursue their interests and personal passions throughout their life.
Explains that street art was a revolutionary tool that encouraged many who seem to admire such art. its rebellious character interfered into the european politics.
Opines that street art has been one of the most inspiring actions to humans throughout the whole history of mankind.
Explains that graffiti is a dirty word that ruins our city's buildings and walls. graffiti isn't only one form of art as it evolved throughout the years.
Explains that banksy's approach to graffiti inspired many young artists. his trademark stencling technique has inspired copycats yet none have proven to have such original content or technical fluency as bansky himself.
Analyzes how pablo neruda's poem, i'm explaining a few things, captivated their attention.
Analyzes how odysseas elytis won a nobel prize in literature in 1979 and passed away in 1996.
Opines that claude monet's painting, sunrise at the sea, speaks louder than words and allows a perception unlike any poem.
Explains leonardo da vinci's quote, "painting is poetry that is seen rather than felt," and that painting and poetry are one in the same. there is no right or wrong when it comes to art.
Explains that art is what every person makes of it, and that there is no right or wrong way to look at it. the lover pleads with his friend for old friends is one of their favorite poems.
Explains that art has been going on since the beginning of time yet it never seems to be the same from generation to generation.
Explains that art has always been important to humans. art can be carved, built, assembled, drawn, or arranged using berries or bricks.
Opines that art is interesting because everyone's preferences are different. some artists prefer to paint while others like to carve.
Describes mount rushmore as one of the most creative carvings throughout history. they feel americans should be proud of this wonderful carving.
Opines that it is important that everyone can find some type of art they can connect to or enjoy.
Explains that artists have always had a unique gift of being able to tell stories with very few words needed.
Opines that we should also talk about the different styles of art. art can be formed at about anytime or location with almost any material that makes art so great.
Opines that there is an abundance of answers, techniques, and ways to create art, which is what makes art so great.
Explains that they have always dreamed of being an artist. they chose art education to study at uni, and are excited to start their studies.
Explains that art education is the perfect major for them because they have a passion for educating. they have had the opportunity to teach their school news channel.
Opines that their passion for art is unlimited and can only be tamed by learning more and sharing knowledge about art.
Explains that they chose art education as a major because their passion for art is unlimited and their excitement is uncontainable for their future career.
Opines that many of us enjoy art simply because it appeals to our individual tastes and preferences. art is an opening to the soul, not only of the owner, but also the creator.
Analyzes how hopi-tewa potters of the southwest have come under attack by euro-american critics who claim that the process by which they make their pottery is too tedious.
Analyzes the concept of a contact zone, defined by mary louise pratt in her article "arts of the contact zone."
Explains that hisi nampeyo was responsible for the revival of hopi-tewa pottery as we know it today and has passed her traditional designs on to her descendants.
Explains that the selection and preparation of the clay symbolizes the preservation of traditional hopi methods by excavating a clay native to the community in which the potter resides.
Explains that the next step in the process is to choose a shape and begin manipulating the clay into the desired shape, or visa versa.
Explains that puki is a supportive base made from wood ashes and water. it is used to sustain the shape of the piece.
Explains that hopi-tewa pottery is made from native plants and rocks, which are then sanded and polished with a smooth river rock. the consistency of the paint is important to ensure no running or clumping in the sketches.
Explains that the hopi-tewa have developed their own methods in place of using a kiln.
Analyzes how hopi-tewa pottery materials are not purchased in a store, but are native to the geographic regions. the euro-american art market would like to see more pottery produced.
Argues that the clash between artisans and the art market is not unique to the hopi-tewa people.
Opines that the work of hisi nampeyo is unique and beautiful, and that it is worth the wait.
Explains that black colleges have played a small but essential role in their family. they want to experience what they did like meeting new people, being independent, and learning time management.
Narrates how they always wanted to be an artist and how their family encouraged them to heighten their abilities by drawing bigger and better things.
Explains that drawing gave them the feeling of escaping from the outside world and time to think about problems before making any decisions could have gotten them into trouble.
Describes how they learned that they are a strong-minded individual who doesn't let worries get the best of him.
Describes how they saw themselves as the glue that held their friends together in our time of exhaustion and despair. by becoming a student at their school, they will receive education and balance in their life.
Opines that art has influenced their life in amazing ways. each piece of art they create is a journey into their soul.
Describes how the summer before their senior year, they participated in ringling school of art and design's pre college program. they were not sold on art as a career, but when they left, there was no doubt.
Describes how hurricane charley devastated their hometown of punta gorda, destroying charlotte high school, church, and most of the town. they began to heal as they took up their pencil again.
Opines that they hope to attend ringling full-time in the fall, majoring in graphic design, and connect art with their other loves for classical ballet and music.
Related Topics College Admissions Essay: The Art Of Drawing
My experience with autism.
Innovation, ingenuity, and individuality are at the base of creativity. As a child I always thought outside the box exploring ideas in a different perspective in order to encapture the true meaning of the question at hand. Growing up in an art enduring environment certainly persuaded my passion towards visual media, as my pieces often reflected values of Dr.Seuss, Andy Warhol and Keith Haring. Whenever I felt frustrated or incapable I always relied on the ability to express my emotions throughout writing, sculpting or even drawing. The ability to reveal my inner conflicts without restraint or indignation is what allowed me to find a release in a stressful situation.
Art Education Admission Essay
Teaching might even be the greatest of the arts since the medium is the human mind and spirit." During my past career as an art teacher at Intel Academy, introducing and demonstrating aesthetic techniques and materials have thrilled me as much as completing an art piece. Through workshops and demonstrations, I learned how to communicate and suggest better ways of developing their ideas and expressions. Some children had difficulties encountering art due to their behavioral problems; however, respecting their accomplishments and encouraging their process of following the curriculum became a part of the solution. My decision to apply to masters program in art education was pursued as I faced these
The Sanctuary Of School Lynda Barry Analysis
Throughout my early teen years, I was exposed to different mediums of art and discovered that I could express myself through more channels than just paper. Although Barry found comfort in her 11 x 17 newsprint and some paint, I was able to focus my energy on making music and taking photographs. Without my art teachers, I wouldn't have the expressive outlet I do today. My childhood was not filled with unhappiness as Lynda Barry's was, but from both backgrounds, we found a warmth from the exposure of art that the educational system gave to us.
College Admissions Essay: The Art Of Creativity
"Creativity is contagious, pass it on." Albert Einstein, famous physicist, had once said this. It's true, as when others are producing ideas or creating solutions to things, you in turn start to think of your own. Yet, a lot of the times when I think of this statement, it reminds me of myself and art. In my free time, I love to look at other's art and see their reasoning behind the picture – and then find myself start drawing the next second, feeling inspired by that particular artists reasoning. Every day if I can, I'll look at all sorts of works by artists – sculptures, paintings, sometimes even dolls! Weirdly, I find myself always going back to the simple drawings on a paper and then making a few drawings of my own. Thus bringing a
College Admissions Essays - A Photograph
Attach a small photograph (3.5 x 5 inches or smaller) of something important to you and explain its significance.
College Admissions Essay: My Goal As A Graphic Design
My goal as a graphic design is to create works that will cause someone to question everything. I recently have gotten into design, and fell hopelessly in love. Until two years ago, I did not know what a graphic designer was or that I could be one. I was lost, unsure about my future or who I wanted to be, I just knew that I was creative and very kinetically driven. I just wanted to move. A friend of mine introduced me to the book "Watching Words Move", and suddenly I knew who I was and what I needed. The visualization of words doing what I always wanted them to do, move. I became obsessed. I wanted to create a mesmerizing typographical mirage of movement. I searched for what I needed and Graphic Designer answered. When I applied to SCAD, I
National Art Honor Society
It was my freshman year of high school when I took Drawing A; I quickly learned that I had a skill that I had previously ignored and began embracing it. Sophomore year, though, was when I truly started using my art. It was during this year that I received a 4 on my AP-Studio Art portfolio, and won four awards at Scholastic Art and Writing in photography. Art gave me a feeling of accomplishment that I didn't usually get in the rest of my academics, so I always tried my
Room 101 Monologue
I'm sitting at my computer, ignoring pages of economics homework and mugs of cold tea now strewn about my desk, as I search for a direction to go with my life. Such was was my predicament several months ago. It's undeniable that I'm an artist, hard and true, for a pencil found its way into my hand as a child, and no desire of mine nor of the universe ever tempted it to pry away. Throughout my earliest years and memories, I maneuvered with graphite, paint, and crayon every adventure that I ever dreamt of pursuing. Oh, I was a resilient child, as well, who refused to take part in any art class at school or as an extracurricular for an abundance of years, as I was invariably convinced that I could learn all I wished on my own accord! Consequently,
Book Tackles Old Debate: Role Of Arts In Schools
While art does have its advantages, it will not solve everyone's problems. It is true that not everyone enjoys the thrill of creating a beautiful masterpiece because they might have been forced to take that class. However, those who love these classes show that there is a relationship between creativity and
Personal Narrative: Start Up Tulane
The pencil liberates my stresses and sorrows. Bare and unimpeded, my mind is able to isolate itself from anything that was happening in my life. At my art table, which is merely an escape from reality, my curiosity is able to wander. Within this room, five blank canvas's look in on me as I become a mold of my imagination. A step inside my world develops into a sea of color and exploration. The vibrancy of the walls resonates throughout. Over the years, my room has served as my oasis. It's my escape from monotonous and mundane routines. It's my exploration of another side of me. I observe such works of art almost as much as I create. Taking notice of my classmates' innovations and inspired by their creativity, my paintbrush begins to alleviate stress. I strive to produce pieces others will appreciate, but often find myself to be the true admirer. My pride, in this world, is driven simply by my own curiosity to express myself. I credit this side of me as the "passion" that supplements my insane drive for success. This passion has sparked critical thinking in me as well as how I see failure. Life is a blank canvas and you can truly draw whatever you want, and if you fail, you start over and don't make that same mistake again! Hard work takes ideas quite far, but true success is derived from ingenuity and the generation of
College Admissions Essay: My Pursuit Of Aesthetics
Hearing my race class announced, I kick-started my bike and rode over to the starting line; although, numerous questions ran through my ten-year-old mind. I wondered how the bike worked, what made my bike different from others, and most importantly at the time, how to become a professional dirt bike racer. The hypercompetitive nature of racing allowed me to challenge myself and continually progress by learning vicariously through others. By taking the risks to progress as a racer, I attempted a large double-jump, and had fallen between the jumps, where another racer rode over my abdomen. Over the next year, I spent time in and out of hospitals and specialists' offices treating my injury; however, for me it was an opportunity to learn about new tests, treatments, and most importantly another career I could observe first hand. Before undergoing a surgery, I met with one of the most compassionate and joyful anesthesiologists that calmed me down and answered my questions about his job. With a goal to make surgery as pleasant as possible, I was motivated to discover more about anesthesia.
Persuasive Essay About Camping
Being outdoors is an amazing solution to spending time with family and friends. It is a fun approach to mingling and enjoying quality time with them. In addition to that, you are outside spending time in nature. Taking a break from your everyday life to enjoy what mother nature provides for us, has many advantages. But, before you start heading to the campground, you should know of all the positive aspects that you will get once you get outdoors.
College Admissions Essay: Past, Present, And Future
My past, present, and future. This is the journey of my life. Where I've been, where I'm at, and where I'm going. My journey began on July 28, 2000, at St. Margret's South Hospital in Dyer, Indiana. Lance Collins who is a paramedic, and Christine Collins who is a registered nurse, became the proud parents of the 6lb. 9oz. 21 inch long baby boy, who they named Liam Hunter Collins. On November 30, 2002, I became a big brother when my sister Taylor Collins was born. I have been a lifelong resident of Northwest Indiana and I've had some pretty amazing adventures and accomplishments so far. I became a proud pet owner when my bichon frise Max, came to live with us on April 5th, 2006. On June 30, 2006 my dad took me to my very first Taekwondo lesson. I quickly fell in love with martial arts, I worked really hard, dedicated myself, and I received the rank of 1st degree black belt when I was only eight years old. I have been playing
College Admissions Essay: The Art Of Cubism
My life began in Bialystok, Grodno Governorate which is now Poland. Shortly after my birth my family and I moved to Kiev and I would eventually attend and graduate from Kiev Art School in two years. In that same year, I married a Kiev lawyer named Nicoloas Evgenievish Ekstar and moved to Paris for several months and studied at Academeie de la Grande-chaumiere in Paris, I was expelled for not following their artistic ideas. I would later on meet Pablo Picasso, Guillaume Apollinaire, Max Jacob and Fernand Léger in Paris and would become inspired by cubism. ("The reduction of natural forms to their geometrical equivalents, and the organization of the planes of a represented object independently of representational requirements.") The Cubism movement would have inspired my first exhibit (publicly display (a work of art or item of interest) in an art gallery or museum or at a trade fair.) in Kiev and later on St. Petersburg called "Exhibition of New Currents." Within the same year, I organized an Impressionistic (a person who follows or adhees to the theories, methods, and practices of impressionism) learning called "zveno" ("link") with David Burlyuk, Mikhail Larionov, Natalya Goncharova. I would later move back to Paris, rent my own
Student Art Project Analysis
My two closest friends are artists, and it always baffled me that we all got along so well when I had no artistic talent at all. Then, I volunteered at a youth art program with my best friend Shane called Present Project in 10th grade. The main message that I took away from Present Project was that art can be unconventional and can be seen in everything that we do. I had always thought I lacked creativity because I wasn't skilled in art or creative writing until one day my best friend told me that her favorite thing about me was how logical I was. She said that I was my own type of artist—an artist who expressed their creativity through their thinking process. Problem solving is an exciting task for me, because there is nothing that interests
Related Topics
English-language films
High school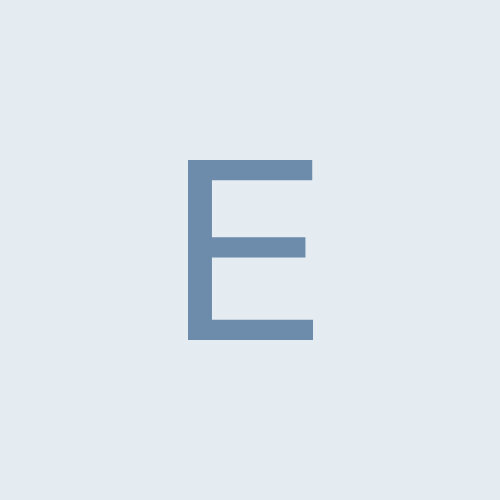 College Essays About Art
Free College Admissions Essays: Art is My Life - 3825 Words Essay
"Handiwork" - Sample Common Application Essay for Option #1
Vanessa writes about her love of crafts in her common application essay.
Essay Samples & Tips
College Admissions Process
College Profiles
College Rankings
Choosing A College
Application Tips
Testing Graphs
College Financial Aid
Advanced Placement
Homework Help
Private School
College Life
Graduate School
Business School
Distance Learning
Ph.D., English, University of Pennsylvania
M.A., English, University of Pennsylvania
B.S., Materials Science & Engineering and Literature, MIT
The prompt for option #1 of the 2018-19 Common Application states, " Some students have a background, identity, interest, or talent that is so meaningful they believe their application would be incomplete without it. If this sounds like you, then please share your story ." Vanessa wrote the following essay in response to the prompt:
I made slipcovers for my doll house furniture when I was ten. I had a nice matching set for the living room—a sofa, an arm chair, and an ottoman—all in a gray and pink floral pattern. I didn't dislike the furniture, but on a rainy Saturday, I decided it was time to switch things up a little bit, so I dug out some scrap material—navy blue—along with some thread, a needle, and a pair of scissors from my mother's sewing desk. A few days later, my doll house family had a nice, newly reupholstered living room set.
I've always been a crafter. From the early days of Kindergarten macaroni ornaments, to making my own prom dress last year, I've had a knack for creating things. For drafting sketches, drawing plans, making calculations, gathering supplies, adding finishing touches. There is something so satisfying about holding something you, and you alone, have made—something that was just an image in your mind until you set about to bring it into existence, to create something new, something different. I'm sure there are hundreds of doll furniture sets out there in that same gray and pink, but there is only one with fitted (albeit with sloppy stitching) navy blue covers. There's a sense of pride there, however small.
I've been lucky to have the time, the energy, and the resources to be artistic, to craft things. My family has always encouraged my efforts whether I be sewing a Christmas gift or building a bookcase. As my projects have evolved, I've come to realize that making things, useful or otherwise, is very much an important part of who I am. It allows me to make use of my imagination, creativity, logic, and technical skills.
And it's not just about making something for the sake of making something. I feel a connection to my mother's family, from a rural village in Sweden, when I make candles. I feel a connection to my grandmother, who passed away last year, when I use the thimble she gave me when I was thirteen. I feel resourceful when I use leftover wood scraps from our new barn to make coasters for the coffee table. Crafting for me is not just a hobby, not something I do when I'm bored. It's a way to use my environment, to discover tools, and shortcuts, and new ways of looking at things. It's a chance for me to use my head and my hands to make something pretty, or practical, or fun.
I don't plan on majoring in art, architecture, design, or anything remotely craft-based. I don't want it to be my career. I think a part of me is worried that I'll lose my love of making things if there's homework involved, or if I have to rely on it for a paycheck. I want it to stay a pastime, to stay a way for me to relax, enjoy myself, and cultivate a sense of independence. I'll never stop being a crafty person—I'll always have a box of colored pencils, or a sewing kit, or a cordless drill on hand. I don't know where I'll be in twenty years, or even ten. But I know wherever I am, whatever I'm doing, I will be the person I am because of that little girl, patiently sewing together tiny pieces of fabric on her bedroom floor: creating something great, something new, something entirely her own.
_____________________
A Critique of Vanessa's Essay
In this critique, we'll look at the features of Vanessa's essay that make it shine as well as a few areas that could use improvement.
The Essay Title
If you read the tips for essay titles , you'll find that Vanessa's title fits within one of the recommended strategies: it is clear, succinct, and straightforward. We quickly know what the essay is about. Granted, her title isn't creative, but creative titles aren't always the best approach. With some exceptions, too much cleverness or puniness in a title tends to please the writer much more than the reader. The short title has the added advantage that it isn't adding much to the word count. Keep in mind that the title counts towards the length limit.
For the 2018-19 academic year, the Common Application essay has a word limit of 650 and a minimum length of 250 words. At 575 words, Vanessa's essay falls at the upper end of this range. This is a good place to be. You'll certainly come across college counselors who adhere to the belief that less is always more, that the admissions staff is so overwhelmed with applications that they greatly appreciate a 300-word essay. There is certainly truth to the idea that a tight 300-word essay is far preferable to a wordy, rambling, fluffy 650-word essay. However, better yet is a tight, engaging essay in the 500 to 650 word range. If a college truly has holistic admissions, the admissions folks want to get to know you as an individual. They can learn a lot more in 600 words than 300. There is no consensus on the ideal essay length , but Vanessa's essay is certainly fine on this front.
Vanessa has avoided all of the bad essay topics , and she is wise to have focused on something for which she has true passion. Her essay tells us about a side of her personality that may not be apparent from the rest of her application. Also, the subtext of Vanessa's essay could work in her favor. Vanessa's description of her love of crafts says a lot about her: she is good with her hands and working with tools; she has acquired hands-on skills designing, drawing, and drafting; she is creative and resourceful; she takes pride in her work. These are all skills and personality traits that will serve her well in college. Her essay may be talking about handiwork, but it is also providing evidence of her ability to handle the challenges of college-level work.
Overall, Vanessa has written a fine essay, but it is not without a few short-comings. With a little revision, she could get rid of some of the vague language . Specifically, she uses the words "things" and "something" numerous times.
The biggest concern has to do with the last paragraph of Vanessa's essay. It could leave the admissions folks asking why Vanessa does not want to make her passion into her major or her career. In many cases, the most successful people are those who have turned their passions into their professions. A reader of Vanessa's essay is likely to think she would make an excellent mechanical engineer or art student, yet her essay seems to reject these options. Also, if Vanessa loves working with her hands so much, why not push herself to develop those skills further? The idea that "homework" might cause her to "lose [her] love of making things" makes sense on one hand, but there's a danger in that statement as well: it suggests that Vanessa doesn't like homework.
The Overall Impression
Vanessa's essay succeeds on many fronts. Keep in mind why a college asks for an essay. If a college wants to see more than your grades and standardized test scores, it means the school has a holistic admissions process . They want to get to know you as a whole person, so they want to give you a space to reveal something about yourself that may not come across in the other areas of your application. They also want to make sure you can write in a clear and engaging manner. Vanessa succeeds on both fronts. Also, the tone and voice we find in Vanessa's essay reveals her to be an intelligent, creative, and passionate person. Ultimately, no matter what essay option you choose for the Common Application, the admissions committee is asking the same thing: "Is this applicant someone who we think will contribute to our campus community in a positive and meaningful way?" With Vanessa's essay, the answer is "yes."
Want to Learn More About Common Application Essay Option #1?
Along with Vanessa's essay above, be sure to check out Carrie's essay "Give Goth a Chance" and Charlie's essay "My Dads." The essays demonstrate that you can approach this essay prompt in extremely different ways. You can also check out tips and sample essays for the other Common Application essay prompts.
By clicking "Accept All Cookies", you agree to the storing of cookies on your device to enhance site navigation, analyze site usage, and assist in our marketing efforts.
College Admissions Essay: The Art Of Drawing
Show More Everyone has a special talent or ability, my talent is drawing. I wasn't born an artist or particularly skilled at all, but I knew from a young age that talents are what set us apart from others and make us unique. In elementary and through middle school, I was encouraged by my teachers and parents to find my talent or interest. However, nothing genuinely interested me and I didn't consider myself talented. Though I hadn't found my talent ,by the start of middle school , if not earlier, the people close to me had found their talents or interests and they began to pursue it. As time passed, everyone was perfecting their talents, yet I still had not found mine. But, towards the end of middle school, I discovered Japanese animated stories through …show more content… The fact that I was terrible at drawing didn't deter me from taking interest in it and to improve, I practiced by looking at drawing tutorials, observing different drawing styles and illustrating from real life. Little by little, I could see that my drawing skills were slowly changing. Moreover, it motivated me to keep improving myself. Through the years, I idolized the idea that art is a way to express my emotions and thoughts and I treated it as a way to use my creativity. With these ideals, I strived to change my terrible drawing skills to express myself better and I ventured into different mediums of art. It wasn't until my sophomore year in high school , on a day that I looked back at the drawings from middle school, that I realized that my drawing skills have drastically improved, and that drawing is not just an interest or talent to me, it is an accomplishment. Drawing is my talent and my drawing skills are an accomplishment because I was not blessed with my skills, I made them through my hard work, years of practice, and determination to improve. When I take interest in something, I am determined to exceed at
Related Documents
How to win friends and influence people analysis.
Neither Dale Carnegie nor the publishers, Simon and Schuster, anticipated more than this modest sale. To their amazement, the book became an overnight sensation, and edition after edition rolled off the presses to keep up with the increasing public demand. Now to Win Friends and InfEuence People took its place in publishing history as one of the all-time international best-sellers. It touched a nerve and filled a human need that was more than a faddish phenomenon of post-Depression days, as evidenced…
Ready To Get Started?
Create Flashcards
Mobile apps
Accessibility
Facebook
Twitter
Cookie Settings
Home — Essay Samples — Life — About Myself — Art College Application: My Motivation to Study Visual Arts

Art College Application: My Motivation to Study Visual Arts
Subject: Life
Category: Myself
Essay Topic: About Myself
Published: 05 November 2018
Downloads: 82
Remember! This is just a sample.
You can get your custom paper by one of our expert writers.
121 writers online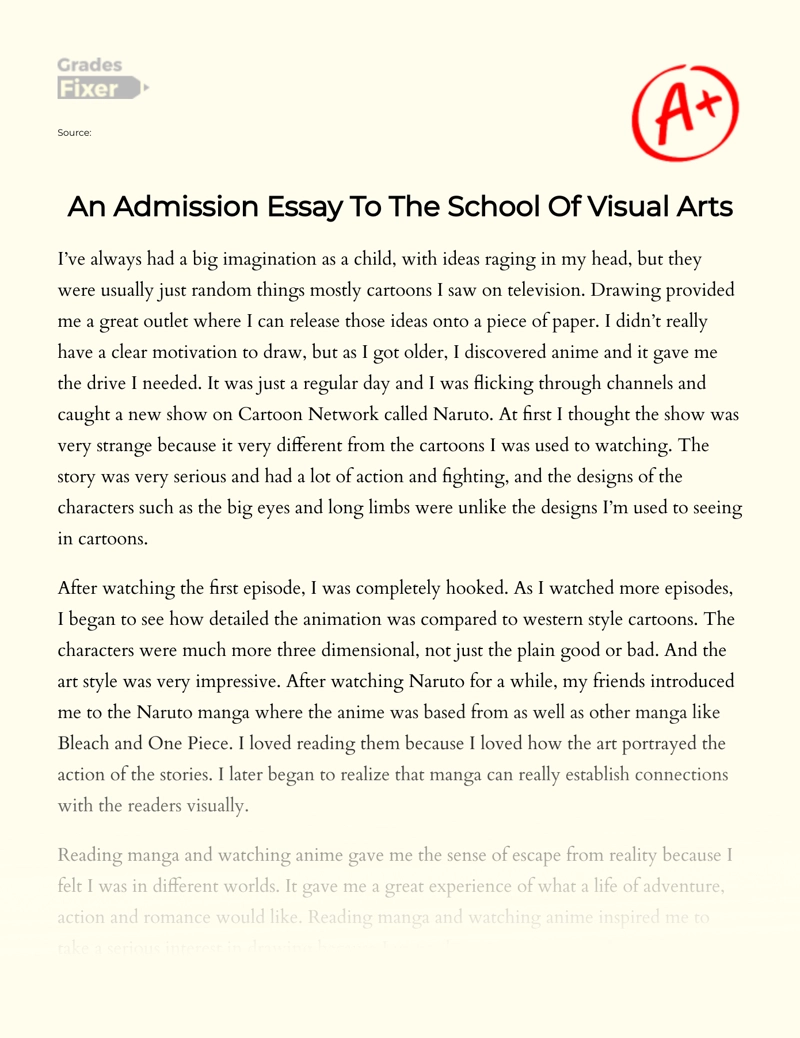 Remember: This is just a sample from a fellow student.
Related Essays
Who am I? This is a question we have all faced many times, from a multitude of sources. Ever since elementary school when I was asked to write about my family and myself, I disliked self-reflection. This was in part because I [...]
I prefer to be true to myself, even at the endangerment of finding the ridicule of others, rather than to be false and finding my own detestation. Why should I worry about what others think of me? I don't give a shit about how [...]
Mahatma Gandhi has said that "The future depends on what you do today." and I personally believe that, "From thousands of species, Humankind is only the species on the earth that thinks about its future". We are created to do [...]
For the duration of my life, I've always been taught to focus on my weaknesses rather than my own strengths. As a child, while I get expressed admiration for all the A's I have gotten on my many subjects, the low grades such as [...]
Self-awareness is the ability to separate ourselves from the people we associate with, along with the world that we live in, so that as individuals, our decisions, and preferences are understood by ourselves. Self-awareness [...]
The following essay is the example of a personality profile of a teenager. A chosen person for the essay is Brad, a young man in his late teens. The genuine and thoughtful young man. Brad can be an extremely dedicated worker if [...]
What qualifies me to say I'm an entertainer? A entertainer is someone that entertains. There are so many different ways to say what a entertainer does. There are some that get paid for movies, while others are there to make you [...]
In his essay "Self-Reliance," Ralph Waldo Emerson often radiates an arrogant and self-important tone, writing, for example, "A great man is coming to eat at my house. I do not wish to please him; I wish that he should wish to [...]
Passion for Post-Colonialism and Colonial Injustice/ Frantz Fanon's passion for Post-Colonialism was sparked by the unjust treatment of French soldiers towards the Martiniquan people where they raped and sexually harassed the [...]
Find Free Essays
We provide you with original essay samples, perfect formatting and styling
Cite this Essay
To export a reference to this article please select a referencing style below:
Related Topics
By clicking "Send", you agree to our Terms of service and Privacy statement . We will occasionally send you account related emails.
Where do you want us to send this sample?
By clicking "Continue", you agree to our terms of service and privacy policy.
Be careful. This essay is not unique
This essay was donated by a student and is likely to have been used and submitted before
Download this Sample
Free samples may contain mistakes and not unique parts
Sorry, we could not paraphrase this essay. Our professional writers can rewrite it and get you a unique paper.
Please check your inbox.
We can write you a custom essay that will follow your exact instructions and meet the deadlines. Let's fix your grades together!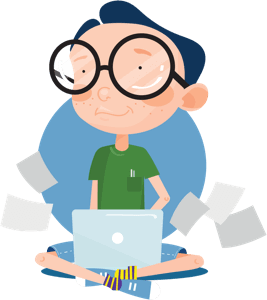 Are you interested in getting a customized paper?
We use cookies to personalyze your web-site experience. By continuing we'll assume you board with our cookie policy .
We can help you get a better grade and deliver your task on time!
Instructions Followed To The Letter
Deadlines Met At Every Stage
Unique And Plagiarism Free