We use cookies to enhance our website for you. Proceed if you agree to this policy or learn more about it.
Essay Database >
Essay Examples >
Essays Topics >
Essay on New York
Good Example Of The Clean-Water Challenge Essay
Type of paper: Essay
Topic: New York , World , Environment , Soil , Infrastructure , City , Nature , Water
Words: 1500
Published: 03/10/2020
ORDER PAPER LIKE THIS
[Class Title]
Introduction Ironically, water is considered as one of the most abundant compounds in the world as more than 70% of the earth's surface is covered with water. However, abundant as the world's water supply may seem, 96.5% of it is found in oceans; obviously salinized while the remaining volume of freshwater is somehow trapped beneath the earth's surface, icecaps, and icebergs or would have to be pumped from rivers and lakes. If only this water supply can be tapped and directly utilized, water would not be commoditized as it is today. The NAE Grand Challenge is an organization run by engineers who aim at restoring human needs by focusing of four major realms of the human being concern. Central to their concerns is the quantity and quality of water, of which is short in supply in most parts of the world. Water must be available in plenty in order to serve both personal use including drinking, waste removal, washing and cooking and for large-scale use including irrigation. Maintaining the water balance means being able to maintain and sustain life. Driven by the need to maintain life, the engineering organization aims at employing new technologies that help solve scarcity of water in the world while improving its quality.
Clean Water Scarcity
The difficulty of obtaining fresh water from the natural environment plus the process of making it pass the quality for its intended usage is what makes water one of the most commoditized necessities. In the light of this argument, water can easily be compared with man's equally important commodities such as electricity and gas. Just like electricity and gas, water needs infrastructures to support its extraction, processing, delivery and distribution. All these processes entail costs and are governed by political, economic, social and technological forces. As societies improve, so is their water consumption increases. Obviously, water demand will increase in direct relationship with the growth of the population and industries in an area. Water demand varies depending on its consumers. For residential consumers, potable water does not necessarily have to be on a different pipe and so the water that comes out of the faucet is not only used for drinking but also used for all domestic purposes such as bathing and washing. A typical family, for example, consumes around 80,000 gallons of water every year or about 7,000 gallons per month. On the other hand, industrial and commercial sectors may demand higher quantities. Aside from an ever-increasing demand, water scarcity can also be attributed to improper use of water resources and the destruction of water reserves due to human activities that contaminate the natural sources of clean water. In the United States, for example, mountain top mining activities have been criticized for its adverse impact to the head waters of the Appalachian mountain. Considered as one of the most bio diverse regions of the western hemisphere, the Appalachian mountain is home to some of the world's endangered species and also home to 25.2 million Americans . Researchers believe that the ongoing coal mining activity in this region will pose health hazards due to water contamination. As observed by Holzman, runoffs due to precipitation would carry not only organic materials downstream but also heavy metallic elements such as "arsenic, lead, manganese, iron, sodium, strontium, and sulfate". Ground water contamination is also another factor why clean water is scarce despite its abundance. According to historians, during the 1700's residents of Manhattan get their water by digging shallow wells for domestic use. However, as the city's residents increase in numbers, private wells became inadequate to support demand especially in industrial and commercial establishments. Attempts were made to increase the city's water supply and plans for building Roman style aqueducts were discussed in the city's council. For a period, New York City got its water from underground reserves that eventually got contaminated as the city's population grew. The danger of using New York's ground water for domestic use became apparent when the city was struck with a yellow fever epidemic in 1795. Fossil fuel exploration and extraction also increases the possibility of contamination of ground water resources such as underground aquifers and the ground water table. Hydraulic fracturing, a modern way of extracting natural gas and oil underground, uses harmful chemicals for drilling purposes that could end up contaminating ground water resources. Water contamination, on the other hand, is an irreversible process, which accounts for the growing scarcity of clean water in its natural environment.
Resolution and Mitigation Proposal
The best way to resolve the problem regarding the scarcity of clean water is to prevent natural reservoirs from being contaminated. In this regards, stricter environmental protection laws must be employed to prevent human activities from placing these water resources at risk of being contaminated. One of the most notable legislation regarding water protection in the U.S. is the Clean Water Act (CWA) of 1972. Under this act, industrial companies are required to present a plan on how to mitigate the impact of their operation to prevent the degradation of the water system. However, the real challenge is not on the existence of environmental protection laws but rather, it is on the implementation of these laws. It is, therefore, recommended that an the implementation of environmental acts must be heightened and should ensure that strict compliance to the rules are followed. In order to increase the supply of fresh water, engineering methods are being employed. Typical examples of these methods are creation of infrastructures that aims to retain and distribute clean water such as dams and reservoir systems. One particular example of a clean water reservoir is the New York water supply system. The City of New York and its surrounding area takes its clean water supply by impounding its rivers upstream. New York's Catskill and Delaware watershed is considered as the largest unfiltered drinking water system in the United States. The impounding of rivers upstream to create reservoirs proved to be an efficient means of supplying water for New Yorkers. Accordingly, 95% of city's water supply is distributed by utilizing the force of gravity as headwater comes rushing down the pipes into the city's population and only 5% is being pumped to maintain its pressure head especially when drought conditions exist. However, maintain this massive infrastructure also comes with a cost. Although it is quite difficult to estimate, the costs of maintaining the water quality of New York's watersheds is at around $100 million dollars annually. These maintenance programs includes "outreach and education, land management, land acquisition, and partnerships with watershed non-profits and municipalities". Aside from that, the city would have to allocate some of its income to develop and maintain its infrastructures. Even so, the cost of taking preventive measures to maintain the quality of an area's drinking water without filtration systems is lesser compared to constructing and maintaining a water filtration plant that could accommodate the same volume as the reservoirs currently supplies. As observed by Mass, "the construction cost for a filtration plant large enough to support the Catskill/Delaware system is estimated to be $6 - $10 billion dollars, with an additional $110 million annually in operation and maintenance". Apparently, once the water resource has been contaminated, the only way to mitigate its impact is to install filtration system so it can be used for consumption. Another solution to the problem of clean water scarcity is the processing of salt water in oceans and seas. Currently, researches are being made to improve the technology related to the desalination of salt water, which according to proponents could resolve the world's water problem.
Works Cited
Gleck, P.H. "Global water resources: vulnerability from climate change and population growth." PubMed (2003): 1524 - 1528. Gordalla, B., Ewers, U., & Frimmel, F. Hydraulic Fracturing: a toxilogical threat for ground water and drinking water. 2013. April 2014 <http://link.springer.com/article/10.1007%2Fs12665-013-2672-9#page-1>. Holzman, D. Mountaintop Removal Mining: Digging Into Community Health Concerns. November 2011. September 2014 <http://www.ncbi.nlm.nih.gov/pmc/articles/PMC3226519/>. Mass, E. Watershed Protection & New York City's Water Supply. February 2007. September 2014 <http://www.pwconserve.org/issues/watersheds/newyorkcity/>. McGhee, G., Galbraith, K., & Murray, S. Comparing the Cost of Water. June 2012. September 2014 <http://west.stanford.edu/publications/interactive/comparing-cost-water>. Pollard, K., & Jacobsen, L. THE APPALACHIAN REGION IN 2010: A CENSUS DATA OVERVIEW. September 2011. September 2014 <http://www.prb.org/pdf12/appalachia-census-chartbook-2011.pdf>. Smith, D. THE ECONOMICS OF WATER: PART 7, NEW YORK INVENTS MUNICIPAL FINANCE. 2008. September 2014 <http://affordablehousinginstitute.org/blogs/us/2008/04/the-economics-of-water-part-7-new-york-invents-municipal-finance.html>. The City of New York. History of New York City's Water Supply System. 2014. September 2014 <http://www.nyc.gov/html/dep/html/drinking_water/history.shtml>. USGS. How much water is there on, in, and above the Earth? March 2014. September 2014 <http://water.usgs.gov/edu/earthhowmuch.html>.
Cite this page
Share with friends using:
Removal Request

Finished papers: 1254
This paper is created by writer with
ID 288273106
If you want your paper to be:
Well-researched, fact-checked, and accurate
Original, fresh, based on current data
Eloquently written and immaculately formatted
275 words = 1 page double-spaced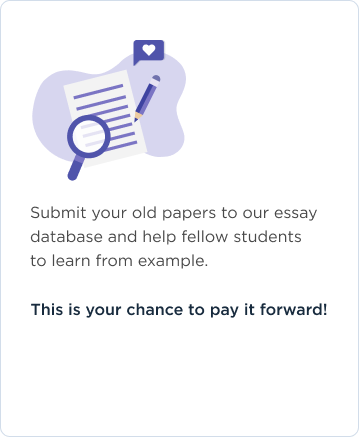 Can't find a free sample that matches your requirements?
Subscribe to WowEssays Premium and get access to over 1 MILLION high-quality downloadable samples
GET ACCESS NOW
Related Essays
Good example of the coca-cola company struggles with ethical crisis research paper.
Password recovery email has been sent to [email protected]
Use your new password to log in
You are not register!
Short on a deadline?
Don't waste time. Get help with 11% off using code - GETWOWED
No, thanks! I'm fine with missing my deadline
Leave us your e-mail address and you will get it in a few seconds
But you can use it right now as well
Use the Discount Now I Will Use It Later
Clean Water and Sanitation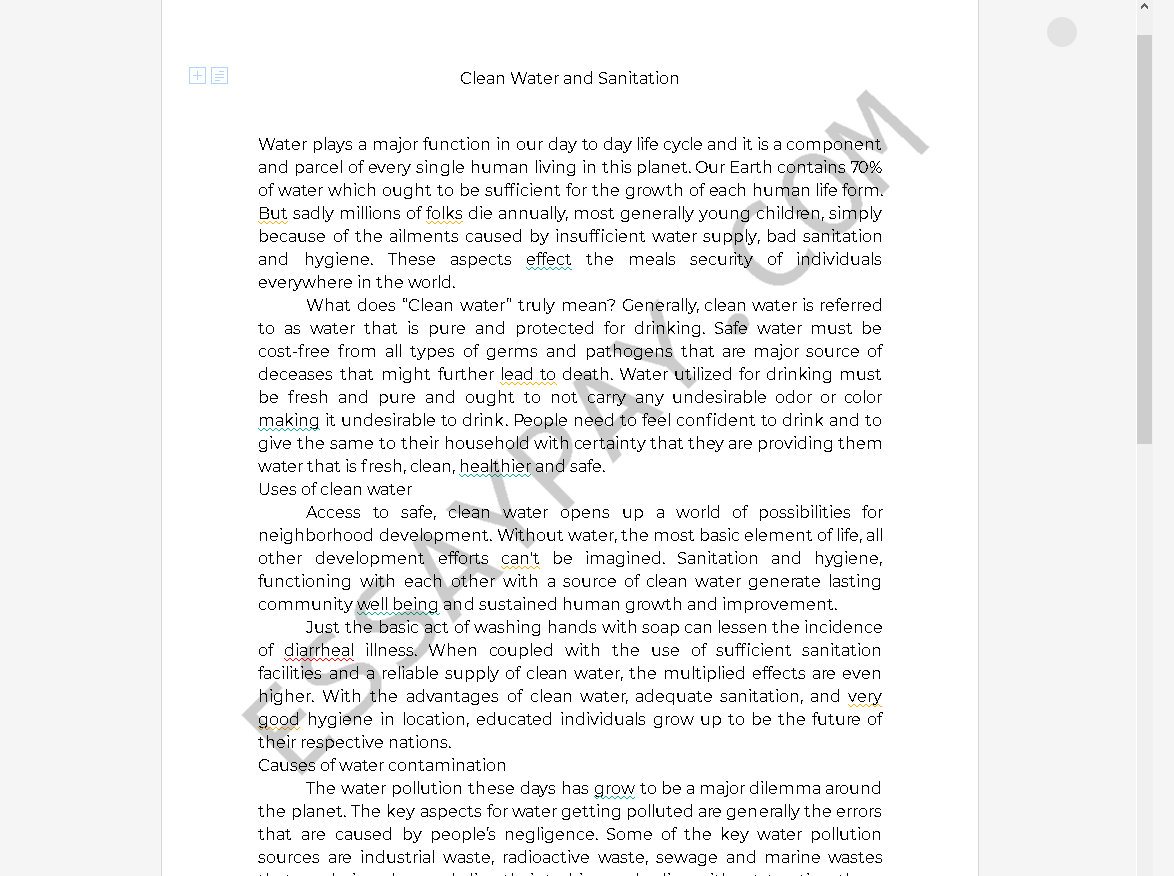 View sample
Published: 25-12-2019
121 writers online
Uses of clean water
Causes of water contamination, effects of unclean water, some details and figures (referred from undp).
Type: Free Essay Example
Level: Masters
Related Samples
Pages: 2 (779 words)
Pages: 3 (999 words)
Pages: 1 (428 words)
What are you waiting for?
No matter what type of essay you need, we'll get it written, so let's get started.
Carefully! This material is not unique
Our experts help you to write plagiarism-free paper
Get plagiarism-free paper
Would you like to get an example of this paper?
Please write down your email to receive it right away
Receive paper
The Best Environmental Competitions for Students.
Posted December 18, 2017 by Joshua neubert
Environmental competitions are available to students of all ages and come in a slew of different structures and styles. Want your students to get introduced to ocean science? There's a competition for that. Want students to start taking on conservation or sustainability projects? There's a competition for that. Want to create videos, posters, or written research reports about environmental challenges? There are competitions for that.
In the list below we've identified our top environmental competitions for students of all ages. We group these into two types (Submission Based and Performance Based). There are great benefits available in both types of competitions that can help you and your students take the first steps in environmental conservation, or solidify funding for advanced project development! After years of researching academic competitions, we know that not every competition is the same in terms of what benefits it provides to its participants. The structure and design of competitions matters just as much (if not more than) the awards provided, by going to the competition's ICS database listing, you'll be able to learn more about the benefits of each program.
Check out our lists below to help you understand more about what kinds of environmentally themed educational competitions are available for your students, and don't forget, you can search through our entire competition database online to find, filter and follow your favorite competitions .
Submission Based Competitions
ICS tries to organize competitions into common types that will help students, parents, and educators alike understand which competitions are best for them. One of the most common types of competitions  and awards are "submission-based." This is where students are required to create something and submit it to be judged for awards. These are typically less complex than other types of competitions, but also may not have as many awards or benefits built in to the programs. Check out the environmental student competitions that are submission-based here:
Students submit projects that integrate architecture with natural environmental systems, and technology to provide architectural solutions that protect and enhance the environment. The competition is for college students.
A contest for students to design zero net energy buildings based on an annual design brief provided. For College Students.
Students imagine, research, design, and build cities of the future that showcase their solution to a citywide sustainability issue. Past topics include stormwater management, urban agriculture, and green energy. The competition is for middle school students.
Students create their own work of art, prose, poetry, or film that interprets an annual contest theme and advocates for ocean conservation. The competition is for middle and high school students.
Students submit original and inspiring artwork from around the country for the shot at being featured in the NOAA Marine Debris Program calendar. This award is available for elementary and middle school students.
Students create an artistic poster based on the annual theme. There are three types of entries that students can submit to the Ocean Pal's competition: (1) National Poster, (2) International Poster, or (3) Digital Image. This contest is available to elementary and middle school students.
This international art competition engages students to promote the need to preserve, protect, and restore the world's oceans and aquatic resources. Students submit original artwork to the challenge that are reviewed by the foundation. This is available to middle and high school students.
Students submit Essays based on the themes of the Climate Law and Governance Day conference generally about how to create laws that will benefit the climate and environment. The contest is for college students.
This environmental short film contest for southern California high school students asks students to create a film about topics in any of these categories: (1) Climate Heroes– People or communities making a positive climate impact, (2) Watertopia– Imaginative solutions for clean and sustainable water, (3) No Justice, No Green– Social justice issues, such as poverty, race and gender in relation to the environment, (4) You Are What You Eat– elements of the food ecosystem (dining, agriculture, supply chain, culture, etc), or (5) Wild CA– Animals, plants or natural systems found in neighborhoods or nearby parks. The contest is open to high school students in Southern California.
Students should think of a problem in their community and what kind of robot they would design to help overcome that problem. Student posters will provide suggestions, in artwork form, on how their robot would tackle environmental issues, financial issues, food supply issues, healthcare, over-crowding, poverty, safety needs, transportation, unemployment, or any other need their community needs to address. Winning posters will be neat, colorful, and present clearly how your students' robot concept could improve life in their community. The contest is available to middle and high school students in the Southern California area.
This environmental sustainability competition challenges 9th through 12th graders to seek new ways to support the transition to sustainability. Students research complex topics related to sustainability, then innovate technologies, designs, or plans to mobilize behavior. They must create a plan of action to put their ideas to practice. The competition is open to high school students.
Students in grades K–12 are invited to participate in a national recycling awareness contest sponsored by the Institute of Scrap Recycling Industries (ISRI) and JASON Learning. Students can submit either a video or poster submission responding to the annual theme. The 2018 theme is "Recycling is Bigger than the Bin!" Student videos should respond to the theme by promoting ways to recycle various materials. This competition is open to elementary, middle, and high school students.
Students must develop a solution to an environmental issue affecting their community. They use their critical-thinking and research skills to come up with a solution and report on the results by way of an Action Plan submitted to the challenge. This competition is available to middle and high school students.
Students demonstrate through original drawings of Smokey Bear or Woodsy Owl their understanding of wildfire prevention and basic environmental conservation principles. Available for elementary students.
Students take photos that capture the spirit of exploration and write a short description about the "moment" when it was captured. Available for Middle and High School students.
Each day throughout the month of October, a uniquely themed challenge will be delivered to students. Each challenge will be live for 24 hours inviting participants to complete actions and upload deliverables to acquire points and prizes. Deliverables include photos, videos, and text uploaded on the PGC site, as well as across TG social platforms. This is available to high school and college students.
This contest provides children and youth a chance to show their love and affection for our shared natural world by writing an essay on the value of nature and submitting it for recognition and awards. This is available to high school and college students.
This contest challenges middle and high school students to create their own inspirational videos about solutions to global challenges associated with population growth. Students submit their videos online to be eligible for awards and other opportunities. This is open to middle and high school students.
Students submit entries in three media categories; Article, Photograph, and Video. Participants can choose one media category. Submissions must respond to one or more of the sustainable development goals. This is available to middle, high school, or college students.
Performance-Based Competitions
In this type of academic competition, students must create something, or do something that meets a challenge statement for the competition. Generally the student or team of students that score the best on how their submission performs win the awards. Generally, in the environmental competition arena, there are two types of performance based competitions: ones where students conduct a conservation/sustainability project and get rewarded for it, and ones where students create or engineer a solution to an environmental problem and are evaluated on how well it performs. We list both of these types of competitions below for you to review.
Students submit an application identifying and describing their outstanding work in support of the environment. Students must have already performed a project in an area of environmental conservation to be awarded on of the finalist spots. The awards are for elementary, middle, or high school students.
Similar in nature to the Brower Youth Awards, in the Eco Hero Awards, youth from countries around the globe send in their applications and explain their work relating to an environmental project they have started or been involved in. Then a panel of judges including experts in environmental science, biology and education determines the year's top achievers. Students must have already completed (or at least reached significant milestones in) the environmental conservation project to be considered. The awards are for middle and high school students.
The Genius Olympiad is an international high school academic competition about environmental issues. It hosts projects in five general disciplines with an environmental focus: Science, Visual and Performance Arts, Business, Writing, and Robotics. Projects in each category take different forms, but all fall within the environmental issues themes. The competition is for middle and high school students.
Students make a video about their activities to help combat climate change and submit the video for awards. Youth climate projects happening around the globe are eligible. The project can be in either of two categories: (1) Climate friendly and resilient cities, or (2) Oceans and climate change. The contest is for college students.
This award celebrates and recognizes inspiring, public-spirited young people from diverse backgrounds all across North America. Each year, the Barron Prize honors 25 outstanding young leaders ages 8 to 18 who have made a significant positive difference to people and the environment. Students must submit an application detailing how they have conducted a project that helps people or the environment. The award is available for elementary, middle, and high school students.
This competition exposes students to diverse environmental issues, ecosystems, and topography. Teams compete for recognition and scholarships by demonstrating their knowledge of environmental science and natural resource management. Student teams are evaluated on their performance at each of the following training/testing stations−Soils/Land Use, Aquatic Ecology, Forestry, Wildlife, Current Environmental Issue. This competition is available to high school students.
Students from across the country working in groups on an Energy Challenge designed to stretch their minds and energy knowledge. Want to stretch your mind even more? A limited number of spaces are available for a special two-day, pre-conference event which will allow students access to additional hands-on energy sessions, time to discuss energy with their peers, and access to industry professionals to learn about energy careers. These awards are available for elementary, middle, and high school students.
PEYA has two parts — a regional award for Grades K-5 and a regional award for Grades 6-12. Students must complete an environmental project and submit an application for through their sponsoring school and teacher. These awards are available for elementary, middle, and high school students.
This award recognizes young people who take conservation action at an early age. Each year, it recognize the work of the next generation of conservation leaders.To be considered for the award students must complete and submit a written and video application describing their conservation work demonstrating their leadership in the field. This is available to high school and college students.
This competition is a global challenge to students to develop ideas to tackle the pressures on the world's Food, Water and Energy resources. Participants first submit an initial idea. These ideas are evaluated and selected teams move forward to develop their ideas in conjunction with Shell Mentors and Subject Matter Experts. In the final stage, five finalists are selected to present their idea to a panel of judges. This is available to college students.
Students conduct water related science projects that start at local or regional levels and advance to national competitions. National finalists are then invited to participate in the annual international Stockholm Junior Water Prize competition. This is available to high school students.
Students who have a big idea to protect or restore the environment; or who have a vision for a more sustainable future can be a Young Champion of the Earth. Each year, six young people – one from each global region – will be named Young Champions of the Earth. These winners receive seed funding, intensive training, and tailored mentorship to help them bring their big environmental ideas to life. This is available to high school and college students.
Students use critical thinking in "rapid memory recall" questions covering the biology, physics, geology, and chemistry of the oceans, as well as related geography, technology, history, policy, and current events. Teams of students compete in a tournament (bowl) style competition to see which team can answer the most questions correctly in each match. This competition is available to high school students.
Undergraduate students design engineering projects related to environmental conservation and biology. Students design a project to respond to specific engineering criteria and performance metrics. The contest is open to college students.
During JSS students design, build and race solar powered cars using hands-on engineering skills and principles of science and math. They develop teamwork and problem solving abilities, investigate environmental issues, and gain hands-on science, technology, engineering and mathematics (STEM) skills. Students submit their own model solar cars and race them against others. The competition is available to middle school students.
Student teams create their own small scale wind turbines and are judged on how much electricity they can generate! Teams first participate in regional events held across the US. Then teams selected for the final program are invited to the national championship and tested in a large wind-tunnel. The competition is open to elementary, middle, and high school students.
Shell Eco-marathon is a unique competition that challenges students around the world to design, build and drive the most energy-efficient car. With three annual events in Asia, Americas and Europe, student teams take to the track to see who goes further on the least amount of fuel. This is available to high school and college students.
This is a collegiate competition of 10 contests that challenge student teams to design and build full-size, solar-powered houses. The winner of the competition is the team that best blends design excellence and smart energy production with innovation, market potential, and energy and water efficiency. This is available to college students.
This contest promotes real-world design experience for students interested in pursuing education and careers in water and wastewater engineering and science. The competition tasks individuals or teams of students to prepare and present a design that helps solve a water quality issue. Teams evaluate alternative ideas, perform calculations, and recommend solutions in the form of an engineering report and presentation. This is available for college students.
The Institute of Competition Sciences provides information about all kinds of academic competitions free of charge to help more students get excited about learning! We unfortunately cannot guarantee the veracity of the information on our site about these competitions, so please (1) Report anything that is incorrect to us!, and (2) Always check the competitions official website to verify important information like deadlines and rules. 
Also remember, you can search, filter, and save competitions you like on your ICS portal, by using our database feature. So if you want to just see environmental competitions for high school students, or just engineering competitions, or anything else, use the database feature here!
Signup Newsletter
Sign me up for the newsletter!
The Institute of Competition Sciences (ICS) was founded in 2012 to help transform learning into an exciting challenge for all students. We exist to support students in realizing the full potential of their future.
Quick Links
Competitions
Privacy Policy
Terms and Conditions
Connect with us on social media
Copyright © 2023 Institute of Competition Sciences. All rights reserved.
The Best Essay Writing Contests of 2023
Writing competitions curated by Reedsy
Children's
Flash Fiction
Non-fiction
Science Fiction
Science Writing
Script Writing
Short Story
Young Adult
Manage a competition? Submit it here
Join our short story competition
Submit a short story based on 1 of 5 weekly prompts. Winners get $250.
Showing 59 contests
Narratively's 2023 profile prize.
Narratively
Narratively is looking for profile pieces that tell the story of ordinary people or communities doing extraordinary things. The grand prize winner will receive $3,000, and the two finalists will receive $1,000 each. Guest judges are renowned journalists Gay Talese, Lisa Lucas and Rebecca Traister.
Additional prizes
$1000 for two other finalists
Entry requirements
Deadline: April 14, 2023
Essay, Non-fiction
Bacopa Literary Review
Bacopa Literary Review is an annual international print journal published by the Writers Alliance of Gainesville. Our Bacopa Literary Review Editors' blog shows the quality of writing we seek by highlighting work we respect from previous Bacopa issues as well as other sources.
£200 in 6 categories
$100 Honorable mention in 6 categories
Deadline: April 16, 2023
Fiction, Non-fiction, Poetry, Short Story, Essay, Flash Fiction, Humor
Young Sports Journalist Competition 2023
Pitch magazine
Pitch magazine is pleased to announce the launch of the Young Sports Journalist competition 2023! We are seeking well-argued articles from students aged 14-24 for this competition.
£150 in each category
Publication | Work experience at The Times and FIPP
💰 Fee: FREE
Deadline: April 07, 2023
Geminga: $250 for Tiny Fiction, Nonfiction, Poetry, or Art
Sunspot Lit
Geminga is a neutron star so small it was difficult to detect. It was named, in part, for a transcription of gh'è minga, meaning "it's not there." With Geminga: $500 for Tiny Fiction, Nonfiction, Poetry, or Art, Sunspot Lit honors the power of the small. No restrictions on theme or category. Word limit is 100 for fiction and nonfiction. Micropoetry is limited to 140 characters. Graphic novelsshould be 4 pages or less.
Publication in digital and print
Deadline: March 31, 2023
Crime, Essay, Fantasy, Fiction, Flash Fiction, Horror, Humor, Memoir, Mystery, Non-fiction, Poetry, Romance, Science Fiction, Script Writing, Short Story, Thriller, Young Adult
King of Essay
To all TV shows nerds: we're incredibly excited to announce a competition for the best essay based on the TV series you are keen on. This is a new challenge for folks who may be under budget and interested in winning subscriptions on streaming services (Netflix, Amazon, Hulu, Disney).
Netflix, Amazon, Hulu, or Disney+ subscription for 6 months
Deadline: May 15, 2023
Crime, Essay, Fantasy, Horror, Humor, Mystery, Romance, Science Fiction, Short Story, Thriller, Young Adult
Write By The Sea Writing Competition
Write By The Sea
Flash Fiction (700 words), Short Story (2,500 words), Poetry (40 lines) Memoir/Personal Essay (1,000 words). The winner of each category will receive a cash prize of €500, a beautiful hand-crafted WBTS 2023 Writing Competition trophy and a free weekend pass to Write By The Sea festival 2023. All four winning pieces will be published on the Write By The Sea website.
2nd: €200 | 3rd: €300
Deadline: June 04, 2023
Essay, Fiction, Flash Fiction, Memoir, Poetry, Short Story
Aurora Polaris Creative Nonfiction Award
Trio House Press
We seek un-agented full-length creative nonfiction manuscripts including memoir, essay collections, etc. 50,000 - 80,000 words.
Publication
Deadline: August 31, 2023
Essay, Memoir, Non-fiction
100 Word Writing Contest
Tadpole Press
100 words per entry. Submit as many entries as you'd like. All ages. All genders. All nationalities. All writers welcome. This year's theme is the power of words. The words we write, the words we say, the words we keep to ourselves. They make a difference in the lives of those around us. How can you use your words to instill a sense of calm, of hope, of community? To remind one another of the beauty of diversity. To encourage us to support, love, and inspire one another.
2nd: writing coach package 3rd: developmental or diversity editing package.
Deadline: April 30, 2023
Essay, Fantasy, Fiction, Flash Fiction, Humor, Memoir, Mystery, Non-fiction, Science Fiction, Science Writing, Thriller, Young Adult
Southword Literary Essay Competition
Munster Literature Centre
The competition is open to original, unpublished, personal essays between 2500 ‒ 5000 words. We're looking for personal, confessional essays which border on memoir ‒ gripping essays full of memories and feelings. The best indicator of the kind of thing which interests us is what we have published in past issues; essays by Kim Addonizio, Sandra Beasley, Simon Van Booy, Carlo Geblér, Thomas Lynch, Anthony Walton, Helen Mort and Kim Moore.
8 Runners-Up: €500
Deadline: February 28, 2023 (Expired)
Eco Friendly Writing Contest
Howard's New Beginnings
The aim of the contest is to share eco-friendly ideas. Tell us something you think helps make the planet become more eco-friendly such as an eco-friendly product or packaging, a recipe for a natural product, or a waste-management tip. Up to 500 words. Any writer from anywhere can submit an entry. Contest deadline is April 22 2023, Earth Day.
Deadline: April 22, 2023
Essay, Non-fiction, Science Writing
The 2023 Bloom Writing Contest
The European Society of Literature
The 2023 Bloom Writing Contest is a writing competition that seeks to find hidden talent in the literary scene. The contest will place heavy emphasis on works of deep meaning, aesthetic beauty and literary quality—just as Harold Bloom did. The 2023 Bloom Writing Contest accepts submissions of all types, whether it be an essay, a poem, a short story.
Deadline: May 01, 2023
Essay, Fiction, Memoir, Novel, Poetry
Atlas Shrugged Essay Contest
Ayn Rand Institute
The Atlas Shrugged novel essay contest is open to all students globally. Atlas Shrugged is a heroic mystery novel written by Ayn Rand. Choose a prompt and write a 800-1,600 word essay.
2nd: $2,000 (x3) | 3rd: $1,000 (x5) | 25 finalists: $100 | 50 semifinalists: $50
Deadline: November 06, 2023
Essay, Fiction, Mystery, Novel, Thriller, Young Adult
Great American Think-Off
New York Mills Regional Cultural Center
The Great American Think-Off, now in its 30th year, is an exhibition of civil disagreement between powerful ideas that connect to your life at the gut level. People of all ages and backgrounds are encouraged to submit an essay of no more than 750 words for a chance to win one of four $500 cash prizes and participate in the live debate to ultimately answer the question, determined by audience vote.
Participation in live debate
Deadline: April 01, 2023
Annual Student Essay Contest
Oklahoma City National Memorial & Museum
Essay contest open to all students in the following four divisions: 5th – 6th grade, 7th – 8th, 9th – 10th, and 11th – 12th (or equivalent ages/school years). This is an excellent opportunity for young people to comment on the current world as they see it and make the case for a democratic society.
Deadline: February 27, 2023 (Expired)
Brink Literary Journal Award for Hybrid Writing
The Brink Literary Journal Award for Hybrid Writing will be administered to the winner of a literary contest designed to champion innovative hybrid and cross-genre work.
Deadline: February 15, 2023 (Expired)
Essay, Fantasy, Fiction, Humor, Memoir, Non-fiction, Poetry, Science Writing, Short Story
Hispanic Culture Review Contest 2022-2023
Hispanic Culture Review
As the Uruguayan writer Eduardo Galeano once said, "the best that the world has is in the many worlds that the world contains." Therefore, this year we invite you to reflect on the following questions: How do you or your community celebrate these connections? How do you value those experiences with those people who leave a mark on your life? 1 work will be awarded in each category: 1) photography & visual arts, 2) poetry, and 3) narrative/essay/academic investigation.
$100 for photography, poetry, and essay winners
Deadline: February 01, 2023 (Expired)
Essay, Fiction, Non-fiction, Poetry, Short Story, Flash Fiction
swamp pink Prizes
From January 1st to January 31st, submit short stories and essays of up to 25 pages or a set of 1-3 poems. Winners in each genre will receive $2,000 and publication.
Deadline: January 31, 2023 (Expired)
Essay, Fiction, Non-fiction, Poetry, Short Story
AIIRA Writing Contest
AI Institute for Resilient Agriculture
We invite contestants to submit writing that imagines the world in the year 2050 and explores the relationship between humans, technology, and their food: what will food look, taste, and feel like; where will it come from; who will produce and transport it; and how will we access and consume it? The world you bring to light should be believable and probe the role of artificial intelligence (AI) in the future of agriculture. Your submission can be fiction or creative non-fiction, but keep in mind that the strongest submissions will use research to support the reality described. Contestants must be undergraduate students to submit to this contest.
2nd: $1,500 | 3rd: $1,000
Deadline: December 31, 2022 (Expired)
Essay, Fiction, Flash Fiction, Non-fiction, Science Writing, Short Story
Medical Student Essay Contest
Hektoen International Journal of the Medical Humanities
Students currently enrolled in a medical school or program are encouraged to submit to our Medical Student Essay Contest. Essays can be on any topic as it relates to medicine. Art, history, and literature topics are preferred.
Runner-ups: $2,500
Deadline: March 15, 2023
Essay, Memoir
The Goldilocks Zone
Inspired by the search for Goldilocks Zone planets, Sunspot Lit is looking for one short story, CNF, artwork, poem, graphic novel, or script that combines excellence with appeal. Literary and genre works accepted; feedback available.
Deadline: December 19, 2022 (Expired)
Crime, Essay, Fiction, Flash Fiction, Horror, Humor, Memoir, Mystery, Non-fiction, Poetry, Science Fiction, Science Writing, Script Writing, Short Story, Thriller, Young Adult
Creative Writing Contest-CWC11
Dharma Inc. Intl.
What are the changes you would like to see, to make the world a better place?  Our world is seeing a lot of changes. What are the beneficial ones, which ones are harmful? Which changes, from what you have seen, will make things better?
2nd: $300 | 3nd: $100
Deadline: December 04, 2022 (Expired)
National Essay Contest
U.S. Institute of Peace
The U.S. Institute of Peace (USIP) partners with the American Foreign Service Association (AFSA) on the annual National High School Essay Contest. The contest engages high school students in learning and writing about issues of peace and conflict, encouraging appreciation for diplomacy's role in building partnerships that can advance peacebuilding and protect national security.
Runner-up: $1,250
Deadline: April 03, 2023
The Nervous Ghost Press Book Prize
Nervous Ghost Press
The 2021 Nervous Ghost Press Book Prizes are open to outstanding works of poetry and prose by anyone living in the United States of America. ​All work and all writers, from any point in their careers, are welcome to submit their work and get a chance of publication. Please submit a completed a manuscript (50,000-100,000 words for prose, 48-128 pages for poetry).
Publication and a Californian reading tour
Essay, Fiction, Memoir, Non-fiction, Novel, Poetry, Humor, Young Adult
Climate Change Writing Competition
Write the World
This month, dear writers, ahead of COP27, help us raise the voices of young people in this urgent fight. In a piece of personal narrative, tell the world's leaders gathering in how climate change impacts you. How has this crisis changed your environment, your community, your sense of the future? Storytelling, after all, plays a critical role in helping us grasp the emergency through which we are all living, igniting empathy in readers and listeners—itself a precursor to action.
Runner-up: $50
Deadline: October 18, 2022 (Expired)
Leiby Chapbook Contest
The Florida Review
A prize of $1,000 and publication by Florida Review is given annually for a chapbook of short fiction, short nonfiction, or graphic narrative. Submit a manuscript of up to 45 pages with a $25 entry fee by December 31. All entries are considered for publication. All entrants receive a 1-year subscription. Visit the website for complete guidelines.
Essay, Fiction, Flash Fiction, Humor, Memoir, Non-fiction, Novella, Short Story
Inception 2022: $250 for Best Opening
Beginnings weight one moment with a particular power. A poem handles this differently than flash fiction, a novel, a graphic novel or an art series. Send your best opening. No restrictions on theme, category, or the length of the piece or collection from which the excerpt comes. Publication will be offered to runners-up and finalists.
Publication in digital and print editions
Deadline: October 09, 2022 (Expired)
Crime, Essay, Fantasy, Fiction, Flash Fiction, Horror, Humor, Memoir, Non-fiction, Novel, Novella, Romance, Science Writing, Short Story, Thriller, Young Adult
World Historian Student Essay Competition
World History Association
The World Historian Student Essay Competition is an international competition open to students enrolled in grades K–12 in public, private, and parochial schools, and those in home-study programs. Membership in the World History Association is not a requirement for submission. Past winners may not compete in the same category again.
Children's, Essay
Annual Contest Submissions
So to Speak Journal
So to Speak seeks work by writers who want to challenge and change the identity of the "canonical" writer. Our mission is to amplify voices of BIPOC, people with disabilities, LGBTQ+ people, women, neurodivergent people, people of different religions or none, migrants, refugees & immigrants (regardless of citizenship), and incarcerated writers. Free submissions for Black and Indigenous Writers.
Publication for winner and runner-up
Deadline: November 14, 2022 (Expired)
Essay, Fiction, Flash Fiction, Memoir, Non-fiction, Poetry, Short Story
Lazuli Literary Group Writing Contest
Lazuli Literary Group
We are not concerned with genre distinctions. Send us the best you have; we want only for it to be thoughtful, intelligent, and beautiful. We want art that grows in complexity upon each visitation; we enjoy ornate, cerebral, and voluptuous phrases executed with thematic intent.
Publication in "AZURE: A Journal of Literary Thought"
Deadline: February 22, 2023 (Expired)
Essay, Fiction, Poetry, Short Story, Flash Fiction, Non-fiction, Novella, Script Writing
Youth Voices Contest
Strategies For Youth
Today about 52% of public schools in the United States employ a full-time School Resource Officer (SRO). In the aftermath of the Uvalde massacre, once again, many people are questioning the value and purpose of having SROs in school. For almost 20 years, research has documented that students of color are disproportionately arrested by SROs, and many students of color say they do not feel safe in the presence of SROs. As a student between the ages of 12-18 years old we want to know about your experiences with, and thoughts about, having SROs in your school. Please respond to one of the following questions in your essay.
Deadline: January 06, 2023 (Expired)
Killer Nashville Silver Falchion Award
Killer Nashville
The Killer Nashville Silver Falchion Award is committed to discovering new writers, as well as superlative books by established authors and, upon discovery, sharing those writers and their works with new readers. There are a large number of both fiction and non-fiction categories you can enter.
Deadline: June 15, 2023
Crime, Essay, Fantasy, Fiction, Humor, Memoir, Mystery, Non-fiction, Novel, Poetry, Science Fiction, Script Writing, Short Story, Thriller
ScienceQuest NextGen Science Literary Writing Competition
Zoomcatchers
Established to recognize and encourage creative writing and provide a platform for publication, this science literary competition is open to original and previously unpublished short stories in the English language by a writer of any nationality, living anywhere in the world. Writing samples submitted must be from the genres of: Science fiction, Dystopian, Futuristic, Fantasy, Paranormal ​​ We accept essay, short story, and novel submissions up to 15 pages in length, double-spaced.
Consultation with literary agent Leticia Gomez
Deadline: September 05, 2022 (Expired)
Essay, Fantasy, Novel, Science Fiction, Science Writing, Short Story, Young Adult
Editor's Prize - Work Anthology
Unleash Press
Writers are invited to submit creative interpretations on Work for an upcoming anthology and the chance of winning the editors' prize. Essays, fiction, drama, and poetry interpretations of the theme will be accepted. Submissions should have a total word count of no more than 5,000 words. All authors chosen for the anthology will receive a paperback copy of the book. Only one editor's prize will be selected.
Publication in anthology
Deadline: December 30, 2022 (Expired)
Crime, Essay, Fantasy, Fiction, Flash Fiction, Horror, Humor, Memoir, Mystery, Poetry, Science Fiction, Science Writing, Short Story, Thriller
Seven Hills Literary Contest and Penumbra Poetry and Haiku Contest
Tallahassee Writers Association
The Seven Hills Literary Contest and Penumbra Poetry and Haiku Contest (collectively, "the Contest") is sponsored annually by the Tallahassee Writers Association. The contest is open to English-language entries from around the world. For the first time, we are open to published entries as well as unpublished entries.
Published in the Seven Hills Review
Deadline: September 30, 2022 (Expired)
Children's, Crime, Essay, Fantasy, Fiction, Flash Fiction, Horror, Humor, Mystery, Non-fiction, Novel, Poetry, Romance, Science Fiction, Science Writing, Short Story, Thriller, Young Adult
MacQ-15 Ekphrastic Writing Challenge: "The Question of Questions"
MacQueen's Quinterly
For our tenth themed writing challenge, MacQueen's Quinterly is calling for literary works in multiple genres: flash and micro-fiction, nonfiction, poetry, prose poetry, and poetic hybrids. Each piece entered must include one "q" word and must address the theme described in our contest guidelines and publisher's commentary.
Publication in Issue 15 of MacQueen's Quinterly online
Deadline: August 21, 2022 (Expired)
Essay, Flash Fiction, Memoir, Non-fiction, Poetry, Science Writing
Find the perfect editor for your next book
Over 1 million authors trust the professionals on Reedsy, come meet them.
1 million authors trust the editors on Reedsy, come meet them.
1 million authors trust the professionals on Reedsy, come meet them.
Enter your email or get started with a social account:
Last Updated 20 Apr 2022
Engineering Challenges: Provide Access to Clean Water
From the beginning of life, human beings have always faced challenges and difficulties in their lives. However, what is unique about humans is their ability to adapt and find solutions to these challenges. Engineering has always been the key and the most influential element to the survival of humanity in the face of the unending challenges.
One of the challenges addressed is the challenge of providing access to clean drinking water. In fact, with the world's rapid population growth, the demand of clean water is increasingly becoming one of the most prominent issues in the world. I was astonished to know that thousands of people die because of the lack of clean water. According to the document proposed, about 1 out of every 6 people living today is currently unable to gain access to fresh drinking water, resulting in nearly 5,000 deaths from diseases due to poor water sources, i.e.; diarrhea.
Order custom essay Engineering Challenges: Provide Access to Clean Water with free plagiarism report
Water current situation
Water is life. It is the crucial ingredient to the sustainability of civilizations and their prosperity. It is vital for domestic, agriculture and industrial purposes. We know that water on Earth should be sufficient to all its creations. Water is about 70% of Earth's surface. However, water is becoming one of the greatest challenges that may cause wars in the near future. Water is enough in some regions while in others there is a drought. The Earth's two poles have mountains of snow, oceans, rivers and inner water in the ground which is sufficient if it is used and divided equally. Many efforts to use this water has been made to develop technologies and to desalinate sea water.
Most countries around the world suffer because of the lack of water sources or the lack of water quality which causes health diseases and consequently deaths. Moreover, this challenge is prominent in the developing world and is a rising problem in some modern countries. The old infrastructure in the developing world is one of the key reasons of water shortage. It has been designed since hundreds of years and much of it is of a poor quality which causes continuous leakage of water.
This leakage may sometimes mix with polluted water and becomes a source of contaminated drinking water. Thus, more improvements and efforts need to take place to face this tremendous challenge. Corporation between the countries and with the successes of engineering in using these waters around the world will definitely lead to various solutions to this challenge.
From my readings about this topic, I found that solutions to provide clean water are everywhere. Some are simple, while others are complicated. For instance, desalination, using sand or bicycles to clean and generate water, recycling and many others. Actually we need all these solutions to be applied to solve this problem. In this essay I will focus on some suggested solutions that have already taken place and that should be done to start helping all people in our world to access clean, healthy water and prevent its severe consequences.
Desalination
As I stated earlier, oceans contain tremendous amounts of water. Over 97 percent of the earth's water contains salt. One of the current solutions to extract salt from seawater is desalination. This technology is already taking place in some countries like Saudi Arabia. This is a good solution to provide water for domestic and agricultural uses. It can provide clean water and enable such countries to depend on themselves and solve water shortage.
However, this technology needs a big budget and qualified people to achieve it and not all countries have these two conditions. Improvements must be made to make it accessible to all countries. This technology can be one way to solve the problem of water shortage but still not a sufficient solution to this problem.
Wendy Dewolf, in an article entitled "Engineering Clean Water", 2011, writes about a new technology based in Boston for desalinating water by osmosis commercialized as Oasys Watera. This technology is cheaper and sustainable because, as she states, it requires "70 to 85 percent less electrical energy than other seawater desalination systems." Thus, efforts of scientists and engineers are encouraging to have a clean and sustainable worldwide water supply.
People's awareness and usage of water
According to a report published in 2004 by Nicole Abrashinsky, global consumption of water has increased twice as much as the population during the past 20 years. The United Nations has also warned that the demands for access for fresh water are unattainable to more than one billion people.
One solution that I think will greatly help in solving this problem is encouraging people to realize the reality of how serious is the problem of water shortage and cleanness. Unfortunately, lots of people are still not realizing that this is a problem that causes thousands of people to die because they don't have access to clean water. And the other portion of people who know are still careless in using water, thinking that it is not their problem since it doesn't cause them any harm.
Here comes the role of media and especially social media means which has become so influential in the current time. We should educate people and make them aware of the reality of this problem and provide them with the facts and equipment necessary to help them consume water in a modest way. We hear of campaigns in social media to save water here and there, but I think they should be programmed and organized to make them effective.
Some governments offer people with less water consumption a discount on the bell. Other governments finance farmers to dig wells and water canals. However, if everyone of us believes that it is our responsibility to save water, then we will observe ourselves when we use water and think that every drop of water counts.
"Smart Tunnel"
Nature has the solution for most of our problems, even though we harmed it greatly. Every year we hear of floods and cities got drowned due to hurricanes or storms in almost every region around the world. If we develop technologies to utilize this lost water, these countries will have enough water that will solve part of the problem. One solution that I found amazing in using this lost water is "smart tunnel", i.e., the "Stormwater Management And Road Tunnel". It is a storm drainage and road structure in Kuala Lumpur, Malaysia, and a major national project in the country.
This tunnel received the UN Habitat Scroll of Honour Award for its innovative and unique management of storm water and peak hour traffic. It is the longest multi-purpose tunnel in the world. It reduces the problem of traffic as well as the problem of flash floods. In case of floods, the motorway will be closed to all traffic and the tunnel's gates will open to allow water to pass through. This is excellent way to use the lost water in such conditions and use it for later needs.
Perhaps this solution is difficult to apply because the infrastructure of most cities are difficult to be rebuild. However, in the developing countries the chance to use floods water is more applicable since most of them lack appropriate infrastructure and thus can be financed to store water.
The solutions, as we see, are everywhere to face the challenge of providing access to clean water. For instance, the committee of the NAE has mentioned many other solutions like recycling, small decentralized distillation units, and strategies for reducing water use. However, the solutions should be sustainable and environmental. Professor Menachem Elimelech at Yale University explains that "to address the global water problem for all regions in the world, we need sustainable technologies that consume less energy and chemicals and have lower impact on the environment."
Some of these solutions may not end this problem, but creativity and determination will always enable people to solve problems. It is our nature to invent and challenge difficulties. Engineering has always empowered us with successes that no one could have imagined they will become a reality. It is our world; it is our life. I invite everyone reads this essay to save water and think of solutions to offer millions of people who lack it a healthy and clean water in their lives.
This essay was written by a fellow student. You can use it as an example when writing your own essay or use it as a source, but you need cite it.
Get professional help and free up your time for more important courses
Did you know that we have over 70,000 essays on 3,000 topics in our database?
Cite this page
Explore how the human body functions as one unit in harmony in order to life
Engineering Challenges: Provide Access to Clean Water. (2016, Jul 24). Retrieved from https://phdessay.com/engineering-challenges-provide-access-to-clean-water/
Run a free check or have your essay done for you
More related Essays
Didn`t find the right sample?
The question on whether on whether bottled water is safer for drinking than tap water is marked with many controversies and therefore it is a subject of discussion. This paper.
The paper focuses on how the presence of H2O & A ; # 8211 ; either as a characteristic or a map & A ; # 8211 ; enriches the.
Phosphate will excite the growing of plankton and aquatic workss which provide nutrient for larger beings, including: zooplankton, fish, worlds, and other mammals. A Plankton stand for the base of.
Water is an essential resource. No one can live and survive without water. Hence, we should not let the source of the life waste, instead we must store it. We.
Water pollution is the contamination of water bodies (e. g. lakes, rivers, oceans and groundwater). Water pollution affects plants and organisms living in these bodies of water; and, in almost.
Approximately 30 % of full worldwide land country includes populated waterless and semi-arid countries. The major obstruction to socio economic development in these countries is Water deficits. The indispensable political.
Water Runs Dry – North American Water Crisis Collectively the United States is ranked as the greatest consumers of water worldwide; a startling fact for a country that cannot support.
The discussion tap water vs. bottled water has very strong opinionated sides. One side believes that tap water is the better choice and is better for the environment and health.
Similar Topics
Achievement
Global Warming
Affirmative Action
Why I Want to Be a Nurse
Environment
We use cookies to give you the best experience possible. By continuing we'll assume you're on board with our cookie policy
Save time and let our verified experts help you.

RESEARCH PAPERS AND ESSAYS
ESSAY TOPICS
PRESIDENTS OF THE UNITED STATES
Joseph Robinette Biden
Donald Trump
Barack Obama
States Ranked by Size & Population
States Ranked by Date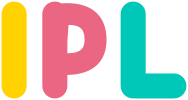 Persuasive Essay On Clean Water
The value of water in charles fishman's the big thirst.
Charles Fishman, author of The Big Thirst: The Secret Life and Turbulent Future of Water, presents in chapter ten, "The Fate of Water", the importance of recognizing the value of water in order to solve water problems all over the world. Fishman uses Senator Arlen Specter's town hall speech and an app called "Water Your Body" to point out that the real problems with water are water illiteracy and water mythology. He adds that water problems will be solved when people understand the beauty and qualities of water. In continuance, water has a personality and the presence of it can change moods and help people feel better. For instance, the WET company helps people see the beauty of water through magnificent water fountains. Above all, one's behavior
How Did Lewis And Clark Encounter With Native Americans
After the purchase of the Louisiana territory from the french, Thomas Jefferson has sent Meriwether Lewis and William Clark to explore this new land, in hopes of locating useful resources, mapping territory and setting out a trade route toward the pacific ocean. So then set the long, treacherous trail Lewis and Clark has embarked on, encountering foreign environment and Native Americans. Who they eventually have started to disrespect them, by their act of violence, and motivation of cultural cleansing, therefore causing an act against different tribes.
Long Walk To Water
Linda Sue Park's A Long Walk to Water describes a hot, sunny day in Southern Sudan, where an 11 year old girl named Nya was on her first two hour walk of the day, to fetch water for her family from a pond that was located two hours away from her home. She makes the walk every day, twice a day, carrying a giant plastic container. The journey takes her half a morning while the other one takes half a night. While she is one out of thousands who walk hours a day just to be able to find water for their families, hundreds of millions of people in the United States turn on a faucet, open a bottle and drink clean refreshing water in a matter of seconds. While the majority of United States citizens live with easy access to clean water, millions of people
Persuasive Essay About Clearwater
Daytona 's 23 miles of stunning beaches provide plenty of water sports and fun activities for family vacations. But there 's more to the area than sand and surf. Daytona offers a variety of entertainment options for land lovers, including a science center, mini golf, and nearby Orlando theme parks. Whether you're looking for an aquatic adventure or a thrill ride, your family won't be disappointed.
Mojave Desert Water Problem
water is necessary to survive for plants, animals and humans. and we are destroying our community primary sources of water by using too much of it. it 's predicted that water withdrawal will drains rivers and destroy habitat for many species of fish and wildlife.
Persuasive Essay
The first attempt and success to climb Mt. Everest occured in 1953. Since then, almost 4,000 people have been able to scale the mountain, but over 230 people have not been able to climb it successfully. There is a chance of accident or death when climbing this mountain or any dangerous activity. All people should should have the right to rescue services even if they knowingly put themselves at risk because there is always a chance of an accident happening, rangers are there to save people in danger, and there are rescue vehicles being produced to be used in case of an emergency.
Essay On Access To Water In Canada
For hundreds and thousands of years, access to water has been an easy thought. It has become something that we don't have to think twice about. As many of us know, water is a renewable source because of the water cycle. Canada has an abundant amount of water resources, with almost 20% of the world's fresh water in our lakes, though approximately 12% is inaccessible. However, not everyone can obtain water that is clean enough for simple day to day activities such as cleaning, bathing, and drinking. Large cities like Toronto and Vancouver have functioning pipes that filter water for residents to use while Indigenous communities often struggle with maintaining water that is safe and clean.
Persuasive Essay On Climate Change
This quote said by Washington State Governor, Jay Inslee shows the severity of climate change "We are the first generation to feel the sting of climate change, and we are the last generation that can do something about it." "On Earth human activities are changing the natural greenhouse of the Earth." (A blanket around the Earth). Burning fossil fuels is causing carbon dioxide to be released into the air. By releasing this gas into the air the natural greenhouse gases increase and cause many effects to happen. Carbon dioxide is also caused by removing natural resources from the land for agriculture.
Public Water Fluoridation Argumentative Essay
Public water fluoridation was first practiced in 1945 (Water Fluoridation and Cancer Risk). Therefore adding fluoride to water has been in practice for many years. Over the years people have wondered if fluoride is safe or even necessary. There are those that are for the addition to fluoride while many oppose water fluoridation. There have been mixed emotions about this in Georgia along with other states as well. Although some people agree with adding fluoride to water, I feel that water fluoridation has little to no benefits and should not be added to water.
Pollution In Haiti
This miraculous process could save thousands of lives! The start to ending world hunger begins with keeping citizens healthy and alive! Ending one large sickening cause is a great first step in solving a problem many have set out to do! Clean water is just the beginning to a brighter, cleaner and healthier
Persuasive Speech Outline: The Flint Water Crisis
The Flint water crisis is an ongoing catastrophe that is currently affecting around 98,310 resident's water supply in Michigan. What makes matters worse is that this particular area is already poverty stricken, with 41% of house hold income averaging around $24,862. (CNN) With that being said they don't have the money to just up and move because of contaminated water. The people of Flint are suffering physically, mentally and emotionally because of the water crisis, the rising levels of lead found in the water have caused brain damage, hair loss and even cancer. The government has been taking an ample amount of time to resolve this matter, but have yet to come up with a solution to the problem. I say it is up to the people of America,
Persuasive Essay On Plastic Pollution
The amount of plastic products that ended up in the ocean as of 2015 are quite high. How high you may ask yourself? No not 1 million but 9 million tons of plastic waste laid in the ocean as of 2015. Who could be responsible for most of this plastic in the ocean? Surprisingly its china, they are responsible for 2.4 million tons per year. That 's 30 percent of the global total. The top countries most responsible for the plastic pollution issue are as following, China, The Philippines, Vietnam, Sri Lanka, Thailand, Egypt, Malaysia, Nigeria, and Bangladesh.What are we gonna do about it? Switch bag materials or don 't even provide bags just make the people bring their own bags and then they can continue to reuse them and then we won 't have the issue of plastic ending up in the ocean. Innocent animals we haven 't even discovered yet are dying because people can 't walk 10 feet to a trash can. If you could save your mothers life by walking a couple yards to the nearest trash can would you? Of course you would! Dumping plastics into our oceans is a huge problem for our environment and the people that live in it.
Climate Change is something that we have caused because of our choices to burn fossil fuels, at some point we have to face the problems that we have created. The consequences of Climate Change are horrific and Climate Change could end our existence as a species, most people do take action against Climate Change except, The Government of the United States of America, refuses to accept the serious dangers of climate change and continues releasing propaganda on Climate Change, claiming its effects are minimal and that we are not causing it. Peculiar how almost every other government in the world thinks otherwise. The reasons we are heading in the wrong direction is because the actions of humans are causing Climate Change, and almost all scientists agree on this matter. Another reason is the that the government isn't trustworthy in what they say about Climate Change, meaning what they say about Climate Change is wrong, and we should change our policy on Climate Change.
Persuasive Essay On Food Waste
The world is experiencing a dilemma today. Many people suffer from hunger, malnutrition, and other problems caused by the lack of sufficient food. However, many other people buy or order excessive foods and waste a lot. In my community, food waste is much more serious than food shortage, and it is easy to see that people throw foods in the dustbin and the foods indeed are still eatable. Food waste is a serious problem. It not only wastes money but also causes some environmental problems, such as pollution and rats. However, many people do not realize the problem now. Considering that food waste is troubling, it is important to initiate a movement to motivate residents to reduce food waste, and the movement can be carried out through reeducatice and facilitative strategies.
Life Without Water: The Importance Of Water
Shortage or loss of water is a major threat to life sustainability on planet earth. Water provides the Earth with the capacity of supporting life.
More about Persuasive Essay On Clean Water The Water Crisis and Solutions Essay
Using Named Examples Assess The Potential For Water Supply To Become A Source Of Conflict
According to the International Water Management Institute environmental research organisation global water stress is increasing, and a third of all people face some sort of water scarcity. Where demand exceeds supply and no effective management operates, there will be conflicts between the various players involved.
China's Water Crisis Dbq Essay
Industries are expected to use 265 billow cubic meters of water per year (Doc. D). With that said, there is several industries that rely on water (Doc. D). At the same time, the need for water in agriculture decreases and the need for water in domestic issues gradually increases, while the need for water in industries frantically increases (Doc. C). The requirement of water in industries keeps climbing high year after year as the water supply drops. Moreover, many industries must-have a sizeable quantum of water, which drives the water crisis.
A Rhetorical Analysis Of Water Works By Cynthia Barnett
The consumption of water has been increasing in the last few decades. Most of the demand is caused by agricultural activities (BBC Features). Water needed for industrial purposes also drives up the demand. The world can learn about ways of conserving water from the countries that have initiated the measures and have become successful at it. Australia is considered as the most successful so far. Recycling, desalination, and harvesting rainwater are some of the solutions that can be applied to handle water shortages and create
Water Conservation and the Drought in America Essay
Actually, only one percent of the world's water has the capability of being used by us. About ninety-seven percent is salty seawater, and two percent is frozen in glaciers and polar ice caps. That only leaves one percent of the precious water that is to be used by not only people, but used by animals, plants, and food. Dehydration, which is the lack of water, will kill us faster than starvation, which is the lack of food. Since the plants and
Informative Speech On Water
Water covers 70% of our planet, and it is easy to think that it will always be plentiful. However, freshwater, what we drink, bathe in, irrigate our farm fields with makes up only 3% of the world's water, and two-thirds of that is stored in frozen glaciers or unavailable for our use. Many of the water systems that keep ecosystems thriving and feed a growing human population have become stressed. Rivers, lakes and aquifers are drying up or becoming too polluted to use. Already, 80 countries suffer from water shortages that threaten health and economies while 40 percent of the world—more than 2 billion people—does not have access to clean water or sanitation
The White House : National Security Council
Water may be a renewable resource, but the world's supply of drinkable fresh water is being consumed more rapidly than ever before, and most importantly, more rapidly than it can be replenished. Only 2.5% of water on Earth is fresh
Argumentative Essay : Drinking Water Shortage
There is a water crisis which faces many parts of the world and it is a threat to survival of human beings since humans are primarily dependent on water. Shortage in drinking water is beginning to show its effects in first world countries, but is a current major problem facing lesser developed countries which have not taken drastic steps to harvest water and purify it to make it safe for human consumption. In developed countries the population growth has strained available water resources and stretched the ability of governments and private firms to provide safe drinking water to the vast majority of the population. Seventy one percent of
America's Water Problem
Everyday, billions of people use water all over the world. They use water in drinks and food. They use water for bathing and hygiene. They use water in agriculture and industry. They use water for so many things. However, there are many problems with the usage of water around the world. In his editorial, "Our Water System: What a Waste", Michael E. Webber explains how America has a water problem, and how that problem can be solved.
Schleifer's Seven Reasons We Are Facing A Global Water Crisis
The water crisis in the world is increasing, and it will continue to increase if something is not done. Water makes up approximately seventy-one percent of Earth's surface. This does not include the water underground. Everyday water is being taken more than it is being put in, and people have a large role in this. Climate change, the number of people in the world, and water wasted is among the uppermost causes of the water crisis. It is simple, if you do not have water, you will eventually die. The water crisis is a health crisis for everyone globally.
Water Conservation In California
​Water is one of the crucial element our planet provides, however, the supply of freshwater will wane if the consumption of water remains unchecked. The steadily growing need to conserve water usage within the United States has sparked people to change their usage of water to aid their communities during desperate times. Recently California experienced a severe drought which called on a restriction on water usage to a bare minimum. During this drought, rising temperature and lack of rain on cities who rely on rain water to recharge the many water sources pushed California governor to act encouraging people to assist with implement the restrictions. The water restriction allowed people to still go about their daily lives while maintaining a
Water Scarcity In A Brave New World
By 2040, the global population is estimated to be over 9 billion people ("World Population"). This should be a startling fact when considering the limited and relatively small percentage of freshwater sources. According to the United Nations there is technically enough freshwater sources to support a global population of 7 billion ("Water Scarcity"), but still due to water waste, mismanagement, and lack of infrastructure, 663 million (1 out of 10) people lack access to safe drinking water sources, not to mention people living in areas of physical water scarcity ("25 Years"). "Water scarcity already affects every continent" ("Water for Life"). Due to the dramatic increase in global population, rapid industrialization, and urbanization the importance, value, and demand of water has also increased. (Gnaneswar Gude) As reported by the United Nations, just in the last century alone, water usage has grown more than twice the rate of population growth ("Water for Life"). By 2025, nearly 2 billion people will be living in regions with absolute water scarcity ("Water for
Salt Water Desalination
Water issues are big concern for every living thing on the planet. As the worlds population grows and the demand of products increase, industries are growing too. This demand on the worlds recourses especially water is becoming an issue. Around two percent of the worlds water is drinkable with much being locked up in glaciers. Moving water to places in need is a common practice, but this dose not make more drinking water. While salt water is easily accessible we can not consume it. The water must be processed with the salt being removed.
Water Scarcity In Sub-Saharan Africa
Water is becoming a precious commodity around the world. "Throughout to world, water is recognized as the most fundamental and indispensable of all natural resources and it is clear that neither social and economic development, nor environmental diversity, can be sustained without water" (Ashton 1). Water is becoming scarce throughout the world. "Water scarcity is when an individual does not have access to safe affordable water to satisfy her or his needs for drinking, washing or their livelihoods…"(Rijsberman 1).
'Green Biz' By Mark Tercek: Article Analysis
In this Green Biz article the author Mark Tercek discusses how the world is running out of water and that the problem of running out of water can be prevented or reduced by establishing water markets, balancing those markets, and fixing them to scale this while establish a view of water as tradable assets that will promote the attitude of saving water and allocating it elsewhere for profit.
Thesis Statement On Water Scarcity
Solving the global water crisis moves beyond the technical feasibility stage.(2011). Trends Magazine, (104), 19-24.
Related Topics
Water crisis
Water supply
Drinking water
Hi, what are you looking for?
CleanTechnica
Women Working For A Clean, Sustainable Future
Tesla Secret Masterplan #3 Leaking Event
First Smart Microgrid In Zimbabwe Installed At Shopping Center In Harare
Renewables Face Two Major Challenges — FUD & Connection Challenges
Flipping The Script On The Public Health & Wealth-Building Benefits Of Clean Energy
Energy Security Amid Heightened Global Tensions
Army Of Spiral-Welding Wind Turbine Tower Trucks Sets Forth From…Texas?
Green Hydrogen Project Is New "World's Biggest"
Utility-Scale Wind, Solar PV, & Concentrating Solar Power (CSP) Increased From 467 MW In 2013 To 6,230 MW In 2022 In South Africa
Fervo Energy Plans Direct Air Capture Facility Powered By Geothermal Heat & Electricity
2023 Global Energy Trends: Crisis, Contingencies, & Climate Change (Video Included!)
Biden–Harris Administration Announces $74 Million to Advance Enhanced Geothermal Systems
In 2021, 20% Of Electricity In The US Was Generated From Renewable Sources
Stellantis Takes On Two Partners To Reduce EV Production Emissions
Redwood Materials Shares Lessons Learned After One Year Of Operation
Are Lithium-Ion Batteries Recyclable? Yes Or No?
Bechtel Will Perform The Engineering Study For A US Battery Anode Factory
The Next Big Silicon Battery Breakthrough Is So Mysterious
PG&E Will Test Tesla & Sonnen Virtual Power Plant Technology
Sonnen & TenneT Power German Grid With Electric Cars
1st Virtual Power Plant from SolarEdge Supporting UK Grid
Google, Ford, GM, & Solar Companies Partner To Promote Scaling Of Virtual Power Plants
Vehicle-To-Grid Solutions Could Open Fast Lane To Net-Zero Future
BlocPower Brings Energy Efficiency To Low & Moderate Income Families
Study: Heat Pumps 2–3× Cheaper Than Green Hydrogen In Europe
Central Heat Pump Water Heaters Can Act As Massive Water Batteries, Seattle Pilot Project Shows
Heat Pump Mania Is Sweeping The World
Breaking Barriers to Home Electrification Through the EAS-E Prize
BEVs Outsell Hybrids In Australian EV Market In February
Scout Chooses South Carolina For New Factory
Top 5 Tesla Pros & Cons
EV Total Cost of Ownership
BYD Atto 3 Reviews — 5 Months On The Road In Australia
E-Bike Comparison: NIU vs. Heybike vs. Suburbia
CleanTechnica Tested: The Flyer L885 Long Tail Cargo E-Bike
NIO ES8 Review — 1st impressions
CleanTechnica Tested: The Jackery Solar Generator 1500 Pro
Tesla Model 3 Long-Term Review
Tesla Model S Long-Term Review
Best Selling Electric Cars In The World — January 2023
The Rise & Rise Of The Chinese EV Market — 17% Market Share In January
Sweden's Plugins Continue To Grow Despite Economic Downturn
Dutch BEV Sales Back On Growth Trajectory — 89% Growth
100% Electric Vehicles = 10% Of New Car Sales In Europe In January
2023 Chevrolet Bolt EUV Premier Redline Edition — Video Review
Sandy Munro: The Coming Wave of Chinese EVs
Sandy Munro On Which Automakers Are Getting It Right Besides Tesla
Sandy Munro: How Tesla Gets To The $25,000 Car
Sandy Munro: Tesla Is "Engineering At The Speed Of Thought"
CleanTechnica.TV (YouTube)
Cleantech Talk (Our Podcast)
EV Charging
EV Fleet Charging
How to Charge An EV At Home
Fast Home EV Charging
Aftermarket Tesla Accessories
Home Efficiency
Vanadium Flow Batteries Demystified
Connect With CleanTechnica
Become a Subscriber
Testimonials: Why Readers Love CleanTechnica
Support CleanTechnica
Editorial Ethics
Mission & Vision
Community testimonials
Privacy Policy
Syndicate Our Content
The Challenges & Solutions Of Water Scarcity
An interview with Diane D'Arras, President of the International Water Association.
This article was published in The Beam #7 —   Subscribe now for more on the topic.
30 years from now, about 7 in 10 people will live in cities across the globe. One of the main challenges for the governments will be to provide infrastructure and services such as housing and safe drinking water for all. With global warming and climate change increasing the risk of floods and droughts around the world, access to clean water will be at the heart of every discussion. REVOLVE interviewed Diane D'Arras, President of the International Water Association, to talk about these challenges and the importance of raising awareness on the topic in order to create a momentum and encouraging governments and organizations to start acting now.
Yes, there is a difference. People do not use the same amount of water around the world — it depends where they are located. In fact, water scarcity is the relationship between the need and the availability of water, so the notion is indeed relative. Scarcity occurs if a country is not about to provide enough water for agriculture, industry, personal use and sanitation. Water scarcity is a challenge — in the sense of understanding and organization of demand and supply of water.
What are the solutions for these water challenges?
The first solution is raising awareness with politicians, professionals and society about the importance of water. Everybody should know about water saving,in terms of sanitation as well as food. The energy sector has developed an understanding of energy saving in all areas so developing awareness and understanding we can be more water efficient. Utilities have started to bring awareness to their clients about water issues. Building consciousness is done by sharing data — not just consumption at the tap, but also water used for food production. The second solution is to develop water technologies like recycling and reusing. Many of the International Water Association (IWA) members are not in favor of recycling water for personal use, but rather reusing it for agriculture and industrial purposes.
At the EIP Water Conference 2017, you claimed that it is highly important to work together to improve water conditions. What does good collaboration mean in the water sector?
Start sharing experiences. From developing the technology over pilots and demonstration projects all the way up to commercialization, it is necessary to spread the experience such as the constraints and next steps. There are two ways of sharing. First, it is necessary to share outcomes from research projects, for example WssTP shares knowledge about developing technology. Second, international project implementation, introducing pilots together with players from different countries, is a very good method to share knowledge. Every industry does it. The problem in the water sector is that every step takes 10 or 15 years, for example a wastewater plant. Working together can be challenging and it takes time, but in the end there is the advantage of a common buy-in and it is more likely to spread water innovations and have long-term impact.
"By developing awareness and understanding we can be more water efficient."
How do you evaluate water scarcity coverage in the media? Do you think it should be a bigger topic?
I would be happy to see water scarcity presented by media, but it has to be done the right way. Water topics should be presented with good and simple figures. Many people do not know the price and measurement of water, such as water consumption for personal use, agriculture, industry and environment. Complex data is useless for explaining these topics and even creates fear. For effective communication, tangible figures and data are essential.
Interview by REVOLVE Media
Subscribe to The Beam for more on the topic.
Read more from The Beam.
The Beam Magazine is an independent climate solutions and climate action magazine. It tells about the most exciting solutions, makes a concrete contribution to eliminating climate injustices and preserving this planet for all of us in its diversity and beauty. Our cross-country team of editors works with a network of 150 local journalists in 50 countries talking to change makers and communities. THE BEAM is published in Berlin and distributed in nearly 1,000 publicly accessible locations, to companies, organizations and individuals in 40 countries across the world powered by FairPlanet.
Advertise with CleanTechnica to get your company in front of millions of monthly readers.
Listen to Cleantech Talk
Florida Republican Wants To Ban Electric Vehicles From Hurricane Evacuations
Clean Transport
Tesla investor day epilogue: why there was no news.
Buses, Trucks, Trains, Shipping, & Aviation Will Electrify More Than US Transportation Blueprint Thinks
Tesla's Futuristic Approach To Manufacturing, & Critical "Next-Generation Vehicle"
ChargeHub App: It Might Be the Only EV Charging App You Need
You May Also Like
Climate Change
Of risk fingerprints, empathy, & fossil fuel firms.
If you believe some negative stereotype about a group and their risk profile, ditch it. It's wrong, and it doesn't apply to the person...
Modularity & Scale In Big Cleantech Projects: Insights From Bent Flyvbjerg's "How Big Things Get Done"
Projects have what are called fat-tail risks and results. There's a lot more variation at the extremes than for other things like human height.
Harvest Thermal Delivers CO2-Based Heat Pumps With Thermal Storage To Arbitrage Electricity Rates
Harvest Thermal uses CO2-based heat pumps from Sanden with hot water heat storage to time arbitrage electricity rates from solar peaks to evening comfort.
Agriculture
Podcast: green agriculture will save the world (part two).
Steve Heckeroth is doing everything he can to make it better.

Free Essays
Citation Generator
Clean water essay
You May Also Find These Documents Helpful
Outline of the final lab report.
In view of the fact that many diseases and viruses can be transmitted though water, dirty/contaminated water is extremely hazardous and it negatively impacts our…
Water and Quality Contamination
Background: According to the Millennium Development Goals Report 2012, 783 million people, or 11 per cent of the global population, remain without access to an improved source of drinking water. Also the United Nations has long been addressing the global crisis caused by insufficient water supply to satisfy basic human needs and growing demands on the world's water resources to meet human, commercial and agricultural needs (un.org). In this experiment water quality and contamination of groundwater was investigated. First, I observed the effects that many pollutants have on groundwater. I predict that in this experiment the oil and vinegar will create the large amount of contamination in the water, while the laundry detergent will just create an aroma smell to it. Considering the smells and color to these ingredients I think that it will cause the water quality to have a bad smell and cause the water to be very cloudy. Once filtering the contaminated water, the water will be clear and purified. Second, I will experiment water treatment and filtering. I predict that once the contaminated water is treated and filtered that it will leave me with less contamination or none at all. Then for the last experiment, I will determine the difference between bottled water and tap water to discover any contamination. I predict that the tap water will be the most contaminated and with the most chemicals in it, while the bottled waters; Dasani and Fiji will be completely filtered and free of any chemicals.…
Water Pollution essay descriptive
With the development of modern agriculture and industry, water pollution has been a major problem. The reason why this issue became so important these years is that the water pollution can not only poison the creatures in the water but also affect the quality of our drinking water.…
Osmosis: Safe Drinking Water
Water is one of the many things that all human being need in order to survive. Considering the vast amount of water that is on the planet, it is reasonable to believe that there is more than enough water for everyone to have their fair share and more. Yet this sadly is not the case, as the majority of the water on Earth is unsuitable to drink due to the fact that it is tainted with a numerous amount of contaminants, such as bacteria and salt. The amount of safe drinking water is decreasing more and more each year and will soon become one of the more scarce resources on the planet. Over the years, many different people all over the world have tried to create and refine a water purification process that is both effective and efficient. The…
Pros And Cons Of Drinking Water Sterilization
As population grows, drinking water becomes one of the most valuable resources in the world nowadays. The drinking water even becomes an important public health issue in some developing countries such as China and some African countries. During the entire process of drinking water treatment, the step of sterilization is especially important. The reason is that the raw water contains many kinds of microbes, which may results in spread of infectious diseases. This paper will show some sterilization methods for drinking water treatment and their cons and pros. These methods are chloramine, UV disinfection, solar water disinfection and a combination of simple filtration and low-temperature sterilization.…
Final Lab Report Essay Example
In this experiment water quality and contamination of groundwater were investigated. First, I will observe the effects that many pollutants have on groundwater. I predict that in this experiment the oil and vinegar will create the largest quality of contamination to the water, while the laundry detergent will just create a bad smell to it. Considering the smells and thickness to these ingredients I think that it will cause the water quality to have a bad smell and cause the water to be very cloudy. Once filtering the contaminated water, the water will be clear and purified. Second, I will experiment water treatment and filtering. I predict that once the contaminated water is treated and filtered that it will leave me with little or no contamination in it. Then for the last experiment, I will determine the difference between bottled water and tap water to discover any contamination. I predict that the tap water will be the most contaminated and with the most chemicals in it, while the bottled waters; Dasani and Fiji will be completely filtered and free of any chemicals.…
Water Quality Essay
The purpose of going into the field to conduct the water quality tests was to test the different ways water could potentially be infected of polluted. The tests we ran helped determine the amount of pollution and whether or not it is safe for the wildlife to live in as a habitat. The tests we conducted were: temperature, turbidity, conductivity, flow rate, pH, and GPS.…
Water Balance Essay
According to Gildemeister, Berkeley is a west-coast Mediterranean climate (distinct wet and dry seasons). In the late spring and early fall, strong offshore winds of sinking air typically develop, bringing heat and dryness to the area. In the spring, this is not usually a problem as vegetation is still moist from winter rains, but extreme dryness prevails by the fall. The warmest and driest months are typically June through September, with the highest temperatures occurring in September. Mid-summer (July-August) is often a bit cooler due to the sea breezes and fog which are normally most strongly developed then (Gildemeister, 2004, p. 109).…
Essay On Water Pollution In New York City
Therefore, heavy metal and other toxic chemicals, such as cadmium and mercury, solvents and pesticide enter the water treatment and cause threat to all things. Many of these substances come from industries and business that dispose of chemical in their wastewater as a part of the regular water that's being tested. The chemical usually come from hazardous household items such as cleaning products, paints and pesticides. Some include lead and copper in the wastewater cording the pipes and causing serious toxins to spread. Thus, the wastewater treatment can only clean small amounts. The main problem caused by water pollution is that it kills organisms that depend on these water bodies. Moreover, it disrupts the food-chains for aquatic animals and the food they consume. Therefore, people can get disease such as hepatitis by eating seafood that has been poisoned. Some of these chemicals release release oils, poisonous chemicals, and other wastes into water. The use of chemicals in farming is one example. Farmers use some chemicals as fertilizers, or substances added to soil to help crops grow. They use other chemicals as pesticides or herbicides. These are substances that kill pests or weeds. When these chemicals seep into the ground, they may make the groundwater unfit to drink. Chemicals also may drain into rivers and lakes,…
Bottled Water Essay
Recently, I watched the movie Tapped and it points out many interesting things. Water companies don't have to give their condition reports of their water to the public while tap water is constantly regulated by the EPA. Another thing it pointed out was just how many contaminants are found in bottled water. There are many hazardous things in the bottles that people drink from everyday and most of us don't realize how dangerous this is to us. It also pointed out the damage that these bottles have on the environment after they are thrown away.…
Water Contamination Lab Report
Water being one of our most precious resources we have to question the quality of our water quality and things that maybe contaminating it. Water affects not only humans it affects other living things such as animals, plants, and aquatic life and hydroelectric machinery. Some would believe that it should be a human right to have clean quality water for ones uses. As one examine water and where it comes from there and the type of water such as surface water or groundwater. It is apparent the concern of the quality of water and it exposure to contaminants is necessary.…
Filter Tap Water Essay
Filter tap water is an affordable way of reducing many common water contaminants. This includes things like lead and other byproducts leftover from treatment processes such as chlorine. Doing so is important because over half of the chemical found in your water aren't regulated.…
Water Contamination Research And Its Importance
This report analyses the ability of ordinary substances to pollute water sources, filtration techniques, as well as the quality of tap and bottled waters. This report discusses the availability of clean water sources, factors that affects the quality of water, agents of water contamination, and how the earth naturally filters impurities from water. The first experiment tested groundwater contaminants and their effects on drinking water quality using oil, vinegar and laundry soap. In the second test, sand, grave, and charcoal creates a water filter that successfully screens dirt particles from a water sample. The third laboratory identified contaminants and the quality of three water sources; tap, Dasani, and Fiji bottled water. Of the three, the bottled water I found was highly acidic. Results helped to determine the high probability of typical human activities to add impurities to water we drink. This report identifies the need of water quality research, in addition to its importance to societies. The fundamentals of Water Quality management and examination…
Sterilization Of Water Using Bleaching Powder
ANSHUL KUMAR PANDEY XII B [THIS PROJECT LOOKS AT THE TECHNIQUE CALLED STERILIZATION OF WATER USING BLEACHING POWDER WHICH IS USED TO PURIFY WATER AND MAKES IT FIT FOR DRINKING.]…
Purification of Water : a Study
An average 4 membered household uses about 90-100 gallons i.e. 400 litres of water daily. In order to fulfill such a huge demand of water, it needs to be purified and supplied in an orderly and systematic way. Most available water sources have been contaminated over the years. In order to make them useful, we need to purify and sterilize that water.…
Related Topics
Water purification
Reverse osmosis
Water treatment
Plagiarism checker
Writing help, paraphrasing tool, the global water scarcity challenges and solutions.
Agriculture , Irrigation , Soil , Water , Water Scarcity
How it works
The purpose of this report is to discuss one of the most challenging global problems that we are facing nowadays which is 'The global water scarcity'. In addition to investigating the main sectors that highly consume and waste water and how their high consumption can be addressed. Throughout this report 2 intervention strategies to the water scarcity challenge were discussed .One of them is more educational intervention and the other is a technical one .The first intervention is the world bank website for water scarcity. The second is an innovative irrigation way used in the corn farms in Italy and reduced the water consumption by 22 % .
1 Methodology
2 Introduction
3 Global water consumption
4 Challenges
5 Agriculture
6 Intervention strategies
7 Case study 1
8.1 Challenges
8.2 Intervention strategy
8.3 Objectives
8.4 System features
8.5 System mechanism
8.6 Project main cores
10 Conclusion
11 References
Methodology
Introduction.
The water scarcity problem is one of the most challenging risks facing the world at various levels: social, economic, political and environmental. Especially when it is coupled with the continuously increasing demand on water as population continues to grow too . This problem is acting like an alarm for the human beings to manage the natural resource in a sustainable way with the appropriate infrastructure.
'Although water covers 71% of the Earth's surface, only 4% is freshwater and only 0.5% of this water is suitable for human consumption, according to the U.N. More than 2.1 billion people still lack access to safely managed drinking water and about 40% of the global population face water scarcity' (Facing The Problem Of Water Scarcity, 2017)
Water use is growing twice the rate of population increase in the last century, most important, the population growth and economic development are putting big pressure on water sources, especially in the arid regions. By 2025, 1800 million people are expected to live in countries with extreme water scarcity.
Global water consumption
The Global water consumption is mainly in 3 main sectors . Agricultural , municipal and industrial sector. As shown in the figure below , the water consumed in agriculture has the highest percentage with 38% of the total water consumption in the world and the waste water produced from agriculture has also 32% of the total water production in the world, so the agriculture contribution in total is 70% which is very high percent, while the water consumption in municipal and industrial have only a total of 6% and the waste water from both of them is in total 24% as well .Therefore this makes the agriculture the primary and the main reason of water consumption in the world.
Figure 2: water consumption and waste water production.
Source : https://www.webuildvalue.com/en/megatrends/facing-the-problem-of-water-scarcity.html
The water we consume daily through the food we eat is way more than what we drink as we need from 2000 to 5000 liters of water to produce the food that one person consume daily.
Agriculture
Agriculture is both a major cause and casualty of water scarcity, while farming consume almost 70% of all water consumption and even up to 95% in some developing countries. However, there are some improvements that we can make regarding how we rationally use the water in agriculture and in producing food.
Intervention strategies
Nowadays , the responsibles for every industry are trying to optimize the water usage of their industries in planning , production practices and business models . ' According to the Sustainability Survey Poll on Water. The global opinion poll, which released a survey of more than 1,200 sustainability experts in March, the poll asked, "What are the technologies or changes in behavior which show the most promise for addressing water shortages over the next 10 years?" The experts' responses generated 19 consensus solutions ("Experts Name the Top 19 Solutions to the Global Freshwater Crisis," n.d.). Here are the 5 areas which scientists believe that solutions for water scarcity should start from :
• Education for optimized water consumption .
• New water conservation technologies invention.
• Waste water recycling .
• Irrigation and agricultural practices improvement.
• Appropriately price water.
However, the most important solutions that the report will be focused on are Water education to change consumption and lifestyles, and Irrigation and agricultural processes improvement.
Case study 1
As mentioned in the previous section , spreading the education and awareness about the water consumption optimization schemes has a crucial role in dealing with the water scarcity challenge and it was considered as the main and most important solution in this challenge by the experts . Also sharing and discussing the latest techniques and interventions around the globe that can help in facing this challenge is an effective way to spread the knowledge about water usage optimization. The World Bank group created a website called Water Scarcity Solutions . This website is mainly concerned with giving clear written and visual illustration for the water scarcity problem , showing visualized data about the manging water use in scarce environments and providing various solutions for water scarcity issues all over the world. It mainly collect various water scarcity solutions from various regions and in different sectors as shown in the figure below .It presents different interventions in just 2 papers to exchange and spread water scarcity challenges & solutions.
Figure 3: water scarcity solutions
source: https://www.waterscarcitysolutions.org/7
Case study 2
As mentioned in the global water section in this report , agriculture is the most water consuming and wasting sector when it was compared the municipal and industrial sections consumption .That is why our second case study is meant to discuss a technical intervention that already helped in a significant way in decreasing the water consumed and wasted in agriculture. In Italy , Corn has been produced for years . It has been very important to the Italian agricultural economy for decades.
Corn production in Italy is constrained by limited and expensive water supply. The annual precipitation is a moderate 920mm/yr but farms is experiencing variable weather conditions during the corn growing season and increasing water costs. 75% of corn farms in Italy depend on water from municipalities which amounts to 30% of their annual costs. (2030 water resources group)
Intervention strategy
In a search for improved irrigation solutions, three farms near Milan, used a drip irrigation system coupled with soil moisture monitoring.
This system allow farmers to irrigate only when needed, without stressing the plants by supplying too much or too little water along with providing precise application of fertilizers (fertigation), and thus minimizes the leaching of excess nutrients into the ground.
System features
This system consists mainly of :
• Drip irrigation systems as shown below .
• Fertigation systems.
• Soil moisture content monitoring.
• Remote monitoring and sensing.
System mechanism
Drip irrigation is implemented in this system, coupled with soil moisture sensors.Automatic analysis of soil moisture and improvement of irrigation by a special software was implemented also,together with using fertilizers through drip irrigation.
Project main cores
(1) Soil moisture monitoring drip irrigation system
The main element of the irrigation system is the soil moisture monitoring system and the irrigation management software. It transmits data every 10 minutes. This data is automatically analyzed and it guides the irrigation system. As a result, there is a reduction in the plant stress so that a production of higher yield crop and less water consumption.
(2) Fertilization through drip irrigation system
Crop yield is more improved by a fertigation system that accurately delivers fertilizers through the drip irrigation system to the plant roots. This offers cost savings for farmers and reduced absorbance of nutrients into the soil.
(3) Partnership
The system has been developed through a partnership between Monsanto, NETAFIM™ who works in drip irrigation products, specialists in crop monitoring and the University of Milan. Extension services have been provided to farmers to evaluate the benefits of the system. The initial cost to install the system is around $1200 per hectare.
Drip irrigation and the installation of soil moisture monitoring system showed a remarkable results as:
a- Water withdrawals of the farms decreased by approximately 22% from the original 16 900m3 /yr to 13 100 m3 /yr
b- Crop yield increased by 124% from the original 19.31 kg of dried matter per m3 of water with drum irrigation to 43.18kg/m3 with AquaTEK™.
c- Reduced evaporation losses, reduced return flows and increased evapotranspiration.
Water scarcity problems can be addressed through various mechanisms , The mechanism choice depends mainly on the type of the challenge and the region it takes place in . Through this report two intervention strategies were discussed . The first is an educational and awareness related one which is the world bank website ( Water Scarcity Solutions ) that aims at exchanging knowledge about water scarcity solutions across the globe .Finally,the second solution was discussed which is a technical one addressing the high water consumption in corn farms in Italy .This solution is drip irrigation coupled with soil moisture monitoring .This system proved to have an effective impact on saving the water used in corn farms irrigation by 22 % .
http://www.fao.org/zhc/detail-events/en/c/880881/
https://www.waterscarcitysolutions.org/wp-content/uploads/2016/08/71-C-Installation-of-soil-moisture-monitoring.pdf
https://www.webuildvalue.com/en/megatrends/facing-the-problem-of-water-scarcity.html
https://www.circleofblue.org/2010/world/experts-name-the-top-19-solutions-to-the-global-freshwater-crisis/
Facing The Problem Of Water Scarcity. (2017). Retrieved from https://www.webuildvalue.com/en/megatrends/facing-the-problem-of-water-scarcity.html
Facing The Problem Of Water Scarcity. (2017). Retrieved from https://www.webuildvalue.com/en/megatrends/facing-the-problem-of-water-scarcity.html 
The deadline is too short to read someone else's essay
Cite this page.
The Global Water Scarcity Challenges and Solutions. (2021, Mar 26). Retrieved from https://papersowl.com/examples/the-global-water-scarcity-challenges-and-solutions/
"The Global Water Scarcity Challenges and Solutions." PapersOwl.com , 26 Mar 2021, https://papersowl.com/examples/the-global-water-scarcity-challenges-and-solutions/
PapersOwl.com. (2021). The Global Water Scarcity Challenges and Solutions . [Online]. Available at: https://papersowl.com/examples/the-global-water-scarcity-challenges-and-solutions/ [Accessed: 4 Mar. 2023]
"The Global Water Scarcity Challenges and Solutions." PapersOwl.com, Mar 26, 2021. Accessed March 4, 2023. https://papersowl.com/examples/the-global-water-scarcity-challenges-and-solutions/
"The Global Water Scarcity Challenges and Solutions," PapersOwl.com , 26-Mar-2021. [Online]. Available: https://papersowl.com/examples/the-global-water-scarcity-challenges-and-solutions/. [Accessed: 4-Mar-2023]
PapersOwl.com. (2021). The Global Water Scarcity Challenges and Solutions . [Online]. Available at: https://papersowl.com/examples/the-global-water-scarcity-challenges-and-solutions/ [Accessed: 4-Mar-2023]
Don't let plagiarism ruin your grade
Make sure your essay is plagiarism-free or hire a writer to get a unique paper crafted to your needs.
Plagiarized Text
Leave your email and we will send a sample to you., not finding what you need, search for essay samples now.
Having doubts about how to write your paper correctly?
Our writers will help you fix any mistakes and get an A+!
Please check your inbox.
Don't use plagiarized sources
Where do you want us to send this sample, attention this is just a sample..
You can order an original essay written according to your instructions.
Trusted by over 1 million students worldwide
1. Tell Us Your Requirements
2. Pick your perfect writer
3. Get Your Paper and Pay
Hi! I'm Amy, your personal assistant!
Don't know where to start? Give me your paper requirements and I connect you to an academic expert.
short deadlines
100% Plagiarism-Free
Certified writers
I am looking for...
... the toilet rebate program
... latest rainfall stats, drought status, and other water stats
... info about Metro Water District meetings
... water reports, research and tools
... plans and manuals
... essay, video, and photo contests
... educational information and activities for students
Water Essay Contest Winners Honored at State Capitol
(Atlanta, December 21, 2016) – Students Emma Clyburn and Madelyn Wortel took home the top honors in the 2016 Middle School Essay Contest for the Metropolitan North Georgia Water Planning District (Metro Water District).
Ms. Clyburn, an eighth-grader at Lanier Christian Academy in Hall County, was the district-wide first place essay winner, and Ms. Wortel, an eighth grader at South Forsyth Middle School in Forsyth County, was the district-wide runner-up. The annual contest challenges students to think critically about protecting and conserving water resources in the metro Atlanta region.
2016 marks the 15th year of the Metro Water District Essay Contest. The contest invites sixth, seventh and eighth graders in the City of Atlanta and Bartow, Cherokee, Clayton, Cobb, Coweta, DeKalb, Douglas, Fayette, Fulton, Forsyth, Gwinnett, Hall, Henry, Paulding and Rockdale counties to participate in the contest.
Winners were honored with a reception at the Georgia State Capitol on December 14. Winners selected from each county received prizes of $100, and the first place winner received an additional $400. Over 1700 students participated in this year's contest.
Essay Topic – Water Conservation This year, middle school students were asked to write a 300-500 word essay on the topic: Why is water conservation important to you and to our region?
The winning essay by Ms. Clyburn drew on her experience living in another country: "For four and a half years my family and I lived in Swaziland where water was considered something very precious and not something taken for granted," said Ms. Clyburn. And Ms. Wortel, in her essay, focused on small steps that can make a big difference. "Small changes made on a daily basis to conserve water will ensure our water supply is abundant in the future," said Ms. Wortel.
"Choosing the contest winners is always a challenge because all of the essays display a genuine awareness about the importance of water conservation," said Kostoula Vallianos, principal education program specialist with the Metro Water District. "This year's essays were particularly timely since the region is experiencing a drought that has resulted in the Georgia Environmental Protection Division declaring a Level 2 Drought Response."
The annual essay contest is one of many educational outreach initiatives conducted by the Metro Water District to raise awareness about the region's conservation efforts and the importance of the preservation of water quality in metro Atlanta. To learn more, visit My Drop Counts for tips on what you can do to conserve water and the Clean Water Campaign to learn how you can help prevent stormwater pollution.
About the Metropolitan North Georgia Water Planning District (Metro Water District):
The Metropolitan North Georgia Water Planning District is dedicated to developing comprehensive regional and watershed-specific water resources plans to be implemented by local governments in the 15-county metro Atlanta region, which includes Bartow, Cherokee, Clayton, Cobb, Coweta, DeKalb, Douglas, Fayette, Forsyth, Fulton, Gwinnett, Hall, Henry, Paulding and Rockdale counties. These plans conserve public water supplies, protect water quality and recreational values of the waters and minimize potential adverse impacts of development on waters in and downstream of the region.
Comments are closed.
Beginning January 1, 2018 , the rebate structure will be modified:
Only WaterSense-labeled toilets using 1.1 gpf or less will be eligible for the $100 rebate . A $50 rebate will be available for all other WaterSense-labeled toilets greater than 1.1 gpf.
All eligible applications postmarked by December 31, 2018 will qualify for the $100 rebate if the toilet is WaterSense-labeled 1.28 gpf or less.
Please contact McKenna Magill at [email protected] or 404.546.0311 for more information.
Home — Essay Samples — Environment — Water — Use of Clean Water: Review of the Issue of Water Pollution

Use of Clean Water: Review of The Issue of Water Pollution
Subject: Environment
Category: Earth & Nature , Human Impact
Essay Topic: Water , Water Pollution , Water Quality
Published: 11 February 2019
Downloads: 584
Table of contents
Uses of clean water, causes of water contamination, effects of unclean water, some facts and figures (referred from undp).
Remember! This is just a sample.
You can get your custom paper by one of our expert writers.
121 writers online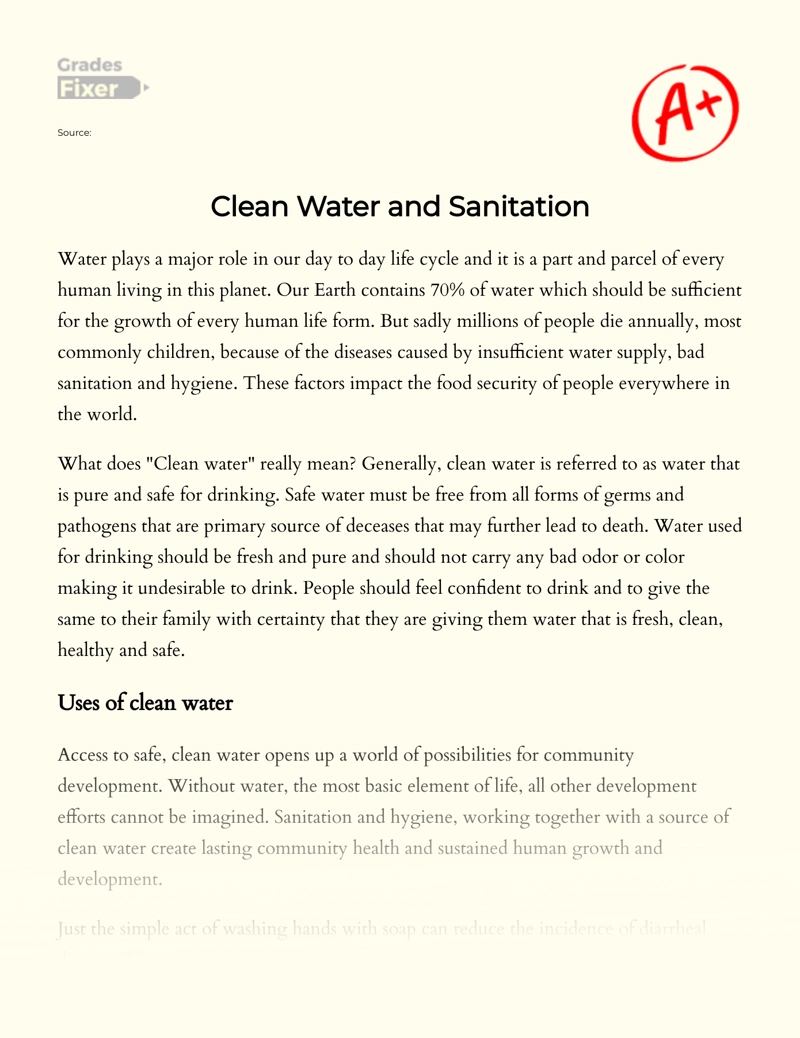 Remember: This is just a sample from a fellow student.
Related Essays
Though Kerala is receives high rainfall in the order of 3000mm per annum, the temporal variations in its occurrence leads to acute water scarcity during the non-monsoon periods. About 50% of the population in urban area and 80% [...]
Water is made up of two hydrogen molecules and an oxygen molecule, attached to the hydrogens with covalent bonds. This is due to the fact that the oxygen wants to fill up its outer shell with electrons and is willing to steal [...]
The discussion tap water vs. bottled water has very strong opinionated sides. One side believes that tap water is the better choice and is better for the environment and health of the general populace, while the other side of [...]
A wetland is a distinct ecosystem that is inundated by water, either forever or regularly, where sans oxygen forms prevail. The essential factor that recognizes wetlands from other land structures or water bodies is the [...]
Drinking water was supplied by WESSEX Water to 2000 new houses in Poundbury. Pipes of 350mm diameter with dimensions 200 x 290 x 280 in the Armstrong power series arrangement were used at a cost of ВЈ7, 503, 927 for both [...]
Several years ago, there began a crisis in Flint Michigan with their water supply. It had been heavily polluted and became very undrinkable. The residents in these areas had water of every color in the spectrum, such as brown, [...]
The beautiful Pacific Northwest serves as a perfect backdrop for Raymond Carver's stories, full of recurring symbolism, underlying themes, and significant motifs, most importantly the repeated theme of water. Just as water plays [...]
The forest is a lot of trees. Many animals need a forest to survive and survive. Forests are very important and grow in many parts of the world. They are ecosystems that contain many plants and animals. Temperature and rainfall [...]
This essay is about the description and development of a new product that is yet to be introduced to the market. My idea is creating a potless water heater which will be a convenient and quick way of heating water. I argue that [...]
Find Free Essays
We provide you with original essay samples, perfect formatting and styling
Cite this Essay
To export a reference to this article please select a referencing style below:
Related Topics
By clicking "Send", you agree to our Terms of service and Privacy statement . We will occasionally send you account related emails.
Where do you want us to send this sample?
By clicking "Continue", you agree to our terms of service and privacy policy.
Be careful. This essay is not unique
This essay was donated by a student and is likely to have been used and submitted before
Download this Sample
Free samples may contain mistakes and not unique parts
Sorry, we could not paraphrase this essay. Our professional writers can rewrite it and get you a unique paper.
Please check your inbox.
We can write you a custom essay that will follow your exact instructions and meet the deadlines. Let's fix your grades together!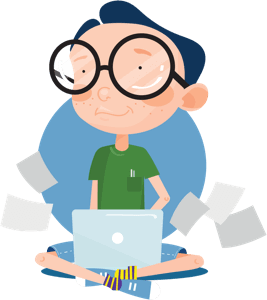 Are you interested in getting a customized paper?
We use cookies to personalyze your web-site experience. By continuing we'll assume you board with our cookie policy .
We can help you get a better grade and deliver your task on time!
Instructions Followed To The Letter
Deadlines Met At Every Stage
Unique And Plagiarism Free
Clean Water Sanitation (SDG #6)
Sustainable and Development Goals (SDGs) was declared by United Nation (UN) in 2015. The SDGs aimed to facilitate clean water and sanitation, biodiversity protection, poverty alleviation, and peace generation and prosperity by 2030. The 193 member states agreed that the SDGs formulated are achieved to their national interests (Ibrahim and Osman, 2020). The member states also focused on gender balance by empowering women. However, clean water and sanitation have remained the most significant challenge affecting most parts of the world, especially the developing and third world nations. Most of these countries are still struggling to facilitate clean water. Therefore this article describes how this matter is affecting these nations. And also describes specifically where the challenge occurs, why it happens, and the consequence of the challenge. Besides, the paper will describe the solution to the problem how innovative and attractive the probable explanation will contribute to the entrepreneurial success or failure. The main goal for clean water and sanitation sustainable development (SDG #6) is the facilitation and access of clean water sources everywhere. Access to clean water and sanitation is a human right, yet billions of individuals globally face the challenge of accessing essential water services. Generally, approximately 1.8 billion individuals worldwide use water sources contaminated by fecal matter ( GOAL 6: Clean Water and Sanitation , 2022)r. Around 2.4 billion persons have poor access to essential services like restrooms. The scarcity of clean water affects almost 40% of the global population, yet the population is projected to rise ( GOAL 6: Clean Water and Sanitation , 2022). Nearly 80% of the water discharge in rivers is usually untreated, thus leading to water pollution.
To begin with, the challenges existing in clean water and sanitation (SDG #6), the developing and third world countries are the victims of this issue (Ibrahim and Osman, 2020). For instance, Governance is one of the major problems affecting these affected nations to achieve this SDG #6 (Herrera, 2019). Since they have internal problems and weal governance structures in their administration, due to poor Governance, these nations cannot facilitate institutional rules, political balance, proper decision making and implementation, and good water governance as a whole.
The other cause leading to the existence of inadequate clean water and sanitation is financial issues (Herrera, 2019). Financial resources are required to facilitate the success of the water development projects. Therefore, immense financial stability is needed to sustain clean water and sanitation. However, the developing and underdeveloped countries have poor and lack enough financial resources to facilitate the water and sanitation projects. In addition, the developing countries are not investing in clean water and sanitation projects.
Capacity building is one of the excellent Governance that drives the success of clean water and sanitation in developed countries. However, the developing and third world countries have poor capacity and weaker implementations of capacity buildings, especially in Africa like the sub-Saharan countries Asian continent (Ibrahim and Osman, 2020). These countries have shortages in basic needs like recycling, risks associated with water, water sanitation, agriculture, clean water, and other water wastages (Ibrahim and Osman, 2020). For many years, these countries have been facing these challenges.
Therefore, the causes mentioned above leading to unsustainable clean water and sanitation facilitation have led to several consequences for the affected areas. Firstly, there is water pollution. According to the United Nations (2019), in parts of the Asia Pacific rural regions, water pollution has worsened the situation since 1990 in several rivers. Up to date, they are still facing the challenges of accessing clean water for consumption. In 2015, some of the landlocked countries had difficulties accessing clean water. In addition, almost 1.5 billion people are still suffering from access to clean water and sanitation, especially in rural areas. Due to the water pollution, there has been an emergence of hazardous chemicals and severe pathogens in some parts of Africa, Asia, Latin America, and other rural areas (United Nations, 2019). Women and children are the most affected people in these affected areas. Additionally,  GOAL 6: Clean Water and Sanitation  (2022) reported that clean water hygiene-related diseases had remained one of the major causes of high mortality rates in infants below five years of age. Furthermore, G OAL 6: Clean Water and Sanitation  (2022) reports that more than 800 infants die daily from related diarrheal diseases due to the consumption of dirty water.
Inadequate clean water and sanitation supply have led to the withdrawal of the unstainable proportion of freshwater pools in the world (United Nations, 2019), which has led to the surpassing half of the water accessibility. There has also been an increase in demand for irrigation from the groundwater, which has led to severe stress in those areas. Therefore, this has also affected the agricultural sector to produce adequate food in those places, leading to the challenge of food security. Food insecurity leads to poor people's living standards in those affected regions.
Additionally, According to Asian Development Bank (2017) report, the consequence of inadequate clean water and sanitation supply is a financial burden. The underdeveloped nations find it challenging to finance clean water and sanitation to reach the target 6.1 on widespread access before 2030. For example, Asian Development Bank (2017) reported that Asia and the Pacific regions needed a minimum investment of $800 billion from 2016 to 2030. And in addition, they required an average annual fund of $53 billion for the climate-adjusted investment.
Lastly, climate change is climate change's insufficient facilitation of clean water and sanitation (United Nations, 2019). Due to inadequate water production, it has threatened the incidences of flooding to destroy water sources and the contamination of those water sources. In some regions, people face drought due to water scarcity leading to negative impacts on production and health. Contaminated water sources are the source of pathogens that causes disease attack on people. In addition, drought affects the production of crops and animals since the crops and animals will die because they need water for survival.
Therefore, Due to the existing challenge of facilitation of clean water and sanitation in the affected regions in different parts of the world, there are suggested innovative and feasible solutions that can initiate entrepreneurial success or failure. Firstly, Increase the access to safe water for all. It can be achieved by a strategy known as "leave no one behind" (United Nations, 2018). This will need to improve on the attention of the disadvantaged individuals to monitor alleviation of poor quality use of water sources. The groups have to be formed in rural and urban areas to identify the affected persons quickly. Additionally, the government and other non-governmental agencies have to cheap in and help those affected people access clean and safe water services cheaply and without barriers.
Secondly, there should be an improvement in access to the universal adequate and balance of proper hygiene. For instance, since the key to sanitation services like defection, the government has to ensure that everyone has access to toilets and safety management systems to reduce the problem of water pollution. A considerable investment is needed, especially in the fast-developing urban regions, even though the solutions will differ based on the relative significance of sewerage systems and site sanitation networks. To reinforce the efforts of the relevant authorities to regulate and manage sanitation techniques will be taken as one of the high considerations, comprising the consolidation of information management networks, particularly in the developing and third world countries.
In addition, collection, treatment, and reusing wastewater from industries and farms will effectively lower the rate of polluting water and thus improve the quality of water since most of the parts in the world do not have access to clean water because of water pollution both from the lowly earning and highly earning nations. Even though the challenge of safe water is facing the developing countries, water treatment in all places will reduce the challenge since the developed countries will spend less to access clean water. Therefore, they can support those facing the challenge either financially or supply that clean water to them. Additionally, tackling water pollution by treating wasted water will aid in protecting the environment and public health, thus mitigating the high expenditure on the negative effect of pollution and intensifying the availability of clean water points.
Furthermore, there should be an implementation of cohesive water resource management. The strategy is effective if it is put into practice to ensure comprehensive control in the cooperation of the shared water resources. There has been an emergence of conflicts in the alliance, leading to weak leadership for operations in the water sector. The operation agreement has to be diverse based on the customary law. There should be utilitarian and executive agendas, a proper financial plan, sufficient data availability, and human and technical ability.
Therefore, the above-mentioned probable solutions have to be reinforced by several essential elements to meet the targets set. To start with Governance, this is one of the fundamental pillars that help to ensure that the goals set are implemented and are working effectively. Proper Governance provides effectual administrative and institutional rules, operations, decision making, and politics to facilitate cohesive management in the clean water sector. Besides, good Governance involves proper policy formulation and implementation, capacity building, monitoring and regulation of water management policies, financial management, information acquisition, monitoring, and good coordination. Openness and transparency build trust, which helps to initiate good relations. Good Governance also helps to eliminate the issue of inequalities. If there is equal distribution of clean, sufficient, and affordable water, it will guarantee the facilitation of safe water and sanitation that will enhance prosperity and eliminate poverty.
Secondly, financial resources are needed to maintain and improve the acquisition of clean water sources and sanitation. More funds are required to effectively use the existing resources to create more opportunities to make more remarkable progress. World Bank can cheap in to finance the water sector to maintain, monitor, support, and strengthen the human water resources. Some of the financial projects that can improve access to sufficient clean water sources are the building of dams, water taps, boreholes, wells, and other artificial water sources.
Additionally, strong capacity building is needed to underpin proper water governance. Lack of capacity coerces water point development and management in all surfaces, especially in some parts of Asia Sub-Saharan countries. Therefore, the nations have to strategize capacity building by increasing the vocation skills of both long and shorter periods.
Lastly, there should be a productive data acquisition to initiate good Governance in the water sector and sanitation. This element is vital for transparency, accountability, and participation among the key stakeholders in the water sector. This will help facilitate proper management for the facilitation of clean water and sanitation.
In conclusion, SDG #6 is aimed to facilitate access to clean water sources everywhere. Additionally, the UN sought to reduce clean water and sanitation, biodiversity protection, poverty alleviation, and peace generation and prosperity by 2030. However, there are still challenges that limit most of the parts of the world that restrict them from accessing clean water and sanitation. This is due to some causes like poor Governance, lack of capacity building, and financial shortages. Then the challenge ends up mainly affecting the mothers and children, leading to a low level of living standards. Therefore, there has been a suggestion of probable and cohesive strategies like an initiation of proper Governance, capacity building, and financial support that will help mitigate the challenge of acquiring clean water and sanitation.
Ibrahim, shomali & Osman, Gulseven. (2020). A Note on SDG 6 -Clean Water and Sanitation for All. 10.13140/RG.2.2.16461.38881.
Herrera, V. (2019). Reconciling global aspirations and local realities: Challenges facing the Sustainable Development Goals for water and sanitation. World Development, 118, 106–117. https://doi.org/10.1016/j.worlddev.2019.02.009
United Nations (2018). Sustainable Development Goal 6 Synthesis Report 2018 on Water and Sanitation. New York. https://sustainabledevelopment.un.org/content/documents/19901SDG6_SR2018_web_3.pdf.
GOAL 6: Clean water and sanitation . (2022, March). UNEP – UN Environment Programme. Retrieved March 21, 2022, from https://www.unep.org/explore-topics/sustainable-development-goals/why-do-sustainable-development-goals-matter/goal-6.
Asian Development Bank (2017), Asia Infrastructure Needs Exceed $1.7 Trillion Per Year, Double Previous Estimates, available from https://www.adb.org/news/asia-infrastructure-needs-exceed-17-trillion-yeardouble-previous-estimates.
Cite This Work
To export a reference to this article please select a referencing style below:
Related Essays
Electronic health records, spirituality in treating critically ill patients, kinship in anthropology, case study: the ministry of health's strategy for quality assurance and patient safety, how to soundproof a generator, summary of the article on detection technologies in covid-19 diagnosis, popular essay topics.
American Dream
Artificial Intelligence
Black Lives Matter
Bullying Essay
Career Goals Essay
Causes of the Civil War
Child Abusing
Civil Rights Movement
Community Service
Cultural Identity
Cyber Bullying
Death Penalty
Depression Essay
Domestic Violence
Freedom of Speech
Global Warming
Gun Control
Human Trafficking
I Believe Essay
Immigration
Importance of Education
Israel and Palestine Conflict
Leadership Essay
Legalizing Marijuanas
Mental Health
National Honor Society
Police Brutality
Pollution Essay
Racism Essay
Romeo and Juliet
Same Sex Marriages
Social Media
The Great Gatsby
The Yellow Wallpaper
Time Management
To Kill a Mockingbird
Violent Video Games
What Makes You Unique
Why I Want to Be a Nurse
Send us an e-mail