What are your chances of acceptance?
Calculate for all schools, your chance of acceptance, your chancing factors, extracurriculars.
Whom Should I Ask for Help with My College Essay?
←5 DIY Tips for Editing Your Own College Essays
College Essay Checklist→
Writing your personal statement may seem daunting; after all, it's the one piece that will form the core of your presentation of your character and ambitions to admissions officers. However, fear not! The good news is that you likely have many people in your life to whom you can turn for help. 
So whom should you approach for help with your essay? There is no set rule on who can or can't provide advice and assistance—as long as you are the one doing the actual writing, of course. (It's important to remember that if you don't write your own essay, the consequences can be severe .) 
Read on for a list of the type of people who might be able to help out, as well as the pros and cons of each.
Your English Teachers
Your English teachers are default choices not only because they are experts on the fundamentals of writing and grammar, but also because they are familiar with your writing style and strengths. You can ask your English teachers to proofread your essay—catch grammatical errors, spelling mistakes, typos, and awkward phrasing—as well as offer suggestions on structure and content.
Keep in mind that many of your classmates may be asking your teachers for help, too, so don't take it personally if the teacher you ask is unable to help you within the time frame you need. Thus, during peak college applications period, it is crucial to give your teachers at least 3 weeks' time to read and offer suggestions. 
You can also consider asking someone who taught you English in an earlier grade, since they are probably getting fewer requests. Or, think about asking someone who taught you a different subject, such as social studies or history. Writing is a skill required in a myriad of subjects, so it is probable that there are other teachers who are familiar with your writing and are willing to provide feedback on your essay.
Keep in mind that although they are authorities on the subject of writing, you shouldn't accept every suggestion blindly. 
Think twice about edits that render your college essay overly "academic" in tone.  Also remember that what your teachers are used to looking for in a stand-out essay is likely different from what admissions officers look for. With any content suggestions, always remember your overall message, and reflect on whether these changes would accentuate or detract from your application theme . 
Peers and Classmates
Another good option is your peers and classmates. For the personal statement in particular, they are probably more likely than teachers to gauge whether your essay is a good reflection of you and your voice. It is called the personal statement for a reason, and your essay should definitely do its best to convey who you are to a reader. 
However, they are also students who haven't been through the admissions process before, so take this fact into consideration. Contextualize their advice, and always consider whether their suggestions would change the core theme or tone of your essay. 
Your School Counselor
A bit part of the school counselor's job is to guide students through the college application process. Ideally, they should have the keenest eye on what works or doesn't work for a college essay, and what colleges generally want to see in personal statements.  
You can go to your counselor for help with interpreting a prompt if you are struggling with ideas, or for review of an essay you've already written. For school-specific essays, your guidance counselor may be able to provide input as to what specific admissions committees like to see. Do remember that your counselor is not an admissions officer, so exercise your own judgement with regards to suggestions. 
Family Members
If you have older siblings or other family members who have been through the college applications process within the past few years, they might also be a good resource for questions and other support, particularly if they applied to the same or similar colleges to the ones on your list. Since they went through the process recently, they understand what you're going through. As family members, there's probably going to more transparency; they are probably going to more direct with suggestions, and you can voice your own concerns more clearly. 
Family members who attended or were accepted to your target schools recently are the best audience. They will be able to tell you what particular qualities the school values, and what they think gave them the edge in their application. (See following section).
If they didn't apply to the schools on your list, it may be best to just treat them as another casual reader, and use this chance to catch small technical errors. If they applied more than a few years ago, also keep in mind that the process may have changed, so also take their advice with a grain of salt.
College X Alumni/Alumnae and Current Students
Graduates and current students of a particular college on your list could be one of your best resources, since they can provide the most specialized help for the school in question. These people know the culture of the college and have the best sense of what the admissions committee is looking for in a candidate. Current students may have even responded to the same prompt, and can provide advice unique to that specific essay.
If you know an alum of or current student at a college to which you are applying, it may be a good idea to reach out and ask if they can read your essay and offer any school-specific advice. If you don't know anyone affiliated with the college, consider the various networks you have at your disposal. Perhaps an alum of your high school attended that college and could offer advice. Even if you don't know these people personally, a shared connection might make them more willing to offer support. You could also check with school counselor to see if they might be able to connect you with alumni from a specific college.
Wrapping it Up
Feel free to ask multiple people to read your essay ­– it's smart to get different perspectives on your work. Regardless of whom you ask, be sure to always reflect on whether their advice changes the tone or message of your essay. You want to be sure you're preserving your unique voice and that your essays reflect who you are.
Last but not least, thank your readers! Reading your essay and giving comments takes time. A thank you note is always a nice touch as well.
How CollegeVine can help with your essays 
CollegeVine offers many resources for students at any stage of the college applications process. If you're looking for tips on mastering the essays for the particular colleges to which you are applying, check out our school-by-school essay breakdowns .
Related CollegeVine Blog Posts
Recently viewed courses
Recently viewed.
Find Your Dream School
COVID-19 Update: To help students through this crisis, The Princeton Review will continue our "Enroll with Confidence" refund policies. For full details, please click here.
Enter your email to unlock an extra $25 off an SAT or ACT program!
By submitting my email address. i certify that i am 13 years of age or older, agree to recieve marketing email messages from the princeton review, and agree to terms of use., crafting an unforgettable college essay.
Most selective colleges require you to submit an essay or personal statement as part of your application.
It may sound like a chore, and it will certainly take a substantial amount of work. But it's also a unique opportunity that can make a difference at decision time. Admissions committees put the most weight on your high school grades and your test scores . However, selective colleges receive applications from many worthy students with similar scores and grades—too many to admit. So they use your essay, along with your letters of recommendation and extracurricular activities , to find out what sets you apart from the other talented candidates.
Telling Your Story to Colleges
So what does set you apart?
You have a unique background, interests and personality. This is your chance to tell your story (or at least part of it). The best way to tell your story is to write a personal, thoughtful essay about something that has meaning for you. Be honest and genuine, and your unique qualities will shine through.
Admissions officers have to read an unbelievable number of college essays, most of which are forgettable. Many students try to sound smart rather than sounding like themselves. Others write about a subject that they don't care about, but that they think will impress admissions officers.
You don't need to have started your own business or have spent the summer hiking the Appalachian Trail. Colleges are simply looking for thoughtful, motivated students who will add something to the first-year class.
Tips for a Stellar College Application Essay
1. write about something that's important to you..
It could be an experience, a person, a book—anything that has had an impact on your life.
2. Don't just recount—reflect!
Anyone can write about how they won the big game or the summer they spent in Rome. When recalling these events, you need to give more than the play-by-play or itinerary. Describe what you learned from the experience and how it changed you.
3. Being funny is tough.
A student who can make an admissions officer laugh never gets lost in the shuffle. But beware. What you think is funny and what an adult working in a college thinks is funny are probably different. We caution against one-liners, limericks and anything off–color.
4. Start early and write several drafts.
Set it aside for a few days and read it again. Put yourself in the shoes of an admissions officer: Is the essay interesting? Do the ideas flow logically? Does it reveal something about the applicant? Is it written in the applicant's own voice?
5. No repeats.
What you write in your application essay or personal statement should not contradict any other part of your application–nor should it repeat it. This isn't the place to list your awards or discuss your grades or test scores.
6. Answer the question being asked.
Don't reuse an answer to a similar question from another application.
7. Have at least one other person edit your essay.
A teacher or college counselor is your best resource. And before you send it off, check, check again, and then triple check to make sure your essay is free of spelling or grammar errors.
Read More: 2018-2019 Common Application Essay Prompts (and How to Answer Them)
Test Your College Knowledge
How well do you understand the college admissions process? Find out with our quiz.
Take the Quiz
Explore Colleges For You
Connect with our featured colleges to find schools that both match your interests and are looking for students like you.
Career Quiz
Take our short quiz to learn which is the right career for you.
Get Started on Athletic Scholarships & Recruiting!
Join athletes who were discovered, recruited & often received scholarships after connecting with NCSA's 42,000 strong network of coaches.
Best 388 Colleges
154,000 students rate everything from their professors to their campus social scene.
SAT Prep Courses
1400+ course, act prep courses, free sat practice test & events, 1-800-2review, sat® 1400+ course, our top sat experts teach the strategies proven to have helped our students join the top 5% of test takers..
Enrollment Advisor
1-800-2REVIEW (800-273-8439) ext. 1
1-877-LEARN-30
Student Support
1-800-2REVIEW (800-273-8439) ext. 2
Partnerships
College Readiness
International
Advertising
Affiliate/Other
Enrollment Terms & Conditions
Accessibility
Cigna Medical Transparency in Coverage
Register Book
Mon-Fri 9AM-10PM ET
Sat-Sun 9AM-8PM ET
Local Offices: Mon-Fri 9AM-6PM
Mon-Fri 9AM-9PM ET
Sat-Sun 8:30AM-5PM ET
Academic Subjects
Find the Right College
College Rankings
College Advice
Applying to College
Financial Aid
School & District Partnerships
Professional Development
Advice Articles
Private Tutoring
Mobile Apps
Local Offices
International Offices
Work for Us
Affiliate Program
Partner with Us
Advertise with Us
International Partnerships
Our Guarantees
©2023 TPR Education IP Holdings, LLC. All Rights Reserved. The Princeton Review is not affiliated with Princeton University
Privacy Policy | Do Not Sell or Share My Personal Information | CA Privacy Notice | Terms of Use | Site Map
Is it ok to have someone proofread your essay?
Application process, our counselors answered:.
Absolutely! It is not okay to have someone write your essay for you or tell you what words to use to make it sound better. It has to be written in your own words and in your own voice.
Not only is it ok to have someone proofread your essay, it should be part of your planning! If you have a high school counselor who is willing to help, use him/her. If that person is too busy, try an English teacher. But those teachers are typically overloaded with reading essays, so perhaps a family member, or even a good friend. If you have a friend proofread your work, choose one who knows grammar and knows good writing conventions. Your proofreader should be able to caution you about gramatical errors, but also should be able to tell you if the essay reads clearly and logically, if it gives a true impression of you as a person and as a student, and if it is interesting.
Yes! Have someone read over your essay for errors. Don't allow them to make corrections directly, but have them provide input. You don't want to change the voice of your essay, but you can always use a second set of eyes to find mistakes in grammar, punctuation and spelling.
You better, and make sure they're an expert in grammar or someone with vast experience like one of us!
Here is my video response to the question.
It is recommended to have someone such as your English teacher, college counselor or parent proofread your final draft. Allow each of these individuals time to do a good job which means you complete the essay by the end of October. They may make valuable comments which should be incorporated in your essay. Proofreading and commenting is ok, rewriting by anyone other than the student is not.
Of course! Not only is it okay — you would be foolish not to. Great writers around the world and throughout time have solicited the input of others regarding the proofreading process. Writing the college essay is no different. Remember, however, that there is a great difference between someone else writing your essay, or writing most of it, and someone proofreading yours. Remember, the idea must be your own and the way that you express that idea through language must be your own. But having someone check your work for grammar and flow is perfectly acceptable and commonly done.
YES! YES! YES!
It is most certainly okay to have someone proofread your essay before you submit it. It is NOT okay to have someone write your entire essay for you or edit it in such a way that it takes away from your voice. However, as with writing anything, proofreading is an integral part of the writing process. You should first proofread it yourself to catch any major grammar or spelling errors, but sometimes a second set of eyes is necessary to catch minor things that you may not have noticed as the writer.
Even Santa checks twice
You should absolutely, positively have someone you trust proofread your essays – in fact, your whole application should be proofread. Details are important: mistype your address and your neighbor will get your admission letter instead of you!
Another Set of Eyes
It's always helpful to have someone proofread your essay, because another set of eyes can catch typos, grammatical errors, and other small problems in your essay. As the author of your essay, you can sometimes become blind to obvious errors because you have read it through so many times (and are probably sick of it by now)!
Having a competent proofreader can be important!
There are so many errors that are just not picked up by spell-check or grammar-check. The mistake that I found particularly amusing is the student who accidentally wrote whales when she meant to say Wales. So having someone that you trust can be key. But be careful that in their desire to assist you, that your "voice" does not get lost. You essay should sound like it was written by you- a 17 or 18 year old and not by a 40-something. And while English teachers know all the grammar rules, college essays should not sound like a book report. Boring. Personal essays showcase a more casual and creative style of writing. Don't show your essay to more then one or two individuals because if you follow everyone's advise- it could end up being weaker.
Proofreading of Essays
I would say that you must have someone proofread your essay. People don't tend to see their own spelling mistakes, typographical errors, etc. Although the content of your essay is definitely your own, and you should take responsibility for proofreading your work as you do it, it's a good idea to let several other people look at it to see if you're making yourself understood and don't have any glaring errors. Remember that the way you express yourself should and will reveal something about you to the college admissions officers.
Seek Limited Advice, But Make Sure The Essay Is Your Own
I've heard it said that a camel is a horse created by committee; each part seems reasonable on its own, but taken as a whole it seems impractical. The same situation occurs when students get too much advice on their college essays. Getting one or two trusted people to proofread is worthwhile as long as they understand their role is to point out errors and make suggestions, not rewrite your essays into their own voice. You run the risk of receiving contradictory advice when you have more people proofread. Make sure the final essay sounds like you and is representative of your best work.
It's not just OK, it's mandatory to check essays
Yes, every student needs to have someone proofread their college application essays. The best choices are teachers, counselors or a college consultant. Parents and friends can also help, but be ware that they may not catch every mistake or even know what the colleges are looking for.
Yes, in fact I suggest that you have someone proofread it. Proofreading means to search your writing for errors–typographical, grammatical and spelling mistakes.
Proofread Proofread Proofread!
Especially in this age of spell check, proofreading is critical. There is a BIG difference between someone pointing out a grammatical error and someone rewriting your paper. I'll never forget reading the essay about the girl who volunteered as a candy stripper (I do believe she meant striper)! While it made me laugh, I was not going to remember her for the right reasons. It is sooo easy to miss errors because you know what you want to say/meant to say and your eyes just make the correction automatically. Having a fresh perspective is critical if you are trying to avoid the careless mistake.
Find your spelling/grammar nut and put him/her to work!
It's crucial that your essay be free of spelling and grammar mistakes. Since you will spend hours with it, your own eyes can easily skip over errors without seeing them, even if they are obvious and something you would normally catch.
For example, you can have a grammar expert pick apart your essay to before you submit it in order to avoid spelling and grammatical mistakes.
you should and it is OK to do so
students should consider to use outside help for essay no matter what. it should go beyong the proofread.
YES. YOU should proofread your essay at least twice. A trusted friend should proofread your essay. Perhaps a teacher should proofread your essay. It is absolutely fine to have those you trust give you advice, as long as YOU are doing the writing!
It's just not OK, it's mandatory to check essays
It is not only ok, it is critical! Essays can be proofread by a teacher, parent, guidance counselor, etc. Often times we overlook errors in our own work, so the more eyes that proofread your essay, the better! In addition, it is nice to get feedback from different points of view. For example, your English teacher may be able to give you the best advice on grammatical issues where your guidance counselor can speak to the content and/or structure of the essay with regard to what the admissions office wants to see. Be open to constructive criticism and you will come away with the strongest essay possible!
Proofread Away!
Always have someone proofread you essay before you turn it in. I have heard many admission representatives tell families this. It is extremely important to have someone proofread your essay before submitting it. Ask your English teacher, or your librarian, or your counselor. Words of advice, always give the person at least two weeks to proofread your work, as their time is valuable as well.
Proofreading Is OK, but the Essay Needs to be the Applicant's
Having someone else proofread an applicant's essay is fine. There is not a writer in the world who cannot benefit from another set of eyes searching for the kinds of typos and basic grammar mistakes that are often blurred and missed in the course of countless rereading, rewriting, and editing efforts. However, outside reviewers—even parents—whose efforts go beyond that can produce an essay that is less the work of the applicant than the reviewer's. This only serves to undermine the process and raise questions about the legitimacy and integrity of the whole application. Yes, the stakes can seem high, but it is ultimately the applicant's record and work that is being evaluated and it should be theirs that is submitted as well.
Absolutely!
Almost all writers need another set of eyes to review their work. We are only human and when we do a lot of writing we may lose our ability to spot our mistakes no matter how many times we read and reread a passage. There are times when even a spell checker will not be sufficient as a proofing tool because words can be spelled correctly in your written work but the meaning may not make sense-for example: we went to there house is not picked up by the spell checker and what you meant to say was: we went to their house.
I always have one or more people proof important pieces of writing. The more important it is, the more eyeballs I get on it.
Make sure it's still you.
Not only is it OK to have someone proofread your essay, it is *highly* recommended. You should feel encouraged to have friends, family members, and teachers proofread your essay but be sure that your voice is not altered. Your essay should be grammatically correct with no spelling errors, but it should sound like *you*. Be open to suggestions that others might have, but be mindful of retaining your viewpoint and style.
Absolutely! In fact, it's recommended! A few great proofreaders are: your English teacher, guidance counselor, a member of your church or synagogue, or a tutor. Of course you can allow a family member to serve as your proofreader. However your essay should be honest and in your own voice; sometimes it can be a little difficult to have someone who is very close to you give you an objective opinion!
We can all use a second set of eyes sometimes, especially if we've been looking at the same five paragraphs over and over for months. It's fine to have someone with strong skills in grammar, spelling and usage proofread your essay for errors and typos. It's not fine to have someone write any portion of or make substantial changes to your essay. Colleges want to hear your voice and ideas and no one else's. They don't expect a publishable essay (would you really need college if you could already write a publishable essay?) but it should be highly polished, thoughtful, and very strong.
Yes, and it is expected, just as it is expected that the student will seek guidance when in college (this is what college Writing Centers are for). The proofreader can offer suggestions, but should not be writing/rewriting the essay. It always needs to be the students work and voice.
A second pair of eyes
It is always a good idea to have someone else proofread your work. All of us as we write tend to see what we intended to be written on paper and our brains fill in the missing words or thoughts. As a result, words are missing, misplaced or the thought has not accurately been completed. A novice reader to your work brings a free pair of eyes and someone who is reading your work trying to follow your argument/statement. If it isn't clear then they will not get it. Even if you re-read your work and think…"How could they not understand this…?" It doesn't matter that you think it is clear. The point is that you can run the risk with the admissions officer not getting your point either so making a more simple or clearer argument would be highly recommended. It can be challenging and tedious work but I guarantee you that you will be much happier with the end result and it will only bring your closer to your goal of successful admission to that institution!
Get someone to proofread your essay
Definitely! Have someone proofread your essay. You don't want an essay with typos or grammatical errors or an essay with the name of the wrong college.
Do not lose your voice.
Presenting a well written and grammatically correct essay is a key component to your college application. Your essay needs to be error free. When you select your proof reader politely ask them to help you with proof reading, but not re-engineering your essay.
Neither "hear" nor "their"…
Not only is it okay to have someone proofread your essay, it's highly encouraged! In fact, it's probably a good idea to have two additional sets of eyes take a look at what you've written before you hit "submit." The important thing to remember is that your essay should be just that: Yours. You shouldn't expect the person proofreading your essay to make sweeping changes to what you've written or to re-write any part of your prose. Your essay should be your voice, not that of your teachers or parents.
You don't want the admissions officer to be the one to find your typos!
It would be irresponsible not to have someone proofread any important piece of writing.
It's a mistake NOT to have someone proofread
Not only is it ok to have someone proofread your college admissions essay, it would be a mistake not to have them read it. Keep in mind, there is a difference between someone proofreading your essay for spelling and grammatical errors, and some suggestions for theme development and structure, as opposed to simply writing the essay for you.
You better, and make sure they're an expert or someone with vast experience like one of us!
Absolutely! Actually, you should have a couple of individuals to proofread your essays. You can ask your parents, teachers, friends, college counselors, and mentors. Now, there are plenty of admission coaching companies that can provide you with expert advice on your essays. Also, it may be a good idea to get a small group of classmates together and each can give feedback on each other's essays through the admission process. Nonetheless, when someone proofreads your essay, they can catch any grammatical errors, provide feedback on what you were attempting to express and what they read, and raise any red flags that could hurt your essays. With recent reports of cheating and plagiarism, it is prudent to write your own essays because admission officers want to learn about you in your own words.
It's not only okay, you should ALWAYS have someone proofread your essay. Ask someone who's a good writer, or two people if you can. Have them check for spelling errors and grammar. (Remember that spell checkers won't catch words that you didn't mean to use but that are spelled correctly — like "there" instead of "their." They also won't catch missing words. That's where humans come in handy.)
I recommend that students have all of their college essay's proofread. However, be careful not to have someone edit the essay in such a way that it no longer remains your own work. Essays are an opportunity for the school's to get an idea of who applicants are outside of their application and academic record, so feel free to let your personality shine! Students are often overwhelmed with maintaining grades from their regular school work while meeting the pressures of the college application season. Having someone review your work with a "fresh" pair of eyes never hurts!
It's ok to give your essay to somebody you trust to check out your essay on mistakes, ideas and an overall sense. But remember, even if you have such opportunity to get help and outer edit movements, your essay should stay your own essay and still reflect your own views, thoughts and feelings! Your essay is YOU in words. Not somebody else.
It's ok to give your essay to somebody you trust to check out your essay on mistakes, ideas and an overall sense. But remember, even if you have such opportunity to get help and use outer edit movements, your essay should still stay your own essay and reflect your own views, thoughts and feelings! Your essay is YOU in words. Not somebody else.
Not only is getting someone to proofread your college essay ok, it is essential. Making the little mistake (writing "then" instead of "than") or the big mistake (writing "Harvard" instad of "Yale") can leave an impression you do not want to make. An extra set of eyes to make sure you avoid the pitfalls spellcheck does not pick up on or the 5 line run-on sentence is invaluable.
Please, have someone read your essay. So many get sent in with multiple grammatical errors, poorly written style, or no personal connection with the author. I believe you can have too many editors, but please, have someone proofread your essay. English teachers are wonderful for this. Parents are often times good, but sometimes can lead you the wrong direction. English teachers know about what admission officers are looking for.
Ys. I mean Yes. It is ok to have someone proofread your essays. Proofreading, however, is not the same as editing or rewriting. The essay must be yours and in your voice. Yet there is no excuse for spelling or grammar mistakes. So have a trusted teacher or friend (ideally not a parent), proofread the essay for you. That can make a huge difference as application readers have little patience for sloppily or carelessly written essays.
A second set of eyes
It never hurts to have your writing proofread. But, whoever is doing the proofreading, should not be changing the content. They should be looking for misspellings, syntax, and grammatical errors. We know when a parent or counselor wrote the essay. Don't do that.
Definitely! Ask someone you trust to be meticulous, critical, but supportive of your original message. This is your work! Caution: don't ask too many people. Too many cooks in the kitchen can become stressful and confusing.
Yes, it is okay to have someone else proofread your essays. In fact, it's encouraged to ensure that your essays will be typo free and grammatically correct. However, the key is to proofread, not have someone write them for you. You do want the essays to sound like you; it should be your voice. There should be some consistency between the essays and interviews.
Abolsutely. Having someone proofread your essays shows you care enough about the school to not make careless mistakes. And one thing's for sure: your computer's spellcheck is not good enough. "From" and "Form" are both spelled correctly, but have vastly different meanings.
This should be mandatory!
Not only should the essay be proofread it should be read out loud.
it is necessay and very much accepted by colleges
most students would ask their English teacher to read their essay for admisisons, however, some English tutors can also read your essay for you. the important part of the essay is not so much about the grammer and style, it is the topic and inspiration of presenting yourself well in front of the admisisons counselor.
I'm going to go out on a limb and say that in my experience, parents are NOT the best source of editing or proofing a student's essay. Most parents don't really know what the admissions office is looking for, and many parents are sufficiently removed from writing that their proofing/editing skills are not helpful.
It is VERY important to have someone proofread your essays.
Short Answer:
It's more than ok–it's a must! If you type "your" instead of "you're", spell check won't catch that. It's a good idea to get someone who hasn't seen your essay to be the one who proofreads it. A typo like the one I mentioned above is the kind of thing your eye might glaze over because you've read your own essay so many times. One bad typo sends the message that you didn't put the necessary effort in your work, even if that's not true. This is the time to be meticulous!
Absolutely. You should have someone qualified both proofread and offer notes to you on your essays. It's not cheating to seek the advice and expertise of others as long as you write the essay yourself. As much as this is an important snapshot of your writing ability it's also a chance for your to engage in the writing process, which always involves editors and proofreaders. I, however, suggest you find someone who works as a professional essayist and knows what colleges are looking for. Working with practicing arts professionals has tremendous benefits, and they often know a number of quick and easy ways to take a flat essay and help you make it sing.
I'm biased, because that is what I do for a living! But I talk to admissions officers as well, and they always inists that students should have SOMEONE ELSE read their essays! Another set of eyes helps catch errors and not just the grammatical kinds. My theme as the Essay Lady is, "Your words, only better." I don't write essays for students. Not only is this plagiarism, it's actually very unfair to both you and your prospective college(s). They want to get to know you, not me! I try to help students take their own essays and make them more clear, concise, and compelling. Whenever I make suggestions for changes or revisions, I always keep that student's own voice in mind. I would not advise sending in an essay without having someone proof it first.
Scholarships
Athletic Scholarships
College-Specific Scholarships
Company-Sponsored Scholarships
Grants for College
Merit-Based Scholarships
Minority Scholarships
Our Scholarships
Scholarship Contests & Sweepstakes
Scholarships By Major
Scholarships By State
Scholarships By Type
Scholarships For Graduate Students
Scholarships For High School Students
Scholarships For Undergraduate Students
Weird Scholarships
Financial aid may be available to those who qualify. The information on this site is for informational and research purposes only and is not an assurance of financial aid.
Privacy Policy | Terms of Use | FAQs | About Us | Disclosure: "What Determines Top/Best?" | Do Not Sell My Personal Information (CA and NV residents)
Disclosure: Education Dynamics receive compensation for the featured schools on our websites (see "Sponsored Schools" or "Sponsored Listings" or "Sponsored Results"). So what does this mean for you? Compensation may impact where the Sponsored Schools appear on our websites, including whether they appear as a match through our education matching services tool, the order in which they appear in a listing, and/or their ranking. Our websites do not provide, nor are they intended to provide, a comprehensive list of all schools (a) in the United States (b) located in a specific geographic area or (c) that offer a particular program of study. By providing information or agreeing to be contacted by a Sponsored School, you are in no way obligated to apply to or enroll with the school.
The sources for school statistics and data is the U.S. Department of Education's National Center for Education Statistics and the Integrated Postsecondary Education Data System.
This is an offer for educational opportunities that may lead to employment and not an offer for nor a guarantee of employment. Students should consult with a representative from the school they select to learn more about career opportunities in that field. Program outcomes vary according to each institution's specific program curriculum.
Sponsored Meaning Explained
EducationDynamics receives compensation for the featured schools on our websites (see "Sponsored Ad" or "Sponsored Listings" or "Sponsored Results"). So what does this mean for you? Compensation may impact where the Sponsored Schools appear on our websites, including whether they appear as a match through our education matching services tool, the order in which they appear in a listing, and/or their ranking. Our websites do not provide, nor are they intended to provide, a comprehensive list of all schools (a) in the United States (b) located in a specific geographic area or (c) that offer a particular program of study. By providing information or agreeing to be contacted by a Sponsored School, you are in no way obligated to apply to or enroll with the school. Your trust is our priority. We at EducationDynamics believe you should make decisions about your education with confidence. that's why EducationDynamicsis also proud to offer free information on its websites, which has been used by millions of prospective students to explore their education goals and interests. close
FOR EDUCATORS
TRY FOR FREE
COLLEGE ADMISSIONS
CAREER DEVELOPMENT
How does someone in college admissions read your application?
by Will Geiger , on Jul 22, 2021 11:49:03 AM
The person who reads your application in a college admissions office might be a dedicated admissions officer, a faculty member, or a student or part-time essay reader. They are reading your essay in the context of your application overall.
"We read applications holistically." I said that hundreds of times per year in presentations to students, parents, and guidance counselors. "Holistic admissions" was our way of saying that admissions decisions were made in an extremely nuanced way, where we aimed to look at each student individually.
In this post, I am going to break down exactly how I read student applications when I was an admissions officer, which will give you a sense of how the process works at selective colleges. Here are the areas that I was thinking about (if you want to skip ahead):
Recommendations
What happens after the review.
Note that every college is going to review applications a little differently, but 95% of it is going to be the same! By the end of this post, you will have a solid understanding of what's going through the admissions reader's mind as they are reviewing your application!
College is, first and foremost, a place for learning. As an admissions officer, we want to make sure that you have the academic "chops" to be a successful student. When I began reading a student's application, I would first click on the student's transcript. When reviewing the student's courses and grades, there were four things I was thinking about:
Achievement | How successful has this student been in the classroom?
Challenge | Has the student challenged themselves in the context of their high school? If there were AP and honors classes offered, did they take them?
Breadth | Was the student pushing themselves across the entire academic curriculum? Generally, colleges like to see that students are taking classes in the "big 5" of math, science, social science, English, and foreign language.
Trends | Did the student improve each year in the classroom or did their grades decline?
This review process is done in the context of your high school. Every high school has something called a "school profile" which your guidance counselor will submit to colleges with your application. The school profile gives the admissions officer information about your high school curriculum and the types of opportunities offered at your high school. This helps the admissions officer understand whether you have made the most of those opportunities.
Lastly, I would also consider test scores under the broad umbrella of "academics." For the colleges that consider testing, it is certainly an important part of their process. However, if you feel like your test scores don't accurately reflect your potential, have no fear and read this post !
Takeaway for students | There is no time like the present to focus on schoolwork. Eleventh and twelfth grade are particularly important as they give students the opportunity to show a positive "upward trend" in their grades. If there was anything outside of your control that impacted your grades (such as an illness or a difficult family situation), you can explain that in the Additional Information section of the Common App. Here's more info about that. And for more info about the Common App, check out our Ultimate Guide to the Common App .
After perusing your transcript, I would go back to the beginning of the application to get a deeper understanding of the student's personal, family, and school context. This is why all applications will ask you about the different places you have lived, where your parents work, the educational backgrounds of your parents and siblings, the languages spoken in your home, and what race or ethnicity you identify as.
For instance, will you be the first in your family to go to college or do both of your parents have advanced degrees? Is English the primary language spoken in your home or is it something else?
Takeaway for students | Context helps admissions officers make sense of you as both a person and a student. Additionally, college admissions officers work to build a class of students, so they are interested in all the ways you will contribute to the community. They are looking for students with different academic and extracurricular interests as well as different life experiences, so make sure to show them who you are.
Extracurriculars
College is a community experience as well as an academic experience. This means that college admissions officers also care about the type of community member a student will be.
After reading through the first few pages of the application, I would turn to the activity section to see what the student was up to outside of the classroom. There is no magic formula to this--I was interested in whether the student was active and making an impact in their high school or community. If they were, I knew that they could be counted on to make an impact on our campus.
Takeaway for students | Whether you are working a part-time job, taking care of your siblings, volunteering, playing sports, making art, or something else, how you spend your time outside the classroom is important.
For most admissions officers, the essays are the most interesting part of the application. This is one of the few opportunities where the admissions officer gets to hear directly from the student. The best essays are based on the student's unique life experience and point of view. Essays don't have to be about the fancy (or expensive) programs or opportunities. Often, students write great essays about important everyday things. Strong essays reveal the student's authentic voice and unique world perspective through storytelling!
At Story2, we have a ton of resources related to the essay writing process, including our award-winning StoryBuilder writing platform. Sign up free today!
Takeaway for students | After grades and test scores, your essays are generally the most important part of the application. Make sure that you start your essays early and give yourself plenty of time to revise and proofread!
Last but not least are the teacher recommendations. These letters help admissions officers learn about what you are like in the classroom. Recommendations can carry a lot of weight, so choose your recommender wisely. Generally, students should ask for recommendations from two teachers as well as their college counselor. Teacher recommendations should be from eleventh or twelfth grade teachers.
Takeaway for students | Think about the teachers who know you really well, not necessarily the ones who gave you the best grades. The best recommendations will tell the admissions officer a story about what students are like in the classroom.
After reading the application, the admissions officer will write up a summary of the file and include a recommendation for the applicant. Depending on the college, a second admissions reader may also evaluate the application.
For more info about college admission and scholarship essays and interviews, sign up for self-paced courses and our award-winning StoryBuilder writing platform FREE . Want to stay up to date on the latest tips and resources? Follow us @story2 on Instagram!
Will Geiger is co-founder of Scholarships360.org. A graduate of Wake Forest and Penn, Will was previously Senior Assistant Director of Admissions at Kenyon College where he personally reviewed over 10,000 admissions applications and essays and oversaw the merit aid program; Associate Director of College Counseling at a high school in New Haven, Connecticut; and Marketing Manager at Story2.
"HirePower" (1)
accomplishment (2)
achievement (2)
application essay topics (2)
authentic voice (1)
brainstorming (2)
Careers (20)
college admission (34)
college admissions (41)
college applications (1)
college essays (23)
college interview (3)
common app (13)
communication (1)
Community (11)
discussion (1)
essay examples (1)
essay writing tips (15)
internship (2)
internships (1)
interviews (1)
juniors (1)
knowledge (2)
management (1)
moments method (2)
overwhelm (1)
preparing for college (1)
scholarships (2)
self discovery (2)
senior year (1)
seniors (1)
standardized testing (1)
storytelling (3)
strategy (1)
strengths (1)
student story (1)
students (1)
summer internship (1)
summer internships (1)
summer job (1)
summer program (1)
summer programs (1)
supplement essays (6)
what to do (1)
workplace (1)
Writing (1)
July 2021 (47)
May 2019 (5)
December 2019 (4)
March 2020 (4)
August 2016 (3)
March 2019 (3)
June 2019 (3)
July 2019 (3)
January 2020 (3)
February 2015 (2)
August 2015 (2)
April 2019 (2)
August 2019 (2)
September 2019 (2)
November 2019 (2)
February 2020 (2)
May 2021 (2)
December 2012 (1)
June 2014 (1)
January 2015 (1)
March 2015 (1)
July 2016 (1)
September 2016 (1)
May 2018 (1)
August 2018 (1)
November 2018 (1)
February 2019 (1)
October 2019 (1)
May 2020 (1)
June 2020 (1)
July 2020 (1)
September 2020 (1)
October 2020 (1)
August 2021 (1)
October 2021 (1)
June 2022 (1)
Accessibility
Terms of Use
Privacy & Cookies
What do Colleges Look For (In a College Essay)?
Special thanks to Andy Simpson for writing this post
In the long, long ago, when I first started my college applications, I felt a little lost as to what exactly I was supposed to be doing.
What were colleges looking for from me?
Luckily, I've spent many, many years since then figuring those things out. And I'd love to share them with you.
Here's what we'll cover:
The differences between a college essay an English class essay
How to show who you are through what you value
Qualities of a strong college essay
Options for structuring a personal statement/college essay
Differences between a personal statement and supplemental essays
Is the college essay the same as an English class essay?
A lot of the tools you've probably covered in English classes (like using transitions, building hooks, writing for clarity) will be useful.
But thinking of this as a typical 5 paragraph essay with the Intro/Thesis, 3-body, Conclusion/restate thesis … not so useful.
Here's a graphic to show what I mean:
So … what is it then? What are they looking for?
Before I get to what they're looking for, a couple more quick things that your college essay isn't:
It's not a resume, transcript, or list of achievements.
You've got things like the Activities List and Additional Info section for some of that. Let those things do some of the lifting.
Instead, I want you to think of your personal statement and other college essays as a way for colleges to get a sense of who you are through what values, qualities, and skills you've developed and will bring to their campus and community.
Show who you are through what you value.
To illustrate some of what I mean by the above, here are some brief About Me details:
Stanford undergrad, double major in Political Science (focus in Int'l Security) and Theater/Drama; sprinkling of Cosmology. Oxford, studying Shakespeare and British/EU politics
~16 years: College Application Consultant, Curriculum Writer
~6 Years: Adjunct Professor in Critical Thinking (logic and ethics); Poli Sci; IR; Anthropology of Media; English Comp
So, with those (very brief) details, how much do you feel like you know me?
I'm betting zero. Because those details are useful for some context concerning why I'm here talking to you about this today, but I don't think they really tell you much about me.
So how can I, in the span of a few minutes, give you a sense of who I am?
One way—and to be clear, it's not the only way, but we've found it's an important and effective way—is to show you who I am through what I value, to show you the values that drive my actions, thoughts, relationships.
Why in the span of a few minutes?
Because that's how long someone will tend to spend reading your college application.
For example, a friend of ours reads applications for the UC's. He says that, when he gets into a rhythm, he can read through an entire application (essays, activities list, etc) in about 4-5 minutes.
I'm not bringing this up to evoke anxiety, but to set a frame—when you're writing your college application, you want to do so in a way that conveys all the beautiful complexity of you in the span of a few minutes.
One of the clearest ways I know how to communicate that is through communicating values. And linking those values to specific thoughts, moments, actions.
One reason we like getting to do the work we do is that it offers us a chance to help people truly explore themselves in ways they aren't often asked to.
And that can be scary in ways. But it is also empowering.
Our society doesn't often, at least in my experience, ask us to really investigate how we came to think what we think, value what we value, believe what we believe. And to be blunt, I think that's a huge failure on our society's part. Because I think those questions are part of a well-lived life.
I think it's useful to think of the college application process as one of exploration and discovery.
So, you'll want to spend some time diving in and exploring your values. Luckily, I've got you covered here—the Values Exercise .
So values. Got it. Other important qualities they're looking for?
Show Growth.
This can come in many different forms, but I love when an essay helps me see how a student has grown through their experiences. And including growth often nudges students to include some of the next quality I'll discuss, because to show growth, we generally have to talk about how we were wrong, or didn't know something, or had to develop X quality. In short, we have to get a little vulnerable. Speaking of which...
Get Personal/Vulnerable.
Vulnerability can be a scary thing for some people. Especially since we can be culturally trained to think of vulnerability as weakness (which it isn't… I'd actually argue vulnerability takes a ton of strength).
But, again, we're looking for a way to help a total stranger get to know us in the span of 5 minutes. And vulnerability is a great way to do so. When a student opens up some about their worries, fears, or difficulties, I feel closer to them. It feels like a gift—they're bravely offering up a part of themselves. I feel like I know them, even if just a bit more.
Demonstrate Craft.
I'm going to stack a bunch of qualities under this broader heading, and discuss each one a bit.
Grammar and spelling
Really?
Yeah. Sorta.
Do remember that the people reading your college essay are also thinking about your readiness for college-level writing and work. That's why things like grammar are important—a bunch of grammar and spelling errors may make them think you didn't spend much time on this, and may not care too much. An error here or there isn't going to be a big deal (students get into great schools with essays that have mistakes all the time). But be sure to take some time to show them you care about this thing.
2. Fluidity/facility with language
A couple quick thoughts here.
One is to write similarly to how you speak. You should be able to read your essay out loud and have it feel fluid and easy. Meaning it shouldn't feel forced or overly formal or stilted.
A few things to keep in mind here.
First, don't try to demonstrate facility with language by using "big words" just for the sake of using big words. That's not what we mean here, because that doesn't help you. In fact, it might hurt you.
Think of someone you know who uses big, shiny words not because they fit the context, but because they want you to be impressed. Are you actually impressed? Or kinda' annoyed? (Or maybe even a lot annoyed?)
If I think someone is trying to use vocabulary not because it communicates clearly and effectively but instead because they think it will shift how I think of them, I'm not impressed by their intellect. Personally, I may even think less of them. (So I guess they are achieving their goal of shifting how I think of them. But I'd assume not in the way they were hoping for.)
For example, if I'm out with a friend, and that friend asks if I'd like to bifurcate a pizza, I'm not impressed. I may even question our friendship. (JK. Kinda'.)
But if that friend and I are discussing US policy during the Cold War, and they mention the bifurcated system of power … I barely even notice. The word fits the context, and flows right past, aiding in clarity.
Second, regarding "fluidity of language": generally (with an important caveat in a minute) with a college essay, you should "write how you speak." As in, you should be able to read your essay out loud and it should feel fluid (but without the usual umms and ahhs—like you've planned out what to say before speaking). For example, check out some of the sample essays here . None feel formal or stilted.
Here's that important caveat: if English isn't your first/primary language, then "write how you speak" can vary some, depending on how strong your English skills are. Essentially, show them that you're ready to do college-level writing.
This is a more focused point than a lot of the others I'm discussing, but one of the simplest, most useful lessons I ever learned about writing in English is that as go your verbs, so goes the rest of your writing. The more specific, precise, and evocative your verbs are, the stronger the rest of your writing around those verbs becomes.
Share Your Story
This can come in a few different forms, as your essay might be one bigger story about challenges you've faced (probably using Narrative Structure ), or a few different stories showing different sides of who you are (using Montage Structure ).
But either way, don't tell them a story because you think it's what they want to hear. Tell them about what matters to you, about what has shaped you.
A few important reminders:
Think from your reader's perspective (for clarity, and for engagement—if you'd be bored, they probably will be too)
Linked to this, if possible, it's a great idea to get feedback from someone with some experience with college essays, like a counselor or maybe a teacher.
Revise—some of the above qualities are things that will make it into your first draft. Sorta. But with pretty much all of them, you'll improve by revising.
Don't let a parent write/revise—admissions officers are really good at spotting this, and it will be the end of your application.
If you want to read more about this in some admissions officers' own words, you can check this out .
Personal Statement vs Supplemental Essays
For the main personal statement, don't read the prompts at first.
Wait...you're saying ignore the prompt?
Yup. For the main statement, don't worry about them.
As Brennan Barnard of The Derryfield School and Forbes put it, "The truth is, admission reviewers rarely know—or care—which prompt you are responding to. They are curious to discover what you choose to show them about who you are, what you value, and why."
I've seen plenty of students who are stymied by the main statement prompts, or who try to fit their essays into boxes that don't quite match, and thereby lose focus or voice.
One of the prompts is a catch all that effectively says, "Tell us about yourself."
So for the personal statement, just dive in.
For supplements, on the other hand, DO read the prompts.
Schools have added their respective supplements because they're hoping to learn some specific things about you. So try to show them those things.
Think of it this way: If you want to know more about me, and you ask me, "What are some of the things you love most about the outdoors?" and I respond by discussing America's current trade policy with Canada… you're probably not super-happy with my response. You're kinda confused. And you may wonder if I'm ready for college-level work.
The latter points also apply to the UC PIQs—there, I find that the prompts are useful in helping to shape content, so while it's useful to think expansively ("Leadership," for example, can be shown in many ways…), do make sure what you're writing still fits the box and helps you to check off the 14 points of comprehensive review . (As in, probably don't write about a solo experience, then try to use it for the "Leadership" prompt.)
Looking for more on how to write a college essay? Check out our ultimate guide here.
Frequently asked questions
Whom should i ask for feedback on my college essay.
Teachers and guidance counselors can help you check your language, tone, and content . Ask for their help at least one to two months before the submission deadline, as many other students will also want their help.
Friends and family are a good resource to check for authenticity. It's best to seek help from family members with a strong writing or English educational background, or from older siblings and cousins who have been through the college admissions process.
If possible, get help from an essay coach or editor ; they'll have specialized knowledge of college admissions essays and be able to give objective expert feedback.
Frequently asked questions: College admissions essays
When writing your Common App essay , choose a prompt that sparks your interest and that you can connect to a unique personal story.
No matter which prompt you choose, admissions officers are more interested in your ability to demonstrate personal development , insight, or motivation for a certain area of study.
The Common App essay is your primary writing sample within the Common Application, a college application portal accepted by more than 900 schools. All your prospective schools that accept the Common App will read this essay to understand your character, background, and value as a potential student.
Since this essay is read by many colleges, avoid mentioning any college names or programs; instead, save tailored answers for the supplementary school-specific essays within the Common App.
Most importantly, your essay should be about you , not another person or thing. An insightful college admissions essay requires deep self-reflection, authenticity, and a balance between confidence and vulnerability.
Your essay shouldn't be a résumé of your experiences but instead should tell a story that demonstrates your most important values and qualities.
When revising your college essay , first check for big-picture issues regarding your message and content. Then, check for flow, tone, style , and clarity. Finally, focus on eliminating grammar and punctuation errors .
If your college essay goes over the word count limit , cut any sentences with tangents or irrelevant details. Delete unnecessary words that clutter your essay.
If you're struggling to reach the word count for your college essay, add vivid personal stories or share your feelings and insight to give your essay more depth and authenticity.
If you've got to write your college essay fast , don't panic. First, set yourself deadlines: you should spend about 10% of your remaining time on brainstorming, 10% on outlining, 40% writing, 30% revising, and 10% taking breaks in between stages.
Second, brainstorm stories and values based on your essay prompt.
Third, outline your essay based on the montage or narrative essay structure .
Fourth, write specific, personal, and unique stories that would be hard for other students to replicate.
Fifth, revise your essay and make sure it's clearly written.
Last, if possible, get feedback from an essay coach . Scribbr essay editors can help you revise your essay in 12 hours or less.
Avoid swearing in a college essay , since admissions officers' opinions of profanity will vary. In some cases, it might be okay to use a vulgar word, such as in dialogue or quotes that make an important point in your essay. However, it's safest to try to make the same point without swearing.
If you have bad grades on your transcript, you may want to use your college admissions essay to explain the challenging circumstances that led to them. Make sure to avoid dwelling on the negative aspects and highlight how you overcame the situation or learned an important lesson.
However, some college applications offer an additional information section where you can explain your bad grades, allowing you to choose another meaningful topic for your college essay.
Here's a brief list of college essay topics that may be considered cliché:
Extracurriculars, especially sports
Role models
Dealing with a personal tragedy or death in the family
Struggling with new life situations (immigrant stories, moving homes, parents' divorce)
Becoming a better person after community service, traveling, or summer camp
Overcoming a difficult class
Using a common object as an extended metaphor
It's easier to write a standout essay with a unique topic. However, it's possible to make a common topic compelling with interesting story arcs, uncommon connections, and an advanced writing style.
Yes. The college application essay is less formal than other academic writing —though of course it's not mandatory to use contractions in your essay.
In a college essay , you can be creative with your language . When writing about the past, you can use the present tense to make the reader feel as if they were there in the moment with you. But make sure to maintain consistency and when in doubt, default to the correct verb tense according to the time you're writing about.
The college admissions essay gives admissions officers a different perspective on you beyond your academic achievements, test scores, and extracurriculars. It's your chance to stand out from other applicants with similar academic profiles by telling a unique, personal, and specific story.
Use a standard font such as Times New Roman or Arial to avoid distracting the reader from your college essay's content.
A college application essay is less formal than most academic writing . Instead of citing sources formally with in-text citations and a reference list, you can cite them informally in your text.
For example, "In her research paper on genetics, Quinn Roberts explores …"
There is no set number of paragraphs in a college admissions essay . College admissions essays can diverge from the traditional five-paragraph essay structure that you learned in English class. Just make sure to stay under the specified word count .
Most topics are acceptable for college essays if you can use them to demonstrate personal growth or a lesson learned. However, there are a few difficult topics for college essays that should be avoided. Avoid topics that are:
Overly personal (e.g. graphic details of illness or injury, romantic or sexual relationships)
Not personal enough (e.g. broad solutions to world problems, inspiring people or things)
Too negative (e.g. an in-depth look at your flaws, put-downs of others, criticizing the need for a college essay)
Too boring (e.g. a resume of your academic achievements and extracurriculars)
Inappropriate for a college essay (e.g. illegal activities, offensive humor, false accounts of yourself, bragging about privilege)
To write an effective diversity essay , include vulnerable, authentic stories about your unique identity, background, or perspective. Provide insight into how your lived experience has influenced your outlook, activities, and goals. If relevant, you should also mention how your background has led you to apply for this university and why you're a good fit.
Many universities believe a student body composed of different perspectives, beliefs, identities, and backgrounds will enhance the campus learning and community experience.
Admissions officers are interested in hearing about how your unique background, identity, beliefs, culture, or characteristics will enrich the campus community, which is why they assign a diversity essay .
In addition to your main college essay , some schools and scholarships may ask for a supplementary essay focused on an aspect of your identity or background. This is sometimes called a diversity essay .
You can use humor in a college essay , but carefully consider its purpose and use it wisely. An effective use of humor involves unexpected, keen observations of the everyday, or speaks to a deeper theme. Humor shouldn't be the main focus of the essay, but rather a tool to improve your storytelling.
Get a second opinion from a teacher, counselor, or essay coach on whether your essay's humor is appropriate.
Though admissions officers are interested in hearing your story, they're also interested in how you tell it. An exceptionally written essay will differentiate you from other applicants, meaning that admissions officers will spend more time reading it.
You can use literary devices to catch your reader's attention and enrich your storytelling; however, focus on using just a few devices well, rather than trying to use as many as possible.
To decide on a good college essay topic , spend time thoughtfully answering brainstorming questions. If you still have trouble identifying topics, try the following two strategies:
Identify your qualities → Brainstorm stories that demonstrate these qualities
Identify memorable stories → Connect your qualities to these stories
You can also ask family, friends, or mentors to help you brainstorm topics, give feedback on your potential essay topics, or recall key stories that showcase your qualities.
Yes—admissions officers don't expect everyone to have a totally unique college essay topic . But you must differentiate your essay from others by having a surprising story arc, an interesting insight, and/or an advanced writing style .
There are no foolproof college essay topics —whatever your topic, the key is to write about it effectively. However, a good topic
Is meaningful, specific, and personal to you
Focuses on you and your experiences
Reveals something beyond your test scores, grades, and extracurriculars
Is creative and original
Unlike a five-paragraph essay, your admissions essay should not end by summarizing the points you've already made. It's better to be creative and aim for a strong final impression.
You should also avoid stating the obvious (for example, saying that you hope to be accepted).
There are a few strategies you can use for a memorable ending to your college essay :
Return to the beginning with a "full circle" structure
Reveal the main point or insight in your story
Look to the future
End on an action
The best technique will depend on your topic choice, essay outline, and writing style. You can write several endings using different techniques to see which works best.
College deadlines vary depending on the schools you're applying to and your application plan:
For early action applications and the first round of early decision applications, the deadline is on November 1 or 15. Decisions are released by mid-December.
For the second round of early decision applications, the deadline is January 1 or 15. Decisions are released in January or February.
Regular decision deadlines usually fall between late November and mid-March, and decisions are released in March or April.
Rolling admission deadlines run from July to April, and decisions are released around four to eight weeks after submission.
Depending on your prospective schools' requirements, you may need to submit scores for the SAT or ACT as part of your college application .
Some schools now no longer require students to submit test scores; however, you should still take the SAT or ACT and aim to get a high score to strengthen your application package.
Aim to take the SAT or ACT in the spring of your junior year to give yourself enough time to retake it in the fall of your senior year if necessary.
Apply early for federal student aid and application fee waivers. You can also look for scholarships from schools, corporations, and charitable foundations.
To maximize your options, you should aim to apply to about eight schools:
Two reach schools that might be difficult to get into
Four match schools that you have a good chance of getting into
Two safety schools that you feel confident you'll get into
The college admissions essay accounts for roughly 25% of the weight of your application .
At highly selective schools, there are four qualified candidates for every spot. While your academic achievements are important, your college admissions essay can help you stand out from other applicants with similar profiles.
In general, for your college application you will need to submit all of the following:
Your personal information
List of extracurriculars and awards
College application essays
Transcripts
Standardized test scores
Recommendation letters.
Different colleges may have specific requirements, so make sure you check exactly what's expected in the application guidance.
You should start thinking about your college applications the summer before your junior year to give you sufficient time for college visits, taking standardized tests, applying for financial aid , writing essays, and collecting application material.
Yes, but make sure your essay directly addresses the prompt, respects the word count , and demonstrates the organization's values.
If you plan ahead, you can save time by writing one scholarship essay for multiple prompts with similar questions. In a scholarship tracker spreadsheet, you can group or color-code overlapping essay prompts; then, write a single essay for multiple scholarships. Sometimes, you can even reuse or adapt your main college essay .
You can start applying for scholarships as early as your junior year. Continue applying throughout your senior year.
Invest time in applying for various scholarships , especially local ones with small dollar amounts, which are likely easier to win and more reflective of your background and interests. It will be easier for you to write an authentic and compelling essay if the scholarship topic is meaningful to you.
You can find scholarships through your school counselor, community network, or an internet search.
A scholarship essay requires you to demonstrate your values and qualities while answering the prompt's specific question.
After researching the scholarship organization, identify a personal experience that embodies its values and exemplifies how you will be a successful student.
A standout college essay has several key ingredients:
A unique, personally meaningful topic
A memorable introduction with vivid imagery or an intriguing hook
Specific stories and language that show instead of telling
Vulnerability that's authentic but not aimed at soliciting sympathy
Clear writing in an appropriate style and tone
A conclusion that offers deep insight or a creative ending
While timelines will differ depending on the student, plan on spending at least 1–3 weeks brainstorming and writing the first draft of your college admissions essay , and at least 2–4 weeks revising across multiple drafts. Don't forget to save enough time for breaks between each writing and editing stage.
You should already begin thinking about your essay the summer before your senior year so that you have plenty of time to try out different topics and get feedback on what works.
Your college essay accounts for about 25% of your application's weight. It may be the deciding factor in whether you're accepted, especially for competitive schools where most applicants have exceptional grades, test scores, and extracurricular track records.
In most cases, quoting other people isn't a good way to start your college essay . Admissions officers want to hear your thoughts about yourself, and quotes often don't achieve that. Unless a quote truly adds something important to your essay that it otherwise wouldn't have, you probably shouldn't include it.
Cliché openers in a college essay introduction are usually general and applicable to many students and situations. Most successful introductions are specific: they only work for the unique essay that follows.
The key to a strong college essay introduction is not to give too much away. Try to start with a surprising statement or image that raises questions and compels the reader to find out more.
The introduction of your college essay is the first thing admissions officers will read and therefore your most important opportunity to stand out. An excellent introduction will keep admissions officers reading, allowing you to tell them what you want them to know.
If you're struggling to reach the word count for your college essay, add vivid personal stories or share your feelings and insight to give your essay more depth and authenticity.
Most college application portals specify a word count range for your essay, and you should stay within 10% of the upper limit to write a developed and thoughtful essay.
You should aim to stay under the specified word count limit to show you can follow directions and write concisely. However, don't write too little, as it may seem like you are unwilling or unable to write a detailed and insightful narrative about yourself.
If no word count is specified, we advise keeping your essay between 400 and 600 words.
In your application essay , admissions officers are looking for particular features : they want to see context on your background, positive traits that you could bring to campus, and examples of you demonstrating those qualities.
Colleges want to be able to differentiate students who seem similar on paper. In the college application essay , they're looking for a way to understand each applicant's unique personality and experiences.
You don't need a title for your college admissions essay , but you can include one if you think it adds something important.
Your college essay's format should be as simple as possible:
Use a standard, readable font
Use 1.5 or double spacing
If attaching a file, save it as a PDF
Stick to the word count
Avoid unusual formatting and unnecessary decorative touches
There are no set rules for how to structure a college application essay , but these are two common structures that work:
A montage structure, a series of vignettes with a common theme.
A narrative structure, a single story that shows your personal growth or how you overcame a challenge.
Avoid the five-paragraph essay structure that you learned in high school.
Campus visits are always helpful, but if you can't make it in person, the college website will have plenty of information for you to explore. You should look through the course catalog and even reach out to current faculty with any questions about the school.
Colleges set a "Why this college?" essay because they want to see that you've done your research. You must prove that you know what makes the school unique and can connect that to your own personal goals and academic interests.
Depending on your writing, you may go through several rounds of revision . Make sure to put aside your essay for a little while after each editing stage to return with a fresh perspective.
When revising your college essay , first check for big-picture issues regarding message, flow, tone, style , and clarity. Then, focus on eliminating grammar and punctuation errors.
Include specific, personal details and use your authentic voice to shed a new perspective on a common human experience.
Through specific stories, you can weave your achievements and qualities into your essay so that it doesn't seem like you're bragging from a resume.
When writing about yourself , including difficult experiences or failures can be a great way to show vulnerability and authenticity, but be careful not to overshare, and focus on showing how you matured from the experience.
First, spend time reflecting on your core values and character . You can start with these questions:
What are three words your friends or family would use to describe you, and why would they choose them?
Whom do you admire most and why?
What are you most proud of? Ashamed of?
However, you should do a comprehensive brainstorming session to fully understand your values. Also consider how your values and goals match your prospective university's program and culture. Then, brainstorm stories that illustrate the fit between the two.
In a college application essay , you can occasionally bend grammatical rules if doing so adds value to the storytelling process and the essay maintains clarity.
However, use standard language rules if your stylistic choices would otherwise distract the reader from your overall narrative or could be easily interpreted as unintentional errors.
Write concisely and use the active voice to maintain a quick pace throughout your essay and make sure it's the right length . Avoid adding definitions unless they provide necessary explanation.
Use first-person "I" statements to speak from your perspective . Use appropriate word choices that show off your vocabulary but don't sound like you used a thesaurus. Avoid using idioms or cliché expressions by rewriting them in a creative, original way.
If you're an international student applying to a US college and you're comfortable using American idioms or cultural references , you can. But instead of potentially using them incorrectly, don't be afraid to write in detail about yourself within your own culture.
Provide context for any words, customs, or places that an American admissions officer might be unfamiliar with.
College application essays are less formal than other kinds of academic writing . Use a conversational yet respectful tone , as if speaking with a teacher or mentor. Be vulnerable about your feelings, thoughts, and experiences to connect with the reader.
Aim to write in your authentic voice , with a style that sounds natural and genuine. You can be creative with your word choice, but don't use elaborate vocabulary to impress admissions officers.
Admissions officers use college admissions essays to evaluate your character, writing skills , and ability to self-reflect . The essay is your chance to show what you will add to the academic community.
The college essay may be the deciding factor in your application , especially for competitive schools where most applicants have exceptional grades, test scores, and extracurriculars.
Some colleges also require supplemental essays about specific topics, such as why you chose that specific college . Scholarship essays are often required to obtain financial aid .
Ask our team
Want to contact us directly? No problem.  We  are always here for you.
Email [email protected]
Start live chat
Call +1 (510) 822-8066

Our team helps students graduate by offering:
A world-class citation generator
Plagiarism Checker software powered by Turnitin
Innovative Citation Checker software
Professional proofreading services
Over 300 helpful articles about academic writing, citing sources, plagiarism, and more
Scribbr specializes in editing study-related documents . We proofread:
PhD dissertations
Research proposals
Personal statements
Admission essays
Motivation letters
Reflection papers
Journal articles
Capstone projects
The Scribbr Plagiarism Checker is powered by elements of Turnitin's Similarity Checker , namely the plagiarism detection software and the Internet Archive and Premium Scholarly Publications content databases .
The Scribbr Citation Generator is developed using the open-source Citation Style Language (CSL) project and Frank Bennett's citeproc-js . It's the same technology used by dozens of other popular citation tools, including Mendeley and Zotero.
You can find all the citation styles and locales used in the Scribbr Citation Generator in our publicly accessible repository on Github .
Admission Essay
Statement of Purpose
Personal Statement
Recommendation Letter
Motivation Letter
Cover Letter
Supplemental Essay
Letter of Continued Interest
Scholarship Essay
Role Model Essay
Our Editors
College Admission Essay Examples
College Cover Letter Examples
College Personal Statement Examples
Graduate Personal Statement Examples
Graduate Statement of Purpose Examples
MBA Essay Examples
MBA Personal Statement Examples
MBA Resume Examples
MBA Recommendation Letter Examples
Medical School Personal Statement Examples
Medical School Recommendation Letter Examples
Pricing Plans
Public Health
Dissertation
Research Paper
Academic Editing
Motivation letter
Letter of Recommendation
College Admission Essay: Who And How Will Judge Your Paper?
EssayEdge > Blog > College Admission Essay: Who And How Will Judge Your Paper?
Who are the admissions officers? They're usually staff, professors, and students who have been selected to choose the individuals from a sea of applicants who have the greatest potential to both contribute to the school and receive the greatest benefit from the school's programs. Briefly speaking, an admission officer is a person who reads college applications.
And yes, they will be judging you. But not nearly as harshly as you might think. Admissions officers are people, too. And they wouldn't choose a job where they read tens of essays every day and perhaps hundreds (or even over 1000) college application essays across a season if they did not have a real interest in the individual applicants who are applying to their programs.
Test scores, transcripts, and lists of accomplishments can be boring and bland. After a while, one just blends into another. However, the college application essay is where the admissions officers get to meet you. And they are as eager to do this as you are. They are working to craft a group of students who are not just the best qualified, but the ones that have the greatest potential to distinguish themselves at the university.  For this reason, your application essay for college admission is the aspect of your application that is most helpful to the admissions committee.
College Application Essays Show that You Belong
In the past, there were only a handful of prestigious universities. However, over the past 20 years, smaller schools have been working to build great programs and, in turn, their reputations. And they've done this by shaping their image through inviting professors and students who have certain qualities to their programs. For this reason, your college application essay must reflect this to catch the eye of the admissions officers.
Even as more and more schools are using centralized application systems, you can reflect this in your college application essays. Are you looking for a bigger program that has numerous opportunities in a large city? Do you prefer an insular, 'college town' environment so that you're focused on your studies? Don't be shy about stating directly what you want.
And this is a mistake that many applicants make in the hope that some program – any program – will pick them. That's a style of thinking that is your surest path to receiving a stack full of letters stating, "Thank you for your application." In this new era, there is more work to do in selecting the right school for you. However, it is also a time of great opportunity to have a college experience that is tailored to you as an individual and will give you the experiences and skills that you need to be successful in the real world.
How Your College Application Essay is Used
How a Weak College Application Essay can Hurt Your Chance of Admission
How a Great College Application Essay can Increase Your Chance of Admission
How do Admissions Officers Read Applications? What Topic to Choose?
As an applicant, you're supposed to know the application requirements. Now you know how your paper will be assessed, and who will do it. Nothing should prevent you from writing a good admission essay. However, when you see the opportunity to get help, don't hesitate to use it. If you aren't good at editing, trust it to our college essay revision service.
Need help? Check out EssayEdge editing services:

Popular Posts
June 2, 2022 by EssayEdge How To Start a Scholarship Essay: Catch Reader's Attention Fast
May 16, 2022 by EssayEdge My Role Model Essay: A Few Ways to Elaborate on The Subject
May 3, 2022 by EssayEdge How To Start a Personal Statement? | Writing Tips and Samples
Recent Posts
March 1, 2023 by alexeykhoroshun Questions to Ask In a College Interview
January 30, 2023 by EssayEdge How to Write a Hook For a College Essay + [Examples]
September 6, 2022 by EssayEdge Best Universities for Highest Graduate Starting Salaries
©2023 Student Media LLC. All rights reserved.
EssayEdge: Essay Editing & Proofreading Service.
Our mission is to prepare you for academic and career success.
Log In
Sign Up
Forgot password
Unable to log in? Please clear your browser's cache and then refresh this page and try again
Reset password Please enter your email address to request a password reset.

Check your email We've just sent a password reset link to your email.
This information is used to create your account

Resources / Getting In
Do's and Don'ts for College Essays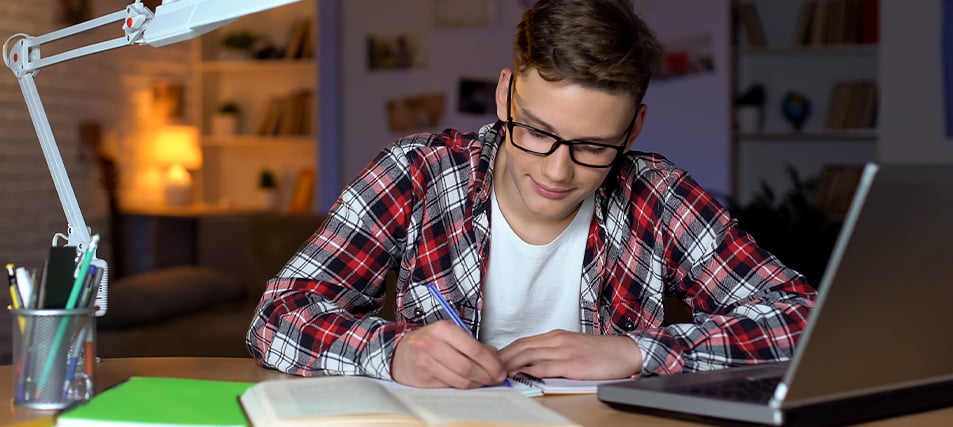 By Matt Musico
Writing your college essay can be a huge hurdle to jump over in completing your college applications. It can also create a ton of stress because you want to put your best foot forward to the admissions officers who will read it. Before you sit down to start writing, keep the following tips in mind.
Do: Be Honest
Don't: try to impress.
Every single year, multiple students ask me what kind of topic would impress a college admissions office. And, every single year, my answer is the same: what will impress them is whatever story you're most excited to tell.
Entering the college essay-writing process by choosing a topic you think will look impressive is not necessarily going to make it stand out in a pile of applications while they're getting evaluated. What college admissions offices truly want to see is a slice of your personality. It's one of the very few places in an application where you get to show who you are and what experiences have shaped your current mindset/trajectory in life.
It may be easier for students to share honest stories about themselves when they learn how admissions officers use a college essay during the evaluation process. The essay is an opportunity for admission officers to get a sense of how your personality would fit socially on their specific campus. Knowing what they do about the institution they work for; they use essays to gauge how well you'd assimilate and contribute to student life.
The easiest way for admissions officers to get an accurate picture of you is to show your true self – not what you think they want to read about.
Do: Own Your Story
Don't: speak in clichés.
You may have heard about common college essay clichés. Whether it's how sports taught you about the importance of teamwork or how traveling to another country broadened your horizons, admissions counselors have seen them all, multiple times over.
During peak application season, application readers can view as many as 50 applications per day. If you want to ensure that your essay falls into the large pile of essay topics they've seen before, include a cliché or two while you're trying too hard to impress.
The best way to make an essay unique is to tell your story in a way nobody else can. You can do this by including thoughtful details and personal insights, which include your own thoughts, feelings, and reactions to the specific examples you plan on writing about. This way, it'd be difficult for anyone else to tell the story the way you just did – even if they experienced the same exact thing.
A great way to find out whether you have enough detail in a story or not is to read it over and be honest. There's nothing wrong with saying for example, that being an athlete taught you about the value of teamwork. But anybody can say such a thing. Add why and how you realized this to make your essay more personal. If you ask yourself, "Can anyone else tell this story the way I just told it?" and the answer is yes, then you need more detail.
If you're unable to do that, you may have to find a different story to tell.
Do: Share New Information
Don't: turn it into a cover letter.
As I said before, there aren't many places in a college application to showcase your personality. Outside of the essay, the only other opportunities are the descriptions of your extracurricular activities, and if a school asks for it, additional essay questions or writing supplements. With so few places to show off who you are, it's important to take advantage by sharing new information with each chance you get.
This is not to say you shouldn't write about activities you've mentioned elsewhere in your application. If being a baseball player or being in the theater club is truly important to you, it's okay to write about those experiences in your essay. But remember that you've already mentioned it elsewhere in your application, so discussing it again means you'll need to dig into new details about your experiences to show a reader why they're so special to you (this is where owning your story comes in handy).
Keeping that in mind, your essay isn't the place to list and discuss all your greatest accomplishments during the last three-plus years of high school. Other parts of your application should highlight the great things about you and what you can bring to a college campus. Your essay shouldn't sound like a cover letter, trying to convince admissions officers why they should accept you.
There are three pillars of fit that admission counselors are mindful of when evaluating applications: academic, extracurricular, and social. By the time they get to your essay, they have a sense of the first two, but not the last one.
Do: Sound Like Yourself
Don't: use a thesaurus to sound like someone else.
A lot of the stress behind college essays for my students comes from the fact that it's an unfamiliar assignment. Over the years, they've been told that their English papers need to have one introduction paragraph and one conclusion paragraph, to write formally (which can include avoiding contractions), and to stay away from using first-person language. None of that is required for a college admission essay. Instead, admissions officers encourage students to be themselves and use a conversational tone. What does that mean, though?
Your essay shouldn't look like a text message conversation you're having with a group of friends. To nail down this "conversational tone," think of a high school teacher you like and respect. How would you speak to them? Use that tone in your essay (which typically ends up being friendly, yet respectful). You're not trying to get a good grade on this essay. It's supposed to be about you, which will help admissions officers get a sense of who you are. The only way for this to happen is to simply be you, and if your essay sounds like it was written by a teenager about to head off to college, that's perfect because that's exactly where you are in life right now. Don't use a thesaurus to inject a bunch of fancy words because it will come off as unnatural if you typically don't use them.
I've always viewed college applications in two different parts: the paper side and the human side. The paper side is where students should aim to look "impressive" since this includes your transcript, test scores (if submitted), and extracurricular activities. The human side is everything else, which includes letters of recommendation and your essay.
Admissions officers get a sense of your qualifications by looking at the paper side of your application. They get a sense of the person behind those qualifications by looking at the human side of your application. Use the essay to your advantage to show colleges the type of person they'd be getting on campus if they accept you.
Matt Musico is a full-time sportswriter, but he's also spent the better part of a decade working in higher education. Half of that time was spent working in an undergraduate admissions office, while the other half has involved working with high school families as a private college counselor.
The views, thoughts, and opinions expressed in this article belong solely to the author, and not necessarily to CollegeData, 1st Financial Bank USA or any other person or entity. All liability with respect to actions taken or not taken based on the contents of this article are hereby expressly disclaimed.
Related Articles
5 things to know about selective college admission in 2022.

5 Things to Know about Selective College Admission in 2022
Spread the Knowledge. Share:
College admissions has...
9 Personality and Character Traits Colleges Look for in Applicants

Colleges want to see more than...
We try to make content available to you on CollegeData.com that you may find helpful. The content may include articles, opinions and other information provided by third parties. If we can reasonably fact check articles provided by third parties and information used in those articles, we will. However, opinions of third parties are their own, and no fact checking is possible. The content on CollegeData.com may not apply to you or your situation. We recommend that you refrain from acting or not acting on the basis of any content contained on CollegeData.com without consulting with your parents, high school counselors, admissions representatives or other college counseling professionals. We will not be liable for the content on CollegeData.com or your actions based on any content on CollegeData.com.