How to Teach Argument and Claims
I think almost every teenager knows how to argue.
At least, that has been my experience with my personal teenager and the 1,000+ I have taught throughout the years.
However, when they are asked to locate an argument in a text, they are suddenly not the experts we thought they were.
Here are the 4 steps (plus a bonus ) I use to teach my students the basics of how to identify and analyze arguments and claims.
Step 0: Vocabulary
It is essential that everyone has the same understanding of key vocabulary words so this is always the foundation of my lesson.
For this unit, students need to know and understand - Argument, Claim, Relevant Evidence, Counterclaim, Rebuttal, and Credible.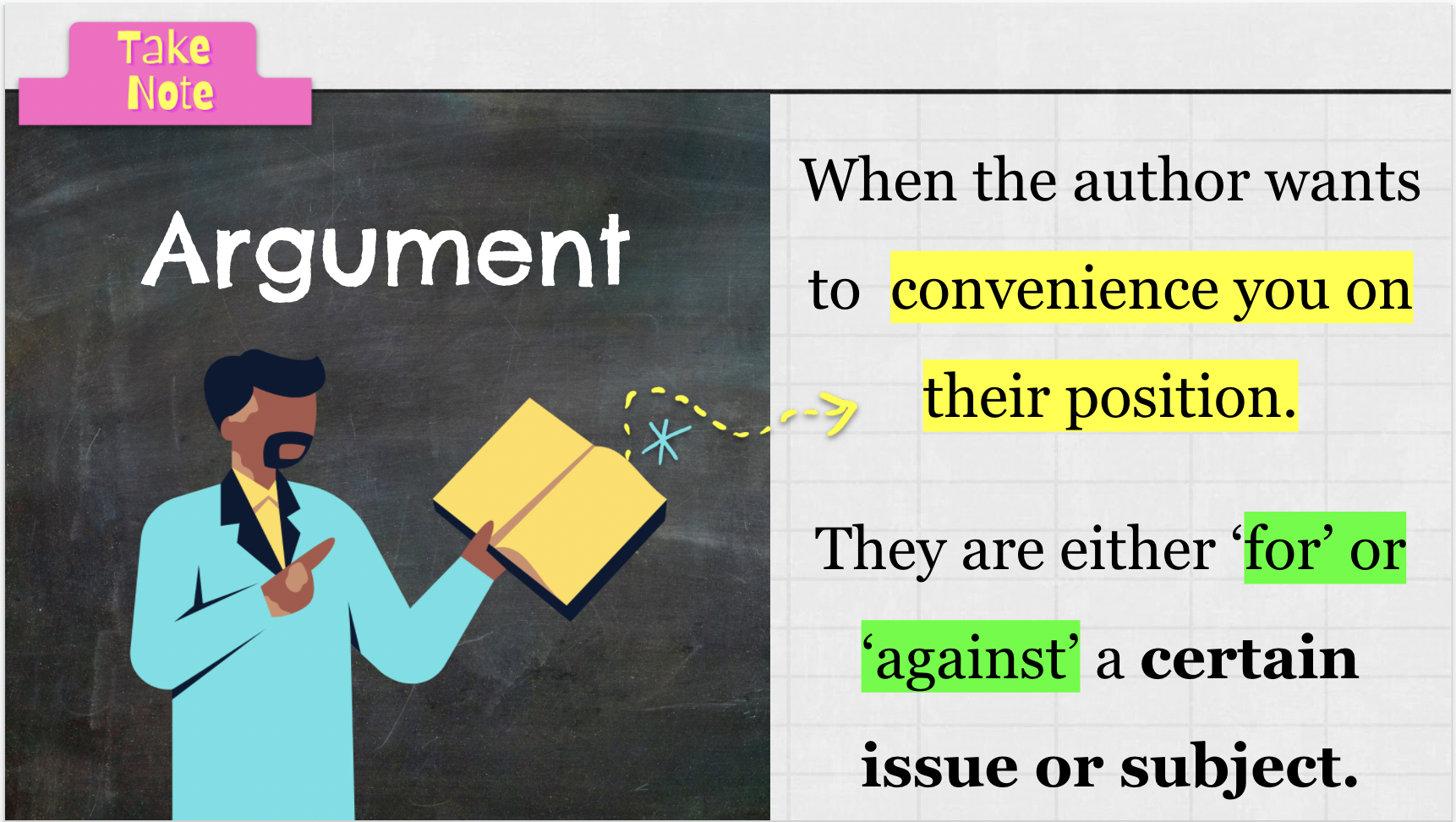 Vocab Teaching Tip:
I have found that if students engage with the vocabulary words before I give them the fancy language arts definitions, then they are more likely to remember and connect with the concepts. It's kind of like priming the pump.
Before we start the mini-lesson, I have my students complete a quick matching activity with their table groups. Each group is given an envelope with cards that have the vocabulary word, the definition, and characteristics. Students work together for five minutes to try and make matches. When the timer goes off, we check their matches with the fancy definitions on the Google Slides.
The matching activity makes them invested in learning the definitions. If you would like this matching activity, it's yours! Just fill out the form on the right to get your Google Slides copy.
Now that we have a solid foundation, it's time to teach students how to break down an argumentative essay. When teaching this, I start with a high interest text that I can use to model my thinking. Newsela has a great article about pizza making kids obese that I use with my mini lesson or you can quick Google search for examples of argumentative essays.
Step 1: Claim It!
Because we put the time in with the vocabulary section, students already know that the claim is the author's main point. The first step for breaking down the argumentative text should be identifying that claim.
When I am modeling this for my students, I read the first paragraph out loud and say, "As a good reader, I'm thinking to myself, what does the author believe to be true? " From there, I walk students through my thinking process of what I know based on what I read.
I ask my students to scan the first paragraph to see if they can find a sentence that clearly states what the author believes to be true and place their finger under the sentence. When I see all of the students have their finger on a sentence, I highlight the thesis statement that contains the claim. I ask my students to raise their hand if they had the same sentence as I did. Most of the time, everyone raises their hand. Doing this step is a shot of confidence for students when they are just starting out with this concept.
Side note - I always make sure they know they do not have to agree with the author. We are just identifying what the author believes to be true.
Step 2: Back it up and Work It!
(This is totally a Lil Tecca reference that might not be the most appropriate for your students - you might want to stick with Back it Up. 😂)
Now it's time to dissect the meat of the paper!
I tell my students that what makes an argumentative paper different from an opinion piece is the key arguments and evidence. Authors can not just throw a claim out there and not back it up with some reasons. It is our job as top-notch analytical readers to pick out the key arguments and determine if the evidence fully supports the argument.
When we first do this together, I read the first two body paragraphs and model my thinking. I say, "As a good reader, I'm thinking, WHY does the author believe their claim and HOW did they back it up?" I ask for their input and show them how to circle the key argument and underline the supporting evidence.
For the last body paragraph, I read it aloud and have the students work with their table groups to identify the key argument and supporting evidence.
After we read the body paragraphs, we go back to the evidence we underlined. If we determine it's relevant and credible, we put a checkmark next to it. If we have mostly checks, then we know the author can be trusted.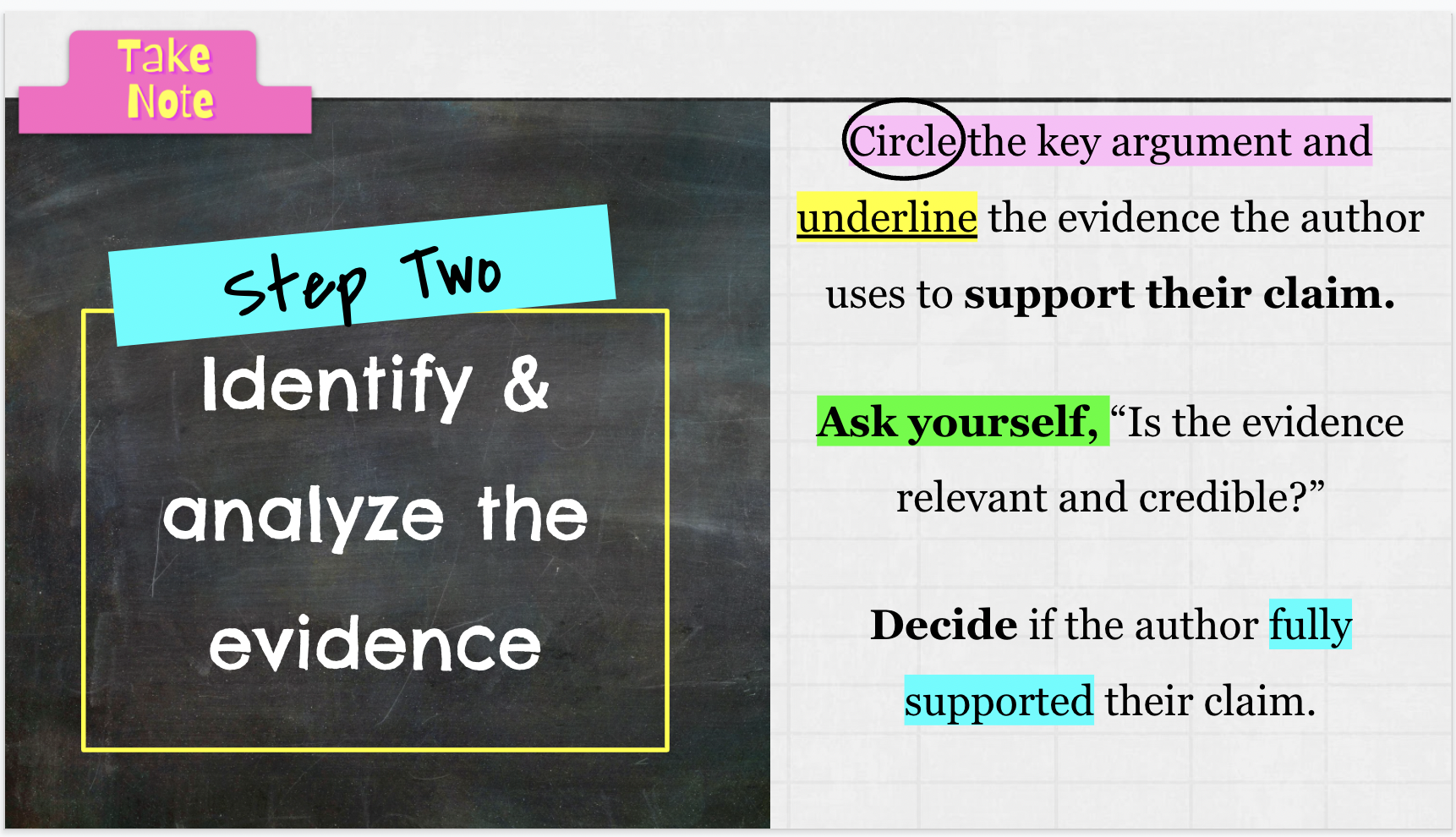 Step 3: Take me to the other side
After we read the text, I ask, "Did the author acknowledge and address what 'the other side' might say about their position?"
I set the timer for three minutes and have the partner groups go back to find where the author discussed "the other side."
When they find it, I have them put an "x" next to it. I'm usually walking around during this part so I can easily check in with each group and make sure they are on task. If there are groups that are struggling, I have them look at the signal words that we learned about in our vocabulary section.
After I notice most of the class has marked the counterclaim, I go back to modeling. I mark the counterclaim with an "x" on my paper and then show them how to circle reasons and evidence the author provides in response to show their viewpoint is superior.
This is a great time to set the timer for three minutes and have students turn and talk about WHY the author included another perspective in their writing. Allow time to share thoughts and ideas.
Step 4: A Closer Look
I think looking at the text and determining the tone is super important. It can help the reader determine the author's purpose. With that in mind, our final step is to look for words and phrases the author uses to appeal to the audience's emotions and to identify descriptive language or imagery included that creates a certain mood. We put a box around these words and phrases and write in the margins about the effect.
After I model how to annotate with the four steps, I allow students to practice breaking down an argumentative text with a partner and then independently before we move on to application activities.
Before you get going, let your students know that this is not a one and done type of activity. This is a deep dive into a concept, so they are going to read the paragraphs more than one or two times in order to really be able to analyze the text.
A lot of times, managing expectations will help with student behavior and attitude.
Resources I Use to Teach Arguments and Claims
Ideas, Inspiration, and Giveaways for Teachers
We Are Teachers
Making a Claim: Teaching Students Argument Writing Through Close Reading
We know students in the middle grades can make an argument to throw a pizza party, to get out of detention or to prove a point. So, why do they find it hard to craft strong arguments from text? The […]
We know students in the middle grades can make an argument to throw a pizza party, to get out of detention or to prove a point. So, why do they find it hard to craft strong arguments from text? The skill of argumentative or persuasive writing is a skill that's easier said than done.
Close reading naturally lends itself to teaching argumentative writing. To be sure, it's not the only way to culminate a close-reading lesson, but as students read, reread and break down text, analyzing author's arguments and crafting their own can come naturally.
Argumentative writing isn't persuasion, and it's not about conflict or winning. Instead, it's about creating a claim and supporting that claim with evidence. For example, in this set of writing samples from Achieve the Core , fifth grade students read an article about homework and wrote an argument in response to the question How much homework is too much? One student wrote the claim: I think that students should have enough homework but still have time for fun. Students in third grade should start having 15 minutes a night and work up to a little over an hour by sixth grade. The student goes on to support her claim with evidence from the article she read. It builds responsibility and gives kids a chance to practice.
Here are four ways to build your students' ability to write arguments through close reading.
Choose Text Wisely
I don't think I can say it enough: The most important part of planning close reading is choosing the text . If you want students to be able to create and support an argument, the text has to contain evidence—and lots of it. Look for texts or passages that are worth reading deeply (read: well written with intriguing, worthwhile ideas) and that raise interesting questions that don't have a right or wrong answer.
PEELS: Help Students Structure Their Arguments
Before students can get creative with their writing, make sure they can structure their arguments. In the PEELS approach, students need to:
Make a point.
Support it with evidence (and examples).
Explain their evidence.
Link their points.
Maintain a formal style.
Check out this Teachers Pay Teachers resource (free) for an explanation and graphic organizer to use with students.
Provide Time for Collaboration
When students are allowed to talk about their writing, they craft stronger arguments because they're provided time to narrow and sharpen their ideas. In his book, Translating Talk Into Text (2014) Thomas McCann outlines two types of conversation that help students prepare to write.
Exploratory discussions: These small-group discussions provide space for students to find out what others are thinking and explore the range of possibilities. These conversations should happen after students have read closely, with the goal of building an understanding of what ideas or claims are present within a text.
Drafting discussions: After students have participated in exploratory discussion, drafting discussions are a chance for students to come together as a whole group to share and refine their ideas. Drafting discussions start by sharing arguments that students discussed in the exploratory discussions, then provide time for students to explore the arguments and challenge one another. The goal is for students to end the discussion with a clear focus for their writing.
The Incredible Shrinking Argument: Help Students Synthesize
Once students are writing, probably the biggest challenge becomes whittling an argument down to the essentials. To help students do this, have them write their argument on a large sticky note (or in a large text box). Then, have them whittle it twice by revising it and rewriting it on smaller sticky notes (or text boxes) to get the excess ideas or details out. By the time they're rewriting it on the smallest sticky note (or textbox), they'll be forced to identify the bones of their argument. (See The Middle School Mouth blog for more on this strategy.)
Samantha Cleaver is an education writer, former special education teacher and avid reader. Her book, Every Reader a Close Reader, is scheduled to be published by Rowman and Littlefield in 2015. Read more at her blog www.cleaveronreading.wordpress.com .
Samantha Cleaver, PhD, has taught everything from kindergarten to 8th grade special education. She loves to write about her favorite thing to do, read!
You must be logged in to post a comment.
Words with Friends Cheat
Wordle Solver
Word Unscrambler
Scrabble Dictionary
Anagram Solver
Wordscapes Answers
Make Our Dictionary Yours
Sign up for our weekly newsletters and get:
Grammar and writing tips
Fun language articles
#WordOfTheDay and quizzes
By signing in, you agree to our Terms and Conditions and Privacy Policy .
We'll see you in your inbox soon.
What Is a Claim in Writing? Examples of Argumentative Statements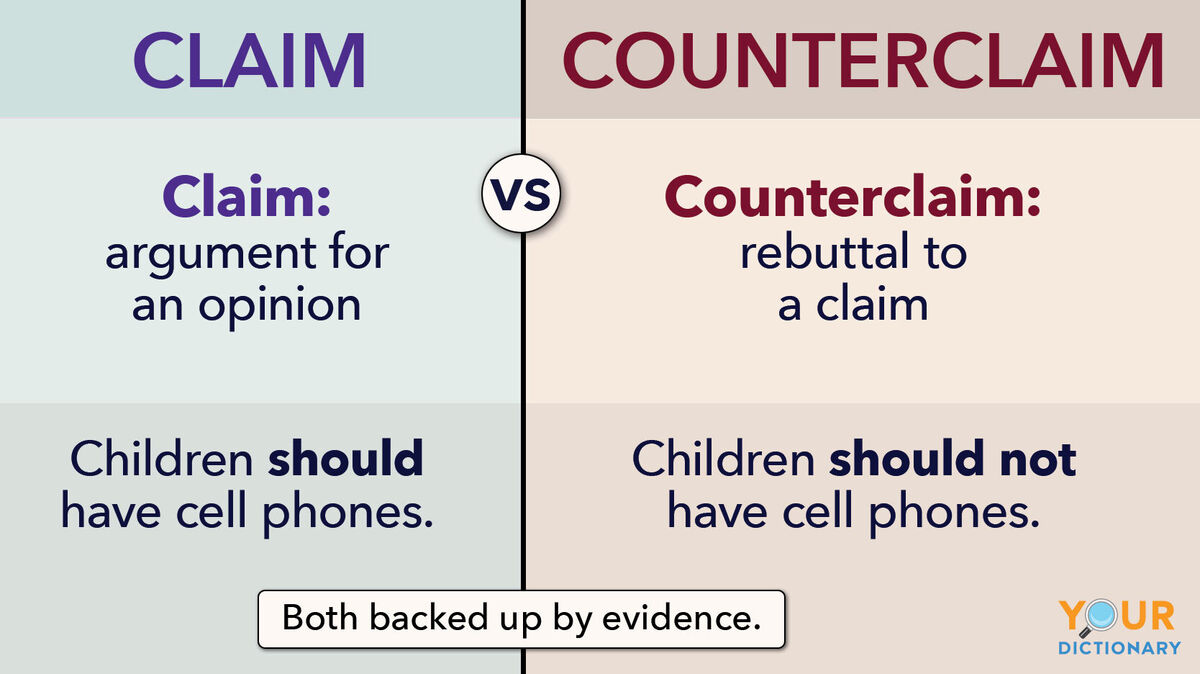 DESCRIPTION argumentative statements of claim and counterclaim examples
SOURCE Created by Lindy Gaskill for YourDictionary
PERMISSION Copyright YourDictionary, Owned by YourDictionary
Are you wondering, "What is a claim in writing?" When you make an argument in writing and back it up with supporting evidence, you are making a claim. Claims are very common in research papers and certain types of essays.
Making Claims in Writing
Making a claim in your writing allows you to present the main idea of the document in the form of an argument that you will support with evidence throughout the document. A claim statement is a type of thesis statement in which you present the main idea of what you are writing in the form of an argument. Think of claims like a thesis statement in the form of an argument.
Claims are matters of opinion, but they are stated as if they are facts and backed up with evidence.
Any time you make a debatable statement in writing that is backed up with facts and/or other types of evidence, you are using a claim.
Statement vs. Claim Example
Argumentative claims don't have to be complex, but they do have to be more than just a fact-based statement that is obviously true. Instead, claims should be statements that are up for debate. As a writer, your goal is to effectively argue in favor of your claim. Review the examples below to develop a better understanding of what is a claim in an essay.
statement - If you open an essay by stating, "I own a cell phone," this is not an example of a claim in writing. Assuming that you do, in fact, own a cell phone, this is just a statement of fact. It is not something that is arguable.
claim - If you open by stating, "Every middle school student should have their own cell phone," this is a claim. This is not something that everyone agrees upon. Your paper will need to focus on supporting this claim with evidence.
Types of Writing That Use Claims
Claims are common in different types of writing, including documents created for school assignments or in the professional world.
argumentative essays - These essays focus on an issue that is controversial, presenting evidence that backs up the writer's claim.
research papers - Academic research papers are designed specifically to provide evidence to confirm or refute the writer's hypothesis , which is a type of claim.
literary analysis - When engaged in literary analysis, writers make a claim about a literary work, then provide evidence from it to support their claim.
persuasive essays - Persuasive essays are a type of argumentative essay. They use fact-based information as evidence to back up a writer's claim.
persuasive speeches - Persuasive speeches are presented orally, but many start with an outline focused on providing evidence for a primary claim.
persuasive memos - Persuasive memos are often designed to convince readers to believe or act on a claim backed up by evidence.
What Is Evidence in Writing?
In order to back up a claim in writing, you will need to provide evidence. Evidence is information that provides proof of or support for an idea. Your claim statement should be a logical conclusion that you reached as a result of reviewing and understanding valid, reliable evidence. Rather than expecting readers to simply believe that your claim is true, you'll need to provide them with evidence they can consider to reach their own conclusion.
There are many types of evidence:
direct observation of a phenomenon or occurrence
primary research, such as an experiment or content analysis
synthesis of secondary research, such as a literature review
information gathered from investigative interviews
facts, statistics or other data
expert opinions
examples of past behavior
It's important to be aware that the fact you can find evidence in favor of your claim does not necessarily mean that your claim is a factual statement. There is also just as much evidence against a claim as there is evidence for them. The idea of making a claim in writing is to present a logical, fact-based argument for the claim that you are making.
Argumentative Claim Examples
Review a few examples of argumentative claims to help clarify what is a claim in writing. These examples can help you identify claims when reading works of writing, as well as provide you with inspiration when you need to write a claim statement.
College students today should focus on learning skills that will qualify them to work effectively in a virtual environment.
School uniforms help promote an inclusive educational environment for all students, regardless of socioeconomic status.
In light of the severity of recent hurricanes, living near the coast is becoming increasingly hazardous.
Yoga provides both physical and mental health benefits.
Concrete is the best building material for residential structures.
Children under the age of 12 should not be allowed to have social media profiles.
Spending more than an hour per day on housework is a waste of time.
People who get at least 10,000 steps per day are healthier than those who don't.
Eating too many carbohydrates is the primary reason some people are overweight.
Dining in restaurants is actually more economical for individuals or couples than cooking at home.
Note that the statements above are not commonly accepted facts. You may agree with some of these, but chances are that you don't agree with all of them. Each example above is a matter of opinion. If you write about any of these, you will need to back up with evidence in an effort to prove your point. Readers will decide whether or not they agree with your argument base on how effectively you make your point, as well as their own knowledge and/or opinion about the topic.
What to Include in a Claim Paragraph
An argumentative claim will generally appear in the first paragraph of a document. The claim statement is usually paired with a hook to form the introductory paragraph of an essay or other document. The hook is designed to capture reader interest so they will want to learn more, while the claim statement lets them know what point will be argued in the paper.
What Is a Counterclaim in Writing?
When someone presents an alternative argument to your claim, that is a counterclaim. Another word for a counterclaim is a rebuttal. When someone presents a counterclaim, they are making a claim of their own. It will be up to them to state their counterclaim, then seek to back it up with evidence (just as you did when making the initial claim).
claim - making an argument and backing it up with evidence
counterclaim - presenting a rebuttal to a claim and backing it up with evidence
Debates involve claims (arguments) and counterclaims (rebuttals). When people participate in a debate, they prepare arguments for their claims and deliver strong rebuttals to the claims of their opponents.
Explore Argumentation and Debate
Now that you know what a claim is in writing, consider taking a deeper dive into how this communication strategy can be used in writing and face-to-face communication. Start by exploring key ways the terms argument and debate differ . From there, investigate how examples of rhetoric can be used as a tool to persuade and motivate.
Teacher Off Duty
Resources to help you teach better and live happier
My Favorite Lesson Plan for Teaching Claim, Evidence, and Reasoning
August 29, 2018 by Jeanne Wolz 2 Comments
Let's face it. Teaching argumentative writing is hard .
If you're looking for a full argumentative writing unit plan , I've got you covered–>
It's not that teenagers aren't good at arguing. Teenagers are very good at arguing. In fact, they may be the people that practice arguing the most.
The challenge lies in learning the different parts of a basic argument–the claim, the evidence, and the reasoning–when each of them are such abstract concepts. By understanding what each of them are, we're able to critique arguments and make our own better. But without a concrete way to talk about them, it's like gesturing wildly at a class and hoping they'll catch your drift (maybe that's half the reason argumentative units are so exhausting…).
What I knew I needed was some sort of analogy, some visual for students that we could keep revisiting each time we reinforced these ideas. I went through several years of thinking about it before I finally came up with something that seemed to work.
I thought some sort of hook analogy might work–maybe a visual with strings and clips to show how reasoning attaches your evidence to your claim. I followed a fantastic Lucy Calkins lesson once where I wrote evidence on pieces of paper and lined them up on the floor, encouraging students to explain how each piece of evidence got me from claim a to claim b (which magically gave me powers to hop along the evidence). This was an effective one-off lesson, but it was difficult to revisit.
And then, one year it came to me. An analogy to revisit over and over again. That analogy was:
Making an argument is like taking your reader on a roller coaster.
Ok, ok, it may not seem like much, but I found there was a lot of value to be squeezed out of this visual.
I wanted to share with you how I use it so that maybe you can get some ideas on how to make these abstract-logic-intensive units a little more concrete, too.
Here's what I do to introduce it:
Table of Contents
Claims, Evidence, and Reasoning Introduction Lesson Plan
Mini-lesson: explain the analogy.
I explain: "In order for your reader to stay with you, you need to strap him into that roller coaster argument properly for the entire time. How do you do that?
Stating your claim is like sitting your reader down on your roller coaster. It's your first step.
Then, you give evidence. Your evidence is like putting on one strap of the seatbelt.
Your reasoning is like putting on the other strap.
Mentioning your claim at the end of this process is like snapping it all together.
And each part is crucial to keep your reader from falling off your thinking.
What do you think happens if you forget one of these steps?
Yup. You gotta have it all in order for your reader to stay with you."
Sometimes, as I'm explaining this, I even act it out with a back pack and a chair to make it even more visual. I act out sitting in the chair (for stating your claim), putting on one strap (for introducing evidence), and putting on the other strap (for using reasoning to connect it back to the claim). After introducing the comment, I also like to give an example argument for students as I'm acting it out so they can start identifying each part of the argument.
Work-time: Act it Out as Students Make Arguments
After explaining it, we practice. I like to follow it up with verbal arguments with an activity like philosophical chairs so students can have repeated opportunities to both hear examples of arguments and try them themselves.
As students make their arguments, I continue to act it out. Students talk, and I follow along with the motions.
If they miss a step (which they almost always do in the beginning), I milk it. I yell and fall off the chair and make as dramatic a scene out of it as I can). Afterwards, we talk about what they forgot to do that made me fall off their coaster/argument and die.
And then we try again and repeat!
Extension: Have Students Act it Out for Each Other
After you've acted it out a couple times, have the rest of the class act out what they hear.
So as students hear the person speaking state a claim, they all sit down. As the person gives some evidence, they put on a strap, etc. And if they forget a step and finish….well, you may want to warn your neighboring classrooms. This can help students tune into the structure of others' arguments in addition to helping keep each other accountable.
Twist: Invert the Lesson
I've actually begun to move the mini-lesson to the middle of this lesson. I've found it helps for students to create their own arguments before we talk about argument structure, because it gives context for talking about Claim, Evidence, and Reasoning. Plus, it honors the knowledge that students already have about making arguments–because they have a lot . So we start Philosophical Chairs, stop 1/3 through, chat about roller coasters, and then continue on. It's a lot for a 45 minute period, but doable.
Click here if you want my full lesson plan, powerpoint, and handout  that I use for introducing this analogy with philosophical chairs–complete with dramatic pictures of cartoon people flying off of roller coasters.. (This lesson actually comes from my argumentative unit, which will be released on TPT in September. If you'd be interested in hearing more about that unit and when it's available, click here!)
Reinforce it Throughout the Unit
For the rest of the unit, I keep coming back to this analogy. We use it to talk about weak evidence (puny straps made of yarn) and strong evidence (steel bars), as well as the need for reasoning to match the strength of the evidence (uneven straps are awkward). When I give feedback to students, I always put it back in the context of the roller coaster. By the end, the idea is that the lack of a claim, evidence, or reasoning would make anyone in class scream (and for once, not just me!)—or at the very least, that everyone is much more aware of it.
________________
And that's that! It's become one of my favorite lessons in the argumentative unit, because no matter how crazy my students look at me the first time we talk about it, we've been able to come back to it over and over again during the unit. It's given us a way to make something visual that always seems incredibly, frustratingly abstract.
Pin this to remember!
In the meantime, let me know in the comments below if you've got tips for teaching Claims, Evidence, and Reasoning, or if you were able to try this with your students. It seriously makes my day to hear from you, and I love hearing stories and new ideas!!
Some other resources you may be interested in:
This lesson is actually part of a full unit plan you can find here . One of my all-time favorite units I've ever taught, this argumentative unit starts with students identifying an issue they care most about, and then identifying who they can write to to change it. The rest of the 25, CCSS-aligned lessons take them through writing letters that they'll mail at the end of the unit. Teach students how to argue well while learning to use their voice to make real change. Check it out here!
A few of my Pinterest Boards in particular (or all of them ):
Teaching Writing Pinterest Board
ELA Resources Pinterest Board
Lesson Ideas Pinterest Board
Social Studies Resources Pinterest Board
Share this:
Thank you!!! This is amazing – I really appreciate it!! 🙂
Yay–thanks for your feedback, Tara! I hope your students enjoy!!
Leave a Reply Cancel reply
Looking for something.
Resource Shop
Partnerships
Information
We are a participant in the Amazon Services LLC Associates Program, an affiliate advertising program designed to provide a means for us to earn fees by linking to Amazon.com and affiliated sites.
New Teacher Corner
New teachers are my favorite teachers..
Writing Claims: Three Crucial Components
There are three crucial components students must master to gain confidence and skills in writing claims:
Understand and explain what a claim actually is.
Differentiate between claims and statements.
Find appropriate evidence to support their claims.
Pin this post for later …
One Comment
Pingback: Writing Stations in Middle School - EB Academics
Leave a Reply Cancel reply
Your email address will not be published. Required fields are marked *
Save my name, email, and website in this browser for the next time I comment.
I accept the Privacy Policy
Notify me of follow-up comments by email.
Notify me of new posts by email.
This site uses Akismet to reduce spam. Learn how your comment data is processed .
DOWNLOAD THE FREE RESOURCE
Then, pick the date you're going to teach it in your classroom, and sit back while you watch as your students show up to your classroom pumped about what the day holds…and gush about your class to their parents on the car ride home!
Search Our Site
You might also enjoy.
Help Your Students Find Credible Sources Online
Gingerbread House Holiday Writing Activity for Middle School
Classroom Management: Non Verbal Hand Signals
6 ELA Emergency Sub Plans that Work Virtually or In Person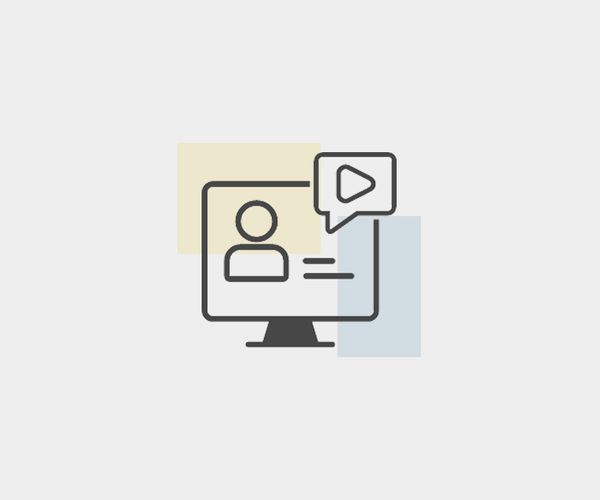 Flipped Learning Module
Each Flipped Learning Module (FLM) is a set of short videos and online activities that can be used (in whole or in part) to free up class time from content delivery for greater student interaction. At the end of the module, students are asked to fill out a brief survey, in which we adopt the minute paper strategy . In this approach, students are asked to submit their response to two brief questions regarding their knowledge of the module.
In this FLM, students are asked to complete a fill-in-the-blank outline which accompanies all three videos, covering the topics of creating and evaluating claims and the structure of argumentation. The completed outline will enhance the students' note-taking skills and will serve as a summary of the FLM that they may refer to in the future.
academic argument, fact, credibility, counterargument, argument structure, introduction, body, conclusion
Module Overview What is a Claim? Creating and Evaluating Claims What is an Argument? Claims: Definition and Examples The Structure of an Argument Download Video Transcripts
Worksheet: Claims Outline
An argument is a form of _________________________ writing.
In academic writing, the purpose of an argument is to _________________________
A claim is _________________________
(Requirement 1) _________________________
(Requirement 2) _________________________
(Requirement 3) _________________________
(1) _________________________
(2) _________________________
(3) _________________________
Download Outline
Video 1: What is a Claim?
Claims online activity 1.
Video 2: Creating and Evaluating Claims
Claims online activity 2.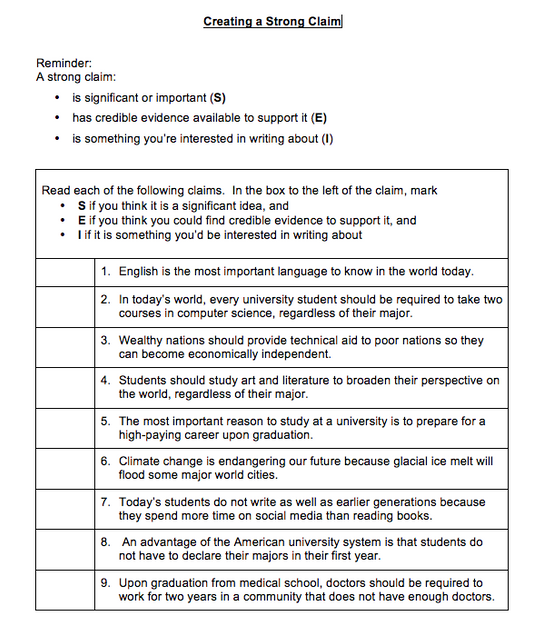 Video 3: The Structure of an Argument
Please open Martin Luther King jr.'s "I Have a Dream" Speech on a separate page in order to follow along the explanation on video 3.
Claims Survey
What was the one most important thing you learned from this module?
Do you have any unanswered questions for me?
Claims In-Class Activity
Download Worksheet
Download Digital Implementation of the Activity
Lunsford, Andrea, John Ruszkiewicz, and Keith Walters. Everything's an Argument with Readings. Bedford/St. Martin's, 2007.
Schick, Kurt, and Laura Schubert. So What? The Writer's Argument . Oxford University Press, 2014.
Turabian, Kate. Student's Guide to Writing College Papers . 4th ed., University of Chicago Press, 2010.
It's Lit Teaching
High School English and TPT Seller Resources
Creative Writing
Teachers Pay Teachers Tips
Shop My Teaching Resources!
Sell on TPT
Claim, Evidence, Reasoning: What You Need to Know
Has an instructional coach or administrator told you to start using a claim, evidence, and reasoning (or C-E-R) framework for writing in your classroom?
Maybe you need to closely adhere to the Common Core State Standards but aren't quite sure where to begin.
If you're like me, your whole school may be committing to using a C-E-R language in all classes to build consistency and teacher equity for students.
Regardless, here you are wondering, what the heck is claim, evidence, and reasoning anyway ? In this post, I aim to break it down for you.
There are plenty of science examples out there, but that is not my specialty. For this post, I'll focus on my subject area, high school English, but know that the C-E-R framework can be applied to multiple content areas.
If you'd like to teach the C-E-R writing framework to your students, I have a whole bundle of resources right here.
C-E-R Writing Overview
C-E-R writing is a framework that consists of three parts: Claim, Evidence, and Reasoning. Science classes use it frequently, but it works well in any content area. In fact, my entire school uses it–down to the gym classes!
A C-E-R writing framework works especially well for teachers adhering to the Common Core State Standards. The words "claim", "evidence", and "reasoning" are directly from the standards themselves.
C-E-R writing works especially well for argumentative or persuasive writing, but also holds true for research-based writing.
Note that these are academic forms of writing. You wouldn't, for instance, probably use claims, evidence, or reasoning in a creative writing class or with a narrative or poetry unit.
While C-E-R may seem formulaic at first, it does come from a natural flow of solid arguments. Any attempt at persuasion must take a stance, support it with logic, and make a case.
The formulaic nature of C-E-R writing makes it a helpful writing scaffold for students who struggle to organize their ideas or generate them in the first place.
The claim sets the tone for the rest of the writing.
It is the argument, the stance, or the main idea of the writing that is to follow. Some may say that in C-E-R writing, the claim is the most important piece.
I have found that the placement and length of the claim will vary according to the length of the writing.
For a paragraph, I feel the claim makes a great topic sentence and thus, should be the first sentence. The body of the paragraph then will aim to support the topic sentence (or claim).
In a standard five-paragraph essay, the first introductory paragraph may build to the claim: the thesis. The body paragraphs then will each contain a sub-claim so-to-speak that supports the overarching claim or thesis.
Claims, while logical, should present an arguable stance on a topic.
I often have to remind my students that if they are writing in response to a question, restating the question in the form of a sentence and adding their answer is an easy way to write a claim.
A Claim Example for an English Class
Let's use a Shakespearian example. A popular essay topic when reading Romeo and Juliet poses the following question: who is to blame for the deaths of Romeo and Juliet?
A claim that answers this question might read:
"Friar Laurence is most to blame for Romeo and Juliet's deaths."
This claim is strong for multiple reasons. First, it is direct. There's no question about what the rest of the writing will be about or will be attempting to support. Second, this claim is arguable –not provable–but also logical. The idea can be supported by examples from the text.
A claim is not a fact. Evidence should support it, which we'll discuss in a moment, but ultimately, it should not be something that can be proven .
The next step in the C-E-R writing framework is evidence.
Evidence is the logic, proof, or support that you have for your claim. I mentioned earlier that your claim, while arguable, should be rooted in logic. Evidence is where you present the logic you used to arrive at your claim.
This can take a variety of forms: research, facts, observations, lab experiments, or even quotes from interviews or authorities.
For literary analysis, evidence should generally be textual in nature.
That is, the evidence should be rooted–if not directly quoted from–in the text. For example, the writer may want to use quotes, paraphrasing, or a summary of events from the text.
I encourage my students to use word-for-word textual evidence quoted and cited from the text directly. This creates evidence with which it is difficult to argue.
An Evidence Example for an English Class
If we continue with the Romeo and Juliet example, we could support our previous claim that Friar Laurence is most to blame for the couple's death by presenting several pieces of evidence from the play.
Our evidence may then read as follows:
" In the play, Friar Laurence says to Juliet, 'Take thou this vial, being then in bed/ And this distilled liquor drink thou off;/ …The roses in thy lips and cheeks shall fade/ … And in this borrow'd likeness of shrunk death/ Thou shalt continue two and forty hours,/And then awake as from a pleasant sleep ' (4.1.93-106)."
This is strong evidence because the text proves it. This quote comes directly from Shakespeare; you can't argue with it.
It is also on-topic. it shows a piece of the play that supports the idea that Friar Laurence is most to blame for Romeo and Juliet's deaths.
For claim, evidence, and reasoning writing, the strength of the argument depends on its evidence.
Grab a FREE Copy of Must-Have Classroom Library Title!
Sign-up for a FREE copy of my must-have titles for your classroom library and regular updates to It's Lit Teaching! Insiders get the scoop on new blog posts, teaching resources, and the occasional pep talk!
Marketing Permissions
I just want to make sure you're cool with the things I may send you!
By clicking below to submit this form, you acknowledge that the information you provide will be processed in accordance with our Privacy Policy.
You have successfully joined our subscriber list.
Reasoning is the thinking behind the evidence that led to the claim. It should explain the evidence if necessary, and then connect it to the claim.
In a one paragraph response, I usually recommend that students break down their reasoning into three sentences:
Personally, this is where my students struggle the most. They have a hard time understanding how to explain the evidence or connect it to their claim because it's obvious to them.
Explain or summarize the evidence that was just used
Explain or show how this evidence supports the claim
Finish with a conclusion sentence
If your students, like mine, struggle with crafting reasoning, I recommend giving them sentence starters like "This shows that…" or "This quote proves that…."
I also go over different ways to approach writing conclusion sentences, as my students often struggle in ending their writing.
(If you'd like help breaking this down for your students, my C-E-R Slideshow covers reasoning–including what to include and three different ways to write a conclusion sentence.)
A Reasoning Example for An English Class
For our Romeo and Juliet example, it may read something like this:
"This quote shows that Friar Laurence is the originator of the plan for the two lovers to fake their deaths. Had he not posed this plan, Romeo could not have mistaken Juliet for dead. Thus, he would never have committed suicide, nor Juliet. As the adult in the situation, Friar Laurence should have acted less rashly and helped the couple find a more suitable solution to their problems."
This reasoning is strong for several reasons.
First, note the transition in the beginning. It discusses the textual evidence–the quote presented earlier–directly and explains what is happening in the quote.
Next, it walks the reader step-by-step through the writer's rationale about the evidence that led her to believe the claim. Even if the reader does not agree with the reader's claim, he or she must concede that the writer has a point.
You may have noticed that in this example, the reasoning tends to be longer than either the claim or the evidence. The length of the reasoning will vary according to the assignment, but I have found that good reasoning does tend to be the bulk of C-E-R writing.
Get Started with Claim, Evidence, and Reasoning Today!
And there you have it! An overview of the C-E-R writing framework. No doubt, you can see how this framework can easily be applied to a myriad of assignments in any content area.
If you need help getting started in using the C-E-R writing framework in your English class, I have a few resources in my Teachers Pay Teachers store that can help you. Check them out! Start with a FREE student guide to claim, evidence, and reasoning!
Arts & Music
English Language Arts
World Language
Social Studies - History
Holidays / Seasonal
Independent Work Packet
Easel by TPT
Google Apps
Interactive resources you can assign in your digital classroom from TPT.
Easel Activities
Easel Assessments
Unlock access to 4 million resources — at no cost to you — with a school-funded subscription..
writing a claim
All Formats
Resource types, all resource types, results for writing a claim.
Price (Ascending)
Most Recent
Take a Stand- Digital Argument Writing Practice- Claim, Reasons, Evidence
Also included in:  ELA Digital Mega Bundle- Grammar, Writing, Reading, Vocabulary-Distance Learning
My Dad is an Alien Introduction Activity to CER Writing for Science
Thesis Statement Mini Lesson For Argumentative Essay Writing
Also included in:  WRITING Narrative Argument Informative Literary Analysis
Claims and Evidence: Argumentative Writing | Literary Analysis
PowerPoint--Writing a Thesis Statement or Claim
Literature: Writing a Literary Essay Pack
Also included in:  WRITING BUNDLE: Persuasive, Literature, Expository and Narrative Essay Writing
Making a Claim Writing
Claim Evidence and Reasoning - CER - Introduction Activities
Also included in:  Scientific Method Unit Resources Bundle
Writing a Claim: Editable Graphic Organizer (Color, B&W, & Fillable PDF)
Claims, Counterclaims, Rebuttals Lesson, Complete Teaching Pack
Also included in:  Writing Curriculum, Narrative, Explanatory, Argumentative, Research BUNDLE
C-E-R Writing Review Worksheet (Claim, Evidence, Reasoning)
Also included in:  C-E-R (claim, evidence, reasoning) Writing Bundle | Printable & Digital
Opinion Writing Graphic Organizers, Prompts, Lessons, Rubrics 4th Grade W.4.1
Also included in:  4th Grade ELA Reading Writing Language Curriculum - ELA Common Core Standards
Claim Evidence and Reasoning (CER) Posters & Bulletin Board Set
Also included in:  Claim Evidence and Reasoning CER Bundle
Writing Workshop: Disconnected Commentary and Evidence in Literary Analysis
The Titanic Claim, Evidence, Reasoning Activity
Also included in:  Claim, Evidence, and Reasoning [CER] Bundle (NGSS Aligned)
6th Grade Lesson Pack for RI.6.8 (Evaluate Claims in a Text)
Also included in:  6th Grade Lesson Bundle for All RI Standards (RI.6.1-RI.6.10)
C-E-R (claim, evidence, reasoning) Writing Bundle | Printable & Digital
Classroom Pets: Persuasive/Opinion Writing (Make a Claim 3rd-6th grades)
Also included in:  Persuasive Writing Bundle: Articles, Infographics, and Prompts for Grades 3-5
Persuasive Writing - 10 Making a Claim Prompts for Google Classroom
States of Matter Assessment - CER Writing Prompt
Also included in:  States of Matter Activity Bundle - Doodle Notes, Lab, Project, and More!
Making a Claim: Banned Books (Persuasive/Opinion Writing)- Banned Books Week
Also included in:  Persuasive & Opinion Writing BUNDLE | Graphic Organizers, Template & Fun Topics
Climate Change CER with Claim Evidence and Reasoning
Also included in:  Science CER Mega Bundle with Claim Evidence and Reasoning
Prove It! Teach Students to use Evidence to Support Argument Claims
Identifying Claim & Counterclaim Practice
TPT empowers educators to teach at their best.
We're Hiring
Help & FAQ
Terms of Service
Trademark & Copyright
Privacy Policy
Student Privacy Policy
Keep in Touch!
Are you getting the free resources, updates, and special offers we send out every week in our teacher newsletter?