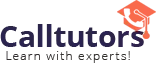 How To Write A Narrative Essay?
Lily writes a narrative essay with the hope of developing writing skills.
But she is terrified and getting goosebumps while writing. She used her complete knowledge in writing, and after that, she went to the kitchen to make a cake. She comes and revises it later.
She comes back and starts revising, but she feels it's not up to the mark. It's too dull. She thinks about how to write a narrative essay impressively. How can I impress the audience with the story?
Are you also one of those students assigned to write a narrative essay in your college or high school? Remember, it is a good opportunity to improve your storytelling skills. For most students writing a narrative essay is so much fun. In this blog post, we will be discussing "how to write a narrative essay."
What is a narrative essay?
Table of Contents
A narrative essay is an essay that tells us a story. These are commonly assigned in high schools and colleges. It also contains a plot, characters, conflicts, etc., like stories. Most of the time, students are told to write essay for me about their personal experiences in the form of a story. It is done so that class or readers can connect with it.
Since everyone likes stories, so these essays got so many readers. Hence it is very important to work on its content and format. Writing a narrative essay can be fun if you do it properly. Movies and some YouTube videos are also narrative essays, but they are in the form of videos.
Apart from this, the narrative essay is one of the essays assigned to the students as an academic writing paper. That is why its quality depends on the technique you used to write it. There is a specific structure for this essay type, and it is as follows:
Introduction: It consists of an overview of your narrative essay that allows the readers to understand your story's motive. Don't forget to include a thesis statement of 3-4 lines to easily direct your essay in a proper direction to the readers.
Main Body: Try to gather all the relevant facts, details, and supporting arguments to support your story. Logically write each idea and place them in a sequence. If your main body of the essay is 3-4 paragraphs, go for it. But remember to include a new idea in each paragraph.
Conclusion/Summary: Here, students have to sum up their ideas that have been included in the main body of the essay. Writing 3-5 lines in it is sufficient to end up your essay writing. Do not put a new idea here, as it can lead the readers to misguide your narrative essay.
Purpose of Narrative Essays
This essay is all about telling stories to the readers. It is their main purpose. As a writer, you have to mention personal experience, but you have to make sure you mention your point clearly so the reader understands. Explain why your story is worth sharing.
Many students have confused regarding the persuasive essay and narrative essay. They considered them the same. Are they the same?
No, that's not right. Let's compare both of them-
What are the narrative essay examples?
Meeting a famous person.
Playground Memory.
My first job.
Traveling to the US for the first time.
Little leader.
Ultimate cricket match.
My secret place.
Living a dream.
Near-death experience.
Best vacation with my family.
Step-by-step guide On How to write a narrative essay
If you are searching for how to write a narrative essay then you should know about some important steps for writing a narrative essay that are as follows-
Step 1:- Choose A Good Topic
It is the first step toward writing a narrative essay. First, you should have a good topic to write about. Choose your topic in such a way that you can convert it into a story of yours. A good topic connects with people's minds immediately. Always select such topics which are relatable to the majority of your readers.
Step 2:- Choose Your Story
After choosing a topic, you need to choose a good story. The story must be related to the topic or theme you choose. It should not hurt anyone's sentiments, and it must relate to the reader so that they can enjoy the narrative essay more. The story must be realistic, it should not contain any exaggeration. More realistic the story is, the more relatability people will feel.
Step 3:- Research If Required
Writing a narrative essay does not need much research. It is because it is related to your personal experiences. But some topics are there, which require research to add extra information to the content. Research is must, if you want to represent the story properly you need to add thorough information. Research helps you to have in depth knowledge about the topic.
Step 4:- Write The Draft
Now outline the plot before you begin. Make a list of all the incidents systematically so that you will not miss any points during writing. This will let you know where the story starts, its main incidents, and where it ends. Remember, you are writing an essay, not a novel. So, your story must be fairly contained and concise. While making the draft, make sure your story is in flow so that it does not seem like in different pieces. Your story must convey as a whole and with full connectivity.
Step 5:- Describe Important Characters
While writing a narrative essay , you must describe all the important characters. Describe them about how they look, what they wear, age, height and also mention some interesting facts about them.
For example: "My grandmother was sharpening her pencil with a razor blade and unpacking her watercolor paint and paintbrushes from their special travel box. She was wearing a loose green cardigan with her floral printed skirts. Her white hairs were combed neatly and tied in a bun".
Step 6:- Find The Antagonist Of The Story
It is very important to find the story's antagonist and the conflict. Without this, it will be boring. In most of the stories, the protagonist is the writer himself. The antagonist is always the person who stops the protagonist from achieving what he wants. This counter-character will bring people's interests into your story. Without any antagonists, your story will be bland, and people will find it boring.
Step 7:- Describe The Scene
You also need to describe the scene in detail. It is important because by this you can make readers imagine the scene properly. The most common mistake every narrative essay writer makes is not explaining the scene in detail. Detailing enhances the imagination and the essay is not a success until any imagination is involved.
Step 8:- Omit Unnecessary Details
You do not need to provide any unnecessary details. Omit those details or topics that are not relevant to your story. Keep the story within the storyline. Crossing the storyline makes your narrative essay confusing and boring. Exclude all the unnecessary details and focus on the main details.
Step 9:- Write Events Chronologically
It is very important to write all the events chronologically. If not done so, your story will not make sense. So what happened first must be written.
Step 10:- Revise Your Essay
After making the first draft of your narrative essay:
Check whether the theme, title, and story are related.
Proceed with editing and proofreading.
Step 11:- Make The Final Draft
Now make the final draft of your narrative essay. After all the alterations, make the final draft to do the final touch-up.
Quick Links
Tips For Structuring An Essay
How To Write An Essay
Fruitful Ways Of How To Write An Autobiography Essay
10 Best Narrative Essay Topics Ideas
These are the following narrative essay ideas below.
Narrative Essay Examples
You can take the narrative essay example about life or others' personal life or work too. These are the list of narrative essay examples.
Personal Narrative Essay
Do you know what a personal narrative essay is? How to write a personal narrative essay? If not, a personal narrative essay is a narrative or story based on your personal experience that you share with readers.
6 Steps For Writing Personal Narrative Essays
These are the steps to write a personal narrative essay.
Step 1:- Write Your Narrative as a Story
In the first steps, you must write your experience narrative as a story. Also, include in your story a proper heading, starting with a good introduction, adding plot, setting, anti-climax (if any), climax, and conclusion too.
Step 2:- Give Your Narrative a Clear Goal
Secondly, you will give your narrative for a clear purpose. Your narrative essay should remember your amazing viewpoint on life. This is more difficult than it displays.
Step 3:- Show, Don't Tell
The narrative should create a visual for readers rather than simply informing them of what happened. The author should not only tell the story but also portray one of the characters.
Step 4:- 4. Use "I," But Don't Overuse It
As the author, you are in control of the narrative, so the personal pronoun "I" is frequently used. However, it's best to use it sparingly as too much may make you sound self-absorbed and repetitive.
Step 5:- Pay Attention To The Tenses
Also, use the correct tenses in your overall narrative essay. Tense is the most important to grasp. Personal narratives mainly describe the story of circumstances that occurred in the past, so many authors prefer to use the past tense.
Step 6:- Make Your Conclusion Satisfying
Lastly, give your narrative essay readers a satisfactory conclusion by giving them a remembered scene.
How To Start A Narrative Essay?
If you want to know "how to start a narrative essay," follow the below-given format, structure, and technique to write the essay within a specific period.
At first, write the introduction in your narrative essay.
Secondly, use a body paragraph and use the proper narrative essay outline in your essay.
In the end, also add the conclusion of your overall essay.
Literacy Narrative Essay
The literacy narrative essay is one of the best autobiographical essays. "The Art of Eating Spaghetti" is included in the best literacy narrative essay examples.
Things to remember while writing a narrative essay: Do's and Don'ts
Keep your essay concise. Do not over-explain unnecessary things, people and plots.
Always outline events before you start writing
Do not describe every character in detail. For non-important characters, a brief description is enough.
Add vibrant details. You can add some details to spice up the story. But try to stay as true as possible.
Always stay consistent. Narrative essays are always written in the past tense. Do not mix up tenses.
These are generally written in the first person, i.e. making use of "I" statements.
Take care of your grammar. Do not make any grammatical mistakes.
Always highlight the important moments of your story. This enables the readers to remember those points.
Get assistance if you are not able to do it well.

Additional tips for writing an effective narrative essay
The words and sentences of your narrative essay must be clear. Use different colors to highlight the main points.
Factors in your essay must be supported with relevant details and mention the references for each point.
If there is a need to write the conflict, put it without hesitation as it makes your narrative essay more realistic.
Flash-forwards and flashbacks can help you to direct the narrative story to an exciting ending.
Besides the first person, you can use the third person perspective also.
Bonus point: How to choose the narrative essay topics?
Following these points while selecting the narrative essay topics-
1. Understand the assignment-
It is best to go through them carefully to understand what your professor expected from you. Also, see if there is any question you require to answer. Sometimes students interpret wrong meanings which the teacher asks them to do. Whole assignment is wrong now. To remove this error you must properly understand the assignment.
2. Brainstorming session –
Do brainstorm and find out possible story ideas for your narrative essay. Firstly, add the ideas freely. After that, choose whether you want to write fiction or a personal narrative. Once you have got the appropriate topic, then choose the one that is useful for you.
3. Narrow down your ideas –
Check the list of your ideas and think about which fits your assignment. Narrow down the list of your ideas and come to the appropriate one.
We have discussed all the important aspects of writing a narrative essay. But still, if you find any difficulty in writing it, feel free to seek our help.
Here at CallTutors, we have a team of experts who can help you in completing your assignment before the deadline, and that too at very reasonable prices. We are 24*7 available to help you out. Submit your requirements now.
FAQs Related To How To Write A Narrative Essay
What's the difference between a narrative essay and a descriptive essay.
A narrative essay is meant to narrate a whole story, whereas a descriptive essay communicates a description of a specific object, place, or concept.
How do I write a narrative essay plan?
Step 1. Brainstorm your ideas and organizing them systematically Step 2. Research your topic  Step 3. Write an engaging Thesis Statement  Step 4. Write the Introduction, Main Body, and the conclusion of the essay Step 5. Proofread the narrative essay once or twice Step 6. Make necessary changes if required.
How many paragraphs are in a narrative essay?
Students require to write a narrative essay as per the norms of academic writing. Try to use a usual 5-paragraph narrative essay format that starts from writing an introduction. Don't neglect to include a thesis statement, a hook, and a description of the topic.
How long does it take to write an essay?
When it comes to estimating the time a narrative essay will need to write even an introductory essay, students have to examine research time and various other factors. Almost a 1200 word paper might take from four to five hours to complete the narrative essay.
Is a plagiarism-free narrative essay helps in scoring good grades?
Yes, it is. As any of the tutors does not support plagiarism narrative essays; therefore, it becomes necessary to write a plagiarism-free essay. This helps the students to score good grades in their narrative essay writing papers.
Similar Articles
Top 19 Tips & Tricks On How To Improve Grades?
Do you want to improve your grades? If yes, then don't worry! In this blog, I have provided 19 tips…
How To Study For Final Exam – 12 Proven Tips You Must Know
How To Study For Final Exam? Studying for the final exam is very important for academic success because they test…
Leave a Comment Cancel Reply
Your email address will not be published. Required fields are marked *
This site uses Akismet to reduce spam. Learn how your comment data is processed .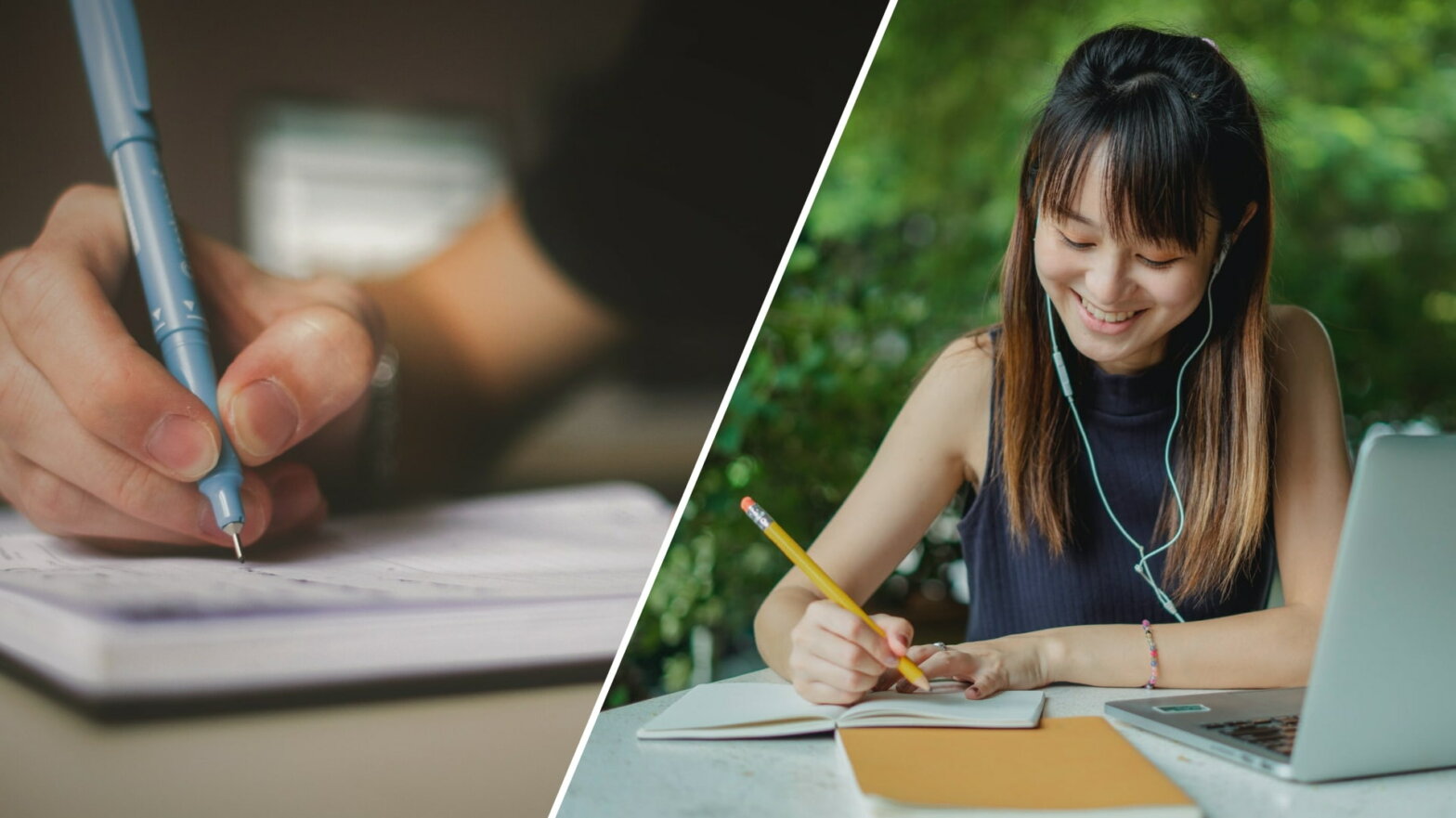 How to Write a Narrative Essay — A Step-by-Step Guide
N arrative essays are important papers most students have to write. But how does one write a narrative essay? Fear not, we're going to show you how to write a narrative essay by breaking down a variety of narrative writing strategies. By the end, you'll know why narrative essays are so important – and how to write your own.
How to Write a Narrative Essay Step by Step
Background on narrative essays.
Narrative essays are important assignments in many writing classes – but what is a narrative essay? A narrative essay is a prose-written story that's focused on the commentary of a central theme .
Narrative essays are generally written in the first-person POV , and are usually about a topic that's personal to the writer.
Everything in a narrative essay should take place in an established timeline, with a clear beginning, middle, and end.
In simplest terms, a narrative essay is a personal story. A narrative essay can be written in response to a prompt or as an independent exercise.
We're going to get to tips and tricks on how to write a narrative essay in a bit, but first let's check out a video on "story."
How to Start a Narrative Essay • What is a Story? by Mr. Kresphus
In some regards, any story can be regarded as a personal story, but for the sake of this article, we're going to focus on prose-written stories told in the first-person POV.
How to Start a Narrative Essay
Responding to prompts.
Many people wonder about how to start a narrative essay. Well, if you're writing a narrative essay in response to a prompt, then chances are the person issuing the prompt is looking for a specific answer.
For example: if the prompt states "recount a time you encountered a challenge," then chances are the person issuing the prompt wants to hear about how you overcame a challenge or learned from it.
That isn't to say you have to respond to the prompt in one way; "overcoming" or "learning" from a challenge can be constituted in a variety of ways.
For example, you could structure your essay around overcoming a physical challenge, like an injury or disability. Or you could structure your essay around learning from failure, such as losing at a sport or performing poorly on an important exam.
Whatever it is, you must show that the challenge forced you to grow.
Maturation is an important process – and an essential aspect of narrative essays... of course, there are exceptions to the rule; lack of maturation is a prescient theme in narrative essays too; although that's mostly reserved for experienced essay writers.
So, let's take a look at how you might respond to a series of narrative essay prompts:
How successful are you?
This prompt begs the writer to impart humility without throwing a pity party. I would respond to this prompt by demonstrating pride in what I do while offering modesty. For example: "I have achieved success in what I set out to do – but I still have a long way to go to achieve my long-term goals."
Who is your role model?
"My role model is [Blank] because " is how you should start this narrative essay. The "because" is the crux of your essay. For example, I'd say "Bill Russell is my role model because he demonstrated graceful resolve in the face of bigotry and discrimination.
Do you consider yourself spiritual?
For this prompt, you should explain how you came to the conclusion of whether or not you consider yourself a spiritual person. Of course, prompt-givers will differ on how much they want you to freely express. For example: if the prompt-giver is an employee at an evangelizing organization, then they probably want to see that you're willing to propagate the church's agenda. Alternatively, if the prompt-giver is non-denominational, they probably want to see that you're accepting of people from various spiritual backgrounds.
How to Write Narrative Essay
What makes a good narrative essay.
You don't have to respond to a prompt to write a narrative essay. So, how do you write a narrative essay without a prompt? Well, that's the thing… you can write a narrative essay about anything!
That's a bit of a blessing and a curse though – on one hand it's liberating to choose any topic you want; on the other, it's difficult to narrow down a good story from an infinite breadth of possibilities.
In this next video, the team at Essay Pro explores why passion is the number one motivator for effective narrative essays.
How to Write a Narrative Essay Step by Step • Real Essay Examples by Essay Pro
So, before you write anything, ask yourself: "what am I passionate about?" Movies? Sports? Books? Games? Baking? Volunteering? Whatever it is, make sure that it's something that demonstrates your individual growth . It doesn't have to be anything major; take a video game for example: you could write a narrative essay about searching for a rare weapon with friends.
Success or failure, you'll be able to demonstrate growth.
Here's something to consider: writing a narrative essay around intertextuality. What is intertextuality? Intertextuality is the relationship between texts, i.e., books, movies, plays, songs, games, etc. In other words, it's anytime one text is referenced in another text.
For example, you could write a narrative essay about your favorite movie! Just make sure that it ultimately reflects back on yourself.
Narrative Writing Format
Structure of a narrative essay.
Narrative essays differ in length and structure – but there are some universal basics. The first paragraph of a narrative essay should always introduce the central theme. For example, if the narrative essay is about "a fond childhood memory," then the first paragraph should briefly comment on the nature of the fond childhood memory.
In general, a narrative essay should have an introductory paragraph with a topic sentence (reiterating the prompt or basic idea), a brief commentary on the central theme, and a set-up for the body paragraphs.
The body paragraphs should make up the vast majority of the narrative essay. In the body paragraphs, the writer should essentially "build the story's case." What do I mean by "build the story's case?"
Well, I mean that the writer should display the story's merit; what it means, why it matters, and how it proves (or refutes) personal growth.
The narrative essay should always conclude with a dedicated paragraph. In the "conclusion paragraph," the writer should reflect on the story.
Pro tip: conclusion paragraphs usually work best when the writer stays within the diegesis.
What is a Video Essay?
A video essay is a natural extension of a narrative essay; differentiated only by purpose and medium. In our next article, we'll explain what a video essay is, and why it's so important to media criticism. By the end, you'll know where to look for video essay inspiration.
Up Next: The Art of Video Analysis →
Write and produce your scripts all in one place..
Write and collaborate on your scripts FREE . Create script breakdowns, sides, schedules, storyboards, call sheets and more.
Leave a comment Cancel reply
Your email address will not be published.
Pricing & Plans
Product Updates
Featured On
StudioBinder Partners
The Ultimate Guide to Call Sheets (with FREE Call Sheet Template)
How to Break Down a Script (with FREE Script Breakdown Sheet)
The Only Shot List Template You Need — with Free Download
Managing Your Film Budget Cashflow & PO Log (Free Template)
A Better Film Crew List Template Booking Sheet
Best Storyboard Softwares (with free Storyboard Templates)
Movie Magic Scheduling
Gorilla Software
Storyboard That
A visual medium requires visual methods. Master the art of visual storytelling with our FREE video series on directing and filmmaking techniques.
We're in a golden age of TV writing and development. More and more people are flocking to the small screen to find daily entertainment. So how can you break put from the pack and get your idea onto the small screen? We're here to help.
Making It: From Pre-Production to Screen
Star Wars Special Effects — How Lucas & ILM Changed the Game
What is a Camera Pan? Camera Movement Fundamentals
How to Master Rembrandt Lighting in Photography and Video
What is Syntax — Definition, Examples & Why It Matters
Narrative Essay Topics — Prompts & Ideas For All Grade Levels
1 Pinterest
Deadline is too close?
Order an essay now and get it on time!
A Step-by-Step Guide to Write a Narrative Essay
There are numerous kinds of essays you may be assigned to complete. Sometimes, it can be hard to understand the difference between two similar papers. A narrative essay is commonly confused with the descriptive one. This article will lead you through all the necessary steps and help you write a successful piece adhering to the particular formatting rules.
What Is a Narrative Essay?
The main purpose of a narrative essay is to tell the reader about events, interactions, and experiences that have happened to the author during a particular period of time. It always has a vivid plot. On the contrary, the descriptive essay is aimed at providing an image of a person, a place, some experience, or an object without demonstrating a chain of events. The plot is absent or vague.
To write a breathtaking narrative essay quickly, let us introduce you the most compelling step-by-step sequence:
#1. Preparation
Before your creative process actually starts, you should learn a bit more about the general requirements inherent in this kind of paper, choose the topic, and collect some relevant information to use as a reference.
What to Write About?
Your potential theme should be interesting for both you and your audience. The topic of the narrative essay usually refers to the writer's experience and there is no need to use any data from outside sources. Besides, there are 3 signs of a successful title of your essay whether it is narrative or something else:
You could barely see it on the web;
It's quite narrower than wide;
It encourages reading the first sentence of the paper.
How to choose a topic to impress the tutor? Professionals give several tips to follow.
Tip 1. research.
What is narrative writing for a student? It is a great opportunity to create a fascinating story about things that interest them. It is not obligatory to select a scientific topic about innovations or discoveries. On the one hand, one can simply write about love, friendship, hobbies, and many other things. On the other hand, significant topics attract the attention of target readers. When reading different literature, students learn about what is happening in the world. So, they feel more knowledgeable and inspired to write.
Tip 2. Brainstorm
Narration is a story that describes different topics beautifully. Students are often full of gorgeous ideas, but they forget them quickly. Brainstorming is the method to collect ideas and select the best one. Students should just sit and jot down everything that comes into their heads. Afterward, one can study the approached ideas and select the most intriguing one. This step should be done after research because a student has already got much information to discuss. So, it will be simple to find something that still needs their attention.
Tip 3. Read more
Can you build a house without materials? Of course, you cannot. The same one can say about essay writing. How to start a narrative essay without a decent vocabulary in your memory pocket? People who read a lot learn new words daily. It is essential to explore various sources to get acquainted with words of different complexity levels. Fairy tales are full of cool comparisons and metaphors. Scientific periodicals provide us with high-level English. Newspapers inform us about the latest events and true-life stories. So, an educated student has more chances to find a worthy topic and introduce it on the required level in the narration.
Tip 4. Ask your tutor or senior students
Some tutors want to check papers about specific topics. So, it is smart to discuss the topic choice with a teacher. Educators can either concretize it or give selection criteria. Another variant is to ask advanced students about things that deserve attention in your college. They have performed lots of written tasks, so they are aware of what college tutors like and dislike.
Tip 5. Turn to professionals
Custom writing agencies hire experts only. They are educated and specialize in various college disciplines. Consequently, they know what topics need research and how to describe them in a paper on a top-level. They guide students throughout their writing and can edit and proofread a paper to make sure that your paper is top-notch.
What is Required of Me?
Asking to compose such a specific kind of academic paper, professors don't demand their students to follow strict rules as for other writing assignments and only give them a basic structure. The idea is simple: you take a story from real life and dwell upon the most vibrant points as far as events are unfolding. The narrative's parts should be coherent and convey a particular mood.
Where to Search for Evidence?
You may take them from your own memories since you started writing them. Forget about the exhausting web research and let your memories pour out on paper.
#2. Writing Process
Obviously, this stage is the most time-consuming. It can be less if you take into account the following:
Where to search for evidence? Students deal with two types of sources – fiction and non-fiction.
Fiction deals with something imagined and unreal . Even though some books take roots in real-life stories, their authors create another world, add new characters, change appearance, and provide other alterations. Its main goal is to entertain the reader. A person should read it from the first to the last sentence to get the idea.
Non-fiction is about real events and personalities . It includes newspapers, textbooks, encyclopedias, documentary literature and movies, and more. Its main goal is to teach the reader. Such books and articles contain photos or detailed illustrations that echo reality. One can read extracts to get the required information.
If a person needs verified data, students should prefer nonfiction. Their authors research, experiment, and add visual evidence to prove the veracity of the introduced information. The best variants are magazines, journals, newspapers, and scientific publications. Except for traditional sources, students often search for reliable facts online. Reputable websites are updated, have  Copyright signs, and authors of publications. If posts have no authors, there should be a company's logo or something similar.
Fiction is good for narratives because novels have lots of bright stories. Students can use them to support the main idea with an excellent illustration. It can be a novel, a poem, a short story, or comics.
It is essential to mention all the used sources either in the footnotes or the bibliography section. Furthermore, it helps students avoid problems with plagiarism. Moreover, all references must be formatted in accordance with the narrative essay format. MLA, ASA, APA, Chicago, Harvard, and IEEE are the most popular citation styles. Students introduce the applied works by giving information about their authors, titles, publication years, companies, and places in a specific order. The examples below show the main difference:
Staff, Science. "Scientists May Have Solved Stephen Hawking's Black Hole Paradox." Phys.Org, 18 Mar. 2022, phys.org/news/2022-03-scientists-stephen-hawking-black-hole.html. (MLA style)
Staff, S. X. (2022, March 18). Scientists may have solved Stephen Hawking's black hole paradox. Phys.Org. https://phys.org/news/2022-03-scientists-stephen-hawking-black-hole.html (APA style)
Phys.org. 2022. [online] Available at: <https://phys.org/pdf566828469.pdf> [Accessed 30 June 2022]. (IEEE format)
As you can see, all three formats differ. That is why students should find information about the required format in the assignment and stick to it.
Making a Structure and Outlining
Divide your plot into three parts: a setup, the main part, a climax, and a thrilling conclusion. In the introduction, you should hook a reader and make them read the rest of your essay. Allocate the major points of the essay and describe each of them briefly in the body and end up your story with an unpredictable twist and a delightful punch line. In its turn, outlining helps you find the best details of the disclosed issues in the narrative essay.
Picture source
How to write a narrative essay?
It is essential to keep to an academic structure that includes an introduction, a body, and a conclusion for most writings. What are the general requirements for each part?
An introduction must be hooky. It should intrigue the reader. Professionals usually use the so-called 'hooks' such as provocative questions, impressive facts, jokes, life stories, retrospection or prospections, etc. Besides, it has a thesis statement. It informs about the core message of the essay within fewer than 40 words or two sentences. An introductory part should take not more than 10% of the essay volume.
A student develops the idea of the thesis statement in the body . If students speak about some event in the first part, then they will explain how this event has changed them or their life. For example, "That day made me stronger" will be followed by a story full of influential details such as characters, deeds, weather anomalies, miracles, or more. This part is the longest and takes over 80% of a paper's length.
Finally, the writers conclude in the last paragraph . They highlight the value of the received experience or evaluate the situation that has happened to them or someone else. To leave a pleasant aftertaste in a reader, they often use quotes, questions, and other techniques to put their target audience in the desired mood. For example, "Have you ever experienced the same?" or "Would you like to live in a world without adults who control you all the time?" Just like an introduction, it takes approximately 10% of the essay length.
Many educational and custom writing websites have narrative essay examples. They mirror both demands for the content and formatting. If you study them, you will see that most authors try to show a story but not tell it. Such a writing approach is very successful. It lets readers imagine everything in detail. Partial description evokes feelings.
Other significant tips are logical flow and word selection. Students must connect all essay parts logically. One can use either transition words or stick to the idea without informational gaps. Depending on the academic year (school, college, university), students should choose words that reflect their educational experience. One should use synonyms, and stylistic devices, and avoid overused phrases and repetitions. It is smart to rotate complex and simple short sentences to guarantee good readability.
Providing Information in First-Person
The narrative is very personal, so you should underline the significance of the ongoing events for your identity. That is why it is common to use "I" statements without switching a perspective in favor of another person.
Describing the Characters and Places
Even though it's not a descriptive essay, try to adorn your story with vivid details of crucial objects mentioned in the plot. Especially, that goes for people who affected the outcome of the whole case; their personalities should be disclosed as comprehensively as possible.
Mention places serve as a location of where an action is held because it reflects the picture's ambiance. Background information that may change the reader's attitude to characters or even to the meaning of your idea has to be also provided.
Adding a Little Spice
What a narrative without a zest! Dilute your smooth passages with a detail that will turn everything around. It may be an antagonist character who is eagerly interfering with your purposes, an unpredictable twist and embarrassing ending, or funny jokes and coincidences to break your audience out laughing.
#3. Editing
After crafting the first draft, revise it thoroughly. You will definitely find one, two or a few rough spots while looking through your essay. Make sure you didn't miss any important points.
Tips for successful editing:
Don't start to search for mistakes right after finishing the essay. Have a rest and only then take a fresh look at it;
Transform big and complicated sentences into simple ones to make them compelling;
Avoid use the terms wich many meanings;
Find all repeats of ideas or arguments and delete them;
Verify all citations and formatting in general with a guide;
Paraphrase where it is hard to grasp the sense;
Reconsider the structure of the essay.
#4. Proofreading
Many students deem that subtitles 3 and 4 in this guide are the same things. But it is not really so: when editing is all about content, style, and paragraph structure, proofreading is performed to detect misspellings and grammar errors. Also, it is the final phase of the writing.
What Should I Do During This Process?
Check grammar yourself or use some applications such as Grammarly.com or other services from Infographics below, but do not rely on them heavily;
Remove double spacing;
Replace misspellings with correct words.
Simple tools for proofreading and editing can come in handy.
Google Docs You can write your paper there and correct typos on the spot. The system marks the wrong lexis or misspelled words. Nevertheless, it deals with the set rules of either British or American English. So, one should look at what the system explains or set the document with either British or American requirements.
Grammarly This tool is really cool, especially its pro version. This software points to grammar errors, readability problems, clarity inconsistencies, and plagiarism warnings. The only disadvantage of this tool is that it lacks human factors. Therefore, it is essential to study each remark attentively and click only correct suggestions.
blue is for overused adverbs;
green is for passive constructions;
purple is for phrases that have simpler analogs;
orange is for hard-to-read sentences;
pink is for very hard-to-read sentences.
Copyscape Plagiarism is a way to nowhere. This simple though not free tool helps people identify stolen information in their papers.
Quillbot This tool is a magic wand for those who have poor vocabulary or need to paraphrase sentences to avoid plagiarism.
It is necessary to read papers after applying the tools. One can use five good techniques to do that:
search for specific mistakes per one proofreading (for example, missed or wrongly used punctuation marks or typos);
rest before checking to gain a maximum concentration;
read the text backward;
verify the used facts;
hire an editor if you want everything to look perfect.
It will be more effective if you entrust someone else to reread your piece: your friends, parents, or college mates. They may notice mistakes you missed and share their general opinion on the essay.
As you can see, the narrative essay is not complicated at all. It is one of the most pleasant forms of writing assignments due to the great involvement of your personality in the paper's body. Even the rules and requirements can't get you down – they are practically absent or are as simple as a pie if the professor mentions a structure. Turn on your imagination and start crafting a brilliant piece adhering to our recommendations.
Click on a star to rate it!
Average rating 5 / 5. Vote count: 5
No votes so far! Be the first to rate this post.
Author: Patricia Jenkins
Patricia Jenkins is the senior writing advisor at FastEssay blog for international students that seek quick paper assistance. In her blog, Patricia shares useful tips on productivity, writing, research, references. Sometimes Patricia goes off topic by sharing her personal experience peppered with lively humor and healthy irony. View all posts by Patricia Jenkins
Leave a Reply Cancel reply
You must be logged in to post a comment.
How our customers find us
No time to finish your essay.
Get writing help 24/7
EXPLORE Coupons Tech Help Pro Random Article About Us Quizzes Contribute Train Your Brain Game Improve Your English Popular Categories Arts and Entertainment Artwork Books Movies Computers and Electronics Computers Phone Skills Technology Hacks Health Men's Health Mental Health Women's Health Relationships Dating Love Relationship Issues Hobbies and Crafts Crafts Drawing Games Education & Communication Communication Skills Personal Development Studying Personal Care and Style Fashion Hair Care Personal Hygiene Youth Personal Care School Stuff Dating All Categories Arts and Entertainment Finance and Business Home and Garden Relationship Quizzes Cars & Other Vehicles Food and Entertaining Personal Care and Style Sports and Fitness Computers and Electronics Health Pets and Animals Travel Education & Communication Hobbies and Crafts Philosophy and Religion Work World Family Life Holidays and Traditions Relationships Youth
HELP US Support wikiHow Community Dashboard Write an Article Request a New Article More Ideas...
EDIT Edit this Article
PRO Courses New Guides Tech Help Pro New Expert Videos About wikiHow Pro Coupons Quizzes Upgrade Sign In
Premium wikiHow Guides
Browse Articles
Quizzes New
Train Your Brain New
Improve Your English New
Support wikiHow
About wikiHow
Easy Ways to Help
Approve Questions
Fix Spelling
More Things to Try...
H&M Coupons
Hotwire Promo Codes
StubHub Discount Codes
Ashley Furniture Coupons
Blue Nile Promo Codes
NordVPN Coupons
Samsung Promo Codes
Chewy Promo Codes
Ulta Coupons
Vistaprint Promo Codes
Shutterfly Promo Codes
DoorDash Promo Codes
Office Depot Coupons
adidas Promo Codes
Home Depot Coupons
DSW Coupons
Bed Bath and Beyond Coupons
Lowe's Coupons
Surfshark Coupons
Nordstrom Coupons
Walmart Promo Codes
Dick's Sporting Goods Coupons
Fanatics Coupons
Edible Arrangements Coupons
eBay Coupons
Log in / Sign up
Education and Communications
College University and Postgraduate
Academic Writing
How to Write a Narrative Essay
Last Updated: November 4, 2022 References Approved
This article was co-authored by Christopher Taylor, PhD . Christopher Taylor is an Adjunct Assistant Professor of English at Austin Community College in Texas. He received his PhD in English Literature and Medieval Studies from the University of Texas at Austin in 2014. There are 7 references cited in this article, which can be found at the bottom of the page. wikiHow marks an article as reader-approved once it receives enough positive feedback. This article has 52 testimonials from our readers, earning it our reader-approved status. This article has been viewed 1,877,047 times.
Narrative essays are commonly assigned pieces of writing at different stages through school. Like any story, they have a plot, conflict, and characters. Typically, assignments involve telling a story from your own life that connects with class themes. It can be a fun type of assignment to write, if you approach it properly. Learn how to choose a good topic, get a solid rough draft on paper, and revise your narrative essay.
Choosing a Good Topic
Most of the time, narrative essays will involve no outside research or references. Instead, you'll be using your personal story to provide the evidence of some point that you're trying to make. [3] X Trustworthy Source Purdue Online Writing Lab Trusted resource for writing and citation guidelines Go to source However, in some cases using research may enhance your story because it will allow you to provide additional detail.
Narrative essays are a common school assignment used to test your creative story-telling skills, as well as your ability to connect some element of your personal life to a topic you might be discussing in class.
You experienced adversity and had to overcome
You failed and had to deal with the consequences of that failure
Your personality or character was transformed
Bad narrative essays are generally too broad. "My senior year of high school" or "This summer" are examples of stories that would be far too big to tell in the amount of specific detail that a good narrative essay requires. Pick a single event from the summer, or a single week of your senior year, not something that takes months to unfold.
It's also good to limit the number of characters you introduce. Only include other characters who are absolutely essential. Every single friend from your fifth grade class will be too many names to keep track of. Pick one.
Let your imagination fill in the gaps. When you're describing your grandmother's house and a specific weekend you remember spending there, it's not important to remember exactly what was cooked for dinner on Friday night, unless that's an important part of the story. What did your grandmother typically cook? What did it usually smell like? Those are the details we need.
Typically, narrative essays are "non-fiction," which means that you can't just make up a story. It needs to have really happened. Force yourself to stay as true as possible to the straight story.
Writing a Draft
It helps to limit things as much as possible. While it might seem like we need to know a bunch of specific details from your senior year, try to think of a particularly tumultuous day from that year and tell us that story. Where does that story start? Not the first day of school that year. Find a better starting point.
If you want to tell the story of your prom night, does it start when you get dressed? Maybe. Does it start when you spill spaghetti sauce all down your dress before the dance? While that might seem like the climax of a story you want to tell, it might make a better starting place. Go straight to the drama.
You don't need to write up a formal outline for a narrative essay unless it's part of the assignment or it really helps you write. Listing the major scenes that need to be a part of the story will help you get organized and find a good place to start.
Don't switch perspectives throughout the story. This is a difficult and advanced technique to try to pull off, and it usually has the effect of being too complicated. There should only be one "I" in the story.
In general, narrative essays (and short stories for that matter) should also be told in past tense. So, you would write "Johnny and I walked to the store every Thursday" not "Johnny and I are walking to the store, like we do every Thursday."
You may be instructed to write in the 3rd person (such as he, she, it, they, them, their). If so, be consistent with your pronouns throughout the story.
Particular details are specific and only particular to the character being described. While it may be specific to say that your friend has brown hair, green eyes, is 5 feet tall with an athletic build, these things don't tell us much about the character. The fact that he only wears silk dragon shirts? Now that gives us something interesting.
Try writing up a brief sketch of each principal character in your narrative essay, along with the specific details you remember about them. Pick a few essentials.
Who or what is the antagonist in your story? To answer this question, you also need to find out what the protagonist wants. What is the goal? What's the best case scenario for the protagonist? What stands in the protagonist's way?
The antagonist isn't "the bad guy" of the story, necessarily, and not every story has a clear antagonist. Also keep in mind that for some good personal narratives, you might be the antagonist yourself.
Do a freewrite about the location that your story takes place. What do you know about the place? What can you remember? What can you find out?
If you do any research for your narrative essay, it will probably be here. Try to find out extra details about the setting of your story, or double-check your memory to make sure it's right.
A popular creative writing phrase tells writers to "show" not to "tell." What this means is that you should give us details whenever possible, rather than telling us facts. You might tell us something like, "My dad was always sad that year," but if you wrote "Dad never spoke when he got home from work. We heard his truck, then heard as he laid his battered hardhat on the kitchen table. Then we heard him sigh deeply and take off his work clothes, which were stained with grease."
Revising Your Essay
Get the theme into the very beginning of the essay. Just as a researched argument essay needs to have a thesis statement somewhere in the first few paragraphs of the essay, a narrative essay needs a topic statement or a thesis statement to explain the main idea of the story.
This isn't "ruining the surprise" of the story, this is foreshadowing the important themes and details to notice over the course of the story as you tell it. A good writer doesn't need suspense in a narrative essay. The ending should seem inevitable.
Scene: "On our walk to the store, Jared and I stopped at the empty grass lot to talk. 'What's your problem lately?' he asked, his eyes welling with tears. I didn't know what to tell him. I fidgeted, kicked an empty paint bucket that was rusted over at the edge of the lot. 'Remember when we used to play baseball here?' I asked him."
Analysis: "We finished walking to the store and bought all the stuff for the big holiday dinner. We got a turkey, cornbread, cranberries. The works. The store was crazy-packed with happy holiday shoppers, but we walked through them all, not saying a word to each other. It took forever to lug it all home."
Anything spoken by a character out loud needs to be included in quotation marks and attributed to the character speaking it: "I've never been to Paris," said James.
Each time a new character speaks, you need to make a new paragraph . If the same character speaks, multiple instances of dialog can exist in the same paragraph.
Revise for clarity first. Are your main points clear? If not, make them clear by including more details or narration in the writing. Hammer home your points.
Was the decision you made about the starting place of the story correct? Or, now that you've written, might it be better to start the story later? Ask the tough questions.
Proofreading is one part of revision, but it's a very minor part and it should be done last. Checking punctuation and spelling is the last thing you should be worried about in your narrative essay.
Sample Essay
Expert Q&A Did you know you can get expert answers for this article? Unlock expert answers by supporting wikiHow
Support wikiHow by unlocking this expert answer.
Be sensible while writing. It is necessary to stay on the topic rather than moving away from it. Do not lose your focus. ⧼thumbs_response⧽ Helpful 0 Not Helpful 0
Divide your essay into paragraphs, according to your limit: an introduction, two body paragraph and one conclusion. Your introduction can be either a shocker one, or one just describing the setting; the conclusion can reveal a surprise, or end with just a hint of the climax, keeping the final question to be answered by the readers. ⧼thumbs_response⧽ Helpful 0 Not Helpful 0
Write only when you have a perfect story to tell. When a reader finishes reading the story, he\she should feel all those emotions seep right through his\her rib cage. Only then as a narrator, have you succeeded. ⧼thumbs_response⧽ Helpful 0 Not Helpful 0
You Might Also Like
↑ https://examples.yourdictionary.com/narrative-essay-examples.html
↑ https://owl.purdue.edu/owl/general_writing/academic_writing/essay_writing/narrative_essays.html
↑ https://www.nytimes.com/2016/10/20/learning/lesson-plans/650-prompts-for-narrative-and-personal-writing.html
↑ https://miamioh.edu/hcwe/handouts/narrative-essays/index.html
↑ https://www.indeed.com/career-advice/career-development/how-to-write-narrative-essay
↑ https://crk.umn.edu/units/writing-center/how-revise-drafts
About This Article
To write a narrative essay, start by choosing an interesting personal story from your life to write about. Try to connect your story to a broader theme or topic so your essay has more substance. Then, write out your story in the past tense using the first person point of view. As you write your story, use vivid details to describe the setting and characters so readers are able to visualize what you're writing. Once you've written your essay, read it several times and make sure you've illustrated your theme or topic. To learn more from our Professor of English co-author, like how to write scenes and analyses, keep reading the article! Did this summary help you? Yes No
Reader Success Stories
Michelle Foss
Aug 10, 2018
Did this article help you?
Oct 10, 2017
Maria Belen
Dec 15, 2016
Amit Chauhan
Aug 17, 2017
Hlela Maqoqa
Oct 27, 2016
Featured Articles
Trending Articles
Watch Articles
Terms of Use
Privacy Policy
Do Not Sell or Share My Info
Not Selling Info
wikiHow Tech Help Pro:
Level up your tech skills and stay ahead of the curve
A Step-by-Step Plan for Teaching Narrative Writing
July 29, 2018
Can't find what you are looking for? Contact Us
Listen to this post as a podcast:
Sponsored by Peergrade and Microsoft Class Notebook
This post contains Amazon Affiliate links. When you make a purchase through these links, Cult of Pedagogy gets a small percentage of the sale at no extra cost to you.
"Those who tell the stories rule the world."  This proverb, attributed to the Hopi Indians, is one I wish I'd known a long time ago, because I would have used it when teaching my students the craft of storytelling. With a well-told story we can help a person see things in an entirely new way. We can forge new relationships and strengthen the ones we already have. We can change a law, inspire a movement, make people care fiercely about things they'd never given a passing thought.
But when we study storytelling with our students, we forget all that. Or at least I did. When my students asked why we read novels and stories, and why we wrote personal narratives and fiction, my defense was pretty lame: I probably said something about the importance of having a shared body of knowledge, or about the enjoyment of losing yourself in a book, or about the benefits of having writing skills in general.
I forgot to talk about the  power of story. I didn't bother to tell them that the ability to tell a captivating story is one of the things that makes human beings extraordinary. It's how we connect to each other. It's something to celebrate, to study, to perfect. If we're going to talk about how to teach students to write stories, we should start by thinking about why we tell stories at all . If we can pass that on to our students, then we will be going beyond a school assignment; we will be doing something transcendent.
Now. How do we get them to write those stories? I'm going to share the process I used for teaching narrative writing. I used this process with middle school students, but it would work with most age groups.
A Note About Form: Personal Narrative or Short Story?
When teaching narrative writing, many teachers separate personal narratives from short stories. In my own classroom, I tended to avoid having my students write short stories because personal narratives were more accessible. I could usually get students to write about something that really happened, while it was more challenging to get them to make something up from scratch.
In the "real" world of writers, though, the main thing that separates memoir from fiction is labeling: A writer might base a novel heavily on personal experiences, but write it all in third person and change the names of characters to protect the identities of people in real life. Another writer might create a short story in first person that reads like a personal narrative, but is entirely fictional. Just last weekend my husband and I watched the movie Lion and were glued to the screen the whole time, knowing it was based on a true story. James Frey's book  A Million Little Pieces  sold millions of copies as a memoir but was later found to contain more than a little bit of fiction. Then there are unique books like Curtis Sittenfeld's brilliant novel American Wife , based heavily on the early life of Laura Bush but written in first person, with fictional names and settings, and labeled as a work of fiction. The line between fact and fiction has always been really, really blurry, but the common thread running through all of it is good storytelling.
With that in mind, the process for teaching narrative writing can be exactly the same for writing personal narratives or short stories; it's the same skill set. So if you think your students can handle the freedom, you might decide to let them choose personal narrative or fiction for a narrative writing assignment, or simply tell them that whether the story is true doesn't matter, as long as they are telling a good story and they are not trying to pass off a fictional story as fact.
Here are some examples of what that kind of flexibility could allow:
A student might tell a true story from their own experience, but write it as if it were a fiction piece, with fictional characters, in third person.
A student might create a completely fictional story, but tell it in first person, which would give it the same feel as a personal narrative.
A student might tell a true story that happened to someone else, but write it in first person, as if they were that person. For example, I could write about my grandmother's experience of getting lost as a child, but I might write it in her voice.
If we aren't too restrictive about what we call these pieces, and we talk about different possibilities with our students, we can end up with lots of interesting outcomes. Meanwhile, we're still teaching students the craft of narrative writing.
A Note About Process: Write With Your Students
One of the most powerful techniques I used as a writing teacher was to do my students' writing assignments with them. I would start my own draft at the same time as they did, composing "live" on the classroom projector, and doing a lot of thinking out loud so they could see all the decisions a writer has to make.
The most helpful parts for them to observe were the early drafting stage, where I just scratched out whatever came to me in messy, run-on sentences, and the revision stage, where I crossed things out, rearranged, and made tons of notes on my writing. I have seen over and over again how witnessing that process can really help to unlock a student's understanding of how writing actually gets made.
A Narrative Writing Unit Plan
Before I get into these steps, I should note that there is no one right way to teach narrative writing, and plenty of accomplished teachers are doing it differently and getting great results. This just happens to be a process that has worked for me.
Step 1: Show Students That Stories Are Everywhere
Getting our students to tell stories should be easy. They hear and tell stories all the time. But when they actually have to put words on paper, they forget their storytelling abilities: They can't think of a topic. They omit relevant details, but go on and on about irrelevant ones. Their dialogue is bland. They can't figure out how to start. They can't figure out how to end.
So the first step in getting good narrative writing from students is to help them see that they are already telling stories every day . They gather at lockers to talk about that thing that happened over the weekend. They sit at lunch and describe an argument they had with a sibling. Without even thinking about it, they begin sentences with "This one time…" and launch into stories about their earlier childhood experiences. Students are natural storytellers; learning how to do it well on paper is simply a matter of studying good models, then imitating what those writers do.
So start off the unit by getting students to tell their stories. In journal quick-writes, think-pair-shares, or by playing a game like Concentric Circles , prompt them to tell some of their own brief stories: A time they were embarrassed. A time they lost something. A time they didn't get to do something they really wanted to do. By telling their own short anecdotes, they will grow more comfortable and confident in their storytelling abilities. They will also be generating a list of topic ideas. And by listening to the stories of their classmates, they will be adding onto that list and remembering more of their own stories.
And remember to tell some of your own. Besides being a good way to bond with students, sharing  your stories will help them see more possibilities for the ones they can tell.
Step 2: Study the Structure of a Story
Now that students have a good library of their own personal stories pulled into short-term memory, shift your focus to a more formal study of what a story looks like.
Use a diagram to show students a typical story arc like the one below. Then, using a simple story—like this Coca Cola commercial —fill out the story arc with the components from that story. Once students have seen this story mapped out, have them try it with another one, like a story you've read in class, a whole novel, or another short video.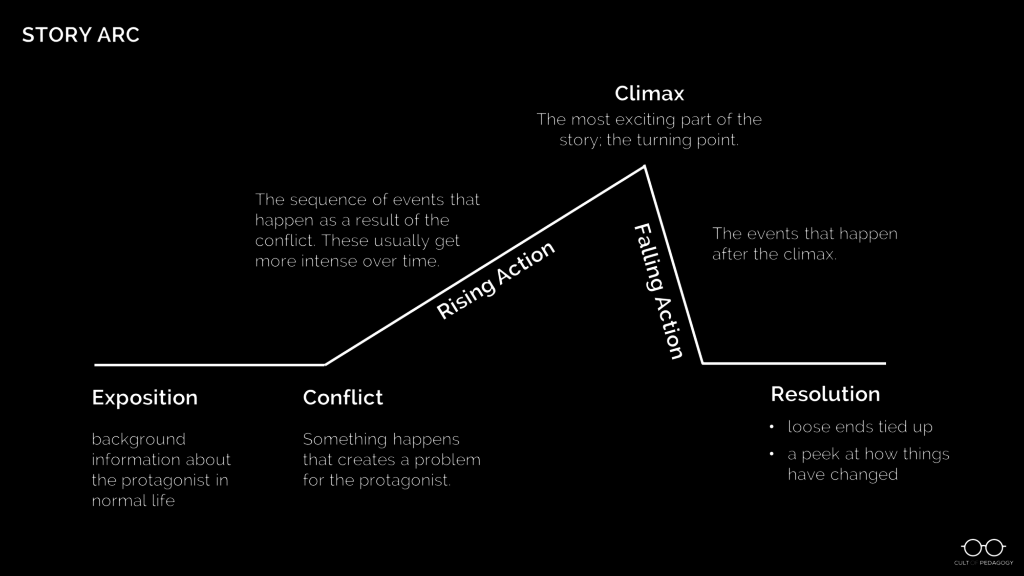 Step 3: Introduce the Assignment
Up to this point, students have been immersed in storytelling. Now give them specific instructions for what they are going to do. Share your assignment rubric so they understand the criteria that will be used to evaluate them; it should be ready and transparent right from the beginning of the unit. As always, I recommend using a single point rubric for this.
Step 4: Read Models
Once the parameters of the assignment have been explained, have students read at least one model story, a mentor text that exemplifies the qualities you're looking for. This should be a story on a topic your students can kind of relate to, something they could see themselves writing. For my narrative writing unit (see the end of this post), I wrote a story called "Frog" about a 13-year-old girl who finally gets to stay home alone, then finds a frog in her house and gets completely freaked out, which basically ruins the fun she was planning for the night.
They will be reading this model as writers, looking at how the author shaped the text for a purpose, so that they can use those same strategies in their own writing. Have them look at your rubric and find places in the model that illustrate the qualities listed in the rubric. Then have them complete a story arc for the model so they can see the underlying structure.
Ideally, your students will have already read lots of different stories to look to as models. If that isn't the case, this list of narrative texts recommended by Cult of Pedagogy followers on Twitter would be a good place to browse for titles that might be right for your students. Keep in mind that we have not read most of these stories, so be sure to read them first before adopting them for classroom use.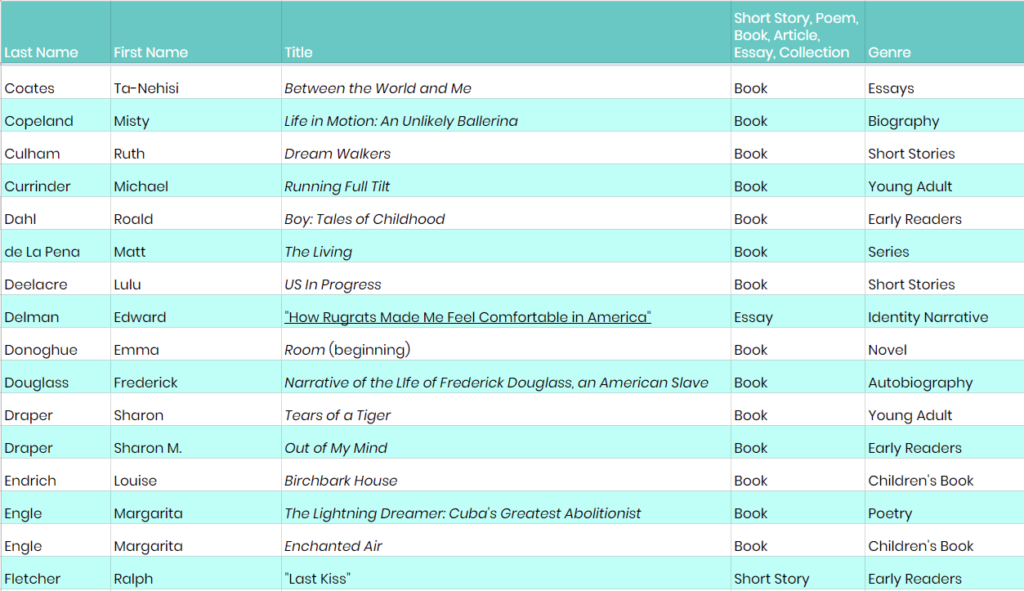 Click the image above to view the full list of narrative texts recommended by Cult of Pedagogy followers on Twitter. If you have a suggestion for the list, please email us through our contact page.
Step 5: Story Mapping
At this point, students will need to decide what they are going to write about. If they are stuck for a topic, have them just pick something they can write about, even if it's not the most captivating story in the world. A skilled writer could tell a great story about deciding what to have for lunch. If they are using the skills of narrative writing, the topic isn't as important as the execution.
Have students complete a basic story arc for their chosen topic using a diagram like the one below. This will help them make sure that they actually have a story to tell, with an identifiable problem, a sequence of events that build to a climax, and some kind of resolution, where something is different by the end. Again, if you are writing with your students, this would be an important step to model for them with your own story-in-progress.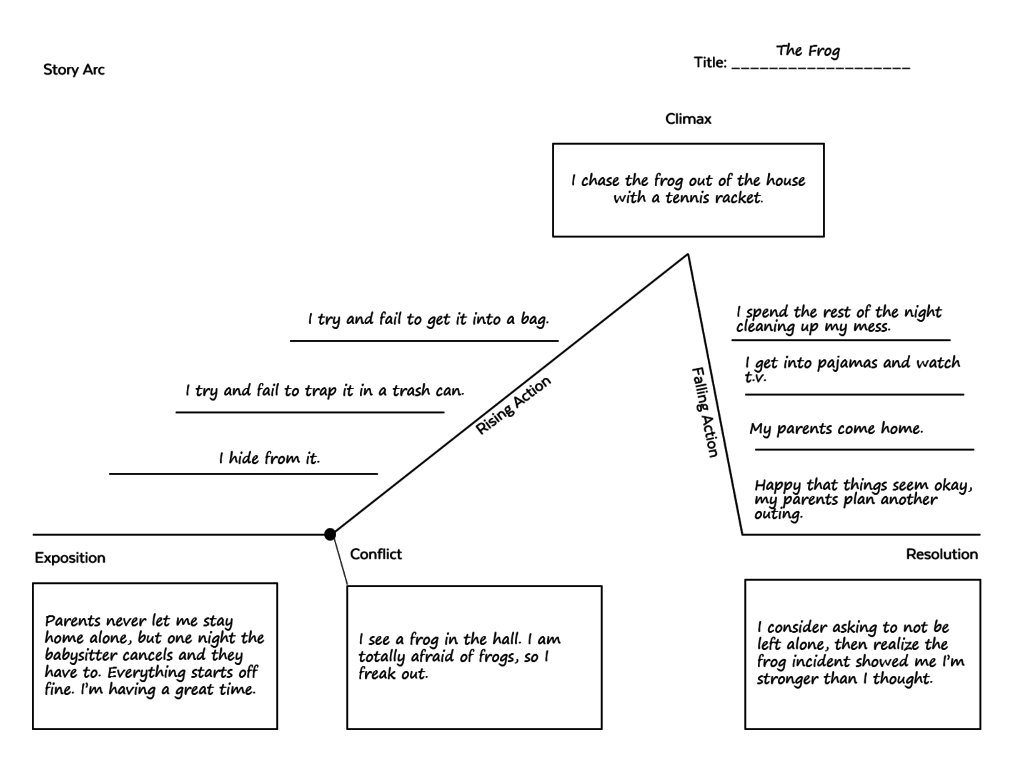 Step 6: Quick Drafts
Now, have students get their chosen story down on paper as quickly as possible: This could be basically a long paragraph that would read almost like a summary, but it would contain all the major parts of the story. Model this step with your own story, so they can see that you are not shooting for perfection in any way. What you want is a working draft, a starting point, something to build on for later, rather than a blank page (or screen) to stare at.
Step 7: Plan the Pacing
Now that the story has been born in raw form, students can begin to shape it. This would be a good time for a lesson on pacing, where students look at how writers expand some moments to create drama and shrink other moments so that the story doesn't drag. Creating a diagram like the one below forces a writer to decide how much space to devote to all of the events in the story.
Before students write a full draft, have them plan out the events in their story with a pacing diagram, a visual representation of how much "space" each part of the story is going to take up.
Step 8: Long Drafts
With a good plan in hand, students can now slow down and write a proper draft, expanding the sections of their story that they plan to really draw out and adding in more of the details that they left out in the quick draft.
Step 9: Workshop
Once students have a decent rough draft—something that has a basic beginning, middle, and end, with some discernible rising action, a climax of some kind, and a resolution, you're ready to shift into full-on workshop mode. I would do this for at least a week: Start class with a short mini-lesson on some aspect of narrative writing craft, then give students the rest of the period to write, conference with you, and collaborate with their peers. During that time, they should focus some of their attention on applying the skill they learned in the mini-lesson to their drafts, so they will improve a little bit every day.
Topics for mini-lessons can include:
How to weave exposition into your story so you don't give readers an "information dump"
How to carefully select dialogue to create good scenes, rather than quoting everything in a conversation
How to punctuate and format dialogue so that it imitates the natural flow of a conversation
How to describe things using sensory details and figurative language; also,  what  to describe…students too often give lots of irrelevant detail
How to choose precise nouns and vivid verbs, use a variety of sentence lengths and structures, and add transitional words, phrases, and features to help the reader follow along
How to start, end, and title a story
Step 10: Final Revisions and Edits
As the unit nears its end, students should be shifting away from revision , in which they alter the content of a piece, toward editing , where they make smaller changes to the mechanics of the writing. Make sure students understand the difference between the two: They should not be correcting each other's spelling and punctuation in the early stages of this process, when the focus should be on shaping a better story.
One of the most effective strategies for revision and editing is to have students read their stories out loud. In the early stages, this will reveal places where information is missing or things get confusing. Later, more read-alouds will help them immediately find missing words, unintentional repetitions, and sentences that just "sound weird." So get your students to read their work out loud frequently. It also helps to print stories on paper: For some reason, seeing the words in print helps us notice things we didn't see on the screen.
To get the most from peer review, where students read and comment on each other's work, more modeling from you is essential: Pull up a sample piece of writing and show students how to give specific feedback that helps, rather than simply writing "good detail" or "needs more detail," the two comments I saw exchanged most often on students' peer-reviewed papers.
Step 11: Final Copies and Publication
Once revision and peer review are done, students will hand in their final copies. If you don't want to get stuck with 100-plus papers to grade, consider using Catlin Tucker's station rotation model , which keeps all the grading in class. And when you do return stories with your own feedback, try using Kristy Louden's delayed grade strategy , where students don't see their final grade until they have read your written feedback.
Beyond the standard hand-in-for-a-grade, consider other ways to have students publish their stories. Here are some options:
Stories could be published as individual pages on a collaborative website or blog.
Students could create illustrated e-books out of their stories.
Students could create a slideshow to accompany their stories and record them as digital storytelling videos. This could be done with a tool like Screencastify or Screencast-O-Matic .
So this is what worked for me. If you've struggled to get good stories from your students, try some or all of these techniques next time. I think you'll find that all of your students have some pretty interesting stories to tell. Helping them tell their stories well is a gift that will serve them for many years after they leave your classroom. ♦
Want this unit ready-made?
If you're a writing teacher in grades 7-12 and you'd like a classroom-ready unit like the one described above, including slideshow mini-lessons on 14 areas of narrative craft, a sample narrative piece, editable rubrics, and other supplemental materials to guide students through every stage of the process, take a look at my Narrative Writing unit . Just click on the image below and you'll be taken to a page where you can read more and see a detailed preview of what's included.
What to Read Next
Categories: Instruction , Podcast
Tags: English language arts , Grades 6-8 , Grades 9-12 , teaching strategies
48 Comments
Wow, this is a wonderful guide! If my English teachers had taught this way, I'm sure I would have enjoyed narrative writing instead of dreading it. I'll be able to use many of these suggestions when writing my blog! BrP
Lst year I was so discouraged because the short stories looked like the quick drafts described in this article. I thought I had totally failed until I read this and realized I did not fai,l I just needed to complete the process. Thank you!
I feel like you jumped in my head and connected my thoughts. I appreciate the time you took to stop and look closely at form. I really believe that student-writers should see all dimensions of narrative writing and be able to live in whichever style and voice they want for their work.
Can't thank you enough for this. So well curated that one can just follow it blindly and ace at teaching it. Thanks again!
Great post! I especially liked your comments about reminding kids about the power of storytelling. My favourite podcasts and posts from you are always about how to do things in the classroom and I appreciate the research you do.
On a side note, the ice breakers are really handy. My kids know each other really well (rural community), and can tune out pretty quickly if there is nothing new to learn about their peers, but they like the games (and can remember where we stopped last time weeks later). I've started changing them up with 'life questions', so the editable version is great!
I love writing with my students and loved this podcast! A fun extension to this narrative is to challenge students to write another story about the same event, but use the perspective of another "character" from the story. Books like Wonder (R.J. Palacio) and Wanderer (Sharon Creech) can model the concept for students.
Thank you for your great efforts to reveal the practical writing strategies in layered details. As English is not my first language, I need listen to your podcast and read the text repeatedly so to fully understand. It's worthy of the time for some great post like yours. I love sharing so I send the link to my English practice group that it can benefit more. I hope I could be able to give you some feedback later on.
Thank you for helping me get to know better especially the techniques in writing narrative text. Im an English teacher for 5years but have little knowledge on writing. I hope you could feature techniques in writing news and fearute story. God bless and more power!
Thank you for this! I am very interested in teaching a unit on personal narrative and this was an extremely helpful breakdown. As a current student teacher I am still unsure how to approach breaking down the structures of different genres of writing in a way that is helpful for me students but not too restrictive. The story mapping tools you provided really allowed me to think about this in a new way. Writing is such a powerful way to experience the world and more than anything I want my students to realize its power. Stories are how we make sense of the world and as an English teacher I feel obligated to give my students access to this particular skill.
The power of story is unfathomable. There's this NGO in India doing some great work in harnessing the power of storytelling and plots to brighten children's lives and enlighten them with true knowledge. Check out Katha India here: http://bit.ly/KathaIndia
Thank you so much for this. I did not go to college to become a writing professor, but due to restructuring in my department, I indeed am! This is a wonderful guide that I will use when teaching the narrative essay. I wonder if you have a similar guide for other modes such as descriptive, process, argument, etc.?
Hey Melanie, Jenn does have another guide on writing! Check out A Step-by-Step Plan for Teaching Argumentative Writing .
Hi, I am also wondering if there is a similar guide for descriptive writing in particular?
Hey Melanie, unfortunately Jenn doesn't currently have a guide for descriptive writing. She's always working on projects though, so she may get around to writing a unit like this in the future. You can always check her Teachers Pay Teachers page for an up-to-date list of materials she has available. Thanks!
I absolutely adore this unit plan. I teach freshmen English at a low-income high school and wanted to find something to help my students find their voice. It is not often that I borrow material, but I borrowed and adapted all of it in the order that it is presented! It is cohesive, understandable, and fun. Thank you!!
So glad to hear this, Nicole!
Thanks sharing this post. My students often get confused between personal narratives and short stories. Whenever I ask them to write a short story, she share their own experiences and add a bit of fiction in it to make it interesting.
Thank you! My students have loved this so far. I do have a question as to where the "Frog" story mentioned in Step 4 is. I could really use it! Thanks again.
This is great to hear, Emily! In Step 4, Jenn mentions that she wrote the "Frog" story for her narrative writing unit . Just scroll down the bottom of the post and you'll see a link to the unit.
I also cannot find the link to the short story "Frog"– any chance someone can send it or we can repost it?
This story was written for Jenn's narrative writing unit. You can find a link to this unit in Step 4 or at the bottom of the article. Hope this helps.
I cannot find the frog story mentioned. Could you please send the link.? Thank you
Hi Michelle,
The Frog story was written for Jenn's narrative writing unit. There's a link to this unit in Step 4 and at the bottom of the article.
Debbie- thanks for you reply… but there is no link to the story in step 4 or at the bottom of the page….
Hey Shawn, the frog story is part of Jenn's narrative writing unit, which is available on her Teachers Pay Teachers site. The link Debbie is referring to at the bottom of this post will take you to her narrative writing unit and you would have to purchase that to gain access to the frog story. I hope this clears things up.
Thank you so much for this resource! I'm a high school English teacher, and am currently teaching creative writing for the first time. I really do value your blog, podcast, and other resources, so I'm excited to use this unit. I'm a cyber school teacher, so clear, organized layout is important; and I spend a lot of time making sure my content is visually accessible for my students to process. Thanks for creating resources that are easy for us teachers to process and use.
Do you have a lesson for Informative writing?
Hey Cari, Jenn has another unit on argumentative writing , but doesn't have one yet on informative writing. She may develop one in the future so check back in sometime.
I had the same question. Informational writing is so difficult to have a good strong unit in when you have so many different text structures to meet and need text-dependent writing tasks.
Creating an informational writing unit is still on Jenn's long list of projects to get to, but in the meantime, if you haven't already, check out When We All Teach Text Structures, Everyone Wins . It might help you out!
This is a great lesson! It would be helpful to see a finished draft of the frog narrative arc. Students' greatest challenge is transferring their ideas from the planner to a full draft. To see a full sample of how this arc was transformed into a complete narrative draft would be a powerful learning tool.
Hi Stacey! Jenn goes into more depth with the "Frog" lesson in her narrative writing unit – this is where you can find a sample of what a completed story arc might look. Also included is a draft of the narrative. If interested in checking out the unit and seeing a preview, just scroll down to the bottom of the post and click on the image. Hope this helps!
Helped me learn for an entrance exam thanks very much
Is the narrative writing lesson you talk about in https://www.cultofpedagogy.com/narrative-writing/
Also doable for elementary students you think, and if to what levels?
Love your work, Sincerely, Zanyar
Hey Zanyar,
It's possible the unit would work with 4th and 5th graders, but Jenn definitely wouldn't recommend going any younger. The main reason for this is that some of the mini-lessons in the unit could be challenging for students who are still concrete thinkers. You'd likely need to do some adjusting and scaffolding which could extend the unit beyond the 3 weeks. Having said that, I taught 1st grade and found the steps of the writing process, as described in the post, to be very similar. Of course learning targets/standards were different, but the process itself can be applied to any grade level (modeling writing, using mentor texts to study how stories work, planning the structure of the story, drafting, elaborating, etc.) Hope this helps!
This has made my life so much easier. After teaching in different schools systems, from the American, to British to IB, one needs to identify the anchor standards and concepts, that are common between all these systems, to build well balanced thematic units. Just reading these steps gave me the guidance I needed to satisfy both the conceptual framework the schools ask for and the standards-based practice. Thank you Thank you.
Would this work for teaching a first grader about narrative writing? I am also looking for a great book to use as a model for narrative writing. Veggie Monster is being used by his teacher and he isn't connecting with this book in the least bit, so it isn't having a positive impact. My fear is he will associate this with writing and I don't want a negative association connected to such a beautiful process and experience. Any suggestions would be helpful.
Thank you for any information you can provide!
Although I think the materials in the actual narrative writing unit are really too advanced for a first grader, the general process that's described in the blog post can still work really well.
I'm sorry your child isn't connecting with The Night of the Veggie Monster. Try to keep in mind that the main reason this is used as a mentor text is because it models how a small moment story can be told in a big way. It's filled with all kinds of wonderful text features that impact the meaning of the story – dialogue, description, bold text, speech bubbles, changes in text size, ellipses, zoomed in images, text placement, text shape, etc. All of these things will become mini-lessons throughout the unit. But there are lots of other wonderful mentor texts that your child might enjoy. My suggestion for an early writer, is to look for a small moment text, similar in structure, that zooms in on a problem that a first grader can relate to. In addition to the mentor texts that I found in this article , you might also want to check out Knuffle Bunny, Kitten's First Full Moon, When Sophie Gets Angry Really Really Angry, and Whistle for Willie. Hope this helps!
I saw this on Pinterest the other day while searching for examples of narritives units/lessons. I clicked on it because I always click on C.o.P stuff 🙂 And I wasn't disapointed. I was intrigued by the connection of narratives to humanity–even if a student doesn't identify as a writer, he/she certainly is human, right? I really liked this. THIS clicked with me.
A few days after I read the P.o.C post, I ventured on to YouTube for more ideas to help guide me with my 8th graders' narrative writing this coming spring. And there was a TEDx video titled, "The Power of Personal Narrative" by J. Christan Jensen. I immediately remembered the line from the article above that associated storytelling with "power" and how it sets humans apart and if introduced and taught as such, it can be "extraordinary."
I watched the video and to the suprise of my expectations, it was FANTASTIC. Between Jennifer's post and the TEDx video ignited within me some major motivation and excitement to begin this unit.
Thanks for sharing this with us! So glad that Jenn's post paired with another text gave you some motivation and excitement. I'll be sure to pass this on to Jenn!
Thank you very much for this really helpful post! I really love the idea of helping our students understand that storytelling is powerful and then go on to teach them how to harness that power. That is the essence of teaching literature or writing at any level. However, I'm a little worried about telling students that whether a piece of writing is fact or fiction does not matter. It in fact matters a lot precisely because storytelling is powerful. Narratives can shape people's views and get their emotions involved which would, in turn, motivate them to act on a certain matter, whether for good or for bad. A fictional narrative that is passed as factual could cause a lot of damage in the real world. I believe we should. I can see how helping students focus on writing the story rather than the truth of it all could help refine the needed skills without distractions. Nevertheless, would it not be prudent to teach our students to not just harness the power of storytelling but refrain from misusing it by pushing false narratives as factual? It is true that in reality, memoirs pass as factual while novels do as fictional while the opposite may be true for both cases. I am not too worried about novels passing as fictional. On the other hand, fictional narratives masquerading as factual are disconcerting and part of a phenomenon that needs to be fought against, not enhanced or condoned in education. This is especially true because memoirs are often used by powerful people to write/re-write history. I would really like to hear your opinion on this. Thanks a lot for a great post and a lot of helpful resources!
Thank you so much for this. Jenn and I had a chance to chat and we can see where you're coming from. Jenn never meant to suggest that a person should pass off a piece of fictional writing as a true story. Good stories can be true, completely fictional, or based on a true story that's mixed with some fiction – that part doesn't really matter. However, what does matter is how a student labels their story. We think that could have been stated more clearly in the post , so Jenn decided to add a bit about this at the end of the 3rd paragraph in the section "A Note About Form: Personal Narrative or Short Story?" Thanks again for bringing this to our attention!
You have no idea how much your page has helped me in so many ways. I am currently in my teaching credential program and there are times that I feel lost due to a lack of experience in the classroom. I'm so glad I came across your page! Thank you for sharing!
Thanks so much for letting us know-this means a whole lot!
No, we're sorry. Jenn actually gets this question fairly often. It's something she considered doing at one point, but because she has so many other projects she's working on, she's just not gotten to it.
I couldn't find the story
Hi, Duraiya. The "Frog" story is part of Jenn's narrative writing unit, which is available on her Teachers Pay Teachers site. The link at the bottom of this post will take you to her narrative writing unit, which you can purchase to gain access to the story. I hope this helps!
Leave a Reply
Your email address will not be published.
Narrative Essay

Narrative Essay - A Complete Writing Guide with Examples
13 min read
Published on: Jun 11, 2018
Last updated on: Feb 28, 2023
On This Page On This Page
All students are asked to submit a narrative essay during their studies. But not everyone knows how to do it. Are you one of them?
A narrative essay is a common form of academic writing that students write in schools, colleges, and universities. Narrative essays are also required by many college applications.
So knowing how to handle this type of essay effectively can help you succeed in your studies. That's why our experts have prepared this comprehensive guide for you.
Let's dive into the blog to know everything about narrative essay writing.
What Is a Narrative Essay?
A narrative essay gives writers a chance to write about their personal experiences.
When you write a narrative essay, you tell a story to your reader. The story could be real, or it could be fictional, but it is defined from a particular perspective. It is usually written in the first-person perspective.
A narrative essay is quite similar to a descriptive essay but, in that, it makes the reader feel and experience. However, it carries its unique aspects.
Here is a narrative essay definition:
It should incorporate the following points:
Develop a particular viewpoint
Make and support your claim
Include precise information
Use vivid verbs and modifiers
Add conflict and sequences
Use dialogue
You can also watch the video below to understand it better:
The purpose of a narrative essay is to tell a real-life or fictional story to the reader. It usually relies on personal experience and is often written in the form of a story. For writing a perfect narration, the writer must include the conventions of storytelling, climax, setting, plot, and ending.
Purpose of a Narrative Essay
The purpose of a narrative essay is to tell a real-life or fictional story to the reader. They are often part of college admissions processes, where you write narrative essays based on specific prompts.
A narrative essay usually relies on personal experience and is often written in the form of a story.
For writing a perfect narration, the writer must include the conventions of storytelling, climax, setting, plot, and ending.
Tough Essay Due? Hire Tough Writers!
Types of Narrative Essay
The four types of narrative essays are:
Descriptive Narrative Essay
A descriptive narrative essay is used to describe an experience, situation, or memory in vivid detail. The main goal is to show the reader what is happening, not tell.
A good descriptive essay is usually easy to follow. It takes a complicated story and makes it simpler for the reader.
You should avoid over-exaggerating and only put in what is important. There are always limits to the amount of information you can give your readers. Keep this in mind when deciding what to include in your work.
Expository Narrative Essay
An expository narrative essay combines elements of both expository writing and narrative writing.
It is a type of essay that explains or describes a particular topic or concept while also telling a story or sharing personal experiences.
The purpose of an expository essay is to educate or inform the reader about a particular subject matter while also engaging them through storytelling.
Biographical Narrative Essay
This type asks you to share a story from your life. It should focus on one specific event.
Moreover, an autobiographical narrative essay should not just be descriptive. It should be an exploration of the meaning behind your experiences.
Your story should be written from your perspective, with an emotional connection to it. Don't forget to explain the impact of this experience on you and how it has shaped you into who you are now.
Personal Narrative Essay
A personal narrative essay is a form of writing that tells a story from the author's own life experiences. It is a type of essay that allows the writer to reflect on their past and share moments that impacted them in a significant way.
Personal narrative essays often explore the writer's emotions, thoughts, and feelings during a particular event or period in their life.
See the personal narrative essay example pdf below. It will give you a better understanding of a personal narrative.
Personal Narrative Essay Example
Features of a Narrative Essay
Below are the main characteristics of a narrative essay.
Present information in chronological order.
There is a basic structure to writing stories. The story includes elements such as a plot, setting, and characters. It is important to follow the basic structure to ensure the story flows correctly.
Details are used to describe an event, person, or scene in depth.
Seeks to inform readers about something. It does not argue or teach.
Narrative Essay Format and Structure
A typical 5 paragraph narrative essay structure has one introduction, three paragraphs in the main body, and one conclusion paragraph. If needed, you can change the number of body paragraphs according to the topic.
It usually has these five elements: plot, characters, setting, conflict, and theme.
The plot is the incident you intend to share in the story. It is about the sequence of events that occurred in your story.
The setting is the location where the event occurred. It can be your house, your school, or any other place where you were at the time of the event.
Characters are the people involved in the incident. You have to mention everyone involved, whether the main or a side character.
Conflict is the problem faced by the characters during the incident. A moment of tension in the plot is considered a conflict that needs to be resolved.
The essay's theme elaborates on the story's overall purpose and the writer's reasons for choosing the topic.
Here is a narrative essay sample that will give you a deep understanding of the above-mentioned elements.
Narrative Essay Format with Sample Essay
How to Start a Narrative Essay?
Starting the essay writing process can be overwhelming, but you will find it much easier with these steps.
1. Choose a Topic
The type of writing assignment you get will depend largely on the direction your teacher gives for the topic. You may be given specific guidelines or suggestions about what topics might work well.
However, if your teacher doesn't assign a topic or guidelines, then you pick something you are interested in. Always choose the one that you can easily cover in your essay.
You need a topic that interests you and is also appealing enough to your audience. The best way to find an interesting idea is to do some brainstorming!
2. Do Some Research
After choosing the topic, start the research phase. In this step, you must think about the events you want to add to your essay.
There are no strict rules for writing a narrative essay, so you can choose what information to include and how it should be presented. You may want your readership to know more about the person who is writing them or their experiences in life. This would mean giving background on topics such as family history before moving forward with any story ideas.
3. Create an Outline
Always create an outline before writing the essay. With the help of an essay outline, you will easily organize your thoughts and ideas.
The narrative essay outline consists of three parts;
Paper Due? Why Suffer? That's our Job!
How to Write a Narrative Essay?
There are numerous types of essays you get to write in high school and college. However, a narrative essay demands a little more creativity.
Here is a step-by-step process for writing an impressive essay.
1. Write an Introduction
The introduction to a story is important because it sets the scene. An interesting introduction will make readers want to know more about the story.
There are a few different ways to start a narrative essay introduction. The best way is often to start in the middle of the action so that the reader is immediately drawn into the story.
Another way to start a narrative is to provide some background information first so that readers understand why the story matters.
The following are different ways to start the essay:
Start with a mystery.
Use a quote from someone famous to catch your reader's attention.
Add a funny or moving anecdote.
Ask questions; this way, your writing will feel more direct and personal.
Start with a shocking statement or statistics that makes readers curious.
The thesis statement is the most important part of your paper. It should be in the first paragraph, and it should tell the readers what your paper is about. The thesis statement also says what you think about the problem or conflict you are writing about.
A good thesis statement should introduce the topic, explain it briefly, and hint at the outcome. It should not be a fact or general truth, and it also shouldn't be a suggestion, recommendation, or question.
2. Main Body Paragraphs
The main part of your essay is very important. This is where you share the story, facts, and details. You will also guide the readers through the plot. The body of a narrative essay can have three or more paragraphs, depending on your chosen topic.
Below are some main things you should include in your narrative essay body paragraphs.
Include relevant and vivid details
Write in the first person and add all the events chronologically.
Add interesting dialogues that grab the reader's attention.
How to End a Narrative Essay
Here are some tips on how to effectively end a narrative essay:
1. Write the Conclusion
In your conclusion, you should restate some of the key details and ideas from the body of your paper. It is the part where you wrap up your essay and re-establish the central point.
You should also talk about what you learned from the situation and leave readers with something to think about.
2. Proofreading and Editing
Proofreading and editing is the process of checking a text for mistakes and making appropriate changes. This can include grammar, spelling, punctuation, and formatting errors.
It is important to proofread your essay carefully to ensure that they are error-free.
Narrative Essay Writing Tips
Here are some tips for writing a narrative essay:
Choose a topic that is meaningful to you: Select a topic that is personal and meaningful to you. This will make it easier for you to convey your emotions and experiences in a genuine and authentic way.
Create an outline: Before you start writing, create an outline of the key events and details you want to include in your narrative essay. This will help you stay organized and focused as you write.
Use vivid and descriptive language: Use descriptive language to help your readers visualize the events and emotions being described. Use sensory details to create a more immersive experience for your readers.
Show, don't tell: Instead of simply telling your readers what happened, show them through your descriptions and dialogue. This will help them better understand and connect with your story.
Use a consistent point of view: Choose a consistent point of view, such as first-person or third-person, and stick with it throughout your narrative essay. This will help your readers better understand your perspective and connect with your story.
Do's and Don'ts of Narrative Writing
The below table will help you understand the do and don'ts of narrative writing.
Narrative Essay Examples
Reading example essays is a good way to start learning about narrative writing. Here are some example essays that will help you craft a perfect essay in no time.
Short Narrative Essay Example PDF
Literacy Narrative Essay Example
Narrative Essay Example About Life
Personal Narrative Essay Outline
Check out more narrative essay examples to improve your understanding.
Narrative Essay Topics
Here are a few best narrative essay topics and ideas for your successful narrative writing.
The most embarrassing event of my life.
The most valuable childhood possession.
An unpleasant personal experience.
An unpleasant experience that helped me grow.
Your first experience with love and its impact on you.
The most difficult decision I had to make.
A rebellious act from your life.
A time when you got lost somewhere.
A random act of kindness.
A conflict with another person.
Check out other narrative essay topics to get more ideas!
In conclusion, narrative essays are an important tool for communication and storytelling. They can help readers understand a topic in a more vivid and engaging way. While writing, it is important to structure your essay correctly so it becomes more engaging.
Do you need help writing your essay? Are you looking for a reliable narrative essay writer who can write a perfect essay for you?
Contact MyPerfectWords.com to hire a highly qualified essay writer . Our writers are experts in writing these kinds of essays. So order now from our narrative essay writing service .
Order your custom essay today from the best essay writing services .
Frequently Asked Questions
How long is a narrative essay.
A narrative essay usually ranges from 300 to 1000 words. Ultimately, the word length depends on:
The type of story or event you are narrating
The Purpose of your essay (whether it is for assignment, college admission application, or other purpose)
What makes a good narrative essay?
Here are some key elements that contribute to a good narrative essay:
A clear and concise introduction.
A well-developed plot.
Vivid and descriptive language.
Strong character development.
A clear message or theme.
Use of sensory details.
A well-crafted conclusion.
What are 3 things that a narrative must have?
A narrative must have three essential elements: characters, conflict, and resolution. These elements are crucial in telling a story and engaging the reader.
Characters: Characters are the people or entities that are central to the narrative. Conflict: Conflict is the central problem or challenge that the characters face in the narrative. Resolution: Resolution is the outcome of the conflict. It's how the characters resolve the problem or challenge they faced in the narrative.
Caleb S. (Literature, Marketing)
Caleb S. has been providing writing services for over five years and has a Masters degree from Oxford University. He is an expert in his craft and takes great pride in helping students achieve their academic goals. Caleb is a dedicated professional who always puts his clients first.
People also read
How to Write a Personal Narrative Essay - Samples & Outline
Best Narrative Essay Topics 2023 for Students
Narrative Essay Examples: Free Examples to Help You Learn
How to Create a Narrative Essay Outline?
Share this article
Keep reading
We value your privacy
We use cookies to improve your experience and give you personalized content. Do you agree to our cookie policy?
Website Data Collection
We use data collected by cookies and JavaScript libraries.
Are you sure you want to cancel?
Your preferences have not been saved.
Detailed Guide on How to Write a Narrative Essay with Tips
Defining What Is a Narrative Essay
We can explain a narrative essay definition as a piece of writing that tells a story. It's like a window into someone's life or a page torn from a diary. Similarly to a descriptive essay, a narrative essay tells a story, rather than make a claim and use evidence. It can be about anything – a personal experience, a childhood memory, a moment of triumph or defeat – as long as it's told in a way that captures the reader's imagination.
You might ask - 'which sentence most likely comes from a narrative essay?'. Let's take this for example: 'I could hear the waves crashing against the shore, their rhythm a soothing lullaby that carried me off to sleep.' You could even use such an opening for your essay when wondering how to start a narrative essay.
To further define a narrative essay, consider it storytelling with a purpose. The purpose of a narrative essay is not just to entertain but also to convey a message or lesson in first person. It's a way to share your experiences and insights with others and connect with your audience. Whether you're writing about your first love, a harrowing adventure, or a life-changing moment, your goal is to take the reader on a journey that will leave them feeling moved, inspired, or enlightened.
So if you're looking for a way to express yourself creatively and connect with others through your writing, try your hand at a narrative essay. Who knows – you might just discover a hidden talent for storytelling that you never knew you had!
Meanwhile, let's delve into the article to better understand this type of paper through our narrative essay examples, topic ideas, and tips on constructing a perfect essay.
Types of Narrative Essays
If you were wondering, 'what is a personal narrative essay?', know that narrative essays come in different forms, each with a unique structure and purpose. Regardless of the type of narrative essay, each aims to transport the reader to a different time and place and to create an emotional connection between the reader and the author's experiences. So, let's discuss each type in more detail:
A personal narrative essay is based on one's unique experience or event. Personal narrative essay examples include a story about overcoming a fear or obstacle or reflecting on a particularly meaningful moment in one's life.
A fictional narrative is a made-up story that still follows the basic elements of storytelling. Fictional narratives can take many forms, from science fiction to romance to historical fiction.
A memoir is similar to personal narratives but focuses on a specific period or theme in a person's life. Memoirs might be centered around a particular relationship, a struggle with addiction, or a cultural identity. If you wish to describe your life in greater depth, you might look at how to write an autobiography .
A literacy narrative essay explores the writer's experiences with literacy and how it has influenced their life. The essay typically tells a personal story about a significant moment or series of moments that impacted the writer's relationship with reading, writing, or communication.
You might also be interested in discovering 'HOW TO WRITE AN AUTOBIOGRAPHY'
Pros and Cons of Narrative Writing
Writing a narrative essay can be a powerful tool for self-expression and creative storytelling, but like any form of writing, it comes with its own set of pros and cons. Let's explore the pros and cons of narrative writing in more detail, helping you to decide whether it's the right writing style for your needs.
It can be a powerful way to convey personal experiences and emotions.
Allows for creative expression and unique voice
Engages the reader through storytelling and vivid details
It can be used to teach a lesson or convey a message.
Offers an opportunity for self-reflection and growth
It can be challenging to balance personal storytelling with the needs of the reader
It may not be as effective for conveying factual information or arguments
It may require vulnerability and sharing personal details that some writers may find uncomfortable
It can be subjective, as the reader's interpretation of the narrative may vary
If sharing your personal stories is not your cup of tea, you can buy essays online from our expert writers, who will customize the paper to your particular writing style and tone.
20 Excellent Narrative Essay Topics and How to Choose One
Choosing a good topic among many narrative essay ideas can be challenging, but some tips can help you make the right choice. Here are some original and helpful tips on how to choose a good narrative essay topic:
Consider your own experiences: One of the best sources of inspiration for a narrative essay is your own life experiences. Consider moments that have had a significant impact on you, whether they are positive or negative. For example, you could write about a memorable trip or a challenging experience you overcame.
Choose a topic relevant to your audience: Consider your audience and their interests when choosing a narrative essay topic. If you're writing for a class, consider what topics might be relevant to the course material. If you're writing for a broader audience, consider what topics might be interesting or informative to them.
Find inspiration in literature: Literature can be a great source of inspiration for a narrative essay. Consider the books or stories that have had an impact on you, and think about how you can incorporate elements of them into your own narrative. For example, you could start by using a title for narrative essay inspired by the themes of a favorite novel or short story.
Focus on a specific moment or event: Most narrative essays tell a story, so it's important to focus on a specific moment or event. For example, you could write a short narrative essay about a conversation you had with a friend or a moment of realization while traveling.
Experiment with different perspectives: Consider writing from different perspectives to add depth and complexity to your narrative. For example, you could write about the same event from multiple perspectives or explore the thoughts and feelings of a secondary character.
Use writing prompts: Writing prompts can be a great source of inspiration if you struggle to develop a topic. Consider using a prompt related to a specific theme, such as love, loss, or growth.
Choose a topic with rich sensory details: A good narrative essay should engage the senses and create a vivid picture in the reader's mind. Choose a topic with rich sensory details that you can use to create a vivid description. For example, you could write about a bustling city's sights, sounds, and smells.
Choose a topic meaningful to you: Ultimately, the best narrative essays are meaningful to the writer. Choose a topic that resonates with you and that you feel passionate about. For example, you could write about a personal goal you achieved or a struggle you overcame.
Here are some good narrative essay topics for inspiration from our custom writing experts:
A life-changing event that altered your perspective on the world
The story of a personal accomplishment or achievement
An experience that tested your resilience and strength
A time when you faced a difficult decision and how you handled it
A childhood memory that still holds meaning for you
The impact of a significant person in your life
A travel experience that taught you something new
A story about a mistake or failure that ultimately led to growth and learning
The first day of a new job or school
The story of a family tradition or ritual that is meaningful to you
A time when you had to confront a fear or phobia
A memorable concert or music festival experience
An experience that taught you the importance of communication or listening
A story about a time when you had to stand up for what you believed in
A time when you had to persevere through a challenging task or project
A story about a significant cultural or societal event that impacted your life
The impact of a book, movie, or other work of art on your life
A time when you had to let go of something or someone important to you
A memorable encounter with a stranger that left an impression on you
The story of a personal hobby or interest that has enriched your life
Narrative Format and Structure
The narrative essay format and structure are essential elements of any good story. A well-structured narrative can engage readers, evoke emotions, and create lasting memories. Whether you're writing a personal essay or a work of fiction, the following guidelines on how to write a narrative essay can help you create a compelling paper:
Introduction : The introduction sets the scene for your story and introduces your main characters and setting. It should also provide a hook to capture your reader's attention and make them want to keep reading. When unsure how to begin a narrative essay, describe the setting vividly or an intriguing question that draws the reader in.
Plot : The plot is the sequence of events that make up your story. It should have a clear beginning, middle, and end, with each part building on the previous one. The plot should also have a clear conflict or problem the protagonist must overcome.
Characters : Characters are the people who drive the story. They should be well-developed and have distinct personalities and motivations. The protagonist should have a clear goal or desire, and the antagonist should provide a challenge or obstacle to overcome.
Setting : The setting is the time and place the story takes place. It should be well-described and help to create a mood or atmosphere that supports the story's themes.
Dialogue : Dialogue is the conversation between characters. It should be realistic and help to reveal the characters' personalities and motivations. It can also help to move the plot forward.
Climax : The climax is the highest tension or conflict point in the story. It should be the turning point that leads to resolving the conflict.
Resolution : The resolution is the end of the story. It should provide a satisfying conclusion to the conflict and tie up any loose ends.
Following these guidelines, you can create a narrative essay structure that engages readers and leaves a lasting impression. Remember, a well-structured story can take readers on a journey and make them feel part of the action.
Want to Be Like an Expert Writer? 
Order now and let us turn your experiences into a captivating and unforgettable tale
Narrative Essay Outline
Here is a detailed narrative essay outline from our custom term paper writing :
Introduction
A. Hook: Start with an attention-grabbing statement, question, or anecdote that introduces the topic and draws the reader in. Example: 'The sun beat down on my skin as I stepped onto the stage, my heart pounding with nervous excitement.'
B. Background information: Provide context for the story, such as the setting or the characters involved. Example: 'I had been preparing for this moment for weeks, rehearsing my lines and perfecting my performance for the school play.'
C. Thesis statement: State the essay's main point and preview the events to come. Example: 'This experience taught me that taking risks and stepping outside my comfort zone can lead to unexpected rewards and personal growth.'
Body Paragraphs
A. First event: Describe the first event in the story, including details about the setting, characters, and actions. Example: 'As I delivered my first lines on stage, I felt a rush of adrenaline and a sense of pride in my hard work paying off.'
B. Second event: Describe the second event in the story, including how it builds on the first event and moves the story forward. Example: 'As the play progressed, I became more comfortable in my role and connecting with the other actors on stage.'
C. Turning point: Describe the turning point in the story, when something unexpected or significant changes the course of events. Example: 'In the final act, my character faced a difficult decision that required me to improvise and trust my instincts.'
D. Climax: Describe the story's climax, the highest tension or conflict point. Example: 'As the play reached its climax, I delivered my final lines with confidence and emotion, feeling a sense of accomplishment and fulfillment.'
A. Restate thesis: Summarize the essay's main point and how the events in the story support it. Example: 'Through this experience, I learned that taking risks and pushing past my comfort zone can lead to personal growth and unexpected rewards.'
B. Reflection: Reflect on the significance of the experience and what you learned from it. Example: 'Looking back, I realize that this experience not only taught me about acting and performance but also about the power of perseverance and self-belief.'
C. Call to action: if you're still wondering how to write an essay conclusion , consider ending it with a call to action or final thought that leaves the reader with something to consider or act on. Example: 'I encourage everyone to take risks and embrace new challenges because you never know what kind of amazing experiences and growth they may lead to.
You might also be interested in getting detailed info on 'HOW TO WRITE AN ESSAY CONCLUSION'
Narrative Essay Examples
Are you looking for inspiration for your next narrative essay? Look no further than our narrative essay example. Through vivid storytelling and personal reflections, this essay takes the reader on a journey of discovery and leaves them with a powerful lesson about the importance of compassion and empathy. Use this sample from our expert essay writer as a guide for crafting your own narrative essay, and let your unique voice and experiences shine through.
Narrative Essay Example for College
College professors search for the following qualities in their students:
the ability to adapt to different situations,
the ability to solve problems creatively,
and the ability to learn from mistakes.
Your work must demonstrate these qualities, regardless of whether your narrative paper is a college application essay or a class assignment. Additionally, you want to demonstrate your character and creativity. Describe a situation where you have encountered a problem, tell the story of how you came up with a unique approach to solving it, and connect it to your field of interest. The narrative can be exciting and informative if you present it in such fashion.
Narrative Essay Example for High School
High school is all about showing that you can make mature choices. You accept the consequences of your actions and retrieve valuable life lessons. Think of an event in which you believe your actions were exemplary and made an adult choice. A personal narrative essay example will showcase the best of your abilities. Finally, use other sources to help you get the best results possible. Try searching for a sample narrative essay to see how others have approached it.
Final Words
So now that you know what is a narrative essay you might want to produce high-quality paper. For that let our team of experienced writers help. Our research paper writing service offers a range of professional writing services that cater to your unique needs and requirements, from narrative essays to research papers, also offering dissertation help and more.
With our flexible pricing options and fast turnaround times, you can trust that you'll receive great value for your investment. Contact us today to learn more about how we can help you succeed in your academic writing journey. 
Unlock Your Potential with Our Essays!
Order now and take the first step towards achieving your academic goals
Related Articles
Narrative Essay Guide
Writing Narrative Essay
Last updated on: Feb 9, 2023
Narrative Essay - An Ultimate Guide With Examples & Topics
By: Nathan D.
Reviewed By: Jacklyn H.
Published on: May 12, 2020
Got a narrative essay writing assignment? If so, think of it as an opportunity to polish your storytelling skills.
Every student has to write a narrative essay at some point in their academic career. But if you have never written one before, you might not know where to start.
If you are looking for a way to write your narrative essay, this is the ultimate guide. This blog post will give you examples of what a narrative essay should look like and how to structure it. If you follow these steps, then there is no chance that your paper will not get an A!
The blog below will be your guide to compose a stellar essay.
On this Page
What is a Narrative Essay?
The first question you need to answer before moving on to how to write a narrative essay is to know what is narrative writing.
As per the narrative essay definition, 'A narrative essay is the type of essay in which you share your personal experience in a creative and engaging way, just like a good story.'
Like a descriptive essay, these kinds of essays are quite common in high school and college, and students describe their experiences and events in it.
The purpose of a narrative essay is storytelling according to the point of view with specific details. Therefore, a good essay tells an engaging story and inspires the readers to continue.
A good narrative essay is fun to write, interesting to read, and should be meaningful in some way. And most importantly, it should start with an interesting hook.
Therefore, these essays are quite common as scholarship essays also.
Now that you have understood the narrative essay definition let's take a look at the elements of a narrative essay.
Elements of a Narrative Essay
The plot is the main focus of a narrative essay, which is described with enough detail to build an interesting climax.
It follows a chronological manner.
It should have a purpose. Usually, this is stated in the introductory paragraph.
It may be a good idea to use dialogue.
It is stated with sensory details and bright descriptions to involve the reader. All these details relate in some way or other to the main point the author is making.
How To Start a Narrative Essay
The opening line of your essay defines how many readers you will retain until the conclusion. A good essay start will definitely make sure the readers are absorbed right from the beginning. Readers will surely appreciate it if they start enjoying the essay from its beginning.
If the start is interesting, the reader will definitely go through the rest of the essay.
To make your essay more impactful, it is important to pay close attention to how to start it.
The opening statement, basically the hook, is the line of your essay that you write. It is the instrument of attack in your narrative essay.
The following are the ways to make sure that your essay hook is to the task for readers to connect with your essay.
Using a relevant quote
Using statistics
Telling an anecdote
Starting with an intriguing question
Stating a fact
Paper Due? Why Suffer? That's our Job!
Narrative Essay Structure and Outline
The first step in writing a narrative essay is to create an outline. An outline is an important part, and it helps to organize and structure the main ideas. It helps to stay focused and maintain a consistent flow throughout the essay.
To help you understand better, we have attached a sample outline of a good essay.
NARRATIVE ESSAY OUTLINE
Narrative format is fairly simple and straightforward.
Its five-paragraph essay structure has the following parts:
Introduction
Start with a hook sentence that will help grab the reader's attention.
Consider it as a warm-up for the readers and give them the main idea of what your essay story is all about.
3-5 sentences are enough.
Thesis Statement
Your main argument for the essay, story, confession, or it could be anything that counts as a narrative report.
Evoke the interest of readers and introduce them to the problem you will discuss.
Body Paragraphs
Collect supportive arguments for your essay statement and place them in a logical manner.
Remember: every new idea is a new paragraph.
3-5 blocks will be enough.
This is the part where you summarize the whole essay and prove what you claimed in the introduction.
3-5 well-arranged sentences are all needed.
A well-written essay outline points the writer in the right direction and helps him stay focused.
How to Write a Narrative Essay - Step By Step
For good narrative essay writing skills, follow the following steps.
1. Choose Your Topic Carefully
The first step is to pick an interesting and engaging topic for your essay. Choose something that would help you explain your personal experiences engagingly and without dragging.
Your essay is based on your personal narrative; therefore, don't forget to add your voice and sensory details to it.
If you need some great topic ideas for your essay, review these interesting narrative essay topics recommended by experts to help you with your essay.
2. Always Begin With a Draft
Writing a narrative essay will be easy if you will create an outline for it. This will help you to add important details and delete irrelevant information.
These rough drafts are great because you can adjust them accordingly and change them until they are good to go.
Most professional writers see rough drafts as a key step in their writing process.
3. Make Sure You Include Storyline Elements
These essays require storyline elements such as a solid plot, character, setting, and vivid descriptions to add life to your narrative essay.
These elements make your essay engaging and exciting.
4. Supporting and Proving
Your opinions and thoughts are a part of your narrative essay. However, if needed, you must support your statements with solid description and narration.
When including an argument or a fact in your essay, you need to back it up with facts and cite your sources.
5. Use Simple Language
Make sure that you use simple language to keep your essay easy and simple to read and understand.
Be creative and use compelling words to engage your audience.
6. Take Help From Samples
There are many narrative essay examples that can help you to get a clear idea about the writing techniques to use in your essay.
By reading these short stories and samples, you will develop a good understanding of a well-developed essay and the way its title and basics are used.
7. Double Check the Requirements
Make sure you are following the essay guidelines given by your professor or instructor. Make sure that you have added all the required information and its sources, if you have used any outside links, in it.
8. Revise Your Essay
Always revise your essay before submitting it to your instructor.
Check thoroughly for plagiarism and grammatical errors.
Clarify sentences that may sound unclear or confusing.
Ask a friend or family member to look over your work for errors, the second set of eyes is always helpful.
Tough Essay Due? Hire Tough Writers!
What Should be Your Tone in Narrative Essay Writing?
In a narrative essay, everything should be written from your own perspective.
Everything should be written in the past tense, as you are sharing your personal experience.
Your essay should contain a central idea that matters to you.
Narrative Essay Format
Now you know how to write a narrative essay. But the story does not end here and what is left is the paper essay format.
Following are the main points that you should take into account when choosing the proper essay format.
Choose your essay format wisely. APA, MLA, Chicago - depends on the requirements and the subject but please double-check the guidelines from your instructor to do it right from the first try.
Title page. This is the first that the teacher will see, so spend enough time to make it great.
Text block. This is the section where Intro-body-conclusion will go.
References. Every format has its own standards when it comes to a reference list. Avoid mixing them up!
Narrative Essay Examples
Taking help from examples is a great way to learn something in a detailed manner. These examples will help you in understanding how these steps work.
A good essay sample will demonstrate the techniques and explain them practically. This way, you will know how to add the details and use them perfectly.
However, finding a good narrative essay example may be difficult. The Internet is filled with loads of examples and samples, and finding a good one from them is not easy. There are many samples, but not all of them are good to consider.
To help you find a good and remarkable essay, we have added a sample below.
NARRATIVE ESSAY EXAMPLE
Here are some more narrative essay examples for your guidance.
Writing a good narrative essay may be difficult, but it is not impossible. We know that telling an engaging story is not something that everyone can do but with some practice and lots of imagination, you can do it successfully.
Besides, you can also follow this guide to write a great essay in less time. It has explained all the steps involved in the making of a great essay. Once you are done reading it, you will be on your way to writing a good essay.
After reading our guide to writing a narrative essay you should be able to write it on your own. However, if you are still struggling with your paper. We are here to help.
You can always seek out professional writers online for help in writing your essay. Most websites are affordable and promise to deliver research papers, case studies, and much more.
But there are many fraud essay services that will take your money and fail to deliver quality paper to you.
5StarEssays.com is here to help you!
We have an unbeatable record of providing the most affordable and quality essay writing service .
Our customer feedback and reviews highlight their satisfaction and our work expertise. This is because our writers have years of experience in academic writing and remarkable customer support to help and support you,
If you require a custom essay, look no further and hire one of our professional writers today.
Frequently Asked Questions
How do i come up with a good topic for my narrative essay.
If your teacher has not given you any clear guidance and instructions about choosing any topic, then it is better to choose something that you can easily handle. Narrative essays are about telling a story, and the best topic is the one that allows you to narrate a story.
When are these essays given?
These essays are usually given in high school or university classes, and sometimes, they are a part of college application essays also.
What is the difference between a narrative and a descriptive essay?
A narrative essay is focused on telling the entire story, while a descriptive essay is about a description of a particular event or incident only.
College Essay, Research
Nathan completed his Ph.D. in journalism and has been writing articles for well-respected publications for many years now. His work is carefully researched and insightful, showing a true passion for the written word. Nathan's clients appreciate his expertise, deep understanding of the process, and ability to communicate difficult concepts clearly.
Was This Blog Helpful?
Keep reading.
Narrative Essay Topics - Best Topic Ideas for Your Essay
Narrative Essay Examples: Samples & Tips
How to Write a Narrative Essay Outline - Tips & Examples
People Also Read
types of argument
good persuasive essay topics
research paper topics
literary analysis essay outline
Burdened With Assignments?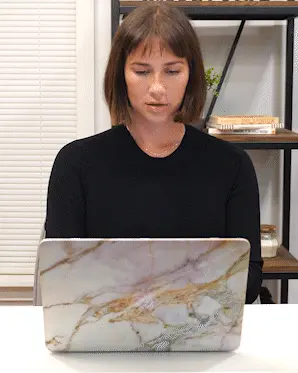 Advertisement
© 2023 - All rights reserved
2000+ SATISFIED STUDENTS
95% Satisfaction RATE
30 Days Money-back GUARANTEE
95% Success RATE

Privacy Policy | Terms & Conditions | Contact Us
© 2022 5StarEssays.com. All rights reserved.
LOGIN TO YOUR ACCOUNT
SIGN UP TO YOUR ACCOUNT
Your phone no.
Password Password must be minimum 8 characters.
Confirm Password
I have read Privacy Policy and agree to the Terms and Conditions .
FORGOT PASSWORD