You are here
Student Reflections from Professor Teo Ruiz's History 129-A Class, "Social History of Spain and Portugal: Age of Silver in Spain and Portugal, 1479 to 1789"
____________________________________________________________________________________
Yavar Abgin -  Covid-19: A New Normal
Marissa Adamski  -  Paper
Elizabeth Aguilar  -  The Impact of COVID-19  
Kevin Aleman -  My Covid-19 Experience
Satanai Aloush -  Life During the Coronavirus Pandemic
Alexander Alvarez  -  Covid-19 and Its Effects On My Life
Timothy An - Paper
River Anders -  A Personal Reflection on the Coronavirus Pandemic
Soledad Arguello - Paper
O mer Aviram -  Life During A Pandemic
Giselle Barrios - Paper
Jacqueline Basham  -  Effects of Coronavirus
Eric Basin  -  A Reflection on the Covid-19 Pandemic
Wolfgang Beutel -  An account of the Impacts of Covid-19 on Personal and Societal Life
Daniel Bina - Coronavirus Reflection
Devon Bling -  Covid-19
Natalie Bracamontes -  The Tragic Year of the Century
Margaret Campbell -  Personal and Societal Impacts of Coronavirus in 2020
Sadhana Cardozo  -  A Veneered Opportunity to Improve
Maria Carrillo -  REFLECTION ON THE COVID-19 PANDEMIC
Alvin Chan  -  The Reality of Covid-19
Janny Chin  -  COVID-19
Iris J. Choi  -  Reflections of the COVID-19 Pandemic
Mauricio Chue -  Covid-19: Unequal Symptoms in 21st Century U.S.
Sydney Collyns  -  Coronavirus Pandemic: A Reflection
Alberto Cordova -  The Echoes of Plague
Brady Coulter -  Covid-19 Reflection
Michael Davtyan  -  COVD-19  
Joseph D'Eredita -  COVID-19 PERSONAL REFLECTION
Betsy Diaz -  My Struggles During a Pandemic
Jessica Diaz -  A Reflection on COVID-19
Selin Dogan -  What COVID-19 Means For Me
Thomas Donovan -  Paper
Zachary Durkee  -  A Personal Reflection on the Pandemic
Michael Eggert  -  COVID-19 Reflection
Solomon Eibensteiner - Paper
Joshua Elisha - Paper
Emily Emard  -  Paper
Sam Esmaeilzadeh -  The Impacts of COVID-19
Sarah Erckenbrack -  Lifting the Curtain: A Reflection on COVID-19
Kevin Farahnik -  Covid-19: Adjusting to a New Reality
Nicolas Gaines -  COVID-19
Jaime Gallegos -  Covid-19 Reflection Essay
Aliyah Galvan -  A Covid-19 Reflection
Carmen Galvan - Paper
James Garcia  -  Paper
Jennifer Garcia -  Life During the COVID-19 Pandemic
Karsyn Garrison -  The Impact of COVID-19
Sam Glick -  Living in a COVID-19 World
Laura Gong -   A Personal Reflection on the COVID-19 Pandemic
Noah Greenslit -  The Change of COVID-19
Stephen Grant - Paper
Joshua Grossman  -  A Reflection on Pandemic in the 21st Century
Zhilun Gu - Paper
Elizabeth Guerrero - A Reflection on Covid-19
D ominic Gutierrez -  A Reflection on COVID-19
Doreen Haghnazarzadeh - COVID-19 Reflection
Ethan Harouni - Paper
Ariella Hatanian  -  Paper
Juan Carlos Hernández -  Reflection on the Covid-19 Pandemic
Kaelee Holmes  -  COVID-19
Joshua Holvick-Worman -  My Response to the Covid-19 Pandemic
Trinity Howell -  The Impact of Covid-19
Kento Ikeda -  Life during the Coronavirus Pandemic
Fatima Irshad - REFLECTION ON THE COVID-19 PANDEMIC
Parand Jebraeili -  My Personal Experience with Covid-19
Daisy Jimenez  -  COVID-19: Living Through History
Liam Kacvinsky -  The Personal Impacts of COVID-19, The Role of Respect During a Pandemic and What the Future Holds
Kojro Kato  -  Paper
Jasmeen Kaur -   COVID-19: The Great Unifier
Kaelyn Keller -  The Profound Impact of COVID-19
Sangwoo Kim - Paper
Jonathan King -  School, Work and Life: The Profound Effects of COVID-19
Moo Seung Ko - Paper
Max Kohn  -  On COVID-19, Economic Calamity, Atomization, and the Suffocation of Hope
Sanj Krishnan  -  All I know is how little I know: a personal reflection of the COVID-19 pandemic
Andrew Kuhn -   A Personal Reflection on COVID-19 and Its Historical Significance
Zoë Kuhn -  A Reflection on COVID-19
Yongdae Kwon - Paper
Michael Lahaderne  -  Covid Reflection
Yona Lahijani  -  Paper
Jack Lama  -  My Story of COVID-19
Vincent O. Lavalsiti  -  Paper II: COVID-19 Reflection
Carmen Leal -  The Glass House
Josh MacLean  -  Paper
Alex Mai  -  Paper
Erik Maley -  Life With the Coronavirus
Teresa Malis -  COVID-19
Daniella Masrour  -  Reflections on the COVID-19 Pandemic
Austin Matautia - Paper
Cynthia Mendoza -  REFLECTION ON THE COVID-19 PANDEMIC OF 2020
Fritz Miller -  Paper
Daniel Mina - Paper 
Alexandria Miramontes  -  My Coronavirus Experience
Brittany Montano -  Reflections of Life During a COVID-19 Pandemic
Maritza Rangel-Morales -  Processing Life Through a Pandemic
Delanie Moreland  -  A Sign of the Times: Living Through the COVID-19 Pandemic as a Senior at UCLA
Nicholas Mosiello -  My Reflection on the Worldwide Pandemic, Covid-19
Richard Munoz -  Lessons Learned: Reflecting on the Covid-19 Pandemic
Mary Murphy -   Covid-19 Paper
Sieun Megan Na -  Reflection on COVID-19
Aaron Naim - Surviving a Global Pandemic
Brandon Naim -  Covid-19 Pandemic Reflection 
Joseph Needle -  A Reflection on Unprecedented Times
Joanna Orozco -  A Reflection on the Coronavirus and its Effects on my Life, Family, and Community
Matthew Palacios -  COVID-19 TODAY
Johnny Palavecino -  The Implications of Covid-19
Luis Pedroza - COVID-19 Reflection
Garland Peed V -  COVID-19 Through A College Kids Eyes
Alexa Perricone -  COVID-19: The Struggles and Sensibilities of a Senior
Zachary Pettway -  Coronavirus Pandemic Essay
Elvis Pilat - COVID-19
Holden Powell  -  Pandemic (Covid-19) Reflection
Ian Price -  Reflections on Coronavirus
Xiangrong Pu  -  Paper
Angela Quan -  My Outlook on How COVID-19 Reimagined My World
Mandri Randeniya -  A Terrible 2020
Omid Rabbani  -  Impact of COVID-19
Nicole Razi -  COVID-19
Cynthia Reynoso -  Coronavirus Reflection
Sofia Rizkkhalil - COVID-19 Reflection
Anthony Robert -  Coronavirus Essay  
Milena Robertson -  Personal Reflection on the COVID-19 Pandemic
Manuel Alcantar-Robles -  The Uncertainties of Our Life Time: Covid-19
Alyssa Rodriguez  -  Consequences of a Global Pandemic
Matthew Saadatfar - Paper
Mordechay Saidian -  Reflection on the Covid-19 Pandemic 
Jennifer Sanchez -  Reflections on COVID-19
Brianna Santana -  Not Infected but Affected
Patrick Saunders  -  Fourth Option
Serra Saydam - Paper
Timothy Schaeffer -  Reflections on the COVID-19 Pandemic
Nicholas Scheidler  -  Covid-19 Impact
Tiam Shamloo -  The COVID-19 Pandemic 
Naveen Sheik -  Life during a Pandemic
D evin Shields -  Living History: the Coronavirus & its Effects
Jeonghan Sim -  Reflection: COVID-19 Pandemic and its Impacts
Myna Simmons -  How COVID-19 Affected My Life  
Grace Skalinder -  Personal Reflection on COVID-19
Chris Smith -  The Covid-19 Effect
Yuna Song - Paper
Kayla Suleminian  -  COVID-19 Personal Reflection
Shannon Taban -  Reflection on COVID-19
Nathan Tefilin - Paper
R.J. Teijeiro -  Lifestyle Impacts of the COVID-19 Pandemic
Geovanny Tolentino -  Coronavirus Personal Reflection
Antonio De La Torre -  The Parallels Across Time
Michael Townsend  -  COVID-19
Mathew Tsolakyan -  Covid-19 Reflection
Marilyn Valdez -  Looming Uncertainties of the COVID-19 Pandemic
Devin Weathersby -  How Coronavirus has impacted me
Isaac Wulff -  My Covid-19 Experience
David Yousefian - Paper
Sean Zendedel  -  Reflection Paper on Covid-19
Richard Zhou -  Reflection on Covid-19
Harrison Zilli  -  Coronavirus Pandemic Reflection
UCLA Website
UCLA Library
Faculty Intranet
Office 365 Email
Remote Help
Social Sciences Division Departments
Aerospace Studies
African American Studies
American Indian Studies
Anthropology
Archaeology
Asian American Studies
César E. Chávez Department of Chicana and Chicano Studies
Communication
Conservation
Gender Studies
Military Science
Naval Science
Political Science
Minors | Labor and Workplace Studies | Language Interaction and Culture | Social Thought
College Home
Division Home
College Report
College Feedback
Manager's Manual
LA Social Science
(c) - Copyright 2023 Social Sciences Division UCLA - Login
Short on time?
Essay Service Examples Life Social Work
Reflective Essay On Covid-19 Pandemic And Social Work Practice
Topics: Coronavirus Social Work
Words: 2125
This essay sample was donated by a student to help the academic community. Papers provided by EduBirdie writers usually outdo students' samples.
Before the pandemic, life was advancing and moving on faster than ever. There was a time and place for everything whether it was attending university lectures or visiting placement. Now that the pandemic has arrived, life changed drastically and it became limiting. Everything outside our homes came to a stand-still and it has completely changed the way society will now work and operate. I have realised because of this pandemic that it will never be the same, and that social distancing has to become a new normal. This new normal is not only to be safe from Covid-19, but to also operate effectively and safely within social institutions of our society.
Many frontline workers have had to re-assess how they work in practice, when out on visits to minimise the risk of catching Covid-19 and also spreading it. Under the Care Act 2014 Social Workers have a duty to provide care, make assessments, meet needs and provide care plans. On March the 31st, 2020 The Coronavirus Act was produced by the Health Secretary. One of the sections from the Coronavirus Act 2020 included some significant changes, to how the local authorities operate under the Care Act 2014. Incite insights.doughtstreet. The Secretary of State released some guidelines on when and how Local Authorities can use the new Care Act adjustments. The Coronavirus Act 2020 postpones majority of the roles and duties which are carried out under the Care Act 2014 during the crisis. This affects how Social Workers comply with The Care Act when it comes to assessing and planning appropriate intervention for adequate protection and support. (Care Act 2014, 2020) (Care Act easements: guidance for local authorities, 2020).
The Coronavirus Act responds to the difficulty within the health sector of the rising demand and reduced capacity' management that the virus can cause. This is because more individuals are falling ill, therefore there are fewer individuals to take care of them and there will be fewer Social workers to fill the essential roles. (The Coronavirus Act 2020 and Social Work Practice – A Briefing, 2020). This causes a direct impact on the legal changes which will have an effect on social work practice. For example, some legal changes are being made to increase the number of social workers into the occupation, as crucial roles need to be filled.
Under section 9 of the Care Act 2014 local authorities must assess if any adult appears that they may have needs for care and support. (Care Act 2014, 2020). (McCabe, 2020). Many Social Workers may struggle with this, as to physically investigate clients on what needs they have, would be extremely difficult in order to maintain safe social distancing and some may not be able to carry out a proper assessment as a result of not being able to go out on visits to initiate these assessment. Furthermore, the assessments aren't communicated in face to face manner with service users as much as before. Pysically assessing people's mental and physical state, wellbeing would be very limiting as to how much a social worker can review. The usage of electronic means of communicating would instead rely more on word of mouth from the service users through using digital ways to communicate. This could negatively affect some clients if they are unable or struggle to speak as honestly and openly about their wellbeing, safety, health, mental and physical state as they could miss something crucial out that the social worker can't notice if they were physically there.
This would affect how reliable the assessments made are, and the flexibility to do follow ups. It must be difficult for social workers to see if their clients are being looked after properly and if basic needs are met, due to the restriction when out on visits in the community. As a result some Social Workers may feel, limited, restricted and unable to give full attention and support in their work and with their clients.
As part of section 18 under the Care Act 2014 it enforces a duty on local authorities to meet an eligibility criteria. Under section 18 they also have a duty to prepare a care and support plan including details about how the service user's needs will be met. All care plans must be preserved under analysis by local authorities and adapted if an individual's care and support needs have changed. (McCabe, 2020), (Care Act 2014, 2020).
As Social Workers work for the Local Authority they will be greatly affected when applying some of these key core duties from the Care Act 2014. (McCabe, 2020). Some Social workers may experience some changes in the work place and may feel fearful as there is a lack of information and confusion as a result of how rapidly things are changing. Social Work practitioners will find that it is essential to adapt agreed assessment arrangement to prioritise care so that most urgent needs are met. (Care Act easements: guidance for local authorities, 2020). This has made me realise under the powers of the Act it is a matter of what is necessary rather than what is possible under the Care Act as meeting care needs is now only a matter of priority and urgency for needs to be met effectively and safely.
Some Social workers may feel under pressure and stress because they may not able to go deep into their work. This could lead to lack of fulfilment that enough has been done when carrying out their work to help clients, especially when attempting to comply with assessments and applying government changes under restriction of Covid-19 guidelines as well as requirements from the Care Act.
This could make it tough for social workers when dealing with lack of resources and restriction or feeling less useful because due to not able to work as effectively with the community in the same way as before the pandemic. Social distancing is very important in the long run but it is important to understand what is in the best interest of our communities and their clients. It is a matter of supporting others enough to feel secure and supported to connect as social workers normally would with their clients.
Social Work uses theory to recognise the perplexity of human interaction and their surroundings as well as the quantity of individuals who are most likely to be affected by and what would change and adapt. Social Work as a profession, relies on theories of human behaviour and development and social structure to evaluate complex situations; to improve individual, social, cultural and organisational changes. (5 Social Work Theories That Inform Practice, 2020)
Proper editing and formatting
Free revision, title page, and bibliography
Flexible prices and money-back guarantee
Systems theory describes how behaviour is influenced through a range of factors that work together as a system. An individual's friends, school, parents, home environment, social class and other factors influence how an individual acts, thinks and behaves. The role of a social worker would be to seek to help, correct missing or inefficient parts that can affect positive behaviour. In a school setting, a Social Worker can visit the child for a 1 on 1 session to assess how their systems are working together, observing and analysing what needs to change, improve and what is going well to continue that support. School can be more of a safe space for the child to be open and honest about their how each of their systems are affecting their situations such as school and home life. (Directed Study, 2020)
Targeting elements of a system within the child such as learning, and physical welfare needs being met reinforces positive change and behaviour. For example the social worker may ensure that the child is aware of Covid-19 advice and guidelines to keep them safe and protected from the virus to learn and apply at home as well. Positive interactions between the child, the social worker and social environments at school affects the cognitive ability which increases positive social stimulation with peers and staff and encouragement when accomplishing tasks in these settings will enable the child to reach their potential through aspiration and value.(5 Social Work Theories That Inform Practice, 2020) (Directed Study, 2020)
Social learning theory explores how an individual learns and behaves through imitation or modelling. It is a way of learning complex sequences of behaviour through observation of others and imitating them. This is most important for children learning specific behaviours. In Social Work practice, strategies can be put in place to aim at changing a behaviour. For instance, a family social worker advising a child's carer/parent to teach children to copy and imitate good behaviour such as washing hands to prevent the Coronavirus infection and to reward the behaviour to promote it more, i.e washing hands means they have done a good job. As well as decreasing bad behaviour to change it such as; instructing the child to not touch the face and mouth and to be careful to ensure they aren't standing too close to people when outside. (Cognative and behavourial theories, 2020)(5 Social Work Theories That Inform Practice, 2020)
This relates to BASW PCF knowledge section 5-Knowledge which states to develop and apply relevant knowledge from research, social work practice, which includes theory. Developing professional knowledge and maintaining interest is key throughout social work careers. I can see through studying theory, that it is necessary to develop a core knowledge that relates to purpose, ethics and values. Specific knowledge from a theorised approach is needed during practice to develop my roles throughout social work. I aim to use my knowledge from theory to apply it in social work practice to meet the PCF where it states knowledge comes from practice and theory amongst other things. The PCF that has helped me to understand how distinctive knowledge, through theory compliments other disciplines to provide effective services. (BASW PCF 2020).
I aim to demonstrate original understanding when it comes to applying research, knowledge and evidence from theory, and others relevant fields, how it effects human growth and development and the relation to experiences of people who use services. The PCF also states the importance of demonstrating initial understanding of theories and models for social work intervention. This includes required knowledge specific to practice during placement through work-based learning.
From studying theory such as systems theory and how that affects service users; I can challenge my understanding of how each one relates to another, in practice during placement. (BASW PCF 2020)
Because of Covid-19 there are many vulnerable victims of domestic abuse who are highly impacted in terms of their safety and wellbeing, due to becoming socially isolated. The Coronavirus pandemic is concerning for victims and vulnerable people. This is because of the stay-at home measures having a serious impact on domestic abuse victims and increased liability for perpetrators.(Tackling domestic abuse during the COVID-19 pandemic, 2020)
Isolation guidelines for families could increase the severity of domestic abuse, because perpetrators are highly likely to be alone with the victim in the home and usual measurements that provide vital support and a safe space for help such as schools, workplaces and GPs may be closed. This makes it harder for Social Workers to communicate with other professionals from Schools, GPs and workplaces to access any alarming information that may be crucial to vulnerable victims like they normally would before the pandemic. (Tackling domestic abuse during the COVID-19 pandemic, 2020)
As a result, there is risk of miscommunication and poor use of working in partnership. This relates to Values and Ethics as part of BASW PCF Framework Social Workers must demonstrate skills in the sensitive exploration of issues of privacy, confidentiality and sharing information in unsafe complicated situations and have a duty to offer advise and to assist colleagues when managing these issues. It is important for all Social Workers to promote human rights and social justice to oblige and conduct themselves in decisions according to the Code of Ethics in order to fully support all people that they work with. (BASW PCF 2020).
Isolation has meant that there have been less opportunities for vulnerable citizen's that display early warning signs of domestic abuse. As a result of the emergency response to the pandemic of Covid-19, this has increased and worsened the rate and severity of domestic abuse. Social Workers are likely to be affected by this and how they operate in practice when on duty to visit vulnerable individuals whether it's children or adults. I can imagine that it would be more difficult to manage the impact domestic abuse has on victims for social workers as they always have a duty to protect and safeguard all individuals that they work with.
The BASW Framework PCF section 7 for Skills and Interventions states that initial awareness of risks and safeguarding are to be demonstrated and experienced Social Workers must undertake assessment and planning for safe-guarding in difficult cases, and helping other professionals with safeguarding skills. (BASW PCF 2020).
Our writers will provide you with an essay sample written from scratch: any topic, any deadline, any instructions.
Cite this Page
Get your paper done in as fast as 3 hours, 24/7.
Related essay Topics
Popular categories, most popular essays.
Social work is one of the top choices for career options for a lot students (Humprey, 2011). Many people go into the social work profession because it "can provide job satisfaction and contribute to our sense of meaning and purpose in life" (Humprey, 2011). This what it felt like for me when I was deciding what career I wanted to pursue after high school. I want to go into social work because of my personal experience and I thought it...
Social work developed as a service to the people. The International Federation of Social Workers defines social work as a practice based profession and an academic discipline that promotes social change and development, social cohesion, and the empowerment and liberation of people. Industrial social work is an area of service delivery in the industries and in addition in social work activities. Industrial social work is influenced by a number factors such as the cultural, historical and socio- economic factors. It...
Social Work is a dynamic and ever-changing field which over the decades has evolved and melded itself around so many facets of not only individual's lives, but communities and countries, with the aim of illuminating, enhancing and attending to social issues for a better collective wellbeing. This essay concerns itself with identifying a leader in Social Work and the analysis of the leadership style and values this individual possesses which has enabled them to become the leader they are recognised...
Even though mental health has constituted a fundamental part of the definition of human wellbeing, this has only recently become a public health priority, both worldwide and at the local level (Stacey & Herron, 2002). Particularly in Australia, where the high burden of morbidity due to mental health issues ranks third (Australian Institute of Health and Welfare, 2018), the government is now paying special attention to the traditional approaches in delivery services, detecting flaws and promoting the development of new...
In the future I see myself working as a children's social worker because it is very rewarding career which can help individuals or society as a whole, undoubtedly it is very stressful job with a massive workload, very time consuming and has incredibly unsociable hours, it is not one of those nine to five jobs. Fortunately, I am that kind of person who loves challenges and being under stressful situations, figuring out ways to make someone's life better is something...
Group work is an essential component of Social Work due to its nature of being a multi-disciplinary practice and using groupwork methods of intervention (Maclean, 2015). Having taken part in a group assignment on the book The Lightless Sky, I have discovered how group work impacts on my personal and professional development as a Social Worker, through contributing to my self-awareness, personal growth and ability to work co-operatively with others. Throughout my experience with group work, I have identified many...
This essay regards a significant incident that occurred during my first social work placement in an educational setting. The incident involves a child who holds negative feelings towards social workers, and how this has affected my practice. Gibbs (1988) suggests a "reflective cycle" which underpins the necessary steps of manipulating an effective reflection; the steps consist of a "description, feelings, evaluation, analysis, conclusion, and an action plan" (cited by Beesley et al, 2018, pg. 15). This essay will incorporate this...
Social work is a profession that requires knowledge, skills and special training to be able to practice professionally. Due to this, social workers are expected to meet certain requirements in order to practice as professional social workers. One of the requirements is being fit to practice which determines whether or not social workers can enter and practice safely without any obstructions(Social Work England, 2020b, pg 4). If a person is deemed incapable of being fit to practice, it can raise...
In this essay I will be evaluating co-production in relation to their strengths and limitations. I will explain how this concept promotes relationship-based and person centred in relation to social work practice. Social workers will also empower individuals and let people be independent and self-determined, living the lives they want and having control. Social workers will follow the guide of the PCF, the nine domains: professionalism, values and ethic, diversity and equality, rights, justice and economic wellbeing, knowledge, critical reflection...
Get original paper written according to your instructions
Save time for what matters most
Fair Use Policy
EduBirdie considers academic integrity to be the essential part of the learning process and does not support any violation of the academic standards. Should you have any questions regarding our Fair Use Policy or become aware of any violations, please do not hesitate to contact us via [email protected]

We are here 24/7 to write your paper in as fast as 3 hours.

Meet the Writers
Culture & Community
Humans of Western
My Experience
Scholars' Life
EL Storytelling
Digital Student Experience
Reflections on The COVID-19 Pandemic
Photo by Cory Checketts on Unsplash
The COVID-19 pandemic has affected us all differently; for some, it meant canceling summer plans, not being able to return home, missing convocation, struggling with online learning, engaging with new hobbies, and so much more. It certainly hasn't been easy, but we have to remain strong and follow health protocols in order to protect ourselves, our community, and our future. For students, this pandemic has been especially difficult as they start a new school year with online classes, and as the desire to socialize and re-connect with friends becomes ever-present. Read on to hear how Western students are coping with the pandemic, and why it's important to them that we follow health protocols like social and physical distancing, limiting your social circle, wearing a mask, and washing your hands often.  
Stay tuned to Thrive Online, and Student Experience social media channels, for more student reflections and advice on the COVID-19 pandemic. 
How has the COVID-19 pandemic impacted your life, and w hy should Western students care about the impact, and consequences, of their actions during the COVID-19 pandemic? 
"Being an international student in Canada during a pandemic was something I never thought I would have to experience. All the plans I had to go back home for the summer were gradually gone as covid-19 cases increased all around the world. My family back home started suffering not only economical loss, but also family loss. 
Although things started to look better here in Canada, in my country things seemed to just get worse. It was obviously hard to cope with everything going on, but I had to fix my perspective. I had to decide through what new lens I wanted to see and live life. I started being conscious about the little control we have over life. I became more aware that things in life can change in a matter of seconds. We cannot take anything for granted. I had to learn that change, not matter how it occurs, is good, because it opens the path for growth in so many ways.
Now, that things seem to be "better," is time when us Western students have to be more aware of the impact our small actions have on us and others around us. Don't allow short term pleasures to take away the privilege of enjoying long term ones from you and others. Let's try and consider how in these times we can build and strengthen each other with our actions. This pandemic hasn't been the easiest, nonetheless, I believe that hard times are an opportunity to be intentional in finding ways to support each other and building a better world around us."
- Mariela Magana, 2nd Year Linguistics 
Why should Western students care about the impact, and consequences, of their actions during the COVID-19 pandemic?  
"Now that summer has ended, students are returning to London and the Western community for the start of the semester. Already, many students are choosing to not wear masks and not practice social distancing. It's easy to forget why wearing masks and social distancing is essential when you are not considered at high risk for severe illness from COVID-19. But our actions have a bigger effect than we realize.  
You may not know it but, students you share campus with may be immunocompromised or have chronic medical conditions that put them at a higher risk for severe outcomes from COVID-19. The Western community is also not just limited to students, there are professors, researchers, and other university employees that are placed at risk when we ignore the safety precautions. An infection may be mild to you, but it could be deadly to someone else.  
At Western, we are part of the bigger London community and it's important to remember that by ignoring the necessary precautions, we put the whole community at risk. Chances are that you are visiting grocery stores, restaurants, and shops outside of campus which means if you have the virus, everyone who visits these places are at risk too. Avoiding parties and other large gatherings is not just about keeping ourselves safe. It's about keeping everyone around us in shops, restaurants and busses safe.  
We may think, as students, that we won't get infected or that it wouldn't matter because we won't become very ill. You may think that attending a party or not wearing a mask isn't really hurting anyone, but the truth is, it is hurting people. It can hurt other students, professors, friends, and members of the London community."  
- Rowan El Mograhbi, 3rd Year Software Engineering 
Why is it important to you that you practise physical and social distancing, wear a mask, and follow health protocols?  
"I have many good reasons to practice social distancing, wear a mask, and follow public health protocols. Some of them are a little self-centred: for example, I don't want to contract COVID-19 because the long-term health effects are unclear, and infection may lead to permanent lung damage. Also, the more that we all follow public health protocols, the sooner I can see my friends in person, walk indoors without a mask on, and touch my face whenever I feel like it. Rather than sitting through hours of boring, dry recorded lectures each week, I could finally sit through slightly less boring in-person lectures instead. I would no longer need to awkwardly back-track at the grocery store because I accidentally walked down the aisle the wrong way, or skipped the line to the till. It means I don't need to squint my eyes to show that I'm smiling through my mask, and instead I can actually just smile.  
But, most importantly, it's my responsibility as a member of the Western and London community. The pandemic has had a devastating effect on the economy; many small businesses depend on a fast recovery. That means every family employed by these businesses depends on one as well. That's not to mention the very real risk the virus poses to older and immunocompromised populations. I worry constantly for my parents, grandparents, teachers, and professors. I even think of my sister, who's high school cohort is separated from her friends, and just wishes for a normal high school experience again. To prioritize social events and personal comfort over my community would be selfish and shortsighted; I have to do my part for the people I care about."  
- Johann Cardenas, 2nd Year Bioinformatics 
Share a bit about your "new normal" routine. How has your life changed since the COVID-19 pandemic?
"My daily routine changed substantially when the COVID-19 pandemic began. I would consider myself to be a fairly extroverted person, someone who thrives off of the energy of those around them. Before the pandemic hit, I was used to seeing my friends on a daily basis, and I relied on these daily interactions to help maintain my mental well-being.
Suddenly transitioning to what felt like a more secluded way of living when the pandemic hit was difficult at first. Naturally, I resorted to hours of lying in bed, Netflix-binging, and frequent napping – but it just wasn't the same. Admittedly, I had a pretty pessimistic outlook on the whole 'quarantining' ordeal at first; like many, I had a fun summer planned and was disappointed that it wasn't happening anymore. It wasn't until I adopted a more optimistic outlook that I realized that I didn't have to feel secluded in quarantine at all; there were other socially distanced, fun ways I could still interact with my friends.
My "new normal" routine now consists of keeping in touch with friends through Facebook Messenger Calls, where we play Jackbox, Codenames, or simply just rant to each other about what's going on in our lives. Staying at home during the COVID-19 pandemic has also allowed me to enjoy more quality time with my family, and has given us an excuse to try new recipes that we've been wanting to try for years.
As I leave home and return to London for the new school year, I'm grateful for the unique opportunity the pandemic has given me to appreciate my friends and family more (and for the matcha cheesecake bar recipe I was able to perfect!). I'm excited to move forward with a positive mindset, ready to tackle whatever this new school year throws at me."
- Fiona Lee, 4th Year Medical Sciences
1151 Richmond Street London, Ontario, Canada, N6A 3K7 Privacy | Web Standards | Terms of Use | Accessibility
Reflection on the COVID-19 Pandemic
Human life has been severely disrupted in many different ways by a coronavirus. Following the emergence of the disease and the public policies to alleviate it, life has turned out to be very tough. The world has been trying to find ways to tolerate the directives, such as stay-at-home orders. The covid-19 pandemic has affected the human race in all spheres of life.
Families have been attempting to develop various practices in the social isolation, integrate and compensate for their children's education during the day as schools have remained closed. Most of all, the distress is heightened by the possibility of contracting this deadly virus as the world continues to witness an increasing number of reported infections and deaths every day. The uncertainty is overwhelmingly causing high emotions in adults as well as in children. The public health directives regarding social distancing and home care programs make individuals feel secluded and lonely. They increase stress among families, leading to the raised cases of neurological and mental disorders, such as delirium hysteria stroke, among many people.
People's sorrows are particularly profound when they experience death's reality or the fight for family or friends' lives as a consequence of this epidemic. People see their friends and families, who have lost their jobs. The sources of income that supported families have been destroyed, and the world economy has shut down. As a result, most families' welfare has been seriously affected, as many have become poorer and as a result, they have lost hope.
Covid-19 has influenced every area of life by altering the strength which holds the system, whether it is the body's immunity system, the family structure, the social fabric, the education sector, or even the professional field. On one side, the lockdown has helped families eat together and remain united by spending quality time physically while experiencing each other's happy moments and pain. On the other side though, the majority of households, are forced to make significant changes to daily lives due to financial constraints. For these families, it means heightened anxiety in children and stress in parenting (Brown et al., 2020). There are also many disturbing circumstances in family life, such as domestic violence, increased alcoholism, and drug abuse. Therefore, handling trauma and pressure more positively can make people and those they care for much stronger.
Brown, S. M., Doom, J. R., Lechuga-Peña, S., Watamura, S. E., & Koppels, T. (2020). Stress and parenting during the global COVID-19 pandemic. Child abuse & neglect , 104699.
Cite this paper
Chicago (N-B)
Chicago (A-D)
StudyCorgi. (2022, March 24). Reflection on the COVID-19 Pandemic. Retrieved from https://studycorgi.com/reflection-on-the-covid-19-pandemic/
StudyCorgi. (2022, March 24). Reflection on the COVID-19 Pandemic. https://studycorgi.com/reflection-on-the-covid-19-pandemic/
"Reflection on the COVID-19 Pandemic." StudyCorgi , 24 Mar. 2022, studycorgi.com/reflection-on-the-covid-19-pandemic/.
1. StudyCorgi . "Reflection on the COVID-19 Pandemic." March 24, 2022. https://studycorgi.com/reflection-on-the-covid-19-pandemic/.
Bibliography
StudyCorgi . "Reflection on the COVID-19 Pandemic." March 24, 2022. https://studycorgi.com/reflection-on-the-covid-19-pandemic/.
StudyCorgi . 2022. "Reflection on the COVID-19 Pandemic." March 24, 2022. https://studycorgi.com/reflection-on-the-covid-19-pandemic/.
StudyCorgi . (2022) 'Reflection on the COVID-19 Pandemic'. 24 March.
This paper was written and submitted to our database by a student to assist your with your own studies. You are free to use it to write your own assignment, however you must reference it properly.
If you are the original creator of this paper and no longer wish to have it published on StudyCorgi, request the removal .
COVID-19: A year in reflections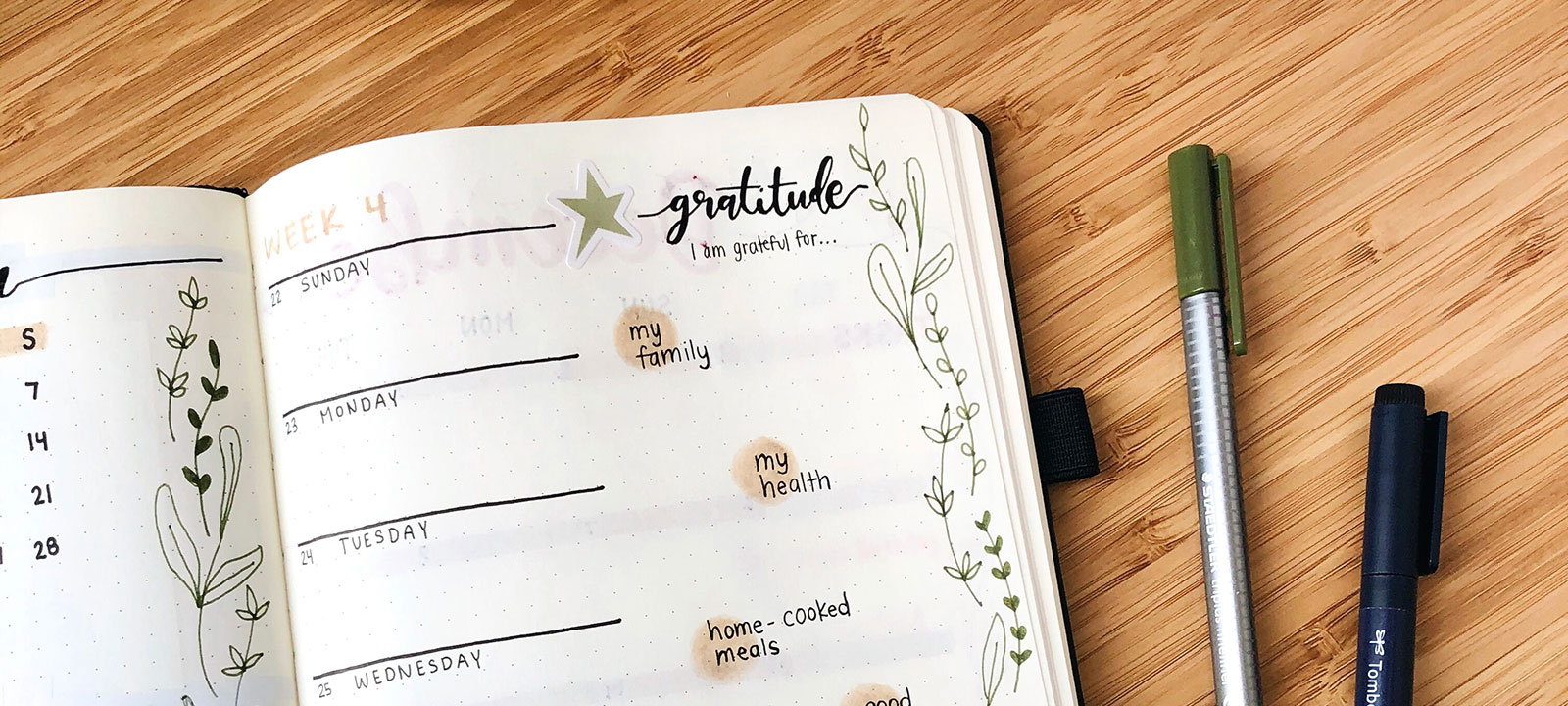 As we mark a full year since the global pandemic upended all of our lives, we asked members of the UC community to share their reflections on how these past months have changed them, and what will stay with them about this unprecedented time in the years to come.
The picture that emerges is one of hardship, courage, gratitude and resilience. For many of us, the last 12 months have meant long hours and rising to meet new challenges with our teammates, families, communities and bubbles. We helped support others in their grief and were helped by others when grief came home to us. We found new strengths in loneliness and formed new practices and bonds to ward off despair.
Now, as we begin to see a little light at the end of the tunnel, here in their own voices, members of UC's community look back on a year like no other.
On never falling off the treadmill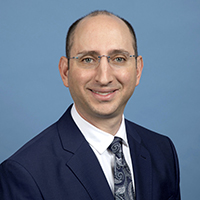 In the early days of 2020, two doctors, Daniel Uslan and Annabelle de St. Maurice , had already begun preparations with their colleagues in the command center at UCLA Health for the looming pandemic. As clinical chief of infectious diseases and co-chief infection prevention officer at UCLA Health, Dr. Uslan was working alongside Dr. de St. Maurice, pediatric infection control lead and co-chief infection prevention officer, nearly every waking moment. Their work spanned planning for patients, emergency preparedness, communications, and more.
"By the time California shut down non-essential businesses, I had already been working on COVID-19 for several weeks and my day-to-day life had already been thrown into chaos. In the early days I hoped, perhaps naively, that we would all hunker down for a few months and then the crisis would pass us by."
As more information became available, that hope dimmed.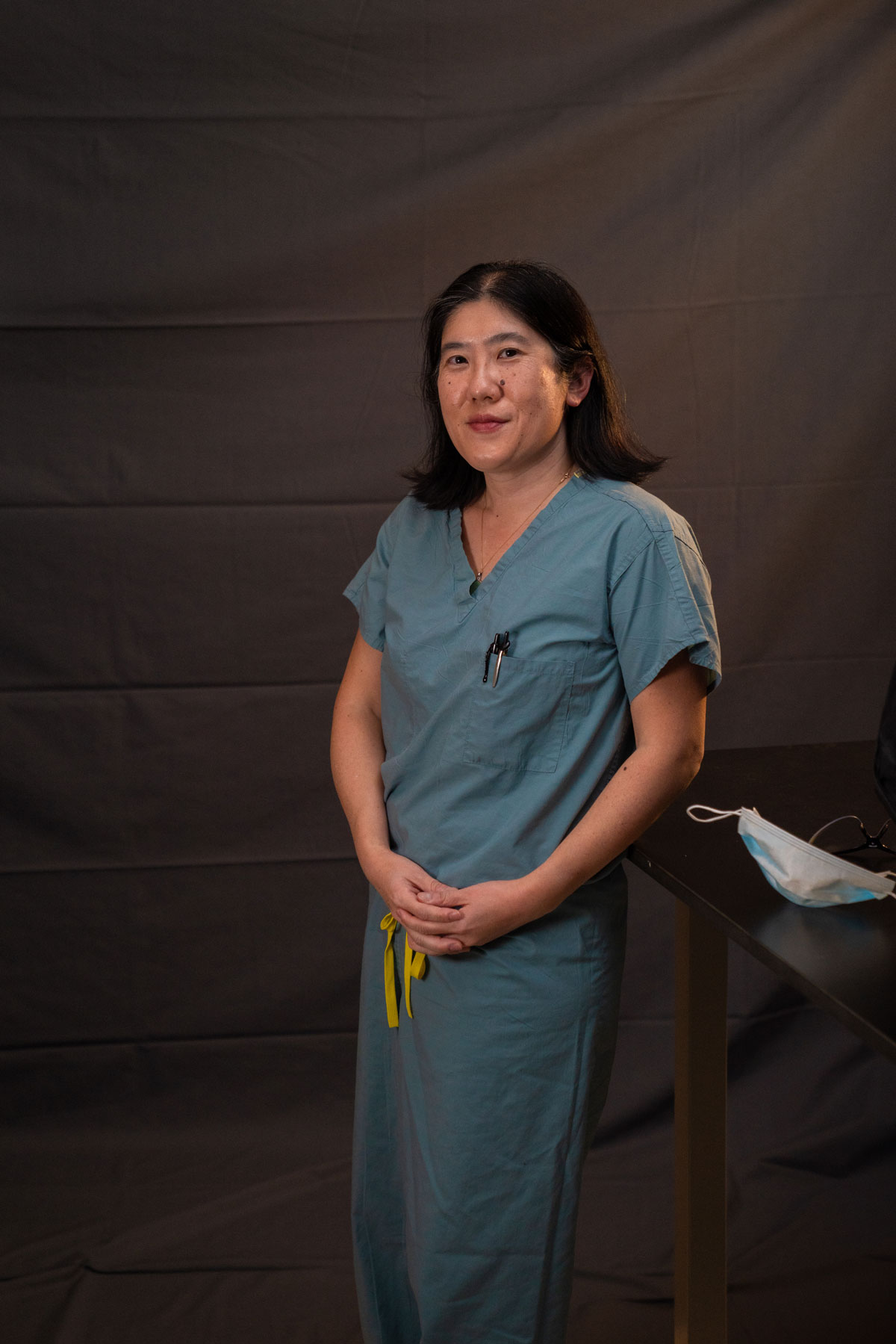 Dr. Tisha Wang put her entire life on hold when the pandemic hit — as the person overseeing pulmonary and critical care faculty and trainees for UCLA Health, she had no other option. It was clear, early on, that protecting health care workers from infection would be absolutely vital for saving the lives of the critically ill patients showing up at the hospital.
She describes those last three weeks of March 2020 as the worst three weeks of her career. Protecting the workforce, so they could protect the critically ill, was a heavy burden to carry. And as we know, that burden was carried for far longer than those three weeks (Dr. Wang speaks about the difficult experiences of saying goodbye to patients during the COVID-19 pandemic, here ). Dr. Wang:
"We wondered if it was ever going to end — the deaths, the grieving, the suffering, the stress and anxiety compounded by the social isolation. In our minds, how could this possibly go on for months to years? I felt like I was constantly running on a treadmill and close to running out of steam. To my disbelief, after 9 months of running, the speed of the treadmill was turned up by 50 percent when Los Angeles became the epicenter of the pandemic. I had no choice but to keep running, but was I going to fall off?
"What have I learned? This is actually a team-based marathon. I was never going to fall off of that treadmill. Someone was going to come along and tag me out and let me breathe and rest for a moment. And as soon as I got some water and air, I was going to jump back on and do the same for them."
Now there is time, and hope, we can address this situation better in the future. Dr. de St. Maurice has begun to reflect:
"The pandemic has taught us many lessons about preparedness and health equity, among other things. What can we do better in the future to prevent pandemics like this from occurring? What modifications have we made in our lives as a result of the pandemic that are positive and how can we continue these in the future? What health care inequities have intensified as a result of the pandemic and how can we work to improve those inequities?
"In the past many physicians and health care workers would work when they weren't feeling well and I think that will change going forward."
On living in a bubble year
Steven Pease has been working part-time at home in his capacity in IT asset management, in a bubble with his wife, their children and her parents, one of whom, her father, passed just before turning 100 in October. Planning the funeral and sharing mourning in the pandemic was challenging, an experience shared by many. Still, Pease felt gratitude for his connection to his family.
"To be certain, some of this will go down in our collective memories as the worst of times. That said, to have been locked up in our little 'bubble' together; forced to navigate together uncertain and new waters, but to get to do so with someone I love was in some ways very, very special. I believe that someday I'll look back on this time and see it as some of the best."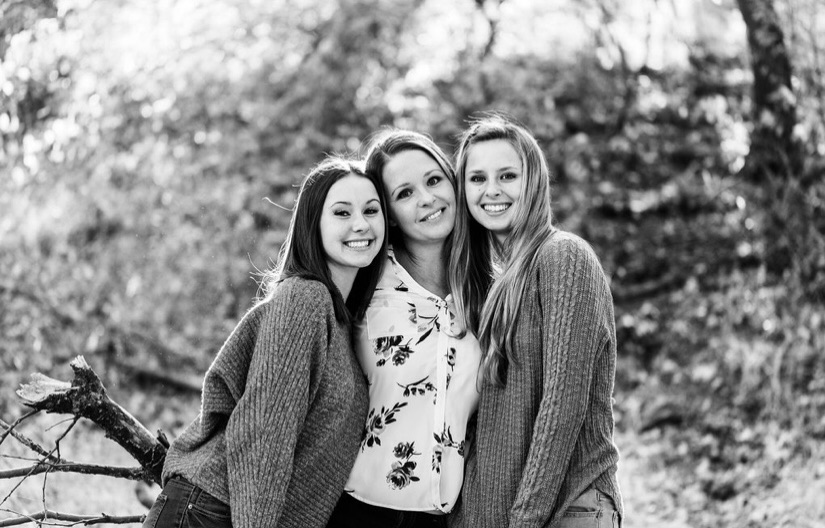 Valerie Simmermaker has been working remotely for the UCPath Center near Riverside and finding silver linings in the pandemic as a single mom.
"I would say for us the stay at home order — working and schooling from home has ultimately been really good for us. I have always been a single parent and my children were used to coming home from school alone, and helping with chores and cooking, sometimes even doing grocery shopping while I worked. This has allowed us to really bond, I am finally able to help them with school work and we eat dinner before 7 p.m., we have really gotten close during this time together."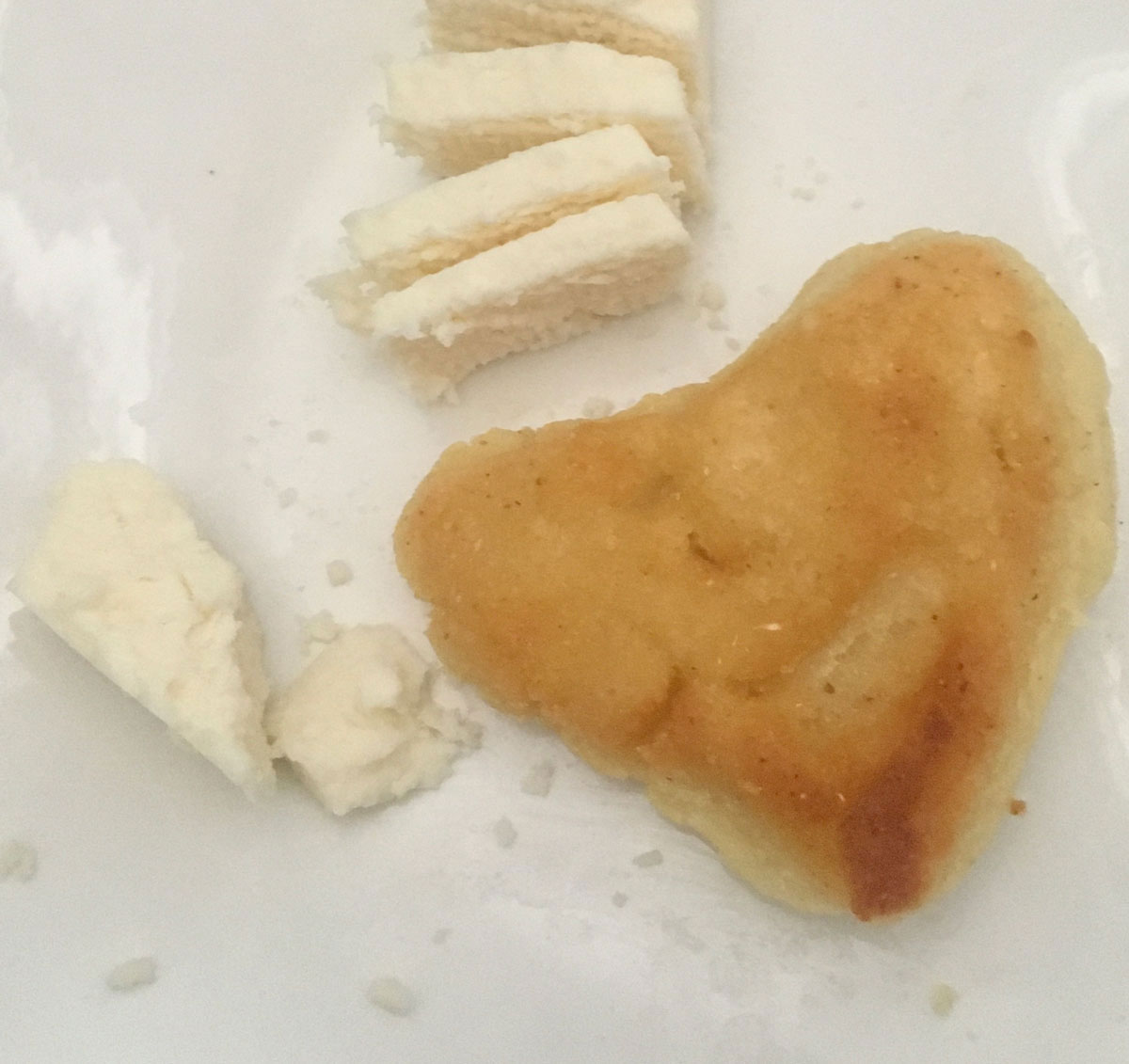 Darlene Alvarez at the UC Retirement Administration Service Center (RASC) has had similar experiences with her children, trying to juggle work and keep her children motivated and focused on their school work. One thing that has helped is carving out 30 minutes a day to read for pleasure or dance along to music videos (current favorite is "Levitating" by Dua Lipa featuring DaBaby)!
"Another way we cope with challenges is through creative expression. For instance, we've made parols (Filipino Christmas ornamental lanterns) and foam mosaic art. We're also making more homemade dishes, like arepas (Venezuelan cornmeal cakes)."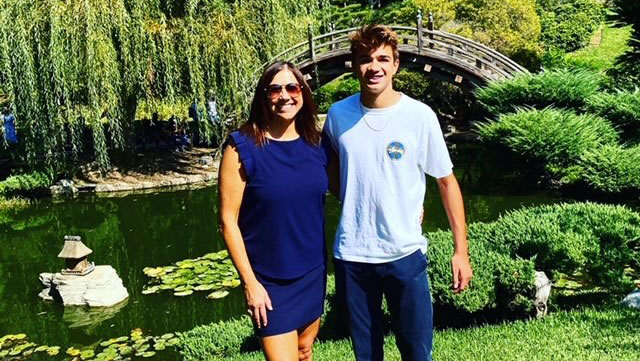 Helping to guide our kids through the pandemic hasn't been easy. Jennifer Mushinskie , a senior communications officer/interim operations liaison at the UCPath Center in Riverside and her son grappled with the loss of high school experiences you can't get back, while still dealing with the social anxieties that are rampant in the teen years.
"It's heartbreaking to see a screen with 30 kids and only the teacher is on video. The kids aren't required to be on camera, per the district, so the teachers are frustrated, and the kids won't go on camera. I have tried to get him on video but he won't – saying "Mom, that's embarrassing if I go on and no one else does.
"Waiting has been exhausting on the kids mentally and physically. It's been a rough road. Our kids witnessed area businesses and mall parking lots filled with cars and shoppers, but they weren't allowed to play in a high school football game or another type of school sport. We watched the Superbowl, with fans in the stadium, but our children in California weren't in school or on the field. My son was so frustrated with this and it broke my heart. I'm grateful things are starting to get better."
For Annette Dwyer , an accounts receivable associate at UCPath in Riverside, the pandemic brought her husband to her, then took him away, before returning him again.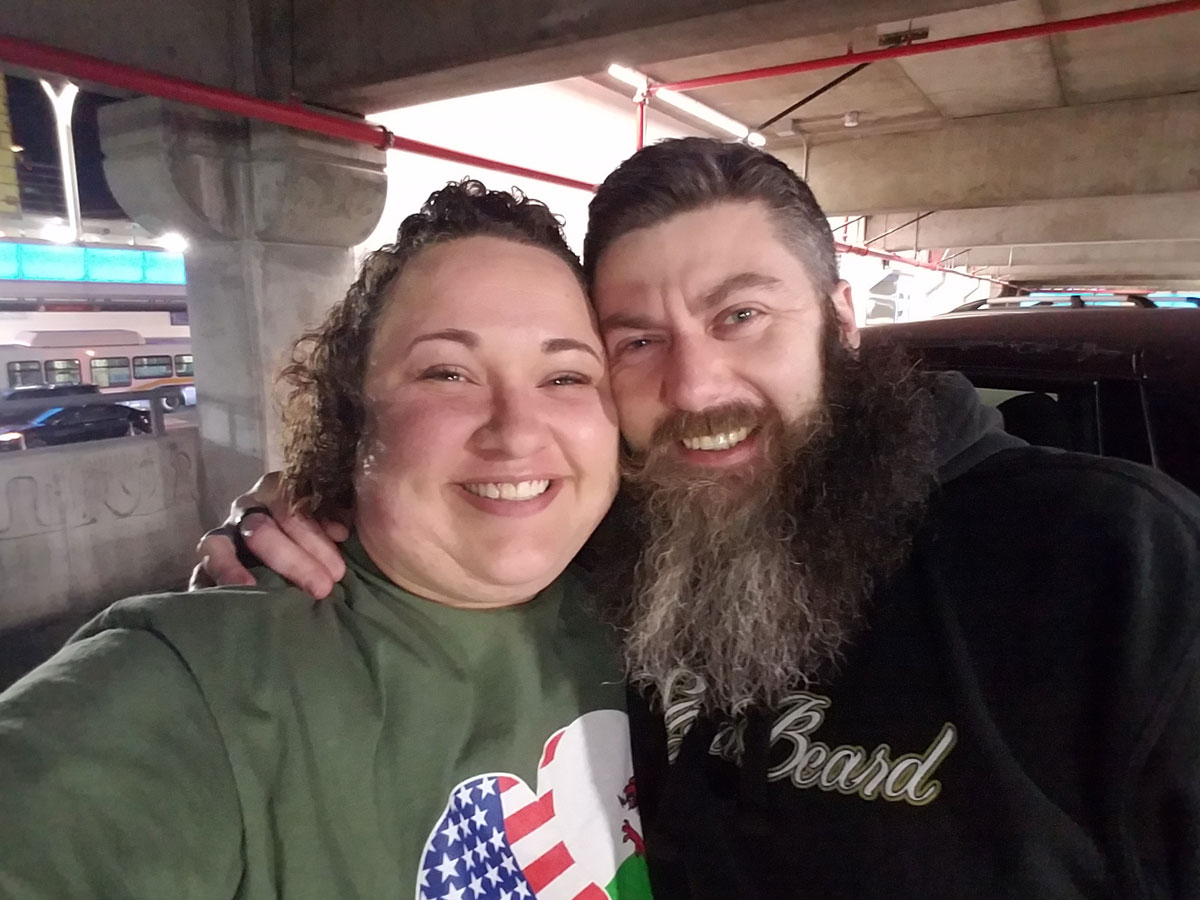 "I married my Welsh boyfriend in July 2019, and had barely started the immigration process for my husband in January 2020, which was expected to take 12-18 months. We planned to pass the time with short visits. He was scheduled to visit in March 2020 to spend time with us during spring break, and for us to have a mini-honeymoon of sorts. That all changed when the executive order was issued on international travel to the U.S. (He barely made it on the plane and through customs thanks to a photocopy of my passport.) He was locked down with us in March, 'getting stuck' here for almost four months. We were devastated when my husband was called back to work and had to return to the U.K. in July. We did not know when we would get to see him again and hoped his immigration interview would be soon. (At that point, we were waiting to hear from the embassy.) He ended up receiving his interview in August and his immigrant visa was approved within an unheard of seven-month timeline. He immigrated here at the very end of August."
On finding strength in community/new families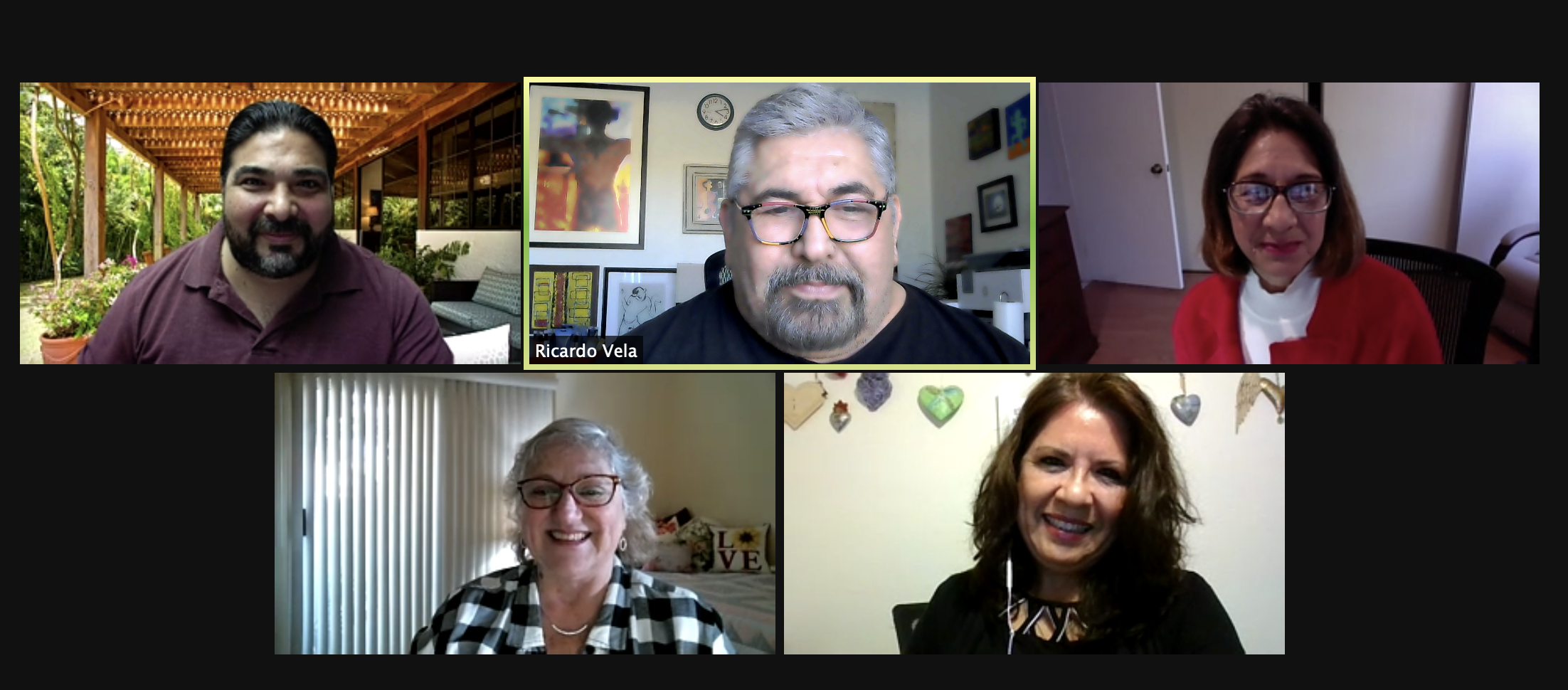 Ricardo Vela , who leads Spanish language news and outreach for UC's Agriculture and Natural Resources division, has seen the pandemic turn his co-workers into family, the result of the intense bonds developed as they helped each other through the crisis. Several of his family members fell seriously ill with COVID-19, but recovered. Some of his colleagues were not so fortunate, and he and his team struggled through those moments together.
"As a team, during the pandemic, we have grown closer together. Even when we have not been in the same place for over a year, we pushed each other to think outside the box to accomplish our work's goals. We did better than ever before.
"But despite our success we fell at times into depression and anxiety, for days. When one of my staffers lost her father, we fell into despair, wondering "who is next?" We saw how personal the pandemic could get. It stopped being another headline and became real and painful.
"We shared tears of despair, impotence, and at times of joy! As a team, we pulled it together, we stopped being co-workers, and we became a family.
"A year after, I can say we are stronger, resilient. We learned that distance is only a click away, that we can express that love in many ways. We are ready to face the 'new normal.'"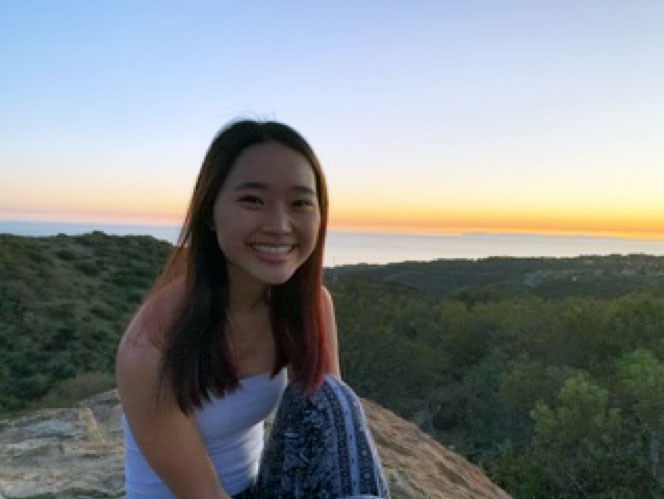 Azure Otani , a second-year business administration major at UC Riverside, felt "scared, lonely and claustrophobic" when the pandemic began. To cope, she pushed herself to become more (virtually) involved on campus — and in doing so, found a new sense of community. Today she holds officer positions in several student groups and has even mentored freshmen via text message.
"When the virus basically shut down the world at the snap of a finger, I thought I wasn't going to be able to accomplish anything. Instead, I've been able to teach and learn from other people, and help bring meaning to their lives, just like they've brought to mine. I've never met any of them in person, but I know that many of them would have my back. I feel a true sense of community and am grateful for what I've learned in the process — what I value, how I like to work and the importance of taking time to reflect.
"I will forever be more conscious of the people around me — whether that is recognizing that I don't know what others are going through or keeping my mask on when I'm sick. Life is extremely short and we don't know when we're going to lose everything we have. I know how important it is to spend my time with loved ones and reach out to give back as much as I can."
On embracing change — and science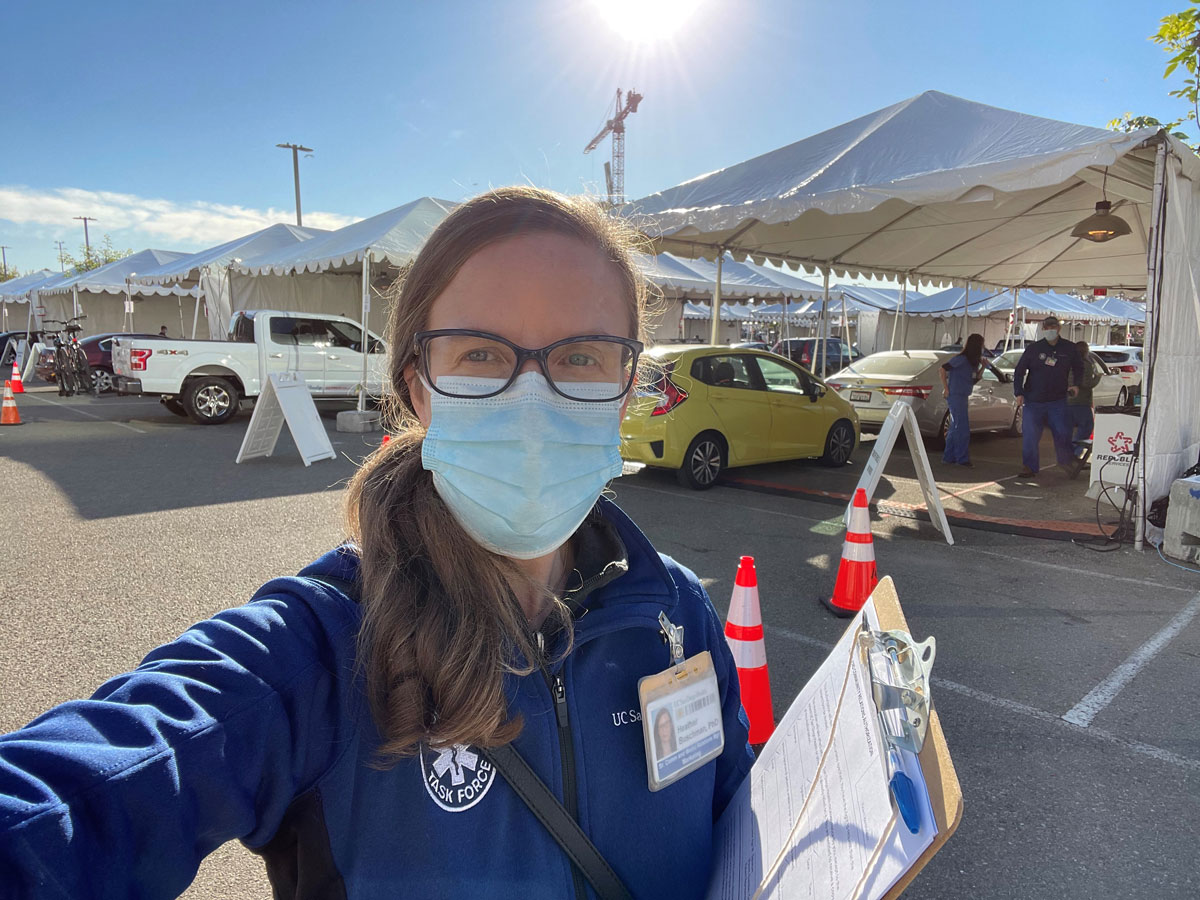 Heather Buschman , Ph.D., is assistant director of Communications and Media Relations at UC San Diego Health and an instructor at UC San Diego Extension. Since the start of the pandemic, her team has shared scientists' stories and fact-based public information. She also volunteered at a vaccination site. From her unique perspective, Buschman has seen the magnitude of the pandemic, and the remarkable strides we've made.
"I was in my office when I heard that schools were closing. I ran to tell a coworker and choked with emotion over the gravity of the situation. For more than a month, I'd been serving shifts as a public information officer in our incident command center, which activated to manage coronavirus patient care and protect health care workers. But until then the pandemic hadn't really affected my family.
"Until they arrived at UC San Diego Health, I never believed we'd have COVID-19 vaccines by early 2021 — and yet here we are, administering multiple, highly effective vaccines since late 2020. I'm blown away by what the scientific community has accomplished with so many people working together, focused on a single problem, with appropriate funding. I'm proud to tell scientists' stories and play a small part in distributing vaccines to our community. It's truly historic."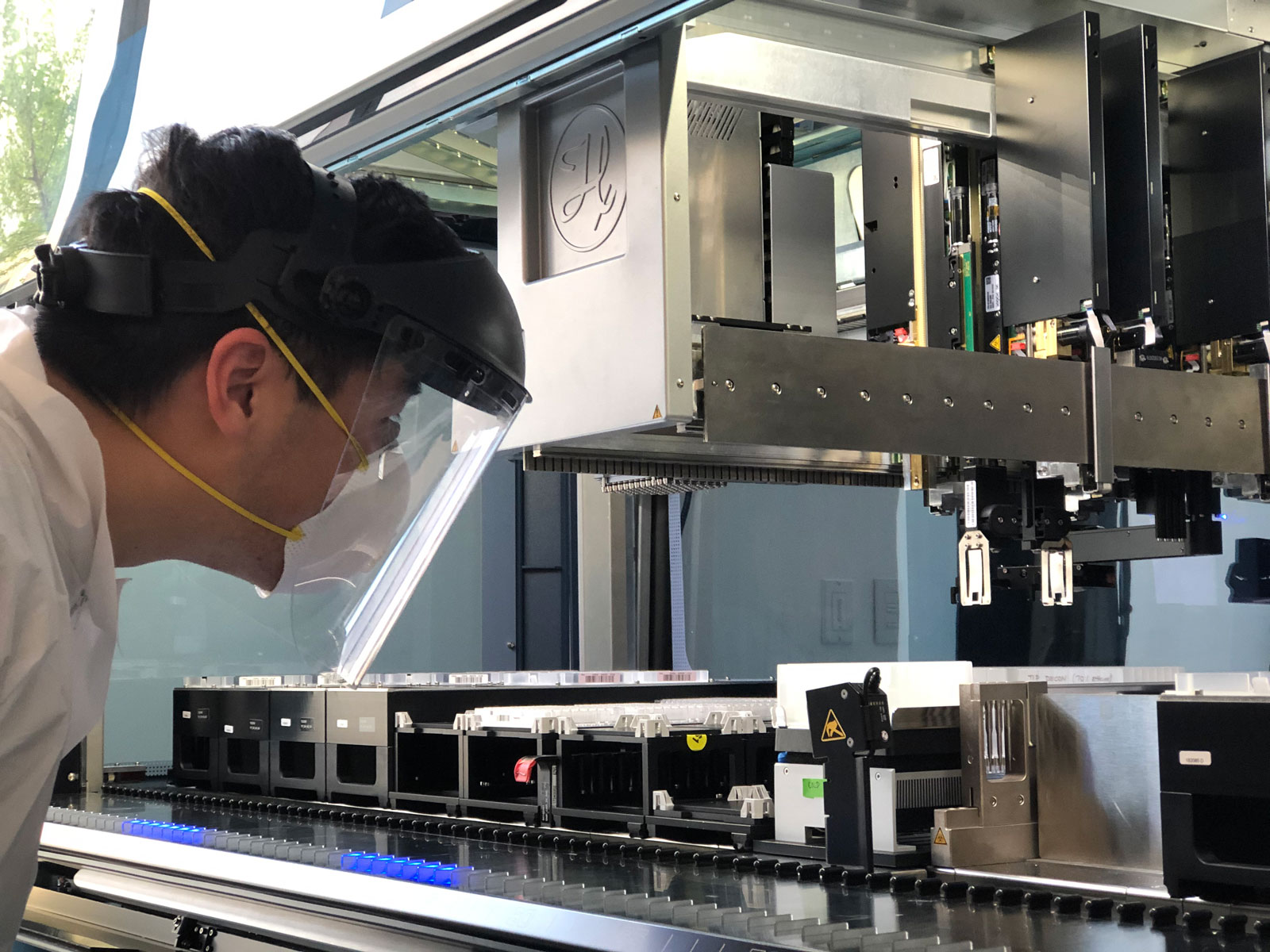 Connor Tsuchida is a graduate student in Jennifer Doudna's lab at UC Berkeley, working on research related to the gene-editing technology known as CRISPR. When the pandemic hit, he and his colleagues at the Innovative Genomics Institute put aside their regular research to stand up a COVID rapid-results testing lab to meet the urgent need for COVID diagnoses. The transition from one new frontier of science to another wasn't easy.
"For a [disease] testing lab, the concepts are not the same as genetic engineering, but the skills and technology you use is similar. We knew some of the techniques and protocols of diagnostic testing, and we were familiar with the equipment. That gave us a leg up so we weren't starting from zero.
"One of the best things has been the opportunity to work with professionals from other fields: volunteer physicians from UC Berkeley's student health center, people from public health — it's a multi-disciplinary, team endeavor.
"For me, it's also been a lesson in setting something up and then being okay with transitioning it to other people. There's a controlling nature with research that if you are going to do it right, you need to do it yourself. It's a good experience to hand off what you helped establish and see it take on a life of its own."
Another bright spot: Tsuchida's work in biomedical research now seems more vital than ever — and not only to those in the field.
There was so much work done in science and research before the pandemic that we absolutely were able to build upon when developing therapies and vaccines for COVID-19. I hope this will bring home the importance of that research and encourage everyone to support putting money into science.
Teresa Andrews, M.S., is an education and outreach specialist at the Western Center for Agricultural Health and Safety at UC Davis, focusing on the workplace health and safety of farmworkers. Before the pandemic, Andrews and her team hosted in-person trainings for farmworkers and employers across California. COVID-19 forced them to reinvent their approach while maintaining connections with agricultural communities.
"We adapted our interactive activities to a virtual platform and started learning all we could about what farmworkers needed to know about COVID-19 and how employers could reduce workplace infections. Our goal was to be a resource, alleviate fears and empower workers and employers with the knowledge they needed to operate within this new reality.
"Since then, we've mastered the use of technology to fill the gap and stay connected. We offer more presentations and workshops than ever before and are reaching more people throughout our region, connecting with workers wherever they are. It brings me satisfaction to counter fears with science; to help explain concepts that can seem abstract to people — what a virus is, how your body responds, and what you can do to reduce the risk of infection — in language that's easy to understand."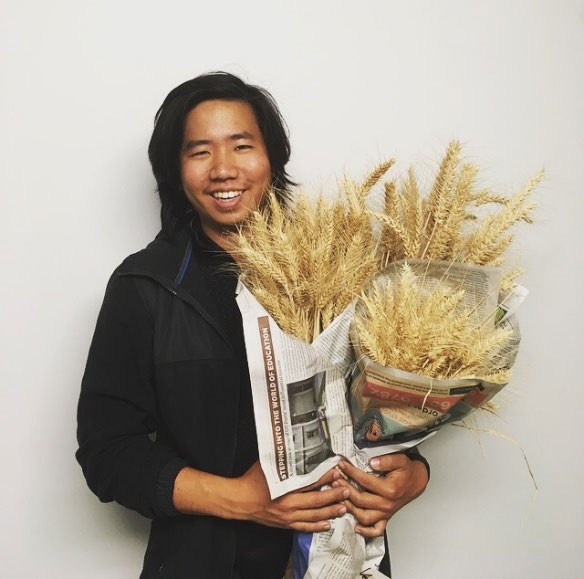 Paul Kasemsap , an international student from Thailand, stayed close to campus partially to care for the plants he studies. But he also found himself drawn to the local Davis community, volunteering with the food bank to bring groceries to those most at-risk for COVID-19, so they didn't have to risk trips to the store.
"After this is over, I hope we continue to take care of and check in with each other. I had indeed been taking in-person interactions and small talk for granted. But the pandemic showed me how powerful a role social support plays in our life. I hope we continue to tell our loved ones how much we love them and appreciate their support. Don't wait until the next pandemic!"
Aaron Zachmeier , UCSC Online Education instructional designer, helped hundreds of faculty put their classes online virtually overnight.
"Before the pandemic, the unit I'm in, Online Education, worked with a relatively small number of faculty on online and hybrid courses. We were kind of a boutique unit. When the shut-down happened, we started working with people all over campus.
"My colleagues and I created all sorts of resources to help with the transition to remote teaching and learning and remote working: workshops, self-paced courses, videos, text tutorials, checklists, infographics.
"We had a chat/discussion space that we opened up to all staff and faculty for the pandemic, and it has now become a lively place that spans departments and administrative units. People ask questions and have conversations about technology, teaching, and policy. Those conversations will continue.
"All of those people who started working together to facilitate the transition to remote are still talking regularly. They'll keep talking. That's a wonderful change."
On improvising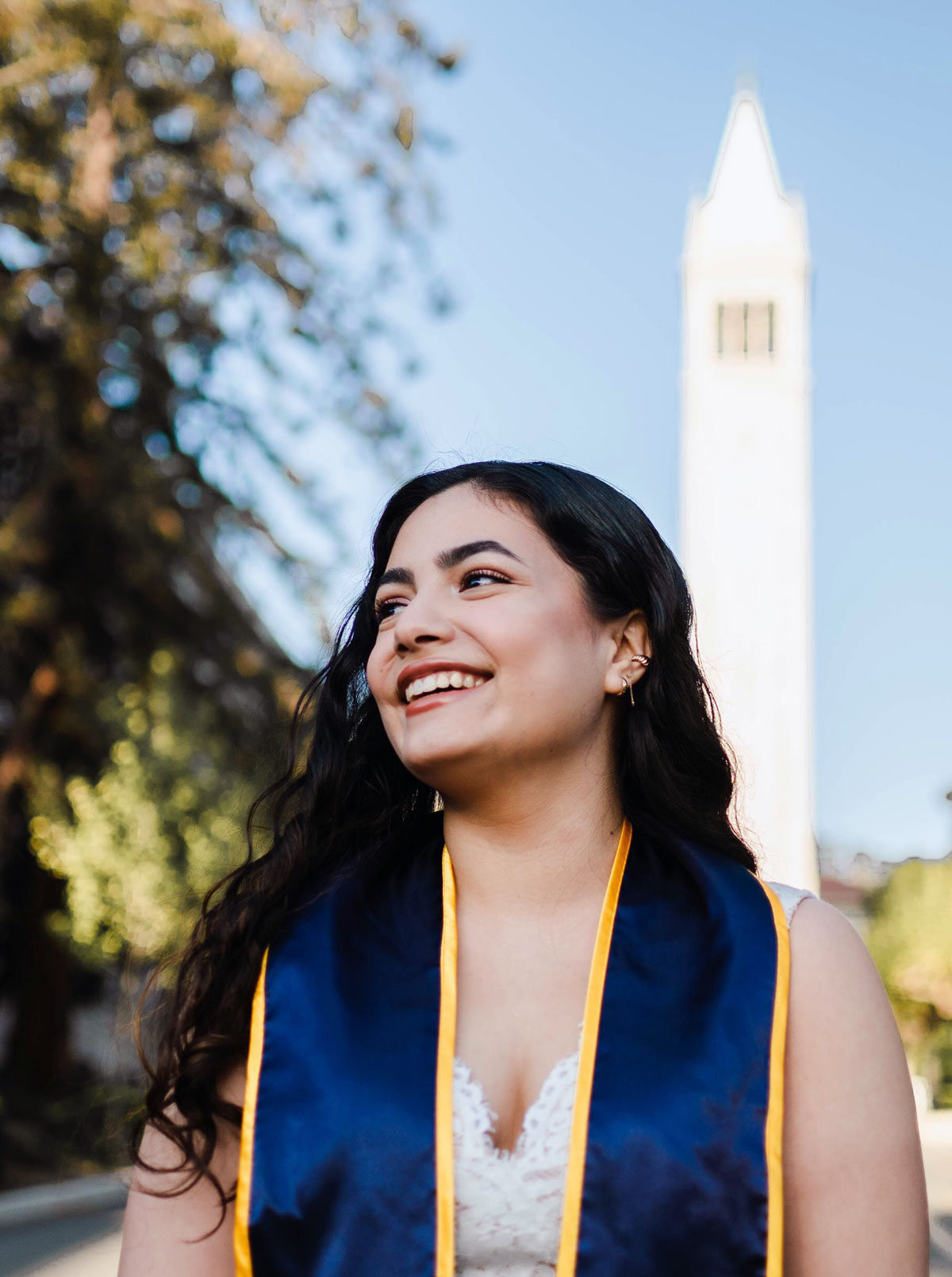 Frida Hernandez is a Class of 2020 UC Berkeley grad. As the first in her family to graduate from college, she was looking forward to celebrating her big day with her family. While a virtual graduation wasn't what she had hoped for, she was still able to share her accomplishments alongside her family at home in San Diego.
"Graduating in the middle of a pandemic as a first-gen student was tough because I felt the pressure to have my next steps all figured out to make my family proud. I have two younger siblings who are currently in high school, so I wanted to set a good example for them. Luckily, I was able to find a job in my field and I am so grateful I did. Landing my first full-time job in the middle of a pandemic gave me a new perspective on life because I was thankful to find some stability amidst all the chaos. I've really enjoyed spending time with my family (in my household) during this time. I moved back in with them after graduation and I'm grateful we have each other during these difficult times.
"As we begin to resume 'normal' life, I will live my life with more intention and gratitude. I hope to make up for all the celebrations I missed out on during this past year, such as my college graduation and numerous birthdays."
In normal times, UC Santa Barbara's Saameh Solaimani works as an early education specialist at the campus child care center. When the pandemic forced it to close, Solaimani quickly found new ways to help UC families by starting a website, www.ourchildrenscenter.org , that provided a high-quality resource for early child educators and those with young children.
"To see the pivot that so many teachers have made to ensure the healthy development of their students and learning communities, from pre-school all the way through higher-ed, has been incredible. These circumstances have reaffirmed what I knew to be true: That we, in the field of education, got into this work with hope for a better future and we are relentless with that hope, which is what keeps us going."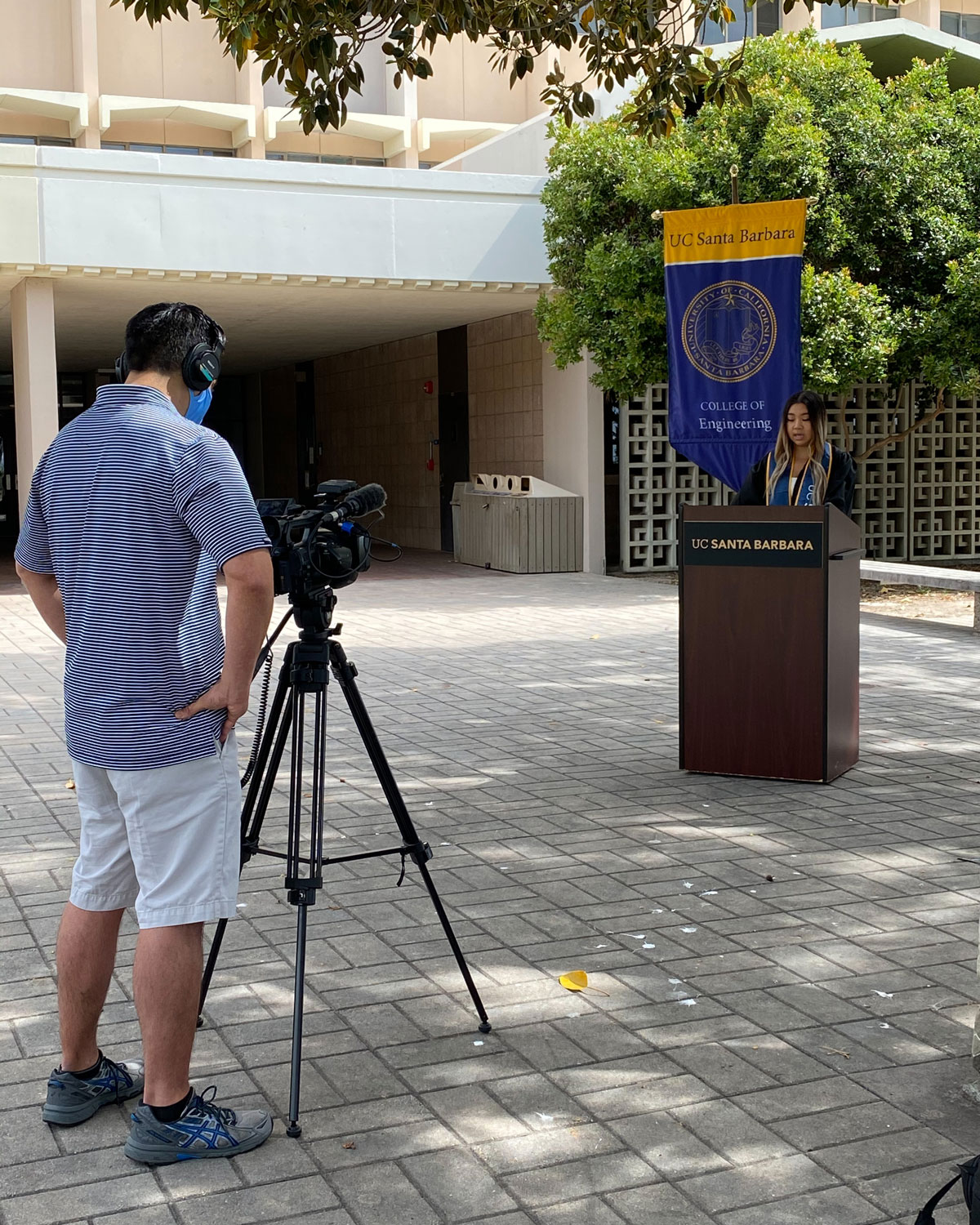 Glenn Beltz is a mechanical engineering professor and associate dean at UC Santa Barbara. When the pandemic first hit, he saw first hand that family circumstances made online learning difficult for many students — there were no simple solutions. He and his academic advising team rose to the challenge by providing individual guidance to help as many students navigate the situation as possible. The Academic Senate's decision at UC Santa Barbara to allow flexibility with pass/no pass grading was a huge help for students, allowing courses to count toward their degree requirements.
His own family faced different, but equally challenging circumstance with online learning.
"I am a parent so the kid aspect strikes a nerve. It has been rough. My wife and I have 2 kids, a daughter in 10th grade and a son in 4th grade. It has been particularly difficult with my son, who is autistic. Every autistic kid is different, but there is no way you could get my son to sit in front of a Zoom session for hours on end. No way at all. I fear that much of this past year will be a lost year in terms of his education. Fortunately, in January '21, his elementary school worked out a protocol to be able to take him and a few other special-needs kids back. That has been a godsend."
But he expects to take some positives forward.
"There are many aspects of teaching that I hope will remain in the long term. I think it's awesome that students can pull a set of notes online from whatever I taught on a given day or even pull a recording of the lecture. Sure, that kind of stuff occurred in former times, but it was not widespread. I don't think I will ever give a paper-based, sit-down exam again. I like being able to administer and grade exams online via various tools that are available."
Top photo: One of Frida Hernandez's journals from the pandemic.
Keep reading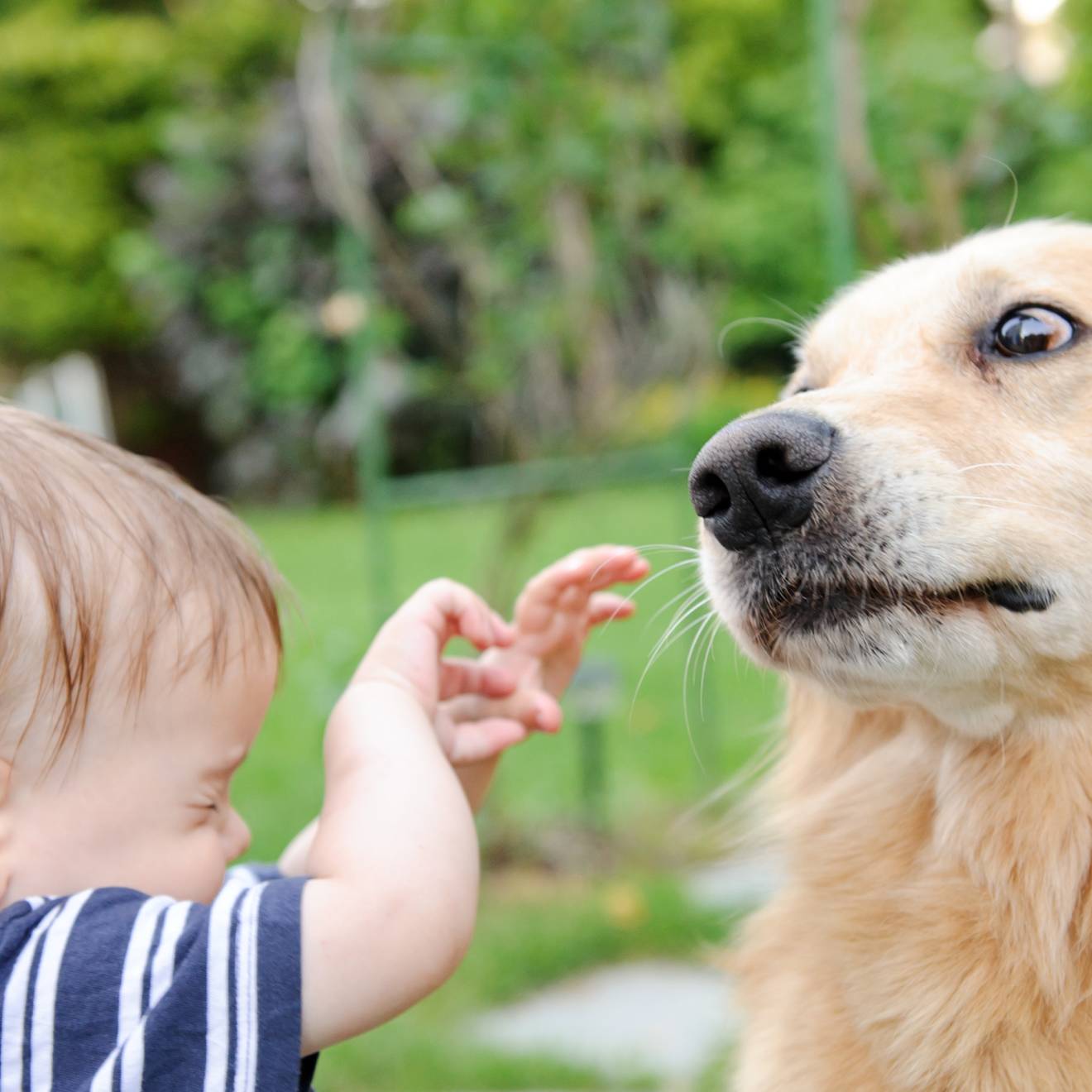 3 signs your dog may be stressed
UC Davis animal behaviorist Emma Grigg shares the ways dogs can express themselves.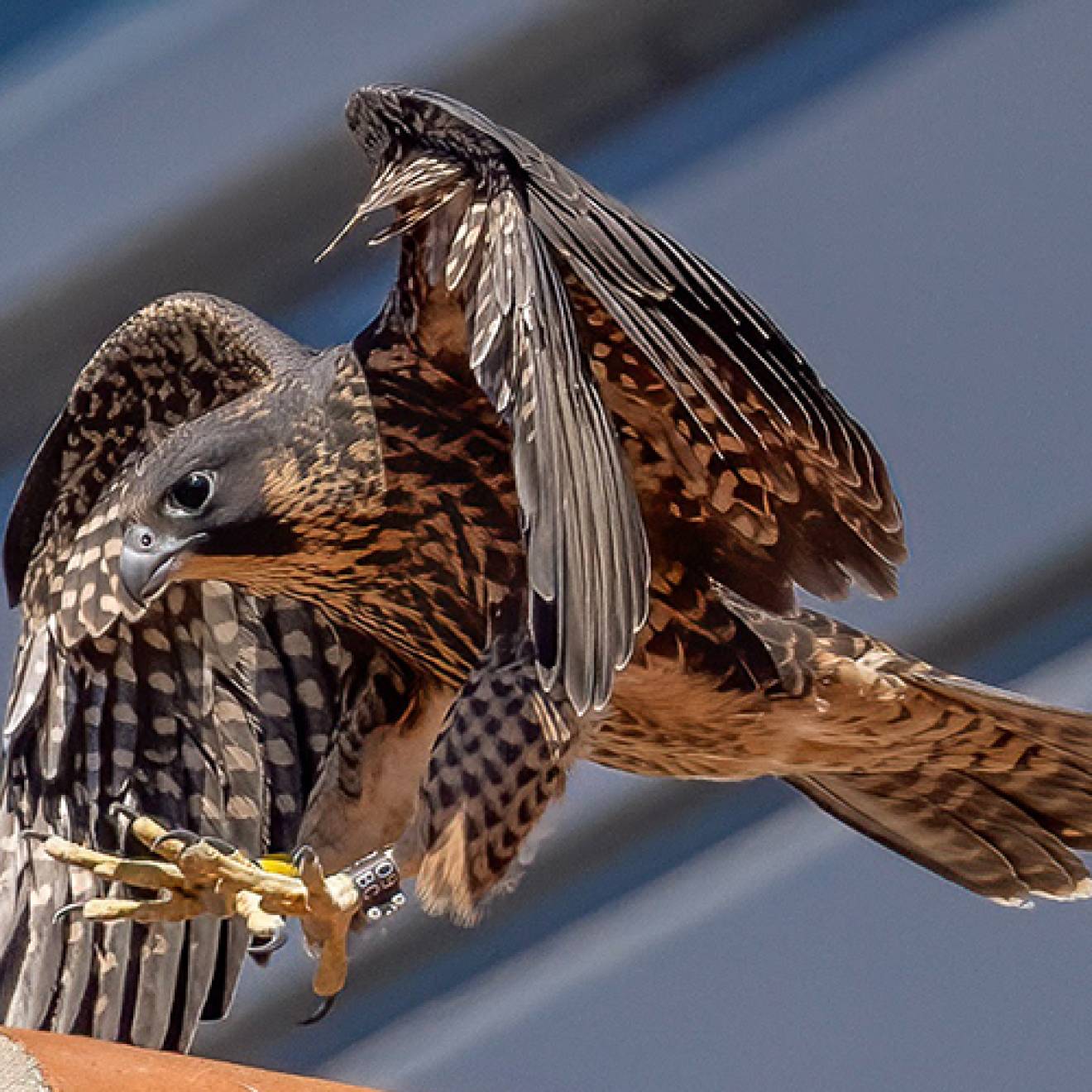 Stunning photos show young UC Berkeley falcons learning to…
They slipped and cried for food, but the siblings wound up mastering their first days of flight school.

Social Studies
Current Events
Collections
Search Lessons
Product Tour
Why Listening
Listening Assessment
Lexile & Listening
English Learners
Support Center
Student Reflections on the Pandemic – Sparked by Listenwise Podcasts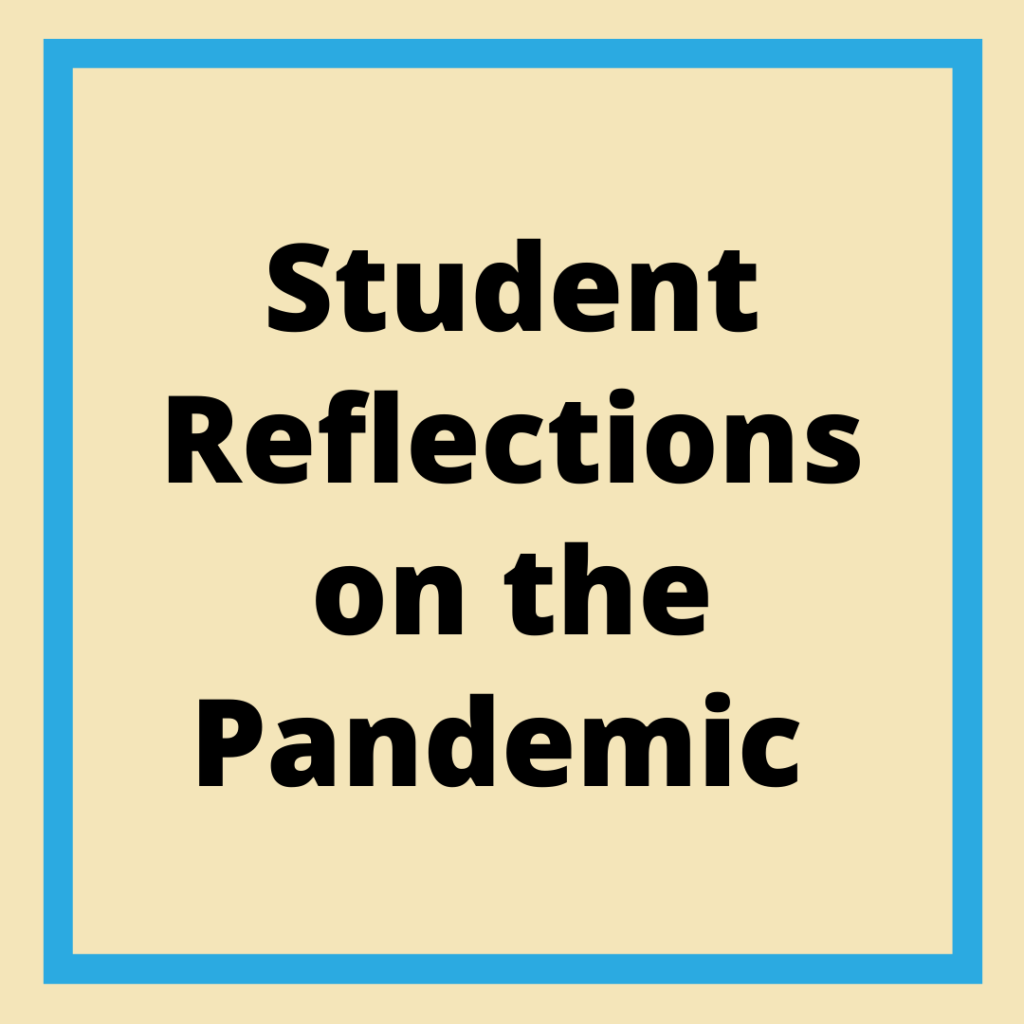 One of our teacher advocates, Erik Eve, created a lesson using Listenwise current event stories focused on COVID-19 in a way that activated student choice and voice. His class of 8th graders from Lindenhurst Middle School in New York were directed to choose any podcast from the Listenwise podcast collection focused on COVID-19 and write personal reflections about the story. You can read a sampling of these thoughtful and illuminating student reflections on the pandemic below.
If you want to share these reflections with your students and invite them to write their own, you might also ask them to listen to this Listenwise story featuring student reflections on the pandemic . Read and listen to student reflections from across the country, along with other Listenwise current events about the pandemic. Illicit your student reflections on the pandemic by asking them to share their own reflections, thoughts, or feelings in whatever format they wish (e.g., Google Doc, Flipgrid video, audio podcast, video chat, online discussion forum, etc.). This can help students feel connected to each other and discover shared and/or new perspectives on how this strange time is affecting people's lives.
Read student reflections on the pandemic from Erik Eve's class
Annika Bisogno listened to: Coping Without a Job During the Pandemic – 4/30/2020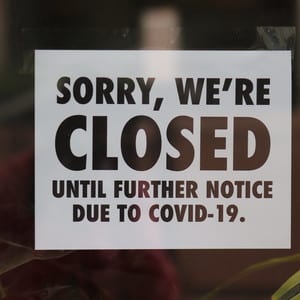 "Now I know what a lot of people are thinking, students have it easy during the break (or Corona-cation which is a mix of the words corona and vacation) but that is not the case. After listening to the audio story 'Coping Without a Job during the Pandemic', I learned about the things that adults have been thinking about and their concerns. But I am here to tell you what teenagers in middle school are thinking about. My name is Annika and I am an 8th grade honors student at Lindenhurst Middle school, and to tell you the truth, this 'vacation' is really getting to me.
At first I was like 'Whoopee— no school!' but that feeling quickly dissipated and now i've never missed school more. The adults in the video pondered if people will ever gather again or why is my unemployment taking so long, but students today don't have the time or the energy to be panicking about the future, because we are panicking about when our work is due and how overwhelmed we are.
Each day we are assigned a plethora of work to complete and even if due dates are spread out it's still agonizing. It's all new to us and speaking from personal experience I have a hard time focusing on work at home. Remembering back to when we did have school, sports and clubs, I didn't even do my homework at home but went to the library instead. However, looking more towards the optimistic side, because nobody likes a whiner, there are things that keep me calm and at peace with my studies and just over all being trapped in my house. Getting ready in the morning actually really soothes the feelings of stress. I even do my make up because it helps normalize things. I've picked up new hobbies and overall improved my mental health. Just because I am stressed doesn't mean I can't do the things I enjoy.
It's hard to make time for the things I enjoy but in the end I make it work. I think an important thing to remember is that everything will be alright in the end."
Julia Wlodkiewicz listened to: States Lock Down To Protect Lives – 3/26/20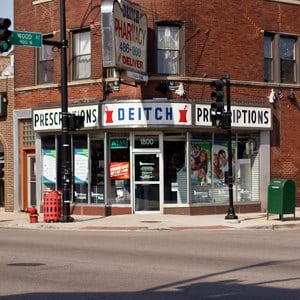 "Around a month ago, New York State closed. The schools closed, the libraries, places of work, with only essential workers being able to work. As you definitely know, this is due to the coronavirus or COVID-19. This has changed my everyday life, as long as everyone else's for a most likely, prolonged period of time. I can't go to school, I must complete my schoolwork online.
This whole situation is very stressful, especially since me and my whole class are supposed to go to high school next year. The regent exams have been cancelled, which was really a slap into reality for me. Some of my classes this year were solely preparing me for the regents. It was like I finally realized, 'This isn't temporary. It's going to last for a while.'
While this transition hasn't been easy, I feel that it is more important to protect the lives of my community and those around me rather than risk having them fall ill or even die. I know many people feel isolated right now, I feel it too, but we have to stay strong right now. We have to protect each other now, so that we can be with each other later. I respect the governor's choice in locking down the state, if that is what is going to stop the spreading of coronavirus."
Khrystyna Blyshchak listened to:
Avoiding Coronavirus – 5/5/20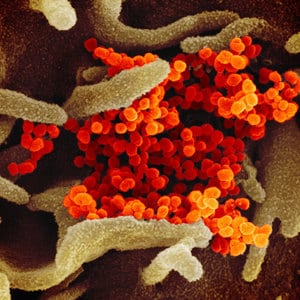 "I listened to the podcast 'Avoiding Coronavirus'. It was published only 2 months ago, but it feels like it's been forever. I listened to the podcast when it was first released, and now looking back, I wish more was done sooner. In this podcast, Steve Inskeep and Allison Aubrey talk about coronavirus testing and how it is very limited. Today, with the state that I'm from (New York) being the state with the most cases, testing for the virus is crucial.
If testing was more available during the early stages of the virus, we probably could've been able to contain it better than we had. Many people who didn't show enough symptoms were sent home. In the slight chances that they could've had the virus, they probably spread it more unknowingly. Since there wasn't enough testing and the virus kept spreading, schools were shut down and kids had to go into quarantine.
On May 1st, Governor Andrew Cuomo of New York announced, 'Given the current situation, K-12 schools and college facilities will remain closed for the rest of the academic year and will continue to provide distance learning.' Because of the virus, I will be missing out on school trips, memories, graduation, getting to say goodbye to all of my teachers, and much more. However, even though I am upset, I'm glad that Governor Cuomo took action in closing down schools for everyone's safety. I have family members that could potentially be easily infected by the virus, and I wouldn't want myself or any of my siblings bringing the virus back into our home from school.
Currently, school isn't the safe environment it has always been in my district, so I'd rather continue learning from a distance. In the podcast, the spokespeople provided us with ways we could help stop the spread of the virus. Those extra steps did help a lot of people, but not enough to stop the spread. I hope that, unlike the other pandemics in years beyond my time, we have the right technology to find a vaccine and treatment course to prevent fatalities from the virus."
Michael Fiocco listened to: 
Containing the Coronavirus Outbreak – 2/13/20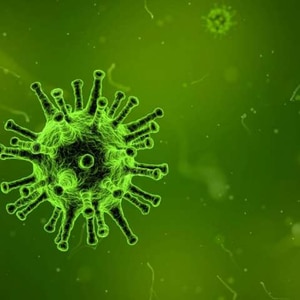 "This story pertains to my life because my father, Keeth Fiocco, works at the Jacob Javits Convention Center as an Electrical Steward of Local Union #3 of the International Brotherhood of Electrical Workers. For two weeks he and his fellow electricians all worked tirelessly to convert the largest convention center on the East Coast to a hospital that is able to house over 2,500 patients.
The decision to convert the Javits Center to a hospital was made by Governor Andrew Cuomo on March 27, 2020 in response to the need for additional beds in anticipation of a surge of COVID-19 patients that New York hospitals could not contain. After this monumental decision was made, the production quickly began on turning the giant convention center into a field hospital. For this to work, necessary life saving equipment needed to be imported from other areas. One piece of equipment were ventilators which are used to help people breathe when they are unable to on their own. Another item that was needed were hospital cots where the patients would stay and rest when they arrived at the Javits. Additional machinery included the Oxygen Concentrators, which are machines that purify oxygen for patients who have too little in their blood.
To install everything The National Guard, The Army Corps of Engineers and The Federal Emergency Management Agency (FEMA) worked in unison with the Local #3 electrical workers, as well as the other trades, to prepare to save their fellow New Yorkers. To keep the operation going at all times there were constant shifts in workers to keep them fresh and healthy as well as additional workers on emergency call. My Uncle, Christopher Erikson Business Manager of Local Union #3, along with his son , Christopher Erikson Jr. Business Representative of Local Union #3 for the Jacob Javits Center, also helped by reevaluating the contracts signed by the workers and allowed flexibility in shift times and work hours to alleviate the financial hardship the Javits Center was undergoing while insisting that everyone had appropriate personal protective equipment (PPE) including masks, latex gloves and eye protection.
When the patients arrived they came in through the third floor loading dock where the medics would assess them and then be placed in one of two zones, the recovery area where they would just be monitored or the emergency care area where the patients needed more critical care. In the rooms where the patients stayed they were given a sleeping cot, a chair and an oxygen concentrator as well as other needed equipment. At night the lights are dimmed but never turned off completely and the patients rarely get any silence, instead there is always a quiet murmur in the distance.
As well as turning the Javits center into a field hospital my father was also tasked with working the sound system when The Governor would hold a press conference at the Javits Center. When I asked him how he felt during the program he said: "I felt really nervous and didn't want to mess up because it feels like the whole world is watching me and even the smallest mistake won't go unnoticed." While watching, everything went well and they even used the audio of one conference to make an inspirational video, lifting the spirits of New Yorkers everywhere.
As we continue to see the fight against COVID-19, looking at my father always reminds me there are silent heroes that are putting their lives in danger everyday to make sure all hospitals, including the makeshift ones, are running efficiently. We clap for doctors, nurses, and first responders, let us all remember that there are others in the shadows that we clap for too."
Up next on our blog: Listenwise Staff Picks for Educational Podcasts
Share this:.
This Article Contains The Following Topics
remote learning
student voices
Share This Article With Others
Related blog posts.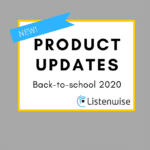 Sign Up Now
Sign up for a free account.
Welcome Back
Let's get you logged in.

Our Mission
Strategic Plan
Institute History
Annual Reviews
Keeping Up With Kellogg ENews
Kellogg 40th Anniversary
Staff by Name
Staff by Area

Human Development
The Ford Program
K-12 Resources
Ford Family Notre Dame Award
Outstanding Doctoral Student Contributions
Distinguished Dissertation on Democracy and Human Development
Undergraduate Mentoring Award
Considine Award
Bartell Prize for Undergraduate Research
The Notre Dame Prize
Employment Opportunities

The Kellogg Institute for International Studies, part of the University of Notre Dame's new Keough School of Global Affairs, is an interdisciplinary community of scholars that promotes research, provides educational opportunities, and builds linkages related to democracy and human development.
Our welcoming intellectual community helps foster relationships among faculty, graduate students, undergraduate students, and visitors that promote scholarly conversation, further research ideas and insights, and build connections that are often sustained beyond Notre Dame. 
Kellogg Faculty
Visiting Fellows
Distinguished Research Affiliates
Advisory Board
Graduate Students
Undergraduate Students
Faculty Committee
Institute Staff
Engage with Alumni
International Scholars
A map of the involvement of Kellogg Institute people and programs in countries around the world.
Policy and Practice Labs
Research Clusters
Varieties of Democracy Project
Kellogg Institute Book Series
Kellogg Institute Working Papers
Conference Publications
Faculty Research Highlights
Kellogg Funded Faculty Research
Visiting Fellow Research
Visiting Fellows News and Spotlights
Work in Progress Series
Working Groups
Kellogg Funded Doctoral Research
Doctoral Research Highlights
Graduate Student News
Comparative Politics Workshop
Kellogg Int'l Scholars Program
Int'l Development Studies Minor
Kellogg/Kroc Research Grants
Experiencing the World Fellowships
KELLOGG COMMONS The Commons is flexible space in the Hesburgh Center for our Kellogg community to study and gather in an informal setting.  Open M-F, 8am to midnight. To reserve meeting rooms or for more info: 574.631.3434.
Faculty Grant Opportunities
Working Paper Series
Visiting Fellowships
Fulbright Chair
Other Visitor Opportunities
Doctoral Student Affiliates
PhD Fellowships
Dissertation Year Fellowship
Graduate Research Grants
Professionalization Grants
Conference Travel Grants
Postgraduate Opportunities
Overview Page
Kellogg Developing Researchers Program
Human Development Conference
Pre-Experiencing the World Fellowship Program
Organizations
Kellogg/Kroc Undergraduate Research Grants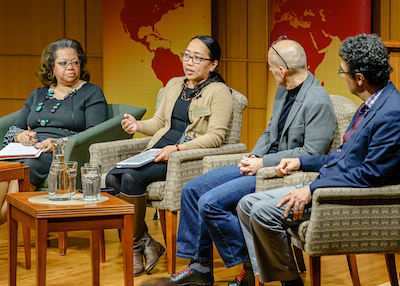 News & Features Learn what exciting developments are happening at the Kellogg Institute. Check our latest news often to see interesting updates and stories as they develop.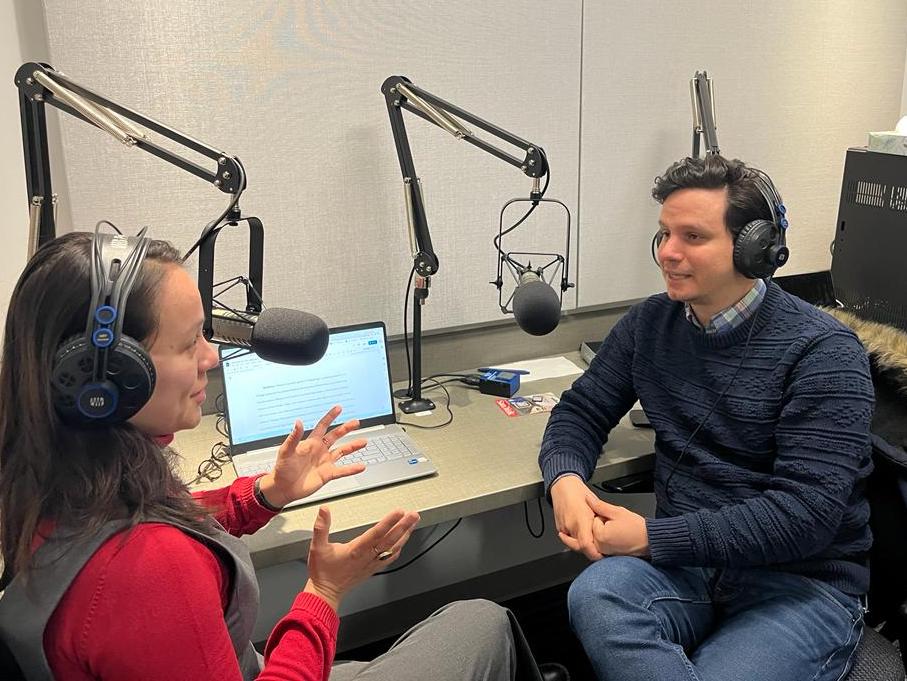 Global Stage Podcasts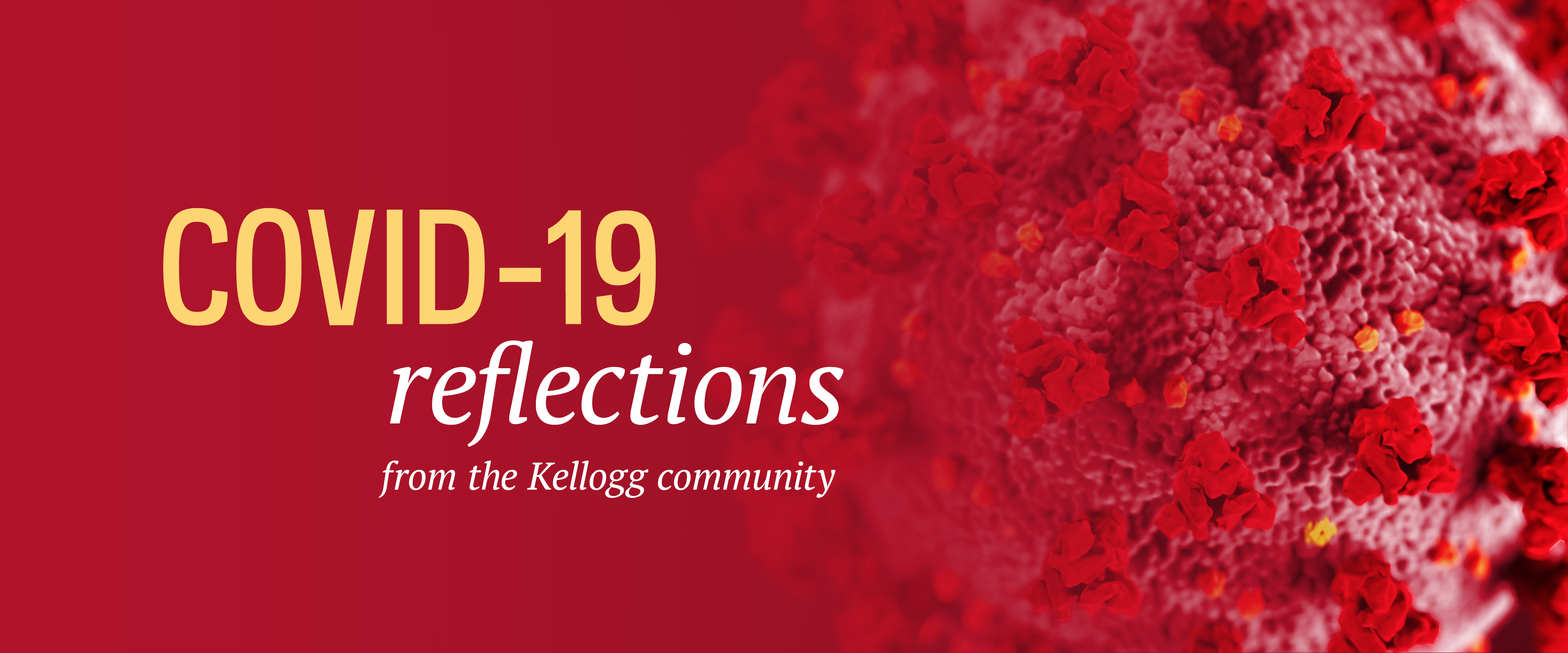 No matter the hour, across my window, I see a group of military soldiers outside. It has become a morning routine to stand there, coffee in hand, and read the forever-changing news to which I've become addicted to. Today, as I read government instructions forbidding burials and limiting funerals to only close family members, I cannot help but think about when my father passed away. He spent a few days in intensive care, and we were able to mourn him, give him a proper funeral, and choose when and how to continue with our lives as best as we could… and it was the hardest and most painful thing I've ever done. I cannot imagine the feeling of those being directly affected by COVID-19 and not only its consequences (as this part has already become universal). More...
Follow up on COVID-19 in Bolivia: A Small Fraction of The Struggle - September 16, 2020   Four months after schools moved to remote learning, on July 9th, the Minister of Education finally presented rules for online instruction, as the government continued with ongoing programs to train teachers and improve access to and quality of the internet. However, on the morning of Sunday August 2nd, the Minister of the Presidency announced the closure of the school year as of July 31st—four months earlier than usual. All students from all levels automatically passed. The government would continue to pay public schools teachers, and private schools could decide whether or not parents wanted to continue online instruction. No one saw this coming, especially not me.  More...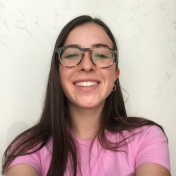 As of yesterday, April 4th, the official count is that there are 1,890 confirmed cases, 634 recoveries, and 79 deaths in Mexico. The real number, however, is likely to be much bigger because my country lacks the resources to detect the virus and keep track of the cases. Like the rest of the world, thousands, if not millions, are being affected by this crisis. The totality of the trickle-down effects of COVID-19 is yet to be seen, but thousands of workers have lost their jobs or part of their wages. Government authorities have failed to impose strict measures to control the virus, and many have condemned our president, Andrés Manuel López Obrador (AMLO), for it. In his daily press briefings, he has encouraged hugging, blamed conservatives for purposely wanting our economy to fail, and claimed that we are ready to confront the crisis. The reality is much different. More...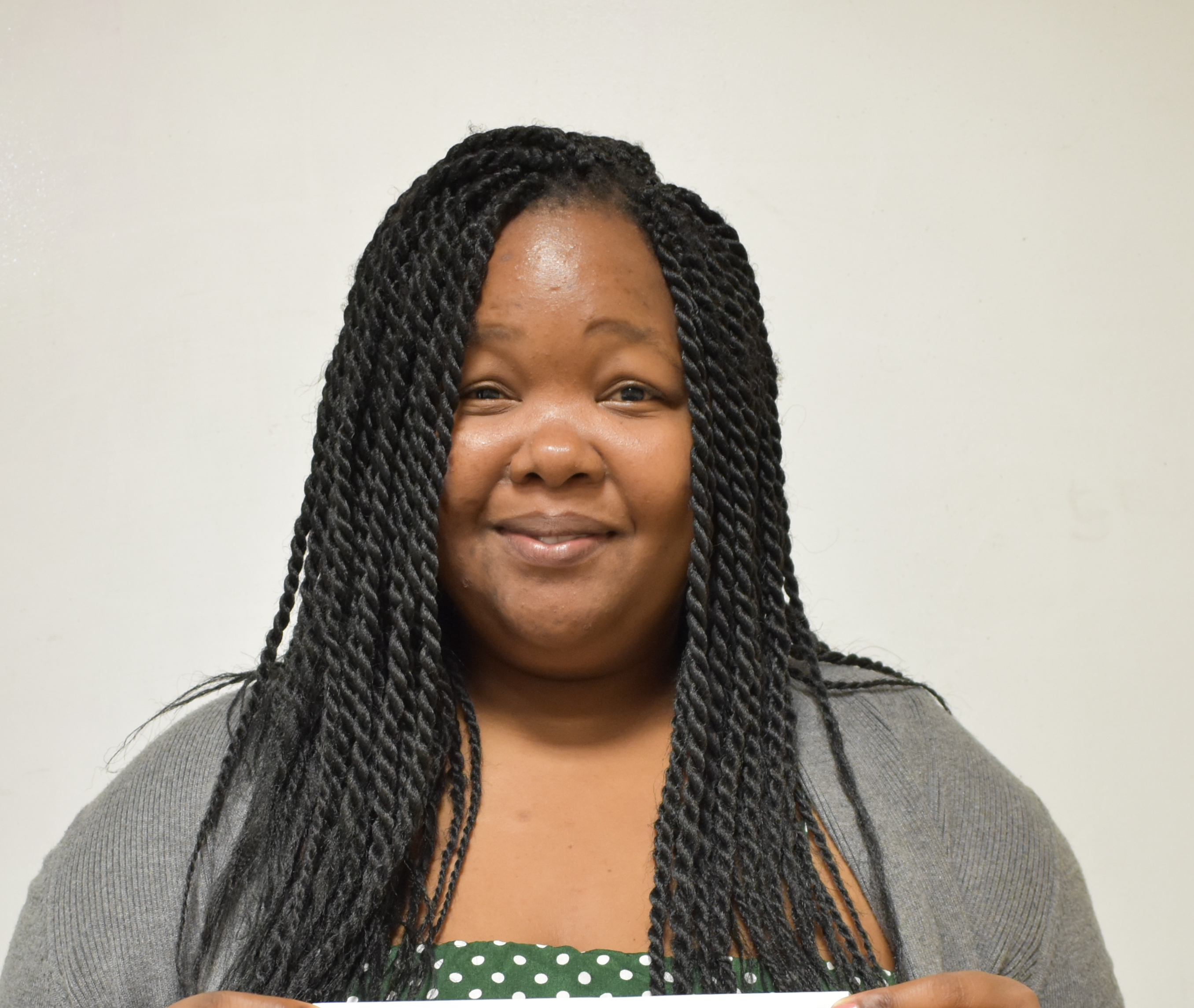 In early February, during one of my Political Science classes, my professor asked the class to go around the room and share its thoughts on COVID-19. When my turn to share came, I answered honestly that I am concerned about the Sub-Saharan African region should the virus spread across the world. The reason behind my deep concern was because the region does not have the same level of health care facilities and resources as western countries and so the spread of the virus could be fatal. I was particularly concerned about my country, Botswana, because it is among the countries that have the highest rates of HIV/AIDS prevalence in the World. From what I had read at the time, people with underlying medical conditions were at a higher risk of getting seriously ill if they get the virus. More...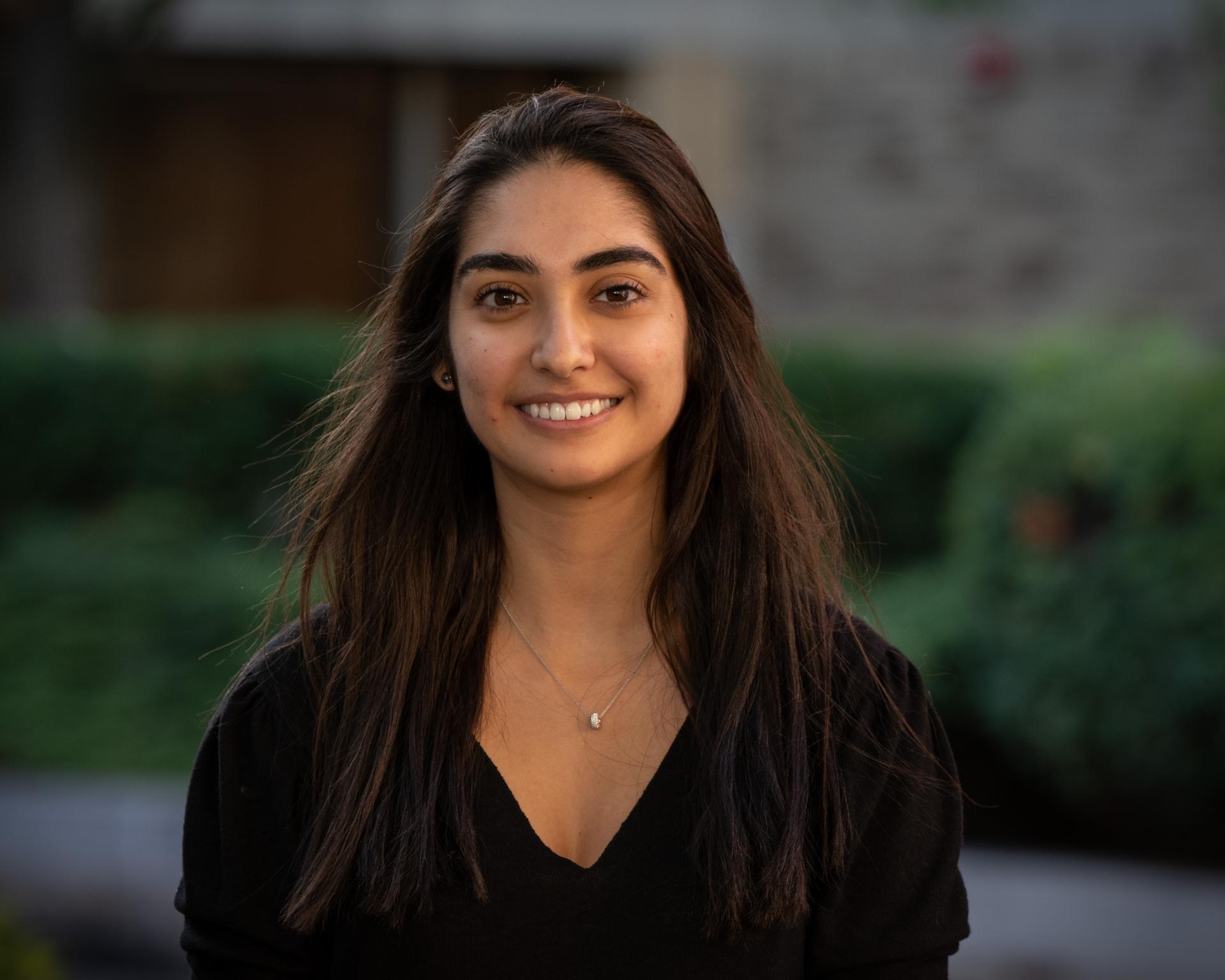 Facing the threats posed by the coronavirus pandemic is not easy, nor is it easy to conduct a general election – especially a free and fair one in an underdeveloped country. How about doing both simultaneously? The Dominican Republic is currently undergoing this challenge, with elections scheduled for July 5. The coronavirus pandemic was declared a national emergency on March 19. There are currently 16,531 active cases in the country, 9,266 recovered ones, and 488 deaths. Fortunately, our health system has not collapsed – yet, and there seems to be moderate control over the virus's transmission rate compared to other countries in the region, such as Ecuador. Nonetheless, as the country comes close to holding general elections, the feasibility of doing so while still respecting the well-being of all Dominican citizens is in question. More...
Jump to navigation
User Settings
Language List
When you pray you are not alone. You are part of a global community.
Recommended
Sacred Space
Coronavirus - reflection.
The Coronavirus has come as a huge shock to us, and within a very short time, it has challenged our attitudes and behaviours radically.  Here in Sacred Space, during these uncertain times, we want to reassure you of our continued prayers for all our worldwide community. In one sense, life continues as normal – and yet it's not normal at all.  Should I take the bus? Can I go safely go out for a walk? Should I visit my neighbour or my friend? That cough I notice, could it be the virus? What of the children's education? What if I lose my job? Are we going to have a recession? How long will this last? Will we ever get back to real normality again?
Sometimes, the anxiety surrounding the publicity is as contagious as the virus itself, spreading fear and nervousness among the community. In the developed world, in particular, we are in a state of shock. In many ways, we have come to believe that we are in control of our lives, that we have a cure for every disease, that we can fend off all the dangers that threaten our securities. We have built up solid walls to protect us against every unwanted guest, but now our walls have been breached, and the unwanted guest is here. Our securities no longer seem so secure, something in our world is out of our control, and many don't know where to turn.
We hope and pray, that we will soon find a vaccine for this disease, and that it will be made widely available for everyone who needs it, rich or poor. But in the meantime, we can reflect on our shock. It's a reminder to us that we are never in total control of our lives, that we can never eliminate every misfortune or heal every illness.  Ultimately, our trust has to be in something more solid than we can ever find here on earth. Ultimately, God alone is our security. 'God is our refuge and our strength, a helper close at hand in times of distress' (Ps.46:1). Trust Him.
More Sacred Space
Pray with the Pope
Lent Retreat
Living Space
Reflections on working through the COVID-19 crisis from a student Paramedic
2020 has been a challenging year for all of our students, due to the impact of the COVID-19 pandemic. We're especially proud of those students who were selfless enough to step up to the plate and give their time and energy to helping those in need during this crisis. One of those students is Carl Dowling, a BSc Paramedic Science student. Carl spent time with the London Ambulance Service and, this experience led to him writing his first research papers. He took some time to reflect on his experience and give an honest view of working on the front-line of a national crisis.
"At the start of the pandemic, I desperately felt the urge to help people in some way. This is why I became a paramedic student - one of many reasons why I chose this job was to help people in their time of need. So I decided to look for an opportunity to work directly to support the efforts against the virus. In April, I found the opportunity I was looking for to work with a private ambulance service in London. I was based at a hospital near Cambridge where I worked out of the Intensive Care Unit (A.K.A, the COVID-19 Ward).
 My role was working as part of a team alongside specialists, doctors, nurses, HELIMED Crews (Air Ambulance) and anaesthetists. There was me single crewing one ambulance and two other teammates single crewing theirs. Our roles were to maintain the management and urgent transportation of COVID-19 patients who were severe or in a critical condition, as well as making sure they were ventilated/incubated and on extracorporeal membrane oxygenation (ECMO). Along with this, we also had to maintain infection control standards before and after each patient. I would travel as part of a single crew to any hospital within the London area, meet a team on a COVID-19 ward, prepare the patient for transportation and bring them back to my base of operations where better care could be provided in a ward specifically for COVID-19 patients.
I tried my best not to have any pre-existing ideas about what it would be like working from a COVID-19 ward, especially assisting in the care of the patients, but the very first thing I saw when entering the ward was a patient in a body bag who had sadly passed away. This immediately gave me a sense of urgency about what it was that I had gotten myself into. It also caused one of my teammates to feel high levels of anxiety, however, this helped me deal with my own anxiety, as my main focus became helping that individual and reassuring them. 
The first shift was difficult. There was no formal training involved, other than a tour of the base, parts of the equipment and a brief explanation. We just had to know how to use the appropriate PPE and when to dispose of it correctly. We also spent an hour after every patient deep cleaning the ambulance to prevent the spread of infection. My first transfer was to assist in the evacuation of one of the hospitals, due to a lack of oxygen.
The other two single crewed ambulances and I were deployed and we did what we could in terms of evacuating the hospital safely, but it wasn't just a lack of time that was stressful, it was also the lack of equipment in terms of navigation systems, as they were unfortunately outdated and often would send us in the wrong direction. I had to use my phone's navigation system on the majority of journeys. Control(ICU at our base of operations) were also not giving the most effective information so we weren't always 100% sure where we had to be and how to get there. I changed this and created set questions that needed answering when giving us the details of a transfer, which worked better. 
When arriving to pick up a patient, the patient would not always be ready for transfer, as vital signs with COVID-19 can change dramatically in a very short space of time. This caused us sometimes to be stuck in one place for a large amount of time, whilst we attempted to get their vitals back up so that they were ready for transport. Unfortunately, it wasn't always possible and as a result we lost some of our patients. 
There were so many COVID-19 patients that were either severe or critical, certain hospitals were struggling to find where to put them as they were running out of room and needed secondary areas to be able to maintain capacity and the safety of non-COVID patients. The more time I spent on these wards, the more I saw what treatment strategies were being used to help patients in severe and critical conditions. I noticed that there were treatments used to help manage the disease, but not many treatments were being utilised to help individual symptoms. This frustrated me, and I asked a lot of questions of doctors, nurses and specialists, unfortunately, no one was able to give me a straight answer. 
When I got home, I felt like a part of myself didn't come back with me. I could not stop thinking about what I had experienced, the situations I had seen, and my feelings of frustration grew more and more each day, until eventually, I had had enough. After speaking with a classmate, I decided to write a reflection of my experience. After writing the reflection, I found that it highlighted certain questions that I felt needed answering, so I started conducting my own research, writing an editorial review. This led to my first paper, " Is There a Benefit in Using Non-Steroidal Anti-Inflammatory Drugs (Ibuprofen, Naproxen) in the Prevention of Cytokine Storms in the Treatment Against an Individual who is Infected with COVID-19? "
Researching this paper allowed me to see things for how they truly were. Everything and everyone in hospitals across the UK was rushed, stressed, unprepared, reactive, but in spite all of that, the staff at those hospitals were phenomenal and doing all that they could under the circumstances. Unfortunately, the UK's healthcare systems follow an outdated healthcare model which focuses primarily on treating the disease, not individual symptoms, hence why all patients with COVID-19 were treated with the same treatment strategies., This didn't take into account the fact that the virus was growing, and different individuals needed specific treatments to help further manage their symptoms and improve their chances of survival. Therefore, the treatment strategies that were being used quickly became ineffective.
When I came home from London, I had to self-isolate away from my family until it was safe to be with them again. Once I was able, I had to start readjusting back to family life. It was difficult after being away, but as time went on I was able to adapt, especially as I was focusing more on my research.
When there was talk that children in certain year groups were going to be going back to school, if the parents allowed it, my partner and I weren't sure if we should send our little one back to school or not. So I used my skills, and did more research into children and the risks of contracting COVID-19, which lead to me finding out more on the new Paediatric Inflammatory Multi-system Syndrome. This, along with the safety measures put in place by the school, allowed me and my partner to understand the risks involved and  make a better informed decision. It also led to my second research paper, " Does the Measles, Mumps and Rubella (MMR) Vaccine Enhance One or More Specific Functions in Children and Can it Help Against this Novel Paediatric Inflammatory Multisystem Syndrome ?" which I hope will help the scientific community in some way. 
We lost a lot of people along the way, even some of our own in the healthcare settings. They will all be missed, but never forgotten. All of the staff who put themselves on the line fighting an unknown virus during a pandemic deserve the greatest respect and I am grateful that I was able to help in some way during this difficult time, both through working on the front-line in London and publishing two papers in international journals. I appreciate all of the help and support I got from my team mates. I wish them all the best and hope they stay safe during this unprecedented time. What we can do now is support them the best we can by following the guidance given to us and maintaining common sense, protecting ourselves, our families and others."
Are you inspired to start a career in healthcare?
There are a range of rewarding careers within the health sector, and from August 2020 you could get £5000 a year to train (depending on which degree you choose).
Find out more about funding
Speech, Language and Communication Needs
Sports Nutrition Student Wins Dissertation Of The Year
Biomedical Sciences: My student journey
Five reasons why volunteering is great for your CV
Future Genetics: A Biomedical Sciences Student's Experience on Placeme...
Recent searches
We won't record your recent searches as you have opted out of functional cookies. You can change this on our Manage Privacy page should you wish to.
Popular searches
Personal Statement help
Postgraduate Guide
Application support
Scholarships
Suggested searches
Life in Birmingham
Graduate Scholarship
Coronavirus and schools: Reflections on education one year into the pandemic
One year ago, the World Health Organization declared the spread of COVID-19 a worldwide pandemic. Reacting to the virus, schools at every level were sent scrambling. Institutions across the world switched to virtual learning, with teachers, students, and local leaders quickly adapting to an entirely new way of life. A year later, schools are beginning to reopen, the $1.9 trillion stimulus bill has been passed, and a sense of normalcy seems to finally be in view; in President Joe Biden's speech last night, he spoke of "finding light in the darkness." But it's safe to say that COVID-19 will end up changing education forever, casting a critical light on everything from equity issues to ed tech to school financing.
Below, Brookings experts examine how the pandemic upended the education landscape in the past year, what it's taught us about schooling, and where we go from here.
Daphna Bassok — Nonresident Senior Fellow in the Brown Center on Education Policy: COVID-19 highlighted the essential role of child care for children, families, and the economy, and our serious underinvestment in the care sector.
In the United States, we tend to focus on the educating roles of public schools, largely ignoring the ways in which schools provide free and essential care for children while their parents work. When COVID-19 shuttered in-person schooling, it eliminated this subsidized child care for many families. It created intense stress for working parents, especially for mothers who left the workforce at a high rate.
The pandemic also highlighted the arbitrary distinction we make between the care and education of elementary school children and children aged 0 to 5 . Despite parents having the same need for care, and children learning more in those earliest years than at any other point, public investments in early care and education are woefully insufficient. The child-care sector was hit so incredibly hard by COVID-19. The recent passage of the American Rescue Plan is a meaningful but long-overdue investment, but much more than a one-time infusion of funds is needed. Hopefully, the pandemic represents a turning point in how we invest in the care and education of young children—and, in turn, in families and society.
Lauren Bauer — Fellow in Economics Studies and in The Hamilton Project: Just over a year ago, before the U.S. locked down, Diane Schanzenbach and I  wrote  a piece on how to prevent the foreseeable food-insecurity crisis. We argued that, if schools were closed, there had to be an  aggressive solution  to make up for the loss of the School Breakfast Program and National School Lunch Program. Pandemic EBT is a program that Congress authorized to replace missed prepared school meals with a grocery store voucher. We  evaluated  the effect of Pandemic EBT on measures of food hardship as it rolled out over the country last summer, finding that it reduced the share of households reporting that their children did not have enough to eat by 30%.
Congressional reauthorization of Pandemic EBT for  this school year , its  extension  in the American Rescue Plan (including for summer months), and its place as a  central plank  in the Biden administration's anti-hunger agenda is well-warranted and evidence based. But much more needs to be done to ramp up the program–even  today , six months after its reauthorization, about half of states do not have a USDA-approved implementation plan.
Stephanie Cellini — Nonresident Senior Fellow in the Brown Center on Education Policy: The pandemic has affected nearly every facet of higher education, but what is most striking to me is the dramatic decline in community college enrollment. Typically, we see enrollment in community colleges increase during recessions as unemployed individuals seek new skills and first-time students look to gain a credential before embarking on a career path. In this recession, the pattern is reversed: Enrollment in community colleges has dipped by about 10% since last year. Declines are particularly sharp among first-time students and students of color, raising critical concerns about increasing inequality in the coming years.
In contrast, enrollment is up in for-profit and online colleges. The research repeatedly finds weaker student outcomes for these types of institutions relative to community colleges, and many students who enroll in them will be left with more debt than they can reasonably repay. The pandemic and recession have created significant challenges for students, affecting college choices and enrollment decisions in the near future. Ultimately, these short-term choices can have long-term consequences for lifetime earnings and debt that could impact this generation of COVID-19-era college students for years to come.
Helen Shwe Hadani — Fellow in the Center for Universal Education and in the Metropolitan Policy Program: Academic learning losses in reading and math are a growing concern across the U.S. and globally, especially for children living in low-resourced communities that have been disproportionally affected by the abrupt shift to remote schooling. However, many are equally concerned about the harder-to-predict developmental effects of ongoing social deprivation, both in and out of school, for children. A core part of children's social experience—interacting with other kids in school and on playdates—has been stripped away and disappointingly replaced with virtual get-togethers and pandemic school.
Many U.S. educationalists are drawing on the "build back better" refrain and calling for the current crisis to be leveraged as a unique opportunity for educators, parents, and policymakers to fully reimagine education systems that are designed for the 21st rather than the 20th century, as we highlight in a recent Brookings report on education reform . An overwhelming body of evidence points to play as the best way to equip children with a broad set of flexible competencies and support their socioemotional development. A recent article in The Atlantic shared parent anecdotes of children playing games like "CoronaBall" and "Social-distance" tag, proving that play permeates children's lives—even in a pandemic.
Michael Hansen — Director of and Senior Fellow in the Brown Center on Education Policy: Standardized testing is one of many school rituals abandoned last spring as the unfolding pandemic swept the globe. Last month, the Department of Education  announced  it would not give states blanket waivers of standardized tests this spring, though offered flexibility in meeting testing mandates this year. With many school leaders  balking at the announcement , however, uncertainty remains about what tests will look like. My view: Let's use this opportunity to revisit how we test students.
Tests play a critical role in our school system. Policymakers and the public rely on results to measure school performance and reveal whether all students are equally served. But testing has also attracted an inordinate share of criticism, alleging that test pressures undermine teacher autonomy and stress students. Much of this criticism will wither away with  different  formats. The current form of standardized testing—annual, paper-based, multiple-choice tests administered over the course of a week of school—is outdated. With widespread student access to computers (now possible due to the pandemic), states can test students more frequently, but in smaller time blocks that render the experience nearly invisible. Computer adaptive testing can match paper's reliability and provides a shorter feedback loop to boot. No better time than the present to make this overdue change.

Douglas N. Harris — Nonresident Senior Fellow in the Brown Center on Education Policy: The COVID-19 school closures have fundamentally changed, and largely undermined, schools for more than a year. This is just the beginning. First, it will take some years for schools to find ways to get current students back on track—academically, physically, mentally, and otherwise. Second, while students, parents, and teachers have been pushed out of their comfort zones for a year, and will seek a return to normalcy, they will also realize that they liked some COVID-19 schooling changes and will push, from the bottom-up, to maintain them. My high schooler, for one, would like a later start time and about half as much time at school.
A third push for change will come from the outside in. COVID-19 has reminded us not only of how integral schools are, but how intertwined they are with the rest of society. This means that upcoming schooling changes will also be driven by the effects of COVID-19 on the world around us. In particular, parents will be working more from home, using the same online tools that students can use to learn remotely. This doesn't mean a mass push for homeschooling, but it probably does mean that hybrid learning is here to stay.
Brad Olsen — Senior Fellow in the Center for Universal Education: The COVID-19 pandemic has caused untold devastation across the world, yet it's also revealed some interesting truths about education. It's taught us that teachers, learners, and caregivers are incredibly resilient, but not indefatigable. It's taught us that technology can be wonderful, but it will never replace the value of people in safe but rigorous learning spaces talking, playing, and working together. It's taught us that a 20th-century model of schooling must be updated to prioritize the human aspects of education—not the mechanical ones—and push education to be simultaneously individualized and of common purpose. It's taught us that we ignore opportunity inequities at our own cost and at the expense of the most vulnerable. It's taught us that teachers should not be taken for granted. It's taught us that not everything in the curriculum matters and not everything that matters fits into the curriculum. And it's taught us that schools must stock up on hand soap!
I am hoping we will use this forced rupture in the fabric of schooling to jettison ineffective aspects of education, more fully embrace what we know works, and be bold enough to look for new solutions to the educational problems COVID-19 has illuminated.
Richard V. Reeves — Senior Fellow in Economics Studies: For obvious reasons, the pandemic has hit college enrollment numbers hard. The biggest decreases have been at the undergraduate level, and above all for community colleges. Protecting the finances of these institutions is obviously a key policy concern. Of course, the longer-term effects for social mobility of a disrupted transition to postsecondary education are the deeper concern, along with the consequences for racial and economic equity. But an overlooked dimension of the challenge is the stark gender gap. College enrollment for male students in fall 2020 dropped by 5.1%, according to  National Student Clearinghouse figures , several times more than the fall for female students (0.7%). The drop in enrollment in previous years has also been much bigger for men than women, and, as the chart below shows, it comes against the backdrop of lower overall rates of enrollment in the first place.
There is already a large gender gap in education in the U.S., including in  high school graduation rates , and increasingly in college-going and college completion. While the pandemic appears to be hurting women more than men in the labor market, the opposite seems to be true in education.
Jon Valant — Senior Fellow in the Brown Center on Education Policy: When I look back on the last year in education, my first reaction is sadness. It's just been a very hard year on so many students, educators, and parents across the country.
Looking through a policy lens, though, I'm struck by the timing and what that timing might mean for the future of education. Before the pandemic, enthusiasm for the education reforms that had defined the last few decades—choice and accountability—had waned. It felt like a period between reform eras, with the era to come still very unclear. Then COVID-19 hit, and it coincided with a national reckoning on racial injustice and a wake-up call about the fragility of our democracy. I think it's helped us all see how connected the work of schools is with so much else in American life.
We're in a moment when our long-lasting challenges have been laid bare, new challenges have emerged, educators and parents are seeing and experimenting with things for the first time, and the political environment has changed (with, for example, a new administration and changing attitudes on federal spending). I still don't know where K-12 education is headed, but there's no doubt that a pivot is underway.
Kenneth K. Wong — Nonresident Senior Fellow in the Brown Center on Education Policy: The pandemic challenges the current capacity of our public education system to address the widening gap in learning and mental well-being of our diverse student population. There is an urgent need to rebuild an education system that embraces equitable learning opportunity for all. Several actions are critical for the new configuration of our education system.
First, state and local leaders must leverage commitment and shared goals on equitable learning opportunities to support student success for all.
Second, align and use federal, state, and local resources to implement high-leverage strategies that have proven to accelerate learning for diverse learners and disrupt the correlation between zip code and academic outcomes.
Third, student-centered priority will require transformative leadership to dismantle the one-size-fits-all delivery rule and institute incentive-based practices for strong performance at all levels.
Fourth, the reconfigured system will need to activate public and parental engagement to strengthen its civic and social capacity.
Finally, public education can no longer remain insulated from other policy sectors, especially public health, community development, and social work.
These efforts will strengthen the capacity and prepare our education system for the next crisis—whatever it may be.
Daphna Bassok
Nonresident senior fellow - governance studies , brown center on education policy.
Lauren Bauer
Fellow - economic studies, associate director - the hamilton project.
Stephanie Riegg Cellini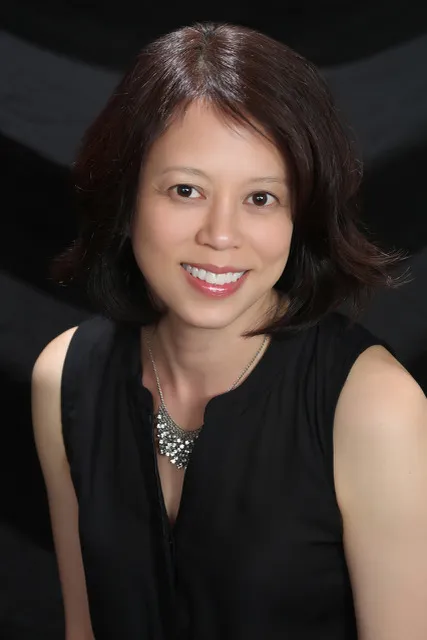 Helen Shwe Hadani
Fellow - global economy and development , center for universal education, fellow - brookings metro , anne t. and robert m. bass center for transformative placemaking.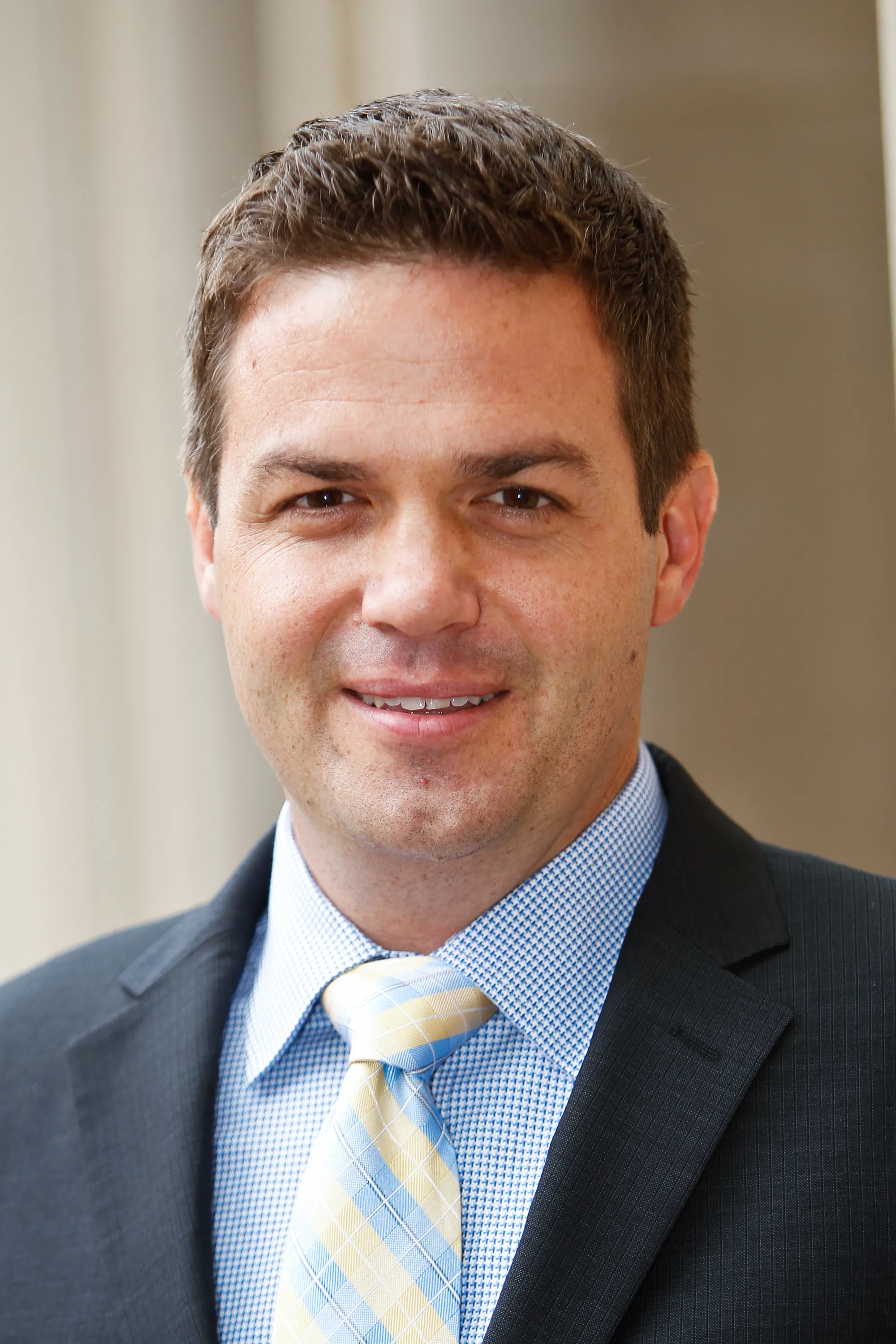 Michael Hansen
Senior fellow - brown center on education policy, the herman and george r. brown chair - governance studies.
Douglas N. Harris
Professor and chair, department of economics - tulane university.
Senior Fellow - Global Economy and Development , Center for Universal Education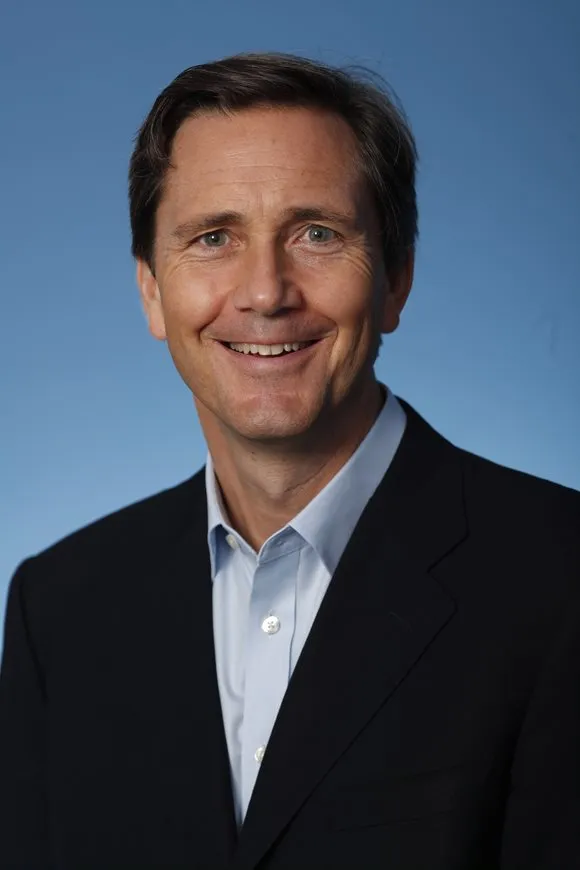 Richard V. Reeves
John c. and nancy d. whitehead chair, senior fellow - economic studies.
Director - Brown Center on Education Policy
Senior fellow - governance studies.
Kenneth K. Wong
Brown Center Chalkboard
The Brown Center Chalkboard launched in January 2013 as a weekly series of new analyses of policy, research, and practice relevant to U.S. education.
In July 2015, the Chalkboard was re-launched as a Brookings blog in order to offer more frequent, timely, and diverse content. Contributors to both the original paper series and current blog are committed to bringing evidence to bear on the debates around education policy in America.
Read papers in the original Brown Center Chalkboard series »
Related Topics
Coronavirus (COVID-19)
Coronavirus (COVID-19) Families, Communities, and Education
Higher Education
K-12 Education
More on Education
The Supreme Court takes up student loan forgiveness — What's at stake?
USMCA Forward 2023 – Chapter 3: Human Capital
Connecting schools and communities can restore hope in the possibility of change in Lebanon