Short on time?
Essay Service Examples Entertainment Movie Analysis
The Pursuit of Happiness': Movie Analysis Essay
Topics: Movie Analysis
This essay sample was donated by a student to help the academic community. Papers provided by EduBirdie writers usually outdo students' samples.
The film 'The Pursuit of Happiness' is a text that illuminates and conveys ideas, attitudes, and values of the 'American Dream.' In the Oxford Dictionary, the 'American Dream' is defined as the traditional social ideals of the United States of America: Life, Liberty, and the Pursuit of Happiness. It exposes how the protagonist is devoted to obtaining their desires and how they strive to further achieve the 'American Dream', although their values and attitudes alter in both positive and negative approaches. The character does fulfill the perception of the 'American Dream with significant and profound values and effective and inadequate attitudes.
The film "The Pursuit of Happiness" illuminates and conveys ideas, attitudes, and values of the 'American Dream'. This is evident when the protagonist is determined to fulfill his dream to prevail in a wealthy and prosperous life so he can essentially provide for his family. The theme of faith is portrayed throughout this film, due to the faith of Christopher Gardner essentially being empowered to conquer impediments that were hurled at him. Christopher's faith in achieving the 'American Dream' was remarkably significant, particularly when he endeavored to sell bone density scanners. Nonetheless, the scanners were not delivering money, and thus his achievement of the 'American Dream' could not be accomplished. Although, his devotion towards selling the scanners was phenomenal as it unveils the family values he exhibits and the attitude of perseverance he illustrates within the film. "Hey. Don't ever let somebody tell you… You can't do something. Not even me. …" quoted by the protagonist Christopher Gardner. The emotive language Christopher exhibits imply that dreams are intended to be pursued, and nobody is to intervene, the quote additionally enables the viewer to perceive and acknowledge the emotional atmosphere within the scene. Furthermore, the film 'The Pursuit of Happiness' illuminates and conveys ideas, values, and attitudes regarding the perception of the 'American Dream'.
Proper editing and formatting
Free revision, title page, and bibliography
Flexible prices and money-back guarantee
Scenes within the film 'The Pursuit of Happiness' enable the viewer to experience diverse moods with various effects that are present. These moods are manifested when the protagonist endures pain and sadness, essentially striving to support his family. In the scene where Linda leaves, Chris, dark tones and bland colors are exhibited, which additionally signify the poignant of the display. With the aforementioned, Christopher feels as though he has disappointed his family, that he cannot implement simplistic requirements, and that he is incompetent in protecting them. Not only has he neglected his family; his attitude towards fulfilling the 'American Dream' has additionally been disregarded. Further, into the movie, Christopher Gardner has been capable of attaining a career where he is rewarded with sufficient funds. Moreover, in the scene directly following, he gains a position as a stockbroker and is overfilled with joy. The production has achieved this display of satisfaction by brightening the picture and setting a voice-over to emphasize Christopher's happiness. The music has set an emotional tone and unveils the significance of the scene. Amidst the aforementioned, Christopher announces 'This little part of my life is called happiness' which is iconic as the protagonist has ultimately gained a sense of happiness, where he can further accomplish his goal and fulfill the perception of the 'American Dream.' This additionally allows the viewer to understand that the 'American Dream' is a laborious accomplishment. Thus, the film 'The Pursuit of Happiness' illuminates and conveys ideas, values, and attitudes regarding the perception of the 'American Dream'.
To conclude, 'The Pursuit of Happiness' ultimately illuminates and conveys ideas, attitudes, and values of the American Dream, essentially achieving wealth and living up to the ideals of Life, Liberty, and the pursuit of happiness. It is evident that both protagonists do fulfill the idea of the 'American Dream' and their values and attitudes towards accomplishing their goals are prominent.
Our writers will provide you with an essay sample written from scratch: any topic, any deadline, any instructions.
Cite this Page
Get your paper done in as fast as 3 hours, 24/7.
Related essay Topics
Popular Categories
Most Popular Essays
Leadership Styles
Movie Analysis
The aim of this paper is to show how two contrasting characters, Katherine Watson and Elizabeth (Betty) Warren, from the movie 'Mona Lisa Smile', can be seen as leaders. With different approaches, personalities and overall life prospects, they have intrinsic characteristics some types of leaders possess. On one hand, Katherine Watson is showing how she can inspire and transform the vision of her students at Wellesley, taught by the conservative driven society, making them believe that they can become whoever...
The HBO movie, 'Wit', follows the heart-wrenching story of academic scholar Vivian Bearing as she undergoes an intensive chemotherapy regimen to combat her stage four ovarian cancer diagnosis. The film chronicles Vivian's patient experience in the hospital setting as she undergoes treatment. Throughout the course of the movie, we see Vivian slowly stripped of her identity as an English scholar and intelligent professor. With every progressing scene, she settles more into the role of the patient as she grows sicker...
The movie I chose for the film response paper is 'The Breakfast Club' written by John Hughes. This movie was famous and relevant because it allowed teens everywhere to relate to at least one of these characters. This movie is a dramatic comedy that is destined to make people laugh, cry, and angry all brought together in one film. This movie had great humor along with love. 'The Breakfast Club' is full of comedy, drama, and mostly rebellion. These four...
This essay will explore the effect of Martin Luther King's speeches in 'Selma'. His emphasis on community power shows the success of peacebuilding from the bottom-up. Indeed, the technique of non-violent protests and the media's portrayal of the aggression protestors faced forced political action at the highest levels to occur. In 'Selma', King delivers his speeches in the distinct Southern gospel style of speaking. David Oyelowo, who played King, mastered the southern inflections and the musicality that made Martin Luther...
Jacques Tati's 'Playtime' (1967) is an almost wordless comedy movie showing confusion in an age of high technology. It takes place in a world of modern architecture, a world of glass and steel, endless corridors, elevators, modern work offices, air conditioners, mass produced-furniture and everything else. It is a representation of what life would be like if we lived like robots, with everything in order and no identity. It shows how humans would wander around cities with no identity and...
During the year 1933, the Nazis came into power led by Adolf Hitler without using any force. Hitler convinced the Nazis to help him get rid of all the Jews. He forced all or most of the Jews onto crowded train cars and hauled them off to either any of the various ghettos, any of the various concentration camps, or any of the various labor camps. The ghettos were not much better to be living in then labor or concentration...
'To the Bone' focuses on a twenty-year-old college dropout named Ellen (or Eli) who is struggling with anorexia nervosa (AN). Her stepmom is out of treatment options until Ellen meets an unconventional doctor who accepts her into his program, which consists of staying in a group home for six weeks and recovering from eating disorders. The drama is centered around the physical and mental effects of this eating disorder. 'To the Bone' was written and directed by Marti Noxon and...
The movie 'Titanic' depicts this ship, which is considered unsinkable, on its maiden voyage from Southampton, England to New York, USA in 1912. There is a girl on the boat (Rose DeWitt Bucart played by Kate Winslet) and a rich man (Carlton) she has never loved. Despite the engagement, Rose meets a poor young man (Jack, played by Leonardo DiCaprio) and they fall in love. As they fought the Caledonian class and opposition, the Titanic collided with the iceberg and...
Parent-child Relationship
Grant Sputore's debut film 'I Am Mother' is a science fiction thriller that circles the story between a child and her mother living in an advance bunker years after the self-destructive behavior of humans that caused their extinction. Giving a hint that the world outside the facility is no longer fit for human life. The film starts following a robot, voiced by Rose Byrne, as she chooses a gestated embryo that soon births the first human to walk on the...
Get original paper written according to your instructions
Save time for what matters most
Fair Use Policy
EduBirdie considers academic integrity to be the essential part of the learning process and does not support any violation of the academic standards. Should you have any questions regarding our Fair Use Policy or become aware of any violations, please do not hesitate to contact us via [email protected]

We are here 24/7 to write your paper in as fast as 3 hours.
Plagiarism scanner DO THE CHECK
Writing help ASK FOR HELP
Read my essay GO TO READ
Sample details
Cinematography
Views: 1,942
Related Topics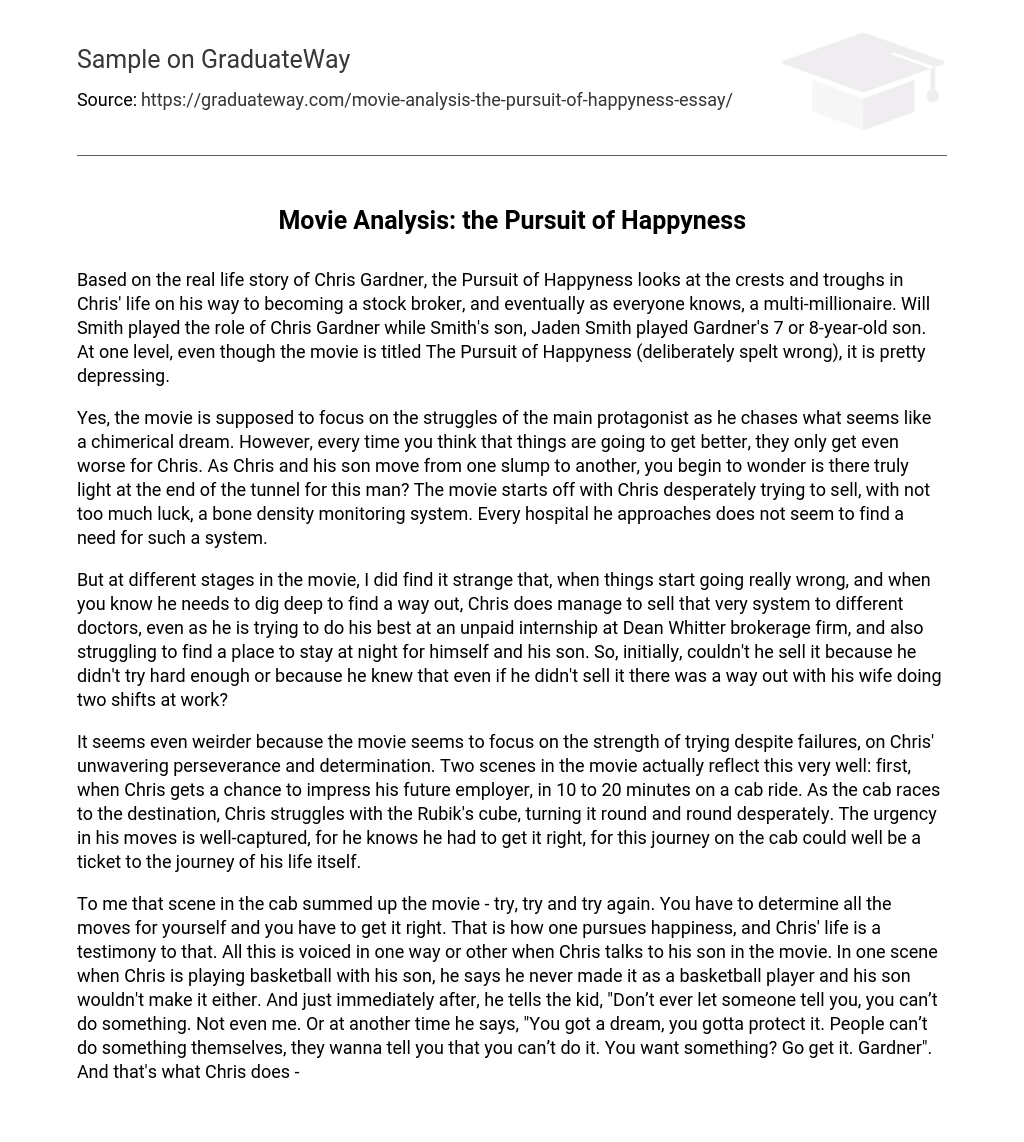 Movie Analysis: the Pursuit of Happyness
Based on the real life story of Chris Gardner, the Pursuit of Happyness looks at the crests and troughs in Chris' life on his way to becoming a stock broker, and eventually as everyone knows, a multi-millionaire. Will Smith played the role of Chris Gardner while Smith's son, Jaden Smith played Gardner's 7 or 8-year-old son. At one level, even though the movie is titled The Pursuit of Happyness (deliberately spelt wrong), it is pretty depressing.
Yes, the movie is supposed to focus on the struggles of the main protagonist as he chases what seems like a chimerical dream. However, every time you think that things are going to get better, they only get even worse for Chris. As Chris and his son move from one slump to another, you begin to wonder is there truly light at the end of the tunnel for this man? The movie starts off with Chris desperately trying to sell, with not too much luck, a bone density monitoring system. Every hospital he approaches does not seem to find a need for such a system.
124 experts online
But at different stages in the movie, I did find it strange that, when things start going really wrong, and when you know he needs to dig deep to find a way out, Chris does manage to sell that very system to different doctors, even as he is trying to do his best at an unpaid internship at Dean Whitter brokerage firm, and also struggling to find a place to stay at night for himself and his son. So, initially, couldn't he sell it because he didn't try hard enough or because he knew that even if he didn't sell it there was a way out with his wife doing two shifts at work?
It seems even weirder because the movie seems to focus on the strength of trying despite failures, on Chris' unwavering perseverance and determination. Two scenes in the movie actually reflect this very well: first, when Chris gets a chance to impress his future employer, in 10 to 20 minutes on a cab ride. As the cab races to the destination, Chris struggles with the Rubik's cube, turning it round and round desperately. The urgency in his moves is well-captured, for he knows he had to get it right, for this journey on the cab could well be a ticket to the journey of his life itself.
To me that scene in the cab summed up the movie – try, try and try again. You have to determine all the moves for yourself and you have to get it right. That is how one pursues happiness, and Chris' life is a testimony to that. All this is voiced in one way or other when Chris talks to his son in the movie. In one scene when Chris is playing basketball with his son, he says he never made it as a basketball player and his son wouldn't make it either. And just immediately after, he tells the kid, "Don't ever let someone tell you, you can't do something. Not even me. Or at another time he says, "You got a dream, you gotta protect it. People can't do something themselves, they wanna tell you that you can't do it. You want something? Go get it. Gardner". And that's what Chris does – he gets out there, works himself out and makes it – really makes it, giving hope to a lot of others like him. Not only does this scene voice that people should focus of the strength of trying despite their failures but it also depicts the love that parents have for their children can directly impact the children. This scene especially shows that was parents say and do can have a direct effect on the children.
By Chris telling his son to never let anyone tell him he can not do something and that if he has a dream to go get it. These are strong words that reflect what most parents wish to teach their children. To never give up and even in the worst conditions like in Chris' situation, that you can still succeed in life. You just have to put your mind to it and have support from people who love you, like your parents. The title of this movie plays a huge role in what the movie is about. According to www. dictionary. com, success is the "attainment of wealth, position, or honours. Therefore, success can be measured by the amount of money an individual has, the position he or she has at work, and by the number of awards that have been won. Right? Years ago, in an interview with a man named Dilshad D. Ali, Chris Gardner was asked the familiar question: "Why is "happyness" spelled with a "y" in the title of your book? " After a long pause, he eloquently stated that he wanted people to start thinking about their own definitions of happiness, what makes them happy, and "y" (why). If an individual lacks the knowledge of what truly makes him happy and why, it is impossible for him to chase his happiness.
Understand first, and then pursue. The "y" in "happyness" holds many different explanations as to what it symbolizes and reflects; however, the central message that each of these interpretations convey is that the pursuit of happiness is only possible when one is willing to battle through hardship and suffering. The road to seeking happiness is straightforward and clear, but it is never easy; the journey is filled with tests, trials, and hindrances of all sorts, and it is our jobs to triumph over these obstructions. Only then is the impossible possible.
This essay was written by a fellow student. You may use it as a guide or sample for writing your own paper, but remember to cite it correctly . Don't submit it as your own as it will be considered plagiarism.
Choose skilled expert on your subject and get original paper with free plagiarism report
Movie Analysis: the Pursuit of Happyness. (2018, Mar 03). Retrieved from https://graduateway.com/movie-analysis-the-pursuit-of-happyness-essay/
You may also find these documents helpful
Homelessness in the Movie "Pursuit of Happyness" Short Summary
HR Movie Assignment: "The Pursuit of Happyness"
Pursuit of Happyness Movie Review
Pursuit Of Happyness by Gabriele Muccino Analysis
The Pursuit of Happyness Character Analysis
COncept of positive psychology in movie pursuit of happiness Analysis
Pursuit of Happiness Analysis
"Pursuit Of Happiness" Film Analysis
Computers and the Pursuit of Happiness

Hi, my name is Amy 👋
In case you can't find a relevant example, our professional writers are ready to help you write a unique paper. Just talk to our smart assistant Amy and she'll connect you with the best match.
Home — Essay Samples — Entertainment — In Pursuit of Happiness — Review of the Movie 'The Pursuit of Happyness'

Review of The Movie 'The Pursuit of Happyness'
Subject: Entertainment
Category: Movies , Actors
Essay Topic: In Pursuit of Happiness , Will Smith
Published: 08 April 2022
Downloads: 115
Remember! This is just a sample.
You can get your custom paper by one of our expert writers.
121 writers online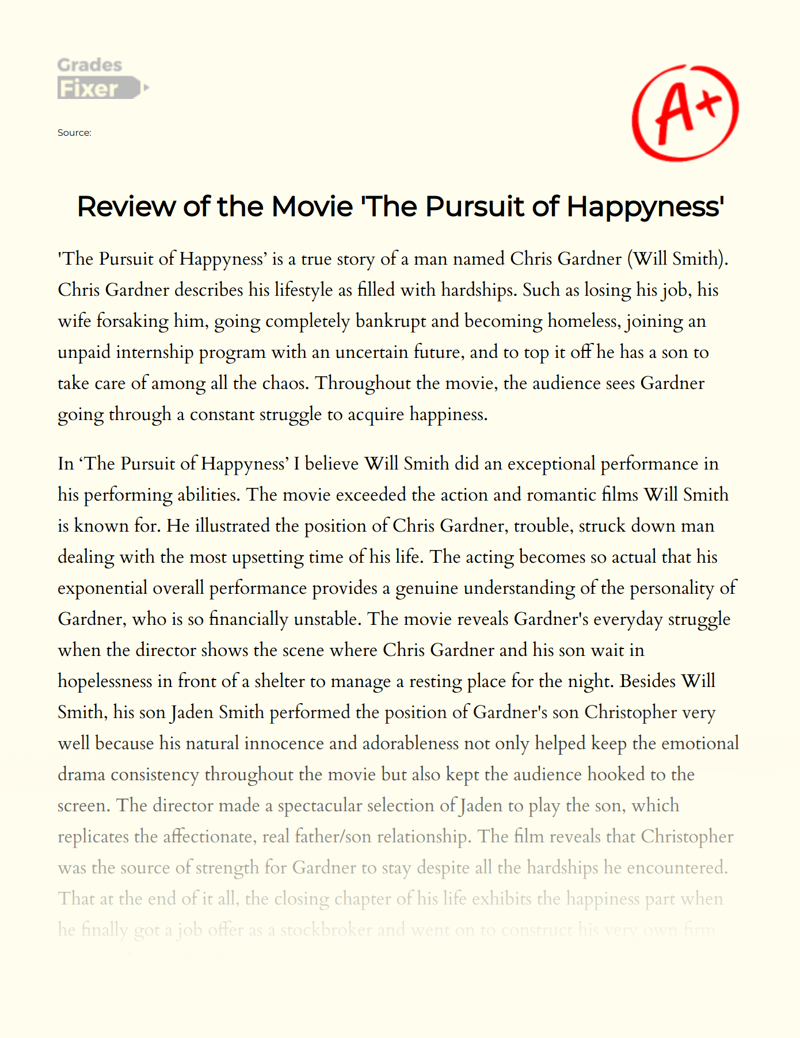 Remember: This is just a sample from a fellow student.
Related Essays
Pursuit of Happiness is about a family living check by check, just trying to get by. The husband Chris, that sells bone scanner machines. He had bought into these machines, thinking they would be a big hit, but not knowing that [...]
The Pursuit of Happyness is a biographical movie that is based on Chris Gardner 's life in his dark time. This story tells about when he is a homeless and a single parent. The film was published in December 15th 2006 under [...]
Life is a struggle for single father Chris Gardner in 1981, San Francisco. Evicted from their apartment, he and his young son find themselves with no place to go. Jumping around town, barely surviving by selling a 40-pound [...]
Following the publication of his most notable work, A Clockwork Orange, Anthony Burgess commented on the function of literature in a mutable society. There is not much point in writing a novel unless you can show the possibility [...]
"Insufficient facts always invite danger" declared Spock to Captain Kirk as the U.S.S. Enterprise was on deep alert after discovering a sleeper cell in space with seventy-two unconscious super-humans inside (Coon, 1967). His [...]
Black and white, morning and night: the world fills itself with conflicting forces that must coexist in order for it to run smoothly. Forces like diversity and the fear of terrorism or competition and the desire to peacefully [...]
Stanley Kubrick wrote the screenplay for and directed the film A Clockwork Orange based on the book by Anthony Burgess with the same title. The distinguishing feature of the book is the language the narrator, Alexander DeLarge, [...]
The literary canon is comprised of texts said to be of considerable value, texts regarded as experimentally profound and which may even be said to change the way the reader perceives the world. A Clockwork Orange can be [...]
The play 'Twelve Angry Men' by Reginald Rose contains many elements that examine the implementation of the American justice system in 1957 and help shape the deliberations of the case. Perhaps the most important element is the [...]
Find Free Essays
We provide you with original essay samples, perfect formatting and styling
Cite this Essay
To export a reference to this article please select a referencing style below:
Related Topics
By clicking "Send", you agree to our Terms of service and Privacy statement . We will occasionally send you account related emails.
Where do you want us to send this sample?
By clicking "Continue", you agree to our terms of service and privacy policy.
Be careful. This essay is not unique
This essay was donated by a student and is likely to have been used and submitted before
Download this Sample
Free samples may contain mistakes and not unique parts
Sorry, we could not paraphrase this essay. Our professional writers can rewrite it and get you a unique paper.
Please check your inbox.
We can write you a custom essay that will follow your exact instructions and meet the deadlines. Let's fix your grades together!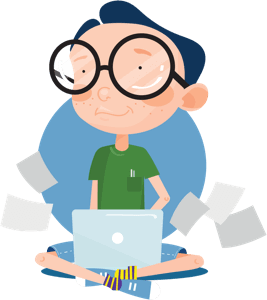 Are you interested in getting a customized paper?
We use cookies to personalyze your web-site experience. By continuing we'll assume you board with our cookie policy .
We can help you get a better grade and deliver your task on time!
Instructions Followed To The Letter
Deadlines Met At Every Stage
Unique And Plagiarism Free
Back to School Offer
Get 20% of Your First Order amount back in Reward Credits!
Get 20% of Your First Order back in Rewards
Undergraduate
High School
Architecture
American History
Asian History
Antique Literature
American Literature
Asian Literature
Classic English Literature
World Literature
Creative Writing
Linguistics
Criminal Justice
Legal Issues
Anthropology
Archaeology
Political Science
World Affairs
African-American Studies
East European Studies
Latin-American Studies
Native-American Studies
West European Studies
Family and Consumer Science
Social Issues
Women and Gender Studies
Social Work
Natural Sciences
Pharmacology
Earth science
Agriculture
Agricultural Studies
Computer Science
IT Management
Mathematics
Investments
Engineering and Technology
Engineering
Aeronautics
Medicine and Health
Alternative Medicine
Communications and Media
Advertising
Communication Strategies
Public Relations
Educational Theories
Teacher's Career
Chicago/Turabian
Company Analysis
Education Theories
Shakespeare
Canadian Studies
Food Safety
Relation of Global Warming and Extreme Weather Condition
Movie Review
Admission Essay
Annotated Bibliography
Application Essay
Article Critique
Article Review
Article Writing
Book Review
Business Plan
Business Proposal
Capstone Project
Cover Letter
Creative Essay
Dissertation
Dissertation - Abstract
Dissertation - Conclusion
Dissertation - Discussion
Dissertation - Hypothesis
Dissertation - Introduction
Dissertation - Literature
Dissertation - Methodology
Dissertation - Results
GCSE Coursework
Grant Proposal
Marketing Plan
Multiple Choice Quiz
Personal Statement
Power Point Presentation
Power Point Presentation With Speaker Notes
Questionnaire
Reaction Paper
Research Paper
Research Proposal
SWOT analysis
Thesis Paper
Online Quiz
Literature Review
Movie Analysis
Statistics problem
Math Problem
All papers examples
How It Works
Money Back Policy
Terms of Use
Privacy Policy
Donate Paper
We Are Hiring
The Pursuit of Happyness, Essay Example
Pages: 11
Words: 3018
This Essay was written by one of our professional writers.
You are free to use it as an inspiration or a source for your own work.
Need a custom Essay written for you?
To be happy and to have a high standard of living is an American dream, which is based on individual freedom and connected with the concept of "self-made man". This paper describes Chris Gardner's story (2006) which is riddled with despair, challenges, cruelty, violence, but is advanced and foremost of love, faith and hope. It proposes up reminders that until now the American dream subsist and gives the opportunity to everyone to find it in themselves and to achieve the highest point in their life performance. This story is a saga of various singers, actors, performers, which are used as the examples of happy and fortunate people. It is a saga of a man who destroyed his family's cycle of people abandoning their kids. Never giving up and falling into despondency and despair, Chris Gardner did an amazement change from being a part of city's indigent and poor to being a strong and powerful person. The Pursuit of Happyness (Gardner, 2006) is a true American success and welfare story of a person who overcame difficulties and obstacles.
The Pursuit of Happiness
The Pursuit of Happyness (Gardner, 2006) is an encouraging and inspiring autobiography of a person, who overcame all types of misfortune and adversity to become a powerful person in a world of finance.
The Pursuit of Happyness (Gardner, 2006) is an autobiographical honest and humility story which describes Chris Gardner's long, excruciating, ultimately rewarding travel from poor region Milwaukee to the top of success in a Wall Street. It is faithful and rags-to-riches story of a homeless father who brings up his son on mean and cruel streets of San Francisco and becomes a famous businessmen and moneymaker (Gardner, 2006).
Chris Gardner is a poor and indigent minority who is described as honest-minded, fair and comprehensive person. He is trying to show that it is impossible to buy happiness, but money and prosperity can help in this.
This story shows the contrast between San Francisco's rich and poor, and the capitalistic rage of Dean Witter office where Chris Gardner's internship was. It is a description of a person who at no time succumbed to self compassion. He did not surrender to bitter stuff either. He censured nobody for his plight, just pushed ahead and found decisions to each situation and problem he faced (Gardner, 2006).
For better understanding Chris Gardner's psychology and why he denies giving up notwithstanding of having obstacles and impediments in his path at every turn it is important to answer the following questions:
How does Chris Gardner's childhood influenced his path to success?
What were Chris Gardner's main principles and goals?
Investigation of these questions will show the inner world of the main hero, interesting patterns of his behavior and the things which influenced his strong desire and thirst to become the number one in the world of finance.
Chris Gardner was born and grown up in the Milwaukee inner-city ghetto. He was a dutiful, quiet and good child who got into the mishap from time to time, but stayed on a stable, upward track (Gardner, 2006). It is a pity that the childhood accounts are all described not from a kid's foreshortening and perspective, but with the grown-up and adult Gardner's comprehension inserted regularly.How does Chris Gardner's childhood influenced his path to success?
Gardner was poor, indigent and fatherless. His worship and adored mother Bettye Jean was strong on church and children and was not all the time near. When she was incarcerated, Chris stayed with relatives (Gardner, 2006).
Chris Gardner's childhood was wracked with cruelty, brutal treatment and abuse of Freddie Triplett, his stepfather, who plainly and routinely verbally and physically mistreated child and whole family. Violent, spiteful and hateful he denied accepting Gardner as a stepchild and contradicted him at every turn.
Freddie Triplett considers being one of most unpleasant and meanest stepfather. His rages made Gardner constantly blue and afraid (Gardner, 2006).
An expert on psychopathy Dr. Robert D. Hare (1999) explains such antisocial or even criminal behavior of Gardner's stepfather as a "continuations of behavior patterns that first showed themselves in childhood" (p. 97). He underlines that it is impossible to know why people such as Freddie Triplett become psychopaths and cruel with their family and society, but present evidence takes away from the ordinarily held concept that "the behavior of parents bears sole or even primary responsibility for the disorder" (p. 178). That means that in his childhood Freddie Triplett's parents were cruel and violent with him. When he became an adult he tried to revenge for such bad treatment and violently abused Gardner and his family.
John W. Livesley (2003) a psychiatrist, whose investigation and research has been orientated at the grading, classification and etiology of individual disorder supposes that antisocial, dangerous and aggressive behavior in people such as Gardner's stepfather runs in families. He underlines that "many difficult to alter because the environment remains the same" (p. 78). Livesley (2003) believes that the etiology of individual disorders within a wide framework where neither genetic spirited nor psychosocial factors may have considered for their development. Whereas admitting research demonstrating that a lot of patients experience childhood miseries, Livesley (2003) does not clarify and explain an individual disorder as through the sequel of such events. Instead, the author underlines the factors that keep up and support maladaptive features in the present.     Hare (1999) believes that though people can change, "many personality traits and behavioral patterns remain stable through-out life" (p. 97). That means that person's personality and behavior are determined and fixed early in life, or that maturation, experience and development are not powerful coercion in define what kind of adults the person will become.
At the same time, Dr Stanton E. Samenow (2004), a clinical psychologist, supposes that such kind of people like Freddie Triplett cause offence not because of parents, neighbors, unemployment and television but because of their mind. Samenow (2004) strongly believed that different thinking is the cause of psychopaths violent behavior. On the other hand Samenow (2004) underlines that everything and everyone is responsible for the offence. The environment, economy, policy, poverty are responsible for committing a crime, brutal treatment and abuse.
People like Freddie Triplett "feel that their abilities will enable them to become anything they want to be" (Hare, 1999, p. 39). They want to be "physically and psychologically abusive to others with our society's glorification of violence" (Wolman, 1999, p. 117). Hare (1999) believes that such people see nothing dishonest or wrong with their personality and find their behavior as "rational, rewarding, and satisfying; they never look back with regret or forward with concern" (p. 195).     Such people like Freddie Triplett do not "feel they have psychological or emotional problems, and they see no reason to change their behavior to societal standards with which they do not agree" (Hare, 1999, p. 195). That means, that Freddie Triplett was well satisfied with his own personality and with his "inner landscape, break as it may seem to outside observers" (p. 195). Samenow (2004) found that criminals, psychopaths and offenders will not change their personality until other options forsakes him / her. The author underlines that if a person wants to change a criminal or offender behavior, he / she should make alternative.
Hare (1999) emphasizes that people like Gardner's stepfather does not authorize their actions to themselves. Once, Freddie Triplett because of groundless and irrational anger physically abused Chris. During cold winter, he threw him and his mother into the snow. He did it at the time Gardner was taking a bath and was thrown out naked.
The only way to curtail violence in such people is to change their way of thinking. Samenow (2004) found that such people think otherwise from a responsible person. The only appropriate offender's issues are to continue their behavior, to change their personality or to suicide. Freddie chosen to continue his behavior and to abuse Chris, his family and weak people.
Wolman (1999) found some distinctive features between dangerous individuals, which are cruel and passive and the community which created them. According to his research, Chris Gardner's stepfather belonged to the first type of such dangerous individuals. Freddie Triplett is an impassive, resourceful, amoral, impetuous and guileful individual. He is represented as no signs of remorse for his disgusting and terrible actions. Wolman (1999) underlines that such people are totally lacking sympathy for a human being. They are self-enamored individuals who have a tendency to consider that they are authorized to another people's things, and that they merit to be loved.     The growth of sociopath behavior among children and adults, whether in a strained poor district or in a quiet suburban and country setting, is skillfully described by Dr Benjamin Wolman (1999) a famous national psychologist. He supposes that the growth of sociopath individuals is accountable for the moral and ethical collapse, whereas at the same time proposing the contrary hypothesis that the moral and ethical collapse is accountable for the growth in the population of sociopaths.
"Parental psychopathology" (Livesley, 2003, p. 57) growth and increasing the risk of developing individual problems is most extensive for unsociable antisocial feature. Livesley (2003) supposes that personal behavior like Freddie Triplett had toward Chris Gardner is due to regularities and consistencies in the environment. Samenow (2004) underlines that even though they are not able to change their past, they can change their future. When the person is responsible for himself / herself, it allows him / her to believe in changing its personality and life.
Of course Chris Gardner could escape or rescue his realities over any means accessible whether it was drugs or even mesmerism it would work. However, he didn't. He was really afraid his stepfather. Even so, even during these bad and unfavorable times when everything was against him Gardner continued to struggle for everything better. He found some satisfaction and solace in reading various books in the library. He ran with different crowds being a young person and usually stayed out of difficulty and trouble (Gardner, 2006).
Emotional and physical maltreatment by Freddie Triplett towards Chris Gardner implicated "emotional abuse (verbal assaults and demeaning components) or emotional neglect (the failure of caregivers to meet the child's needs for love, nurturance, and support)" (Livesley, 2003, p. 58). It means that pari passu with physical abuse and violent, emotional abuse has important, great and prevalent effects. Physical abuse increases the danger and risk of different individual problems, which include an antisocial personality disorder, Livesley (2003) emphasizes. Fortunately physical maltreatment by Triplett towards Gardner didn't lead to the causes described by Livesley (2003).     Wolman (1999) emphasizes that parents and teachers sometimes may assist to the growth of sociopath and antisocial behavior. The way which parents bring up their children may be significant. The author underlines that parents which allow their children to do whatever they want and those which do not teach their kids the importance of morality will default to tell apart wrong from right. On the other hand, children of cruel and abusive parents, like Chris Gardner are generally very rough, aggressive, and unfriendly and used to hate and detest their parents. However, such children are not able to treat aggressively and rough against their own parents because they feel terror that they may retaliate. Instead such children conduct themselves rough and aggressively against weak people.
What Were Chris Gardner's Main Principles and Goals?
Inspired by his uncle's worldwide adventures and trips in the United States Navy, Gardner decided to hire shortly after graduating high school (Gardner, 2006). Thanks to the Navy Chris could leave his native city and start his life from the beginning.
At the age of twenty after the Navy Chris Gardner went to San Francisco where he got married and divorced. His wife was an educated and intelligent woman who was looking-for to sit for her dental boards. Right this time Gardner started a medical career, which led him to the market of medical equipment (Gardner, 2006).     The majority of Gardner's time in the Navy was spent as a medical man at a military base. He assisted with the surgeon investigation and was honorable as well-informed and intelligent expert in teaching medical interns on surgical methods (Gardner, 2006).
Gardner, a smart and intelligent salesman invests all the family money and savings in bone-density scanners. This equipment was twice as costly as an x-ray equipment but with a little distinct image.
Unfortunately, the money, Gardner earned as a salesman was not enough for him, his girlfriend and their son (Gardner, 2006). Right that time, Gardner decided to change his profession and to earn more money. He was interested in selling, inspiration, business, motivation and social speaking. Gardner was good with numbers and great with people. He became an internship in Dean Witter company. Chris wanted to gain an entry level position, beat each candidate and obtain the position he wanted. Chris Gardner became an interned person just around the time he became homeless. During his internship Chris was paid a little stipend, but it was too small for living in hotels all the time. Right that time, his girlfriend left Gardner, and took their small son Christopher with her (Gardner, 2006).
Abandoned by own father and left to the depraved rage of a mean and cruel stepfather, Chris Gardner sworn that no matter what occurred in his own life, he would be committed and faithful father to his own kids. Induced and motivated by the promise Chris Gardner made to himself as a fatherless kid he took away his son.
Wolman (1999) emphasizes that parental refusal, like Gardner had in his childhood, could adversely affect their kid's self-reliance and self-assurance. Such children will feel abandoned in case their parents are not sentimental, loving and attentive. That is why Chris Gardner was trying to give his small son more love, attention, protection and stable life (Gardner, 2006). Rather than give up his son, Gardner continued to follow his dream of being a successful and well-to-do businessman.     Livesley (2003) strongly believes that "family disorder, parental psychopathology, and various forms of parenting behavior" (p. 57) like Gardner had in his childhood can be considered as individual confusion. "Antisocial and psychopathic features" (Livesley, 2003, p. 57) in people like Freddie Triplett, are not able to prophesy antisocial features, traits and characteristics in his children.
"Poor parenting and unfavorable social and physical environments" (Hare, 1999, p. 178) may noticeably complicate potential problems and play an intense role in "molding the behavioral patterns" (Hare, 1999, p. 178). However, Samenow (2004) found that indigence, poverty, divorce and cruelty, the factors which Gardner had, were not the reasons of criminality.
Livesley (2003) determines two main types of parenting behavior, which are "neglectful (as opposed to loving and supportive) and overprotective (as opposed to encouraging independence and autonomy)" (p. 58). In his life Gardner used these two types of parenting behavior. The first type of parenting behavior belongs to the relations between Chris Gardner and his stepfather, the second is the relations between Gardner and Christopher.
Livesley (2003) pays great attention that the "higher-order patterns reflect the genetic architecture of personality" (p. 132) and consequently, represent essential and fundamental differences in individual structure. Each state of personality allure a particular pattern of emotions, means of thinking about "the self and others, interpersonal relationships, and coping strategies" (Livesley, 2003, p. 35).
It was difficult and complicated times for Gardner and his son. Because of lack of money they spent nearly a year traveling among hotels and shelters. Gardner had to carry out their clothes on his back all the time they were traveling (Gardner, 2006).
Sometimes Gardner with Christopher slept at the office and was afraid to be discovered by the night guards and cleaning crew. When Chris Gardner lived in shelters and hotels with his son, they used to play different games the main goal of which was to keep quiet, when people were searching them and knocking the door. Chris tried to make his best not to defeat (Gardner, 2006).
Chris Gardner is a personality with a response to the problems and tasks of everyday living. Personality disorder is represented as an inability to get adaptive solutions to life problems and tasks, and domains of sequel psychopathology proposed as coextensive (Livesley, 2003). Livesley (2003) found that the relation and connection between particulars and components of the personality system – "traits, self system, person system, and environment" (p. 76) generate a structure in which modification to one constituent tends to be dampened by its influence on other parts of the system.
Chris Gardner is a real personality. The relations with his stepfather influenced his personality, but it gave him a strong desire not to be like Freddie was. The main principles in his life were to be a human, to be a real father to his son and to be a useful part of the society. Thanks to these, Gardner became an individual with his own views on a human being and the importance to be a person, not a violent and cruel offender.
The story of Chris Gardner is not particularly fresh, but his voice is pleasant and likable, resulting in a virtue and quality African-American. He is the person who he is, and he is a successful and great moneymaker. Wolman (1999) believes that social harmony and true happiness are the main for each person. Chris Gardner succeeded contrary the establishment and became a successful businessman and moneymaker. After Gardner's talents were estimated at company's true worth, and he got the job he wanted, his American dream became real. Though all his achievements and progresses Chris Gardner was a prideful father. His own fatherless blues is disappeared now.
Chris Gardner's Pursuit of Happyness (2006) is a painful, astonishing and amazing story, which describes remarkable frankness, comprehension and intelligent (Gardner, 2006). Best of all is that he is entirely unapologetic about following material benefits and success, and saying that these are pieces of his pursuit of happiness.
Hare, R. D. (1999). Without conscience . New York, NY: The Guilford Press. Gardner, C. (2006). The Pursuit of Happyness . New York, NY: HarperCollins.
Livesley, J. W. (2003). Practical management of personality disorder . New York, NY: The Guilford Press.
Samenow, S. E. (2004). Inside the criminal mind . New York, NY: Crown Publishers.
Wolman, B. B. (1999). Antisocial behavior: personality disorders from hostility to homicide . Amherst, NY: Prometheus Books.
Stuck with your Essay?
Get in touch with one of our experts for instant help!
The Yellow Wallpaper Analysis Assignment, Essay Example
Importance of Health and Safety at Workplace, Essay Example
Time is precious
don't waste it!
It's a Free, No-Obligation Inquiry!
Plagiarism-free guarantee
Privacy guarantee
Secure checkout
Money back guarantee
Get a Free E-Book ($50 in value)
How To Write The Best Essay Ever!
Related Essay Samples & Examples
Trauma & disasters, essay example.
Pages: 6
Words: 1553
Sense of Safety in the Books When No One Is Watching and Obsidian, Essay Example
Pages: 4
Words: 1116
What It Means to Call the Bible a Word of God, Essay Example
Pages: 5
Words: 1470
How Is "Kedusha" (Holiness) Conceptualized in Judaism? Essay Example
Pages: 3
Words: 918
What Effects Has the Internet Had on Disability? Essay Example
Pages: 2
Words: 672
A Visit to Alien Planet, Essay Example
Words: 571
Need a professionally written Custom Essay?
We will write it for you, in any discipline! Starting at only
$9.45 a page
Wait, please!
Right now, you can get a professionally written essay in any discipline with a
10% discount!
Please, check your email for the offer!
We're now sending you a link to download your e-book, please check your e-mail. Thank you!
Thank you for the subscription!
You can receive the notifications now. It's pleasure to stay in touch!
Get a Free E-Book ($50 in value)
The Pursuit Of Happyness Movie Analysis Essay
Show More The Pursuit of Happyness - Film Analysis. Directed by Italian director, Gabriele Muccino, and inspired by a true story, The Pursuit of Happyness takes place in the hard streets of San Francisco in the 1980s. Chris Gardner, the main character played by Will Smith, is trying to fulfill the legacy of the American Dream, but his family is in quite the struggle. Chris is attempting to make a living and provide for his family by selling bone density scanners (similar to an x-ray machine, but with slightly better picture and much more pricey) to doctor's offices and other medical facilities. Chris has a way with people, and he has the potential to do much more with his life due to his determination and daily grind of providing for his five-year-old …show more content… Chris Gardner experiences many obstacles throughout the plot, but somehow always ends up accomplishing his goals, eventually accomplishing his biggest goal of becoming a stockbroker. As Chris narrates the film, he splits his life up into five stages: riding the bus, being stupid, running, internship, and happiness. Throughout these five stages, Chris encounters many barriers that present difficulties that discourage him from providing for his family. These obstacles eventually lead to his wife leaving him, causing him even more conflict because he now has to care for their son all on his own while still in financial crisis. One day as Chris is on his way to sell another bone density scanner, he comes across a wealthy man in a bright red sports car. He starts a conversation with him and asks him how he came to his fortune; the man tells him that he is in the stockbroker business. After their encounter, he takes a look around the area and sees other wealthy stockbrokers. He explains that they seem to be so happy, which is something he aspires to be himself. It was at that moment that Chris desires to become a stockbroker. Eventually, his desire is fulfilled. After months of financial ruin and hard work and dedication to an internship, Chris was hired at Dean Witter as a stockbroker, which took place at the end of the film during the "happiness" stage of his …show more content… Millions of Americans struggle financially every year, and a good majority of Americans persevere, as Chris did, and end up meeting their goals and provide for their family as best they can. Muccino also incorporates symbolism in order to allow the audience to understand the theme even more clearly. The Rubik 's Cube represents Chris's complex levels of determination and his will to find a solution. One morning as Chris and his son are eating breakfast, the news comes on and the news reporter is discussing how the Rubik's Cube is nearly impossible to complete. Later in the film, as Chris is hounding one of the leaders of the brokerage firm Dean Witter for a chance at the internship, the man he was hounding was attempting to complete the cube. As the man grows more and more frustrated, Chris informs him that he can complete the cube. The man hands over the Rubik's Cube in disbelief, and after just a short amount of time, Chris shows the man that he can in fact complete the cube. Another symbol that makes the theme more understandable is the misspelled title of the film that is also written on the door of his son's daycare. The fact that "happyness" is misspelled irritates Chris at first. Later in the film he reminisces about the part of the Declaration of Independence where Thomas Jefferson discusses the pursuit of happiness, and how he thinks that happiness is only something you
Related Documents
Pursuit of happyness themes.
I found similarities in the way Gardner handled his troubled life with his five-year-old son. Gardner found himself homeless a few times throughout the movie. The first time was the hardest, seeing that he did not truly see it coming. He was staying at a motel dodging the manager until the manager sat his belongings outside the door and changed the locks. As he stood there in disbelief, bewildered as to what to do, he pulled it together to take his son to a nearby subway…
Structural Functionalism Theory: The Benchmark Family
When Larry starts discussing a new business and the mother past a comment he comes to his defense. The mother tells Larry something about his new business being another get rich fast schemes and the father tells her nothing is wrong with getting rich fast. After that Larry and Frank was in the garage looking at an old school car he was working on and he ask his dad for money to get his business started and Frank gives it to him without a problem. Halfway through the movie Larry takes the father car because he was going to sell it, but he couldn't without his father paperwork. The father kicks him out and then he decides to tell the father that he needs help paying the bookers their $26,000 or they were going to kill him.…
The Pursuit Of Happyness Movie Conflict Theory
In The Pursuit of Happyness the main character, Chris Gardner, faces life challenges throughout the movie such as financial problems. The movie starts off with Chris Gardner and his wife having an argument while their son, Christopher, is eavesdropping. His wife is not amused with Chris selling bone density scanners because he seldom sells them, and it is barely enough money to pay the bills when he does sell them. Eventually, Chris' wife abandons them, they lose the apartment, and Chris and his son are left homeless. However, through an internship at a prestigious brokerage firm that Chris became a part of, he was chosen as the top intern to become a stockbroker that dramatically changes his financial state.…
Pursuit Of Happyness Movie
Chris joins the rank of homelessness after the IRS has taken cash out of his bank account enforced Chris to live out in the streets of San Francisco with his committed son staying in a bathroom at a train station and carrying his suitcase to work was one of the social problems that occur in Chris life which impact his family especially Christopher. Chris being poverty was also another social problem of being unemployment, which impacts his family to break down. Without any money or a wife Chris was a smart salesman desperate to find a steady job as a stockbroker internship position at Dean Witter, which the position break free of the cycle of poverty and…
Chris Gardner In The Film 'The Pursuit Of Happyness'
If I told you that an African American single parent in the 1980s went from homeless to opening his own investment firm you'd probably think I was teasing. However, that is exactly what transpired to Chris Gardner as so brilliantly depicted in the film The Pursuit of Hapyness. In this film, based on a true story, Chris Gardner who is played by actor Will Smith, is a very bright self employed marginal salesman in San Francisco who invested in 40-pound bone density scanners to try and profit and make a living for him and his girlfriend Linda (Thandie Newton) and son Christopher (Jaden Smith). When they don't sell, life starts to go downhill for Gardner. Tired of carrying the load, Linda leaves Chris and her son, and they (Gardner and Christopher) eventually get evicted from their apartment.…
Flaw In Arthur Miller's Death Of A Salesman
Willy constantly persuaded Linda that the money he makes weekly claims to be through the sales he's made. Although Charley lends Willy money to pay for his living expenses as well as offers him a solid job. Although with Willys ego and pride he obliges and believes Charley has taken pity for him. Willy tends to boost his own ego by sleeping with mistresses while attending business trips. Biff having caught him in the act, when he traveled upstate while on the search for his father to have him persuade Mr. Burnbum his math teacher to pass him.…
Essay On Willy Loman In Arthur Miller's Death Of A Salesman
Seemingly, Willy Loman's own downfall is his inability to move forward because of his focus is always on the wrong aspects of success. One day as Willy is traveling home from work he got "a little above Yonkers and had to stop for he could go no more" (Miller) because through exhaustion and daydreaming he ran off the road. This was the turning point in Willy's life where he come to realize that he had grown much too old to drive and, make the long trips to his work. Willy is a strong willed male and this is hard for him to swallow. Finally, Willy makes the trip home and talks to Linda about what has just happened to him on the road.…
Analysis Of The Pursuit Of Happyness
"That maybe happiness is something that we can only pursue and maybe we can actually never have it," as Chris Gardner once said. "The pursuit of happyness," directed by Gabriele Muccino and released in 2008 is a movie based on the story of Chris Gardner, a man who loses everything, but eventually gains everything. In the movie, he is a hard-working, caring and loving father, who struggles financially to provide for his son. This causes life to become tough; however, Muccino illustrates to find the good in bad situations. Chris (played by Will Smith) is put overnight in jail due to parking tickets, which reveals the realism about his tough life.…
In Pursuit Of Happiness: Film Analysis
Man's Struggle and the search for greater good is depicted in the movie through Chris Gardner and the struggles that he faces to make it in life. He is seen to be struggling in achieving his dreams while at the same time trying to keep his family together. Chris struggles seem to follow his everywhere as he decides to invest all his money in a business that takes too long to bring back the return. He creates portable bone density scanners, which he sells to physicians and other doctors for a low price. However, the scanners take too long to sell and other struggles begin to weigh on…
Perseverance In Pursuit Of Happyness
Perseverance is what some people lack but need the most in order to succeed. It's working your way to success even if you fail a thousand times. However, this is not the case for Chris Gardner. Much of the film involves Chris' subsequent efforts to keep himself and his child housed and fed while he is enrolled in an unpaid internship program at a powerful stock brokerage firm. Bright and ferociously determined, Chris easily slides into this fantastical world of shouting men, ringing phones, gleaming surfaces and benevolent bosses (Dargis, M., 2006).…
Related Topics
The Pursuit of Happyness
Rubik's Cube
Ready To Get Started?
Create Flashcards
Mobile apps
Accessibility
Facebook
Twitter
Cookie Settings
StudyDriver in your Smartphone!
The Pursuit of Happiness (summary Essay)
"The Pursuit of Happiness (summary Essay)"
This movie demonstrates many different aspects we have studied such as race, social class, marriage, jobs, and relationship trends. The movie begins with Chris and his wife, Linda and they are having financial issues and struggling with a process we know as the "Second Shift", an article written by Arlie Hochschild . They are both trying to develop the right emotional balance between child, spouse, home finances and their outside jobs. Chris is determined to sell his scanners and Linda is working long shifts in order to pay for their home and child care, but along the way they forget to focus on the emotional balance between spouses resulting in them separating. This supports Kathryn Edin's theory that low-income women don't believe being married substantially improves their lives, Linda believes staying married to Chris was only causing negative effects and more stress in her life. It also reinforces the statistical results that African Americans are more likely than whites and Hispanics to have children that live in a single-parent home. Chris also falls under the category of the working and poor class, he is poorly educated despite his natural intelligence, and works a full-time job of attempting to sell the bone density scanners while being on the verge of poverty . He had chronic difficulty in making money to support his and his son's basic needs while depending on public benefits, such as shelters, in order to survive. This demonstrates aspects of the conflict theory, Chris is constantly trying to provide for his son, meaning he even left his internship early in order to pick up Christopher and receive a spot in the shelter every night. Chris and his son also transition from relative poverty to absolute poverty throughout the movie, as they lose their home, and Chris no longer has any bone scanners to sell and is relying primarily on his internship. 
In the beginning of the movie they are in relative poverty, Chris and his family have a much lower living standard than most families, they still have food, water, shelter, and basic necessities, but they are struggling to maintain them. After Chris' wife leaves Chris and his son, they transition into absolute poverty as they cannot meet the minimal standards for food, shelter, clothing, or health care . At the bottom of the scale Chris experiences difficulties in the job market and endures periods of unemployment once his last scanner is sold. The job of selling scanners doesn't make a good use of his skills, he is intelligent and determined but is forced to try to sell scanners to make a minimum living. However, the movie also shows an aspect of the upper-middle class compared to Chris during his encounter with Walter Ribbon, who is a member of the upper class. The movie shows a clear comparison through the use of the baseball game that Chris and his son were going to watch from "higher up seats" versus Walter who had his own private box. The difference was also made clear through Walter's car and mansion and how he owned a dog, demonstrating a picture perfect family. Walter got support from investors but depended primarily on his salary, and showed basic characteristics of an upper-middle class citizen. Another aspect we studied demonstrated in the film is the concept of social mobility. Chris and his son were able experience social mobility because they lived in an open system society. Chris is given an ample opportunity to move from one class to another based on how he performs in his internship position. He is presented with the opportunity to move from below the poverty line to the working class as a stock broker and eventually make millions. Chris quit his job in order to sell the bone density scanners but he began to lose money because they didn't sell as effectively as planned, demonstrating vertical social mobility as he moves from the working poor class, to absolute poverty. As Chris receives the internship at Dean Witter he experiences horizontal mobility, he stays in the same social group but he spends more time working, and changed occupation despite the fact he isn't receiving any annual income. 
This movie also demonstrated the sociological theory called the Weberian Theory. This was shown through Weber's belief that an important element in social class has to do with prestige, the social honor granted to people because of their membership in a certain group. This is demonstrated through Chris' relationship with Walter Ribbon. He is given the opportunity to meet other people in the upper class in order to promote Dean Witter's retirement plan and get ahead of the other interns. Due to the fact Chris had met Walter Ribbon he had a variety of doors open up for him and that interconnected with Weber's theory of wealth, power, and prestige being interrelated. Chris challenges the theory of symbolic interactionism. When Chris attended his meeting with Jay Twistle he was covered in paint and barely wearing a shirt and he didn't have much going for him. He had no education after high school and no steady job with annual income. The council viewed Chris as an inferior individual at first glance, but Chris challenged the belief that we stick to our split-second judgements on appearance. Chris fought for his spot and proved he wasn't going to stick to the status quo, he knows how to get a job done efficiently and is hard working and will do anything to provide for himself and his son. Overall the film accurately explains the concepts of socioeconomics and the different concepts of social class based on race and income. 
This movie focuses on the substantive area of social class and the structure of social inequality. It demonstrates the aspects of social mobility, poverty, the lower class along with the upper class, prestige, and the different sociological theories. The film conveys an accurate depiction of an open system by allowing people in poverty such as Chris to be capable of moving from one social class to another. The film also demonstrated the difficulty of social mobility and how easy it is for someone to move down a social class, for example relative to absolute poverty, versus how difficult it is for someone to move up a social class. In the film there is an accurate depiction of what it is like to be in the working poor class and the underclass and how they face everyday challenges of providing basic necessities and often need public assistance to help support them along the way. When in correlation to the theories of social class the movie accurately depicted the conflict theory by showing the challenges of someone's social standing. However the movie countered the Symbolic Interactionism theory by having Chris challenge the "first glance judgement" and fight for his spot in the internship. 
Another aspect of social class the film focused on was family based off of a socioeconomic status. This was demonstrated in the film accurately through Chris and Linda's relationships challenges with finances to the point where it wasn't worth it to Linda and she abandoned her family leaving Chris as a single father. Although this is a stereotype for African Americans it is statistically proven that they are more likely to be single parents, as demonstrated in the film. 
The film A Pursuit of Happiness, showed insight into social inequalities and struggles of social class and helped to tie all of these concepts together in a real life scenario. 
Cite this page
The Pursuit Of Happiness (summary Essay). (2021, Jun 27). Retrieved from https://studydriver.com/the-pursuit-of-happiness-summary-essay/
"The Pursuit Of Happiness (summary Essay)." StudyDriver.com , 27 Jun 2021, https://studydriver.com/the-pursuit-of-happiness-summary-essay/
StudyDriver.com. (2021). The Pursuit Of Happiness (summary Essay) . [Online]. Available at: https://studydriver.com/the-pursuit-of-happiness-summary-essay/ [Accessed: 13 Mar. 2023]
"The Pursuit Of Happiness (summary Essay)." StudyDriver.com, Jun 27, 2021. Accessed March 13, 2023. https://studydriver.com/the-pursuit-of-happiness-summary-essay/
"The Pursuit Of Happiness (summary Essay)," StudyDriver.com , 27-Jun-2021. [Online]. Available: https://studydriver.com/the-pursuit-of-happiness-summary-essay/ . [Accessed: 13-Mar-2023]
StudyDriver.com. (2021). The Pursuit Of Happiness (summary Essay) . [Online]. Available at: https://studydriver.com/the-pursuit-of-happiness-summary-essay/ [Accessed: 13-Mar-2023]
The Pursuit Of Happiness (summary Essay). (2021, Jun 27). Retrieved March 13, 2023 , from https://studydriver.com/the-pursuit-of-happiness-summary-essay/
Save time with Studydriver!
Get in touch with our top writers for a non-plagiarized essays written to satisfy your needs
Stuck on ideas? Struggling with a concept?
A professional writer will make a clear, mistake-free paper for you!
Leave your email and we will send a sample to you.
Please check your inbox
Interested in this topic?
Please indicate where to send you the sample.
Hi! I'm Chatbot Amy :)
I can help you save hours on your homework. Let's start by finding a writer.
We use cookies to enhance our website for you. Proceed if you agree to this policy or learn more about it.
Essay Database >
Essay Examples >
Essays Topics >
Essay on Cinema
Movie Review On The Analysis Of The Pursuit Of Happyness
Type of paper: Movie Review
Topic: Cinema , Family , Life , Parents , Movies , Unemployment , Happiness , Father
Words: 2500
Published: 02/07/2020
ORDER PAPER LIKE THIS
Introduction
Set in the timeframe of 1981, 'The Pursuit of Happyness' is based on the real life story of Chris Gardner who ascended from a destitute to a stock market magnate. Cast in the role of Gardner, Will Smith did an astounding job in essaying the character to perfection. The movie bagged many accolades and awards upon its release in 2006. The most notable one was the Academy Award rewarded to Will Smith for best male actor. The opening scene gives a glimpse of the phrase 'Pursuit of Happiness' as mentioned by Thomas Jefferson in the Declaration of Independence that the Americans are entitled to the right of "Life, Liberty and the Pursuit of Happiness." The word happiness is very elusive, meaning different to different people. According to Aristotle, "Happiness is the meaning and the purpose of life, the whole aim and end of human existence" and Tryon Edwards on the other hand states that "Happiness is like manna; it is to be gathered in grains, and enjoyed every day" (Nick Bostrom & Milan M. Cirkovic). Chris Gardner reflects upon the meaning of pursuit of happiness as enumerated in the Declaration of Independence that all men are created equal by God and among certain rights blessed upon them by their Creator are the right to 'Life, Liberty and the pursuit of Happiness.' He realizes that happiness is elusive and despite pursuing it with unyielding zeal, happiness might skip his grip. The essence of the movie is brought forth by an ingenious application of different mediums; the time period of the story, close-up wide shots and deliberate misspelling of the word happiness, the father-son relationship, 5 definitive chapters and the significance of Rubik's cube and scanner.
The Time Period
The movie is set in a period when the US was going through a severe recession. Following the increase of business bankruptcies by 50% in 1981, the US and many developed countries around the world encountered one of the worst recessions in 1980s with unemployment rate going above 10% in the US. The condition of unemployment didn't improve in United States until 1985. The economic policy of tax cuts employed by the then US President Reagan to improve the condition compounded the recession further and therefore the recession is termed as 'Reagan recession' by many intellectuals. Paul Volcker, Federal Reserve Chairman deployed a restrictive monetary policy to control the high inflation rate by increasing the interest rates which contributed to the increase of unemployment rates, highest since Great Depression. The effects of the recession were felt all over the US. Many important industries including automobile, steel manufacturing and housing suffered a steep plummet in the business. The worst sufferers were the financial houses, mainly banks and savings and loan industry. Due to high inflation rate and job cuts throughout the recession period, people in the US were struggling for mere survival by making both ends meet. They pursued happiness by putting up a fight to get through the trying time as we see in the movie how Gardner was trying to survive his ordeal. The dashed dreams and lost hopes might have knocked many people into momentary depression and anxiety but since the effect of recession reached people of all climes, they were bound by a common purpose of overcoming their hardship.
Close-up shots and Misspelling
Throughout the film, various close-up wide shots have been used to capture the expressions on the face of the characters throughout the movie. For instance, in the scene in which both Gardner and son would spend the night locked inside a public restroom, the child would sleep peacefully with his head on his father's lap and someone would bang on the door. The close angle shot would not capture any movement, just the turn of the head of Will Smith to capture his reaction to the banging. The uncommon spelling of 'happyness' used in the title of the movie is borrowed from a graffiti drawn on the outside wall of the daycare facility attended by Gardner's son Christopher. The misspelling of the word happiness has hidden connotations. First, the 'y' in the word makes it conspicuous for us to notice and the underlying meaning is not to take happiness lightly. Gardner was irritated when he caught sight of the misspelt word on the outside wall of the daycare his son visited in Chinatown. He even pinpointed the misspelling to the caregiver of the daycare in order to ensure that his son received proper education. The misspelling showed his pursuit of perfecting his role of fatherhood so that no modicum of heedlessness remains in the upbringing of his son.
Father-son Relationship
The driving force of the movie was the relationship shared by the father and son. The role of Christopher portrayed by Will Smith's own son Jaden Smith made Will blaze the screen with an earnest representation of a passionate and persistent father. The journey of rags to riches put up on screen throughout the movie would touch the cords of every viewer's heart for the father and son agonized by their struggles. While Gardener's wife tired of the dire financial state left her husband and son behind and flew to New York, Gardener couldn't shrug off his responsibility as a father. Having grown up himself without a father, he didn't want his son to suffer the same fate as was evident when he said, "I met my father for the first time when I was 28 years old. I made up my mind that when I had children, my children were going to know who their father was."
Gardener while fighting with his untoward situation found a ray of sunshine when he got
a non-paying internship at an investment firm. Throughout the internship for 6 months, Gardener and his son struggled together to make better out of their hard times. They were thrown out of the apartment for not paying rents and started living in a motel. They spent a harrowing night sleeping in the restroom of a subway station and finally took refuge in a homeless shelter. Around this time of struggle, the love and faith shared by the father-son duo strengthened and sweetened their relationship. It was their unwavering support for each other that would ultimately get them through the hard time. There was a particular scene in which Christopher would relate the well-known joke about a drowning man refusing the help of rescuers in motorboats again and again saying that God would help him. After the man drowned and went to heaven, he confronted the God asking why God had not saved him to which God answered "I sent three boats for you. What were you waiting for?" (The Pursuit of Happyness Quotes). So poignantly a little child Christopher with his innocent story sent such a big message to his father who realized thereupon that despite things looking bleak, their rescue boat had arrived in the guise of internship. The basketball scene in the movie captures Gardner giving an important message to his son, which brings out the supportive side of his fatherhood. While playing basketball with Christopher, Gardner would tell him that there was no use practicing the basketball as he himself didn't turn out to be good in it and it would be same for Christopher also. The son feeling discouraged by his father's statement would drop the ball and pack it in a plastic bag when Gardner would firmly tell him, "Don't ever let somebody tell you you can't do something, not even me. Alright? You got a dream, you gotta protect it. People can't do something themselves, they wanna tell you you can't do it. If you want something, go get it, period" (The Pursuit of Happyness Quotes)
Definitive Chapters of Gardner's Life
Gardner defined his life by 5 chapters - riding the bus, being stupid, running, internship and happiness. Riding the bus refers to the episode when Gardner would travel round the town in bus. Its significance lies in the fact that the bus is a mode of conveyance for common man which boxes in his ambitions, and after getting down from the bus one day Gardner would spot a big-ticket luxury car which, he came to know upon enquiry, belonged to a stockbroker. Outside the stock firm, he would only see happy faces which bred an aspiration in him to do something out of the box by being a stockbroker. Being Stupid refers to that chapter of his life when in quest for a job as a stockbroker, he arrived at Dean Witter Reynolds, a well-reputed stock enterprise and outside the building he made the mistake of trusting a hippie girl for guarding his scanner. The hippie girl ran off with the scanner and by the time Gardner chased her down the street, it was too late. Running is that chapter of his life marked by his running all the time for something or the other. First he would spot the hippie girl again and would run after her to retrieve the stolen scanner. Then after his wife Linda due to being unable to put up the stress of poor financial condition left him, he would be in sole charge of his son when alongside working double shifts, he had to take care of his son. Internship is the beginning of change in Gardner 's life for the better. In this part of life, he would appear for an interview at Dean Witter Reynolds in complete disheveled state due to spending the preceding night in jail and despite that he would get selected for internship without payment for 6 months because of his wit and tenacity. Though the internship was highly competitive with 20 interns fighting for one job, he wanted to give it a shot. 20 interns fighting for one job is a manifestation of joblessness in 1980's USA. Happiness is the final part of the movie when after months of going through strenuous hardship of backbreaking double shifts, homelessness and insecurity, Gardner would be offered the job of a broker at Dean Witter Reynolds.
Rubik's Cube and the Scanner
The Rubik's Cube plays a significant role in the life of Gardner. While selling a scanner, Gardner came across a man called Jay Twistle who was a manager at Dean Witter Reynolds and during a short ride in cab he impressed him by solving the puzzle of the cube which was no less than a feat because solving the puzzle required dexterity not everyone's cup of tea. The man was speechless in awe and surprise. It helped Gardner make an impression while getting the job later at Dean Witter. The Rubik's cube is a symbol of the pursuit of happiness. Rubik's cube consists of multiple colored squares which need to be arranged in the same row to solve the puzzle, one color each side. Gardner's life is an unsolved Rubik's cube where the squares of his life are laid in haphazard order. He was trying to put the squares in perfect semblance against all odds. Just as the pursuit of happiness is a perpetual struggle the end result of which is elusive to many, same way solving the Rubik puzzle is a continuous effort the end result of which eludes many. The bone density scanner that is heavy and weighs about 40 pounds is a reflection of Gardner's mounting responsibility on his shoulder. The scanner also represents the burden of problems in his life. His state of homelessness, his wife's leaving him and his son on their own, the difficulty in selling the scanners, his inability to pay parking tickets or taxi fare, his joining of an unpaid training program are all reflected by his continuous burden of carrying the scanner. While running away from a cab driver because he couldn't pay the taxi fare, he lost one of his scanners in the subway station which he would later retrieve from a demented man, but the scanner would be in damaged state just like his ragged life. Since he was unable to sell the damaged scanner, he would sell his blood to fix the broken bulb of the scanner and same way in order to hide the ravaged condition of his life, he would wash and iron clothes to appear normal in the street and in the business so that people didn't get to know about his spending nights in a shelter.
Based on the real life story of Chris Gardner, the film by Gabriele Muccino showcases the inspiring journey of a man from rags to riches. The role of Gardner played by Will Smith was executed to perfection by Smith's commendable performance. The opening scene provides a glimpse of the phrase 'Pursuit of Happiness' and later on we see Gardner realizing that happiness is elusive involving constant act of pursuit. Based in the background of 1981 when the US was going through one of its worst recession and economic downfall with employment rate going above 10%, the movie captures the real suffering of American people at that time, their poor financial condition, homelessness and lack of jobs. Throughput the struggling period of Gardner's life, Gardner got support from his 5 years old son who with his innocent stories ultimately made him realize that the savior was around the corner under the cover of internship. Through categorizing the struggling period of his life into five different chapters, Gardner brought forth the significance each chapter held in his life. The Rubik's Cube that helped him make an impression on the manager of Dean Witter Reynolds was symbolic of Gardner's disarrayed life. The bone density scanner that he carried on his shoulder all along was the representation of the onus of problems. His unwavering fortitude and perseverance in the face of struggles and his persistent pursuit of happiness ultimately brought him closer to his goal when upon bagging the job of a broker he summed up, "This part of my life this little part is called 'Happiness" (The Pursuit of Happyness Quotes).
Analysis of the Pursuit of Happyness, Scribd, Retrieved on 4th June 2013 from <http://www.scribd.com/doc/96505548/The-Pursuit-of-Happyness-Analysis> Bostrom, Nick. and Cirkovic, Milan M. Big Troubles, Imagined and Real, Retrieved on 4th June 2013 from <http://www.paradise-engineering.com/quotation/> Hamilton, Carol V. The Surprising Origins and Meaning of the "Pursuit of Happiness," History News Network, Retrieved on 4th June 2013 from <http://hnn.us/articles/46460.html> The Economy in the 1980s, U.S. Department of State, About.com. Retrieved on 4th June 2013 from <http://economics.about.com/od/useconomichistory/a/economy_1980s.htm> The Pursuit of Happyness Quotes, Rotten Tomatoes, Retrieved on 4th June 2013 from <http://www.rottentomatoes.com/m/pursuit_of_happyness/quotes/>
Cite this page
Share with friends using:
Removal Request

Finished papers: 1507
This paper is created by writer with
ID 253653431
If you want your paper to be:
Well-researched, fact-checked, and accurate
Original, fresh, based on current data
Eloquently written and immaculately formatted
275 words = 1 page double-spaced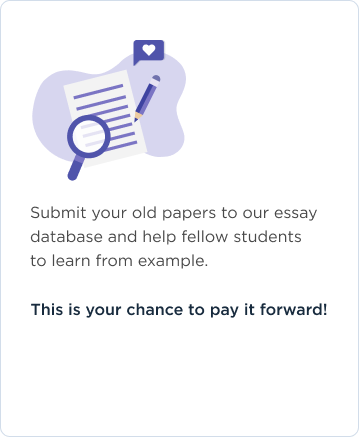 Related Essays
The view from the seventh layer book review example, my favorite room essay examples, the underlying analysis chapter has been developed in following sections thesis example, the weaknesses and strengths of essay examples, the subprime mortgage essay example, the spirit level: why equal societies almost always do better book review examples, the tragedy of willy loman and amanda literature reviews example, the transformation of plato's republic essay example, the use of twitter as a learning tool for preparatory year efl saudi students: an empirical study literature reviews examples, the sound of fear: exploring unconventional sound techniques in "session 9" essays examples, the winning war on the health harm article reviews examples, the view of the jews in past and today essay example, the theory of right conduct prior to an ethics of virtue essay sample, the southwood school district essay examples, the strange career of jim crow essay examples, the three fundamental principles of ethical conduct in human research essays examples, the theoretical foundations of qualitative and quantitative methods essay samples, the towering inferno movie essay sample, the way we never were essay, the tort law dissertation sample, the stereotype of the hoodie essay examples, the three areas i want to improve on are self-disclosing when appropriate; being mindful; and listening actively. essays examples.
Password recovery email has been sent to [email protected]
Use your new password to log in
You are not register!
Short on a deadline?
Don't waste time. Get help with 11% off using code - GETWOWED
No, thanks! I'm fine with missing my deadline
Home / Essay Samples / Entertainment / Movies / Film Analysis
Pursuit of Happyness Movie Analysis
Essay details.
Entertainment , Life , Literature
Movies , Experience
Film Analysis , Happy Story , Plot
Please note! This essay has been submitted by a student.
Get quality help now
Verified writer
Proficient in: Movies , Experience
+ 75 relevant experts are online
More Essay Samples on Topic
"Still Alice" is a film about a woman who is diagnosed with early-onset Alzheimer's disease. Throughout this movie, it touches on the big themes of loss and determination. With these main themes, we see the journey that Alice ...
Don't be fooled by the title of John Krasinski's latest film, 'A Quiet Place', despite its lack of sound. The film may sound dull and boring, but in fact, it is quite the opposite. 'A Quiet Place', directed and acted by John ...
You can only imagine the truth in the new film 'Atonement' adapted from the novel by Ian McEwan. Directed by Joe Wright, this riveting film has impeccable cinematography, compelling acting and a captivating storyline that makes ...
Looking back on social issues and trends that have emerged in decades through filmmaking. As well as the influences the cinema has impacted on society. Looking at the genre of a film someone might be able to pick- up a movie. ...
In this modern world, social media already plays a significant role in our day-to-day lives and it's certainly affecting the way we interact with the real world. The modern technology indeed changed people's lives, we became ...
Racism or bigotry? Bigotry or prejudice? Controversial titles that are almost certain to grab someone's attention standing around the water cooler. While most people find these words offensive, perhaps it was those debatable ...
The film "The Conspirator" is about the assassination of President Lincoln and the trial of Mary Surratt which followed after. The film is a historical drama film which was directed by Robert Redford, and was based off of an ...
Throughout history stories are being told from generation to generation, from storytelling, pictures, and film. Film has brought stories to life, shown what that moment in history was like; it has reached thousands of people. ...
In 1999, Kubrick released his final film, Eyes Wide Shut, and it has since been analyzed endlessly. The film is layered with several different themes and motifs, but one theme that is particularly striking is Kubrick's ideas ...
We use cookies to offer you the best experience. By continuing, we'll assume you agree with our Cookies policy .
Choose your writer among 300 professionals!
You cannot copy content from our website. If you need this sample, insert an email and we'll deliver it to you.
Please, provide real email address.
This email is exists.
"The Pursuit of Happyness": Analysis
Introduction.
Contrary to popular opinion, conflicts are an indispensable element of interpersonal relationships and a crucial tool in building better understanding among participants once appropriate strategies are used wisely. The significance of conflicts is often underrated since, in most cases, the parties involved in it either lack the necessary skills or do not deem them as necessary to be implemented when managing personal issues. By focusing on the needs of the people involved and the nature of a conflict, one will be able to locate the solution that will help to address the concerns of every participant, as the 2006 movie "The Pursuit of Happyness" shows.
Conflict Development
In the movie under analysis, the scene involving a couple arguing over child custody is a classic example of an interpersonal conflict. However, with the application of participative leadership, the leading character manages to reduce the extent of aggression and approach the conflict from a rational perspective. Namely, the disagreement between the husband (Chris) and the wife (Linda) serves as the prime example of conflict mismanagement. The situational context of a conflict indicates that their efforts produce very little effect since there is practically no collaboration and, thus, the context structure is fully disrupted. In addition, the focus of their confrontations is skewed toward personal insults as opposed to careful resolution of the issue. Therefore, instead of using either a relationship-oriented style or a task-oriented style, none of the parties is willing to accept the role of a leader. Instead, they strive to push the responsibility onto each other: "I have my things together, and I'm taking our son… and we're gonna leave now." ("The Pursuit of Happyness"). As a result, the leader elimination phase occurs before the leader emergence one, which contributes to no resolution and, instead, perpetuates the confrontation.
The absence of productive conflict and, as a result, the failure to establish a clear course for goal-setting and the introduction of a productive conflict technique is also evident in the relationships between Chris and Linda. On a deeper level, the specified problem can be observed even within Chris as a manifestation of his inner struggle as he strives to grow personally, evolving from an Expeditor, who exacerbates the conflict, to an Interpreter, who is trying to make sense of it, to a Harmonizer, who learns to reconcile with himself and his family members: "You got a dream… You gotta protect it" ("The Pursuit of Happyness"). Consequently, the couple repeatedly fails to find the common language and the grounds based on which they can structure their relationships, which leads to the dissipation of the latter.
However, due to Chris's indecisiveness, he prefers escapism to the productive conflict management strategy. As Chris explains in his attempts at grappling with the situation and pondering over the existing alternatives, "When I was younger… I wanna see Jimi Hendrix do that guitar on fire" ("The Pursuit of Happyness"). Arguably, the described scene exemplifies the significance of maintenance group roles in people's lives as the source of support when they experience psychological challenges. At the same time, the significance of task group roles as the framework allowing one to get priorities in line is shown in the specified scene since, without them, Will Smith's character is completely at a loss.
Realization
Finally, when approaching the denouement of the movie, the problem components are aligned as one will realize that Chris manages to resolve the conflict within him, which used to tear his very essence and the relationships within his family asunder, thus allowing him to reconcile with his family and himself. Remarkably, Chris no longer views mending the relationships with his wife and continuing to live together as the end goal, which means that his perception of task difficulty has been reduced. Instead, he is ready to proceed with blazing his trail and learning to leave the past behind him, while also cherishing family-related memories and caring for his son ("14.1 Leadership and Small Group Communication"). Specifically, Chris is now capable of outlining the problem statement in his life and asking an adequate problem question that will guide him to the eventual solution. By acknowledging and accepting his emotions, Chris develops the ability to approach his family confrontations from the position of reason, while also being understanding of the emotional factors driving the conflict. The observed change is especially evident in the following line: "This part of my life… This little part, is called Happyness." ("The Pursuit of Happyness"). Thus, Chris demonstrates that he is capable of embracing his own emotional needs, rebuilding relationships with his son, and meeting the consensus rule, which will help him to manage confrontations directly.
Due to the constant focus on the nature of the conflict between the leading characters, as well as the introspect into the confrontation within the protagonist, "The Pursuit of Happyness" hits all the marks of an outstanding movie. The film provides an in-depth analysis of how conflicts occur, how they can be resolved, and what may cause one to lock oneself in a perpetual cycle of an internal conflict. Thus, the film offers a crucial experience of managing disagreements and mending relationships with loved ones, while also resolving personal issues and learning to embrace one's nature. Thus, one can start addressing one's flaws and learn to cooperate with others, reducing the probability of confrontations and creating a happier environment.
14.1 Leadership and Small Group Communication. UMN.edu , n.d., Web.
The Pursuit of Happyness . Directed by Gabrielle Muccino, performances by Will Smith, Thandie Newton, and Jaden Smith, Sony Pictures, 2006.
Cite this paper
Chicago (N-B)
Chicago (A-D)
StudyCorgi. (2022, March 20). "The Pursuit of Happyness": Analysis. Retrieved from https://studycorgi.com/the-pursuit-of-happyness-analysis/
StudyCorgi. (2022, March 20). "The Pursuit of Happyness": Analysis. https://studycorgi.com/the-pursuit-of-happyness-analysis/
""The Pursuit of Happyness": Analysis." StudyCorgi , 20 Mar. 2022, studycorgi.com/the-pursuit-of-happyness-analysis/.
1. StudyCorgi . ""The Pursuit of Happyness": Analysis." March 20, 2022. https://studycorgi.com/the-pursuit-of-happyness-analysis/.
Bibliography
StudyCorgi . ""The Pursuit of Happyness": Analysis." March 20, 2022. https://studycorgi.com/the-pursuit-of-happyness-analysis/.
StudyCorgi . 2022. ""The Pursuit of Happyness": Analysis." March 20, 2022. https://studycorgi.com/the-pursuit-of-happyness-analysis/.
StudyCorgi . (2022) '"The Pursuit of Happyness": Analysis'. 20 March.
This paper was written and submitted to our database by a student to assist your with your own studies. You are free to use it to write your own assignment, however you must reference it properly.
If you are the original creator of this paper and no longer wish to have it published on StudyCorgi, request the removal .
24/7 writing help on your phone
To install StudyMoose App tap and then "Add to Home Screen"
The Pursuit of Happyness: 2006 Movie Analysis
Save to my list
Remove from my list
The Movie The Pursuit of Happyness made in 2006. Directed by Gabriele Muccino, this film has to do with a male who was broke, homeless, and needed to support his 5 year old child alone. The motion picture takes location in 1981, in San Francisco. The film is rated PG13 and stars Will Smith as Chris Gardner, and Will Smith's son Jaden as Christopher Gardner Jr. The motion picture represents how effort can alter an individual's life for the better. Throughout the film Chris Gardner's household, career, and a few of his life is revealed.
This film is primarily not an excellent representation of Chris Gardner besides some life truths.
Chris Gardner had to live and sleep several places while he worked to enhance his life. Chris needed to sleep on buses, subways, in public restrooms, homeless shelters, and some other locations. The locations where Chris had to remain while attempting to improve his life was one of the couple of proper truths about his life displayed in the film The Pursuit of Happyness.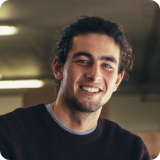 Proficient in: Film
" Ok, let me say I'm extremely satisfy with the result while it was a last minute thing. I really enjoy the effort put in. "
Chris had a discussion with a male who owned a red Ferrari 308 convertible. Chris was leaving a medical facility and was heading to his automobile in a parking lot when he saw the Ferrari. Bob Bridges, the owner of the Ferrari was looking for a parking location and Chris took this as a chance to learn what Bob does by offering his parking spot for details.
This man informed Chris that he was a stock broker; a couple weeks after they satisfied they had lunch together and talked more about being a stock broker.
By clicking "Check Writers' Offers", you agree to our terms of service and privacy policy . We'll occasionally send you promo and account related email
You won't be charged yet!
This is what influenced Chris to start in the field of stocks. In the motion picture however, Chris did have a conversation with this guy, however it was on the side of a street and Chris never ever found out the guy's name. Chris and Bob never ever had a second conversation or lunch together. The motion picture did not properly represent Chris's life realities, other than for small realities. One part of Chris's life that the film did not represent really well was his household.
Chris Gardner had two different wives. In the year 1981 Chris had a two year old son, also with the name of Chris, with his second wife. Chris at this time was trying to get a job in stocks. His wife had left him and taken their son. She would not tell Chris where they were. When Chris would call her she did not tell him where she was, and Chris could hear his son in the background crying. Chris did however have his son at some parts of his life in this time period.
When he did have his son he would have to have a baby carriage to carry his son around, because he was not old enough to walk on his own. In the movie, all of this was redone in a much different way. Chris only had one wife, but she had the personalities of both of his wives put together. In the movie, Chris never had his son taken and hidden from him by his wife, he always had his son and his wife left and went to New York and was never seen again. Also, in the movie, Chris's son was five years old so he did not need a baby carriage, because his son could walk. The movie was not very accurate in the representation of Chris Gardner and his family. This is also true between Chris's career in real life and the movie.
Chris was a salesman in the field of medical supplies, and then became a trainee at Dean Witters. He was paid about one thousand dollars a month as a trainee. Throughout his life Chris never went completely broke, but did have a lot of problems with money and as a result he had nowhere to live. Chris worked hard to become a broker for Dean Witters, especially because he was not able to always put in the same amount of hours as all the other trainees. This was because he had to leave early to be able to get into the homeless shelter before it was full. In one part of the movie Chris impresses one of Dean Witters higher up employees by solving a Rubik's cube, was considered impossible in the movie, to try and get the job of a trainee. In real life Chris never did this. He actually never used a Rubik's cube at all.
Even though Chris did not use a Rubik's cube in real life it could have been possible, because the Rubik's cube had just been released in 1980 and was internationally popular in 1981, the same time period the movie is based in. Before Chris was a trainee he was selling medical supplies to make money. This meant he spent a lot of his time going from hospital to hospital trying to sell his supplies. In the movie Chris did sell medical supplies, but he only sold bone density scanners. This was a device that would take an x-ray with a slightly better picture then other scanners, but was a lot more expensive so he had a difficult time finding someone to buy them. He had spent all of his life savings on the scanners thinking it was a good investment. This however is what led him in to being broke.
In really life however, Chris never sold a bone density scanner or spent all his money on any medical supplies. Also, in the movie, while Chris was a trainee he did not get paid like he did in real life the only money he made was from selling the scanners and a couple of small things to make some money like giving blood. Therefore, the movie was not very accurate in showing his career.
The movie The Pursuit of Happyness is not a good representation of the life of Chris Gardner or his family and career. The movie had changed many parts of Chris's life to make the film more exciting and interesting to watch, but still kept some of his life true with just a slight change or two.
The Pursuit of Happyness: 2006 Movie Analysis. (2016, Mar 27). Retrieved from http://studymoose.com/the-pursuit-of-happyness-2006-movie-analysis-essay
"The Pursuit of Happyness: 2006 Movie Analysis." StudyMoose , 27 Mar 2016, http://studymoose.com/the-pursuit-of-happyness-2006-movie-analysis-essay
StudyMoose. (2016). The Pursuit of Happyness: 2006 Movie Analysis . [Online]. Available at: http://studymoose.com/the-pursuit-of-happyness-2006-movie-analysis-essay [Accessed: 13 Mar. 2023]
"The Pursuit of Happyness: 2006 Movie Analysis." StudyMoose, Mar 27, 2016. Accessed March 13, 2023. http://studymoose.com/the-pursuit-of-happyness-2006-movie-analysis-essay
"The Pursuit of Happyness: 2006 Movie Analysis," StudyMoose , 27-Mar-2016. [Online]. Available: http://studymoose.com/the-pursuit-of-happyness-2006-movie-analysis-essay. [Accessed: 13-Mar-2023]
StudyMoose. (2016). The Pursuit of Happyness: 2006 Movie Analysis . [Online]. Available at: http://studymoose.com/the-pursuit-of-happyness-2006-movie-analysis-essay [Accessed: 13-Mar-2023]
The Pursuit of Happyness: Movie Retelling and Analysis Pages: 4 (1184 words)
The Pursuit of Happyness: True Story Pages: 2 (506 words)
The Pursuit of Happyness Film Review Pages: 2 (498 words)
Review on The Pursuit of Happyness Pages: 2 (420 words)
"The Pursuit of Happyness" by Gabriele Muccino Pages: 3 (653 words)
The Pursuit of Happyness, Shahad Pages: 4 (907 words)
Drama Analysis of The Pursuit of Happiness Movie Pages: 4 (944 words)
Cola Wars Continue: Coke and Pepsi in 2006 Pages: 4 (930 words)
Ecological Succession. References:Allen, T. (1988),Cunha, Rui.(2006). Pages: 3 (722 words)
Bangladesh Labor Law 2006 and 7 General Codes of Conduct Pages: 7 (1993 words)
👋 Hi! I'm your smart assistant Amy!
Don't know where to start? Type your requirements and I'll connect you to an academic expert within 3 minutes.
Home / Essay Samples / Entertainment / In Pursuit of Happiness / The Pursuit Of Happiness: Critical Analysis of the Film
The Pursuit Of Happiness: Critical Analysis of the Film
Category: Sociology , Entertainment
Subcategory: Race and Ethnicity , Movies
Topic: American Dream , Film Analysis , In Pursuit of Happiness
Downloads: -->
are ready to help you with your essay
Related Topics
Video Games Essays
Anime Essays
Social Media Essays
Tarzan Essays
Dance Performance Review Essays
⚠️ Remember: This essay was written and uploaded by an average student. It does not reflect the quality of papers completed by our expert essay writers. To get a custom and plagiarism-free essay click here.
Related Essays
Found a great essay sample but want a unique one?
We are glad that you like it, but you cannot copy from our website. Just insert your email and this sample will be sent to you.
By clicking "Send", you agree to our Terms of service and Privacy statement . We will occasionally send you account related emails.
Your essay sample has been sent.
In fact, there is a way to get an original essay! Turn to our writers and order a plagiarism-free paper.
samplius.com uses cookies to offer you the best service possible.By continuing we'll assume you board with our cookie policy .--> -->