How To Write A Business Plan
A business plan is a formal, written document that describes the purpose of the venture, its goals, and the ways to achieve them. In many cases, it will also describe how to start a business as well, the way that the enterprise will be organized, the types of financing or funding it requires, and the strengths of its strategy relative to competitors. While such a plan may evolve over time, it will serve as an important "road map" to help an entrepreneur stay focused as he or she attempts to bring the startup to life and make it thrive.
A business plan will enable you to accomplish many important tasks as one builds their company. Some of the things to use it for include:
Focus Your Thinking. If you have a general idea for an organization, committing that idea to paper will help you flesh it out, mitigate any potential weaknesses, and make the overall plan stronger over time.
Find Partners. If you need a partner or partners to bring your idea to life, a good plan can help to convince them to join your team.
Excite Investors. A plan could make a big difference when you are trying to secure financing from prospective investors.
Assure Lenders. If you intend to obtain a loan or line of credit from a bank or other lending institution, you will likely need to provide them with such a plan to assure them you are a good risk.
Win Customers. Before you even begin making a product or providing a service, your business plan can help convince potential customers or clients to select what your company is offering.
Secure Grants. There are several Federal, State, and municipal grants available for small organizations and startups. Many of them will require you to submit a plan in order to win the grant and secure funding.
Share Common Purpose. If you have employees or plan to hire them in the future, your plan will help them understand your vision and goals, so your workforce and teammates can contribute to the company's success.
Complete the Program. Some particular study programs imply creating a business plan as a part of the coursework. Your final grade might be significantly influenced by the quality of this plan.
Your plan will likely remain a work in progress that evolves over time. As you show it to various people and organizations, their comments may affect your thinking and cause you to revise it. However, even if it changes considerably, having a good business plan to guide you will be invaluable to building a successful company.
Steps of Writing
Step 1: start with a mission.
The very first thing you need to do is to clarify your company's purpose. The best way to do that is to write a clear mission statement that sums up what your venture is all about. The more precise your mission statement is, the better. For example, Internet giant Google's mission statement is "to organize the world's information and make it universally accessible and useful."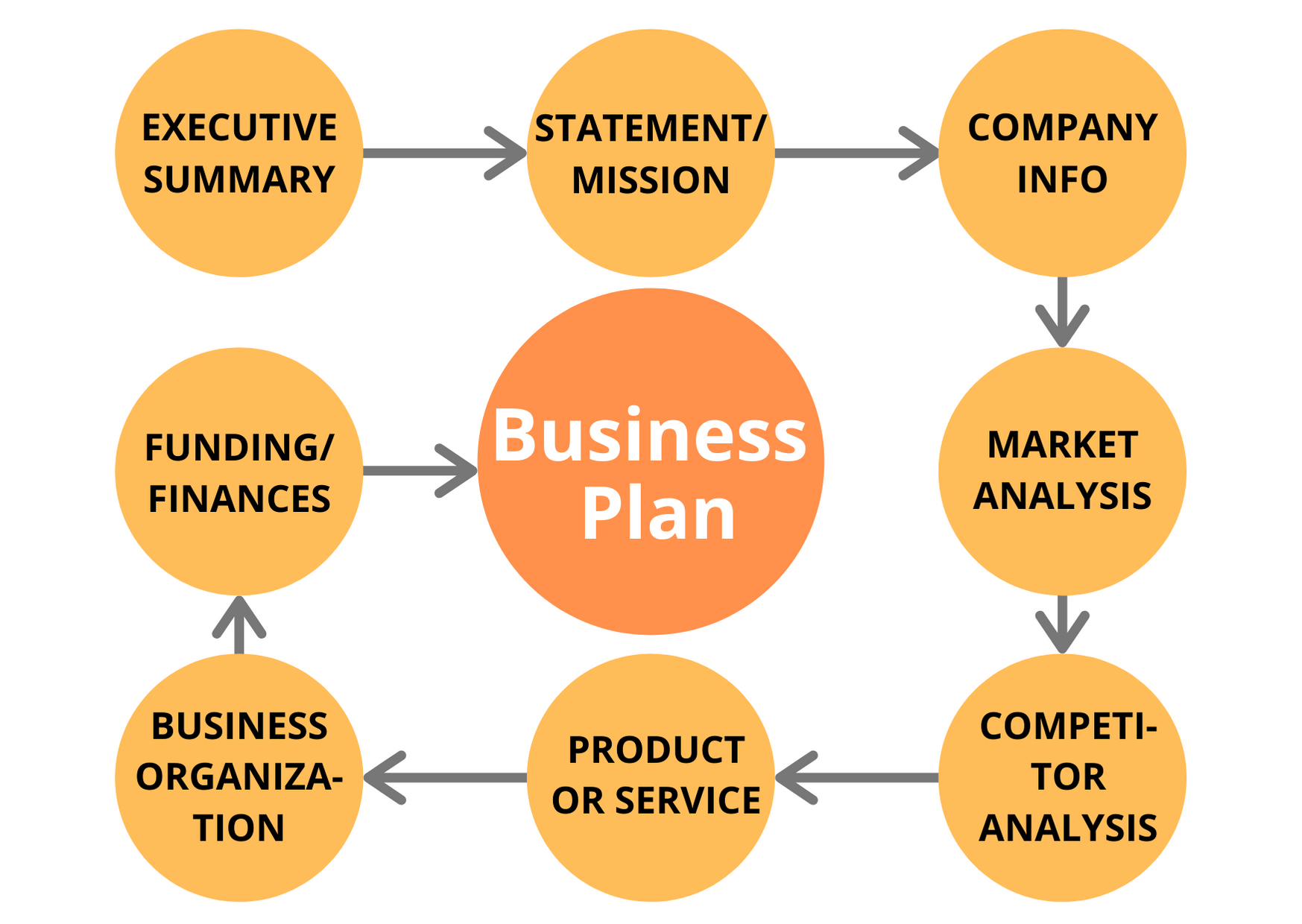 Your mission statement will help you determine your goals, and help you flesh out the rest of your plan. It will also help keep you focused throughout all phases. Referring back to your mission statement can also keep your employees and you from wasting time and resources on activities that aren't relevant to your company's core purpose.
Step 2. Write a Summary
Once you determine your mission statement, build upon it further by writing an executive summary of your business. It will provide an overall snapshot of what it is about and what it intends to accomplish. Such summaries may provide information about how the venture will compete in its market niche and why it will be successful. This section should be succinct and to the point; one to three paragraphs should be enough to help provide an understanding of your idea and what you are setting out to accomplish.
Tip: When you are preparing to write your plan, expect to write it twice. First, you should have a formal written document done in Microsoft Word or some other word processing program. Next, you should have a PowerPoint or other presentation that complements it. You will use the latter to brief prospective clients, customers, partners, lenders and investors as you attempt to convince them to support or finance your organization or use its products or services.
Step 3. Provide Basic Company Information.
At this step, your business plan should provide some basic information about your company - details on when your company was founded, any qualifications or certifications it has, proprietary technology or processes, patents, special skills or other key information. You should also provide biographical and professional information about key members of your company team, so people have a better understanding of what your company is capable of.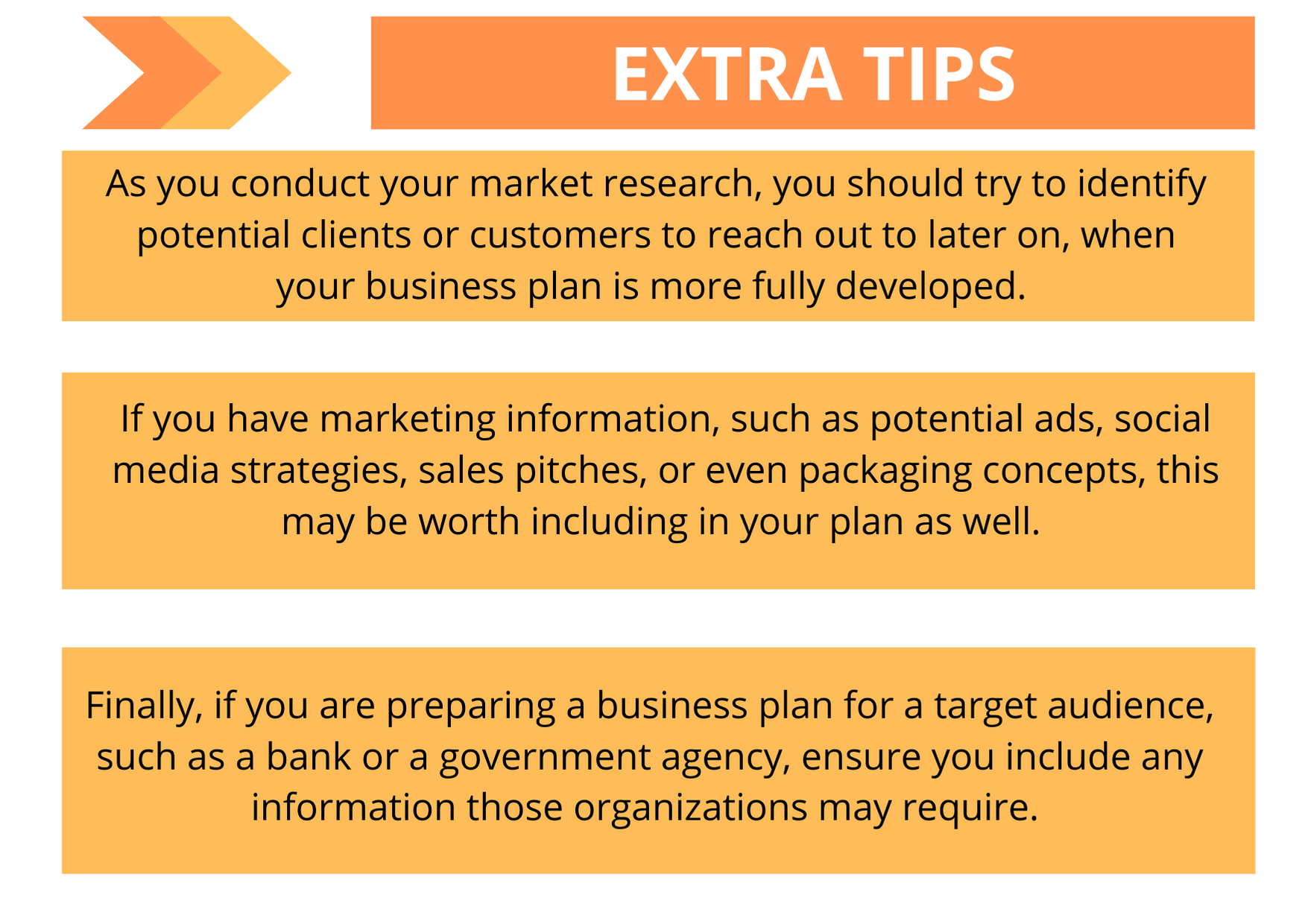 Step 4. Conduct Analysis
In order to understand the market that you are about to enter, conduct a market analysis, and then summarize your findings in your plan. There are several different ways to do this:
Survey Potential Customers. You can directly contact potential customers or clients, either by calling or emailing them , or sending out some sort of survey, to assess the market your organization will compete it.
Obtain Secondary Research. Unless you are starting an obscure type of business, it should be easy to find existing market research you can use online.
Groups. Your local alliance or chamber of commerce can be an excellent resource for conducting market research.
Libraries. Public libraries can be useful for gathering information about a particular market.
Government. Depending on your niche, chances are the Federal or local government will have some sort of invaluable information to assist with your market research. The USA.gov website is a great place to start.
Use these resources, and others, to get the best understanding of the market you plan to enter. Then, summarize your findings for inclusion in your plan. Doing so will demonstrate to others that you understand exactly what you're getting your company into. It will also help you to further refine your overall strategy, so you can successfully compete in your market.
Tip: As you conduct your market research, you should try to identify potential clients or customers to reach out to later on, when your business plan is more fully developed.
Step 5. Write Description
Once you conduct your market research, you should prepare your product or service description. Write about exactly what you are going to provide for the market. You should describe why your particular product or service is going to be competitive in the market. If you developed your product or service prior to completing your market research, you should make any necessary adjustments after that research is complete.
Tip: If you are manufacturing a product, you should include a picture of it in your plan. When you present your plan to an audience, it is often a good idea to bring an actual sample of your products to them to see, hold, or use if the product is in a close to final form.
Step 6. Determine your Organization
You will need to determine the best way to run your company, and then include that information in your business plan. If your company is going to consist of only you and a handful of employees, this should be relatively easy. However, if your company is going to be larger, with multiple locations and activities going on, this section will require more thought. Drawing an organizational chart to ensure you are accomplishing all management activities is one of the best ways to think through how you'll manage your company. Once you settle on a structure, you can present a finalized organizational chart to describe it in your plan.
Step 7. Funding and Finances
The finance and funding section is a critical part of your business plan. In order to begin anything, you will need to determine exactly how much money you will need to get your venture started. Ensure you capture all startup costs, including things like licensing and permits. You should also determine how much money you'll need to operate for the first two to three years. Finally, you should use your previously completed market research to provide an estimate of the revenues you expect to earn.
Once you have all of this information, summarize it as precisely as possible in your plan. Lenders, investors, and potential partners will use this information to make decisions about whether or not to provide you funding.
A good business plan will help you strengthen your strategy and help you win over customers, lenders and investors. If you struggle with it, make sure to contact our team that can create a high-quality business plan for you.
EssayTigers brings you the best in custom paper writing! EssayTigers brings you the best in custom paper writing!
To get started, simply place an order and provide the details! Essay on Starting a Business Plan
The united states small business administration: the six sections of sba.
For a unique business concept to come to fruition it needs to start with a plan. The United States Small Business Administration, also known as SBA for short, can help prospective small business owners take their concepts and turn them into reality. "SBA was created in 1953 as an independent agency of the federal government … that helps Americans start, build and grow businesses (Mission Statement 2013)." To do this, the SBA has simplified a six section business plan that can be completed on their website and saved for future use. The six sections of the SBA business plan are: an executive summary, company overview, marketing research, product(s) and/or service(s), marking and sales, and, lastly, financial projections. Even though there are
Essay on Business Plan
Profit is the money that a business earns in revenue, minus investments, and the cost of salaries.
Business Plan Essay
Modules 1 to 4 have taken you all the way from learning strategies to drawing up a business plan for your own business. We hope that by now you are excited about the thought of owning your own business and being an entrepreneur. Choosing a business is easy; getting it to stay viable and bringing in the money is another thing.
Starting and Running a Business Essay
The most important thing is starting a business is having a business plan. This is the only way any bank will approve you for a business loan. [1] Without this business plan, the bank has no way to analyze the business's performance thus far. The SBA offers a template for how to lay out a business plan. The following is how a good business template should be formatted (from SBA.gov).
Bus 521 Week 1 Bus521 Week 1 Essay
1. Compile a business vision about the type of product or service you think your company needs to develop. Next, describe the business values and corporate values that you want to create.
Bus 521 Complete Course Bus521 Complete Course
Gun safe importance.
A good business plan is the foundation of your entrepreneurial journey. You may have certain liberty in the form and the content of your business plan but you would definitely use the required material.
Summary: Bizwin
A sound business plan creates the foundation for the future of your business. However, the management is mostly too busy with various responsibilities - focusing on the product/service, pursuing customers, team management, and administration – to prepare a stalwart business plan. Also a business plan is not a one-size-fits-all document. We at understand this and have over 200 man-years of collective experience to provide you a compelling solution package. As business plan consultants we advise you in polishing your ideas and strategies to make your business beneficial. There is no "exact" method to design a business plan. Bizwin is a business plan consulting firm, and our priority is to cover the important questions pertaining to every aspect
Business Plan Marketing 499
Starting a new/ successful business can be one of the hardest things that a person can do in their life. The business can come second to nothing in life , not even your family. This is often where people make the mistake and get in to deep. Planning is just the beginning but is the most important
Canadian Business Structure
After gaining enough knowledge on the types of business structure, business owners can proceed to the process so that their plans of owning a business will turn into reality. After reading several resources, the process will be divided into five stages. The first stage is the planning and research. This involves developing viable business ideas, knowing the target customers and possible competitors, searching for the right location, thinking what will be the business name, and marketing strategy. In this stage, a business plan should be made. Business Link (2016) refers, "business plan as a document that defines why you're in business, your goals, and how to achieve those goals and it also covers all major aspects of the business, including
The Philosophy Of Business Management
Furthermore, the basic start of a business begins with a business plan. "A business plan precisely defines your business, identifies your goals, and serves as your firm's resume"
Small Business Essays
The first step to starting a business is to create a business plan. A business plan is a document that outlines the overall strategies of a new venture and how those strategies will be implemented (Ebert &
An Outline Of A Business Plan Essay
A business plan is a road map for a team or business and it can be used, as an eternal tool for potential customers and partners. The business plan should describe in details the entire business venture, technology behind it, the size of the target market, customers, competition, business model, team, financial needs and exit strategy. The business plan gives a company insight and allows them to think things through early enough in the process to ensure they have a well defined venture goals and objectives. It also gives the business direction to a clear path for the team to follow and implement on their venture.
Business Plan For A Strategic Plan Essay
Lastly, I will explain my method to determine the level of success for my strategic plan.
Start A Business Essay
If you are planning to get funding from an investor or financial institution, a traditional business plan is required. The traditional business plan is long and very detailed, with several sections that investors and banks look for when they are weighting on your idea to decide whether to give you funding. Generally, the sections included in a traditional business plan are the executive summary, market analysis, organization management, service or product line, marketing and sales, funding request and financial projections.
Related Topics
Strategic management
Venture capital

Free Business Plan Essays and Papers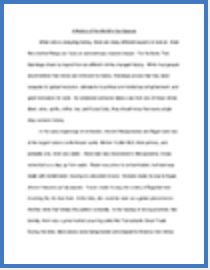 The business plan
The Business Plan 1. Introduction This portfolio work will enable me to learn how to set up a business. And we have to do many things to set it up. And I want to set a tuck shop in the boarding house which is near the school and what I have to do is get the tuck shop started. I also have to write a business plan for it to make sure that I know what is I doing. A business plan will also allow me to minimize risks of failure; failure can be very costly to a business. I set it up because
business plan
we are here to take the pressure of the client so they can spend more leisure time with family. We listen to their needs and work with them to create the event of their dreams. Our client's wishes become our commands. We are confident that this business venture will be a success and we estimate that our 1.3 Keys to Success The keys to our success are as follows: 1. Service our clients' needs promptly and efficiently. 2. Maintain excellent working relationships with vendors such as musicians, hair
Business Plan
Business Plan Executive Summary Target Things is a mobile training and safety instruction company; it will utilize the DART Targeting System, a computerized range system incorporating the latest in technology and graphics. It is a 3-D range, which can be used for archery or other weapons type training. This convenient, compact and very affordable Dart digital shooting system comes in three portable cases that can be easily transported in a mid-sized vehicle. One case holds the electronic
The purpose of this business plan is to support a request for a 75,000 five-year bank loan to purchase equipment and inventory as part of the financing for a start-up sole proprietorship, Fast 'n Fresh Premiun Ice Cream Parlor. The business will be owned by Daniel W. Beese and will be located in leased space at 858 Success Ave in the new Riverside Faire shopping center, Jacksonville, FL 32211. The owner will provide a minimum of 75,00 in initial equity. The business will serve healthy and
Business Plan for a Nightclub
Business Plan for a Nightclub LEVEL 3 plans to be a chain of upscale nightclubs centering around the middle Georgia areas. It is demographically targeted to middle aged adult's ages ranging from 25 and up. LEVEL 3 aims at providing quality entertainment, food and refreshments along with a welcoming environment that will give our customers a unique and entertaining experience. Company Overview This company evolved through a partnership on January 19th 2005. LEVEL 3 is located in Perry, Georgia
Creating a Business Plan
you must have guidelines, so to speak, to know where you are heading in the future. That is why before you can start a business you need to draw up a detailed business plan. Business plans are considered blueprints. A business plan is what is needed to get your business off the ground and to attract potential investors. A business plan is way to show that you are in the business to make money. Introduce the company and the product/service idea for the new venture. Triple S Night Club is a new company
Business Plan - Nursery
PEOPLE I intend to employ on 3 to 4 employees along with my self and cater for approximately 12-20 kids once the business has established itself then I may decide to expand and cater for more children. THE PRODUCT I have selected a nursery because there is high demand in the UK as well that there is a reasonable amount of profit, which can be made if the business is planned out correctly. One of the main reasons why demand is so high is that more women then ever before are going to
Business Plan Letter
Business Plan Letter TO: Managing Director of Optimum PLC FROM: Chief Designer of the Research & Creative department DATE: 11 January 2002 RE: Questionnaire Report on "Just Trainers" 1.0 Terms of Reference 1.1 Ralkon Shoes PLC, a major footwear manufacturer, are considering opening a chain of shops in the local area specialising in training shoes. We have been asked to investigate the potential market for such shops; find out which products should be offered in
Business Plan for Sweetlings
sorrows and worries, having a company of variety of desserts in many flavors with natural and healthy ingredients in comfortable atmosphere. BUSINESS IDEA The owners of the bakery or restaurant are going to start their business with Rs.50 lacs only at its initial stage. This amount is utilized in fulfilling the need of starting a business i.e. registering the business, providing insurance to the restaurant, buying of interiors and equipment for set-up, for e.g., Baking ovens, microwave ovens, refrigerators
Swot Analysis Of A Business Plan
he chooses to open up further stores. The following is a SWOT analysis of his current and future businesses. Any business will only be good as its current leader. Mr. Joseph Smith has shown himself to be a tremendous leader. Not only was he able to turn a profit on a restaurant his first year, but he is well educated as he has a MBA from Anytown University. He shows his business knowledge by picking locations around Anytown that have high traffic but do not have competition from other sports
Sample Nigthclub Business Plan
Sample Nightclub Business Plan (www.bplans.com) BackgroundSummary The generation of today has a lot of focus on leisure and off-time. They are looking for ways to escape their everyday lives and let loose. Whether that is dancing to new age music, having a few cocktails, or dining out with reasonably priced food. A nightclub can provide all these accommodations, and is the perfect venue to open up is done with some thoughtful planning. There are some important elements to consider. Location is
Business Plan for a Car Wash
1.0 BUSINESS PROFILE 1.1 Business Description Modern people are very busy and they often neglect to clean their cars, and sometimes the limited living space also is the problem for the people who want to clean their car but they do not have space to clean their car, especially in Taiwan. Therefore, the car wash shops are increasing quickly, and people are happy to send their cars there. In Taiwan, hand-washing cars is more popular, because the customers think using hands to wash is softer. It
Five Year Business Plan
sales, SMC Company will have to address staffing, employee development and training, compensation and benefits, employee relations, and safety and health issues. SMC must consider elements in developing the five-year plan such as technological advances, globalization, diversity, e-business and ethics. The ultimate goal at SMC Corporation is continued growth. One aspect that will determine SMC's success is to predict what labor will look like over the next five years. By looking at the demographics of
Internet Cafe Business Plan
Internet Cafe Business Plan 1.0 Executive Summary JavaNet, unlike a typical cafe, will provide a unique forum for communication and entertainment through the medium of the Internet. JavaNet is the answer to an increasing demand. The public wants: (1) access to the methods of communication and volumes of information now available on the Internet, and (2) access at a cost they can afford and in such a way that they aren't socially, economically, or politically isolated. JavaNet's goal is to
Business Plan for New Airline
Business Plan for New Airline HausAir Mission Statement HausAir fixed base operation will provide the highest quality of flight instruction and comfortable charter services to the public; without compromising an ounce of safety, at a price lower than the competition. Human Resources/ Management Functions Breakdown of initial staff to begin at HausAir. (1) Manager/Owner Jason Bushouse (1) Assistant Manager Jeff Doyle (5) Receptionist/Clerical Jason Henderson (Full Time) Julie Vanek (Full
Student Cafeteria Business Plan
Executive Summary I recommend that we decrease the average service times for all food stations as well as reduce the minimum service time for the interactive cooking station and increase the inter-arrival time. We can implement this by offering specials a half hour to an hour before the rush period begins, have enough precooked meals available to accommodate the rush and precook the ingredients for the interactive station. We can also have the manager step in as the second cashier whenever a certain
Bombshells Benefit Calendar Business Plan
Bombshells Benefit Calendar Business Plan Executive Summary SSSAMM Inc. plans to create a benefit calendar called, BondÂ's Bombshells. The calendar will contain photographs of female Bond University students who have been selected to be the Bombshells from Bond Uni. The calendar will include advertisements from local vendors that appeal to the target population along with information on upcoming events on campus. The calendar will not only be functional, to keep up on action on campus
Business Plan for Ward's Event Photography
Business Plan for Ward's Event Photography 1. 0.0 Table of Contents 0.0: Table of Contents 1.0: Executive Summary 2.0: Company Overview Market Opportunity Explanation Legal Form of the Business Company Location History Growth and Financial Objectives Manager Information 3.0: Market Analysis Summary Analysis of the Industry Target Market/Customer Profile Competition 4.0: Service Offering Summary Uniqueness Description Competitive Comparison 5.0: Marketing Plan Customer
Business Plan for Internet Site - Crowdz.com
Business Plan for Internet Site - Crowdz.com 1. 0 Executive Summary There are 3 major elements that helped incubate the idea behind Crowdz.com™™. The first element would be individuals, the average Joe on the street. The second, organizations that cater solely to entertainment more specifically, Clubs. Third the banning of cigarette companies from advertising direct nor indirectly in Malaysia. Crowdz.com™™ has its total idea, image, and vision to thank for by the presences of individuals, specific
Business Plan for Import Export Company
Business Plan for Import Export Company This business plan details the launch of a start-up company known as the Import Export Company (IEC). The company functions as a 'middleman' in purchasing housewares from manufacturers in China and reselling the products to retail buyers in the US and Canada. The Import Export Company is primarily an independent import/export business. The products we import from China are resold to retail buyers in the US; in addition, we export the products from China
Popular Topics
Business Planning
Business Policy
Business Practices
Business Process Outsourcing
Business Proposal
Business Relations
Business Report
Business Research
Business School
Business Skills
Business Strategies
Business Structures
Business Studies
Business Success
Business System
Business Values
Business World
Bussiness Ethics
Short on time?
Essay Service Examples Business Strategy
Business Plan Essays
13 samples in this category
Business Plan Of Aromium Pty Ltd Enterprise
Business plan: types and significance, business plans of premiere electric and barnum painters: strengths, weaknesses and improvements, essay about starting a business, business plan importance and example for clothes startup project.
800+ verified writers 
can handle your paper.
Business Plan, Business Model And Strategic Planning - The Basics To Navigate
Business plan for canadian tire corporation, business plan for a & n organic fertiliser manufacturing co., business plan for ivy flower boutique, costco's key competitive strategies, lego business identity analysis, business plan for barebeer partnership, business plan for a smart parking application parkaid.
Top Similar Topics
Effective Leadership
Strategic Management
Competition
SWOT Analysis
Pricing Strategy
Competitive Advantage
Business Success
Business Analysis
By continuing, you agree to our Terms of Use & Privacy Policy .
Get original paper written according to your instructions
Save time for what matters most
Fair Use Policy
EduBirdie considers academic integrity to be the essential part of the learning process and does not support any violation of the academic standards. Should you have any questions regarding our Fair Use Policy or become aware of any violations, please do not hesitate to contact us via [email protected]

Creating Personal Business Plan
Vision and opportunity.
Obtaining a higher education in IT business management is a long-standing goal of mine, which I have been striving for for a long time. Getting a degree in this sphere can help me realize my career ambitions to the fullest. After graduation, I want to find a job in a company engaged in the production or supply of IT products for large participants in the global market and, at the same time, continue to study innovation in entrepreneurship on my own. I understand that knowledge is limitless and can always be replenished. Therefore, I do not plan to stop there, and perhaps in the future, I will take part in additional educational programs that can help me develop my professional potential more deeply.
The choice of the future path is largely based on my personal goals, values, and mission. While reflecting on these criteria, I have come to the conclusion that three questions can help me choose them correctly. Do I want to achieve the highest possible professional results and be recognized as one of the qualified specialists in my field? Am I ready to overcome any difficulties in my development path, be they educational challenges or operational barriers? Should I focus on only one area of ​​IT business management or pay attention to related areas where my skills can be useful?
My goal is to prove to myself and my future colleagues that I can conduct professional management activities with a full understanding of the range of tasks and current market interests. I do not set myself the challenge of becoming CEO or head of the board of directors by all means. However, I want my efforts to be worthwhile so that I can realize my skills to the extent that I deserve. I know that I have already passed a long path, but in the future, my knowledge will be the background that will help me realize my managerial ambitions to the fullest. Thus, I see my goal in proving not only to others but also to myself that I am capable of constant development and not inclined to professional stagnation.
As the values ​​to pursue, I see hard work and constant self-development. I am sure that being satisfied with what has already been achieved is not an indicator of professionalism. At the same time, I understand that overwork is fraught with burnout and accumulated fatigue, which explains the need to allocate strengths and available resources rationally. Educational aims are easier to meet if the end goals are clear and reasonable. Therefore, I intend to follow the plan without being distracted by secondary tasks and focus on what can help me achieve my goals without interfering with my professional reputation.
At the same time, my mission is to contribute to the field of IT business management as much as possible. This means that I cannot work exclusively in one direction and study those materials that relate to narrow specialization. In this regard, I intend to choose relevant paths to develop professional potential, for instance, change management, project planning, and some other areas, to develop skills in them. They are not secondary because, with their help, I can forecast effectively and use the available resources rationally, thereby achieving high results in the main area. Thus, in planning my goal, values, and mission, I intend to devote as much attention to working development as possible. This will help me become a multidisciplinary specialist and, at the same time, be able to address those objectives that can help me grow professionally.
With my goals in mind, I am aware of the aspects and conventions of my target market. According to Trantopoulos et al., many companies involved in the IT industry "should coordinate strategies for sourcing external knowledge with specific IT investments in order to improve their innovation performance" (287). In other words, the rational use of the intellectual base can be the key to productive work and sustainable innovation, which is important for the IT field. Professional opportunities for me lie in the possibilities of utilizing my potential to help my company use available resources and gain leadership in a competitive market. In addition, due to the dynamic development of this industry, I believe that in the future, I will be able to operate with more advanced materials and digital projects since technology does not stand still. Participation in various projects can become a background for new and useful acquaintances and build my individual image. Thus, given the aforementioned goals, my current specialization is promising for my professional growth and may contribute to expanding my social circle due to constant communication with various specialists and participation in numerous IT projects.
Marketing and Implementation Strategy
When applying for a job as a specialist in the field of IT business management, I know what I can offer my future employers. Having an extensive academic background, I will be able to prove my professional suitability since the possession of theoretical knowledge shapes a significant share of success. Despite my lack of practical skills, I know which strategies I will promote as operational approaches designed to enhance the company's performance and, consequently, improve its competitiveness. As a participant in various individual and team projects, I am aware of the different development and growth scenarios that modern IT firms pursue. In addition, this knowledge is a valuable resource to address not only corporate interests but also social needs. I plan to continue to engage in self-education and individual research, including in the field of integrating modern digital developments into different aspects of life. Such an initiative can help address some pressing issues, for instance, optimizing infrastructure facilities or establishing internal databases in municipal facilities. Therefore, I believe that I can be useful both to my future employers and to society.
This is not easy for me to compare myself with other UAE students and talk about my merits compared to their ones. Nonetheless, I am aware that my productivity and diligence may help me distinguish myself and show my readiness for active work and career building. What I can use for my own purposes is the accumulated theoretical experience, which, supplemented by the desire for success, can contribute to my professional growth. With regard to the broader populace, I can confidently say that I have enough information to develop business management in the IT industry and offer relevant ideas for optimizing this field. I intend to interact with different companies to submit my candidacy for consideration and acquire professional contacts. This will help me declare myself more effectively and will become an effective tool to distinguish my role against the background of other young professionals hoping to get positions in prestigious firms.
Risks and Mitigation
To achieve my goals successfully, I have identified the key checkpoints to reach. To begin with, I need to obtain a degree in my current specialization to become a certified applicant and be able to get the desired position. After that, I view getting a job as an important aspect of my future life. I consider each subsequent promotion up the career ladder a reasonable confirmation of the invested effort and time, and for me, one of the significant checkpoints will be getting a leadership position. As a potential prospect, I am thinking about further training and taking additional courses or programs in related industries, which will also be valuable steps toward building my career.
Success indicators are the markers demonstrating that all the goals set have been achieved comprehensively and with the maximum possible result. For instance, obtaining an academic degree with good references is an important prospect to which I aspire. Getting a position in a successful company with ambitious goals and sufficient assets to achieve the assigned tasks is another indicator that may prove my successful employment. Effective communication with colleagues who support my candidacy for a management position is the result of high-performance work in the team, which also emphasizes the effect of the effort invested. All these markers reflect my vision of what a successful career path can be.
Despite my best efforts, some external factors may affect my success and become circumstances that cannot be influenced. For instance, if my employment in the desired company coincides with the period of active recruitment of new employees by its HR department, this will be a plus for me. Another example of the positive influence of external aspects is the rapid finding of a common language with colleagues through psychological connection and similar thinking. However, there are some factors beyond my control, which can prevent me from being successful. For instance, in the absence of effective management and disregard for modern principles of building diverse teams, I, as a young female employee, may face bias and gender discrimination. Another example of negative externalities may be associated with the financial difficulties of my future firm, which can go bankrupt if unable to repay bank loans or address debt obligations. Nevertheless, I plan to be careful when choosing a job to avoid interference from external factors.
To be on the safe side, I need to have contingency and risk mitigation strategies. Firstly, I will monitor the situation in the labor market to have an idea of other​​ companies' activities. This will help me leave my current job timely if I encounter bias or other unethical principles of professional interaction and apply them to a new firm. I also intend to establish working relationships with representatives of different IT fields to know their areas of ​​interest and be aware of what I can be useful as a specialist with my background. This is also true if, for some reason, I do not find a common language with colleagues and do not manage to realize my full potential. Completing additional educational courses is an alternative form of a risk mitigation strategy since, having proven knowledge in a new field for me, I will be able to expand the range of my employment opportunities. These plans are essential to have to protect me from unforeseen situations.
Entrepreneurial Ethics, Personal "Board of Directors," and the Six-Word Summary
Working in my industry requires collaborating with other people because the IT industry is dynamic and constantly evolving, and without regular interaction, I can miss important trends. Thus, to maintain productive communication, this is crucial to follow generally accepted ethical standards so as not to disturb the favorable microclimate in the team. For instance, I intend to treat my colleagues with respect and impartiality and not humiliate people's personal dignity by openly pointing out their weaknesses. In addition, I plan to be honest with managers and other employees, which is also a show of respect. I will not break the law for my own benefit, and I will not participate in projects that may harm the reputation of my company. I fear that I will not live up to the responsibility entrusted to me; therefore, I will do my best to keep workload promises and approach each task responsibly.
For me, following ethical principles is a critical condition, especially after one incident in my past. As a high school student, I took the initiative to prepare a talk on the IT topic for the city conference. My scientific advisor explained to me all the terms and requirements, but since there was much time left, I decided to postpone this task. However, being puzzled by other things, I forgot about the upcoming conference and only remembered about it the day before it after an email from my supervisor. I had to prepare a report urgently, and the next day, it was one of the worst performances. I was ashamed of myself but even more ashamed of my scientific advisor, who had vouched for me. With this failure in mind, I try to justify the responsibility entrusted to me and respect time frames.
In pursuing one's own path, this is essential to not only focus on personal ambitions but also remember others' experiences. If I faced the choice to interact with specific people, be they alive or from past eras, and receive advice and mentoring from them, I would have three candidates. One of them would be Alexander the Great, the honored commander and conqueror who, due to his courage and ambition, was able to create one of the largest empires of all time. His strong character and sharp mind inspire me, and I would like to know how he managed to unite entire nations at his young age. Another person I would trust is Woodrow Wilson, the President of the United States during World War I. Due to his composure and clear goals, he managed to develop a plan to get the country out of the crisis. I would like him to give me sound advice on how to best use strategic management approaches.
Finally, another person I would also choose as my mentor is Elon Musk, the world-renowned entrepreneur and CEO of SpaceX. His leadership ambitions have allowed his products to conquer the global market and become flagship brands. I am interested to know exactly how he went to success, what words he chose for his subordinates, and what creative approaches to management he used at the beginning of his career.
To summarize my personal business plan, I want to utilize the six-word rule that can help describe my qualities and aspirations briefly and succinctly. I would describe myself in the following words: "ambitious employee, responsible colleague, loyal manager." These qualities are important to me in my future career, and I intend to achieve my goals in the coming years to prove to myself that I have not made efforts in vain.
Trantopoulos, Konstantinos, et al. "External Knowledge and Information Technology: Implications for Process Innovation Performance." MIS Quarterly , vol. 41, no. 1, 2017, pp. 287-300.
Cite this paper
Chicago (N-B)
Chicago (A-D)
StudyCorgi. (2022, November 23). Creating Personal Business Plan. Retrieved from https://studycorgi.com/creating-personal-business-plan/
StudyCorgi. (2022, November 23). Creating Personal Business Plan. https://studycorgi.com/creating-personal-business-plan/
"Creating Personal Business Plan." StudyCorgi , 23 Nov. 2022, studycorgi.com/creating-personal-business-plan/.
1. StudyCorgi . "Creating Personal Business Plan." November 23, 2022. https://studycorgi.com/creating-personal-business-plan/.
Bibliography
StudyCorgi . "Creating Personal Business Plan." November 23, 2022. https://studycorgi.com/creating-personal-business-plan/.
StudyCorgi . 2022. "Creating Personal Business Plan." November 23, 2022. https://studycorgi.com/creating-personal-business-plan/.
StudyCorgi . (2022) 'Creating Personal Business Plan'. 23 November.
This paper was written and submitted to our database by a student to assist your with your own studies. You are free to use it to write your own assignment, however you must reference it properly.
If you are the original creator of this paper and no longer wish to have it published on StudyCorgi, request the removal .
Entrepreneurship: Making a Business Plan Essay
A business plan is regarded as an entrepreneurs' 'road map' to realize a successful business. It describes the current status, future needs, and expected outcomes of the venture. It includes multiple parts, starting from project overview and finishing with financial strategy and timetable. Despite being rather extensive in size, it holds various benefits and is essential for those who consider initiating a new business.
We will write a custom Essay on Entrepreneurship: Making a Business Plan specifically for you for only $11.00 $9.35/page
807 certified writers online
A business plan aims to explain its marketing strategy, research & development, management issues, possible risks. The effective plan presents a comprehensive business development model with detailed descriptions of its main facets (Kuratko, 2016). The description of the business processes is merely a part of it. The plan's central focus is realizing the proposed models and the firm's transformation into a prosperous company.
A business plan is a document that performs the operational and managerial functions of the venture. Its main benefit is that it allows the entrepreneur to avoid some of the problems that can potentially arise during its implementation (Kuratko, 2016). There are other advantages of a business plan for the entrepreneur; for example, he gains an objective and clear understanding of his venture due to the amount of time and effort spent conducting research and analyzing the business critically. Besides, the entrepreneur conceives all assumptions about the venture's success (Kuratko, 2016). And, finally, a business plan is a mechanism that helps communicate with investors and lenders and receive financial support.
Overall, a business plan is fundamental for creating and developing a business. Considering that starting a business resembles a lottery, preparing a business plan raises the odds. If planned carefully, it is advantageous for owners because it ensures critical analysis of their venture, reduces the risks, states assumptions, and serves as a communication tool for outside financing.
Kuratko, D. F. (2016). Entrepreneurship: Theory, process, and practice . Cengage Learning.
Need a custom Essay sample written from scratch by professional specifically for you?
Chicago (N-B)
Chicago (A-D)
IvyPanda. (2022, August 16). Entrepreneurship: Making a Business Plan. https://ivypanda.com/essays/entrepreneurship-making-a-business-plan/
IvyPanda. (2022, August 16). Entrepreneurship: Making a Business Plan. Retrieved from https://ivypanda.com/essays/entrepreneurship-making-a-business-plan/
"Entrepreneurship: Making a Business Plan." IvyPanda , 16 Aug. 2022, ivypanda.com/essays/entrepreneurship-making-a-business-plan/.
1. IvyPanda . "Entrepreneurship: Making a Business Plan." August 16, 2022. https://ivypanda.com/essays/entrepreneurship-making-a-business-plan/.
Bibliography
IvyPanda . "Entrepreneurship: Making a Business Plan." August 16, 2022. https://ivypanda.com/essays/entrepreneurship-making-a-business-plan/.
IvyPanda . 2022. "Entrepreneurship: Making a Business Plan." August 16, 2022. https://ivypanda.com/essays/entrepreneurship-making-a-business-plan/.
IvyPanda . (2022) 'Entrepreneurship: Making a Business Plan'. 16 August.
Leadership Research & Development Questions
Research & Development in Modern Business World
The Pros and Cons of the Oklahoma Lottery
DISC Personality Test and Action Plan & Timetable
UTi Worldwide Company's History
"An Enquiry Concerning Human Understanding" by David Hume
Why the Lottery is Useful to Society?
Shirley Jackson's "The Lottery": Elements of the Story
Suspense Narrative in "The Lottery" by Shirley Jackson
The Psychology of Lottery Gambling
Incident Management, and Security Training Capacities for the Enterprise
Technology and Innovation: Entrepreneurial Action Research Project
Starting a Business Enterprise
Lean Start-Up Entrepreneurial Venture Development
Cooper's Stage-Gate Model Analysis
The Essay Writing Experts US Essay Experts
Disclaimer: This is an example of a student written essay. Click here for sample essays written by our professional writers.
View full disclaimer
Any opinions, findings, conclusions or recommendations expressed in this material are those of the authors and do not necessarily reflect the views of UKEssays.com.
A Template for a Business Plan
Reference this
Executive Summary
If you need assistance with writing your essay, our professional essay writing service is here to help!
The Business
Market demand, competition and strategy.
Financials and Forecasts
Note 1 – Assuming that the business has chosen segments that already exist in the market – the market size would be readily available by adding the turnover of potential competitors with the same segment. Otherwise a simple multiplication of the proposed price of the product by the size of the market (number of customers in the market) would suffice in estimating a market size.
Note 2 – If it is an existing market, the information as to the growth trends of the market would be available on the internet (it is important to use a reliable source such Financial Times or Bloomberg). The average rate growth rate can then be used to predict the market growth rate for the next 3 years for each segment. Assuming that the growth rate remains constant makes it easier.
Note 3 – To determine the forecast market size in the next three years, the, the growth rate of the market size over the last three years could be examined to arrive at an average figure which can then be used to forecast the market size in the next three years.
Note 4 – The competitive position of the company in the next three years on a scale of 0 -5 (5 being the highest) may be determined by figuring out how much market share the company can realistically acquire in each year. For example if the company is starting up the fourth mobile phone network in a country that already has three, it is unlikely that the company would have a 25% market share in three years, rather it may have between 8-10% following an intensive marketing campaign (Evans, 2010).
Note 5 – as explained in note 4.
Note 6 Likely revenue should be informed by the market size divided by the market share and then multiplied by the price per unit of the product. The revenue forecast in 3 years' time should be determined by the growth rate of the market and the market share of the company.
Cite This Work
To export a reference to this article please select a referencing stye below:
Related Services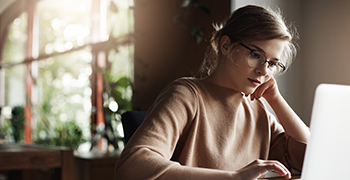 Essay Writing Service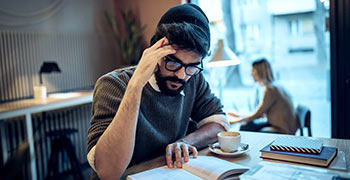 Dissertation Writing Service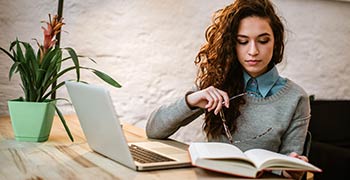 Assignment Writing Service
DMCA / Removal Request
If you are the original writer of this essay and no longer wish to have your work published on UKEssays.com then please:
Our academic writing and marking services can help you!
Find out more about our Essay Writing Service
Undergraduate 2:2
7 day delivery
Marking Service
Samples of our Service
Full Service Portfolio
Related Lectures
Study for free with our range of university lectures!
Accounting Lectures
Business Lectures
Economics Lectures
Finance Lectures
All Available Lectures

Freelance Writing Jobs
Looking for a flexible role? Do you have a 2:1 degree or higher?
Study Resources
Free resources to assist you with your university studies!
Business Lecture Notes
How to Write an Essay
Essay Buyers Guide
Referencing Tools
Essay Writing Guides
Masters Writing Guides
Search Support Articles
*You can also browse our support articles here >
Change Region / Country
Here you can choose which regional hub you wish to view, providing you with the most relevant information we have for your specific region. If your specific country is not listed, please select the UK version of the site, as this is best suited to international visitors.
United Kingdom
United States
United Arab Emirates
Saudi Arabia

How to Write a Business Plan
(Updated on January 16, 2023)
W riting a business plan is an important step in the process of starting your own business. By writing a business plan, you can develop a clearer idea of how you intend to make your business successful. In addition, with the help of a well-written business plan, you can secure financing to help get your business started.
There are four sections that you must include in a business plan:
a description of the business;
how you intend to market your business;
how you'll finance your business;
how your business will be managed.
When describing the business that you intend to establish, you should provide detailed information regarding what your business will offer and what sets it apart from the competition. In order to accomplish this task, you'll also need to research businesses that you consider to be competitors. Your business plan should include detailed information about your competitors, as well as how your business compares.
Let Us Help You!

Private, perfectly formatted MS Word files!
Your business plan report should also describe your marketing plans, such as whether or not you'll use direct mail campaigns, radio advertisement, Internet marketing, etc. Within this section of the business plan, you should discuss your target audience and why you believe that your marketing plan will effectively help you to reach this audience.
A thorough business plan must also include a description of the business's operating procedures. This will include the management layout and who will be responsible for which aspects of the business. This section may also describe the personnel that you'll need to effectively run the business, including how many employees are required and the various roles that will need to be fulfilled.
If you must still acquire financing to get your business off the ground, your business plan writing should include information regarding exactly how you intend to obtain the financing. This portion of the business plan should also detail the type of business insurance that you'll cover, including the categories of coverage that your business will carry.
Your financial information should also provide a detailed forecast of your projected profits and losses over the next few years. You should include a three-year summary, month-by-month expectations, and what you anticipate from your business after the first year.
Along with the written portion of the business plan, you should include a variety of different supporting documents. For example, you should include any tax returns for principles over the last three years, as well as any letters of intent that you have received from suppliers or other important business contacts. You should also include any legal documents, including copies of your licenses and lease agreements. Finally, if you're getting involved with a franchised business, you'll need to include a copy of the franchise contract and any documents that you have received from the franchiser.
Business Plan Writing
I t is likely that a student majoring in business will have to complete at least one business plan during the course of his/her degree. Many students will encounter a business plan for the first time in upper-level business classes, and despite the fact that they possess many of the skills needed to design such a plan, will be unsure of how to write a business plan. However, there are many existing models for how to write business plans that will help students successfully compose their own. These models vary depending on the business plan objective, so it's likely that a student's business professor will issue a particular model that he/she deems appropriate for the course.
A business plan is significantly different from other types of college work. Some students who are unsure of how to write a business plan tend to approach the project in the same way as they would a research or report. This should be avoided. Business plans are detailed documents that present a strategic approach to a business operation. They are therefore not papers such as a student may be used to writing, but rather practical guides that outline the operation of a business and reveal the business plan writer's knowledge of a variety of business skills and applications .
One of the most important things to consider when learning how to write business plans is the purpose of such plans. Business plans are composed by business owners to assist in the development of their business and by prospective business owners to attract investors to fund a start-up business. Therefore, a student's business plan should direct the plan to its intended (though fictional) audience: business partners and/or possible investors. The business plan should aim to inform and persuade this imagined audience.
As mentioned, most students need not worry about the organizational aspect of how to write business plans, as it's likely that a student's instructor will recommend a particular model. This model will likely be some variation of the following structure: (1) an executive summary, (2) an overview of the company, (3) a description of the company's services and/or products, (4) a market analysis, (5) details of the management structure of the business, and (6) a description of the business' projected finances.
An executive summary is in essence an outline of the business plan written out in sentences rather than in outline structure. This should be the first page of the document, and serves the same purpose as an abstract—it gives the reader a complete overview of the contents of the plan. The details of the plan will be presented in the remainder of the text.
After the executive summary, the business plan will likely present a description of the company. This includes explaining what type of business the company is, where it's or will be located, where the business fits in among other similar businesses, and why the business plan writer believes it will be profitable.
The plan will then provide a detailed description of the company's services and/or products and why those services and products are marketable. This shouldn't merely include the business plan writer's opinions, but should point to market research that indicates why the product or service will be successful. This section should also indicate the price and profit margin of the product or service.
The market analysis section of a business plan identifies who will buy the product or service and why they're likely to buy it. To do this effectively requires the business plan to point to case studies of similar businesses or business models. It may also require the inclusion of detailed information about the target consumers' purchasing habits and the business' competition.
Every business plan should include a description of how the business will operate. This should offer details of the management positions the company will have and the specific roles of each of those positions. The business plan should close by projecting the costs of implementing the plan and the profitability of the company once the plan has been implemented.
If students aren't confident in how to write a business plan, they should read professional business plans in order to become familiar with the conventions of the form. It is likely that a business library will be able to provide these to interested students.
Business Plan Example
A business plan example is a complete or partial business plan that's distributed as a model for individuals unfamiliar with business plan writing. Business plan examples are provided by writing reference sources, business how-to Web sites, business schools, business libraries, and business professors. Business plan examples can be an excellent reference point for individuals who are new to writing business plans; however, as business plan examples are, like most examples, very general, they're intended to display the basic model of business plan writing. Actual business plans will likely be far more detailed and specific as they will be directed toward a particular audience and designed for a particular business idea.
A business plan example is most useful for its indication of the structure and general content of a business plan. Though business plans will vary, they follow a general format comprised of several sections related to the operation of a business. This format will likely be some variation of the following structure: (1) an executive summary, (2) an overview of the company, (3) a description of the company's services and/or products, (4) a market analysis, (5) details of the management structure of the business, and (6) a description of the business' projected finances. The order of this structure will differ from example to example, with the exception that the executive summary will likely always come first, as it's an overview of the information included in the plan. Business plan writers can select a structure based on the example they find best suited to their particular aim. However, business students who are composing a business plan for a class should always use the example provided by their instructor, as it's likely that the instructor considers the particular example he/she provided to be the best model.
Two of the most important considerations when completing a business plan are audience and purpose—who is going to read the plan, and what the business plan writer hopes the outcome of the plan to be. Therefore, the best business plan examples are those that are geared toward the same audience or industry as those for which the business plan writer intends to write. An individual preparing a business plan for an independent cosmetics boutique looking for investors has a different audience and purpose than an individual preparing a business plan for a toy store franchise. These individuals would benefit more from a business plan example that has a similar audience or purpose to their own. This way, the business plan example will provide the writer with more and specific details and guidance.
Business Plan Content
A business plan is a detailed outline explaining an approach to a business' operation. Business plans are composed by existing business owners to assist in the development of their business and by prospective business owners to attract investors to fund a start-up business. Because they're an important document in the business world, it's likely that undergraduate and graduate students majoring in business will have to complete at least one business plan in the course of their studies.
It is important for business students to realize that a business plan is radically different from other types of college and graduate-level work. It isn't an assignment, in the standard sense of the term. It requires extensive research, planning, and revision in the same way that a paper would, but its purpose and appearance are very different. A business plan isn't completed to argue a position or demonstrate the writer's grasp of a specific business concept. It is, rather, a practical guide that outlines the operation of a business and reveals the business plan writer's knowledge of a variety of business skills and trends.
Business plans completed for a college or graduate course should follow the explicit format requirements issued by the instructor. This format will likely include some variation of the following structure: (1) an executive summary, (2) an overview of the company, (3) a description of the company's services and/or products, (4) a market analysis, (5) details of the management structure of the business, and (6) a description of the business' projected finances.
An executive summary is simply a summary of the business plan. It is essentially an outline of the entirety of the plan written out in sentences rather than in outline structure.
Following the executive summary, business plans frequently begin the detailed portion of the plan by presenting a description of the company. This includes explaining what type of business it's (retail, service-based, etc.), where it will be, where this business fits in among other similar businesses, and why the business plan writer believes it will be profitable.
Next, the plan will describe the company's services and/or products and why those services and products are marketable. This shouldn't merely include the business plan writer's opinions, but should point to research that suggests why the product or service will be successful. It should also outline a pricing structure.
The market analysis section of the business plan should also rely on research. This section identifies who will buy the product or service and why they're likely to buy it. To do this effectively requires the business plan to point to case studies of similar businesses or business models. It may also require detailed information about the target consumer's purchasing habits and the business' competition.
Every business plan should include a description of how the business will operate. This should offer details of the management positions the company will have and the specific roles of each of those positions.
Finally, the business plan should close by projecting the costs of implementing the plan and the profitability of the company once the plan has been implemented.
Business Plan Outline
W henever an individual or a partnership wants to open a business, it will have to complete a business plan. The business plan isn't only an essential document for ensuring the success of the business, but it's also the document that will be used in order to solicit support for the business from investors, partners, clients, and other entities. In order to complete an effective business plan, it's important to start with a business plan outline.
Many students will have to learn how to write business plan outlines during their academic careers —especially students in undergraduate and graduate business programs. A business plan is similar to many other types of academic documents that a student should know how to write. However, business plans must include plenty of research, projections, and background information.
There are many different business plan formats. Because there are so many formats, many people begin by finding a business plan outline that has the appropriate sections for their needs. When people start with a business plan outline, they simply need to fill in the sections of the outline, rather than starting the business plan writing from scratch.
Each different type of business may have unique business plan outline fields . For example, a business plan for a restaurant may require sections devoted to the menu, cost of food, cost to build out the kitchen area, depreciating food asset projections, and more. The business plan for a services company may not require as much financial information, especially financial information about depreciating assets.
In order to find the right business plan outline for a particular business, many individuals search online through business plan outline databases. Many databases provide separate outlines based on the category of business. Some outlines are more comprehensive than others. Additionally, some business plan outlines are focused on helping individuals raise capital for the business, and, therefore, have more fields for financial information and projections.
Whenever students have to work on their own business plan outlines, they need to keep in mind that a business plan outline not only requires an explanation of the business industry, experience of founders, financial situation and current situation, but it should also contain information about industry trends, financial projections, economic and environmental projections, and more. Therefore, unlike many other academic documents that students will need to write objectively and based solely on proven fact, learners will need to use some creative thought when writing business plan outlines so that they can predict probable (or possible) outcomes.
Free Sample Business Plans
A business plan is a practical guide that outlines the details of a proposed business or business operation. A free sample business plan is a business plan provided free of charge by an institution, organization, or individual. Free sample business plans are distributed to serve as models or guidelines for individuals unfamiliar with how to write such plans; free sample business plans are therefore not templates to be copied, but rather general guides to be used and modified as the business plan writer sees fit.
Free sample business plans are often distributed by business schools, online resources for developing business models, and instructors of business classes. A free sample business plan will often point out important structural, stylistic, and informational aspects of business plans so that students can learn how to incorporate these aspects into their own plans. For instance, the sample may point out the various sections of the plan and their organization. A business plan will typically be organized into some variation of the following structure: (1) an executive summary, (2) an overview of the company, (3) a description of the company's services and/or products, (4) a market analysis, (5) details of the management structure of the business, and (6) a description of the business' projected finances. The sample plan will likely go through the specific elements necessary for each of these sections and explain the importance of each section and the information the reader of the plan expects to gain from it. Free sample business plans may also make note of the way in which the writer of the plan incorporates research to bolster the validity of the plan, as well as the type of language and syntax the writer uses.
When using a free sample business plan as a model, learners should use the guidance of several different samples. All business plans will be different depending on the needs of each writer's business idea; it's therefore wise to determine how several different business plan writers executed their plans so that the student can see how those various plans modify the basic business plan structure to accommodate the needs of their specific intentions. Furthermore, it may be helpful for students and other new business plan writers to draw primarily from sample business plans that are for businesses similar to their own proposed ideas. This will help the student determine how to tailor the business plan to his/her particular audience and industry.
Small Business Plan
I t is a business "best practice" to have a business plan in place prior to opening a business. A business plan is a basic road map for the direction of a business. It not only describes how a business will operate and receive revenue, but it also provides information about the metrics that will be used to determine how successful a business is. Even small businesses require small business plans in order to run effectively.
A small business plan is easy to write. Each business owner gets to determine just how extensive his/her small business plan should be. For example, some business owners pay great attention to the details of their plans, especially if they're seeking funding for their businesses. In such a case, they may need to include marketing data, market data, profiles of the operators of the business, and more. Lenders want to know that small business owners have done their due diligence to determine that a business has a good chance of being successful.
Some business owners may have shorter and less thorough business plans, especially if their businesses are self-funded. These business plans may only include a few paragraphs about what the business is and how it's operated. Even these short small business plans will provide guidance for a business owner as he/she pursues the business development.
While all small business plans are different, one of the major components that should be included is a description of the business. If a business owner wants to open a clothing store, the business plan should include information about the clothing store, such as whether or not it's a franchise or a boutique.
All small business plans should also include information about how the business will get revenue. For example, will be primary revenue stream be clothing sales through the store or online? Will the store have annual sales or events to boost sales? Business owners need to take some time to think about these variables.
A small business plan isn't the same thing as a business proposal, though they're similar. A business proposal is a physical/visual document that proposes a certain business to partners or funders. A proposal, essentially, asks for help or partnership. However, a small business plan is a statement about what a business is and how it will operate. It isn't as conceptual as a business proposal.
Business Proposal Paper
H ere is a simple approach to help you cover all the bases when learning how to write a business proposal paper. For each section/requirement that you must address, make sure that you answer: who, what, where, how, when, and why. Repeat it until it rolls off your tongue and you have it memorized.
Who: who will do the work, who will manage the work, who does the customer call if there's a problem, who is responsible for what
What: what needs to be done/delivered, what will be required to do it, what can the customer expect, what it will cost
Where: where will the work be done, where will it be delivered
How: how will be work be done, how will it be deployed, how will it be managed, how will you achieve quality assurance and customer satisfaction, how will risks be mitigated, how long will it take, how will the work benefit the customer
When: when will you start, when will key milestones be scheduled, when will the project be complete, when is payment due
Why: why have you chosen the approaches and alternatives you have selected, why the customer should select you
This simple phrase ( who, what, where, how, when, and why ) can help you ensure that your business proposal research paper communicates everything needed to "answer the call." For each of the customer's requirements, go through the list and you'll probably have everything covered. You can use it for inspiration when writing, and you can use it like a checklist for reviewing a draft proposal.
How to Write an Executive Summary
L earning how to write an executive summary is no simple task. An executive summary is a short piece of writing that summarizes a business research paper. It allows an executive to determine, in a very short amount of time, things such as: whether the business research paper is worth reading in its entirety, what the basic points are, and what the conclusion is. While an executive summary does notin and of itselfhave enough information on which to base any definitive action, it gives the reader a good sense of the topic so that if there's a reason to read further, the document being summarized can be scanned for facts, statistics, and details relevant to whatever is being discussed or considered.
One common situation in which an executive summary essay is used is when you're completing a business plan to show to potential investors. Because the amount of time that investors have to look at your proposal is limited, they will expect an executive summary when you present your business plan so that they can prioritize your plan on their list of reading, and quickly determine whether or not the plan you have devised is something that they should devote further attention to. An executive summary is the most carefully written part of your business plan, and should be perfectly clear. Any kind of advanced details regarding the topic should be left to the business plan itself; an executive summary is simply a kind of outline to give a sense of the contents of the plan.
The executive summary should always be one page in length or shorter. It should be possible to read the executive summary in less than a minute and understand the overall business plan. To get started with your executive summary, introduce the industry at which your business is targeted, describe the niche in the market that your business plan is designed to cover, and/or identify the problem that your plan is designed to address or solve. It is important to give the reader a sense of the other solutions that have been offered for the same problems during your overview of the market. Explain how other companies have developed approaches and how the approach for your company will have an advantage over theirs. As in the business proposal itself, you should be able to demonstrate through your research and with solid reasoning how the report that you have devised is superior to others and the one that money should be invested into. Again, don't give examples or detailsthose are saved for the backup materials such as the plan itself and the appendices. Also, keep in mind the specific audience that you're writing the executive summary for. If the summary is being written for investors, you should give them a sense of the kind of return expected on their investment and what kind of time frame you're giving them for an exit. If the summary is for a plan that will have internal use, it should explain how company goals will be met by carrying out the plan. Keep things simple, and know your audience, and your executive summary will be able to meet its intended goal.
Instructional Tutorial About How to Communicate … Successfully

We'll follow your exact instructions! Chat with the writer 24/7.
Related Essays:
Business Plan for the Farmery Business Plan …
Business Plan Product Description Market Analysis Demographics Regulatory Environment Competition Marketing Plan Market Penetration Strategy Advertising Media Management Plan Company Organization Company Philosophy Personnel Policies Training Record Keeping Manufacturing Plan Financial Pro-Formas Risk Analysis The Farmery is a startup venture in Raleigh, NC. It combines a small greenhouse and mushroom production operation with a retail outlet. The company is focused on the medium- to high-end of the highly competitive and fragmented retail market in the area. The company's main competitive advantage is its unique production and distribution set up, which is not only attractive for its uniqueness, but helps it to deliver fresh product to consumers, and do it at a much lower cost than other companies are able to deliver. The company believes that…
15 pages (4,066 words) · Business Plan · Business / Corporations / E-commerce · 15 Bibliography Sources
Business Plan for a Company Business Plan …
Business Plan IDC Interiors aims to open a small business venture with the aim to attract clients as much as this venture can of both types of customers (residential or commercial) by offering unique, comprehensive, environment-friendly and comfortable, interior design services for them. The aim will be to completely satisfy the target market which includes the residential and commercial residents in Auckland. IDC Interiors complement the interior design structures by not just providing a sense of aesthetic distribution of space but also offer services that will optimally use furniture, fabric, electrical and heating structures as well as accessories (Schultz et al., 2000). IDC company will be the first company in Auckland which combine selling furniture and providing interior design services. The company will provides a…
12 pages (3,240 words) · Business Plan · Business / Corporations / E-commerce · 5 Bibliography Sources
Business Plan for an Imaginary Software Company Business Plan …
¶ … business plan for an imaginary software company, Techno soft which aims to enter South Asian market as a part of its international business expansion strategy. The paper is divided into different sections. The first section presents an ample introduction to the company; its location, products, mission, vision, and strategy, the source of competitive advantage, and the nature of business opportunity which it wishes to avail in the new market. The second section presents environmental and industry analysis of the firm using different tools; like PEST Analysis, Five Forces of Competition, CAGE Model, and future outlook. The third section is dedicated for the marketing plan of the company which describes the company's target market and marketing mix strategies. The fourth section presents an organizational…
16 pages (5,030 words) · Business Plan · Business / Corporations / E-commerce · 16 Bibliography Sources
Business Plan for a Financial Business Plan …
Therefore, CleanDivision will have to set new international strategies while setting up its business in new geographical locations. B4: Management Structure: The ownership of the CleanDivision business is in the hands of both the partners. Michael Kothakota is the majority shareholder in the firm with 51% shares whereas Mike Programmer is the second major shareholder with 49% shares. The Management functions for the firm will be performed by both the partners. Planning and decision making, leading, staffing, organizing, and controlling of the firm's business will be done by the partners with mutual understanding, experience held, and the analysis of the present situation. The major shareholder, Mr. Michael Kothakota is a Certified Divorce Financial analyst and has gained experience with more than 60 attorneys. He also…
25 pages (6,850 words) · Business Plan · Business / Corporations / E-commerce · 10 Bibliography Sources
Business Plan for Online Retailer Business Plan …
Business Plan for Internet Site Selling Women's Clothes Business Plan for Online Retailer Any firm willing to initiate its business operations at the online platform needs to conduct a full-fledged analysis of its internal and external environment. Similarly, it has to develop a comprehensive business plan to enter the market in an effective and competitive way. A business plan consists of an analysis and description of the venture, identification of the target market, statement of financial needs (estimation of the preliminary expenditures), marketing plan (including the marketing mix strategies), production planning, organizational planning, assessment of internal capabilities, weaknesses, opportunities, and potential risks (in the light of SWOT analysis), financial forecasting, and activity timeline. A well-designed business plan helps a company's Management in evaluating and implementing…
4 pages (1,160 words) · Business Plan · Business / Corporations / E-commerce · 5 Bibliography Sources
View 1,000+ other related papers >>
Mon, Mar 13, 2023
5-Day Trial for $8.97
Write a Paper for Me!
Paper Topics
Paper Editing Service
Writing Samples
Essay Writing Tutorials
Info / FAQ / Guarantee
Beware of Copycats!
Listen to our radio ad!

Text (super fast):
1-650-585-0005
EssayTown.com © and ™ 2001–2023. All Rights Reserved. Terms & Privacy

TEXT: 1-650-585-0005
Download 2,000,000+ Papers
Avoid Copycats!
Listen to our radio music ad