Home — Essay Samples — Government & Politics — John F. Kennedy — Rhetorical and Literary Devices of John F. Kennedy's Speech

Rhetorical and Literary Devices of John F. Kennedy's Speech
Subject: Government & Politics
Category: Presidents of the United States
Essay Topic: John F. Kennedy
Words: 1133
Published: 20 May 2018
Downloads: 140
Remember! This is just a sample.
You can get your custom paper by one of our expert writers.
121 writers online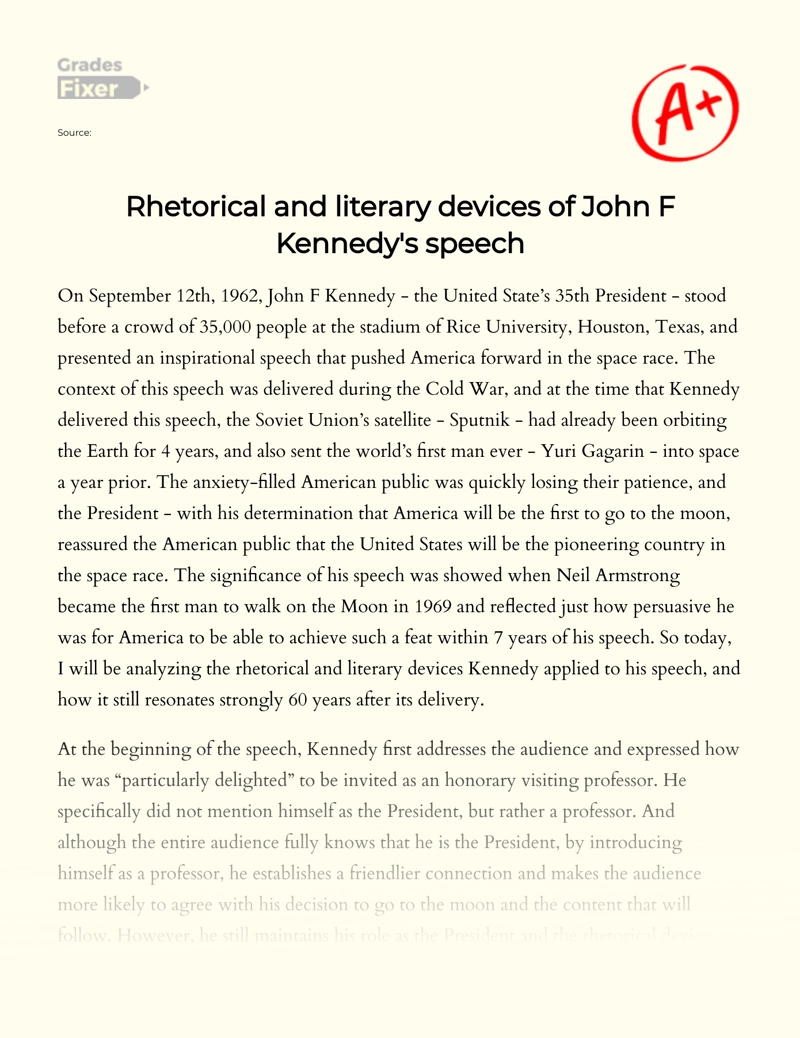 Remember: This is just a sample from a fellow student.
Related Essays
John F. Kennedy was the 35th president of the United States of America. He served for 2 years and on the day of his inauguration, he gave an inaugural speech in Washington D.C. In this speech, he used many rhetorical strategies [...]
The Second World War was an international conflict fought from 1939 to 1945 involving Germany, Italy, and Japan, who were known as the Axis powers, and France, Great Britain, the United States, and the Soviet Union, who were [...]
Former President John F. Kennedy in his Presidential Inaugural Address, delivers a hopeful, inspiring speech about the actions he will take and the actions he expects citizens to take to achieve world peace. Kennedy's purpose [...]
The 35th president of the United States, John F. Kennedy, in his first Inaugural Address, aims to inspire Americans by outlining his plans for the future as he is being sworn into office. Kennedy's purpose is to gain the [...]
June 26, 1963, post WWII, a time were the United States and the Soviet Union were the world's superpowers. The two powers fought a war of different government and economic ideologies known as the Cold War. During the time of the [...]
John Fitzgerald Kennedy (JFK) was the 35th president of the United States from January 1961 until his assassination in November 1963 while travelling through Dallas, Texas in a motorcade. Throughout his presidency JFK was [...]
On November 22nd of 1963 tragedy struck the United States and made global headlines. John F. Kennedy, the 35th president of the United States, had been assassinated while on a motorcade through Dallas, Texas – accompanied by [...]
In his Gettysburg address, Abraham Lincoln does a great job by expressing a lot of information about saving the country. He also points out what those who died were fighting for during his speech. Pericles talks more about the [...]
President Abraham Lincoln began the task of reconstructing the Confederate states in order to reunify the North and the South well before the Civil War ended. As Union forces gained control of the Mississippi River by capturing [...]
Find Free Essays
We provide you with original essay samples, perfect formatting and styling
Cite this Essay
To export a reference to this article please select a referencing style below:
Related Topics
By clicking "Send", you agree to our Terms of service and Privacy statement . We will occasionally send you account related emails.
Where do you want us to send this sample?
By clicking "Continue", you agree to our terms of service and privacy policy.
Be careful. This essay is not unique
This essay was donated by a student and is likely to have been used and submitted before
Download this Sample
Free samples may contain mistakes and not unique parts
Sorry, we could not paraphrase this essay. Our professional writers can rewrite it and get you a unique paper.
Please check your inbox.
We can write you a custom essay that will follow your exact instructions and meet the deadlines. Let's fix your grades together!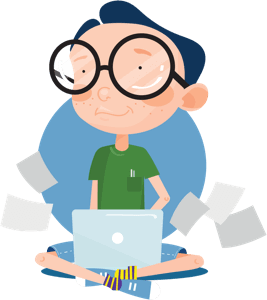 Are you interested in getting a customized paper?
We use cookies to personalyze your web-site experience. By continuing we'll assume you board with our cookie policy .
We can help you get a better grade and deliver your task on time!
Instructions Followed To The Letter
Deadlines Met At Every Stage
Unique And Plagiarism Free
What are your chances of acceptance?
Calculate for all schools, your chance of acceptance, your chancing factors, extracurriculars, next step: add more factors to complete chancing.
How to Write the AP Lang Rhetorical Essay
Do you know how to improve your profile for college applications.
See how your profile ranks among thousands of other students using CollegeVine. Calculate your chances at your dream schools and learn what areas you need to improve right now — it only takes 3 minutes and it's 100% free.
Show me what areas I need to improve
What's Covered:
What is the ap lang rhetorical essay, tips for writing the ap lang rhetorical essay.
AP Lang Rhetorical Essay Example
How Will AP Scores Affect College Chances?
The AP English Language Exam is one of the most common AP exams you can take. However, the average score on the exam in 2020 was a 2.96 out of 5. While this may seem a bit low, it is important to note that over 550,000 students take the exam annually. With some preparation and knowing how to study, it is totally possible to do well on this AP exam.
The AP Lang Rhetorical Essay is one section of the AP English Language Exam. The exam itself is 3 hours and 15 minutes long, and is broken into two sections. The first part of the exam is a 60 minute, 45-question multiple-choice section. The questions on this part of the exam will test your ability to read a passage and then interpret its meaning, style, and overall themes. After the multiple-choice section, there is a section lasting 2 hours and 15 minutes with three "free response" essays. This includes the synthesis essay, the rhetorical analysis essay, and the argument essay. 
In the synthesis essay , you will have to develop an argument using pieces of evidence provided to you. 
The argumentative essay will have you pick a side in a debate and argue for or against it.
The rhetorical essay requires that you discuss how an author's written passage contributes to a greater meaning or theme. 
The rhetorical essay is perhaps the most unique of all AP Lang exam essays because it requires the test taker to analyze and interpret the deeper meanings of the passage and connect them to the author's writing style and writing syntax in only 40 minutes. This essay can be the trickiest because it requires you to have knowledge of rhetorical strategies and then apply them to a passage you've never seen before.
1. Outline Your Essay Before Writing
One of the most important parts of the AP Lang essays is structuring your essay so that it makes sense to the reader. This is just as important as having good content. For this essay in particular, you'll want to read the passage first and write a brief outline of your points before you begin the essay. This is because you will want to write the essay using the passage chronologically, which will be discussed in detail below.
2. Understand Rhetorical Strategies 
If you feel like you don't know where to start as you prepare to study for the rhetorical essay portion of the exam, you aren't alone. It is imperative that you have a grasp on what rhetorical strategies are and how you can use them in your essay. One definition of rhetoric is "language carefully chosen and arranged for maximum effect." This can include types of figurative language (metaphor, simile, personification, pun, irony, etc.) elements of syntax (parallelism, juxtaposition, anthesis, anaphora, etc), logical fallacies, or persuasive appeals. Overall, there are many elements that you can analyze in an essay and having a good grasp on them through practice and memorization is important.
3. Keep the Essay Well Structured 
Even if you understand the various rhetorical strategies you can use, where do you begin? First of all, you'll want to write a strong introduction that outlines the purpose of the piece. At the end of this introduction, you will write a thesis statement that encapsulates all the rhetorical strategies you discuss. Perhaps these are style elements, tone, or syntax. Be sure to be specific as you list these.
Next, you will create your body paragraphs. As you discuss the rhetorical elements in the piece and tie them back to the work's meanings, be sure to discuss the points in chronological order. You don't have to discuss every single strategy, but just pick the ones that are most important. Be sure to cite the line where you found the example. At the end of the essay, write a short conclusion that summarizes the major points above.
4. Be Sure to Explain Your Examples
As you write the essay, don't just list out your examples and say something like "this is an example of ethos, logos, pathos." Instead, analyze how the example shows that rhetoric device and how it helps the author further their argument. As you write the rhetorical essay, you'll want to be as specific and detail-focused as possible. 
Discover your chances at hundreds of schools
Our free chancing engine takes into account your history, background, test scores, and extracurricular activities to show you your real chances of admission—and how to improve them.
AP Lang Rhetorical Analysis Essay Example
Below is a prompt and example for a rhetorical essay, along with its score and what the writer did well and could have improved:
The passage below is an excerpt from "On the Want of Money," an essay written by nineteenth-century author William Hazlitt. Read the passage carefully. Then write an essay in which you analyze the rhetorical strategies Hazlitt uses to develop his position about money.
Student essay example:
In his essay, Hazlitt develops his position on money through careful use of adjectives and verbs, hypothetical situations, and images. His examples serve to impress upon the reader the highly negative consequences of being in "want of money."
Hazlitt's word choice in his opening phrase provides an example of his technique in the rest of the essay. It is not necessary to follow "literally" with "truly" yet his repetition of the same ideas emphasizes his point. In his next sentence, one that lasts forty-six lines, Hazlitt condignly repeats similar ideas, beating into his audience the necessity of having money in this world. The parallelism throughout that one long sentence, "it is not to be sent for to court, or asked out to dinner…it is not to have your own opinion consulted or sees rejected with contempt.." ties the many different situations Haziltt gives together. What could have become a tedious spiel instead becomes a melodious recitation, each example reminding you of one before it, either because of the similarities in structure or content. Hazlitt addresses many different negative effects of not having money but manages to tie them together with his rhetorical strategies. 
The diction of the passage fully relays Hazlitt's position about money. In every example he gives a negative situation but in most emphasizes the terrible circumstance with strong negative adjectives or verbs. "Rejected," "contempt," "disparaged," "scrutinized," "irksome," "deprived," "assailed" "chagrin;" the endless repetition of such discouragement shows how empathetically Hazlitt believes money is a requisite for a happy life. Even the irony of the last sentences is negative, conveying the utter hopelessness of one without money. Through one may have none in life, pitiless men will proceed to mock one's circumstances, "at a considerable expense" after death! 
In having as the body of his essay one long sentence, Hazlitt creates a flow that speeds the passage along, hardly giving the reader time to absorb one idea before another is thrown at him. The unceasing flow is synonymous with Hazlitt's view of the life of a person without money: he will be "jostled" through life, unable to stop and appreciate the beauty around him or to take time for his own leisure. 
The score on this essay was a 6 out of 6. This essay started out very strong as the student had a concrete thesis statement explaining the strategies that Hazlitt used to develop his position on money as well as Hazlitt's belief on the topic. In the thesis statement, the student points out that adjectives, verbs, hypothetical situations, and images help prove Hazlitt's point that wanting money can be problematic. 
Next, the student broke down their points into three main subsections related to their thesis. More specifically, the student first discusses word choice of repetition and parallelism. When the student discusses these strategies, they list evidence in the paragraph that can be found chronologically in Hazlitt's essay. The next paragraph is about diction, and the student used specific adjectives and verbs that support this idea. In the last paragraph, the student emphasized how the speed and flow of the essay helped describe Hazlitt's viewpoint on life. This last concluding sentence is particularly thoughtful, as it goes beyond the explicit points made in the essay and discusses the style and tone of the writing. 
It is important to remember that in some ways, the rhetorical essay is also an argumentative essay, as the student must prove how certain rhetorical strategies are used and their significance in the essay. The student even discussed the irony of the paragraph, which is not explicit in the passage.
Overall, this student did an excellent job organizing and structuring the essay and did a nice job using evidence to prove their points. 
Now that you've learned about the AP Lang rhetorical essay, you may be wondering how your AP scores impact your chances of admission. In fact, your AP scores have relatively little impact on your admissions decision , and your course rigor has much more weight in the application process.
If you'd like to know your chances of admission, be sure to check out our chancing calculator! This tool takes into account your classes, extracurriculars, demographic information, and test scores to understand your chances at admission at over 600 schools. Best of all, it is completely free!
Related CollegeVine Blog Posts

RESEARCH PAPERS AND ESSAYS
ESSAY TOPICS
PRESIDENTS OF THE UNITED STATES
Joseph Robinette Biden
Donald Trump
Barack Obama
States Ranked by Size & Population
States Ranked by Date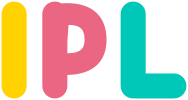 Rhetorical Analysis Of Jfk Speech
John f kennedy address rhetorical analysis essay.
Kennedy opens his address and implies that steel corporations have acted out in an unjustifiable and irresponsible manner in regards to the nation's public interest. Kennedy then creates a sharp tone as he continues to justify his actions through appealing to the nations emotions by addressing the servicemen in Viet Nam whom are losing their lives.
Use Of Rhetorical Devices In Jfk Speech
Let both sides, for the first time, formulate serious and precise proposals for the inspection and control of arms- and bring the absolute power to destroy other nations under the absolute control of all nations."(16) JFK uses parallelism, phrases in the statements that are repeated and identical in structure, in this quote to introduce the idea of justice and liberty between the nations. When he applies parallelism as a rhetorical device, he uses it to build up the thought of what we can accomplish together as a world instead of against each other. He stacks these motivational statements up to catch the audience's attention, in order to fulfill the purpose for his speech which is to create unity. In these five stanzas of parallelism, he confronts the world with an option between war and peace, no matter if they are an enemy or ally. Using unity as an argument he makes the audience question their stance in the world since his strong statement destroys individual nationalism, instead it creates a culturally unified country filled with justice and nationalism on a larger scale. We also see John F. Kennedy using a pathos approach throughout his
What Is Parallelism In John F Kennedy's Inaugural Speech
Kennedy states, "we will pay any price, bear any burden, meet any hardship, support any friend, and oppose any foe to assure the survival and success of liberty." meaning that America has a role in the word to support struggling countries. This supports America's morality along with Kennedy wanting the world to be a better place. Another example would be, "If a free society cannot help the many who are poor, it cannot save the few who are rich." enforcing that americans should be active in trying to progress other that suffer, under the "chains of poverty". It represents the role of fighting for other countries basic rights, which includes things such as poverty.
Rhetorical Analysis Of Kennedy's Inaugural Address
By using we, us and our he includes everyone and unifies the citizens of the United States and the world. Kennedy says "Let the word go forth from this time and place, to friend and foe alike, that the torch has been passed to a new generation of Americans -- born in this century, tempered by war, disciplined by a hard and bitter peace, proud of our ancient heritage, and unwilling to witness or permit the slow undoing of those human rights to which this nation has always been committed..." He is saying that the old generation had passed their ideas on to the new generation who are willing to sacrifice so that their rights are not taken from them. By saying "friend and foe alike" he is bringing everyone together and not letting them be different just because they are a friend or a foe. Additionally by describing traits of all the Americans, he unifies the citizens of America because all were tempered by war and proud of their heritage so it allows citizens to bond of common history. The torch being passed to a new generation is a metaphor which Kennedy uses to show that the original colonists' ideals were not beginning forgotten but instead carried
Rhetorical Analysis Of John F. Kennedy's Inaugural Address
Friday, January 20, 1961 was the Inaugural Address of former president John Fitzgerald Kennedy also known as John F Kennedy. In the wake of winning the Presidential decision by one of the littlest edges ever, Kennedy was approved by more than half of the country shortly thereafter. Kennedy's speech was centered on Freedom and the country's call to greatness. The inaugural address speech that was made by President Kennedy was made to motivate and incite the American people to activity. Kennedy's Inaugural speech was not only aimed to the people of the country, but also to the rest of the world. John F. Kennedy's Inaugural address made good utilization of a plethora of rhetorical devices to get his message and his goals across to his audience.
Jfk Inaugural Speech Rhetorical Analysis
Kennedy uses many literary devices to catch the attention of his audience. One of these devices is repetition. One example of repetition that Kennedy uses is, "Let both sides explore what problems unite us instead of belaboring those problems which divide us. Let both sides, for the first time, formulate serious and precise proposals for the inspection and control of arms-- and bring the absolute power to destroy other nations under the absolute control of all nations." Kennedy continues to use " Let both sides" grab the attention of the audience and show how important this subject is. Another literary device Kennedy uses is symbolism. For example, " The world is very different now. For man holds in his mortal hands the power to abolish all forms of human poverty and all forms of
Ethos And Logos In John F Kennedy's Speech
He displays personification in his speech by quoting,"Now the summons us again-not as a call to bear arms, though arms we need;not as to call to battle ,but a call to bear the burden of a long twilight struggle rejoicing in hope." This quote uses a trumpet to symbolize a call for serenity and not warfare.The trumpet shows the struggle between poverty,tyranny, and war itself to find happiness and promise in the world. Finally, Kennedy uses repetition in lines 15-28 stating "Let both sides" to display a need for
Rhetorical Analysis: Kennedy's Inaugural Speech
On Friday, January of 1961, John Fitzgerald Kennedy delivered a speech to the citizens of the United States of America and the world. Kennedy made a speech that he knew would be remembered for many years to come even after his presidential term. In fact, Kennedy accomplished his goal and is still remembered today, as the best speech ever written and delivered. Kennedy presents his speech with strong Aristotelian appeals of ethos, pathos and the stylistic devices of alliteration and antithesis. Kennedy accomplished what every speaker strives for and surpassed it by capturing the hearts of the audience and inspiring the people's trust.
Rhetorical Devices In John F Kennedy's Speech
A well written and effective speech cannot just be spit out, it has to be developed using vital rhetorical devices to help the speaker make his point and achieve what he wants. Rhetorical devices give the speaker the ability to connect to the audience, get his point across, and give the audience a sense of who he is. President John F. Kennedy was aware of these basic tactics and included them in his speech to have it delivered to it's fullest. When Kennedy was writing his opening commentary regarding the price increase of steel, he wanted it to not only have it fulfill its effectiveness, but to also be memorable for all those that heard and read it.
Ethos Pathos Logos In Jfk Inaugural Address
For example, he says "man holds in his mortal hands the power to abolish all forms of human poverty and all forms of human life" and "All this will not be finished in the first 100 days. Nor will it be finished in the first 1,000 days, not in the life of this Administration, nor even perhaps in our lifetime on this planet. But let us begin." Kennedy focused on the importance of working as a united country in order to solve their problems. He shows his reasoning by elaborating generally on why they must begin and by mentioning the effort and time it will take to get there. Kennedy makes these persuasive appeals more effective by ordering them in a well-organized
John F Kennedy Inaugural Address Rhetorical Analysis
To begin with, Kennedy calls for peace by using unifying diction. He exclaims, "And so, my fellow Americans: ask not what your country can do for you--ask what you can do for your country" to inspire Americans to become one strong unit. By using the word 'my', Kennedy, the newly elected President of the United States, groups himself with the rest of the nation to appeal to the audience's sense of unity. He as well creates a bandwagon effect, for he uses peer pressure to motivate people to fulfill their civic duty. He also creates equivocation by generating a mindset where people do what they can for their country; therefore, he amplifies patriotism in the audience. Kennedy then takes his message to a global scale when he proclaims, "My fellow citizens of the world: ask not what America will do for you, but what together we can do for the freedom of man" in order to evoke a sense of unity in the whole world. By using unifying diction, Kennedy appeals to the audience's pathos to achieve his primary goal, which is to inspire people with his hope for
John F Kennedy Inaugural Address Rhetorical Analysis Essay
While the speech's respectful eloquence is appropriate for the occasion of an inauguration, its youthful energy and look to the future make it distinctly John F. Kennedy's. His young & charismatic image strongly appealed to the United State's newer use of media at the time, enhancing his public persona each appearance he made. With the use of a multitude of rhetorical strategies such as repetition, archaic diction, & tone, Kennedy formulated a speech worthy of embodying his form. During his inauguration, Kennedy was able to fulfill his purpose of truly constructing a speech of his own figure, that as well represents his goals for the future of America.
He does this by referring to allies that happen to share common beliefs with the people of the United States. For example, "cultural and spiritual origins" accomplish these shared beliefs, and he offers a request not a pledge, but a request to the many different people around the world. He continues to develop his theme of unification by sharing with his audience the common cultures and goals that other countries around the world have. He called the different people around the world "citizens of the world". This shows the world especially the Soviet Union that the United States does not exclude anyone. Kennedy then unites us all together using shared ethos to accomplish the same shared goals as a world and not as separate
Does John F Kennedy Use Anaphora In Jfk Inaugural Address
By using anaphora, he adds rhythm to his speech, making it more interesting, and easier to remember. When Kennedy reiterated "to those old allies… to those new states… to those people," he appeals to the emotions of the audience. By doing so, he persuades, inspires and motivates them. In these lines, Kennedy pledges that he will do anything to assure the survival and success of liberty, achieving his purpose by informing his audience of his intentions as President. Kennedy uses anaphora again when he recognizes the widespread anxiety and uncertainty in Americans because of the start of the Cold War. He repeats "let both sides" four times, to optimistically provide comfort. He provides comfort by talking about the future, and his plans to deal with the current strained relations; thus, further achieving his purpose of persuading his audience that he was the correct choice to lead their country.
Did John F Kennedy Use Anaphora In Jfk Inaugural Address
In the first half, Kennedy employs anaphora to convey his message that the United States has a duty to everyone. He repeatedly
More about Rhetorical Analysis Of Jfk Speech