Descriptive Essay about the Beach, How to Guide, Examples
Published by gudwriter on January 4, 2021 January 4, 2021
Descriptive essays can be time consuming to do all of the research and the actual writing can be tricky, especially if the topic chosen is something you are particularly not passionate about. If you lack time to complete your essays or assignments, you can buy college papers for sale online at Gudwriter and guarantee yourself a good grade.
Are your assignments troubling you?
Get your troublesome papers finished by our competent writers now!
Special offer! Get 20% discount on your first order. Promo code: SAVE20
Descriptive Essay about the Beach
A descriptive essay about the beach is one of the write ups you may be required to come up with in your English learning courses. It's about giving a vivid depiction of your encounters at the seashore. In our previous post about how to write a descriptive essay, we explained the need for students to paint the picture of the object in the readers mind. The main objective is to make the audience feel as if they were involved in the experience. Read on essays based on different types parenting style samples.
This kind of writing will inspire you to explore your linguistic prowess as well as imagination. The success is achieved if your audience resonates with your words. To make this possible, you need to have 'thoughts that glow' as well as 'words that flow'.
If you're required to write a descriptive essay about the beach, there are things you should put to consideration. This post is all about helping you get a grade A in such an assignment.
Tips on Writing the Best Descriptive Essay
Have experience about the beach. It's critical that you get conversant with what you are writing about. If you haven't visited the seashore, try reading widely about the experience. Or, grab a documentary movie.
Keep your statements clear and concise. Vague information may not only be confusing but also boring.
Describe every aspect of the beach. Write about the weather, water, soil, sound, smell, sky, horizon, sun, flora and fauna. You can also talk about the people at the beach. Don't forget your feelings.
Have a logical organization. You can choose to pick a theme for every paragraph. Or, you can keep a chronological flow. Also, be sure to have an introduction and conclusion paragraph.
Remember to review your work after writing.
Free Descriptive Essay Samples About the Beach
Last summer, I had the chance to visit my aunt at her coastal home. The octogenarian , I have to admit, lives in one of the world's most serene places. The beach is a fantastic phenomenon and the fun that comes along with it is overwhelming. Two weeks into the visit, my cousins took me to the seashore, and I just couldn't get enough of it. I fell in love with the splashing waters and cool breeze. I hated that evening would come and we'd have to leave the blissful sensation of the beach. I nonetheless promised myself to make the most out of the short time we would spend there.
We set out early in the morning with our cameras and light shorts. A light breeze blew and it took my soul with it. I felt like I was in a whole new world. The wind brought fresh air to my nostrils and I just couldn't help but pump as much as I could. It not only filled my lungs with rejuvenating oxygen, but also my mind with a hope of having the best day of my life. My ears weren't left behind either. It's like the fresh air was singing melodious blues as we walked. I was sure experiencing something I'd never experienced before.
We arrived on our scooter right on time for the rising sun. Never in my life had I seen such a majestic view. We'd left home early on right before the sun would mark its territories. And, apparently, our cameras were getting the best work they'd had for years. Towards the east, the sky was literally burning. The first rays were already throwing their warmth across the sky. They were doing just like cheerleaders would do during an NFA match. Or, better still, like the escort guards from the Secret Service do before the Head of State arrives.
The rays did their job pretty fine. They were yellow and glittered like the flames of an enormous camping bonfire! While the sky was showing its beauty, the sea was glittering and reflecting back. It was as if they were partners colluding to welcome a big guest. The yellow glare made our photography interesting and every shot was worth it.
The sun finally hit the surface. The ground acknowledged its presence and started glittering. The tiny sand particles shed silver lights all over the beach. The sweet rays caressed my skin and I now understood why everyone at the seashore liked to expose theirs. It was a gentle warmth, I have to say!
My excitement was rejuvenated. But I couldn't possibly beat the birds. They shouted with a wild joy. They jumped up and down. I saw several of them chase after sea creatures. It was marvelous watching the birds dive into the water and suddenly shoot up into the sky like rockets. No sooner had we joined them into the diving than people started coming out of their homes. The shore was flocked now. Some came for entertainment while others were looking for fishing grounds. It was a beehive of activities I tell you.
When evening came, it was yet another scenery in the sky as the sun dived into horizons of the sea. People started going back to their homes and the birds gradually became silent. The evening breeze blew, bringing another refreshing smell of the salty water to my nostrils. Waves of water splashed onto the coral reefs as the tides took new positions. The fishermen set out their nets as if their day was just beginning. Suddenly, my aunt was calling. She knew we were having too much fun, and that we'd possibly get late.
Sample 2: A Day at the Beach
We arrive at the seashore at day break. Bright yellow rays of the sun greet us. Their golden mien reflects on the surface of the water. The sun – the main guest – hasn't arrived yet, but the beach is well lit already. The blue cloudless sky is overly yellow towards the east, which alerts that the sun will be ruling the day beginning soon. A breeze blows by, filled with a refreshing smell of the salty sea water. It gets me reminiscing about my childhood. I get nostalgic of molding magnificence with the sea sand. But today is another day altogether. I'm far older, with a wife, a son, and a daughter. Today is their day. I am just a companion.
The sun is now in full control of the seashore and its effects can be felt by everyone. It's warm, and the air is filled with moisture from the sea. The ground is mildly warm, and the fine sand particles are glittering like scattered pieces of silver. I can't help but keep getting strands of my hair off my sight as the wind blows them wildly. My wife's case is more serious. But she looks gorgeous at the beach and seeing her playing with my kids makes me feel how quick I've grown and transformed. I look back at my childhood with a reassuring gaze as I watch my two bundles of joy run alongside their mother in the warm sand at the shore.
The birds stop singing now. Their entertainment about the new day is gone and they are focused on food search. It's fun to watch them jump into the water, capture crabs and fishes, before darting into the air at electric speeds, like shooting stars.
My son is dying to swim. I know this side of the ocean isn't crocodile- or shark-infested, but I still want to be sure. I remember that as young boys, we were so fond of swimming until when one day we saw a scary scaly rock moving on the water. It looked like a submarine that kept emerging and submerging. One boy yelled after he recognized it was a baby crocodile. I just feared reptiles and he saved us from what would be an end of an era for us. After confirming that it is safe to swim, I allow my kids to swim on one of the shallow waters around us.
I notice I am not the only one who cares about my children. A few yards away, a kingfisher is already teaching her chicks how to get food. They descend from the palm tree at the edge of the sea. The baby kingfisher can't swim but her mum is doing all she can to offer the help. I also take a snap of a school of dolphins. They are far from the beach but with the help of my binoculars, my wife and I enjoy the glamor of seeing them jump up and take dives as they chase a boat.
It's evening now. My family is happy that they have had as much fun as they'd hoped for. We've already eaten roasted fish from the lake for lunch. The beach, flocked with swimmers and sunbathers a few moments ago, is now getting less busy. Fishermen are starting their night shifts. The sun is already diving into the horizon of the water, leaving behind a huge yellow light. Birds start to sing again. It's time for me to drive my family back home.
The beach is the place I go to whenever I need to relax and forget about all the hustles of life and just enjoy myself. As usual, my last visit to there was a memorable one. Already in my beach attire, a draught blew across the sea sweeping away with it my spirit. The sun split its way through the scattered cumulus clouds as if it was shying away from giving some light. As I took in a breath of fresh air, my nose was tingled by the smell of the salty sea. A mine field of corals made up the beach sand, with an abundance of multicolored sea shells. A bed of blankets was however formed by the sand at the same time. Like my previous visit, this visit was promising to be one filled with immense joy and relaxation.
My heart somehow pounded like a drum-set of an orchestra from the way the beach sand flowed onto my feet and tickled my toes. The feeling was delicate especially given that the sand grains were so fine it was almost impossible to see them through the human eye. The sea waves soothed me through a dulcet lullaby thus drawing me closer to them as I reminisced my childhood. It was like they were giving me an invitation with wide open arms. However, my feet would not oblige at this time because they were penetrated by the frigid waves. So, I just sat down with my head raised to the sky as I watched the sun stretch out and make its way across the sky.
The warm sun rays gradually glowed as minutes passed by, reaching down to me and giving me a shining streak of light as if to tell me, "Hey, hold my hand!" I received an immediate boost of excitement as the blazing light pierced through my cold skin. Tracing its way up the sky, the sun distributed its light to everything it could lay its sight on. Birds flying across the sky trying to claim it for themselves were singing sweet melodies with high spirits into my ears. From the sun rays, the sky turned into an illuminated shimmering blue color from a dark misty indigo one. The scattered rainless clouds that were initially blocking sun rays melted away into thin air and gave way for the water to heat up.
I slowly made my way to the edge of the beach once again and immersed my toe into the now swiftly heating up water. I hastily withdrew it as it felt like it was melting away into the sea in spite of having been numb before. The pungent smell that came from decayed algae filled the air and my acidic stomach responded by turning to its side. I could hear the sounds of fish that were possibly calling for attention from under the sea. I could at the same time tell that the fish were afraid of the sea creatures that were hungrily preying on smaller water creatures for lunch. This was a survival tactic, I could tell.
As the evening was drawing, people poured onto the beach to enjoy the serenity and perfect weather. Children ran up and down as laughter filled up every corner of the beach and people even played beach football and volleyball. The day was finally coming to an end and one by one, people started leaving slowly after what had been a day full of excitement. It was unfortunate that as much as I had wanted to continue staying on the beach and continue undergoing this memorable experience, my turn to go home finally came. I left with a heart filled with happiness and peace and a tired body and promised myself that I would go back there as many times as I would be able to.
Instructions; Write an essay of 2 double-spaced pages which achieves two goals:
Discuss what your ideal beach might look like. What would your ideal beach look like? What elements would it include? Consider things such as the physical environment, the social atmosphere, the socio-cultural composition, availability of services, population (or absence thereof), quality of the water or surf, location, climate, political composition, language, ethnicity, or any other quality you might consider important. Answered on top
Some ideas for THEME. This is a suggestive list.
Design your ideal beach. This beach might draw on elements of existing beaches or be entirely fictional.
Explore some of the interesting descriptive topics that wll give you brilliant ideas.
Essay about the Beach
Diamond beach is what most people would call "a little paradise or a piece of heaven on earth." The spectacular, flawless white beach stretches with no limit for the eye as it goes across the ocean so amazingly. Just by gazing at the endless sands, as the sun's rays rest on the waters freshly emerging from their resting place, anyone would be astounded by the beauty of nature. The clouds timidly exposed as the sky beams blue making it obvious that this would be a beautiful day. It is not hard to hear the ocean whisper its promises for the day due to the serenity of diamond, as the graceful sounds of songbirds light up the morning mood. The reigning feeling is that of a soothing calmness that makes life difficult for an iota of gloom. Nature seems to be passing across the message that a great day filled with happiness and devoid of mishaps should be expected.
The smell of fresh air taking you away from all the hustles and bustles of a polluted environment in an ordinary day is nothing you would want to miss. In a world where air pollution has become so rampant, I believe allowing everyone to experience the fresh breeze would be a great lesson for conserving our ecosystem. The freshness and tranquility of the atmosphere at Diamond beach defines a habitable ecosystem that every living thing deserves to experience. Being at this beach makes you appreciate that this world is truly a beautiful place. You forget all your worries as your mind sinks into the serenity making you want to live forever. It is one place that reminds us to appreciate life and conserves the beauty of nature. It directly talks to us to acknowledge that life does not have to be first-paced all the time. It makes the importance of taking time off to real and unwind become so real and necessary.
Diamond beach is a rare and precious place to be. I know millions of beaches exist globally, but none is like the diamond beach. The light kisses from the coastal breeze, the smell freshness, the purity of the sand, and the crimson beauty of water is out of this world. Regardless of whichever angle you may view the beach from, you will not miss noticing the splendor of this natural feature. Every step in the beach leaves fine-grained sand shifting as if paving the way for the next step you take. With every motion forward, you feel like you are walking on freshly fallen snow. The only difference is that the crystalline white blanket bequeathed by the winter normally is cold but on the beach, it is warm thanks to the sun rays.
During the day, you cannot fail to notice a change in the cute sand particles as they form a golden reflection from the sun. It appears as if the sun rays are trapped inside the unmelting sand crystals forming the beautiful yellow golden color. Interestingly, upon picking the sand gravels, they rest on your palm like diamond crystals illuminating a white color between your fingers. Despite the midday heat, being at the beach at this time is an opportunity to witness its brightness entirely. The fact that it is conserved as a private beach adds to its numerous advantages and lessens congestion giving everyone a chance to connect with nature undisturbed. It is almost impossible not to notice the ocean at this point of the day. It waves curl up and down, rolling in white tipped shapes, spreading like fine silky laces over the beach. The way they softly crash on the beach or violently splash their waters overboard is simply stunning. The gentle sound that emanates from their contact with the beach makes the feeling even more fulfilling.
If the ocean were a person, I would describe it in many ways. It would be at one point introverted, calm, still, graceful but at another point extroverted, throwing waves aggressively, outgoing and interactive. The behavior of the ocean cannot be described as noisy despite all the commotion that appears to be going on. Only slight wave sounds that a keen soul would hear. I think the ocean has many secrets it would share with people if it could talk. For me, its silent sounds take me back to a time of reflecting and appreciating life. They give new meaning to life. With every turn of the wave that comes and goes, I remember we are all passing by in this world, and the best thing to do is appreciate what we have, before the next wave takes over. For a moment, I am lost in thoughts when a palm leaf drops on my silky dress and brings me back to reality.
It is almost impossible to go on discussing diamond without describing the splendid physical environment that surrounds the beach. The physical environment of the beach is superb. The first thing that I notice as I focus my attention on the beach is the relaxation mood. People from all age groups can be seen on beach seats with colorful costumes and fluffy towels. I guess they are just from enjoying a swim. On that note, I should not forget to state that lovers of swimming will enjoy being in Diamond. The water temperature is never hot or cold but perfect for a swim. Small adorable children in white costumes appear like angels creating sand castles as others run across to float kites on the cool breeze. The teens are frolicking with beach balls having a time of their lives as the young adults cuddle, hold hands, and share special moments while taking a walk along the shoreline.
A few meters away a particular group of people can be seen excluded for religious reasons. As I draw my focus to that group, I realize that they are having an outdoor yoga class. What a great place to connect with your internal senses and spirituality. Diamond is definitely the place to be for yoga especially during morning or evening hours. There is little interruption and the silence is just what you need. Upon inquiring from one of the yoga instructors, I am told that the classes have been going on for a while in the same spot. According to the instructor, people have found peace in their lives since they started visiting Diamond beach for yoga. If you love yoga, you have found a recreation and a spiritual connection site.
Diamond beach stands out in the Caribbean Island of modern beach houses giving the inhabitants a panoramic ocean view. The mastermind behind the exterior was Chad while Davis studio aided with the interior and Enzo the landscaping to give an elegant piece of artwork. The prowess and architectural expertise is incredible as everyone who walks to the beach never fails to notice the splendor. Attractive colors that allow calm and light are a perfect complement to the beach which is bright during the day. The Hi-tech beach houses which have been designed in the latest architectural designs are similar, all having balconies facing the sandy beach. From the balcony, you enjoy seeing the spectacular ocean view as lounges of water cover up the entire place. Those living or visiting Diamond enjoy beautiful weather which cannot be described as sunny or humid. It is just perfect.
Serving the visitors, tourists, and locals in the beach is the Diamond hotel. It's shaped like a diamond and is an exquisite place to be if you plan to spend a few days on the beach and do not live nearby. They offer great room services and maintain a high level of hygiene and cleanliness with excellent customer care services. The rooms are ample and spacious with perfect temperatures and an excellent view of the beach. You get to enjoy free internet connection, music system, and laptops for use while you enjoy visiting the beach. The rates are cost-friendly as the hotel packages cater for people from all age groups. If you have toddlers, you should not worry as there are special cots and nurses to attend to children. If you have special needs, the staircase and special rooms have been modified to meet them. The reception, ambiance, and hospitality of the hotel will make you stay longer. Recreational activities are available with a fully-serviced gym for fitness, spa, massage, and beauty parlor to make you gorgeous as you go out. Besides the remarkable fitness and beauty services, there are spectacular mouthwatering and finger-licking delicacies to choose from. The food is freshly served upon placing an order while alcoholic and non-alcoholic drinks are also in plenty. In general thus, visiting Diamond beach is a memorable and magnificent experience. Getting a chance to interact with the lovely, friendly Caribbean people and share in their rich dance culture could even make you want to change your nationality.
Grab a special chance to receive the highest quality, professional and affordable essay writing service provided by true professionals. We have a team of certified writers ready to help students struggling with their homework.

Related Posts
Free essays and research papers, synthesis essay example – with outline.
The goal of a synthesis paper is to show that you can handle in-depth research, dissect complex ideas, and present the arguments. Most college or university students have a hard time writing a synthesis essay, Read more…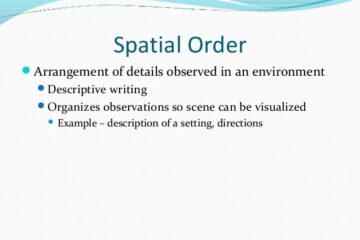 Examples of Spatial Order – With Outline
A spatial order is an organizational style that helps in the presentation of ideas or things as is in their locations. Most students struggle to understand the meaning of spatial order in writing and have Read more…
Ad Analysis Essay Example With Outline
An ad analysis essay is a type of academic essay whereby the writer is required to examine an advertisement. The aim of the essay is to find any hidden messages which may be deceptive or misleading Read more…
Words with Friends Cheat
Wordle Solver
Word Unscrambler
Scrabble Dictionary
Anagram Solver
Wordscapes Answers
Make Our Dictionary Yours
Sign up for our weekly newsletters and get:
Grammar and writing tips
Fun language articles
#WordOfTheDay and quizzes
By signing in, you agree to our Terms and Conditions and Privacy Policy .
We'll see you in your inbox soon.
Beach Words: Vocabulary to Set the Scene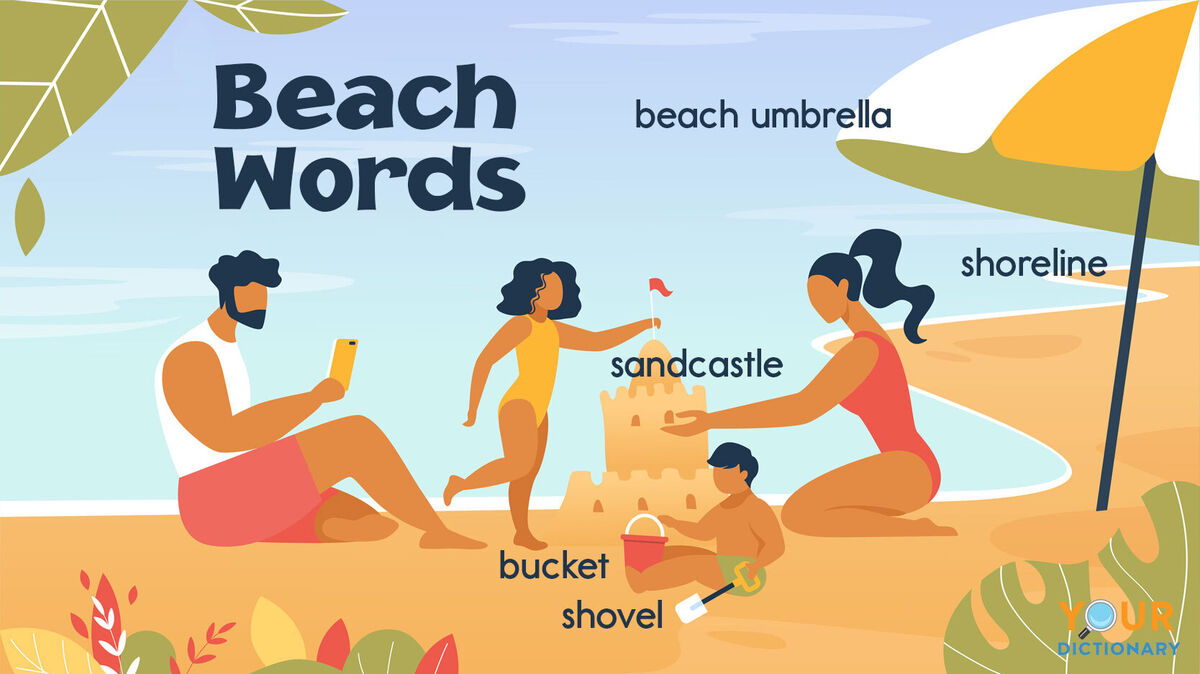 DESCRIPTION beach words examples with family on beach
SOURCE AttoStock / iStock / Getty Images Plus
PERMISSION Used under Getty Images license
Looking to boost your vocabulary with some interesting beach words? Whether you're writing a story about the beach, looking forward to vacationing at the beach or simply want to learn some new ways to talk about the beach, you'll be excited to discover this extensive selection of beach-related terminology.
Beach-Specific Descriptive Words
There are many descriptive words for the beach, including terms that describe the appearance of the sand or shoreline itself, or what conditions are like at a particular beach location.
hermit crab
narrow stretch
sand dollar
uneven shore
wide stretch
A Day at the Beach Activity List
When you go to the beach, there are a variety of fun activities to enjoy. Depending on your idea of a fun day at the beach, you can be as active or sedentary as you like.
beach frisbee
beach volleyball
body surfing
finding shells
kite flying
parasailing
people watching
scavenger hunt
scuba diving
wakeboarding
Words for Beach Items and Supplies
If you're planning to spend a day at the beach, you'll need to take quite a few supplies to make the most of your fun in the sun. The individual and compound beach vocabulary words below provide an overview of items commonly taken along on beach outings or trips.
arm floaties
beach chair
beach towels
cold beverage
pool noodles
swim goggles
Words for Beach Location or Setting
Some beach vocabulary words are terms that describe where the beach is located, such as what type of body of water it is beside or the setting it is in.
Words to Describe the Beach Experience
Not all descriptive words for the beach focus on the beach itself. Many terms can be used to convey what it's like to spend time at the beach.
de-stressing
exhilarating
fun in the sun
pleasurable
rejuvenating
Terms for Water Conditions at the Beach
Since beach areas are always adjacent to bodies of water, some of the most important beach vocabulary words to learn are ones that describe the water conditions.
crystal clear
emerald green
rip current
threatening
Beach Slang Words
There are some fun and interesting beach slang words, including some extreme beach words that surfers use. While your beach vocabulary shouldn't be limited to slang terminology, it'll be fun to master some of the lingo before your next trip to the seashore.
amped - feeling of excitement related to riding waves
beach bum - one who spends a lot of time at the beach
curl - the area at the top of a wave that curves over as the wave breaks
hang ten - positioning your feet on a surfboard so that all ten toes are over the edge
lull - a calm period in between wave formations
men in gray suits - surfer slang for sharks in the water
mush - soft waves that aren't strong enough for surfers to ride
stick - a surfboard
surf's up - an abbreviation for "surf is up"; there are high waves
whitewater - a foamy wave that breaks up
Beach Flag Warning Words
If you're going to spend time at the beach, you should also know the words and meanings for the basic five flag warning system used on many beaches. These flags are a safety tool used to caution beachgoers about localized hazards, including whether or not the water is considered safe for swimming.
green flag - low hazard level; calm conditions
purple flag - hazardous; dangerous marine life has been spotted fairly close to the shore
red flag (double) - area closed to the public
red flag (single) - high hazard due to strong currents and/or high surf
yellow flag - medium hazard level due to moderate surf and/or currents
Printable Word List
The printable beach word list features several of the most basic beach words paired with colorful, kid-friendly images. It's a great tool to help young learners master some beach vocabulary words, whether for school or to prepare them for a family beach vacation.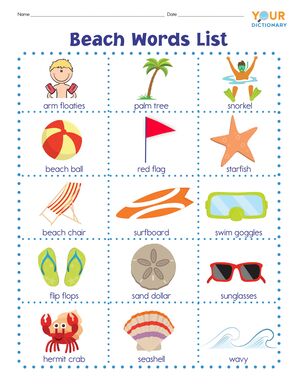 Beach words list with pictures
Discover beach words to expand your vocabulary.
A lot of different words can be used to describe the beach, from short words with just a few letters or syllables to longer, compound words with 6 letters or more and several syllables. Now that you have strengthened your beach vocabulary, learn more about the bodies of water they are associated with. Start by reviewing some examples of oceans and seas . Then, expand your vocabulary even more by discovering a selection of summer words to vividly describe the season that most beach trips take place.
Accounting & Finance
Business, Companies and Organisation, Activity
Case Studies
Economy & Economics
Marketing and Markets
People in Business
Food Technology
Resistant Materials
Systems and Control
An Inspector Calls
Directing Macbeth
Other Plays
Other Shakespeare Plays
Personal Performances
Reviews of Personal Performances
Blood Brothers
Death of a Salesman
Human Geography
Physical Geography
Child Development
Health and Social Care
History Projects
Britain 1905-1951
Germany 1918-1939
International relations 1900-1939
International relations 1945-1991
Northern Ireland 1965-85
Russia, USSR 1905-1941
USA 1919-1941
USA 1941-80
Vietnam 1954-1975
Communications
ICT Systems and Application
Legislation & The Legal Framework
Consecutive Numbers
Emma's Dilemma
Gradient Function
Miscellaneous
Number Stairs, Grids and Sequences
Pay Phone Problem
Phi Function
Bad Tomatoes
Comparing length of words in newspapers
Gary's (and other) Car Sales
Height and Weight of Pupils and other Mayfield High School investigations
IQ Correlation
Sliding Puzzle
Beyond Pythagoras
Fencing Problem
Hidden Faces and Cubes
Open Box Problem
Pythagorean Triples
Audience and Production Analysis
Anatomy and Physiology
Exercise and Training
Safety Aspects and Risk Assessment
Existence of God
Discipleship
Abortion and other medical issues
Capital Punishment
Charities, Poverty and Development
Family, Marriage and Divorce
Morality of War
Places of Worship
Prejudice and Discrimination
Religion in the Media
Work experience reports
Chinua Achebe: Vultures
Comparing poems
Grace Nichols: Hurricane Hits England
Imtiaz Dharker: Blessing
John Agard: Half-Caste
Lawrence Ferlinghetti: Two Scavengers in a Truck, Two Beautiful People in a Mercedes
Moniza Alvi: Presents from my Aunts in Pakistan
Other Poets
Sujata Bhatt: from Search For My Tongue
Tatamkhulu Afrika: Nothings Changed
Tom Leonard: from Unrelated Incidents
Writing to Argue, Persuade and Advise
Writing to Inform, Explain and Describe
Alan Ayckbourn
Alan Bennet
Arthur Miller
Brian Friel
Harold Brighouse
Henrik Ibsen
J.B. Priestley
Oscar Wilde
Other Authors
Shelagh Delaney
A Streetcar Named Desire
Other titles
The Glass Menagerie
A Midsummer Night's Dream
Antony & Cleopatra
The Tempest
Richard III
Taming of the Shrew
Titus Andronicus
Julius Caesar
Romeo and Juliet
The Merchant of Venice
The Winters Tale
Twelfth Night
Measure For Measure
Much Ado About Nothing
Educating Rita
Our Day Out
Shirley Valentine
Carol Ann Duffy
Dylan Thomas
John Betjeman
Philip Larkin
Seamus Heaney
Sylvia Plath
U A Fanthorpe
Wilfred Owen
Love Poetry
Comparisons
Pre and Post 1914 Comparison
Andrew Marvell
Geoffrey Chaucer
Percy Shelley
Robert Browning
Shakespeare's Sonnets
Thomas Hardy
William Blake
William Wordsworth
Albert Camus
Aldous Huxley
Alice Walker
Barry Hines
Bram Stoker
Bronte Sisters
A Christmas Carol
A Tale of Two Cities
Bleak House
David Copperfield
Great Expectations
Nicholas Nickleby
Oliver Twist
The Signalman
Charlotte Bronte
David Guterson
DH Lawrence
Edgar Allan Poe
Emily Bronte
F. Scott Fitzgerald
George Eliot
Animal Farm
J.D. Salinger
Jane Austen
John Steinbeck
Jonathan Swift
Joseph Conrad
JRR Tolkien
Margaret Atwood
Mary Shelley
Mildred Taylor
Robert Louis Stevenson
Far From the Madding Crowd
Other Titles
Tess of the d'Urbervilles
The Mayor of Casterbridge
William Golding
Arthur Conan Doyle
Green Plants as Organisms
Humans as Organisms
Life Processes & Cells
Living Things in their Environment
Variation and Inheritance
Aqueous Chemistry
Changing Materials - The Earth and its Atmosphere
Classifying Materials
Organic Chemistry
Patterns of Behaviour
Electricity and Magnetism
Forces and Motion
Radioactivity
The Earth and Beyond
Anthropology
Business Studies
Group 4 Projects
Theory of Knowledge
World Literature
Restore Misc
Architecture
Applied Biology
Cell Biology
Developmental & Reproductive Biology
Marine & Freshwater Biology
Microbiology
Clinical Psychology
Cognitive Psychology
Developmental Psychology
Psychometrics
Social Psychology
Sports Science
Applied Economics
Economic Systems
Macroeconomics
Microeconomics
Political & International Economics
Human Resource Management
Management Studies
Tourism, Transport & Travel
Fine Art, Design Studies, Art History, Crafts
Engineering
Other Languages
Ancient History
Byzantine History
Medieval History
Philosophy and Theology
Christianity
Other Religion
Commercial Law
Contract Law
Criminal law
Employment Law
English Legal System
Environmental Law
Equity & Trust Law
European Union Law
Human Rights Law
Insolvency Law
Intellectual Property Law
International Law
Jurisprudence
Law of Evidence
Medical Law
Other Jurisdictions
Classical Studies
Argumentative or Persuasive Essays
Creative Writing
Other Play Writes
Harold Pinter
Tennessee Williams
Old English
A Midsummer Nights Dream
As You Like It
The Merchant Of Venice
The Taming of the Shrew
Literary Criticism
Shakespeare
Charles Dickens
Lewis Carrol
George Orwell
James Joyce
Kate Chopin
J.K. Rowling
Renaissance
Electronic Media Studies
Film Studies
Paper-based media studies
Television & Radio Studies
Computer Science
Information Systems
Software Engineering
Mathematics
Anatomy & Physiology
Behavioural Science
Clinical Medicine
Problem Based Learning cases
Environmental & Physical Geography
Environmental Sciences
Criminology
Human & Social Geography
International Politics
International Relations
Political Systems
Political Theories
UK Government & Parliamentary Studies
Applied Sociology
Gender Studies
Political & Economic Sociology
Religion in Society
Social Theory
Social Work
Pharmacology
Case Studies and Analysis
Marketing & Research
People & Operations Management
Accounting & Financial Management
ICT in Business
Structures, Objectives & External Influences
Design and Technology
Theatre Studies
Markets & Managing the Economy
UK, European & Global Economics
Environmental Management
Global Interdependence & Economic Transition
Population & Settlement
Production - Location & Change
Atmosphere & Weathering
Coastal Landforms
Hazardous Environments
Hydrology & Fluvial Geomorphology
Rocks & Weathering
History of the USA, 1840-1968
Modern European History, 1789-1945
British History: Monarchy & Politics
International History, 1945-1991
Other Historical Periods
Information Systems and Communication
Management & Manipulation of Information
Policy, Strategy & Systems
Criminal Law
Law of Contract
Law of Tort
Legal personnel
Machinery of Justice
Sources of Law
Core & Pure Mathematics
Decision Mathematics
Probability & Statistics
Advertisements
Newspapers & Magazines
Acquiring, Developing & Performance Skill
Contemporary Studies
European Union
Middle east
Political Philosophy
Pressure Groups
Trade Unions
United Kingdom
United States
Physiological Psychology
The Psychology of Individual Differences
Practical Questions
Crime & Deviance
Family & Marriage
Sociological Differentiation & Stratification
Work & Leisure
Art & Design
General Studies
Composition
Language: Context, Genre & Frameworks
Other Criticism & Comparison
War Synoptic Paper
JB Priestley
Other works
The Importance of Being Earnest
A Street Car Named Desire
Glass Menagerie
Willy Russell
Christopher Marlowe
John Webster
Other Playwrights
Antony and Cleopatra
Measure for Measure
Romeo & Juliet
The Winter's Tale
Alfred Lord Tennyson
Robert Frost
Simon Armitage
Comparative Essays
Angela Carter
Anthony Burgess
Ernest Hemingway
Joseph Heller
The Handmaid's Tale
Fyodor Dostoevsky
Mary Shelly
Energy, Respiration & the Environment
Genetics, Evolution & Biodiversity
Exchange, Transport & Reproduction
Molecules & Cells
Inorganic Chemistry
Physical Chemistry
Electrical & Thermal Physics
Fields & Forces
Mechanics & Radioactivity
Microscopes & Lenses
Modern Physics
Waves & Cosmology
Study Guides
Meet the Team
English Language
Descriptive Writing Of A Beach
Jack Plows 10SH 2 ND Draft Descriptive Coursework
DESCRIPTIVE WRITING – FIRST DRAFT
The, enclosed, beach is silent. The bright ball blinds you as it emerges; it rises like a yellow lollipop on the distant horizon. Crashing against the shore, small waves wash the night's debris onto the land. Untouched golden sand covers the floor as far as your eyes can see. Soothing, a gentle sea breeze rustles through your hair.
Beach shops prepare for their day of excited costumers bustling in and out of their small seafront shops. Opening their doors, they bring out all of there beach products looking out to the sea you can see the large cruise ships on the worlds edge.
Abandoned, nothing there apart from a few sea gulls pecking at the rubbish left by yesterday's visitors. Empty crisp wrappers, chocolate wrappers, ice cream papers and half eaten cones scatter the yellow sand.
Young children stumble onto the moist sand, with small buckets and spades in their hands, they shout and talk in excitement. Damp sand is forced between their toes. Straight away, the young children put on their swimming costumes and are smothered with thick white sun screen, to protect them from the bright sun. Children running towards the shoreline; their parents struggle onto the sand, loaded like camels with everything they will need for their day. Sandwiches, cold drinks, wind breakers, towels all bagged up and slung over both shoulders.
A hot sea breeze rushes through the visitor's hair, as you stand there you can taste the salt in the air because it is so strong. The sound of the waves crashing against the shore, seagulls swooping overhead and the strong scent of sun screen surrounds the beach. The beachgoers spring as their feet hit the blistering sand. Sitting there for hours, playing with the sand; children giggle as their sand castles are overtaken by powerful crashing waves.
The sand cushions the landing for a teenager diving to make his shot in the volleyball tournament. Excitement buzzes around the pitch as the ball is repeatedly, majestically played back over the net.
Young children remain in the sea; the taste of salt lingers in their mouth. Splashing and screaming, they all make sure that they enjoy their beach experience. Tired, they struggle to keep their young heads above the cold water, relentlessly the kids are dragged out of the water by their parents.
They lie out their towels on the damp glistening sand allowing them to rest from the continuous jumping and swimming. Lying there they take a midday sleep, allowing the sun to blaze down onto there dripping wet bodies. Parents sit there relaxing lazily on the sandy seashore reading their invigorating books. Foamy mist from the ocean lightly sprays onto their face like the touch of a feather.
Gigantic sand castles are left standing free, glistening in the sun like diamond rings.
Waves are crashing onto land as the distant sun descends like it is sinking into the water. People laugh and giggle as their day come to an end. A muddle of colours in the sky as the sun sets. A young couple sit up on the cliffs edge watching the sun set.
Once again the beach is empty with the rubbish of the visitors. The rubbish almost decorates the floor of the beach, different colours shapes and sizes. Lonely and quiet the beach is still and silent. Only the light sound of waves crashing against the soft sand.
Select Subscription Period
Pay with your credit or debit card.
Please wait
Please wait while we set up your subscription...
Peer Reviews
Here's what a star student thought of this essay.
sydneyhopcroft
Quality of writing.
The Quality of Written Communication is reasonably good, although again I stress the need to ensure that comma splice does not ruin the impact of the essay, which otherwise is really very good. There is no other cause for concern with regard to spelling and grammar.
Level of analysis
The Level of Description is very good, and shows a candidate indicative of a Grade B for GCSE. The candidate uses a wide range of sentence structures, lexical choices and linguistic devices in order to create the imagery of the serenity of a beach. Throughout the answer there is a good control over adjectives - a few candidates often overload their sentences with complex descriptions that can often weigh-down the sentences and stunt the fluidity, but this candidate remains in control throughout. As mentioned, the only gripe I do have is the sometimes incorrect application of punctuation. This limits the effectivity of the discourse and the candidate, as stated above, should rectify this.
Response to question
This candidate's response to this Writing to Describe task is a very competent one that uses a number of descriptive techniques in order to convey the strong imagery of a fictional beach. There is a wide range of linguistic techniques used, including simile, metaphor and personification, though in some parts the impact is lost due to a poor understanding of the needs for commas (comma splice e.g. - using commas when there is no need). I would recommend candidates ensure this does not happen, as at GCSE Level, candidates are expected to allow their descriptions to flourish without being hindered by poor Quality of Written Communication.
Other great essays
You have been stranded on a desert island. Describe your first 24 hours alo...
The Lottery: Free choice, self knowledge and Guilt
A Foreboding Night. Ian sat on the curb, his hands buried deep inside the...
Supermarket Description - Sleek, automatic, glass doors slid smoothly open,...
(Descriptive Writing) Describe the sights and sounds of a market place
A slave's diary.
Describe a person you admire. Though I have lived a colourful and varied...
Narrative essay 1
Morning of the execution. Within a few hours, her brother would be execute...
Descriptive piece - prison
A Walk by the River.
Media Analysis - Merchant of Venice
Creative Writing: Miss Havisham
Descriptive Writing. Over a ridge to the north, surrounded by rolling hill...
Document Details
Word Count 581
Page Count 2
Subject English
Related Essays
The Beach - descriptive writing
The beach - descriptive writing
Descriptive Writing
Original Writing - Perrinporth Beach
Home — Essay Samples — Environment — Water — Descriptive The Beach That Etched Into My Heart

Descriptive The Beach that Etched into My Heart
Subject: Life , Environment
Category: Holidays , Earth & Nature
Essay Topic: Beach , Water
Published: 25 January 2021
Downloads: 55
Remember! This is just a sample.
You can get your custom paper by one of our expert writers.
121 writers online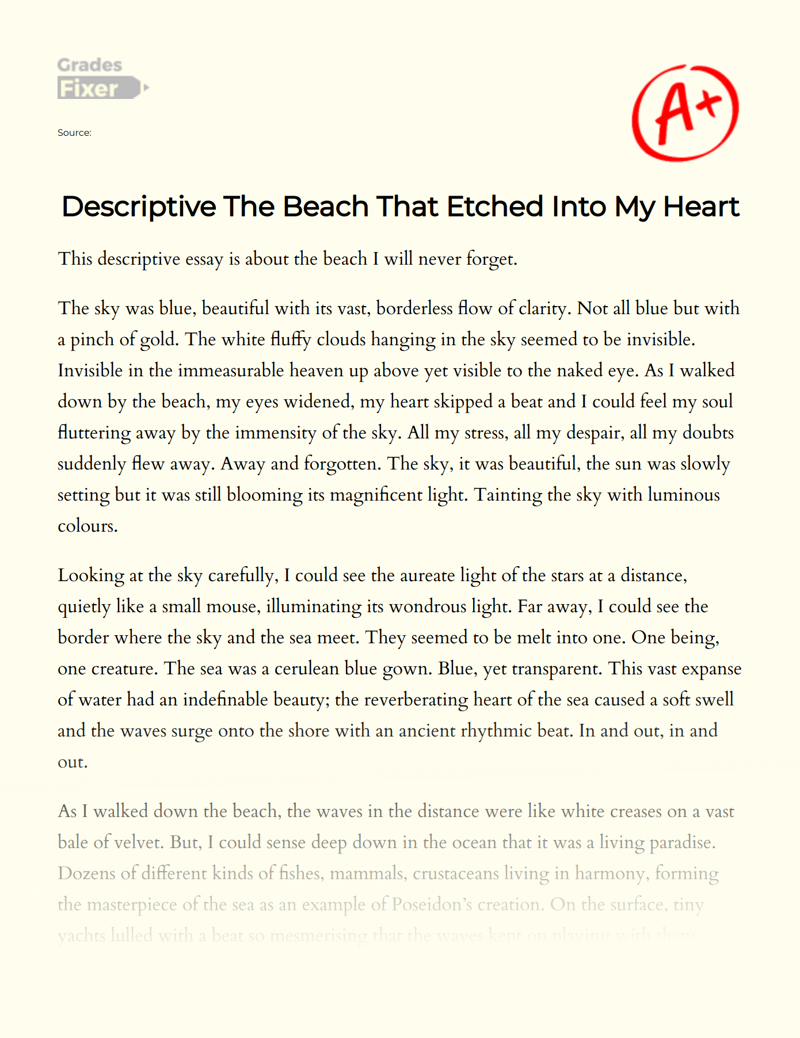 Remember: This is just a sample from a fellow student.
Related Essays
Water plays a major role in our day to day life cycle and it is a part and parcel of every human living in this planet. Our Earth contains 70% of water which should be sufficient for the growth of every human life form. But [...]
Though Kerala is receives high rainfall in the order of 3000mm per annum, the temporal variations in its occurrence leads to acute water scarcity during the non-monsoon periods. About 50% of the population in urban area and 80% [...]
Water is made up of two hydrogen molecules and an oxygen molecule, attached to the hydrogens with covalent bonds. This is due to the fact that the oxygen wants to fill up its outer shell with electrons and is willing to steal [...]
The discussion tap water vs. bottled water has very strong opinionated sides. One side believes that tap water is the better choice and is better for the environment and health of the general populace, while the other side of [...]
A wetland is a distinct ecosystem that is inundated by water, either forever or regularly, where sans oxygen forms prevail. The essential factor that recognizes wetlands from other land structures or water bodies is the [...]
Drinking water was supplied by WESSEX Water to 2000 new houses in Poundbury. Pipes of 350mm diameter with dimensions 200 x 290 x 280 in the Armstrong power series arrangement were used at a cost of ВЈ7, 503, 927 for both [...]
Several years ago, there began a crisis in Flint Michigan with their water supply. It had been heavily polluted and became very undrinkable. The residents in these areas had water of every color in the spectrum, such as brown, [...]
The beautiful Pacific Northwest serves as a perfect backdrop for Raymond Carver's stories, full of recurring symbolism, underlying themes, and significant motifs, most importantly the repeated theme of water. Just as water plays [...]
The forest is a lot of trees. Many animals need a forest to survive and survive. Forests are very important and grow in many parts of the world. They are ecosystems that contain many plants and animals. Temperature and rainfall [...]
Find Free Essays
We provide you with original essay samples, perfect formatting and styling
Cite this Essay
To export a reference to this article please select a referencing style below:
Related Topics
By clicking "Send", you agree to our Terms of service and Privacy statement . We will occasionally send you account related emails.
Where do you want us to send this sample?
By clicking "Continue", you agree to our terms of service and privacy policy.
Be careful. This essay is not unique
This essay was donated by a student and is likely to have been used and submitted before
Download this Sample
Free samples may contain mistakes and not unique parts
Sorry, we could not paraphrase this essay. Our professional writers can rewrite it and get you a unique paper.
Please check your inbox.
We can write you a custom essay that will follow your exact instructions and meet the deadlines. Let's fix your grades together!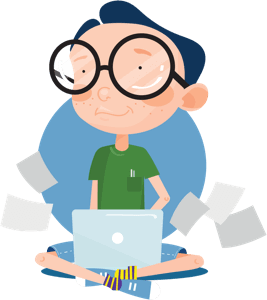 Are you interested in getting a customized paper?
We use cookies to personalyze your web-site experience. By continuing we'll assume you board with our cookie policy .
We can help you get a better grade and deliver your task on time!
Instructions Followed To The Letter
Deadlines Met At Every Stage
Unique And Plagiarism Free