We use cookies to enhance our website for you. Proceed if you agree to this policy or learn more about it.
Essay Writer Service >
Topic Collections
120 Descriptive Essay Topics to Spark Your Creativity
Writing a descriptive essay is a creative task. It requires using sensory language and expressive means, such as similes, metaphors, personifications, etc., for creating a vivid description of an object, place, person, or experience. The best descriptive essays are usually based on the writer's personal lived reality. However, some good descriptive essay topics require research and imagination to explore. Your instructors might give you one of such assignments to see how well you have absorbed class materials and how confident you are with the knowledge.
Finding a suitable topic to explore is no mean feat. With this blog, we hope to help you with the task. Below, you will find 120 topics grouped by a common theme and academic level they are suitable for. Some of the ideas for descriptive essays are linked to full samples in our free database. Read them to understand descriptive writing better and maybe borrow a trick or two to make your own essay even more compelling.
How to Choose a Descriptive Essay Topic
Before we proceed to our descriptive essay topics list, let's first prime you on brainstorming the ideas and finding suitable topics independently.
The first thing you need to ask yourself is, "What are my limits?" Are you free to use your imagination, or are you restricted to the facts you have witnessed? For example, for your history class, they might ask you to write a descriptive essay of an archeological site you've been digging. That would be a description based on your experience. However, they could also ask you to reconstruct the site and describe what it could look like centuries ago. That would be an assignment based on research but also requiring your imagination and creativity.
With that in mind, you need to inspect what resources you have at your disposal. If you have to base your essay on research, look at what literature you have readily available. If sources abound, you can narrow your topic down for a more efficient search. If, however, the information is scarce, scale up a bit to find more data.
If you have to write a description based on your experience, the best strategy for a good descriptive essay topic would be to go for something that made a strong impression on you. This way, it would be easier to create a powerful description from memory. Also, make sure you touch on points relevant to your class or this particular assignment. For example, you need to write about the importance of emotional intelligence in your practice as a nurse. For this, you must select a case that is both memorable to you and relevant to the topic.
Descriptive Essay Topics for Middle School
First, let us zero in on the academic level. Here are some fun descriptive paper ideas suitable for middle-school students. Some of the suggestions are easy; others are more challenging. However, they all provide an opportunity to give a colorful description and tell a story through images.
Describe your favorite animal
Describe a fantastical journey through a human body affected by fast food
My last weekend and how I spent it
Describe the dawn or the sunset
Describe your pet (or your friend's pet if you don't keep pets)
Describe your favorite item of clothing
Describe your last weekend
Describe the best journey you ever had
Describe your best friend
Describe your classroom
Describe your street
Describe your house
Descriptive Essay Topics for High School Students
If you have been given a descriptive writing assignment but no prompt hinting what to write a descriptive essay on, try these suggestions. Feel free to change them. Treat them as brainstorm starters.
A childhood memory that stuck with you
A time you lost someone dear to you and how you persevered
What are your personal reactions to The Princess Bride movie ? Be descriptive.
Retell Frankenstein from the POV of the Creature
Describe your family home
Describe the last party you've been to
Describe a book character (how you picture them based on the information from the book)
Describe waking up early
Describe your favorite smell
Describe a chance encounter that left a lasting impression
Describe the most fun activity you have ever participated in
Describe a thing that annoys you the most. What makes it so noxious?
Descriptive Essay Topics for College Students
As a college student, you must be looking for more original topics to write a descriptive essay on since you've most likely already explored the easier ones from above. Look in this section or further – in the thematic groups. Read the papers attached as examples if the topic interests you but seems too challenging. Also, don't forget that you can get personalized essay writing help for any type of assignment – creative descriptions included.
Describe your favorite place on campus
Describe your experience with contemplating art
Describe a hot day
Describe events from The Great Gatsby from an unconventional POV
Describe a vivid childhood memory
Describe a gathering (a club meeting, a political rally, etc.)
Describe a construction site
Describe a frightening experience you went through
Describe building a healthy habit (or breaking a bad one)
Describe a wedding you have attended
Describe a trip home during the break
Describe your new room away from home
Descriptive Essay Ideas About an Object
Describing an object is probably on the easier side of this assignment. However, with these original descriptive writing topics, an essay about an ordinary thing can be just as impressive and sophisticated as a description of unique experiences.
My notebook
Describe a tool you use every day and its importance
The thing that has shaped your childhood
Describe your most treasured possession
Describe a piece of jewelry you wish you owned
Describe a thing that has a story attached to it (a family heirloom, a museum exhibit, a memento, etc.)
Describe your favorite piece of furniture
Describe a thing that used to scare you as a child
Judge a book by its cover: pick up and describe a book you've never read
Describe a remarkable door
You are living in the Iron Age. Describe the most valuable thing you own
Describe an item that belongs to a friend or a family member. What can it tell about its owner?
Topics for a Descriptive Essay About an Experience
Speaking of experiences. If you are tired of well-thumbed issues like triumphs and defeats, choose your next topic for a descriptive essay from the list below. Write a different story that is meaningful and impactful.
Describe how you tried something for the first time
Describe a music concert or a festival you've been to
Describe the feelings of an unfairly incarcerated person
Describe a difficult situation that taught you something valuable
Describe living through a natural disaster
Describe the feeling of sorrow
Describe your experience watching a classic movie
Describe how you combat stress
Describe the sadness of leaving
Describe recovering from an illness
Do you remember how you learned reading? Tell about the experience
Describe your visit to a beauty salon or a barbershop
Examples of Descriptive Essay Topics About a Place
Descriptive paper topics suggested below give you only a general direction for your thoughts. In contrast, a sample attached to each title describes a concrete and very specific place. That is why we advise you to explore the attached pieces for more inspiration.
Write about a public place that continues to evoke powerful, emotional memories for you
Describe a restaurant in your area
Describe a house
Describe your hometown
Describe ocean shore
Describe a museum or an art gallery you've attended
Describe a park or a natural spot you like
Describe your favorite place on earth
Describe the best place to study
Imagine a public space designed for teens. Describe it. Where would you place it?
Do you remember your first trip out of town? Where did you go? Be descriptive.
Describe a place where you feel most safe
Interesting Descriptive Essay Topics About a Person
Describing a person is not an easy task, especially if you need to remain neutral and objective. These topics for descriptive essays about people will be an excellent exercise for you.
Describe a person from your class that you find interesting
Describe a person you have helped recently
Describe a stranger who showed you kindness
Describe one of your parents
The most unforgettable person in your life
Describe a person you can call your mentor
Describe your professor
Describe someone you see often but not acquainted with (a cash-desk clerk, a bus driver, a dog-walker from your street, etc.)
Describe a celebrity you find the most inspiring
Describe a fictional character you had a crush on
Describe an influential political figure of today
If you could interview any historical personality, who would it be? Describe them
Descriptive Essay Topics About Art, Culture, and Esthetics
The area we have outlined in the subheading is vast, so these topics are there to give your creativity a little nudge. Play with them and transform them to suit your assignment.
Describe a cultural artifact (a sculpture, a painting, a museum exhibit, etc.)
Describe a creative work you have produced
A documentary that fascinated you
Describe an impact of a poetic work on you
Describe characters on your favorite TV show
Describe a dance show
Describe a thing you would call kitschy. Explain your choice
Describe a ceremony or a ritual you partook in
Describe a night in a movie theater from the perspective of a first-time goer
Describe a consumer good from the point of view of its esthetic value
Describe a building. What's its purpose? How is it conveyed through architecture?
Describe a historical costume representative of a particular era
Imaginative Topics for a Unique Descriptive Essay
How about running away with your imagination and creating something that doesn't exist? No one said that your description must be documental.
If you could rule the world, how would it look like? Describe your perfect vision
Describe the art to an alien
Describe how your childhood experiences have formed your personality
Describe a magical creature you wish existed
Describe a robot you could befriend
Describe an ordinary day from the point of view of an inanimate object
Describe a technological artifact from another planet
Describe a day in a park without using sight
Describe a sci-fi landscape
Describe an immortal being
Describe flying over your hometown
Describe turning into an animal
Descriptive Essay Topics About Business and Technology
Serious topics can be approached creatively as well. Descriptive essays give a human dimension to business and tech – which is always good for a better understanding their purposes.
Internet hoaxes you've come across
Describe a product to a potential consumer
Describe your short-term (3 years) career goals
Describe customer experience in a chain restaurant or reseller's
Describe an innovative shop window display
Describe your workday or shift
Describe a place of work you see yourself in 5 years
Describe an ergonomic design you admired
Describe a perfect gadget that doesn't exist yet
Describe your first computer
Describe a technology that should replace human labor. Why would it be better this way?
Describe an item that will be in each household twenty years from now
If one of the topics above caught your fancy, but there is no sample, don't despair. We can write one exclusively for you. Moreover, if you have written a draft but you think it could be more expressive and vivid, send it to us for editing, and we will make it shine!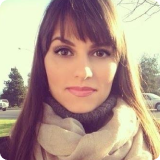 Jana Rooheart
Jana Rooheart came to WOWESSAYS™ with a mission to put together and then slice and dice our vast practical experience in crafting all kinds of academic papers. Jana is an aspired blogger with rich expertise in psychology, digital learning tools, and creative writing. In this blog, she willingly shares tricks of pencraft and mind-altering ideas about academic writing any student will find utterly beneficial.
Share with friends using: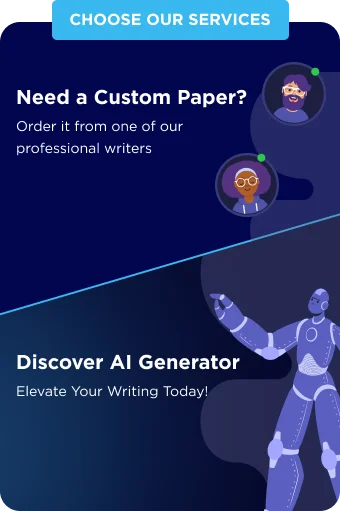 275 words = 1 page double-spaced
Looking for essays to inspire you? We have samples of all types on any topic under the sun!
Other pages.
Realm Reports
Art And Architecture Essay To Use For Practical Writing Help
Example Of Essay On Global Health Discussion Board
Perfect Model Essay On Plans And Aspirations For College And Beyond
Buyback Essays
The Who Essays
Advanced Technology Essays
Dorothy Parker Essays
Sylva Essays
Rummel Essays
Cubits Essays
Defile Essays
Password recovery email has been sent to [email protected]
Use your new password to log in
You are not register!
By clicking Register, you agree to our Terms of Service and that you have read our Privacy Policy .
Now you can download documents directly to your device!
Check your email! An email with your password has already been sent to you! Now you can download documents directly to your device.
or Use the QR code to Save this Paper to Your Phone
The sample is NOT original!
Short on a deadline?
Don't waste time. Get help with 11% off using code - GETWOWED
No, thanks! I'm fine with missing my deadline
Have a language expert improve your writing
Run a free plagiarism check in 10 minutes, generate accurate citations for free.
Knowledge Base
How to write a descriptive essay | Example & tips
How to Write a Descriptive Essay | Example & Tips
Published on July 30, 2020 by Jack Caulfield . Revised on August 14, 2023.
A descriptive essay gives a vivid, detailed description of something—generally a place or object, but possibly something more abstract like an emotion. This type of essay , like the narrative essay , is more creative than most academic writing .
Table of contents
Descriptive essay topics, tips for writing descriptively, descriptive essay example, other interesting articles, frequently asked questions about descriptive essays.
When you are assigned a descriptive essay, you'll normally be given a specific prompt or choice of prompts. They will often ask you to describe something from your own experience.
Describe a place you love to spend time in.
Describe an object that has sentimental value for you.
You might also be asked to describe something outside your own experience, in which case you'll have to use your imagination.
Describe the experience of a soldier in the trenches of World War I.
Describe what it might be like to live on another planet.
Sometimes you'll be asked to describe something more abstract, like an emotion.
If you're not given a specific prompt, try to think of something you feel confident describing in detail. Think of objects and places you know well, that provoke specific feelings or sensations, and that you can describe in an interesting way.
A faster, more affordable way to improve your paper
Scribbr's new AI Proofreader checks your document and corrects spelling, grammar, and punctuation mistakes with near-human accuracy and the efficiency of AI!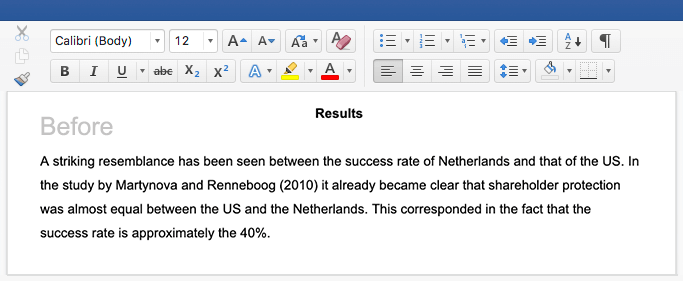 Proofread my paper
The key to writing an effective descriptive essay is to find ways of bringing your subject to life for the reader. You're not limited to providing a literal description as you would be in more formal essay types.
Make use of figurative language, sensory details, and strong word choices to create a memorable description.
Use figurative language
Figurative language consists of devices like metaphor and simile that use words in non-literal ways to create a memorable effect. This is essential in a descriptive essay; it's what gives your writing its creative edge and makes your description unique.
Take the following description of a park.
This tells us something about the place, but it's a bit too literal and not likely to be memorable.
If we want to make the description more likely to stick in the reader's mind, we can use some figurative language.
Here we have used a simile to compare the park to a face and the trees to facial hair. This is memorable because it's not what the reader expects; it makes them look at the park from a different angle.
You don't have to fill every sentence with figurative language, but using these devices in an original way at various points throughout your essay will keep the reader engaged and convey your unique perspective on your subject.
Use your senses
Another key aspect of descriptive writing is the use of sensory details. This means referring not only to what something looks like, but also to smell, sound, touch, and taste.
Obviously not all senses will apply to every subject, but it's always a good idea to explore what's interesting about your subject beyond just what it looks like.
Even when your subject is more abstract, you might find a way to incorporate the senses more metaphorically, as in this descriptive essay about fear.
Choose the right words
Writing descriptively involves choosing your words carefully. The use of effective adjectives is important, but so is your choice of adverbs , verbs , and even nouns.
It's easy to end up using clichéd phrases—"cold as ice," "free as a bird"—but try to reflect further and make more precise, original word choices. Clichés provide conventional ways of describing things, but they don't tell the reader anything about your unique perspective on what you're describing.
Try looking over your sentences to find places where a different word would convey your impression more precisely or vividly. Using a thesaurus can help you find alternative word choices.
My cat runs across the garden quickly and jumps onto the fence to watch it from above.
My cat crosses the garden nimbly and leaps onto the fence to survey it from above.
However, exercise care in your choices; don't just look for the most impressive-looking synonym you can find for every word. Overuse of a thesaurus can result in ridiculous sentences like this one:
My feline perambulates the allotment proficiently and capers atop the palisade to regard it from aloft.
An example of a short descriptive essay, written in response to the prompt "Describe a place you love to spend time in," is shown below.
Hover over different parts of the text to see how a descriptive essay works.
On Sunday afternoons I like to spend my time in the garden behind my house. The garden is narrow but long, a corridor of green extending from the back of the house, and I sit on a lawn chair at the far end to read and relax. I am in my small peaceful paradise: the shade of the tree, the feel of the grass on my feet, the gentle activity of the fish in the pond beside me.
My cat crosses the garden nimbly and leaps onto the fence to survey it from above. From his perch he can watch over his little kingdom and keep an eye on the neighbours. He does this until the barking of next door's dog scares him from his post and he bolts for the cat flap to govern from the safety of the kitchen.
With that, I am left alone with the fish, whose whole world is the pond by my feet. The fish explore the pond every day as if for the first time, prodding and inspecting every stone. I sometimes feel the same about sitting here in the garden; I know the place better than anyone, but whenever I return I still feel compelled to pay attention to all its details and novelties—a new bird perched in the tree, the growth of the grass, and the movement of the insects it shelters…
Sitting out in the garden, I feel serene. I feel at home. And yet I always feel there is more to discover. The bounds of my garden may be small, but there is a whole world contained within it, and it is one I will never get tired of inhabiting.
If you want to know more about AI tools , college essays , or fallacies make sure to check out some of our other articles with explanations and examples or go directly to our tools!
Ad hominem fallacy
Post hoc fallacy
Appeal to authority fallacy
False cause fallacy
Sunk cost fallacy
College essays
Choosing Essay Topic
Write a College Essay
Write a Diversity Essay
College Essay Format & Structure
Comparing and Contrasting in an Essay
 (AI) Tools
Grammar Checker
Paraphrasing Tool
Text Summarizer
AI Detector
Plagiarism Checker
Citation Generator
Here's why students love Scribbr's proofreading services
Discover proofreading & editing
The key difference is that a narrative essay is designed to tell a complete story, while a descriptive essay is meant to convey an intense description of a particular place, object, or concept.
Narrative and descriptive essays both allow you to write more personally and creatively than other kinds of essays , and similar writing skills can apply to both.
If you're not given a specific prompt for your descriptive essay , think about places and objects you know well, that you can think of interesting ways to describe, or that have strong personal significance for you.
The best kind of object for a descriptive essay is one specific enough that you can describe its particular features in detail—don't choose something too vague or general.
Cite this Scribbr article
If you want to cite this source, you can copy and paste the citation or click the "Cite this Scribbr article" button to automatically add the citation to our free Citation Generator.
Caulfield, J. (2023, August 14). How to Write a Descriptive Essay | Example & Tips. Scribbr. Retrieved September 26, 2023, from https://www.scribbr.com/academic-essay/descriptive-essay/
Is this article helpful?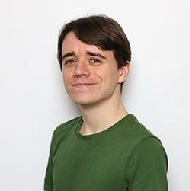 Jack Caulfield
Other students also liked, how to write a narrative essay | example & tips, how to write a literary analysis essay | a step-by-step guide, how to write an expository essay, what is your plagiarism score.
How to Write a Descriptive Essay: Full Guide With Tips
In this article, we examine the descriptive essay and present a step-by-step writing guide. Stick around for helpful writing tips near the end! Also, check out custom writers at EssayPro — political science essay service, if you need private tutoring or essay editing.
What is a Descriptive Essay?
The definition of a descriptive essay is a type of composition or paper which describes an object, person, process, or event. The writer's goal is to create a vivid reading experience, or to show instead of tell (metaphorically).
Descriptive writing usually appeals to the five senses: taste, touch, smell, hearing, and sight. (Ex: Jack's coffee mug exploded into tiny shards of glass, catching the attention of everyone at the office.) Always appealing to the senses is key to writing a good descriptive essay.
When writing a descriptive essay, your goal will be to paint a comprehensive picture for the reader by appealing to the five senses. Last but not least, your work should have a purpose. It could be anything from a lesson you learned from an experience, to a story of how an object impacted your life. It's all about making your bright ideas come to life.
Difference Between a Description and a Descriptive Essay
When writing this type of paper, you should know the difference between a description and a descriptive essay. A description can be just a simple paragraph, or several ones with no specific structure, meanwhile, a descriptive essay has five or more paragraphs and a clear and complete structure. A descriptive essay is usually written coherently, has a good thesis statement at the end of the introduction, three body paragraphs, and a conclusion. A description however, does not necessarily have a structure. Its main purpose is to just describe an object, or something else, without having any extra academic layers.
The Issues that Could be Described in Your Paper
A person. In this paper, you can talk about a person. It can range from simply writing about their appearance to more complex descriptions like actions, behaviours, mood, and qualities of your chosen individual.
A place. The main thing you should do when describing a place in your work is to describe it interestingly and originally. Your reader(s) should feel, for example, the beauty of your chosen cities—perhaps New York or Rome.
An event. Here you need to describe the story of what happened. It can be your last vacation, concert, wedding, anniversary, summer music festival, graduation day, or so on.
An animal. In this type, you need to describe the animal. It may be its appearance, behaviour, or biology.
An occupation. Here you need to write about a job or occupation.
A behaviour. This is the type of descriptive writing you should go for if you would like to write about someone's behaviour. Perhaps you want to describe the strange behaviour of your friend, or highlight how certain people act under different conditions.
Two Classic Approaches to the Descriptive Essay
1. Personal Essay
Here you need to describe an experience using your feelings and responses. This work can awake empathy in readers. It can also be vague and disorganized. If you want to write a good personal essay, you should try to focus only on those aspects that most fully express your experience. Do not shy away from vivid, evocative language in this type of assignment.
A few examples of personal essay topics might be:
Describing the experience of swimming in the azure sea in summer
Explaining your favourite movie and its impact on you
Reflecting on your birthday and all the things that have shaped you in the past
2. Formal Description
This type of descriptive writing resembles an argumentative essay. Your main goal should be communicating a set of key points or describing something in detail—according to a clear structure. Rather than focusing on your own experience, you need to use specific categories of information to provide the fullest possible portrait of what you are describing. This approach can also be engaging, especially when the reader is more curious about the subject of the paper than the writer's response to it. Still, try not to make it dull with too formal language.
Topics for formal descriptions can include:
A descriptive essay about climate change, politics, or historical events.
A news story that provides a summary of an event or information about the place where it occurred.
Descriptive Essay Topics & Ideas
Finding descriptive essay topics isn't hard. You can describe pretty much anything—from your favourite car to today's weather. We've gathered some ideas to help you get started. Hopefully, you'll find good descriptive essay topics to spark your imagination.
Describe a Person
Pick a person who you know well—doing so gives you a lot to write about. Choose from family members, friends, teachers, etc. You can even write about a celebrity who exposes most of their private life to the media: The Kardashians, Kanye West, or Taylor Swift for instance. A famous superhero like Spider-Man is also interesting. Such fictional figures have undergone many character studies from both academic and non-academic perspectives.
Examples: Why my father is my favourite person. How Kim Kardashian changed my life.
Describe an Object or a Place
You may also describe an object or a place with which you have a special connection. This could be your high school, a playground, or a toy which used to scare you as a kid. Fictional places also count!
Examples: My native city – Paris My trip to London
Describe an Emotion
Remember the most sincere emotion you've experienced and turn it into a descriptive essay writing. You may choose a strong feeling like anger, happiness, loss, desire, or rage. It doesn't have to be a personal emotion, it could be an observed one.
Examples: How love changed me Hatred and love – how they are similar
You can also write a descriptive essay about anything you can describe according to human senses: touch, sight, taste, smell, or hearing.
Creating a Descriptive Essay Outline
When thinking about descriptive essay writing, remember that a structured paper outline is your golden ticket. Not only does it help you organize thoughts, but it will also help your essays flow better.
A descriptive essay outline is composed of the following:
An introduction
Hook sentence
Context/Background information
Thesis statement
Body paragraphs
Topic sentence
Sensory details
Actual details
A conclusion
Summary of all main points
Clincher Statement
It is important to spend enough time considering the victim of description because all of your illustrations will be based around it.
Need Some Help?
You will get your written masterpiece delivered to you on time, with a smile on your face!
Introduction
The introduction serves to introduce your subject to the reader and give them enough context to fully understand your work—but keep it brief and interesting for the reader(s). When learning how to write a descriptive essay introduction, remember – the first paragraph of your paper is the part that can make your descriptive essay stand out from the others.
As with any college paper, a descriptive essay introduction must contain the following points:
Hook Sentence: Although the entire paper should be full of exciting and vivid descriptions, grabbing the reader's attention from the very beginning is ideal.
Context/Background Information: Tell the reader what you're about to describe and explain why it is crucial to you. Give them a brief context for your paper.
Thesis Statement: The descriptive essay thesis should be a short yet concise summary of the work. It must include the subject of your description, and your purpose for describing it.
For further information on how to write a thesis for a descriptive essay, check out the examples below.
Place. If you were to write about Buckingham Palace: "Even though the monarchy is long gone, Buckingham Palace serves to remind us of the aesthetic beauty which that era had built." Person. For describing Spider-Man: "The defining characteristics of Spider-Man are his youthfulness, New York City, and the fact that he talks to himself more than Hamlet." Emotion. A piece about a personal experience of fear: "For many reasons, the dark forest is my greatest fear, though not a fear which I would necessarily like to venture into."
Body Paragraph(s)
There are usually three body paragraphs in a paper. They cover three different points or arguments. How many body paragraphs to include in your descriptive essay is entirely up to you—or your professor. Sometimes it only takes a paragraph to tell a story, while other times it takes books.
How to write a body paragraph:
Start with a topic sentence. ex. The orange looks familiar; it is a round citrus fruit whose colour matches its name.
Add sensory details. When describing the orange, appeal to relatable senses.
Include actual details. Always include descriptive information within your body paragraphs. Finish a body paragraph by introducing the next. Transition sentences are essential because they create immersion within your writing. Your writing will become better and it won't appear as if you are reading a list of facts.
The descriptive essay is one type of 5 paragraph essay , which is the most common type of essay a student may encounter.
According to the descriptive essay format, your conclusion should be a summary of all of the main points in the body text. It is a good idea to write a final sentence that relates to the main point of your paper. Once this is done, the paper is now complete. We advise that you proofread your descriptive essay to correct any grammatical errors.
Try to incorporate the following into your conclusion:
The first thing to do at the end is to reflect on the initial purpose of the work. Spill the beans on why you decided to write about this subject, and how this subject has affected your life. An article about reflection paper may also be helpful to you.
Signify the Importance of the Details: Go over some key moments of the paper. Give a summary of what you have covered, and prepare the audience for the clincher statement.
Clincher Statement: The clincher is the final sentence that reinforces your paper's overall purpose or leaves your audience with an intriguing thought, question, or quote. You've probably spent a lot of time thinking of a hook to pull the audience in. Do not allow the paper to escape your audience's thoughts right after they have finish reading it.
If you need help, leave us a notice ' do my homework ' and get it asap.
Writing and Reviewing Your Descriptive Paper Writing
Writing the paper consists of the following stages:
Pre-writing stage. Here you need to examine all of the sources you have and define if they all offer important information on the topic of your choice.
Writing the beginning. You should start your paper with a powerful, engaging hook that will grab the readers' attention. It may include an unusual metaphor or an interesting literary quote.
Creating the first draft of your descriptive essay. Here is where you just need to write down all of the words that come to your mind; you'll have a chance to narrow down your ideas later.
Adding details to your paper with the help of enriched English vocabulary and online dictionaries. Use your English vocabulary to add missing feelings, like hearing, to help make the descriptive essay leave a lasting impression.
Revising and editing the paper with the help of different free online grammar checking tools.
Let's talk in detail about the final step here: reviewing your paper. After you finish writing, take a break. It's always best to clear your mind before editing your paper.
When you come back to your descriptive essay, here are some questions to ask yourself:
Have you provided enough context in the introduction?
Is the paper easy to read?
Does the thesis relate to the content of the paper?
Does the paper feature vivid, descriptive language?
Will the clincher statement leave a lasting impact?
Are there enough details to make it possible for your readers to obtain a full and vivid perception of your description?
Does each section of your work focus on one aspect of your description?
Does your paper possess any unnecessary details in your description that can be thrown away or replaced by more meaningful information?
Overall, if you were the reader, does this paper make sense to you?
Are there any problems with grammar and punctuation?
Sometimes web applications like Grammarly or the Hemingway app can help you sort your grammar. However, it's always best to master the rules of grammar yourself and become the best writer you can be. Once you're convinced you have the final draft, read it out loud or give it to a friend to read. Sometimes you need some constructive criticism to tie up loose ends in your writing. You can also trust the professionals and buy cheap essay on EssayPro service.
Check out our PUNCTUATION GUIDE
‍ Descriptive Essay Good Examples
This is a commonly assigned and most opted-for form of an essay. Why not have a look at our written descriptive essay examples. In this section, you can find some of the top examples and quotes followed by some critique.
The writer of this descriptive essay example explains how there was a lot of life before humans existed. The world was full of Blue Jays and North Cardinal birds that most probably ate pansy seeds as a stable diet. In this example, it is clear that the writer has put himself/herself in the perspective of someone in the far future. He/she describes how we were in the 21st century, and how we used the poles as communication portals.
In the eyes of the untrained, a rugby game is just a bunch of huge individuals senselessly fighting one another, struggling to move an oval ball inch by inch down a field full of mud towards the goal line of the opposing team. Players don't put on pads or get a timeout in the event of injuries. Yet rugby is a different thing, a gentleman's sport—to those who understand it. While rugby appears rough, its players maintain good respect toward both teammates and opponents.
It may be possible that you are not the expressive word artist in the world. If you are looking for someone to help with dissertation , we have numerous writers that have vivid word lingo flowing through their blood.
Need To Describe Something But DON'T KNOW HOW?
Let one of our essay writers do it for you, all you have to do is send us your paper requirements and wait for your original paper to be written.
Related Articles
Descriptive Essay

Descriptive Essay - A Complete Guide
10 min read
Published on: Aug 18, 2018
Last updated on: Feb 28, 2023
On This Page On This Page
Are you eager to write compelling descriptive essays but don't know how to start?
A descriptive essay describes something - a person, an event, a place, or a personal experience in detail. The purpose of this essay is to provide enough detail about the topic to enable the reader to picture it.
If you want to learn how to write an excellent descriptive essay, this blog is for you!
Here's a complete guide to help you write good descriptive essays. Along with a step-by-step guide, you'll also get impressive example essays to learn from.
So let's get into it!
What Is a Descriptive Essay?
A descriptive essay gives a detailed description of the topic and paints a picture with words in the reader's mind. It could be about an object, place, person, emotion, situation, or anything.
It is used to sharpen the analytical abilities of the students, which is helpful in further education and professional life. Therefore, it is often given to students in high school and college.
According to the descriptive essay definition,
"It is a type of essay that is used to describe an event, a place, a person, or anything in detail."
This essay encourages the student's ability to create an image by appealing to the senses of the reader.
Purpose of a Descriptive Essay
The purpose of writing a descriptive essay is to describe something such as a person, object, place, or situation.
Descriptive speech or essays give readers a clear picture of the essay subject. The writer should make use of vivid language to help the reader understand what the essay is all about.
It does not involve convincing readers or showing factual information to prove something like an argumentative essay does. Instead, it aims to show all the important details about the chosen subject to make the reader understand the subject easily.
Here's a short video that explains descriptive writing:
Types of Descriptive Essay
Descriptive essays can come in two types: formal and personal.
Personal Descriptive Essay
The personal descriptive essay is a subjective descriptive essay. It aims to describe the writers' own feelings and perceptions of the topic.
It is often written in a first-person point-of-view, allowing readers to understand the writer's personal experiences.
Here are a few examples of personal essay topics:
The moment that changed my life forever.
My experience overcoming a fear or phobia.
A significant challenge I faced and how I overcame it.
My cultural or family background and how it has influenced me.
A time I failed and what I learned from the experience.
Formal Descriptive Essay
The formal descriptive essay is an objective descriptive essay. It relies on facts and evidence to describe the object or event – without using any emotion or opinion from the writer.
These essays are valuable in the sciences or other fields of study where finding accurate information is crucial. They are often used to write academic papers, such as research reports.
Some possible topics for formal descriptions could be:
The architecture of a historical building
The process of making a traditional dish
The unique characteristics of a rare gemstone
The layout and features of a city park
The cultural significance of a religious monument
Paper Due? Why Suffer? That's our Job!
Elements of a Descriptive Essay
There are five basic features of a descriptive essay:
A descriptive essay involves arousing the emotions of the readers and creating an association with them. Sensory details paint a picture of the subject for the reader and engage their senses like sight, touch, smell, and taste.
Using figurative language is one of the main elements of a descriptive essay. The use of metaphors, similes, adjectives, adverbs, etc. creates the character sketch of the subject. This sketch helps the readers feel what the writer felt about the subject and helps him visualize the subject.
The central theme shapes and directs the essay's content and helps organize the details. It should be well defined and focused on a single point.
The effect of your essay depends on the type of language that you have used in it. The language should emphasize the main theme and aim of the essay. Therefore, avoid using vague and ambiguous words.
An organized structure is an essential element of this essay. Also, the chronology, spatial location, and order play an important role.
How to Write a Descriptive Essay?
Writing an effective descriptive essay involves topic selection, creating an outline of parts of the descriptive essay, organizing ideas, and adding relevant information to the essay.
The following is the process of descriptive writing.
How to Start a Descriptive Essay
1. choose a topic.
Choosing a good topic for your essay is important. The essay topic should be attractive so that it compels the reader to stay with you throughout the essay.
2. Create an Outline
Draft a descriptive essay outline to organize your information in a proper sequence. It will help you structure your essay and remind you to include all the sensory details.
3. Write a Descriptive Essay Introduction
The essay begins with an introduction. It introduces the main topic and includes a strong opinion that creates the first impression of the essay. The introduction gives a brief overview of what the essay is going to be about.
4. Craft an Informative Thesis Statement
A descriptive essay thesis statement defines the scope and purpose of the essay. It is a narrow subject line, which should be clear and precise. Write the statement in a creative way and choose descriptive words for it.
Creating mystery in your thesis statement attracts the reader to the body of your essay.
Writing the Body Paragraphs
The body paragraphs support the introduction and follow the direction as defined in the thesis statement. Here's how you write a body paragraph:
Use topic sentences as the first sentence of each paragraph. A topic sentence states the main point of a paragraph.
Connect the topic sentence to the thesis.
Present evidence and explain how it supports your argument in that paragraph.
Organize your paragraphs properly in an orderly form, in case of experience and memories.
Summarize the key points in each body paragraph.
Finally, make sure that body paragraphs are connected to each other through transition words or phrases.
Ending with a Strong Descriptive Essay Conclusion
The conclusion is the last part of the essay according to the descriptive essay format. This is your last chance to impress the reader.
It summarizes and provides a way forward from the essay. The following steps will help you write an excellent conclusion.
Use the appropriate transition words such as "to finish with", "in conclusion" and 'lastly' suggesting an end to the essay.
Summarize the main points of your essay in a clear and concise manner
Discuss how the details from the body of your essay support the initial thesis statement.
Offer final thoughts on the subject matter that will leave an impression on the reader. It could be food for thought or a call to action.
The last sentence of the essay should finalize the writer's aim of writing the essay and provide an everlasting effect.
Descriptive Essay Topics
Whether you are writing about a person or a place, your topic should have good supporting points that explain the topic.
Choosing an engaging topic will develop curiosity and hook the reader to the last bit of the essay. Here we have prepared a list of amazing descriptive essay topics for you.
Descriptive Essay About a Place
Depict the Lincoln Castle in your own words.
What does the house of your dreams look like?
Make a description of the Safari Park you visited last week.
Describe a conference room situation for your colleagues.
Describe how you imagine Niagara falls.
Descriptive Essay About a Memory
Describe one of the earliest memories of your childhood.
What is the happiest memory in your mind?
How you have celebrated your best friend's birthday
When I saw the apple plant seed
The first time I went abroad
Descriptive Essay About a Person
Portray Nelson Mandela as a role model.
Explain how you imagine aliens to be like.
Write a character sketch of a character from the play Hamlet.
Describe one of your family members.
A stranger I met in the lobby.
Descriptive Essay About an Object
My lucky watch
My favorite badminton racket
The flask I broke
The silk road
The thing that you passionately wanted to buy
Descriptive Essay About an Emotion
The feeling of love
The sense of peace
The thrill of fear
The power of anger
The beauty of joy
Descriptive Essay Topics for University Students
Describe the feeling of attending your first college class.
Illustrate the effects of living and studying on a college campus.
Describe a meaningful experience you had with a professor in college.
Illustrate the importance of participating in extracurricular activities during university years.
Describe the impact of financial aid and scholarships on college education.
Want more topics? We've got a list of hundreds of descriptive essay topics for you, so be sure to check them out.
Tough Essay Due? Hire Tough Writers!
Descriptive Essay Examples
You should read some good essay examples before writing your own essay. An essay example would help you demonstrate, compile, and organize your essay in a structured form.
Below we have provided some amazing examples to help you know the process.
A School Lunch Hall Descriptive Essay Example
The Weekend Market Descriptive Essay Sample
Descriptive Essay on Historical Place
Descriptive Essay on a Teacher that I Remember
Descriptive Essay on my Village
My Favorite Place Descriptive Essay
5 Paragraph Essay - Descriptive Essay PDF
The ultimate aim of this practice is to identify and learn different techniques for writing an impressive descriptive essay. Find more descriptive essay examples to read and learn from.
Tips for Writing a Descriptive Essay
Here are some tips for writing a descriptive essay:
Choose a specific topic: Your essay should focus on a specific person, place, object, or event that you can vividly describe.
Use sensory details: Sensory details are descriptive words and phrases that help your reader experience the subject of your essay through sight, sound, smell, taste, and touch.
Organize your essay: Your essay should have a clear introduction, body paragraphs, and conclusion. Consider using a chronological or spatial organization to help your reader understand the sequence of events or the layout of the subject.
Show, don't tell: Instead of simply telling your reader what you are describing, show them through specific examples and sensory details.
Use figurative language: Similes, metaphors, and other forms of figurative language can help you convey the emotions and feelings associated with your subject.
Summing it up,
Descriptive essay writing is a skill that requires thorough practice. It involves the ability to craft an engaging story with vivid descriptions, sounding as realistic as possible.
The above-mentioned steps and examples are a great way for students to learn writing a descriptive essay.
However, if you still need expert help to write a flawless essay, we've got your back.
You can hire a custom descriptive essay writer from MyPerfectWords.com . They will make your essay writing process simple and smooth.
MyPerfectWords.com provides legitimate essay writing services to help you with your essays.
Our descriptive essay writing service provides non-plagiarized essays and high-quality papers for you.
Hire our essay writing service now and get essay help from us at affordable prices.
Caleb S. (Literature, Marketing)
Caleb S. has been providing writing services for over five years and has a Masters degree from Oxford University. He is an expert in his craft and takes great pride in helping students achieve their academic goals. Caleb is a dedicated professional who always puts his clients first.
People also read
Descriptive Essay Examples & Writing Tips
Top 100+ Descriptive Essay Topics & Ideas
Creating a Descriptive Essay Outline - Format & Example
Crafting an Authentic Portrait: A Guide to Writing a Descriptive Essay About a Person
Crafting the Perfect Descriptive Essay About Myself - Tips and Tricks
Writing a Descriptive Essay About A Place - Guide With Examples
How to Craft the Perfect Descriptive Essay About A Person You Admire
Descriptive Essay About My Mother - A Guide to Writing
Delicious Descriptions: A Guide to Writing a Descriptive Essay About Food
Write A Descriptive Essay About Nature With This Guide
Learn Tips to Write a Descriptive Essay About Autumn - Step into the Golden Season
Share this article
Keep reading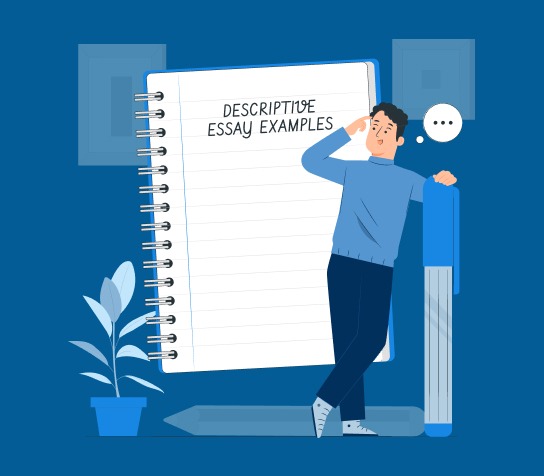 We value your privacy
We use cookies to improve your experience and give you personalized content. Do you agree to our cookie policy?
Website Data Collection
We use data collected by cookies and JavaScript libraries.
Are you sure you want to cancel?
Your preferences have not been saved.