Essay on Acid Rain for Students and Children
Essay on Acid Rain
Acid Rain includes rain, snow, hail, fog, or dew that is high in acid pollutants, especially sulphuric and nitric acid. Acid Rain is mainly caused by emissions of sulphur dioxide and nitrogen oxide from various sources. They react with the water molecules in the atmosphere to produce acids. The problem of Acid Rain has not only increased with rapid growth in population and industrialization , but it has also become more harmful. In fact, the use of the tall chimneys on a factory, ship, has contributed to the spread of Acid Rain by releasing gases into the atmosphere. A large number of acid deposits are witnessed in Canada, the United States, Europe, portions of Sweden, Norway, and Germany. Some amount of acid deposits are found in parts of South Asia, South Africa, Sri Lanka and Southern parts of India like Bangalore, New Delhi, Mumbai.
Types of Acid Rain
There are two types of depositions in which acid rain occurs. They can be discussed as follows:
Wet deposition: When the acid falls on the ground in the form of rain, snow, fog or mist, it removes acid from the atmosphere and settles them on the Earth's surface. When this acid flows through the ground, it affects a large number of plants, animals and aquatic life. The water from drain flows into the water sources like rivers and canals which is then mixed up into seawater; thereby affecting the aquatic habitats.
Dry deposition: When the acidic pollutants merge into dust or smoke and fall to the ground as dry particles, these stick to the ground and other surfaces such as buildings, cars, houses, trees, and monuments. Majority of the acidic pollutants in the atmosphere spread through dry deposition.
Causes of Acid Rain
The major causes of acid rain are Natural and Human-Instigated causes. However, Acid Rain is basically caused due to the combustion of fossil fuels which results in emissions of sulphur dioxide (SO 2 ) and nitrogen oxide (NO 2 ) in the atmosphere.
Natural Sources: The main nature causing agents for acid rain are volcanic eruptions. Volcanoes emit a large amount of lava, producing harmful gases which create a higher than normal amount of Acid Rain. Decaying vegetation, wildfires and other biological processes within the environment also generate the Acid Rain forming gases. Lighting strikes also produce nitric oxides that react with water molecules via electrical activity to produce nitric acid, thereby forming acid rain.
Get the huge list of more than 500 Essay Topics and Ideas
Human-Instigated Sources: Human activities leading to the emissions of chemical gas include sulphur and nitrogen gases from the factories, power generating premises and automobiles. Mainly, the use of coal for electrical power generation is the biggest contributor to gaseous emissions. These also lead to acid rain. These gases react with water, oxygen, and other chemicals to form various acidic compounds such as sulphuric acid, nitric acid, etc. As a result, those areas experience exceedingly high amounts of acid rain.
Harmful effects of acid rain
Acid Rain adversely affects the environment includes marine biodiversity, soil, architecture & infrastructure, forests, and forest wildlife, public health. For example, Taj Mahal is turning yellow mainly due to air pollution, discoloration of marble due to oxidation of its constituents is one of the harmful effects of acid rain.
Methods to Avoid Acid Rain
Acid Rain caused due to the natural reasons cannot be stopped. But there are ways following which we can avoid the same, caused due to man-made reasons. The ways by which acid rain can be avoided are by the use of limestone by which people can repair the damages caused by acid rain to lakes, rivers , brooks, and other water sources. By adding lime into acidic surface also we can avoid acid rain as water balances the acidity.
Use of hybrid vehicles with negligible NO 2 emissions is also a way out. Besides fossil fuels, there is a wide range of substitutable energy sources that can generate electrical power these include wind energy, solar energy, geothermal energy, nuclear power, and hydro energy. Using these energy sources can offer effective electrical power alternatives. Instead of using fossil fuels, use of natural gas, fuel cells and batteries can also substitute use of fossil fuels.
As you can see, there are many attempts to clean our air. Due to increase in population and rapid industrialization, we need to make efforts on a war footing to reduce the phenomenon of Acid Rain. The whole world needs to take a call to avoid inflicting colossal damage to the environment.
Travelling Essay
Picnic Essay
Our Country Essay
My Parents Essay
Essay on Favourite Personality
Essay on Memorable Day of My Life
Essay on Knowledge is Power
Essay on Gurpurab
Essay on My Favourite Season
Essay on Types of Sports
Which class are you in?
Download the App
Talk to our experts
1800-120-456-456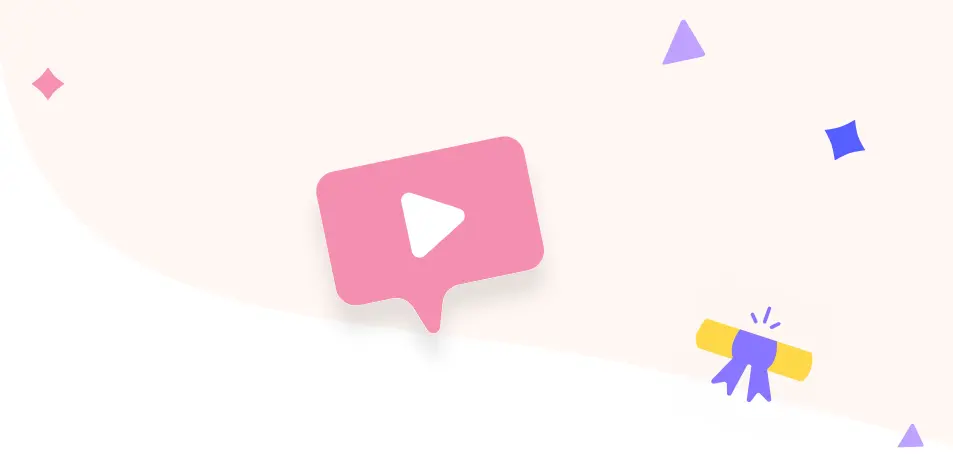 Acid rain, or acid deposition, is a broad term that includes any form of acid component precipitation, with a pH of 5.2 or below, such as sulfuric or nitric acid, which, in wet or dry forms, falls from the atmosphere to the ground. This includes acidic rain, snow, fog, hail etc. These components are mainly produced due to human activities resulting in the emission of sulphur dioxide and Nitrogen oxides. In this essay, we shall discuss the causes and consequences of Acid rain.
Long and Short Acid Rain Essays in English for Students and Children
Acid rain is composed of extremely acidic water droplets that form as a result of air pollutants, notably the excessive quantities of sulphur and nitrogen produced by cars and manufacturing operations. Because this idea encompasses a wide range of acidic precipitation, it is commonly referred to as acid rain.
There are two primary types of acidic deposition- wet and dry. Wet deposition basically means the precipitation that occurs due to acids from the atmosphere and their deposits on the earth's surface. Dry deposition of harmful particles and gases refers to the deposition on the earth in the absence of precipitation via dust and smoke.
Acid rain is caused by Sulphur and Nitrogen particles that interact with moist components of rain. Sulphur and nitrogen particles undergo combination with the water primarily in two ways: man-made (emissions from industries) or natural (e.g., a lightning strike in the sky releases nitrogen ions and volcanic eruptions release sulphur).
Real-Life Examples
The Taj Mahal, one of the world's seven wonders, is severely damaged by acid rain. Agra has various factories that generate sulphur and nitrogen oxides into the environment. The deterioration of this wonderful monument is caused by the production of calcium sulphate.
The copper Statue of Liberty has also shown damages due to the continuous impact of acid rain and oxidation for over 30 years and is thus becoming green.
Acid rain causes severe damage to crops, vegetation, and animals. It wipes out the nutrients that plants require for growth and life. Acid precipitation has an impact on agriculture since it changes the soil's makeup. Because it changes the chemical makeup of the water, it is hazardous to the survival of the marine ecology and produces pollution. Acid precipitation also causes corrosion of water pipelines, which leads to the leaching of heavy metals such as iron, lead, and copper into the beverage. It causes harm to structures and monuments constructed of stone and metal.
The only preventative measure that can be taken up is the reduction of nitrogen and sulphur oxide emissions.
Short Essay on Acid Rain
Acid rain is damaging to animals, vegetation, and historic structures.
As responsible citizens, we take measures to spread awareness and counter the adverse impacts they produce, as well as the companies that are responsible for the unethical disposal of nitrogen and sulphur compound pollutants.
Acid rain has the greatest biological impact on coastal ecosystems, such as streams, lakes, and marshes, where fish and other species can be hazardous. As acidic rainfall runs through the soil and spills into streams and lakes, it can drain aluminium from soil clay particles.
Acid Rain is made up of extremely acidic water droplets that form as a result of air pollution, notably the excessive quantities of sulphur and nitrogen produced by cars and manufacturing operations. This notion is sometimes referred to as acid rain since it encompasses a wide range of acidic precipitation. Normal rainfall has a pH of roughly 5.7 indicating that it is acidic. Acid rain is a natural result of human activity.
FAQs on Essay on Acid Rain
1. Can acid rain directly affect people?
Humans are harmed when they breathe in polluted air, which may lead to lung difficulties and even cancer. Drinking water tainted by acid rain can cause brain damage over time. Apart from these, acid rain can have adverse effects on crop production and this, in turn, will have detrimental effects on the human body in the long run. Sulphur dioxide and oxide are the primary compounds involved in acid precipitation. In other words, if acid precipitation does not cease and we eat certain products, we will become unwell. In general, acid precipitation has an indirect impact on humans. Hence it is of utmost concern that the issue of acid rain is dealt with as soon as possible and with stringent countermeasures.
2. What are the disadvantages of acid rain?
The downsides of acid: Acid may cause skin irritation and serious burns.
The acid can cause eye discomfort and even blindness.
Acidity may be caused by an increase in hydrochloric acid output in the stomach.
The acid may cause clothing and materials to burn.
Apart from these, there are many other significant adverse effects of acid rain and hence stringent measures are the need of this hour to counter this problem of acid rain.
3. What is currently being done to counter acid rain?
The steps that are being taken to combat acid rain-
Alternative energy sources Stopping the use of nonrenewable fuels and switching to renewable energy sources such as solar, wind, and water energy is a good strategy to reduce acid rain. This alternative energy will become more available to the general people as technology advances. 
The two methods undertook by the government at attempting to control acid rain.
Allowances and the selling of allowances Emissions monitoring and Continuous Emissions Monitoring systems Data on emissions and allowances were gathered.
4. Can acid rain damage buildings?
Acid rain can damage buildings, monuments, and statues with large amounts of carbonate, particularly those made from rocks, like limestone and marble. Acids react with the calcium compounds in the stones in the rain to form gypsum, which then flakes off. On old gravestones, acid rain can cause the inscriptions to become completely illegible. The corrosion rate of metals, especially iron, steel, copper, and bronze, is also increased by acid rain.
5. Is acid rain still an issue?
The phenomenon called acid rain was a well-known environmental issue in Europe and North America during the 1970s and '80s, appearing frequently in news features. Since that time, stories about climate change, global warming, biodiversity issues, and other environmental concerns have supplanted the visibility of acid rain in the media. Acid rain still occurs, but because of strong air pollution regulations in those regions, its impact on Europe and North America is far less than it was in the 1970s and '80s.
Acid Rain - Causes of Acid Rain
What is acid rain.
Acid Rain, as the name suggests, can be said as the precipitation of acid in the form of rain in the simplest manner. When atmospheric pollutants like oxides of nitrogen and sulphur react with rainwater and come down with the rain, then this results in Acid Rain.
Table of contents
Recommended Videos Of Acid Rain
Causes Of Acid Rain
Effect Of Acid Rain
Real-Life Examples Acid Rain
Prevention Of Acid Rain
Acid Rain Definition
Acid rain is made up of highly acidic water droplets due to air emissions, most specifically the disproportionate levels of sulphur and nitrogen emitted by vehicles and manufacturing processes. It is often called acid rain as this concept contains many types of acidic precipitation.
The acidic deposition takes place in two ways: wet and dry. Wet deposition is any form of precipitation which removes acids from the atmosphere and places them on the surface of the earth. In the absence of precipitation, dry deposition of polluting particles and gases sticks to the ground through dust and smoke.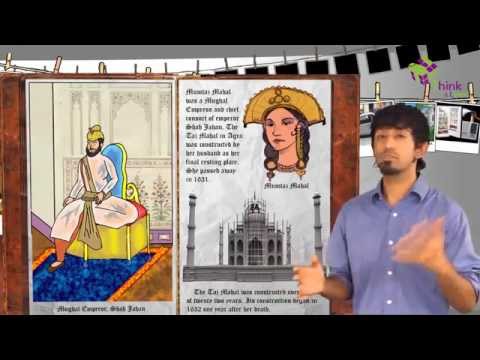 Causes of Acid Rain
The causes of acid rain are Sulphur and Nitrogen particles which get mixed with the wet components of rain . Sulphur and Nitrogen particles which get mixed with water are found in two ways either man-made i.e as the emissions that are given out from industries or by natural causes like lightning strike in the atmosphere releasing nitrogen oxides and volcanic eruptions releasing sulphur oxide.
According to the Royal Society of Chemistry, which considers him the "father of acid rain," the word acid rain was invented in 1852 by Scottish chemist Robert Angus Smith. Smith decided on the word while studying rainwater chemistry near industrial towns in England and Scotland.
The regular clean rain we experience, even though it is not clean i.e water and carbon dioxide react together to form weak carbonic acid which essentially by itself is not extremely harmful. The reaction occurring is :
H 2 O (l) + CO 2 (g) ⇌ H 2 CO 3 (aq)
The pH value of regular rainwater is around 5.7, giving it an acidic nature. The oxides of nitrogen and sulphur are blown away by the wind along with the dust particles. They settle on the earth's surface after coming down in the form of precipitation. Acid rain is essentially a by-product of human activities which emit oxides of nitrogen and sulphur in the atmosphere.  Example – the burning of fossil fuels, unethical waste emission disposal techniques.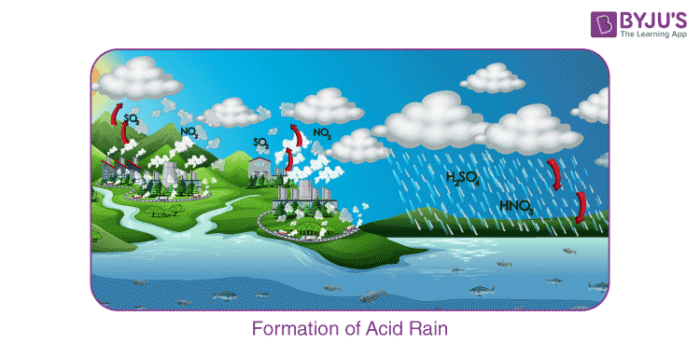 Sulphur dioxide and nitrogen dioxide undergo oxidation, and then they react with water resulting in the formation of sulphuric acid and nitric acid, respectively. The following reaction will clarify the acid formation reaction:
2SO 2 (g) + O 2 (g) + 2H 2 O (l) → 2H 2 SO 4 (aq) 4NO 2 (g) + O 2 (g) + 2H 2 O (l) → 4HNO 3 (aq)
Effects of Acid Rain
Acid rain is very harmful to agriculture, plants, and animals. It washes away all nutrients which are required for the growth and survival of plants. Acid rain affects agriculture by the way it alters the composition of the soil.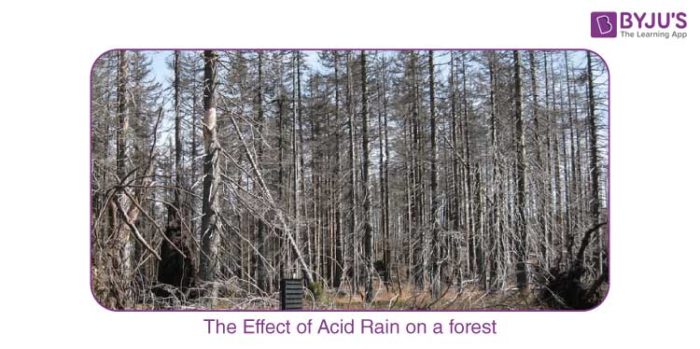 It causes respiratory issues in animals and humans.
When acid rain falls down and flows into the rivers and ponds it affects the aquatic ecosystem. It alters the chemical composition of the water, to a form which is actually harmful to the aquatic ecosystem to survive and causes water pollution.
Acid rain also causes the corrosion of water pipes, which further results in leaching of heavy metals such as iron, lead and copper into drinking water.
It damages the buildings and monuments made up of stones and metals.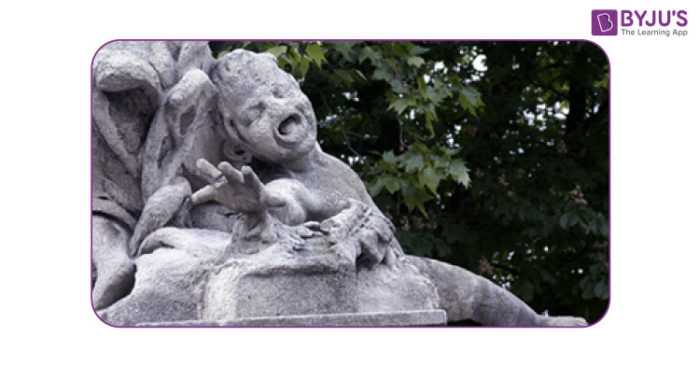 Real-Life Examples
Taj Mahal , one of the 7 wonders of the world, is largely affected by acid rain. The city of Agra has many industries which emit the oxides of sulphur and nitrogen in the atmosphere. People continue to use low-quality coal and firewood as a domestic fuel, adding to this problem. Acid rain has the following reaction with the marble ( calcium carbonate ):
CaCO 3 (s) +  H 2 SO 4 (l) → CaSO 4 (s) + H 2 O(l) + CO 2 (g)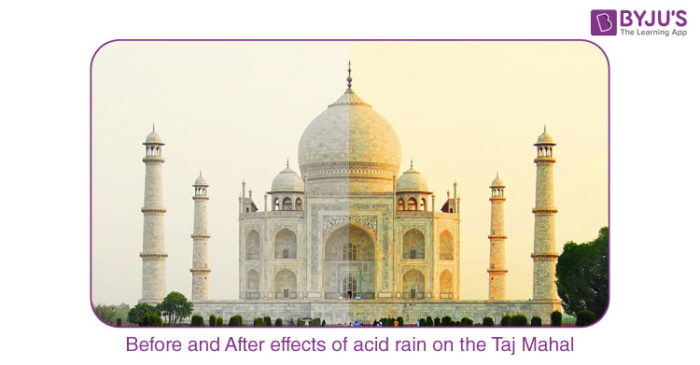 The formation of calcium sulphate results in the corrosion of this beautiful monument.
Statue of Liberty which is made of copper has also been damaged by the cumulative action of acid rain and oxidation for over 30 years and is, therefore, becoming green.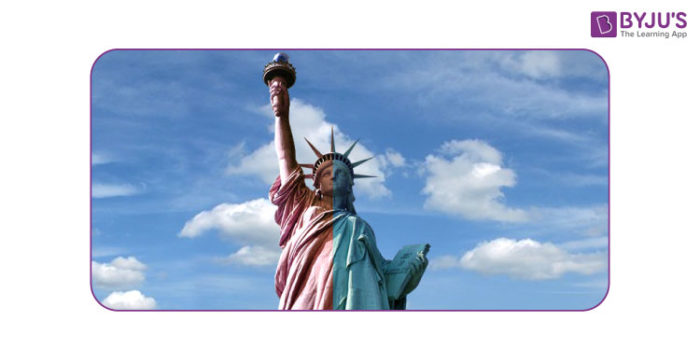 Prevention of Acid Rain
The only precaution that we can take against acid rain is having a check at the emission of oxides of nitrogen and sulphur.
Acid rain is harmful to animals, plants and the monuments.
Being responsible citizens, one should be aware of the harmful effects they cause and of the industries which give out nitrogen and sulphur compound wastes unethically.
Frequently Asked Questions – FAQs
What is acid rain and how is it caused.
Acid rain is caused by a chemical reaction that begins when compounds such as sulphur dioxide and oxides of nitrogen are released into the air. These substances can rise very high up into the atmosphere, where they mix and react with water, oxygen, and other chemicals to form more acidic pollutants called acid rain.
What are the effects of acid rain?
The ecological consequences of acid rain are seen most strongly in marine habitats, such as streams, lakes and marshes where fish and other wildlife can be toxic. Acidic rainwater can leach aluminium from soil clay particles as it flows through the soil and then floods into streams and lakes.
What will happen if we don't stop acid rain?
Sulphur dioxide and nitrogen oxide are the principal chemicals for acid rain. It can also influence humans since the acid goes into fruits, vegetables and animals. In other words, we can get really sick if acid rain doesn't stop, and we eat those things. In general, acid rain affects men, but not directly.
What is acid rain? What are its harmful effects?
It has been shown that acid rain has detrimental effects on trees, freshwaters and soils, destroys insects and aquatic life-forms, causes paint to peel, corrosion of steel structures such as bridges, and weathering of stone buildings and sculptures, as well as impacts on human health.
What are three ways to reduce acid rain?
Alternative energy sources should be used, such as solar and wind power. Renewable sources of energy are helping to reduce acid rain, as they produce much fewer emissions. There are other electricity sources as well, such as nuclear power, hydropower, and geothermal energy. Among these, the most extensive use is among nuclear and hydropower.
How does acid rain affect plants?
What is acid rain made of, what is the primary source of acid rain, can acid rain damage buildings, can acid rain burn your skin.
Structure & Properties of Ozone
Acids and Bases
Global warming due to the greenhouse effect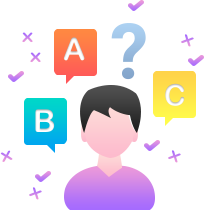 Put your understanding of this concept to test by answering a few MCQs. Click 'Start Quiz' to begin!
Select the correct answer and click on the "Finish" button Check your score and answers at the end of the quiz
Visit BYJU'S for all Chemistry related queries and study materials
Your result is as below
Request OTP on Voice Call
Leave a Comment Cancel reply
Your Mobile number and Email id will not be published. Required fields are marked *
Post My Comment

Nice informations
Really like the information tq
These notes are very helpful in my exams i scored 79/80 in science
these are very useful

Register with BYJU'S & Download Free PDFs
Register with byju's & watch live videos.