How to write a white paper title that sizzles
Which white paper would you sooner read:.
If you're like most people, the title on the left makes your eyes glaze over …
while the one on the right has a fighting chance to get your attention.
Here are 11 tips on putting together compelling titles for white papers.
Title tip #1: Understand  the title is critical
Think about it: How do most prospective readers find your white paper?
Most likely they do a Google search, or visit a site like  Bitpipe.com  or  Knowledgestorm.com  or  FindWhitePapers.com .
In any case, what do they see?
A list of titles, with two lines of text under each one. Your challenge is to compel prospects to pick your title out of the pack.
Title tip #2: Learn to spot tired titles
A boring title usually contains no active verbs and loads of lengthy buzzwords.
Worst of all, it sounds just like 100 other titles you've heard before. It's too generic, too careful, too corporate-sounding.
Title tip #3: Consider using a number
This article could be called "11 tips on white paper titles."
But remember: Some say David Letterman ruined the Top 10 list forever. Everyone knows he only had five or six good ones and the rest were filler.
So don't be afraid to stop at fewer than 10… or to push it past 10, as we did here.
See this article for more on using the numbered list format (aka "listicle").
Title tip #4: Take time to find a dynamic name
With so much at stake, don't just grab the first title anyone suggests. Play around with some variations of your first idea until you have the punchiest possible name.
Title tip #5: Stress the benefits for readers
Always tell your readers what your information can do for them. What will they gain from investing their precious time to download and read it?
Title tip #6: Address prospects by job title
That would look like "6 Things Every CIO Must Know about Data Warehousing." That makes it harder for a CIO to pass by without pausing.
Title tip #7: Call it what it is
Not everything has to be called a white paper.
Perhaps you should call your document an executive overview, a technology backgrounder, an evaluator's guide, a special report, or something else entirely.
You can slip this in as a subtitle: "6 Things Every CIO Must Know about Data Warehousing: an Executive Overview."
Title tip #8: Never mention a product name
Putting a product name in a white paper title makes it sound like a sales pitch. Period.
So if that's what you're writing, don't try to pass if off as a white paper. Call it a "brochure" or a "product brief."
And remember that a sales pitch is the last thing most white papers readers want.
Title tip #9: Knock a tired title down to a subtitle
What if your manager or client hands you a boring title that you must use?
One tactic is to come up with a better title, then knock down the original to the subtitle.
For example, say your manager wants to call a white paper " Making On-Board Sensors More Effective through Information Infrastructures ."
What a yawn?!
Then you come up with an intriguing image: The cutesy little lap dog can become an effective watch dog.
Combining these two gives you " From Lap Dog to Watch Dog: Making On-Board Sensors More Effective through Information Infrastructure ."
What an improvement… and now you're both happy.
Title tip #10: Run possible titles past sample readers
After all, someone in your intended audience can judge better than you or I what works for them and their colleagues. Don't guess, test.
Title tip #11: Back up your title with lively content
A title is like a promise. Don't tack a great title on a ho-hum document. Use your lively title to motivate you to create an exceptionally interesting white paper. You'll be way ahead of the crowd when you do.
What do you think works well for a white paper title? Do you have any tips to share? Please leave your comments below.
Want to hear whenever there's a fresh article on this site? Subscribe here to stay in the know on long-form content . From time to time, we'll also send you word about some great new resource or training. And you can unsubscribe any time.    
About Gordon Graham
Worked on 300+ white papers for clients from Silicon Valley to Switzerland, on everything from choosing enterprise software to designing virtual worlds for kids, for clients from tiny startups to 3M, Google, and Verizon. Wrote White Papers for Dummies which earned 50+ 5-star ratings on Amazon. Won 16 awards from the Society for Technical Communication. And named AWAI 2019 Copywriter of the Year.
If you liked this post...
How to tell a story
Tools of the trade
What ChatGPT says about white papers
Worst advice ever in 2015, coming into 2016. This would be relevant five, maybe three years ago. List-style articles/blog posts/documents/whatever are prevalent and considered the norm now. They make my eyes glaze over. In fact, not only when I see them my eyes glaze over, but I just think "the author can't think of anything original to say" and then proceeds to list off things that have been "doing the rounds" on the internet.
Thanks for your opinion, Dan. I do agree that listicles can be over-used. But people click on them because they appeal to today's time-pressured audiences who want a quick scan, not an in-depth essay. I still believe there's nothing wrong with a numbered list or two in a library of white papers.
I agree with you Gordon. I love what you've written and contrary to what Dan said above, you offer good "food for thought". I don't have to use exactly what you offer, and probably shouldn't. After all, I know my audience. But your piece (all your posts actually) have stimulated some great ideas I'm following through on that will be killer! Thanks for what you're posting. Keep it up please Gordon!
[…] –Thatwhitepaperguy.com […]
Leave a Comment Cancel Reply
This site is protected by reCAPTCHA and the Google Privacy Policy and Terms of Service apply.
Need a great white paper?
We use essential cookies to make Venngage work. By clicking "Accept All Cookies", you agree to the storing of cookies on your device to enhance site navigation, analyze site usage, and assist in our marketing efforts.
Manage Cookies
Cookies and similar technologies collect certain information about how you're using our website. Some of them are essential, and without them you wouldn't be able to use Venngage. But others are optional, and you get to choose whether we use them or not.
Strictly Necessary Cookies
These cookies are always on, as they're essential for making Venngage work, and making it safe. Without these cookies, services you've asked for can't be provided.
Show cookie providers
Functionality Cookies
These cookies help us provide enhanced functionality and personalisation, and remember your settings. They may be set by us or by third party providers.
Performance Cookies
These cookies help us analyze how many people are using Venngage, where they come from and how they're using it. If you opt out of these cookies, we can't get feedback to make Venngage better for you and all our users.
Targeting Cookies
These cookies are set by our advertising partners to track your activity and show you relevant Venngage ads on other sites as you browse the internet.
Google Tag Manager
Infographics
Graphic Design
Graphs and Charts
Data Visualization
Human Resources
Training and Development
Beginner Guides
Blog Marketing
How to Write a White Paper [Tips & Templates]
By Chau Nguyen , Jun 28, 2023
So, you need to write a white paper.
And not just write it, you need to make it interesting too — especially if your goal is to establish thought leadership or generate leads.
Because here's the thing: the average human attention span is less than that of a goldfish, so just plopping tons of data and text onto a page and calling it a day won't work.
If your white paper lacks engagement, your readers may choose to leave. Even if they genuinely require the information, they may encounter difficulties due to excessive text. Moreover, retaining the painstakingly assembled information may become a challenge for them. Utilizing Venngage's white paper maker can help overcome these obstacles.
In this article, I'll break down how to write the best white paper for your business, design tips included. (Spoiler: visuals will help you get more engagement!) I'll also include white paper templates you can edit and make your own.
Let's get started!
Click to jump ahead:
How to structure a white paper, how to write your white paper, how to create a white paper outline, tips for designing an engaging white paper, faqs about white paper writing.
Most white papers follow a standard format that includes a:
Introduction
You may be wondering why there isn't a problem statement section. After all, a white paper is supposed to dissect and provide solutions to a problem, yes?
Well, you can include the problem statement in the intro — intros explain what a white paper is about. This section is the perfect place to make a case for your white paper.
But of course, there's no rigid format you should follow to a T. If it works better with your content, feel free to make your Problem Statement a separate section.
Now, let's look at what you should write in each section with examples:
The title page is straightforward: it includes the title of your white paper and the name of the organization that produced it (or the author's name).
This government white paper discusses the problem of illegal tobacco trade and proposes several approaches to address it:
Just so you know, some of our templates are free to use and some require a small monthly fee. Sign up is always free, as is access to Venngage's online drag-and-drop editor.
You can also include a sub-headline under the title to further explain what it's about:
The introduction should explain the purpose of the white paper and why the reader should care. It should be interesting (and informative) enough to hook the reader right away and keep them reading.
As mentioned, the introduction also contains your problem statement. In other words, it should provide an overview of the problem you're trying to address. You don't need to include too much information here, as that's the role of the Background section.
Here's an example:
The author introduces an overview of the problem — phishing scams — which is backed with visualized data that allows readers to grasp its impact at a glance:
Related : How to Visualize Data In Your White Papers
Here's where you provide background information about the problem you're discussing. This section tends to be research- and data-heavy.
Let's revisit our "Approaches to Battling the Illegal Tobacco Trade" white paper. Here's what the Background section looks like:
The author provides a table that lists the countries where illegal tobacco trading is present, from the least problematic (less than 10% of the industry) to the most (40% and above).
The author also includes some background information on illicit tobacco products, all backed by data:
"Cigarettes account for over 90% by value of tobacco product sales. They are also the most illicitly traded form. Numerous bodies of research indicate that the illicit cigarette trades represents approximately 10%–12% of the total cigarette market — although this varies by country."
And why illegal tobacco trade is problematic:
"Each year this translates to a loss of government revenues from US$40 to US$50 billion."
Now, onto the proposed solution.
This could be a product, a service or a course of action.
This government white paper addresses the sugar consumption crisis among children and proposes a policy to ban the sale of added-sugar products in schools:
Let's look at another example. This technology white paper proposes a product as a solution: new technology that helps prevent falls in tilted chairs:
No matter what solution you propose, it should be well-supported with evidence. In the white paper above, the author presents elements that make their new technology the solution to fall prevention:
The conclusion should summarize the main points of the paper and provide recommendations for next steps:
You can also add a call to action here, like "contact the author for more information". Or if you're writing a white paper to gather more leads, you can add some information about your business too:
Note : white papers are academic in nature, so you should use reliable sources to back up your argument and include citations/references as needed.
Return to Table of Contents
Before making your white paper engaging, you first need to make it informative and credible. After all, it's an important document to establish you as a thought leader in your industry.
Here are some guidelines to ensure the quality of your white paper:
Research your audience and topic well
Think about who will be reading your white paper. Are they actually experiencing the problem you're trying to solve? Will your solution work for them? How much information will they need to be persuaded?
White papers are authoritative in nature, so people expect them to come with meaningful data from credible sources. Make sure you research your audience and your topic well to know how much data you need to make your case.
If your data comes from primary research, you can include your methodology as well for transparency and credibility:
Once you've nailed your research and solution, time to deliver all that information the best way you can. The language you use here must be the same as your audience's: think of all the words and phrases they use often and try to incorporate them into your white paper writing.
You should also consider how people will read your paper — on desktop, on tablet or on mobile.
Mobile accounts for about 50% of global website traffic , reaching nearly 60% in Q2 2022.
Unless you have enough resources to create a responsive white paper ( like this one! ), you should make sure your document is legible on mobile. This means breaking up your paragraphs into smaller chunks of text and adding plenty of visuals so it's easier on the eye:
I'll touch on more tips to make your white paper engaging in the next section, so stay tuned!
Make sure people can scan your content
And to do that, you should break up your text with headings and subheadings. This helps keep your white paper organized and allows your reader to scan through the information easily.
You should also add a Table of Contents after the title page to help readers navigate your paper. Or in this case, the Table of Contents sits right on the first page:
Keep it succinct and to the point
There's no standard length for this type of content, but a good rule of thumb is to write a white paper that's around six pages. This should be enough space to do justice to your research and data, without overwhelming your readers.
Plus, it's always good to be mindful of your audience's time when creating any type of content.
As white papers ‌provide expertise or a solution to a problem, your audience should be willing to devote a good amount of time and attention to your content… but don't push your luck!
No matter how interested a reader is in a topic, they'll drop off eventually if you ramble instead of getting to the point.
You can follow these ten useful pointers when creating your white paper outline:
Define your purpose : Clearly identify the objective of your white paper. Determine what problem you're addressing or what information you're providing to your audience.
Research and gather information : Conduct thorough research on the topic to gather relevant data, statistics, case studies, or expert opinions. This will help you support your key points and strengthen your arguments.
Develop an introduction : Begin your white paper with a compelling introduction that grabs the reader's attention and provides an overview of the topic. Clearly state the problem or opportunity you're addressing and briefly outline your proposed solution.
Organize main sections and subtopics : Identify the main sections that will structure your white paper. These sections should correspond to the key aspects or steps of your proposed solution. Break each section into subtopics that will be discussed in more detail.
Provide supporting evidence : Within each section, present evidence, examples, and data to support your claims and validate your solution. Use clear and concise language to convey your points effectively.
Include visuals and graphics : Visual elements such as charts, graphs, diagrams, or infographics can enhance the readability and understanding of your white paper. Incorporate relevant visuals where appropriate to illustrate complex concepts or data.
Craft a conclusion : Summarize the main points discussed in the white paper and reiterate the proposed solution. Emphasize the benefits or value that readers can gain from implementing your recommendations.
Add an executive summary : Write a concise executive summary at the beginning of your white paper, providing a brief overview of the entire document. This allows readers to quickly grasp the key points and decide if they want to read the full paper.
Review and revise : After completing the initial draft, review and revise your white paper for clarity, coherence, and overall effectiveness. Ensure that the information flows logically, the language is concise and engaging, and there are no grammatical or spelling errors.
Format and finalize : Format your white paper to make it visually appealing and reader-friendly. Use appropriate headings, subheadings, fonts, and spacing. Consider adding a table of contents for easy navigation. Finally, proofread your document one last time before publishing or sharing it.
Let's say you're looking for a white paper on sugar consumption in children. Would you read this:
Needless to say, applying visuals and data visualizations to your white paper makes a big difference. And you don't need to be a professional designer to do so. Let's look at some tips for creating an engaging white paper design:
1. Use a white paper template
If you don't have the design skills to organize your draft into a well-designed document full of visuals, using a template is the way to go.
Venngage offers dozens of white paper templates you can edit for your business:
To get started, simply sign up for a free account , search for a white paper template and edit away.
To make it even easier for you, we've made a video walking you through editing a white paper template in Venngage. Check it out here:
2. Add data visualizations to your white papers
If you've got yourself some good data, don't bury it under heaps of text.
While everyone on your team is busy creating boring Word documents, you can be the creative genius that uses charts and pictograms to craft a visually engaging white paper.
The type of charts you use will depend on the type of data you're visualizing. We have a guide to picking what types of charts to use that can help you there.
You could use a line graph to show revenue growth over time . Or you could use pie charts to show parts of a whole, like in this policy white paper example:
Pro tip: with our online graph maker, you can create better charts and graphs than the standard Excel charts. A plain old bar graph won't do much to inspire anyone, but a creative chart that tells a story can.
Pictograms are also a creative and effective way to visualize statistical data. Take a look at the white paper example below. Pictograms act as visual aids to showcase key statistics and changes in the IT sector:
Don't be afraid to mix it up. They say variety is the spice of life — and this saying applies to white papers, too! This business white paper design, for example, combines both bar graphs and pie charts:
For more tips on visualizing data for your white paper, check out our post: How to Visualize Data In Your White Papers
3. Emphasize key points and takeaways with tables and text boxes
Visualizing information or data doesn't mean just using graphs. When writing a white paper, you can also section off important pieces of information using tables and boxes.
In the white paper template below, the designers used a table to organize key points and takeaways from each main section:
Here's another example of a white paper layout that uses a table to highlight some key statistics:
Breaking up lengths of text with boxes will help make your white paper easier to read, like in this example:
Which brings us to our next point…
4. Break up chunks of text with visuals
Visuals are perfect for illustrating ideas and emphasizing points.
Don't be afraid to break up your text with visuals and create some breathing room in your white paper. You can even dedicate a whole page to pictures. Images give the eyes a rest and help reinforce information.
Take this white paper example — it dedicates a whole page to an evocative quote and photo:
Visual headers are also a great way to break up expanses of text while still having the visuals serve a purpose. You can create your own illustrations using icons — this can make for some fun and quirky headers, like in this workplace tech white paper:
5. Allow for plenty of white space on your pages
Speaking of giving your text some room to breathe, make sure you don't crowd your pages with too much text or images.
Adding white space (or negative space) can help ensure your design isn't too cluttered.
Check out how this example uses plenty of white space on nearly every page. The result? An organized and modern white paper design:
6. Use a consistent design that reflects your white paper topic
When you're designing a multi-page document like a white paper or a report, your pages should have a cohesive look and feel.
(Note: by using a consistent design for your white paper, you'll achieve unity — one of the 13 basic design principles .)
First, think of the themes reflected in your white paper. Is your white paper about social media engagement? Then using illustrations of birds ("tweeting") or speech bubbles could work.
A white paper topic focused on establishing a sprint process could use race track visuals instead.
The hiring strategy white paper below uses greenery as the main design theme. Plants reflect the concept of growth associated with recruitment:
7. Incorporate your branding into your white paper design
To improve brand recognition, you need to have consistent branding across all marketing collateral. This not only helps your marketing efforts but also helps you maintain consistency in your internal and external comms.
Be sure to incorporate your logo , brand color palettes and fonts into your white paper design.
For business users, Venngage's My Brand Kit makes it easy to save your logos, brand color palettes and brand fonts for later. Then, you can easily apply them to your designs with one click.
For example, you could change the colors of this white paper template…
…to this:
Try thinking of creative ways to incorporate your branding .
This white paper design, for instance, extends the use of its signature color beyond standard headers and icons. It actually applies a transparent color overlay to the images, adding a punch of color and reinforcing its brand palette in an unexpected way:
We have plenty more white paper design tips in our post on the top 20+ white paper examples you can use for your business. Check it out here: 20+ Page-Turning White Paper Examples [Design Guide + White Paper Templates]
What is a white paper?
A white paper is a well-researched, in-depth report that discusses a problem and proposes a solution to that problem. Here's an example:
Typically backed up with lots of data and persuasive, factual evidence, quality white papers address complex concepts or problems, making them essential for any content marketing strategy.
For more information on the origin of white papers (including why they're called "white papers" in the first place!), read our post: What is a White Paper? 15 White Paper Examples to Get Started .
What is the purpose of a white paper?
White papers often have original research to back them up, and take a strong stance on what needs to be done to solve a problem.
In other words, white papers advocate for the best solution to a particular problem, making them authoritative by nature. Which makes sense given that they're often used by the government, like in this example:
But as more and more businesses ‌use white papers, their purpose has changed a little.
They're still an authoritative source of information, but rather than just to inform or educate, white papers can also influence an audience's decision-making process.
This marketing white paper, for example, aims to persuade businesses to market themselves effectively in order to attract talent:
Companies can also use white papers to show that their product or service can best solve their customers' problems. Of course, they still need to back their claims with research and evidence.
A cyber security company could use this white paper to showcase their expertise and offerings in order to drum up more business.
Make sure your white paper is not only informative but also engaging!
Remember how the average human attention span has dropped to below that of a goldfish?
Even when a reader is interested in the topic of your white paper and plans to devote a good chunk of their time reading it, they may still bounce if your content is too dense (read: walls of text).
So make sure you think of your audience when you write your white paper and follow our design tips to keep them engaged.
And remember, you can create a professional, well-designed white paper using one of Venngage's white paper templates. It's free to get started!
How to Write and Format a White Paper: The Definitive Guide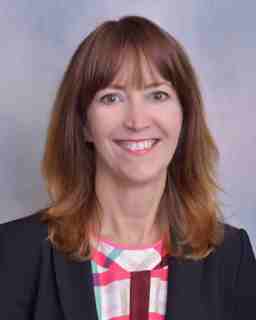 You're ready to compile and share your company's deep knowledge of your industry. A white paper seems like the perfect format. It's a useful product to highlight your company's expertise and a valuable tool in marketing.
But, how do you transform your knowledge into a white paper?
White papers are similar but distinct from business reports. In order to write a successful one, you need to understand the difference and include key elements. This article will help you decide if a white paper is right for you, and if yes, how to prepare and produce one.
What is a white paper?
A white paper is an authoritative document intended to fully inform the reader on a particular topic. It combines expert knowledge and research into a document that argues for a specific solution or recommendation.
The white paper allows the reader to understand an issue, solve a problem, or make a decision.
White papers are data-centric, text-heavy business documents. Due to a large amount of data and research, white papers are deep reads and tend to have a formal tone.
Use and value
Businesses write white papers both to record expertise and to market themselves.
White papers are generally written for an audience outside of the business. Therefore, they are a tool to attract readers to the company by offering top-quality, industry knowledge.
However, a white paper is not a sales pitch. It sells the company by highlighting the internal expertise and valuable recommendations, not by bidding for business.
Sales Pitch: 8 Ways ABC Marketing will save money in your social media budget
White paper: Social Media Advertising: Matching marketing needs and platforms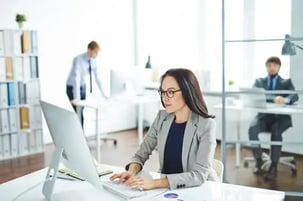 Write an actual white paper with individual instructor guidance.
Our Advanced Business Writing Course + Coaching includes written feedback and two live coaching sessions.
How to select a white paper topic:
Choosing the right topic is essential to have your white paper read. There are three major factors:
1. Audience
As with any business writing, the audience is your first consideration. The white paper must be written with a target reader in mind. The audience may be long-time customers familiar with the industry or new prospective buyers who are entirely new to the field.
Reflect on the reader's pain points or major questions. Within these topics, look for ones that have not been fully investigated or the available information is out-of-date.
2. Expertise
Your white paper should match and highlight your company's expertise.
The document should provide a complete investigation including external research and internal knowledge. The business's own know-how informs the content that is included and how it is compiled.
3. Problem-based and solution-focused
White papers should identify and address a particular problem. The problem should be relevant and timely in your field. The document may focus on issues such as common dilemmas, new trends, changing techniques, industry comparison, etc.
The white paper must have a proposed solution or recommendation to answer the problem. This solution is based on a thorough examination of the problem and potential solutions.
White paper preparation
The selected topic must be comprehensively researched. Pull information from online references, industry resources, and internal documents. White papers are data-focused, so they should be supported by significant research.
There's no hard and fast rule on citations but you need to cite any information that is not public knowledge and that you didn't know before beginning your research. However, understand that the reader's confidence is likely to increase with an increasing number of cited references.
Of course, all resources must come from authoritative sites. In order to write a valuable document, all research materials must be from credible, reliable sources.
Read other white papers
Are there white papers covering your topic or area already? Read them to determine the knowledge gaps and the opportunities to build on existing content. This review will also ensure that your white paper is novel instead of redundant.
Use a mind-map
It can be overwhelming to keep track of the many sources, ideas, and content involved in preparing a white paper. A helpful organizational tool is the mind-map . A mind-map allows the writer to catalog and connect the many different pieces into one visual overview.
We suggest using the free tool MindMeister to organize your content. It's simple to use and free.
FreeMind is another alternative but some organizations don't allow it to be used since it must be downloaded.
White paper format
White papers generally follow a standard document format. The content order may seem similar to other business reports, but there is one major difference:
A white paper places the conclusion at the end.
Many business communications, such as technical reports or proposals, place the main conclusion at the beginning of the document. This order responds to the desires of the reader and their preference in receiving the information.
In a white paper, the content and research inform the reader and increase their understanding of the problem throughout the document. The final section provides the 'ta-da!' moment where the reader now receives the solution which is supported by the evidence in the document.
The reader's journey and preferences in a white paper and business report differ. The major findings follow suit.
If you're unsure of these distinctions or are looking to improve your business writing skills, consider enrolling in our online self-paced Technical Report Writing Course (see all of our courses here ).
And, no matter the journey, the document must be easy to understand and include informative headings for easy navigation.
Choose an accurate title
A good title is essential. It should clearly indicate what the reader will learn from the white paper. It should also be enticing.
Bland title example: White paper on Law 123.4 Referencing Environmental Impact Assessments.
Enticing title example: The Rules are Changing: White Paper on the Environmental Impact Assessment Legislation Proposals in 2018
The phrase 'white paper' does not necessarily need to be in the title at all. Some audiences are seeking that authoritative indicator. Other readers may be scared off from valuable content because of the term. As always, think of what your audience would prefer.
The abstract offers the reader a brief overview of the white paper's main points. It allows the reader to ensure they have found a document relevant to their needs. After reading, the reader should be able to know if they are 'in the right place.'
Problem statement
The problem statement specifies the issue the white paper will address. The problem needs to be defined and placed into a context to ensure it's understood by the reader.
This section provides the background information required for the audience to grasp the problem and, ultimately, the solution. The content may be detailed and technical or broad and high-level. The content depends on the reader and the problem.
If original research is completed for the white paper, the methods should be communicated.
The 'ta-da' moment of the white paper.
Based on the preceding information, the solution is now presented. It is developed and argued for using the gathered evidence and the expertise of the author and their company.
This section summarizes the white paper's major findings. Recommendations based on the solution are provided.
All sources used to develop the white paper must be collected and cited in this section. It adds validity to the document. It also gives the reader content for further research. Depending on your industry, follow MLA or APA citation formats.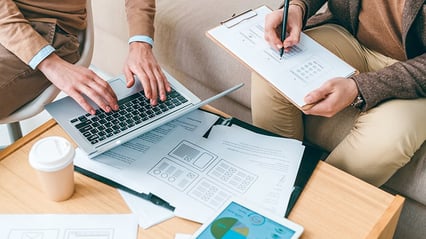 Write any complex document and get personal feedback on your actual business writing.
Our Advanced Business Writing Course + Coaching includes written feedback and two live coaching sessions on any document.
Final thoughts
Writing a good white paper is not a simple task. However, the investment of time and skill can produce a valuable document that shares your company's knowledge, contributing to overall education and progress in your industry. And, a good white paper increases business opportunities.
Related Articles
7 examples of technical writing style guides, how to improve your business english writing skills, how to collaboratively write a business report with colleagues, get notified of new articles.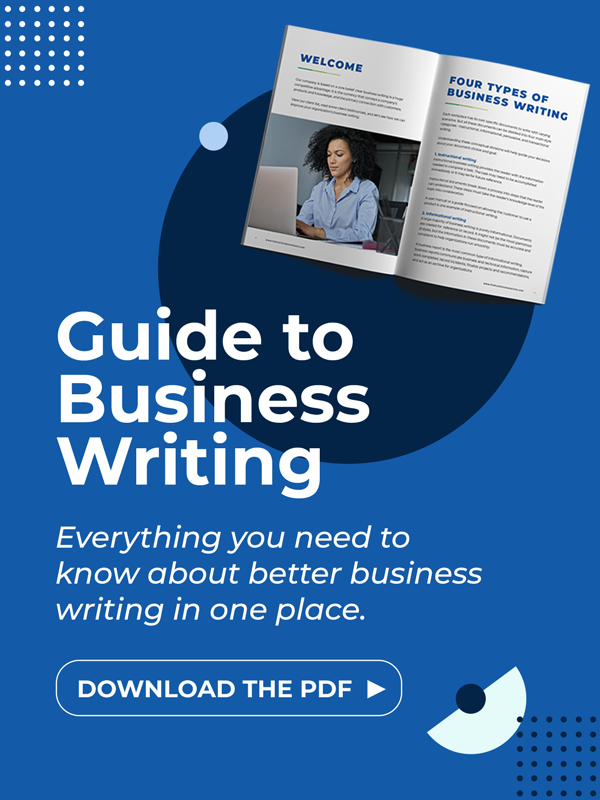 Business Grammar (53)
Business Writing Skills (53)
Technical Writing (28)
Business Writing Resources (26)
Business Email Writing (17)
Business Writing Training (12)
Business Proposals (8)
Business Report Writing (7)
Business Proofreading (4)
Sales Writing (3)
Executive Summary Writing (2)
Customer Support Writing (1)
Bailey Lang (1)
Elisabeth O'Quinn (12)
Grace Cuddy (6)
Haley Larsen (4)
Kara Latz (10)
Katie Almeida Spencer (31)
Malcolm Stiefel (1)
Mary Cullen (130)
Samantha Taylor (2)
Terrance Collins (1)
Tom DuPuis (10)
How To Write White Paper Titles That Work, According To Scientists And News Editors
Why did you click on this article? Was it because the headline offered something you wanted, or was there another reason?
If you're like most people, the correct answer is probably, "I don't know why I clicked on this article."
That's because your subconscious mind actually makes a significant bulk of your decisions before you consciously make them. But it's not just you.
In a 2008 study , scientists from the Max Planck Institute for Human Cognitive and Brain Sciences in Leipzig, Germany discovered that our subconscious minds often "predict" our conscious decisions seconds in advance.
This revelation plunged some people into existential crises amid doubts of free will, but for others, it inspired them to become better writers or just confirmed what they already knew. Ironic!
Giant philosophical implications aside, you can use these findings to your advantage to write better white paper titles. Here are some specific tips from scientists and news editors.
Science Says, "Write Longer Titles!"
According to a Nielsen study commissioned by native advertising company Sharethrough, the longer a headline is, the better it performs. Just how long a headline needs to be to really grab someone's attention, though, might come as a shock.
The study produced two significant findings (I'll get to the second one in a minute), one of which showed that headlines between 21-28 words saw the highest engagement rates.
To put this into context, the last sentence is 29 words long. That's a mouthful, but going off Sharethrough and Nielson's research, a headline or title of similar length will probably work best.
Science Says, "Use Context Words!"
Specifically, Context Words should make up about 17 percent of your total headline length. But what are Context Words, anyway?
Context Words were the second big discovery from the study Sharethrough and Nielson conducted. Comprising about 1,000 English words, these special words elicit strong emotional responses from people, which in turn leads people to pay more attention to them.
Context Words can be divided into four different categories: insight words, time words, space words, and motion words.
So if you've written a title that's between 21-28 words long, you should have about 4 Context Words in there, on average. Doing so will appeal to people's emotions, and that means more people clicking to download your white paper.
Editors Say, "Write Your Title First!"
This might seem like the opposite way to write anything, but according to Eric Athas , former manager of training at NPR and now senior editor of digital training at The New York Times , writing your title or headline first actually helps unleash your story's full potential.
This is true of news stories, white papers, essays, and blog posts. In fact, I took Eric's advice and started this article out by writing the headline first. Did it work?
Eric says writing your title first is useful for a number of reasons. For one thing, it'll help you stay focused throughout the rest of your writing, and for another, it will give you enough time to actually write a good title.
The title is often the last thing we write after slogging through a 1,500-word explanation on how to write white papers, for example, but saving the title for last sets you up for failure.
Also read: Three of the Biggest Mistakes to Avoid When Creating White Papers
Instead, take some time (it doesn't have to be long) to write titles when your mind is still fresh. You'll end up with a better title, and you'll probably end up with a better white paper, too.
Editors Say, "Titles Should be Specific!"
Bad ideas are everywhere. In fact, here's one right now: "Maybe if I write a vague title, people will click on it just to find out what I'm talking about."
False. People will not do that.
Rather, people actually like specific titles.
In their article " How to write great headlines that keep readers engaged: 5 tips (and examples) ," NPR's Colin Dwyer and Stephanie Federico say, "We want to create a positive experience for people — from spotting the headline to clicking to reading/watching/listening to sharing to returning. We don't want people to feel tricked or disappointed, right?"
In other words, people might click on your vague title to find out more, but they won't engage with it. People have little patience for writing that doesn't get to the point, especially with white papers.
Also read: Here's A Free White Paper Template To Give Your Content Strategy A Boost
White papers are supposed to be informative and specific by nature, so if readers are having to ask themselves "What does this have to do with the title?" as they're reading the white paper, they aren't going to stick around for long.
You could argue that engagement doesn't matter that much if you just want people to download your white paper in exchange for their contact info, but how do you think that reflects on you? Besides just being a lazy approach, writing intentionally vague titles is also a scummy business practice. People detect this.
Writing is hard. Why not let us do it for you?
Whether you clicked on this article unconsciously or not, you should have some good insight into how you can consciously write better titles. By making them longer, adding Context Words, putting them first, and making them specific, titles can do a lot for getting more people to read your white papers.
Writing white papers is hard. Writing anything, period, is hard. Why not let us do it for you? Give us a call at 877.702.2082 or email us at [email protected] to learn more about our content services today.
If DIY is more your style, check out our white paper below.
Related Posts
9 Brainstorming Ideas to Inspire Your…
Repurposing Content: Strategies & Best Practices…
There's More to Generative AI Than…
Finding a Content Niche for Your…
Hit enter to search or ESC to close