Project Management How To Create Project Timeline & What is It
Daily Jobs › Project Management
How To Create Project Timeline & What is It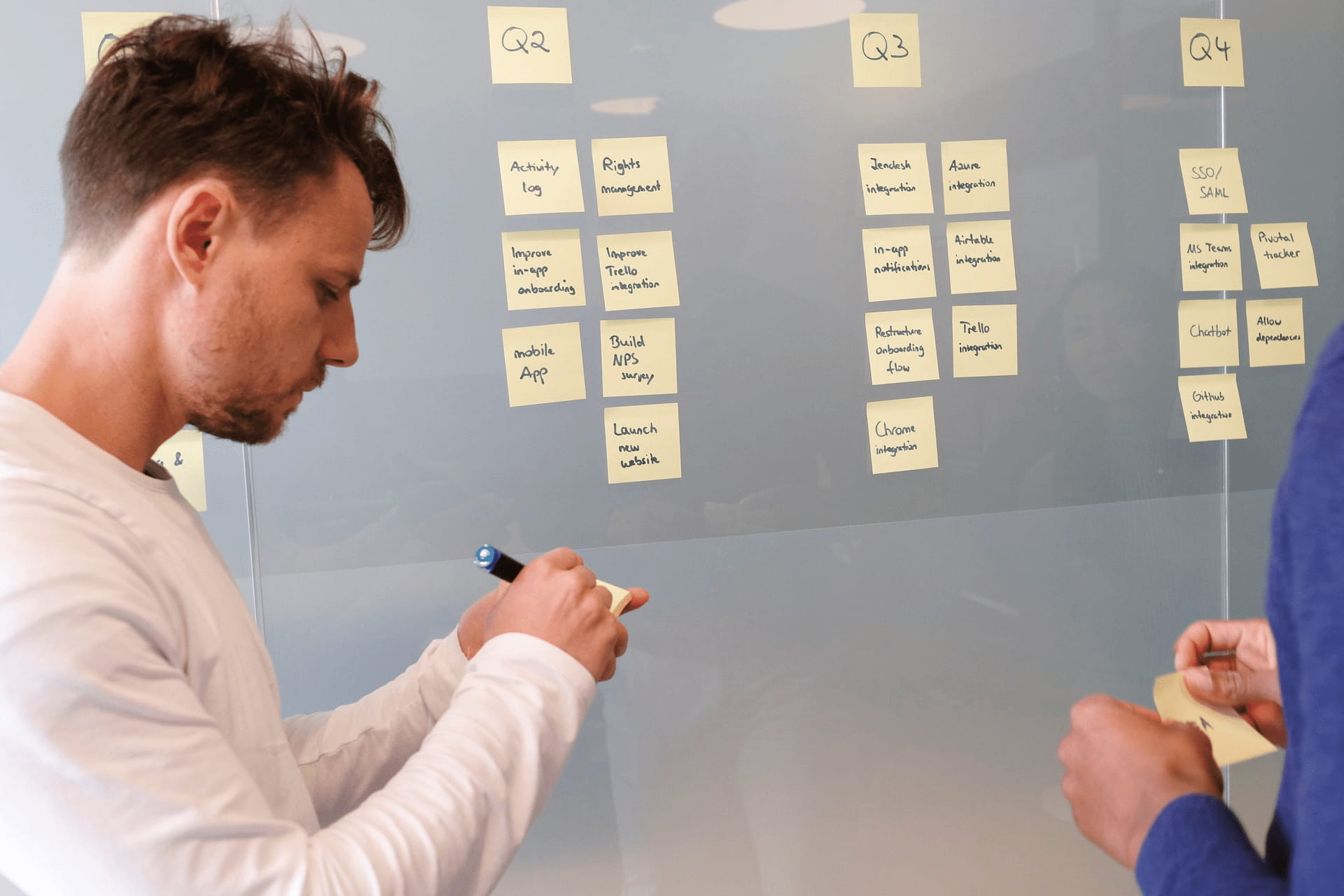 Implementing a simple but complete timeline of your project's flow from beginning to end is critical for keeping management and teams on track and maximizing efficiency. This quick guide to creating a project timeline will provide some information about:
✅ what is a project timeline and why do you need one; ✅ what your timeline should do for you; ✅ how to create a timeline for your next project in 8 simple steps.
This article delves into the intricacies of project timelines and explores the vital role that project time tracking plays in their mastery.
What Is a Project Timeline?
Project timeline is the chronological order of tasks and events within your project from start to finish.
The definition of a project timeline is simple. However, it may still be prudent to mention some of the ways a concrete timeline can benefit you and your team:
The project management timeline provides a visual source for the multiple phases and tasks within the project. This makes it easier to understand and coordinate specific tasks and overlook their progress.
It also gives an anchor for prioritizing which tasks are most important.
It provides managers and team members with the overview they need to predict and be prepared to handle changes, challenges, or setbacks within the project.
All of the above gives managers the ability to adjust the project plan accordingly for optimal time management. This also helps balance the workload and prevent overburdening parts of the team while underutilizing others.
Editor's note : using a good time tracker for teams helps tremendously with this process, too. If you're on the fence about using a time tracking solution for your team, this article may help !
Different Types of Project Timelines
While at its core, the project timeline is a pretty simple concept, there are various types of visualization methods available for creating one. What you use will depend on your and your team's preferences, as well as the type and scope of your project.
A Gantt chart, a PERT chart, or just a plain linear timeline are the most common choices when it comes to visualizing a project timeline.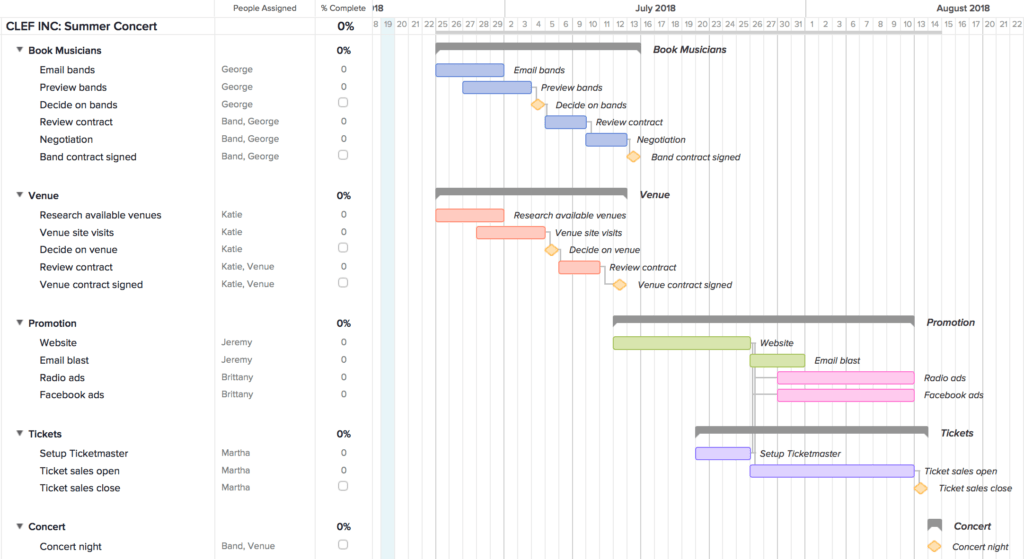 How to Create a Project Timeline
Now that we're armed with the basics, let's take a look at the eight steps to creating a project timeline!
1. Define the scope of your project
In a nutshell, the scope of the project is a clear, simplified statement of the goal and phases of your project. Example: "We will plan and execute a content marketing campaign for Client X"
2. Define your deliverables
What are the unique project deliverables (i.e., products, services, or results)? Example: "We will brainstorm, research, create, publish and promote 10 powerful blog posts for Client X"
3. Define your tasks
Now that we know the project's scope and what the deliverables are, we'll begin to determine the tasks associated with each of those deliverables.
Example: "To create 10 blog posts for the client, we need to develop a blog content plan; research, write and edit the texts of each; develop the visuals for each post; upload and prepare each post for publishing; schedule each post to go live at a date and time specified in the content plan."
4. Define project dependencies
Now that you've identified what tasks need to be completed to achieve your goal, it's essential to figure out which tasks have dependencies . In other words, which tasks will require the completion of other tasks before they can begin.
Example: "Writing a blog post is dependent upon completion of a blog content plan. Preparing and uploading the post for publishing is dependent upon the completion of the text and media files. Scheduling the post for publishing is dependent upon completion of uploading."
5. Estimate the time needed to complete each task
Review your task list, and determine how long it will take to complete each task assuming each person assigned to their task is working at an average-to-optimal pace.
Example: "Writing a blog post takes our copywriter 4 hours. Creating visuals for a blog post takes our designer 2 hours. Uploading and scheduling the blog post takes our content manager 1 hour."
6. Determine the availability of your resources
"Resources" can fall under a few categories. Still, more often than not, the resources that come with the most issues or limitations will be human resources.
Review your team members' schedules and determine what kind of time they will have free to spend on a designated task. Review your tasks and time calculated for those tasks, and use them to match up tasks with team members.
Editor's note: everyone's work efficiency is different. When assigning team members to tasks, knowing the history of an employee's timed productivity is crucial. A reliable time management tool with a feature showing the history of your employees' time utilization can be a project manager's best friend.
7. Determine your projects' important milestones
Now that you are aware of all project tasks and task dependencies, you need to identify some checkpoints along the way to be able to monitor your progress. Such checkpoints are also known as " project milestones ".
You have full creative freedom in choosing your project milestones. But bear in mind that all milestones of the project taken together should represent a sequence of events that build up until your project's goals are achieved.
8. Build your project management timeline!
After the other steps are aligned, and once you've chosen your method of visualization, go ahead and create your project timeline. Open your software of choice or grab a pen and paper, and start organizing your tasks in chronological order with the dependencies in mind.
Remember to label your tasks with who is responsible and accountable for their completion. Visualize how long each task will take along your timeline. Take into consideration the resources required for each. Finally, assign milestones to round it out. Now go forth and get started!
A Few Last Words…
Seeing your project organized on paper (or screen…) with dates, tasks, and assigned resources all laid out on a neat visual timeline will get you and your team motivated to take care of business.
Make it a team collaboration. You'll get the added benefits of cooperation and satisfaction at completing a project well done… and well-timed!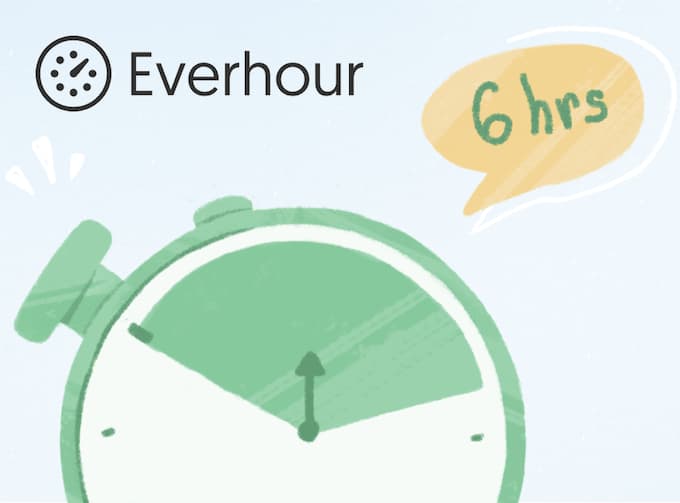 All-in-one time management system for your team
Estimate tasks, set budgets, customize reports – direct in your project management tool. ✔️ Asana time tracking ✔️ Trello time tracking ✔️ Basecamp time tracking ✔️ Jira time tracking ✔️ GitHub time tracking ✔️ ClickUp time tracking ✔️ Monday time tracking
Mike Kulakov
IT entrepreneur, executive and a former engineer. Responsible for company growth as well as the team's motivation. Big fan of playing tennis, snowboarding, traveling, reading books, and (of course) I live and breathe our product.
Contact Sales
Download App
Project management |
Create a project timeline in 7 simple s ...
Create a project timeline in 7 simple steps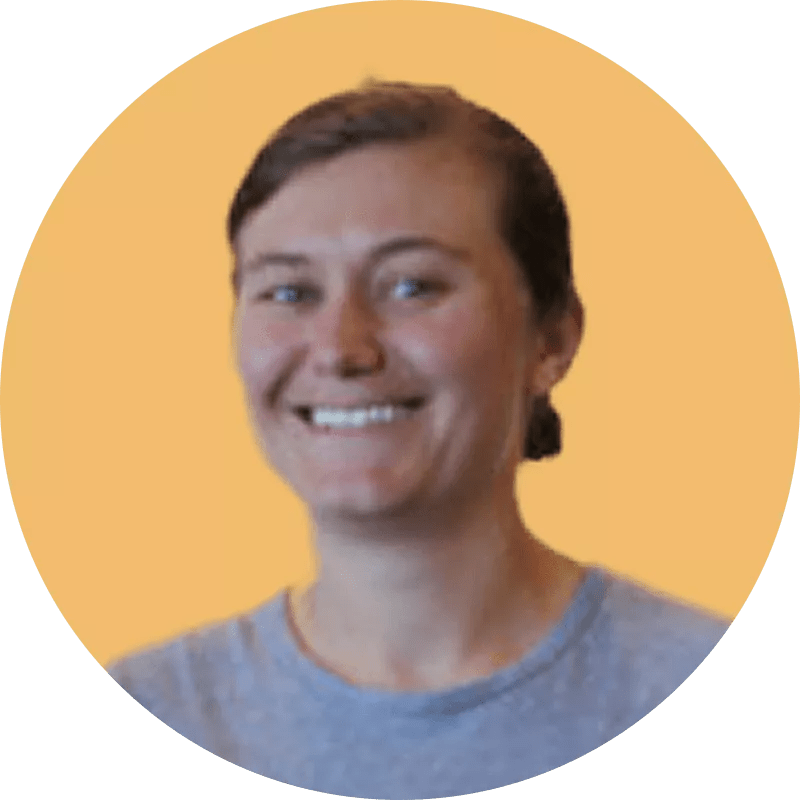 Fret no more. Here's a step-by-step example to creating a project timeline—no matter what your job title, industry, or department is. Follow these steps and learn how to build project timelines that put you in the driver's seat and  build your own project timeline template .
1. Create a project brief
To keep all project stakeholders aligned on the plan, every project should start with a  project brief . It serves as a roadmap and  is a way to explain big picture details, like the purpose, goals, milestones, and vision of the overall project. Here are a few questions to answer in your brief:
What are your goals for the project, both internally and externally? What are the project deliverables?
Which internal and external stakeholders are a part of the project? What are their roles?
What is the timeframe for the project? What are the most important dates?
What is the project scope ? Do you have a project scope statement?
What are the key milestones of the project?
Let's put this step into practice. You're responsible for planning this year's client appreciation dinner. Your personal goal for the event is to be as  organized, productive, and efficient as possible . You're confident you can do it, and understand it all starts by putting together a cohesive brief for your event. Your answers to the four questions listed above are:
What are your project goals, both internally and externally?
The internal goal is to plan a high-impact client event under $15,000. The external goal is to achieve a 50% RSVP rate and 80% attendance rate.
Which internal and external stakeholders are a part of the project?
The internal stakeholders are the event's planning committee (John, Sam, Tara, Linda), the VP of Client Success, and the Marketing team. Externally, the stakeholders include all current clients, and certain vendors (catering company, event venue, etc.).
What is the time frame for the project?
The project planning kicks off on January 15 and the event will happen on August 30.
Which tasks should be considered project milestones?
Publishing the registration page, securing the venue, and signing certain vendors.
Once you have your project brief and goals outlined, you'll be ready to work backwards and figure out all of the steps you need to take to get there and you can start creating a project timeline.
2. List your to-dos
In order to have a successful project timeline, you'll need to create a list of everything that will need to happen throughout the project planning process all the way to your final deliverable, whether it is a report or an event. Think both big and small in terms of steps. Any tasks that will help you get your project completed on time and on budget should go on this list.
At this point, don't worry too much about the order of all of your steps or when you need to get them done—we'll cover that later.
For example, the breakdown for our client appreciation dinner might look like this:
Write an event plan
Finalize budget
Confirm event venue
Select catering
Choose event theme
Design creative concepts for event
Set up an RSVP page
Send invitations
Advertise event
Finalize presentations
Prepare all event collateral and swag
Create a day-of checklist
For longer or more complex steps, break them into smaller, easy-to-digest subtasks. Not only will it help you figure out the true scope of a step, but it'll also ensure you don't forget any small detail and make tackling it more manageable.
In our event example, to make the "Select catering" step less overwhelming, we would split this part of the project into a digestible task list:
Create a list of possible caterers
Get quotes from each caterer
Compare quotes and menus
Meet with top picks
Choose caterer
Finalize contract
3. Estimate how long each step will take
Once you have a comprehensive list of every step in your project, you'll allocate an amount of time each will take to complete. When doing this, balance giving your team enough time to get project tasks finished and staying within your overall time frame. Once you know how much time each task will take, you'll be able to properly plan and sequence each task to create a project roadmap.
Continuing on with our client appreciation event example, let's take the "Select catering" step, along with each of its subtasks, and estimate how much time the smaller tasks will take, in chronological order.
Select catering (9 weeks)
Create a list of possible caterers (1 week)
Get quotes from each caterer (3 weeks)
Compare quotes and menus (1 week)
Meet with top picks (2 weeks)
Choose caterer (1 week)
Finalize contract (1 week)
Based on our time projections, the process of selecting a catering company will take a total of nine weeks. By working backwards you can determine when you need to start on this particular step and fill in your project timeline with actual dates.
4. Map out dependencies
As you're running a project, some steps can be worked on simultaneously—especially if different teammates are responsible for each of the overlapping tasks. However, others cannot be started or completed until another step is finished. In other words, some steps are dependent on others getting completed first. For instance, you can't order food before you've selected the caterer. This is one of the many reasons why a  timeline  is so important. Visually seeing each step, how the steps overlap, and the amount of time each one takes will keep you on course.
This is also the time to figure out who's responsible for each step. Assigning who's responsible for what to every part of the project early on will help you spot and adjust timing or resource conflicts, and avoid future surprises and delays. In Step 6, you'll learn how to share your project timeline with those involved, making responsibilities crystal clear.
One of the tasks for our example event is to send out invitations. While this particular step seems like an easy one, there are several other things that need to happen before we can even think about sending invitations. The invites must be designed, and we can't design them until a theme has been chosen for our event. One task needs to occur before another starts. For example:
Event theme (Event Planning team) → Design concepts (Linda) → Choose design (Event Planning team) → Create invitation (Linda) → Send invitations (Tara)
It's worth the time to map out each dependency and the sequence (or order) of each task. You'll quickly start to see your project puzzle coming together. Deciding who will do what is critical as well. Who will be working on finalizing the event theme? Who will design the invitations? Don't wait until it is time for a task to start before assigning it to someone—get everything ironed out early to avoid conflicts or hiccups.
The good news is the invitation process and catering selections can be happening at the same time (which will be shown on our project timeline).
5. Create your timeline
Are you beginning to visualize  what your project timeline could look like ? While it's not practical to keep that image (and all those tasks and due dates) in your head, it is realistic to get them down on paper (or on screen). Your first instinct might be to open up an Excel spreadsheet or Microsoft presentation—but wait. Since neither were designed to plan or manage projects, you'll run into some  challenges you could avoid by choosing a better tool .
Instead, opt for a project management tool that's designed to build and  manage project timelines —like Asana. Not only will it save you time drawing your timeline (since you won't have to attempt to hack merge cells and add formulas to turn a spreadsheet into a project timeline), it will allow you to continue managing your timeline after the project kickoff. Dedicated  project management software  allows you to  easily adapt your timeline  as you work, and update your stakeholders on changes and progress in real time.
With the right tool, your timeline will be tied to your underlying work and will always stay up to date. It can be the difference between a project running on track and one going haywire.
How to create a timeline in Asana
Use  Asana's Timeline  feature to  create your own project schedule :
Enter all of your project steps as tasks in a list
Add start and end dates to each task
Add a task owner for each one
Draw dependencies between tasks
Click "Timeline" view to see your list translated into a visual timeline.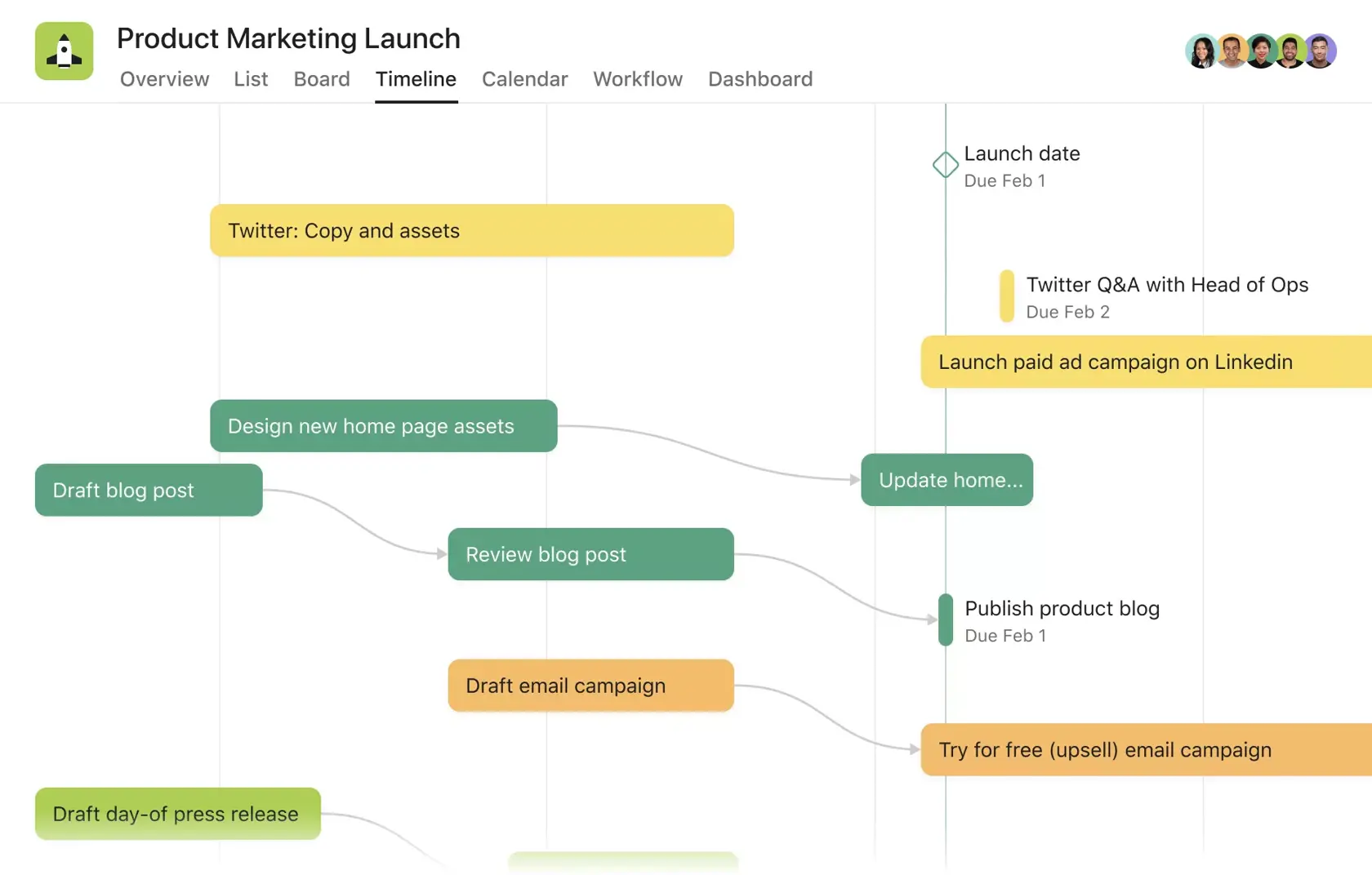 Tip: If you've already created your plan in a spreadsheet, you can quickly import it into Asana using our  CSV importer integration , and skip to step four.
Project timeline templates to get you started
The easiest way to set up a project timeline quickly is to start with a  project template . Below are a couple of project templates, created by Asana, that you can use now. Each type of project starts as a List View, but you can click the "Timeline" tab to convert it into a Timeline:
Product marketing launch template
Event planning template
Product roadmap template
General project plan template
6. Share it with stakeholders
Remember when you added a list of all project stakeholders to your brief at the very beginning of this process? Now that you've built your timeline, it's important to share it with everyone involved. We can promise they will be thrilled to see how clear your plan is. The easier you make their part of the project, the more kudos will be coming your way throughout the process.
When you use a  project management tool  to build your timeline, sharing it is quick and seamless. Forget emails and multiple docs—in no time, your stakeholders will know who's doing what by when.
For the client appreciation event, we will want to share our timeline with everyone involved in the entire project, not just those who have immediate responsibilities. At any time, someone will be able to track their part of the project and its dependencies without having to ping you for information.
7. Manage and adapt as you go
If you've ever worked on any project, you know things don't always go as planned. However, when you're prepared to adapt, changes don't seem so difficult to handle. Timelines aren't just great for planning; they will also help you adjust as delays or changes inevitably happen.
Moving tasks around doesn't have to be daunting or disrupt the entire project. If one part of the project runs into a delay, as the project owner, you will have clarity on the impact of the rest of the project. Then, you'll be empowered to move things around accordingly so the overall project can still move forward productively.
As  The Balance Careers  notes, project changes can be managed within their own specific steps, but once the change is final, it's time to update your timeline. Because timelines go out of date quickly when plans change, relying on a  project management tool , rather than email or spreadsheets, offers a major benefit. As the project owner, it's your responsibility to communicate to all stakeholders what the single source of truth is (your timeline) and make sure it's always updated.
Take immediate action. As soon as the change is confirmed, update your timeline to reflect it.
Notify stakeholders. Anyone that is affected by the change to your project timeline should understand how it impacts them and be able to visually see the change on the project timeline.
Determine the impact. Once your timeline is updated, you'll be able to see if there are time periods that are overcrowded and stakeholders that have too many tasks. Can you move a task to ensure more time? Can someone else take over that responsibility or lend a hand?
To wrap up our event example, let's say you managed to choose a caterer for the client appreciation dinner. You're about to finalize the contract when a call comes in that the catering company double-booked themselves. Unfortunately, you must find a new catering company.
With a timeline, it's easy to adjust due dates for any task or any team members that are impacted by this change. The positive part of this challenge is that we've already gone through several of the initial tasks and can see that reflected on the timeline. While this is a frustrating problem, it feels more manageable because our timeline has kept us organized and on track.
Common questions about project timelines
Knowing how to create a well-organized project timeline is a great first step towards understanding how to use this powerful tool, but you may still have a few more questions. You're not alone. Here are answers to a couple common questions people have about project timelines:
What's the difference between a timeline and a Gantt chart?
Gantt charts  focus more on workflow and task dependencies. They are more linear and don't account for changes or multiple things happening at once. Timelines are flexible and adapt easily to changes in project plans. They allow the workflow to be updated effortlessly. Both are organized as bar charts and serve as visual tools.
How can you track project progress, especially if you're managing multiple projects?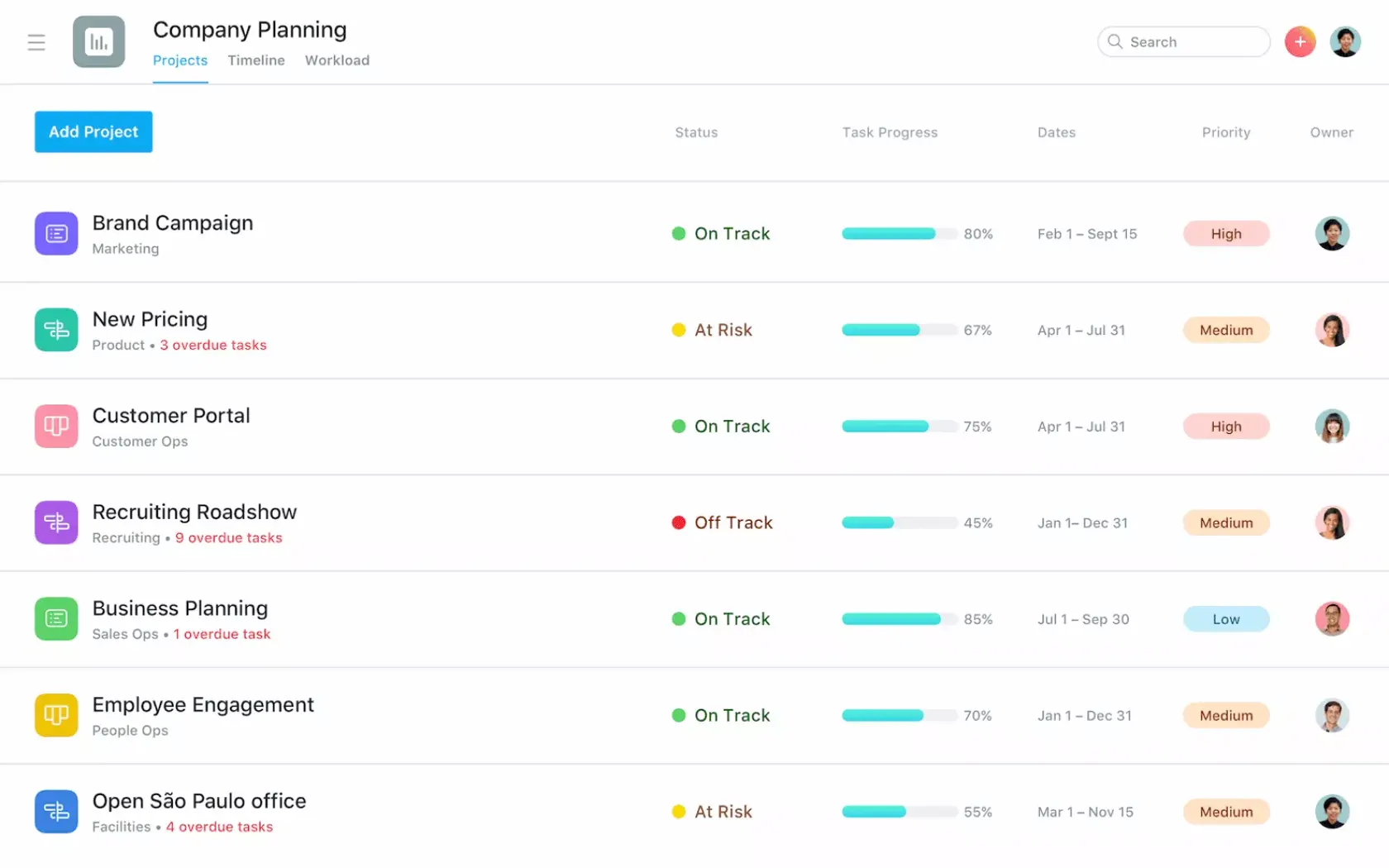 This is tough to do in spreadsheets, but easier in a project management tool. There are multiple views to be able to see one project at a time, or you can  manage multiple projects  through a  portfolio-style view .
In other words, you can visualize when you'll have more time to work on specific tasks and when you're at capacity, then you can adjust as needed to even out your entire  team's workload .
Create your next project timeline confidently
It's not enough to just come up with a project plan.  Determining how to execute it is just as important . Developing a timeline of how the plan will evolve is critical to the planning phase, and also makes managing the project more efficient.
Using this step-by-step process for every project management timeline will keep you on task and less stressed. Try it out, adapt it to your business, and share it!
To take your project timelines even further, create your next timeline using  Asana .
Related resources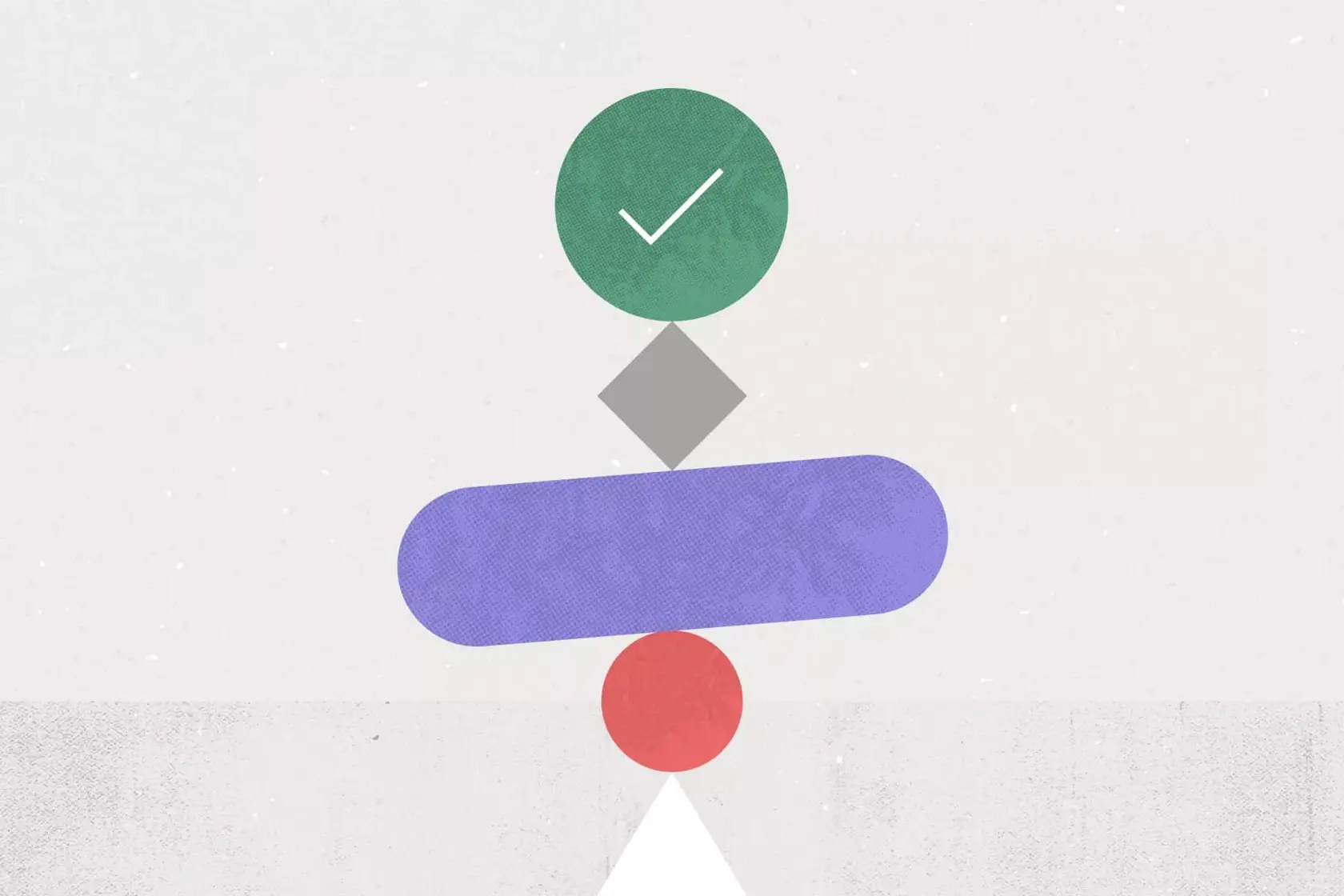 What is resource management? Your guide to getting started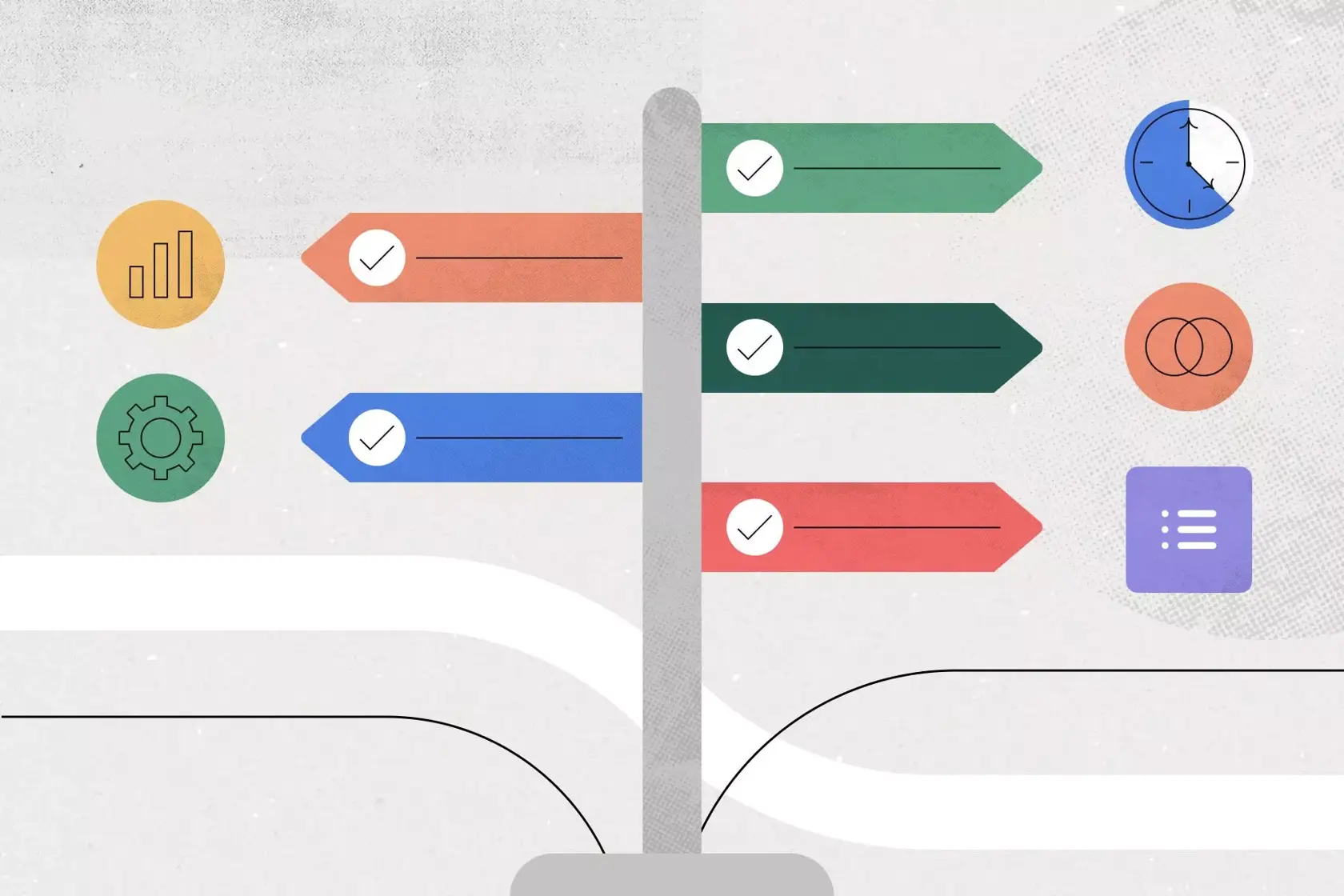 What is RAPID decision-making?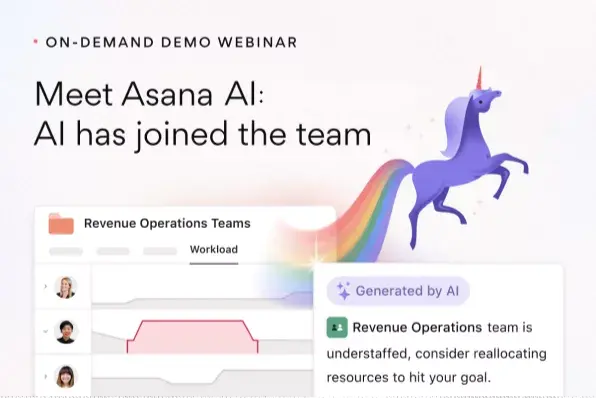 Meet Asana Intelligence: AI has joined the team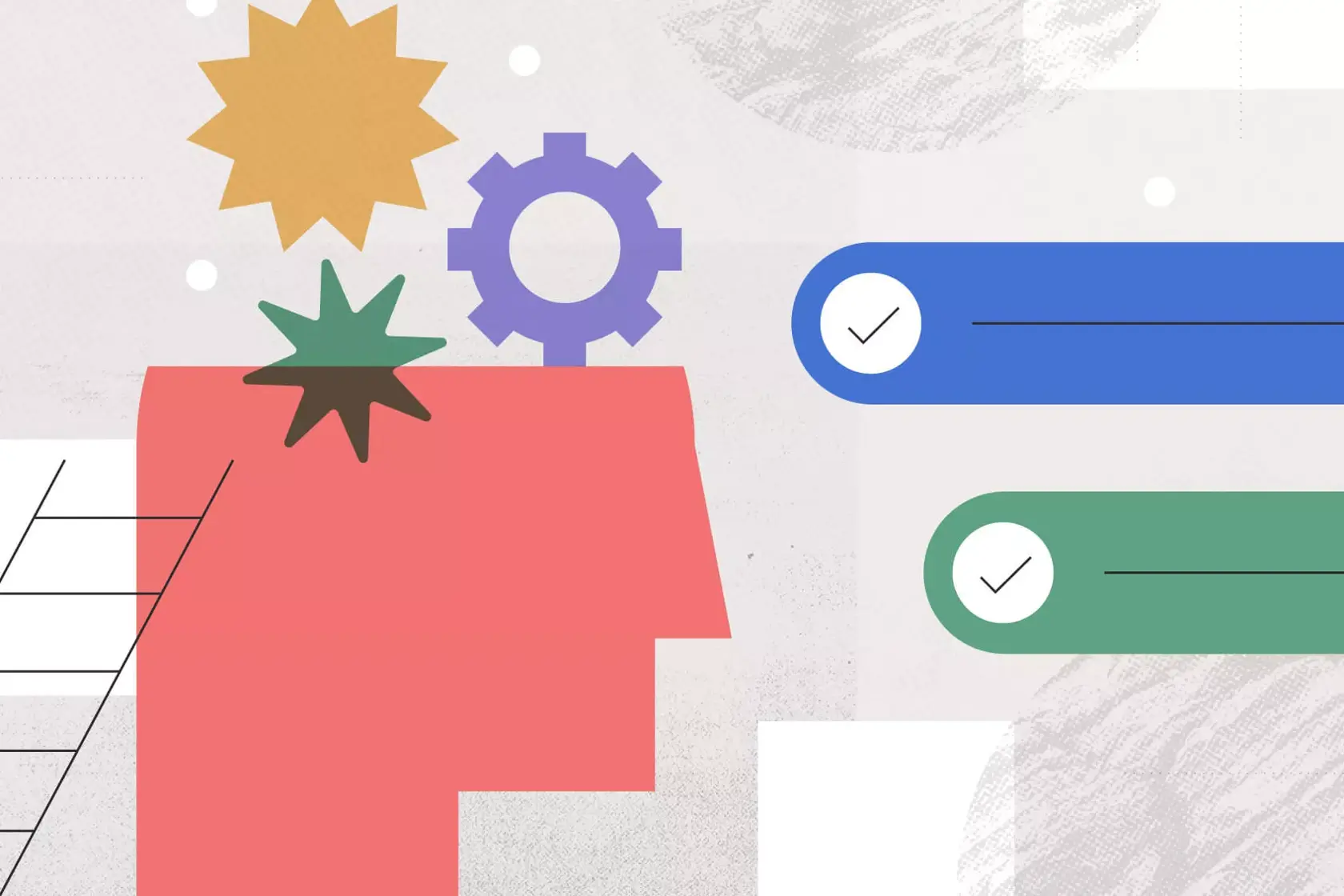 What is a subject matter expert?
How to Create the Perfect Project Timeline [Template + Examples]

Updated: July 25, 2022
Published: October 01, 2021
Piecing together a project timeline template usually involves a Google Doc and mediocre formatting skills. Then comes assigning tasks to teammates and promising to hit the agreed-upon delivery date. But a few weeks go by, and the timeline falls apart. Higher priorities pop up, and deadlines slip past without much progress.
Projects can fail for many reasons: a lack of support from leadership, unforeseen budget cuts, or overpromising outcomes. In fact, poor project management is more common than you think – only 55% of projects are completed on time .
But creating a timeline where everyone involved knows what they're working on and when it's due can help ensure your project doesn't creep past its original deadline. It's essential for keeping projects (and the people completing them) on track.
To make sure your next project stays on schedule, we'll cover how to set up a project timeline, the best templates to use, and a handful of examples to inspire your future scheduling.
Why Create a Project Timeline?
Time management is one of the top skills employers look for in candidates. Missed deadlines and rushed projects can set entire teams (and companies) behind schedule.
A structured project timeline offers more than brownie points from your boss. It can also:
Bring leadership and structure to a project
Outline what is being delivered, by when
Share who is responsible for each task and sets expectations for the scope, quality, and delivery of work
Show how the project outcome contributes to company goals
Decrease risk by accounting for any changes to the project scope, budget, deliverables, or deadlines.
Ultimately, a project timeline makes it easier and more efficient to manage a project. But it's important to match the timeline structure to the project scope. Planning an editorial calendar for the quarter may take more time and effort than creating a marketing video for an upcoming product launch.
That's where the right template comes in.
16 Free Timeline & Flowchart Templates
Fill out the form to get your free templates., you're all set.
Click this link to access this resource at any time.
8 Free Timeline Templates
Project timeline example.
Without the right project timeline template, organizing a project can be a lot of manual work — not to mention the formatting mess once multiple people get their hands on it.
The ideal timeline brings direction to a project, yet is easily adaptable when changes arise. Here's a look at a project timeline for opening a new company office.
You can create a project timeline for any process that relies on a schedule (almost everything these days), like onboarding employees, handling a crisis, or planning social media campaigns. All you need to know is how to outline the steps of a project and the tasks required to complete each phase.
Let's get into the details.
How to Create a Project Timeline
Crafting the perfect project timeline takes strategy, organizational skills, and a whole lot of collaboration. You need buy-in from supporters and clear directives for everyone involved.
To get started, follow this step-by-step guide to set up a structured timeline — no matter your job, industry, or management level.
1. Write a project brief.
A project brief communicates how you will approach a project. It includes details on the goals, deliverables, timeline, tasks, process, people involved, and resources needed to take a project from start to finish.
Asana outlined the steps to create a simple, yet effective, project brief. You can use this free project plan template to outline the project's goals, roles and responsibilities, schedule, deliverables, budget, and more. It's a great starting point for any planning process.
Or if you need a more comprehensive overview that includes key messaging and distribution processes, a creative brief may be the right fit for your project.
2. List all tasks and action items.
Every task involved in achieving a project's objectives needs to go into the project timeline. After creating the brief, make a list of these tasks. You can start with large tasks and break them down into smaller to-dos.
Let's say you're responsible for creating a marketing video to launch your company's newest product. Your list may include the following:
Establish project leads from each department
Set project budget
Find a video production company
Layout the video storyboard
Choose main features for video
Write video script
Capture video content
Add in sound and background music
Add animations and graphics
Write announcement copy
Craft marketing campaign
Create clips for social sharing
Get video and marketing assets approved
Once you have the major milestones down, break down each task into smaller pieces. For example, choosing a video production company involves:
Research video production companies
Curate a list of production companies
Get quotes from each production company
Compare quotes and narrow down options
Meet with the selected companies
Choose a production company
Finalize the contract
3. Connect dependencies.
In a project, certain tasks can't be started until another is complete. These tasks are called dependencies. For example, a video can't be filmed until the storyboard is finalized. And the storyboard can't be finalized until the video theme is chosen.
Mapping out dependencies helps you solidify the order of each task and decide who's responsible for what. Everyone will know what part of the project they're working on, which tasks must be completed before their own, and who to contact for the deliverables they need.
Here's a look at how dependencies can play out in a project timeline.
Image Source
In the example, you can see that hiring a caterer has to happen before finalizing the lunch menu. But other tasks, like finding a DJ and deciding on an event theme, can happen at the same time. So as you map out each task, you'll have to see which steps can overlap and which need to wait for others.
4. Estimate the time it will take to complete each task.
Once you figure out the sequence of tasks, you need to figure out how much time each will take. Estimate as best you can. That way, it'll be easier to create the project roadmap and understand the project's overall time frame.
As you go, make sure to consider the other projects and priorities your team has going on. A designer may be able to come up with a rough draft of video animations in one week, but if they're wrapping up another project, they may not be able to start on yours for another two weeks.
Being mindful of your team's time will make it easier to put together a reasonable, reliable timeline.
5. Create the project timeline.
Build your timeline by organizing your tasks from the first to the final step. Make any necessary adjustments to the task times, add milestones, and solidify the deadline. If your team works with a timeline maker or project management software , organize the timeline and tasks so it's ready to share after the project kickoff meeting.
You can save time during this step by using one of the project timeline templates below. It's simple to customize each and avoid the extra work of creating your own from scratch.
6. Share the timeline with the project team.
Whew, your timeline is complete! Now, you have to share it with stakeholders. This includes everyone who is involved in the project. You've already listed these people out in your brief (during step one), so it's time to share your clear path forward for the project with them.
It's a good idea to hold a project kickoff meeting with both stakeholders and individual contributors so everyone starts on the same page. You can communicate the project goals, deliverables, roles, and deadlines — without going into an overwhelming amount of detail. From there, you'll want to schedule time with the project's immediate contributors to chat specifics and answer any questions before the work begins.
Need help visualizing the entire project? It can help to include a timeline graphic like the one below to give everyone a sense of the overall time frame. You can add or remove steps, depending on the complexity of your project.
7. Adapt as you go.
Remember how just over half of projects are finished on time? Roadblocks and setbacks are inevitable in every project. So if your team runs into a delay, you'll have to understand the impact and adjust the timeline if necessary.
While it's possible to make up for delays without changing the final deadline, it's your job as the project owner to update stakeholders on the project's progress. Reporting a minor issue (like a coworker being out sick for a few days) isn't always necessary to higher-ups. But if it's a major roadblock that requires an extreme adjustment to the timeline (like a core contributor leaving the team), you have to communicate a new timeline to stakeholders.
Change is part of every company, so don't panic if you have to adjust your timeline. It's better to be transparent about the scope of work and timeline than keep people in the dark until the deadline hits. The earlier you adjust to change, the easier it will be to get back on track.
Project Timeline Examples
Visualizing a project makes it simple to understand what needs to happen from start to finish. Whether you need a template for a product launch or campaign meeting, these well-designed project timeline templates are perfect for your next planning session.
Employee Onboarding Timeline
Download this Template for Free
Product Launch Timeline
Crisis Response Project Timeline
Historical Timeline
Task Project Timeline
Meeting Project Timeline
Need as many templates as you can get? Download all of these project timelines (and more) for free. With the right timelines in hand, it's easy to keep everyone up to date and informed. Now all you have to do is make sure your projects stay on schedule. Good luck!
Don't forget to share this post!
Related articles.
How To Create An Infographic In Powerpoint [+Free Templates]
20 of the Best Infographic Examples to Inspire Your Next Design
The 13 Best Free Graphic Design Software for Marketers and Beginners
The Ultimate Guide to Infographics
How to Design a Process Infographic (And Where to Find Templates)
How to Make a Timeline Graphic in Google Docs, Word, Excel, Google Sheets, and PowerPoint
6 Ways to Use Icons in Your Infographics [+ Where to Find Free Icons]
25 Stats That Make the Case for Infographics in Your Marketing
Interactive Infographics: A Picture of the Premise, Tools, & Process
8 Helpful Resources for Creating Beautiful Infographics
Plus Free Flowchart Templates
100% Free CRM
Nurture and grow your business with customer relationship management software.
We use essential cookies to make Venngage work. By clicking "Accept All Cookies", you agree to the storing of cookies on your device to enhance site navigation, analyze site usage, and assist in our marketing efforts.
Manage Cookies
Cookies and similar technologies collect certain information about how you're using our website. Some of them are essential, and without them you wouldn't be able to use Venngage. But others are optional, and you get to choose whether we use them or not.
Strictly Necessary Cookies
These cookies are always on, as they're essential for making Venngage work, and making it safe. Without these cookies, services you've asked for can't be provided.
Show cookie providers
Functionality Cookies
These cookies help us provide enhanced functionality and personalisation, and remember your settings. They may be set by us or by third party providers.
Performance Cookies
These cookies help us analyze how many people are using Venngage, where they come from and how they're using it. If you opt out of these cookies, we can't get feedback to make Venngage better for you and all our users.
Targeting Cookies
These cookies are set by our advertising partners to track your activity and show you relevant Venngage ads on other sites as you browse the internet.
Google Tag Manager
Infographics
Graphic Design
Graphs and Charts
Data Visualization
Human Resources
Training and Development
Beginner Guides
Blog Graphic Design
40+ Timeline Templates, Examples and Design Tips
By Midori Nediger , May 30, 2022
Timelines are perfect for telling stories and visualizing projects and processes. You can use a timeline template to:
Provide an overview of events.
Break down an agenda or itinerary.
Highlight important points in time.
Distill important information that people might otherwise miss.
In this guide, we'll share creative timeline ideas, outlines and templates to help you design timelines that will captivate your audience.
Here are our best timeline examples and tips on how you can use them. Click to jump ahead:
Project timeline template
Business timeline template
Nonprofit timeline template
Event timeline template
Marketing timeline template
Simple timeline template
Historical timeline template
Construction timeline template
Internal communication timeline template
More timeline templates
FAQs about timeline templates
1. Project timeline templates
Project managers need to juggle multiple balls. A timeline template is a perfect addition to your presentation, project plan, proposal, project management software or other documents where you need to share project details with stakeholders and keep the team on track.
Color-coding data in your timeline is one of the easiest and most effective ways to make your design readable, like in the project timeline example below.
The visual project timeline outline above uses shades of blue to differentiate different tasks. You can use color hues for each day, week, month, or even specific activities. This will help them stand out from each other on the timeline. This timeline was created for a nonprofit, but of course you can use it to visualize any timelines you have for your projects.
Pro Tip: Consultants and freelancers will especially benefit from using this project timeline template . They're an easy way to show the client what steps are required to complete a project and how each step impacts the next. The client will love having a visual timeline to refer when they can't remember what's supposed to happen when. And this means fewer emails and phone calls to you—we hope!
Monthly project timeline template
For shorter project sprints, a monthly timeline example may be more useful. A timeline, like this example below, can be customized to make it weekly or even hourly:
To make this a weekly or hourly timeline, simply click "Jun 2021" and change it to "Monday" or "9 a.m.", for example. Note how, unlike the above timeline which uses different shades of blue, this one uses multiple colors to differentiate between time periods.
If you feel like this one uses too many colors and doesn't coordinate well with your branding, you can always add your brand colors to My Brand Kit and apply them to the timeline in one click:
Consultants for projects can also add this free timeline template to their marketing plan to improve their workflow. A more efficient workflow will help the team effectively carry out your recommendations.
Pro Tip: Timeline infographics are great for nonprofits looking to become thought leaders. Pick a topic that shows the development of an idea in your industry. Plot it into a timeline template and insert it into your blog posts or guest posts or share it on social media. You can also add it to a white paper .
Real estate project timeline template
The home-buying process can be confusing for first-time buyers. Real estate companies can ease their customers' concerns by designing a project timeline template that uses numbers to emphasize each step:
Return to Table of Contents
2. Business timeline templates
Running a business is never easy, and the time crunches may be hard to manage.
Do you have too short a time duration to get things done? I thought you'd say that. Try experimenting with two-week project timelines instead to manage your business needs.
Here's a project timeline example that can help you structure your monthly product releases:
Pro Tip: Use Gantt charts to outline due dates and break down projects into smaller activities that are either assigned to individuals or entire teams. Our guide on Gantt charts will teach you how to use Gantt charts to deliver projects on time, every time.
Vertical timeline template
Sometimes the key to creating business timelines that stick is the right orientation. Maybe in your case, a vertical timeline outline makes more sense than a horizontal project milestone template.
Pro Tip: Learning how to complete projects by dividing up deliverables and underlying tasks is key to getting things done across a project's entire life cycle. Our project life cycle guide will give you a handy framework to guide projects from inception to completion.
Simple business timeline format
The best business planning timelines are simple but communicate the core message clearly.
Don't be fooled by their simplicity. Vertical timelines can look basic but they'll help you communicate project timelines and deliverables to your potential clients. This technology timeline sample can be easily customized to reflect your business plan.
Related : 30+ Project Plan Templates & Examples to Visualize Your Strategy
PowerPoint timeline template
Text-only presentation slides are boring. Timeline slide templates are perfect for making information visually engaging. Optimize your timeline outline for PowerPoint, Google Slides or SlideDeck by using landscape orientation and big, bold text.
Use a gradient color scheme to create a flow from the beginning of your timeline slide to the end:
For more creative timeline ideas and outlines you can use for PowerPoint and Google Slides, check out our collection of PowerPoint timeline templates and examples here .
3. Nonprofit timeline templates
Nonprofits often rely solely on fundraising to keep their projects running. To make things easier for your team, and yourself, a nonprofit timeline template helps to organize your processes. It is a great way to sum up the events and tasks for an important day.
Your tasks may consist of planning content, promotion, social media, etc. Using a horizontal timeline template allows you to be much more organized and summarize your successes:
This horizontal timeline format is perfect for social channels. The colors and images will hold people's attention and stop them from scrolling past your post.
Social impact timeline templates
Nonprofits need to show that they are making an impact on the world. This is a great marketing tool to attract more investors.
But marketers are busy people. It isn't possible to design an impactful document from a blank timeline template. This attractive editable timeline uses images to create a connection between the audience and the company.
If you want to use a horizontal timeline format instead, check out the example below:
4. Event timeline templates
A lot of event planning is virtual these days. As a marketer, you may feel overwhelmed by the changes. Using an event timeline template will help you block your hours, days, and weeks out so that you can visualize each step of the way.
Horizontal event timeline templates
Use color hues for each day, week, month, or even specific activities. This will help them stand out from each other on the timeline. This project management timeline template for a nonprofit uses red and blue to differentiate different activities:
Here's an example of a horizontal event timeline template — this case of the cannabis legalization history in the US :
If you don't have too many events, you can use this template instead:
This event timeline template portrays the nine-month period of Elon Musk taking over Twitter in 2022 . Not a lot of timeline milestones are added — the designer decides to use the given space to add more notes about each milestone instead.
On the other hand, this Adobe acquisition timeline infographic is perfect if you don't need to add lots of background info to your timeline events…
Vertical event timeline templates
Scheduling your days in time blocks can be an effective way to organize and prioritize your tasks. Try using different color blocks for different types of tasks or appointments.
This is an opportunity where icons can help you code information and make your timeline scannable.
This vertical timeline template, for example, can make sharing an event planning schedule a breeze:
Or this vertical timeline template which depicts the major data breaches in September 2022 :
If you need to add lots of background info to your event timeline, this iPhone evolution infographic is a great choice:
Fundraising event timeline template
You want to show what your event or fundraiser has achieved. Instead of starting off with a blank timeline, use a creative timeline format to showcase goals reached.
This timeline example shows how the foundation has reached its goals every month. Notice how the timeline is cleverly designed based on a blood donation symbol (which makes it perfect if you're looking for a visual timeline for your blood donation project!):
Event timeline examples
If you're a busy small business that needs to budget its time, it's important that you can indicate how much time should be spent on each activity in your timeline. One way to do this is to use bars of different lengths to visualize lengths of time.
Look at how this fundraising timeline template segments lengths of time for each activity:
Or this timeline infographic which depicts Parler's business story before being acquired by Kanye :
Wedding timeline template
Another timeline example for an event that you may be planning as a small business is a wedding. You can include specific times and any important details people should know, just like in this wedding day timeline template:
Conference planning timeline template
Want your event to go off without a hitch? Give your attendees a timeline of what the day will look like. That way, they'll know what to expect ahead of time.
Don't forget to include information about where each part of the day will take place. Including photos or illustrations of what to expect can also help get your attendees excited about the day's events.
For example, check out this sleek and minimalist event timeline template:
Pro Tip: During timeline formatting, special event consultants and event planners of all stripes can add their branding to any templates of their liking. Then, save it as a template to use again and again. Meaning: less administrative work for you.
Calendar timeline example
Take a classic calendar and make it more effective by using icons. Pick icons to represent different types of events. Don't be afraid to mix up the colors. Simple visuals make information easier to remember, so pick icons that will stick in your memory.
Choose icons to fit your event timeline templates using Venngage's library of over 40,000 icons.
For another example of a calendar timeline outline, check out this template which is in a vertical format:
5. Marketing timeline templates
Social media timeline example.
If you need to report on how your company's social media channels grow followers over a period of time, it's best to do that in a creative visual format.
Adopt this timeline template that presents Instagram's user growth over time and edit it for your own user growth timeline:
Creative visual timeline for marketing
Understanding your customers' journey is a core component of a solid customer experience . Create an infographic that visualizes your various customer profiles.
Use icons to emphasize key steps in their journey. Take a look at how this timeline example uses icons to make each customer journey easy to understand:
Click the template above to enter our online customer journey map maker. Customize the template to your liking—no design experience needed.
Iconic editable timeline
Icons visualize information in one small graphic. That's why they're perfect for including in a visual timeline for your events.
Pick an icon with a widely recognizable meaning (such as social media platform logos) so people can scan your timeline for information about a specific topic.
This historical timeline example shows the history of social media platforms. It uses icons to identify which point is about each individual platform. You can always customize templates to fit your needs:
6. Simple timeline template
A simple timeline template allows you to make project planning easier for everyone involved. Your team will be grateful for the visualization of a difficult project or process. Here is a simple timeline example that shows how your audience can easily understand what you're presenting:
7. Historical timeline template
People often like to learn about the history of people, places, and things that they're interested in. The historical timeline example below highlights the evolution of the internet and technology.
Real estate history timeline example
Showing the history of an industry that has existed for almost a century can be difficult. You don't want to include too much information. That can be overwhelming for your audience.
Breaking up the decades like in this printable timeline template is the better option. It will make the timeline easier for customers to read and understand.
Brand historical timeline slide
This historical timeline template uses Google's iconic color palette to reflect the story. Icons and logos make it easy for readers to skim this timeline example and find their favorite products.
Use it to present about a company or an organization that has a rich history as it's a really long and comprehensive timeline template (click to see the full infographic):
Related: COVID-19 Timeline: Critical Moments in the First Year
Periodical history timeline
While most timelines typically use one connecting line down the middle to show progress over time, you can group years together using horizontal lines.
Group periods according to different technological breakthroughs, political movements, artistic and fashion trends, or any other broad theme.
Don't be afraid to stray away from the classic branch timeline design. Get creative by moving events around the page and playing with different layouts.
Check out this history timeline example for some inspiration:
Historical infographic timeline
Educate and remind readers about important dates in history using a history timeline template. Emphasize certain dates by using big, colorful fonts. Offer brief, concise explanations for why the dates are important.
If you are pulling your information from other sources, be sure to cite your sources at the bottom of the infographic.
Arrow timeline example
This timeline example uses text bubbles and cute arrow graphics to create a natural flow of information:
Comparison timeline format
It's fun to see how things have changed over the years—tech, fashion, event foods. Create a visual timeline that shows photos of a thing, to highlight how it has changed over the years. You can use a comparison infographic template to do this.
This timeline example shows how cameras have changed over the years, uses images and brief descriptions to inform readers:
Simple historical timeline template
While you can't cover everything that has happened in history in one timeline, you can highlight the important, defining events. Summarize the history of a person, place or thing by showing key moments in history and offering concise explanations of why those moments are significant.
Use colorful icons to enforce and illustrate the information. If you have a resource where readers can go to get more information, cite it at the bottom of the infographic.
These political infographic templates are a good place to start.
8. Construction timeline templates
The way the construction industry has advanced over the years is quite a feat. This printable timeline template clearly states what movements took place for the industry to reach the heights it has now.
Construction progress timeline example
Sometimes, processes can be confusing, especially if there are a lot of steps to follow. It's easy for people to forget steps in a process, especially in the construction industry.
A  construction schedule  timeline template visualizes the building process, organizes the steps, and shows the connections between steps.
This construction project timeline template uses color text boxes to neatly organize its milestones by month:
Pro Tip: Consultants can use project timeline templates to keep a project on track, especially if there are multiple people involved (subcontractors, multiple stakeholders etc.). Assign a task to a different person and color-code these people/companies i.e. green for you, red for the client.
PS: Looking for a scheduling app to help you book meetings without the back-and-forth? Check out HubSpot's Meetings tool.
Home renovation timeline template
Alternatively, you can organize your timeline by steps and the number of days you need to complete them, like in this construction project timeline template:
Pro Tip: Design newbie consultants and freelancers can use our " My Brand Kit " tool to import brand colors and logos from a website. Or enter them manually. Use your branding, or the client's, as you like. It's an easy way to impress the client, without any design work on your part!
9. Internal communications timeline templates
Visual timeline templates are an effective way to plan your business goals or detail a new process in your internal communications. You can lay it all out, summarize steps, and use visuals to emphasize points.
New hires at any company will understandably have a lot of information to process. This sprint timeline example details the first day on the job. It would be a welcome addition to the usual onboarding documents.
Pro Tip: Timeline templates can help simplify the onboarding process. You don't need to limit your timeline to a new hire's first day at the company either! Consider providing a timeline for their first week, month, or even the entire probationary period. Chart important information, like the dates of their reviews, or when their benefits kick in. This will be much appreciated by your new hire, who likely has a lot to keep track of!
Annual printable timeline template
Zoom out even further and plan your entire year. Organize critical milestones by month using this vertical timeline template to share with your company:
Colorful printable timeline format
This timeline example takes a similar approach, but it color-codes the months and text for improved readability and impact.
Weekly timeline template
As mentioned earlier in this guide, you can keep track of your team's progress week over week with a simple and organized timeline template.
Use symbols and icons to categorize different types of tasks so that readers will be able to skim the timeline and find the information quickly.
Alternate between two neutral background colors to increase the readability of your design. Here's the two-week timeline from earlier that follows this scheme:
Pro Tip: A project timeline template can be a fresh way for consultants to make progress reports for stakeholders. The client can see at a glance what you've been up and how the project's progressing. No wading through walls of text—a timeline is easy to scan, understand and digest.
10. More timeline templates
Here are more timeline examples that you can customize.
Colorful text boxes use icons and punchy descriptions to keep the reader engaged in this history timeline template:
Process timeline example
Use your brand guidelines to spread brand awareness and make your content recognizable across multiple channels.
Numbered timeline template
A timeline doesn't necessarily have to chronicle years. It can also be used to count down information. Take this timeline template that counts down New Year's Eve facts. The line down the middle of the infographic creates a flow from fact to fact.
You could use a timeline example like this to rank products, websites, movies…anything!
Illustrative timeline example
The beauty of a timeline infographic is that you can create a design that really reflects the theme of your information.
Pick a flat icon that reflects the theme of your information and stretch it to fit the background of your page. Then, pick a color that stands out to create your timeline, text and smaller illustrations.
Look at how this timeline example uses an icon of a body as the background image:
Iconic timeline sample
If certain dates or events are particularly important, emphasize them on your timeline by making them bigger than other dates. You can do this by using bigger icons, bigger font sizes, or using a contrasting color.
Not only will using non-uniform design elements make certain points stand out, they will also make your timeline more interesting to look at.
Pro Tip: Use a timeline template to show the history of your business. Put it on your website's About page to grab the reader's attention. You can also add it to consulting proposals or pitch decks . We have plenty of business proposal templates to help you get started.
Bubble chart timeline infographic
This timeline template combines the use of bubble charts and timelines to visualize the explosive growth of AI technology over the past five years:
Note, we welcome sharing! You have permission to use this infographic on your blog or website. Simply copy the HTML code below to add this infographic to your site. Or, if you'd like to reference a specific statistic or fact, please include a link to this blog post as a source.
FAQ about timeline templates
What is a timeline.
A timeline graphically represents the passing of time. It also showcases important events, activities, or tasks in a chronological manner.
What does a timeline include?
The timeline format generally includes the following components:
Dates or times
Short descriptions
Images or icons
How can you create a timeline?
Making a blank timeline and building on it will take time and energy. Instead, use a timeline template, like the ones Venngage offers, to design timelines.
As you can see from this guide, Venngage has over 40 editable timeline templates. Each can be customized to your brand's needs.
Where can you make a timeline?
Use Venngage's Timeline Maker to design timeline templates for free. You can choose a template that suits your needs and edit it according to your content.
With Venngage's diverse icons and stock photo library, you can design timelines that appeal to wider audiences.
Is there a timeline template in Google Docs?
Google Docs doesn't have a default timeline template, but you can create one yourself by manually inserting lines and shapes from Google Drawing:
Of course, it takes lots of time to polish a timeline created manually this way, and even then you can't guarantee that it will turn out "good". This is because Google Docs by itself isn't designed for creating timeline templates, unlike Venngage which is a simple solution for non-designers.
If you still would like to have a timeline in Google Docs, you can create one using Venngage instead and export it as a PNG—which then can be uploaded to Google Docs as an image.
Is there a timeline template in Word?
Similar to Google Docs, Word doesn't have a default timeline template. Of course you can still manually create one using the lines and shapes, or by using the SmartArt function. Check out this guide on how to create a timeline in Word if you want to go that route.
But, also similar to Google Docs, timelines created in Word take too much time and don't look as good as the ones created using a design solution like Venngage.
A simple fix would be to choose a timeline template from Venngage's library, edit it and export it as a PNG so you can upload it to your Word document.
How can you create a timeline with Venngage?
Watch this video to learn how to create a timeline template .
Follow these steps to customize your timeline templates on Venngage:
Step 1 : Pick a timeline template with the layout that best fits the story you want to tell.
Just so you know, some of our templates are free, some exclusive templates are paid. But you can always create an account and test out our editor for free.
Step 2 : Add, remove, or rearrange points with the smart templates in our timeline maker (screenshot below).
Step 3 : Insert your own dates and events using the text boxes.
Step 4 : Customize the colors , fonts and icons to make the final design your own.
Step 5 : Share your timeline design with a share link, or upgrade to download in multiple formats.
Not a designer? No problem. Create an engaging timeline template with Venngage, the simple design solution for businesses.
PS: Looking for a different kind of infographic? Venngage can help you:
Create a business strategy or brainstorm new ideas with a mind map
Explain a complex process with process infographics or product roadmaps
Compare and contrast multiple options with comparison infographics
Raise awareness about an issue or cause with nonprofit infographics
Need some timeline formatting tips? Read our guide on how to create a timeline in 6 easy steps .
Contact sales
Start free trial
The Ultimate Guide…
Project Timeline
Brought to you by projectmanager, the online project timeline tool used to plan over 2 million projects..
What Is a Project Timeline?
What is project timeline software, benefits of online project timeline software, must-have features of project timeline software, example of a project timeline, how to build a project plan timeline in projectmanager, best practices in making a project management timeline, project timeline template, how to update your project timeline, how to share your project timeline.
A project timeline is a visual list of tasks or activities placed in chronological order, which lets project managers view the entirety of the project plan in one place. A project timeline typically takes the form of a horizontal bar chart, where each task is given a name and a corresponding start and end date.
A project timeline provides an in-depth overview of the entire project from start to finish. You can see when a task starts and when it's due—and importantly, whether or not it's dependent on another task.
A project timeline can be priceless for a project team, but they can be challenging to make by hand or even in Excel. Fortunately, project planning software can create an interactive timeline in just a few clicks.
With ProjectManager, all you have to do is add your tasks and due dates. Want more detail? Add subtasks, milestones, dependencies, cost estimations and more. As your team executes their tasks, your timeline updates instantly, turning it into a powerful tracking device. Try it for yourself with a free 30-day trial.
With ProjectManager, you can make a timeline in a matter of minutes— Learn more .
Project Timeline Uses
Project timelines give project managers an opportunity to:
Organize their tasks
Show when in the project the tasks start
View task deadlines
Link dependent tasks
Break the project into phases
Identify team members assigned to a task
How Do You Calculate a Project Timeline?
To make a thorough project timeline with a Gantt chart , follow these steps:
Write a project scope statement: A scope statement outlines the tasks, milestones and deliverables for the project. It's an essential part of the project management plan and it has all the information you need for your project plan timeline
Make a work breakdown structure (WBS): Use this graphic tool to break down the project scope into smaller work packages. The WBS allows you to visualize and organize the project's tasks, milestones and deliverables by hierarchy to establish a chronological order
Identify task dependencies: Now that you've identified every task required for the project, find out which of those activities are dependent on other tasks to start or end
Estimate task duration: Make a reasonable time estimate for each task. This is a critical step to create your project management timeline, and determine the time required to complete the project
Define deadlines: Determine how much time your team can spend on each task
Set milestones: Milestones are important dates that mark the end of one phase and the beginning of the next, which makes them an important component of a project management timeline. Milestones are reached by completing task sequences and deliverables
How To Create a Project Timeline
Project management timelines can take many different forms with varying levels of efficacy. They can be drawn by hand, or on a whiteboard, but this method is inflexible and large changes to your project might require scrapping the entire timeline.
Using a spreadsheet loaded up with macros can make for very capable, if time consuming to create, timeline. A project timeline excel template can save you the effort and time it takes to create your own spreadsheet. However, such macro-heavy Excel sheets can prove difficult to maintain for larger products.
To run projects effectively and efficiently, project managers prefer project timeline software that integrates their tasks with an interactive, feature-rich Gantt chart that can schedule, assign tasks, monitor progress and report on performance. Project timeline software is more versatile than project timeline templates because it allows project managers to easily update the timeline and keep track of tasks with dashboards and reports.
As stated, software is commonly used by project managers to create their project plan timelines. Project timeline software is an integral part of the planning process and often includes additional features that help to monitor progress when executing the project.
Using project timeline software is generally regarded as a necessity for keeping a modern project on schedule . It allows managers and teams to see the status of their tasks; that is, whether they're in progress, overdue or done.
At its most basic, project timeline software creates a graphic representation of the project on a timeline with tasks and milestones plotted across. Tasks can be assigned start and end dates, and display a duration bar that indicates the planned amount of time to complete the tasks. More powerful software offerings can also include further options to manage tasks. Microsoft Project is one of the most commonly used project management software, but it has major drawbacks that make ProjectManager a great alternative .
In ye olden days, project timelines were charted on paper—or a chalkboard, if ye olde project manager was lucky. While it did get the job done, these early solutions were extremely limited. Having to make changes required creating a whole new timeline, which takes time.
As project management has emerged from the caves and embraced digital technology, the humble project timeline grew dramatically in power. Online project timeline software offers a centralized data repository in which everyone involved in the project can access the project timeline and other critical project documents and data. This means that managers and teams can access the project timeline when they need to, even if they're working different shifts and located in different timezones.
Using an Online Project Management Timeline
Every project is impacted by the triple constraint of time, cost and scope. To start controlling the time and scope part of that important triangle, you need to create a project timeline during the planning stage.
The project timeline helps everyone on the project team by giving them a roadmap of where they are, and where they should be, at every point in the project. Timelines and schedules are essential to execute the project plan.
Tasks are given start and end dates and show on the timeline as a line connecting to points in time. If some of those tasks are dependent on another to start or finish, these task dependencies can be indicated on the project timeline as well.
This assists a manager by keeping those dependencies visible and preventing possible bottlenecks that could block the time during the execution of the tasks.
If you're in the market for project timeline software, make sure it has these key features.
Define Project Phases and Set Important Deadlines
You can use a milestone feature to break up a larger project management timeline into more manageable phases. Milestones mark the end of one phase and the beginning of a new stage of the project. They can also be used to indicate any important dates or deadlines in the project.
Link Dependent Tasks to Avoid Bottlenecks
Connecting dependent tasks is essential to avoid bottlenecks later on in the project. Look for a tool that can do this quickly and simply, and that also has the ability to identify and assign all four types of task dependencies.
Know the Percentage Compete for Each Task
Tracking the progress of tasks once they're being executed is a crucial component of knowing if your project is on schedule. A robust timeline software will have features that do this on the timeline itself, but also hopefully with a dashboard that provides instant status updates.
Make Quick & Easy Changes to Your Timeline
A must-have feature is the ability to simply edit your timeline as changes occur in the project. Rather than rebuilding your timeline, you want a tool that can drag and drop the tasks to their new dates and update all related tasks to keep your timeline accurate.
Help Your Team Work Better Together
Teams need to be given the tools they need to work more productively. Project timelines should be shareable to keep everyone on the same page. Tasks should be able to have files attached and teams need to be able to communicate at the task level, especially if they work remotely.
Share, Manage & Update Anywhere and Any Time
Organizing tasks is essential to executing your timeline efficiently. A timeline tool needs the ability to share to keep everyone on the same page. Improve productivity by tagging tasks by priority. You should be able to add tags to filter your tasks and quickly find what you want.
Let's look at an example of a project timeline to get a better idea of what it's used to accomplish.
On the right-hand side of the timeline is a list of your tasks and subtasks. These tasks can be further broken down by phases, and given different colors to distinguish one from another. It is, for all intents and purposes, a regular spreadsheet; it has columns for dates, costs, etc., and rows signifying each task or subtask.
But it's on the left side where the timeline comes to life. Every task listed on the right is represented on a Gantt chart. Each task is represented by two points in time, the start and end dates. Between those two points is the duration bar.
Those diamond symbols indicate milestones . When you see a dotted line connecting two tasks, that tells you that the tasks are dependent on each other to start or finish before the other can start or finish.
ProjectManager is an award-winning project management software that helps you build better project plan timelines and stay on schedule. Our interactive Gantt chart is more than just a timeline—it's an integral part of our larger feature suite. To build your timeline, try our software free for 30-days and import your task list.
Set Task Duration
Tasks need to have an estimated start and finish date to chart on a timeline. Once you've identified the task and its priority, you need to figure out its duration and dependencies.
As shown in the project timeline example below, add the start and finish dates on the left hand column and the timeline will automatically display those tasks with a duration bar connecting the start and finish dates.
Link Dependencies
Dependent tasks can bottleneck teammates unless you keep track of them. Having a tool on your timeline to identify task dependencies will help you keep your team working uninterrupted. Check out the dependencies in the project timeline example below.
Linking dependent tasks is easy, just drag and drop one dependent task to the other. There's also a link button that will also do this function.
Create Milestones
A milestone is a way to break up the project into phases or to note important dates. A milestone is one point in time that marks the end of one phase and the beginning of another. Milestones are represented as diamonds in our sample project timeline.
Highlight the task you want to turn into a milestone for the project. Just click the milestone button and you'll see it on the timeline symbolized by a diamond.
Set Baseline
A schedule baseline captures your project management timeline as planned. Now when you execute the project and start recording actual progress, you can compare one to the other and see if you're on track.
Automatically set a project baseline (once you've completed filling in your project timeline) by using the settings bar. Once set, our tool will automatically compare planned to actual progress.
Assign Team
Turn your project management timeline into an active planning tool by using it as a springboard to assign tasks to your team.
Teams can be assigned tasks directly from our Gantt chart. They can then easily collaborate by commenting at the task level to facilitate working with teammates who work different shifts.
Track your Project Timeline
As the project progresses you'll need to make sure your project stays on schedule. ProjectManager offers you a variety of project tracking tools such as Gantt charts, project dashboards, calendars and task lists. On top of those tools, you can also use timesheets to keep track of your team's time and workload.
Related: Free Timesheet Template
When you're making a project management timeline, there are a few tools and practices that will help you to ensure it is as accurate as possible.
Gantt Charts
Gantt Charts are the perfect tool to create a project management timeline. They allow you to visually represent tasks, dependencies, milestones and deadlines
Estimate Duration of Tasks
A successful project manager must be able to determine the time each task will likely take. An accurate time estimate of the duration of each task is essential for planning, scheduling and creating project management timelines. The Program evaluation and review technique (PERT) is a useful method to estimate the duration of tasks.
Identify Resources
Resources are necessary to execute the tasks and produce deliverables. They can be people, materials, tools and other supplies. A project plan timeline is important to understand when you will need those resources and who is going to use them.
Revise Your Project Management Timeline Regularly
Projects change and your timeline must always reflect those changes. Using project management software is the best way to create timelines that can be updated as your project progresses.
Communicate with Your Team and Stakeholders
Meet regularly with your team members and stakeholders to communicate any changes made to your project management timeline. Project timeline software facilitates the communication process because it allows you to easily make those changes and share your timeline with your team and stakeholders.
Critical Path
Identifying the critical path is important because it allows you to know which are the critical activities that determine the duration of your project. Knowing which tasks must be completed on time to complete the project on schedule is important to create project management timelines.
Using project timeline software can help you streamline your project and get your team to work more productively, but not everyone is ready to make the leap. A project timeline template can be the perfect solution to get you acquainted with one.
Check out our free Gantt chart template , which organizes your tasks on a timeline. You can set dates and duration of tasks. It will even allow you to differentiate project phases customizing colors on the Gantt.
However, you'll likely soon want to try our online tool, as it will allow you to link task dependencies, assign those tasks to teams and automatically update in real-time as teams file their status. These and other features make our Gantt chart software a better choice than a project timeline template to create and update your project management timeline.
Communication is the common thread that ties together all aspects of managing a project, and it is a core pillar in maintaining a project timeline. A timeline is only as good as the schedule it reflects. As that schedule changes , and it will, the timeline must change with it.
Project changes can come from various places. You can have external issues, such as weather or a disruption in your supply chain, which causes delays. If and when these happen, you need to keep your timeline current.
Communication can help keep you updated on changes like these—by staying in touch with your suppliers, for example. Your team is an invaluable resource, too. Stay in regular communication with them. They're on the frontlines of the project and will catch issues first.
Other changes can come from stakeholders whose expectations alter. To manage your project timeline more effectively, schedule presentations with stakeholders to keep them updated on progress and to field any questions or requests they might have about the project.
In order to facilitate communication, your project timeline has to be shareable. Your team needs a copy to know when the tasks they're assigned to execute must be completed within the project timeframe.
Stakeholders also need to have the project timeline. They are invested in the success of the project and want to know the big picture as it moves from stage to stage. To keep them updated, you'll need to have them shared on current copies of the project timeline.
How to share the project timeline depends on the tool you're using. If you use a project timeline template it can be printed and distributed. Obviously, this isn't ideal. As noted, projects change and the last thing you want is to have multiple copies of various iterations floating around.
Sharing with Project Timeline Software
If you're using a digital tool, then you can export the project management timeline and save it as a PDF. This can then be printed out or emailed to whoever needs it. The timeline is still a static document, but you can name it by date and avoid confusing it with an older version.
The best option is using a cloud-based tool that gives you a shared timeline that everyone can access but only certain team members can edit. That way the timeline is always front and center in the project management tool they're using and is updated in real-time to make sure everyone has current data and is working from the correct schedule.
ProjectManager is a cloud-based software that delivers real-time data to help you make better decisions when managing your project. Online Gantt charts help you organize tasks on a timeline, real-time dashboards monitor progress and one-click reports keep stakeholders informed. Try our timeline tool today from free with this 30-day trial .
Start My Free Trial
Start your free 30-day trial
Deliver faster, collaborate better, innovate more effectively — without the high prices and months-long implementation and extensive training required by other products.
How to Make a Timeline for an Essay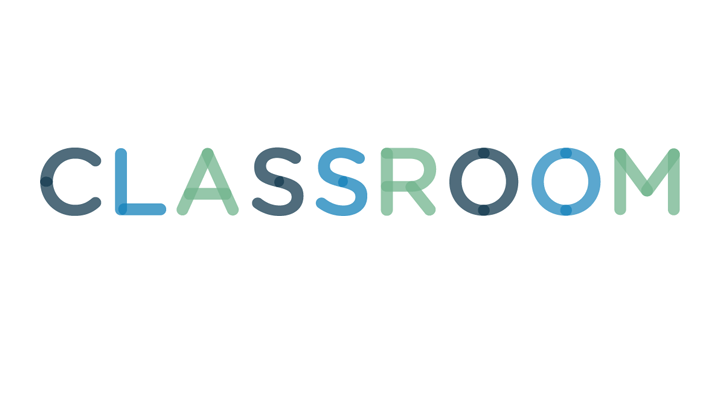 A writing project requires time for reading and research, as well as time to engage with the material and review and revise initial drafts. Whether writing a 5- or a 15-page essay, you can successfully manage the task by following a workable timeline. Approaching an essay project with a realistic plan of action enables you to present your best work.
Divide your essay project into three distinct assignments: reading the material, researching the material and writing your essay. Ideally, you should schedule at least a week for each assignment. If you don't have that liberty, divide your available time into thirds and aim for completing one assignment per time interval.
List tasks associated with the reading assignment. Plan to write response paragraphs daily as you read, as this will help generate ideas that may prove useful during the final writing process. Allocate time for a second reading, if possible.
Break the research phase down into three sections: generating ideas about the text, researching those ideas and writing at least five brief paragraphs that engage those ideas. Divide your research time into thirds to accommodate these mini-assignments. Initial brainstorming in this phase should help you find an interesting angle from which to approach the text for your essay. The prewriting, according to Purdue University's Online Writing Lab, "will allow you to be more productive and organized when you sit down to write" your essay.
Allocate time in your writing phase for generating an outline and first draft, writing an introduction paragraph (which is often best addressed once you have all your ideas on paper) and for revisions. The largest allocation of time here should be dedicated to the first draft. However, be sure to allow yourself time to incorporate smooth transitions, check for grammar and spelling mistakes, cite your sources and strengthen your introduction prior to the deadline.
Write or type your timeline, listing specific completion dates for each section of each of your three assignments. Using dates in your timeline will keep you accountable and give you specific smaller goals to help you meet your essay deadline.
1 Purdue University Online Writing Lab: Invention: Starting the Writing Process
About the Author
Pam Murphy is a writer specializing in fitness, childcare and business-related topics. She is a member of the National Association for Family Child Care and contributes to various websites. Murphy is a licensed childcare professional and holds a Bachelor of Arts in English from the University of West Georgia.
Related Articles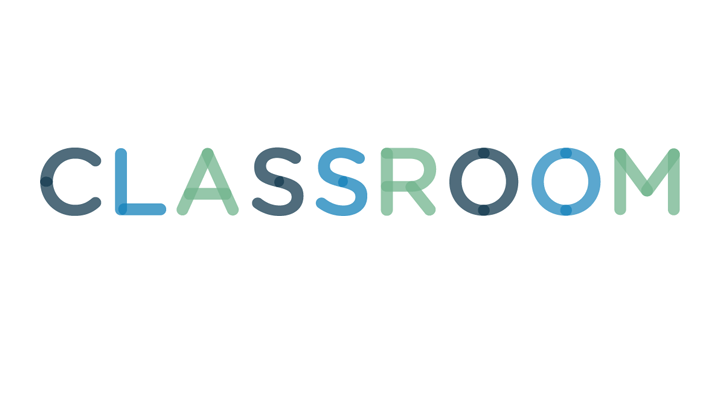 Examples of Short- and Long-Term Writing Goals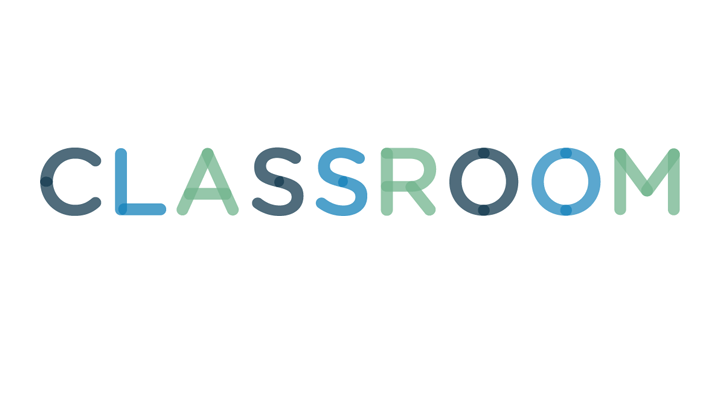 How to Write a Timeline for a Research Proposal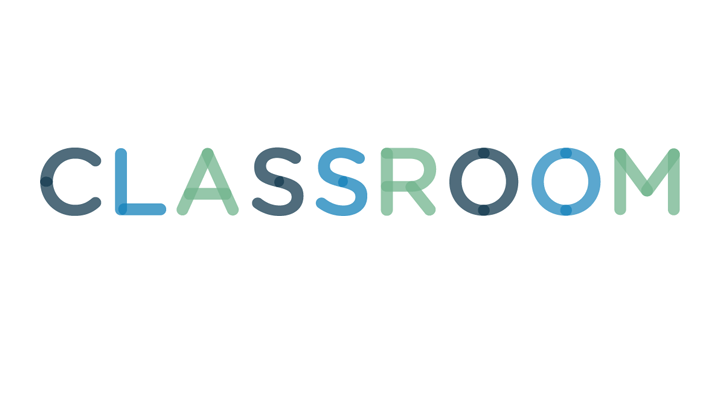 Allocating Time to Write an Essay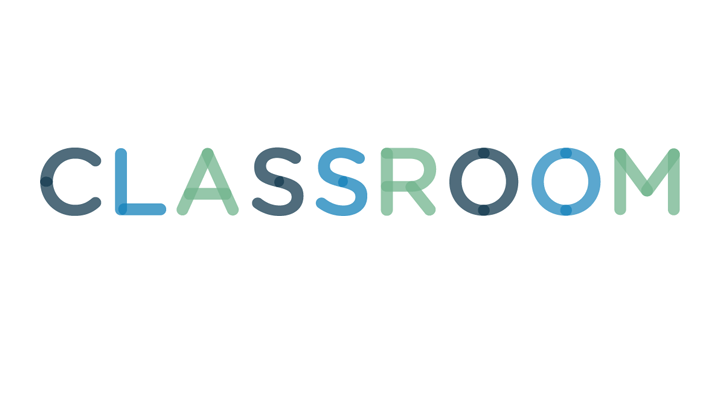 How to Study for Multiple Midterms in College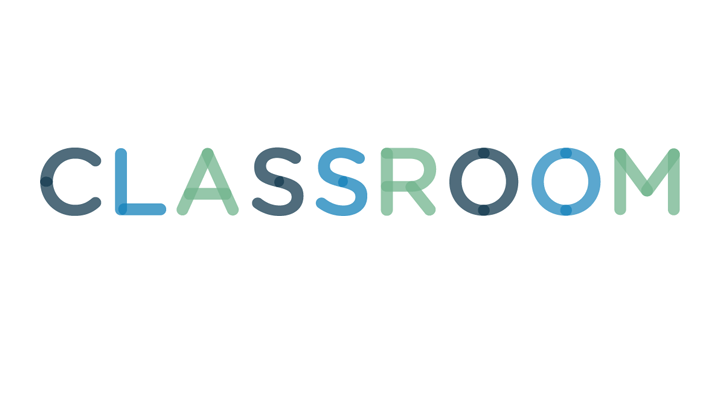 How to Write a Five Page Essay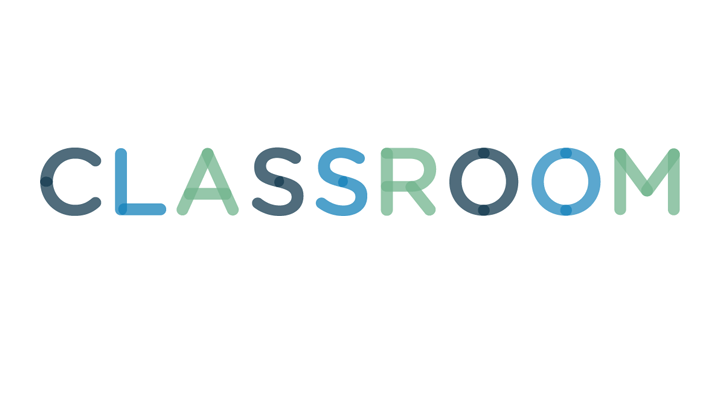 Tools to Help You Organize Thoughts & Write a Research...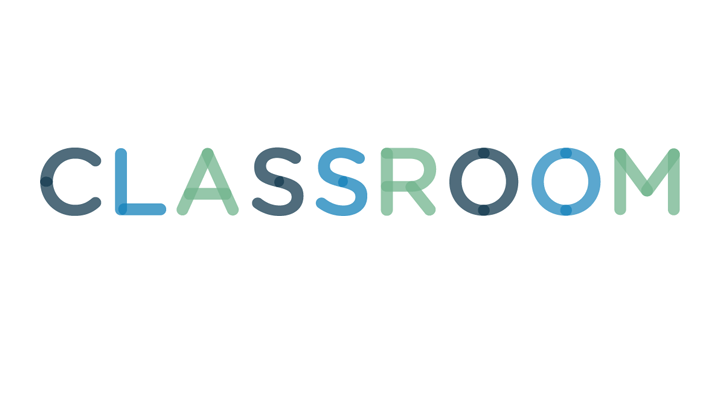 How to Write an Essay Using Cooperative Learning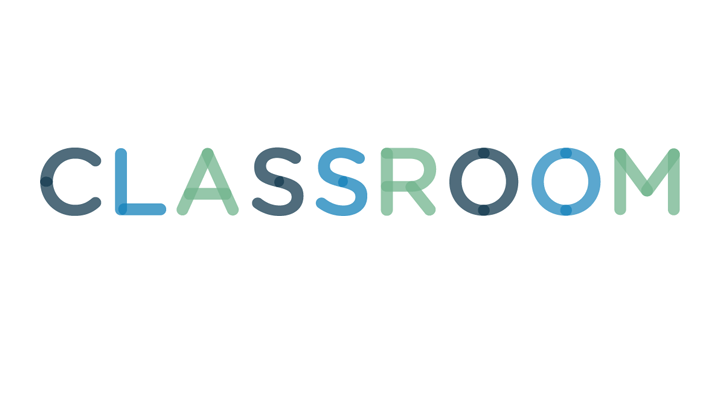 Is There a Way to Check the Status of a Reenlistment...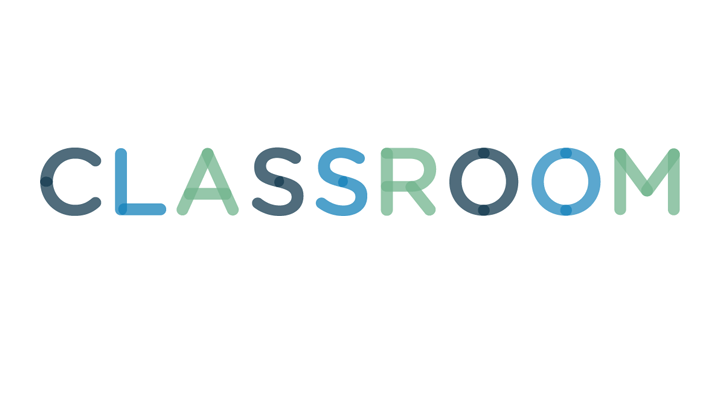 How to Answer a Reading Prompt on Standardized Test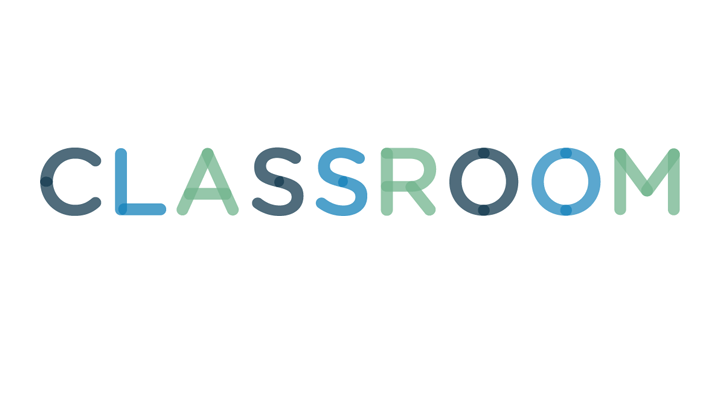 Shortcut for Clearing the Cache in Chrome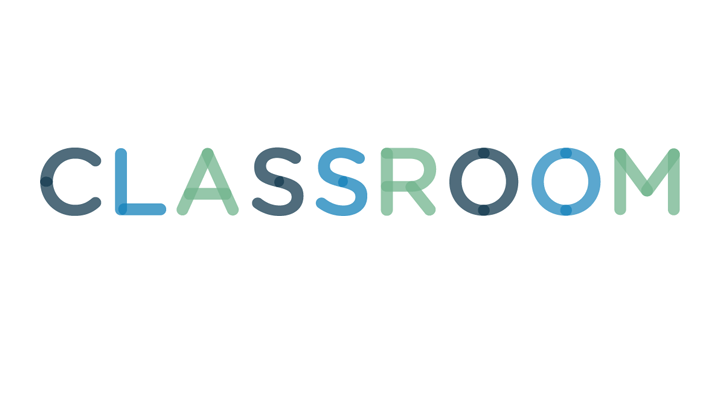 How to Write a Research Paper Outline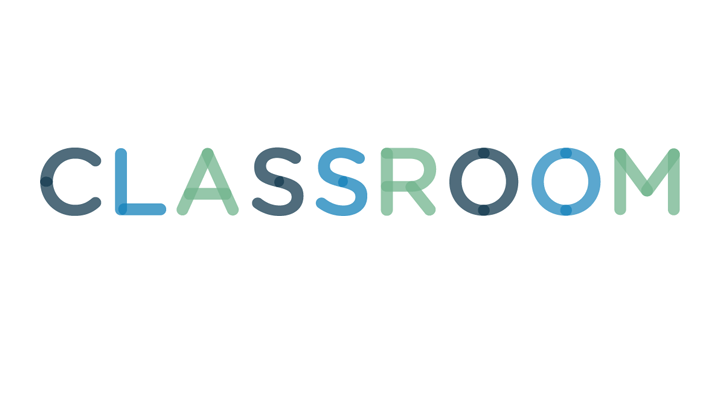 How to Write a Rough Draft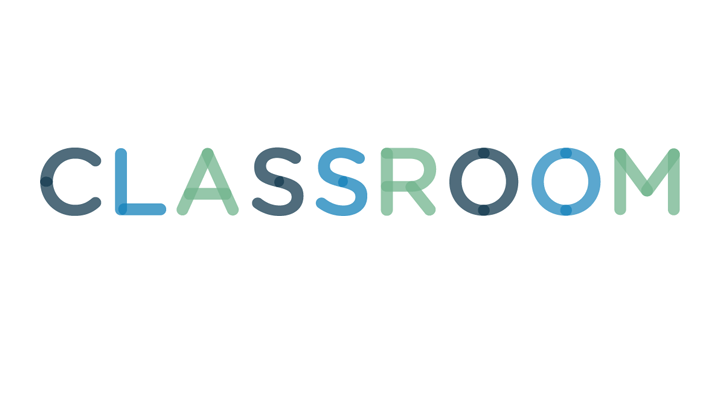 How to Write an Essay Proposal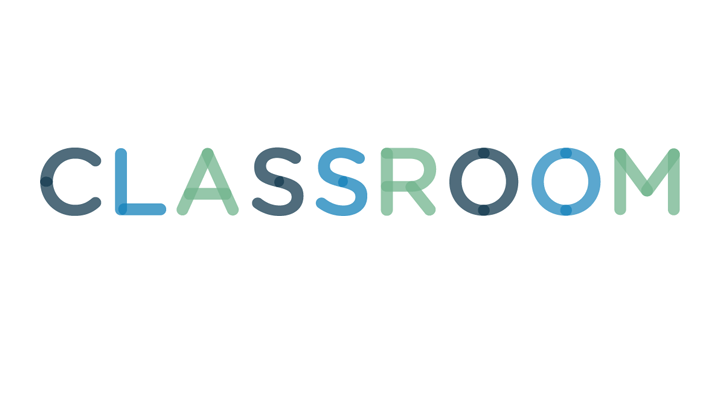 How to Prepare a Study Timetable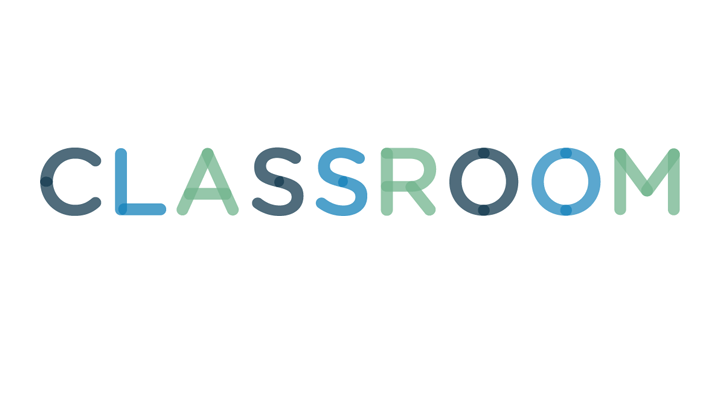 How to Write Acknowledgments in a Report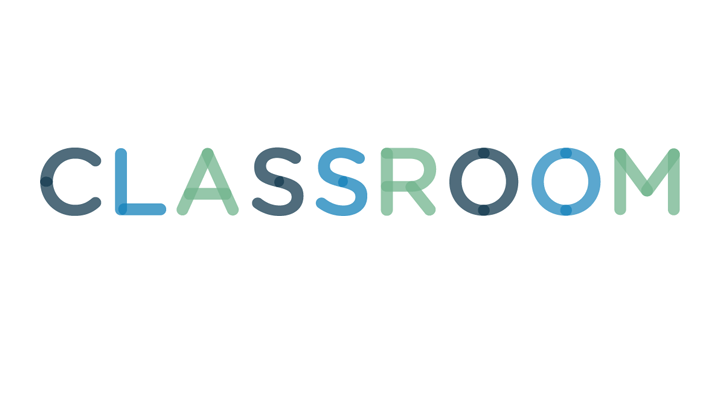 How to Do Bullet Statements in APA Writing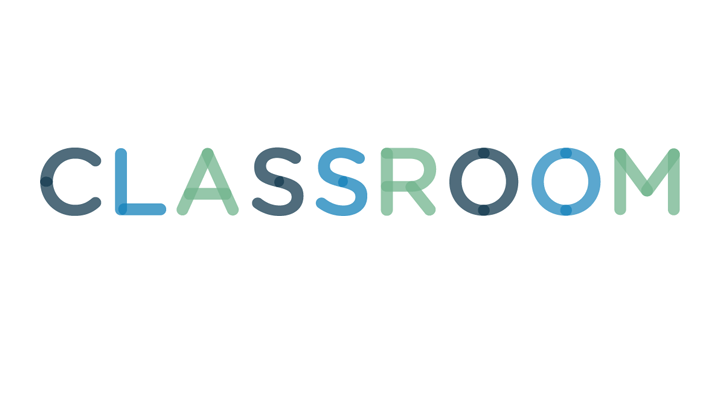 How to Set Goals in a Ministry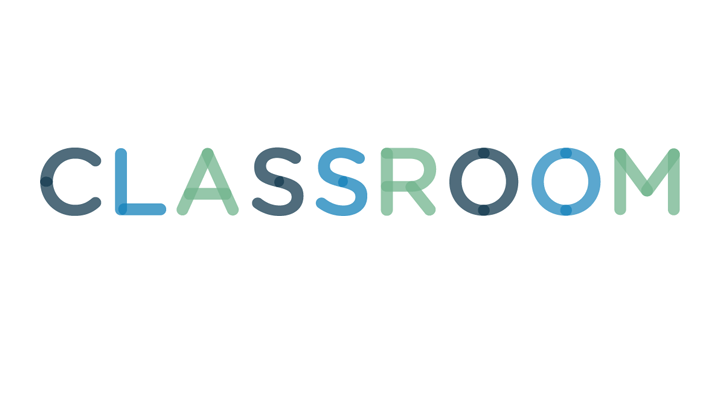 How to Start an Informative Paper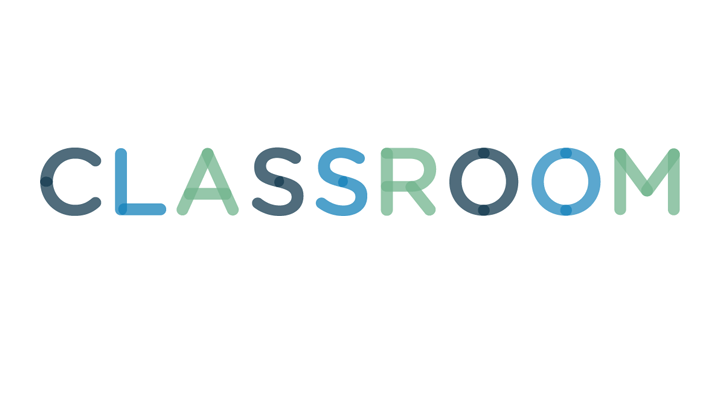 How to Write Outlines for 9th Grade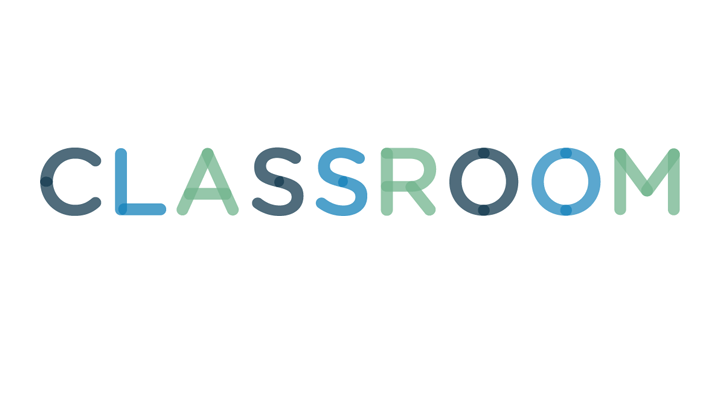 How to Write an Essay Abstract
Regardless of how old we are, we never stop learning. Classroom is the educational resource for people of all ages. Whether you're studying times tables or applying to college, Classroom has the answers.
Accessibility
Terms of Use
Privacy Policy
Copyright Policy
Manage Preferences
© 2020 Leaf Group Ltd. / Leaf Group Media, All Rights Reserved. Based on the Word Net lexical database for the English Language. See disclaimer .
How to create an effective project timeline (including 5 templates)
13 min read
June 14, 2023
In these times of tight deadlines, project managers are facing increased pressure. In order to cope with never-ending tasks, project management timelines have become indispensable to anticipate bottlenecks and streamline workflows.
Project timelines are an essential part of the project to ensure that your project is transparent and well-planned. You can make use of project management tools and templates to structure each project from start to finish. At the end of the day, this can have a significant impact on your work.
Wondering how you write a project timeline? Here's everything you need to know.
Manage every approval in one place
Request approval without sending a single email with Filestage.
What is a project timeline?
Put simply, a project timeline tracks the chronological order of events. These high-level timelines give teams an understanding of a project at a glance, keeping everyone informed and aligned at every stage of the project.
How do you describe a project timeline?
A timeline is composed of a series of tasks, each of which has a due date and duration. The link between those tasks can also be created, helping to reveal dependencies and preempt any potential blockers.
An accurate project timeline is critical. It shapes the entire project, indicating which tasks are to be completed at which stage and which significant milestones need to be met along the way.
Project managers need to develop their abilities when it comes to creating a successful project timeline. They should understand the data that they need, how it should be visualized, and the tool that will be used to share this with the rest of the team.
Another critical ability is the maintenance and management of the project timeline once it has been created.
A successful high-level timeline helps to maintain a productive and engaged team that works together toward a common goal to seize success. A poor timeline can lead to confusion, missed deadlines, wasted costs, and unhappy clients.
Learn more about project timelines in a short video:
What are common use cases of project timelines?
Let's have a look at two common use cases.
Product development timeline
No matter the industry, product development usually consists of timelines with multiple task dependencies and requires cross-functional collaboration with external suppliers, the internal production team, and many other departments.
Therefore, a thorough work breakdown structure needs to be established, showing all possible task dependencies in chronological order, including start and end dates for every single task. Make sure to communicate your project management timelines with everyone involved.
Marketing project timelines
While the development team is producing the product, the marketing and PR teams are already implementing the promotion strategy, so that customers know about the product launch well in advance.
For complex products, such as smartphones or computers, the marketing department needs to be constantly updated about any changes in the final product. In the worst case, changes in product specs can result in re-rendering images, re-shooting videos, and re-writing the content. Creating a thorough high-level timeline with key milestones is the only way to ensure that all team members stay updated and projects stay on track.
How to create a project timeline (step-by-step)
Now that we have a better understanding of what is at stake, let's take a closer look at how to make a project timeline.
1. Understand the scope of your project
As a marketing project manager, your project will begin with a brief or project plan. To make sure that your project timeline is accurate and correct, you need to take good care of these foundations.
First, you should develop a clear understanding of the brief and everything that is required. This can take some time and requires close consultation with your client. It is critical, though, that the scope of the project is as accurate and tasks are as detailed as possible.
You should produce a project scope announcement that everyone understands. This will be a statement that succinctly and accurately sums up the goal of the project.
For example: "Our team will design, develop, and populate a new blog on the website of our client."
2. Break the project down into smaller pieces
Now that you have an idea of the big picture, it's time to zoom in and see which smaller pieces actually make up that large statement.
In our example, the project manager is going to coordinate the design, development, and content of a new blog. There are a lot of moving pieces here and a lot of constituent parts. The project will require, for example, the following parts:
A theme for the blog
Visual guidelines
Tone of voice guidelines
A content plan
Content for the blog
This will always vary according to the project scope statement that you defined, but it's important that you think about every sub-deliverable that you will need to provide to deliver the whole.
3. Explore those pieces to create tasks
Now that you have your sub-deliverables, it's time to dig deeper into the timeline. Let's take the theme, for example. Your entire team will have to complete the following work to create that sub-deliverable:
Conduct competitor research
Brainstorming and feasibility testing
UI & UX attention
Design of wireframes
Development of the theme
Quality testing
Of course, this might vary according to the specifications of the project. But this gives you an idea of how you need to start thinking about the constituent tasks that make up the sub-deliverables and helps you plan the following steps.
4. Think about task dependencies
Some tasks cannot begin until others have been completed. The design of the wireframes, for example, might not be able to take place until a key section of the visual guidelines has been created.
These dependencies mean that your project has a definite natural order. Depending on the complexity of your project, though, this can become quite a headache. (There are some tools that can help, though, and we will look at those soon.)
Once you have organized which tasks need to occur first, you will find that your timeline is beginning to adopt a more conventional shape.
5. Calculate the time required for each task
The tasks are now in a nice neat order, but how far apart do they need to be?
You need to call upon your marketing experience to create accurate estimations for each of the tasks in your project. You might find, for example, that you need to allow three weeks for the development of the wireframes, but just a few days for quality testing.
As you space out the tasks on a horizontal line, you will begin to see that you naturally develop an estimation for how long a project might take. Creating accurate estimations is no easy task, and many marketing managers consult with a range of professionals to get a better idea.
6. Assess your resources
Now that you know what you need and how long it will take, it's time to fill in the gaps. The best marketing managers are able to take the abilities and preferences of each of their team member into account. This can help to create more accurate timelines .
Balancing responsibilities is tough. Even though a given task might take four hours, for example, unexpected occurrences can derail the process, and this can have an impact on other areas of the project.
Project management demands that you think on your feet and make the best of the project management tools that are available to you.
7. Outline important milestones
Your project plan timeline is almost there, but now you need to think about tracking the progress of the project at regular intervals. This is a very important step, given that it means your team can get the feedback and approval it needs far before the final deadline.
This means that if necessary, you can take the initiative to adjust plans to ensure that everything stays on track. Milestones should be placed regularly and based around certain key moments, like the completion of a large task.
8. Choose the correct software or template to build your timeline
You have planned out your high-level timeline, but now it's a question of actually putting it together in a way that is logical, accessible, and adaptable. Until now, this was easier said than done. But there are many quality project management applications available to you now.
9. Share your timeline with stakeholders to get feedback
As we have seen from the project management timeline use cases, communication is key when you create a project. You need to make sure that all stakeholders agree with the end date as well as individual milestones. It is important that team leaders or managers regularly gather feedback and find common denominators between conflicting deadlines, tasks, and responsibilities within a project.
While not each and every task needs to be communicated with all team members, it is key that dependencies are identified and communicated as such. If important stakeholders are not able to deliver on time, your whole project might be at risk. Therefore, make sure to get approval for your project timeline from all important stakeholders.
The question is how to efficiently share, discuss, and get approvals on your project management timeline. Obviously, writing lengthy emails is prone to failure. This is where online proofing software comes into play.
With a tool like Filestage , you can upload your project timeline to a platform where you can share it with all involved stakeholders. Then they can review, discuss, and approve the file in one place at the same time. This avoids contradictory feedback and makes real-time discussion between reviewers possible. Through increased transparency, you receive feedback much faster and with better context, which streamlines the entire process.
Filestage project timeline template
Hoping to create your own project timeline using Google Sheets? We have put together this free project timeline template to help you get started.
Get our free project timeline template
You will find that the entire project has been broken down into a series of key stages, and each one of those into smaller parts. Those smaller tasks have been plotted along with the chart, showing how long each should take and when you should expect them to be finished.
You are free to adjust the tool according to your needs, switching out the key project phases to match with your own internal procedures. Once those have been accurately defined, it's a matter of populating the chart with the smaller tasks.
Deciding how granular to go at this stage is tough and depends on your own preferences. If you go too granular, you will find that your project timeline quickly becomes inflexible and difficult to read. Too broad, however, and you might find that the utility of the tool has started to vanish.
Here are some key tips when it comes to using this tool:
Don't be afraid to adjust it according to your specific needs.
Feel free to adjust the design to fit your brand identity.
Get opinions from the rest of the team.
Be as precise as possible, but leave room for some flexibility.
We hope that the tool helps you and we are certain that you will create some really stunning project timelines that make your project a complete success.
Project timeline software
You will find that there are many project timeline software options on the market. Here is a closer look at the key timeline options that might fit your project management needs.
Monday is a visual tool that makes it possible for marketing managers to plan, organize, and track their team's projects and timelines. The platform prides itself on easy onboarding and fast adoption, offering six views to help teams keep up with the project plan and adjust for the future.
"Since our projects bring teams from various departments, it's great to have a central place to communicate and collaborate. Monday.com has tremendous potential, but we also find some challenges with it, including sub-tasks, notifications, and the pricing."
Nathan S., Capterra
Teamwork Projects
Teamwork Projects is a cloud-based project management solution that helps businesses and managers manage the various parts of a project to control objectives, business processes, and deliverables. The features include task lists, time tracking, high-level timelines, and more.
"It's awesome how the projects and tasks are set up and all the actions you can take on them to keep things logged and up-to-date and organized. I do wish there was a calendar view of all the tasks assigned to you so you could see the density on how stuff is assigned and when, so it's easier to work ahead."
Kari K., G2 Crowd
ProjectManager.com
ProjectManager is designed to help teams plan, track, and collaborate online. A range of real-time bar charts and dashboards help demonstrate the progress that has been made on projects and what is next.
"ProjectManager.com is very easy to use. We were able to get up and running in a very short amount of time and now we have approximately 300 projects that we are managing and about 70 resources."
Jean P., Capterra
Workzone describes itself as being robust and powerful, yet simple to use. The timeline and chart tool helps managers to track progress and team members, while also measuring and improving results.
"The system provides a great high-level status view, with the ability to drill down into specifics. Navigation through the system could be improved in some areas, such as returning to where you were on a page after making a change, as opposed to a full page refresh."
Chris D., G2 Crowd
TeamGantt aims to help marketing managers plan their projects in mere minutes using Gantt charts. This online project management software makes the creation of these charts simple to handle project scheduling and management with ease.
"Once you start setting up your projects, you find that it has highly advanced features and can scale heavily to meet larger requirement sets. There are small issues with usability, which feel largely rooted in the fact that the system runs in a web browser."
Ross M., Capterra
Forecast is a project management platform that fully automates project planning and scheduling. Forecast's AI turns a task list into a solid project timeline with estimations, people, and expected delivery dates assigned. It applies your historical data to reduce the administrative overhead to a minimum. On top of resource-planning functionality, Forecast has a budget tab, able to do the math for you as well.
"I am using Forecast to program time across multiple projects and clients. It allows me to quickly see the proportion of time allocated to each client, and for every project, track progress to completion. It provides that "bird's eye" view on when I am getting behind on something."
Janet F., Capterra
Three must-have features of project timeline software
Before you choose a project management tool for creating timelines, you should verify whether the features are in line with your specific needs.
No matter which option you choose, the following four must-have features are indispensable for almost every project timeline software.
Collaboration features
As pointed out earlier, you need a smooth communication structure to create a plan. Advanced project management timeline software should not only enable you to plan a project and create a high-level timeline. It must include communication features to keep all stakeholders up-to-date.
Your tool should enable all stakeholders to communicate on one single platform and receive automated notifications whenever changes in start or end dates of tasks or milestones are made.
Customizable timelines (including task dependencies)
Even though there are similar projects, you can be pretty sure that your project will have unique tasks, which need their own individual solution.
In order to structure a project, it is necessary to define due dates and describe the milestones that stakeholders need to complete.
Therefore, you should look for software solutions with highly customizable timelines, so that you can plan and create your individual project from start to finish.
Resource and task management tools
Creating a project timeline and implementing tasks requires resources. Therefore, your software solution should at least have basic resource and task management functions, which allow you to assign team members to specific milestones and tasks within a project.
More advanced features would include a workload overview of all team members, so that tasks can be distributed equally.
Five project timeline templates
Interested in exploring a range of alternative options? Here is a closer look at five additional project timeline templates.
Gantt chart Excel template by TeamGantt
TeamGantt was kind enough to put together a free Gantt chart Excel template for project managers . The Excel template can save teams a lot of time and remove many tedious planning tasks that become a chore to complete. The project timeline template can be downloaded for free and it is compatible with Excel versions 200 and up on both Mac and Windows.
Project timeline template by Bitrix24
Bitrix24 is a free project management solution that comes equipped with some preloaded project timeline templates . This high-level timeline view can help managers to make the most of a Gantt chart to see their projects in a new way. Dependencies are also covered, meaning that when one task is adjusted, it is reflected throughout the project.
Project management timeline template by Lucidchart
At the end of this article, Lucidchart offers a variety of project management timeline templates through its platform . Marketing managers are able to log in to the platform to access the templates, which are intended to help with managing multiple teams, large projects, and those projects with a range of milestones.
Project timeline template by HubSpot
When used effectively, Google Sheets has the potential to be a project management powerhouse (along with the rest of the G Suite ), and the Sheets app can be used to create project timelines. HubSpot has kindly curated a list of the best Google Sheets templates . These are free and available to marketing project managers.
Project timeline template by My Product Roadmap
If you are looking to impress with a beautiful and descriptive project timeline template, then you might want to consider using this project timeline template for PowerPoint that was kindly provided by My Product Roadmap. Project managers are free to add and edit their data so that the project timeline template caters to specific company needs.
Project timeline examples
Looking for some serious inspiration? Here is a closer look at some of the best project timeline examples.
Project sprint timeline example by Venngage
If you are particularly concerned about the aesthetics of your project timeline, then this collection of project timeline best practices will help you to put together a creative and visually engaging timeline that will delight your project team.
This isn't just about aesthetics, of course; there are great practical reasons to put a lot of effort into the design of your project timeline. You can also pick up some tricks on how to make your high-level timeline a document that is pleasant to look at and supports your team.
Project timeline example by Miro
This is an effective project timeline template that values simplicity . It can be used by project managers to create descriptive and clear project timelines that inspire the team. To access the tool, though, you will have to create an account. If you are looking for a simple tool, it could be worth investigating in more depth.
Specialized timelines for professionals by Office Timeline
Projects vary greatly by industry. Therefore, it is worth taking a look at templates that cater to specific industries. For instance, the pharmaceutical product discovery timeline can take decades, as possible long-term effects and strict regulations require intensive studies before the product can be launched.
The timeline template does not use Excel, but the Office Timeline PowerPoint add-in, a Gantt chart, as well as a timeline maker. More industry-specific templates can be found on Office Timeline .
What are the different timeline types?
After you have created your scope statement, it is worth taking a look at different ways to create a project timeline and work breakdown structure.
Gantt charts
Gantt charts certainly belong to the most popular timeline types. The advantage of a Gantt chart lies in its simplicity, as dependency relationships and the current project progress can be seen at one single glance. Different activities are represented with bars, whose length shows the duration from start to end.
Horizontal charts
As the name suggests, horizontal charts display different milestones and project tasks in a horizontal progression and chronological order. Horizontal charts can be used for simple projects with clear dependencies, in which one task starts only after the previous one has been completed.
Vertical charts
While horizontal charts display the timeline of events on the x-axis, vertical charts show milestones and tasks on the y-axis in chronological order. Oftentimes, more events are shown at the bottom, while the top section of the timeline shows the final deliverables.
Interactive charts
Software solutions offer interactive charts to provide an even better overview of your progress without compromising simplicity. For instance, hovering over certain tasks or milestones may open up the current progress, resources needed, or other crucial project data.
It should be clear by now that timelines are an integral part of the project, as creating a high-level timeline determines all future actions. Therefore, it is your responsibility to create a project plan containing all deliverables, solutions resources, key milestones, and tasks from start to finish.
You need to plan your project and tasks with project management timeline software and best practices to streamline your workflows, increase efficiency, and ultimately deliver higher quality outcomes at a much faster pace.
We hope that this article has helped you to see the value of a great project timeline, and equipped you with the knowledge and tools to put one together for your project!
Get marketing tips, trends, and inspiration in your inbox
Everything you need to create your best work, delivered from our brains to yours every other Wednesday.
EXPLORE Coupons Tech Help Pro Random Article About Us Quizzes Request a New Article Community Dashboard This Or That Game Popular Categories Arts and Entertainment Artwork Books Movies Computers and Electronics Computers Phone Skills Technology Hacks Health Men's Health Mental Health Women's Health Relationships Dating Love Relationship Issues Hobbies and Crafts Crafts Drawing Games Education & Communication Communication Skills Personal Development Studying Personal Care and Style Fashion Hair Care Personal Hygiene Youth Personal Care School Stuff Dating All Categories Arts and Entertainment Finance and Business Home and Garden Relationship Quizzes Cars & Other Vehicles Food and Entertaining Personal Care and Style Sports and Fitness Computers and Electronics Health Pets and Animals Travel Education & Communication Hobbies and Crafts Philosophy and Religion Work World Family Life Holidays and Traditions Relationships Youth
EDIT Edit this Article
PRO Courses Guides New Tech Help Pro Expert Videos About wikiHow Pro Upgrade Sign In
Browse Articles
Learn Something New
This Or That Game New
Train Your Brain
Explore More
Support wikiHow
About wikiHow
H&M Coupons
Hotwire Promo Codes
StubHub Discount Codes
Ashley Furniture Coupons
Blue Nile Promo Codes
NordVPN Coupons
Samsung Promo Codes
Chewy Promo Codes
Ulta Coupons
Vistaprint Promo Codes
Shutterfly Promo Codes
DoorDash Promo Codes
Office Depot Coupons
adidas Promo Codes
Home Depot Coupons
DSW Coupons
Bed Bath and Beyond Coupons
Lowe's Coupons
Surfshark Coupons
Nordstrom Coupons
Walmart Promo Codes
Dick's Sporting Goods Coupons
Fanatics Coupons
Edible Arrangements Coupons
eBay Coupons
Log in / Sign up
Education and Communications
How to Make a Timeline
Last Updated: May 4, 2023 References
This article was co-authored by Emily Listmann, MA and by wikiHow staff writer, Danielle Blinka, MA, MPA . Emily Listmann is a private tutor in San Carlos, California. She has worked as a Social Studies Teacher, Curriculum Coordinator, and an SAT Prep Teacher. She received her MA in Education from the Stanford Graduate School of Education in 2014. This article has been viewed 830,177 times.
A timeline provides a visual representation of events that helps you better understand history, a story, a process or any other form of an event sequence. You can make a timeline to fit a variety of subjects, so they're a common academic project. Fortunately, they are also really easy to make. To make a timeline, research your topic, create your project, and organize the events chronologically.
Researching Your Topic
Conduct Internet research, check out books from the library, or visit a museum or a historical site that relates in some way to your topic.
Try to use multiple websites, books, articles, and maybe even a documentary. Aim to have at least 3 different sources.
Personal details such as births, deaths, and other important dates should be added
Historical events that impacted the topic of the timeline should also be incorporated into your timeline
Important events that shaped the topic should be included as well
Creating a Framework
Use a ruler if you are making your timeline by hand.
If you are creating a digital timeline, choose a template.
You don't have to start with someone's birth or end with the person's death. A timeline is just a series of related events, not necessarily a biography.
Consider your topic and narrow it to select the right starting point and ending point.
If you're doing this by hand, write out all the events on a separate sheet of paper before adding them to the timeline so you can figure out how much space each entry will take.
Alternatively, you could type up each event, then print it, cut it out, and paste it to the timeline.
If you're using a digital method, create a slide for each event.
Include drawings or images to add visual interest to the timeline.
These time increments are not the years of your events. They are evenly spaced increments, such as 5 years, 10 years, or 20 years. For example, you might mark 1920, 1930, 1940, and 1950, even though your events take place in 1923, 1928, 1938, and 1943.
Organize the dates sequentially. The events need to be on the timeline in chronological order, not in order of importance or interest. For example, events listed throughout a year should start in January and end in December. [9] X Research source
Filling in Your Timeline
The Life and Times of Nelson Mandela
Beverly Hills, 90210: A Recent History
JD Salinger's Storied Career
California's Ancient Redwoods
A Day in the Life of a Praying Mantis
If you're creating a digital timeline, type up your entries.
Sample Timeline
Community Q&A
If you need to, alternate the place you are writing the events. Write one event above the line, then the next one below it. Thanks Helpful 1 Not Helpful 0
Try to write small. Thanks Helpful 2 Not Helpful 0
Be sure to cite your sources properly. Thanks Helpful 0 Not Helpful 0
You Might Also Like
↑ https://www.thehomeschoolmom.com/how-to-make-a-timeline-easily/
↑ https://timeline.knightlab.com/
↑ https://creately.com/blog/creately/how-to-draw-a-timeline/
↑ https://www.youtube.com/watch?v=pz9o15QKzMM
↑ http://www.datesandevents.org/creating-a-timeline.htm
↑ http://www.readingrockets.org/article/creating-timelines
About This Article
If you need to make a timeline to help you better understand a story or a historical occurrence, make a list of all of the events you want to include in the timeline. Aim for no more than 20 events in a timeline, and look for relevant details that add interest to the story you are telling. Sketch out a line using a pencil, and label the timeline with the project title and boundary years. Add the most important dates to the timeline in sequential order, then fill in any details. For tips from our reviewer on different ways to structure your timeline, read on! Did this summary help you? Yes No
Reader Success Stories
Andria Metcalf
Apr 7, 2018
Did this article help you?
Apr 15, 2018
Lorelei Rye
Oct 19, 2017
Jordyn Lenton
Feb 17, 2017
Aug 23, 2016
Featured Articles
Trending Articles
Watch Articles
Terms of Use
Privacy Policy
Do Not Sell or Share My Info
Not Selling Info
Get all the best how-tos!
Sign up for wikiHow's weekly email newsletter
Share this page
Customizable project timeline and roadmap templates
Plotting your course isn't just clarifying, it can be captivating too. build your next project timeline or roadmap using designer-developed, customizable templates. no matter what kind of project you're planning or managing, there's a timeline template that'll keep you on track..
Show your plan at a glance with timeline templates
Don't waste any time—start your next project plan or production roadmap with a timeline template. Timelines are a great way to visually organize your thoughts, plotting each step that you plan to execute. Making planners and trackers into timelines is a snap when working with templates. You can also use timeline templates to show how far a project has come along, every milestone accounted for. Small businesses can find timelines helpful for pitching new business during presentations as well as planning new products. And adding a timeline to a wedding save the date or an invitation is a great way to let guests know everything they can look forward to during your celebration. Timelines aren't just for project planning. Resumes are themselves a kind of timeline, and there are some fantastic graphic resume layouts that incorporate easy-to-read timelines that make your work history stand out.
Create a timeline in Project
A timeline can really help you out when you need to report "big picture" project information. It's a professional-looking snapshot of key tasks and milestones that's good to go in any status meeting — just drop it into a PowerPoint slide or Word doc, print it, or email it to your boss.
Tip:  The timeline is on by default most of the time. It appears above the current view.
Click View , and then select Timeline .
Right-click a task, and then click Add to Timeline . Repeat this for each task or milestone you want to add.
Tip:  If you're using Project 2016 as part of a Project Online subscription , you can give your timeline a name! Click the Timeline view, then click Format > Bar Label .
Create another timeline
In Project 2016, you can create a second timeline bar, to show multiple timelines, and then you can change the start and end dates for each timeline.
To add another timeline bar
Click the Timeline view, and then click Format > Timeline Bar .
Right-click a timeline and choose Date Range to choose custom start and finish dates.
Rearrange tasks, change colors, and more
You can use the timeline as-is, or you can rearrange the tasks any way you want, add text, and even change their colors to make them stand out.
Here's how! Click anywhere in the timeline, and then click Format to see all your options for making the timeline look better.
Make some tasks callouts
Click a task in the timeline.
Click Format > Display as Callout . The task now points to the timeline from above or below.
Drag the task to where you want it.
Click a callout and then click Display as Bar to turn it back into a bar.
Move tasks to separate rows
Drag tasks up or down within the timeline to show them on different rows, or drag tasks between different timelines.
Change bar, background, and font colors
Click the task you want to change in the timeline. To pick several tasks at the same time, hold down Ctrl and click each one.
Click Background Color (the little paint bucket) and pick the color you want.
Use the other options in the Font group to change the look of the task. This works the same as in other Office programs.
Note:  Don't want to see the progress shading on task? If you're using Project 2016 as part of a Project Online subscription , you can click Format > Date Format > Task Progress to toggle this off.
Change the date format
Click anywhere on the timeline, click Format > Date Format , and pick the format you want. This list is also where you go to get rid of dates on the timeline altogether.
Tip:  When you paste a timeline into Word, PowerPoint, Outlook, Excel, or Visio, you get even more advanced formatting options . You can add reflections, 3D effects, gradients, and more to your timeline.
These instructions are specific to Microsoft Project 2013 and 2010.
Drag tasks up or down within the timeline to show them on different rows.
Click the task you want to change in the timeline. To pick a bunch of tasks at the same time, hold down Ctrl and click each one.
Share the timeline in Project
Print the timeline in Project
Import and export timeline data between Visio and Project
Need more help?
Want more options.
Explore subscription benefits, browse training courses, learn how to secure your device, and more.
Microsoft 365 subscription benefits
Microsoft 365 training
Microsoft security
Accessibility center
Communities help you ask and answer questions, give feedback, and hear from experts with rich knowledge.
Ask the Microsoft Community
Microsoft Tech Community
Windows Insiders
Microsoft 365 Insiders
Was this information helpful?
Thank you for your feedback.
Free Project Timeline Templates for Microsoft Excel, Google Sheets, and More
By Kate Eby | July 17, 2019 (updated April 21, 2023)
Link copied
We've compiled the most useful collection of free project timeline templates for project managers, sponsors, team members, and other project stakeholders to better track and manage their projects. 
Included on this page, you'll find a simple project timeline template , a project milestone chart template , a weekly project timeline template , an annual project timeline template , and a multiple project timeline template , among others. We've also included a list of helpful tips for completing these project timeline templates .
Project Timeline Template
Download a Sample Project Timeline Template for Excel | Google Sheets
Download a Blank Project Timeline Template for Excel | Google Sheets | Smartsheet
Display key project information, like tasks and important milestones, using this simple project  timeline template. Track task start and end dates, and view them against each other in weekly, monthly, or yearly views. Color-code the tasks based on phases or categories to gain a quick overview of how your project is progressing.
You can also make your own timeline from scratch — learn how to create a timeline in Microsoft Word .
Project Timeline Presentation Template for PowerPoint
Download the Project Timeline Presentation Template for PowerPoint  
Use this simple presentation-ready project timeline presentation template to introduce key milestones to project team members and other stakeholders, or update them on project progress. Enter your project timeline details about its conception and initiation, definition and planning, the project launch and its execution, its overall performance and the project closing. With drag-and-drop project features, tasks, and milestones, this template is the perfect solution for all project team members and sponsors to ensure your project remains on track.
For Microsoft Project Gantt chart solutions and resources, learn how to create a Gantt chart in Microsoft Project .
Weekly Project Timeline Template
Download a Project Timeline Template for Excel | Microsoft Word | PowerPoint  
See your project at a glance with this timeline template designed for weekly viewing. Track each task by the week, identify who is responsible for what task, and document task names — or color-code them — with this easy-to-use, weekly project timeline template.
Project Milestone Chart Template
Download a Project Milestone Chart Template for Excel | Google Sheets | Smartsheet
Plot important project milestones and view their dates of delivery, their status, and the person responsible with this visual project milestone chart template. Stay on top of each important project date and task, and share among team members to improve visibility into how a project is progressing.
Learn how to Learn how to make a free Excel timeline template with step-by-step instructions.
Event Marketing Timeline Template
Download an Event Marketing Timeline Template for Excel | Google Sheets | Smartsheet
List all the important information for a specific marketing campaign or initiative, like campaign type, phase name, and start and end dates, so you're always on top of the marketing projects that are going live. You can plan, track, and monitor the success of your efforts and customize the template for all sizes and types of events.
Marketing Project Timeline Template
Download a Marketing Project Timeline Template for Excel | PowerPoint | Smartsheet
Visually show each stage of your marketing plan with this colorful, customizable marketing project timeline template. Use this template to show the phases of the plan and all associated details, and present specific information to key stakeholders in order to keep them informed of your progress. With this professionally designed template, you're bound to gain buy-in and streamline your planning process.
Simple Project Timeline Template
Download a Simple Project Timeline Template for  Excel | Microsoft Word | Adobe PDF
With this simple timeline template, document tasks and subtasks, assign them to team members, and mark them off as the team completes them to stay on top of your project. Identify start and end dates for each task, and the duration will automatically be calculated (in days).
Strategic Project Planning Timeline Template
Download a Strategic Project Planning Timeline Template for  Excel | Google Sheets  
Designed to help you strategically think through and plan out your project, this timeline template highlights specific goals and tasks over a predetermined period of time. Use this template to separate tasks by category and facilitate discussion around the most important tasks and when team members should complete them.
Annual Project Timeline Template
Download an Annual Project Timeline Template for  Excel | Google Sheets  
Track every task or initiative that goes into a project on a visual, 12-month timeline, so you can better prepare for all project efforts over the course of the year. This template gives you the ability to track current projects and view past tasks in a summary view in order to assess performance and make future business decisions.
6-Month Project Timeline Template
Download a 6-Month Project Timeline Template for  Excel | PowerPoint
Track your project in increments of six months, or plan a six-month-long project, with this timeline template specifically designed for half-year-long projects. List your start and end dates and their durations, and compare them against other project tasks to get an accurate picture of how your project is progressing.
3-Month Project Timeline Template
Download a 3-Month Project Timeline Template for PowerPoint | Google Slides  
Use this presentation-ready, 3-month project timeline template to keep track of quarterly project progress, and share it with team members and other project stakeholders. The template enables you to list each task and show month-by-month progression towards completion. Use the drag-and-drop start and end-date bar charts to set task durations, and provide a status of each project's task progress and percentage of completion. 
Download free PowerPoint project timeline templates to help ensure your team is on track.
Multiple Project Timeline Template
Download a Multiple Project Timeline Template for Microsoft Word | Google Docs
Track multiple projects' progress across a customizable timeline with this multiple project timeline template. Create tasks for each individual project, and extend or shorten task duration with the drag-and-drop feature. The template also includes a way to add color-coded status (e.g., planning, approved, development) and risk level (high, medium, and low) so any project sponsor or team member can see how the project is doing at a glance.
Construction Project Timeline Template
Download a Construction Project Timeline Template for Excel | Google Sheets
Use this construction-specific project timeline template to schedule all your construction project's deliverables in chronological order. The template includes editable example construction tasks (e.g., demo prep, framing, electrical) to show how you can schedule each task sequentially and keep the whole construction project moving. Plus, the built-in Gantt chart provides a visual record of each task's due date, duration, and status.
IT Project Timeline Template
Download an IT Project Timeline Template for Excel | Google Sheets
With this project timeline template designed for IT projects, you can list sprints, assign each one to a specific team member, and track their progress. Maintain visibility into any project changes as you view the status of each sprint to ensure your time-sensitive project conforms to the proposed timeline.
What Is a Project Timeline Template?
A project timeline template is a tool that displays the project schedule, including individual tasks, key milestones, and due dates. Use the template to plan your project, and to keep team members and other stakeholders up to date on progress. 
Project managers, project sponsors, team members, and clients know that having an accurate project plan is crucial for ensuring that you proactively define the project's objectives and goals, anticipate individual project tasks, as well as how you will implement the project. While a project plan defines all project work and the individuals who will complete it, a project timeline puts all of this information into a visually dynamic, chronological format so that you can better track and manage your project. 
Project timeline templates also include your project's key milestones, task owners, start and end dates, and individual task statuses. A thorough project timeline template provides project managers, team members, and project sponsors with phase-by-phase and task-by-task details and their current – and collective – status, so that the project can be successfully completed on time. 
While project timeline templates may vary, most of them include the following components: 
Project Name: Enter the name of the project. 
Project Manager: List the name of the project manager ultimately responsible for managing project day-to-day tasks and ensuring successful project delivery.  
Start Date: Set the project start date. 
End Date: Set the project end date. 
Phase Title: Enter a name for each phase or stage of your project timeline. 
Task Name: List each individual task.  
Assigned To: List the team member responsible for completing each individual project task. 
Task Start and End Dates: Set the date the task owner is scheduled to begin and finish working on each individual task. 
Duration: Review the task duration to ensure that the task owner has sufficient time to complete it. 
Status: Provide the status for each individual task (e.g., not started, in progress, on hold, complete, etc.).  
Additionally, some project timeline templates include the following additional components: 
Milestones: List the project's key milestones. 
Project Scope: Provide brief details of the scope of the project (i.e., product or project features).  
Objectives and Goals: List the project's key goals or objectives.   
Task ID: Provide a unique task ID for each project task for easier task-by-task status tracking. 
Department: List the department responsible for each project phase or individual task.  To keep track of the time spent by individual teams or department members, use one of our free timesheet templates.
At Risk: Mark tasks that are at risk of not being completed on time, and whether this jeopardizes project delivery.  
Sprint: If your project timeline is structured according to Agile sprints , enter the name or number of the sprint.  
Project Notes: Provide any notes about schedule, budget, resources, risks, or other issues that may affect successful project delivery.
Status Key: Provide a color-coded status for each project phase, feature, or task (e.g., planning, approved, development, launched). 
Risk Level: Provide a level for any particular project phase, feature, or task that is at risk of not being completed (e.g., high, medium, low).
Create Powerful Project Timelines with Smartsheet for Project Management
From simple task management and project planning to complex resource and portfolio management, Smartsheet helps you improve collaboration and increase work velocity -- empowering you to get more done. 
The Smartsheet platform makes it easy to plan, capture, manage, and report on work from anywhere, helping your team be more effective and get more done. Report on key metrics and get real-time visibility into work as it happens with roll-up reports, dashboards, and automated workflows built to keep your team connected and informed.
When teams have clarity into the work getting done, there's no telling how much more they can accomplish in the same amount of time. Try Smartsheet for free, today.
Discover a better way to streamline workflows and eliminate silos for good.
How To Write A Timeline Essay
The sample essay on How To Write A Timeline Essay deals with a framework of research-based facts, approaches and arguments concerning this theme. To see the essay's introduction, body paragraphs and conclusion, read on.
The internet is a handy resource to everyone, especially the student who has a full educational schedule and a busy life outside of the academic arena. It is also helpful to professional educators and parents of students. However, along with all of the valid resources on the internet there is an equal amount of invalid material.
The users of the internet need to be able to evaluate a website and determine the accuracy of a site. Kim's Korner for Teacher Talk is a website that was developed by educator, Kim Steele and even though it states that it is for everyone of all ages, (Steele) the target audience is parents, students, and other teachers. Through this website, it will be explained how a website should be evaluated for its validity.
Kim's Korner for Teacher Talk has a page that is the writing process and a timeline that she uses with her students to make sure that they are on task. She understands that "Writing is a process, not merely a product." (OWL) Her students accumulate points for each step of the process and they have a time frame in which they must complete their work. The objective for creating the timeline is to keep her students focused and to make sure that writing is not difficult and overwhelming.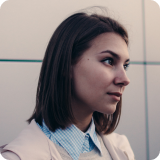 Proficient in: Writing
" Thank you so much for accepting my assignment the night before it was due. I look forward to working with you moving forward "
By dividing the assignment into stages, a student will realize quickly if there is a problem with the topic chosen for the writing assignment.
Kim's Korner 4 Teachertalk
The sample timeline offers nine steps during the writing process. Understanding process helps us recognize where a student writer is in his or her process and offer help appropriate to that phase. (Trupe). Kim states that the website is for all ages, but it seems to be geared toward elementary students because of the graphics that she uses. With some tweaking, the timeline could be used for any educational level. The first thing one would want to do if he/she were using this with older students is to remove the graphics, and perhaps using diction that is more academic.
The timeline that is designed by Kim is geared to allow students to have a time frame in which steps in the writing process are due and when the final draft is due. To many students this would be beneficial. The student who procrastinates can obviously understand that he/she cannot delay the assignment until the night before the final draft is due. It would also assure the teacher that all of the steps are used by the student. Many times students will delay doing their assignment and they will rush through it at the last minute. This often times leads to poor quality work. If the teacher uses the timeline, he/she will be assured that this will not happen.
Good writing habits do not just happen. They must be practiced like a sport or musical instrument. The longer one practices, the better he/she becomes at the task. If the teacher uses this timeline for a long period of time, the student will eventually internalize the writing process so that in later on when the student is no longer in the class of the teacher using it, he/she will automatically go through the steps of the writing process. This is a useful tool for the teacher to share his/her own writing experiences. He/She should be able to discuss how he/she has benefited from using the writing process. A child believes a teacher has no life beyond the classroom. A teacher is the face in the front of the room, the person who hands out assignments and issues grades. Where she came from, or how she got there, doesn't register. (Hallman)
Another positive aspect of the timeline is that the teacher is involved in each step. He/She should be checking the assignment at each due date which will guarantee that the students are accurate in what they are doing for the assignment. If there are problems, the teacher can intervene early on instead of catching the problem at the very end. If a conversational tone is used with the student, then h/she will not feel threatened or intimidated.
How can teachers view writing assessment as a conversation? First, pay attention to what goes on in your mind as you read students' writing, and articulate those reactions; give each student your experience of reading her or his paper. As students respond to your reactions, you might find that your interpretation and suggestions change. Be open to each writer's purposes, experiences, and personality, using everything you know about that person and yourself as a reader. (Wilson)
This would be frustrating to a student who had put a lot of time into an assignment that was not acceptable. The student would then loose points for the daily assignments as well as many points on the final draft. That would lead to failure and frustration for the student. However, the timeline would alert the teacher to the problem while it was a small one instead of a huge one.
The timeline includes a two brainstorming sessions which is a positive aspect for the students. The first brainstorming session would allow for the student to choose a topic. Many times this is the hardest step. Almost everyone has at one time or another stared at a blank piece of paper or computer screen for a long time because he/she is utterly clueless about which topic to choose. The first brainstorming session would insure that this did not happen to the students. The second session of brainstorming would aid the students in narrowing their topic. There are many times that students will choose a topic that is too broad. When a topic is broad, it would take enough information to fill a book to cover it. Instead, this second brainstorming session, with the help of graphic organizers, would alleviate the problem.
Once the first draft is written, there is an opportunity for revising for coherence, writing a second draft, and editing for usage and mechanics. These steps might seem time consuming, but in the long run they are beneficial. Students' final drafts will be much better if these steps are followed. Peer revision for coherence is used after the first draft is written. The process of student self-assessment through rubrics can be enhanced with peer assessment and teacher feedback, of course. (Andrade). This step allows another student to read the assignment for clarity. Using peers for this evaluation is actually better than a teacher because the peer is the targeted audience therefore, less biased. The student can then understand where there is no clarity and he/she then revises the assignment by writing the second draft. The paper then goes through peer editing to check for usage and mechanic problems with the paper. This is done separately from the first peer conference so that the student can concentrate on one area at a time and so that the writer is not overwhelmed with the number of mistakes found on the paper. The student should also use self-assessment during the peer revision and editing steps. Even though the peer is useful in giving objective criticism, the peer is also a student like the writer.
During self-assessment, students reflect on the quality of their work, judge the degree to which it reflects explicitly stated goals or criteria, and revise. Self-assessment is formative — students assess works in progress to find ways to improve their performance. Self-evaluation, in contrast, is summative — it involves students giving themselves a grade (Andrade)
Even though the writing process designed and used by Kim is beneficial for most students, there are some that it would hinder success. While it would greatly help a student with an attention deficit disorder because the student would not be focused on one aspect of the writing process for a long time, it could be overwhelming to a student who has other learning disabilities. When a student has a learning disability in written expression sees the amount of time that he/she will be working on a task that is a disability to him/her, then the student is likely to give up before he/she even starts the assignment. It would also frustrate that student to see that so many points were allotted to an assignment that is already difficult for him/her. Embarrassment is another problem when it comes to peer revision and editing. For a student with no learning disability, the chance that his/her paper is not totally full of mistakes is not a problem. However, the student with a problem in written expression would see peer revision and editing in a totally different light. Not only would the embarrassment frustrate the student, but the time constraints could be a horrible blow. The only way that the writing process timeline could work with this student would be if the due dates were revised for that student.
After closely analyzing the website Kim's Korner for Teacher Talk, the conclusion is that the website is a positive one and the information presented would be of great benefit for most teachers. However, the students with learning disabilities in written expression should be taken into account. If the teacher forgets about these students and does not make major adjustments to the writing process timeline, these students will be doomed for failure.
Cite this page
How To Write A Timeline Essay. (2019, Dec 07). Retrieved from https://paperap.com/paper-on-essay-kims-writing-process-timeline-2/
"How To Write A Timeline Essay." PaperAp.com , 7 Dec 2019, https://paperap.com/paper-on-essay-kims-writing-process-timeline-2/
PaperAp.com. (2019). How To Write A Timeline Essay . [Online]. Available at: https://paperap.com/paper-on-essay-kims-writing-process-timeline-2/ [Accessed: 29 Aug. 2023]
"How To Write A Timeline Essay." PaperAp.com, Dec 07, 2019. Accessed August 29, 2023. https://paperap.com/paper-on-essay-kims-writing-process-timeline-2/
"How To Write A Timeline Essay," PaperAp.com , 07-Dec-2019. [Online]. Available: https://paperap.com/paper-on-essay-kims-writing-process-timeline-2/. [Accessed: 29-Aug-2023]
PaperAp.com. (2019). How To Write A Timeline Essay . [Online]. Available at: https://paperap.com/paper-on-essay-kims-writing-process-timeline-2/ [Accessed: 29-Aug-2023]
English Poetry Timeline Pages: 2 (433 words)
Paul Revere Timeline Pages: 5 (1371 words)
Bill Gates-Computer Timeline Pages: 4 (1013 words)
Historical Development of Nursing Timeline Pages: 14 (4106 words)
Kinesiology Timeline Outline Pages: 6 (1769 words)
Science & Gender: A Timeline of Inequality Pages: 6 (1765 words)
History Timeline Project Pages: 9 (2499 words)
How To Write An Argumentative Essay Pages: 5 (1294 words)
Write An Essay On Colonialism And Imperialism Pages: 5 (1312 words)
A Guide for Students How to Write a Dialectical Essay Pages: 5 (1206 words)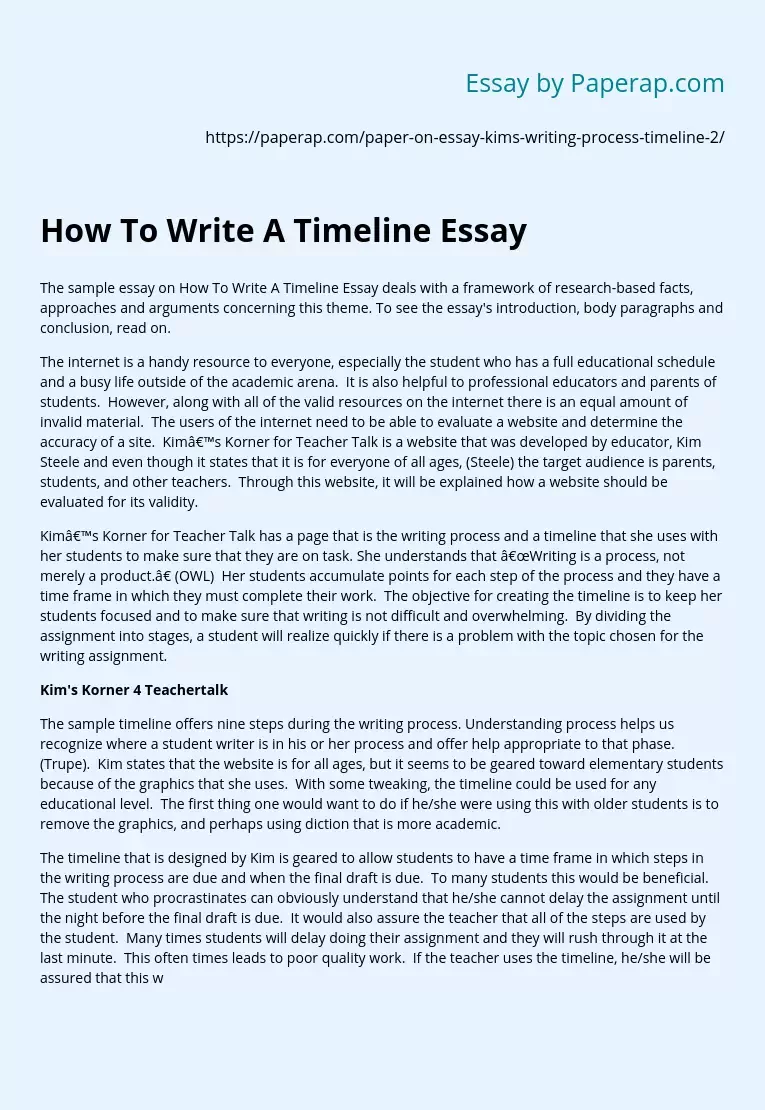 Project Timeline Essays
Developing a small nursing informatics project, popular essay topics.
American Dream
Artificial Intelligence
Black Lives Matter
Bullying Essay
Career Goals Essay
Causes of the Civil War
Child Abusing
Civil Rights Movement
Community Service
Cultural Identity
Cyber Bullying
Death Penalty
Depression Essay
Domestic Violence
Freedom of Speech
Global Warming
Gun Control
Human Trafficking
I Believe Essay
Immigration
Importance of Education
Israel and Palestine Conflict
Leadership Essay
Legalizing Marijuanas
Mental Health
National Honor Society
Police Brutality
Pollution Essay
Racism Essay
Romeo and Juliet
Same Sex Marriages
Social Media
The Great Gatsby
The Yellow Wallpaper
Time Management
To Kill a Mockingbird
Violent Video Games
What Makes You Unique
Why I Want to Be a Nurse
Send us an e-mail
Timeline Maker
Create interactive, visual timelines, create timelines for any event, from tracking your projects to creating business presentations to teaching students..
Real-time visual collaboration
Customizable timeline templates
Extensive timeline and infographic libraries
Over 10 Million people and 1000s of teams already use Creately
How to make a timeline diagram.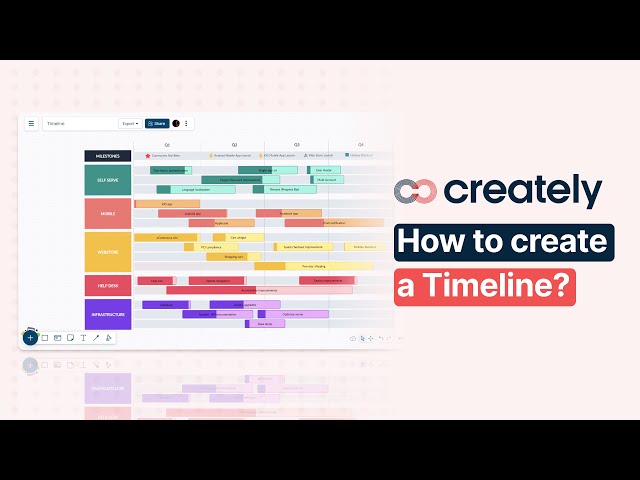 Draw Complex Timelines in Minutes
Brainstorm and conceptualize processes or events with drag and drop tools.
Visualize complex timelines and update them easily using automatic drawing features.
Create data-rich timeline infographics by importing images, vectors and more onto the canvas.
Centralize All Information
Build canvas wikis with project timelines, plans, and initiatives side-by-side on an infinite canvas.
Embed documents and assets in the notes panel to link information together around timelines.
Streamline sharing, reviewing, and editing your project timelines with multiple access and role levels.
Manage Timelines Collaboratively
Create timelines with teams and other stakeholders. Real-time cursors for any number of participants.
Instantly share feedback on events and processes with synchronous editing.
Comment with context, have discussions and follow ups.
Embed timelines in any site or intranet or share with anyone via an email or link invite to collaborate on.
Augment and Interact with Your Data
Organize your timelines, group similar content, or build a presentation flow for proposals using frames.
Easily create multi-perspective visuals by converting timelines into action plans and roadmaps.
Export timelines as SVGs, PDFs, and PNGs to publish, present, print, and share.
What is a Timeline?
Timeline diagram is a tool used to visually represent the steps of an event or process in chronological order. They make complex information easier to comprehend. They are popularly used in project management, business profiling and presentations, and in teaching and learning.
How Can Teams Collaboratively Create a Timeline for a Project/Event Using Creately?
Timelines are useful in planning and managing projects, tracking progress and identifying potential issues. Start by creating a workspace on Creately and conduct a brainstorming session together with your team to define the project or event's objectives and scope. Using a mind map or an affinity diagram will help you to gather everyone's ideas and record them in an organized manner.
Break the project into smaller tasks, estimate the time it would take to complete each and arrange them in the order that they need to be completed. Once the order is determined, you can start assigning tasks to team members and use a Kanban board to track them.
Make a draft timeline of important milestones and deadlines, using one from the wide range of timeline templates. You can easily customize it by dragging and dropping elements from the dedicated shape library.
Style your timeline and add images. With Creately you can quickly style your timeline with preset color themes or even choose your own to reflect the company's branding. While you can import images, clipart, gifs, logos, icons, etc. right from your device to customize your timeline, you can also use the built-in Google image search to find more images from across the web.
Collaborate around the timeline with your team members to get everyone on the same page and to keep everyone informed. Review the timeline together with your team and make changes and improvements where necessary. Get comments and feedback from team members to ensure that the goals you have set are achievable within the timeline.
Easily share the timeline with relevant stakeholders by exporting it in PNG, SVG, PDF, and JPEG formats to embed in websites, presentations, etc. You can also share it with anyone via an email or link invite making collaboration easier for remote teams.
Create Your Timeline with Editable Templates
Event Planning Timeline Template
Business Timeline Template
Personal Timeline Template
Career Timeline Template
American Revolution Timeline
Martin Luther King Timeline
Monthly Timeline
FAQs About the Timeline Maker in Creately
Timelines are useful especially in project management, since they allow you to plan a project properly and identify tasks that need to be completed depending on the priority. Teams can easily collaborate and use timelines as a visualization of a particular sequence of events, tasks or project milestones. It also improves communication among team members since everyone is aware of deadlines and how the project should progress with successive events.
Timelines are also important when illustrating the history of a particular subject or theory, as it enables you to present an overview of what you want to convey to your audience.
Guides and Resources to Manage Your Time
How to Draw the Perfect Timeline Diagram with Creately
How To Create a Project Timeline In 6 Simple Steps
Take Your Timelines to the Next Level with These Premium Templates
Gantt Chart Templates to Instantly Create Project Timelines
The Quick Guide to Creating a Proper Product Roadmap
The Ultimate List of Graphic Organizers for Teachers and Students
The Easy Guide to Event Planning with Instantly Editable Templates
Project Timeline Template
Streamline Your Workflows by Integrating with the Tools You Love
Creately integrates with the tools your teams use every day and supports your team's workflow seamlessly..
Why is Creately a Better Timeline Maker
Creately is the intelligent visual platform enabling visual collaboration, knowledge management and project execution..
100+ proprietary features deliver a flexible, no-code visual platform, expertly-tuned for ease of use.
Infinite Visual Canvas
Visually create and organize any structure you imagine. Drag drop shapes or datasets, embed external content.
Real-Time Collaboration
Work remote or hybrid with realtime cursor tracking, synced previews and proper in-context comments and tasks.
Custom Databases
Create custom databases for any kind of information from tasks, HR personnel records to matters for law firms.
Data Driven Docs
Create docs and notes to go deeper from the high-level visual views. 2 way link to other docs, shapes or data with @mentions.
Professional Diagramming
50+ types of standard diagrams with 1000+ specially designed shapes and connectors enable blazing fast diagramming.
Project & Task Management
Use built-in agile project management tooling or integrate with your favourite project management tool to keep work flowing.
Enterprise Grade Security
ISO 27001, SOC 2 - Type 2, Data Residency & Up-time SLAs to collaborate securely with your entire organization.
Powerful Visual Modelling
Visuals that are backed by databases, update once, reflect in multiple views type of workflows.
Enterprise-Grade Security and Compliance
We're dedicated to keeping your data private, secure and safe. Creately is SOC2-Type 2 and ISO 27001 certified and GDPR compliant. We offer flexible data residency options in USA, EU and Australia to our enterprise customers.
Creately Security
Just Plug and Play
An easy-to-use interface with a minimal learning curve. Simply Sign-In using your work email to automatically add team members to the enterprise plan.
No installation required.
Work Visually with Anyone for a Fixed Monthly Price
3 Canvases (60 items max)
Limited storage
Basic integrations
Raster image only exports
Unlimited Databases
5000 items per Database
Project Management tools
HR, Product, IT, Process toolkits
Advanced collaboration
Most integrations
100 GB storage
One Account Admin
Email + Chat support
SOC2 & ISO27001 Security
24/7 Live Support
Live in-app chat support
- Will you write my paper for me? - Yes, we will.
Our paper writing benefits, let's write a paper for you in no time, start with, "write my essay for me" and end with a perfect piece in your inbox, ready for download and submission for grading. it only takes four steps to go from one to the other..
Begin with "Write my essay" and add all the details you deem important, from the deadline and formatting style to your professor's rubric and writing style preferences.
Watch your expert write an essay online through the dashboard or reach out to our support team for progress updates whenever you get antsy about the deadlines or instructions.
Check out the first draft preview you get in your inbox and approve the order to download an editable file or get your writer to revise the paper to make it even better.
What do the customers of Write Paper For Me say?
Still hesitant just look: your fellow students in search of someone to "do my essay" have already used our services and were pleased with the results.
Was looking to pay someone to write my paper. Found these guys and been using them for two years now.
I was afraid of plag, but it hasn't been detected here. Get an essay once a month, and it keeps me from going insane, so I couldn't recommend it more.
I'm never doing another paper when ther's a pro to write an essay for me. I'd rather pay for it than waste my time.
I had to write my paper in two days but had no time. So I turned to my trusty writer. Sure, it was a bit pricey, but I got a pass, and the prof never suspected a thing.
I risked using this site knowing nothing of the real privacy here but it was the best decision of my life. I finally caught up on sleep, and my grades are better than ever.
When I need someone to write my paper for me cheap, I come here. Never failed a paper, and the prices are great. Wish the writers were more open, tho.
Wasn't sure they had true pro writers ready to do my paper for me. I know now they're the best! Big fan here, so keep up the good work, guys!
Finally, I found someone to do my essay for me, no questions asked. Upload the prompt and rubric—get the paper in a week or so. Simple, painless, cheap. Love it.
Never thought I'd pay someone to write my essay, but now I can't believe I waited this long to get help. It was much cheaper than I expected, super friendly and open!
These guys sure know how to write paper for me. It's just perfect for my class, and there's no way my professors know I'm cutting corners.
The best bargain is just a few clicks away!
Get an original paper that doesn't cost a fortune!
450 orders completed daily
86 disciplines of expertise
820+ professionals on our team
4.88/5 is the average order rating
​​Still have questions?
Contact our support agents and let them help you!
Is it time to write a paper for you? Contact us and relish the highest academic performance! 
Our professionals will do their best!
Why Should I Pay Anyone to Write My Essay?
If you're suddenly wondering, "Can someone do my paper for me?", there's likely a very good reason for that. After all, college is an eye-opening experience for most students. Not only is it your first attempt at independent life free from parents' oversight, but it's also a completely new level of academic requirements and independent study many aren't ready for. 
And if you're an overachiever or a perfectionist, keeping up with all the classes, assignments, extracurriculars, and side gigs will keep you up most nights. You will soon forget about your plans to discover the party scene, visit your parents every other weekend, or find your soulmate on campus. If you try to stay on top of all your responsibilities, you'll likely burn out or suffer an anxiety attack sooner rather than later. 
So don't feel bad if your thoughts go from "Can someone write my paper?" to "Write me a paper asap!" within the first few weeks of the college term. You're not alone, and it's perfectly normal to struggle in a new environment and buckle under the weight of elevated expectations. 
Luckily, you don't have to suffer in silence or give up on your dream of a college degree. Instead, you can seek help. And nowadays, it's as easy as typing "Make an essay for me" in live chat.
Why Should I Choose Write Paper For Me As My School Assistant?
A quick Google search will unearth dozens of do-my-paper services, adding to your stress, instead of alleviating it. But unfortunately, you cannot trust the first company you find, tell the writers "Write a paper for me", and hope for the best. Although you may be lucky enough to stumble upon a reliable company by accident, choosing a trustworthy service requires some research.
We suggest you look for these staples of a solid writing service WritePaperForMe has in spades:
Academic writers with proven experience in your major. For instance, our write my paper service employs hundreds of experts across the most popular majors, so we can handle anything from Anatomy to Zoology.
Thorough anti-plagiarism protocols. In our experience, a combination of writer training, strict citation procedures, and a mandatory plagiarism check ensure the best results for our clients.
Round-the-clock access to human support agents. With our 24/7 support, you don't have to wait for office hours to ask "Can you do my paper for me?". You can get answers to all your questions, paper progress updates, and other help whenever you need it.
Free and frictionless revision process. Although our writers do their best to meet your expectations on the first try, we guarantee free revisions and make the revision process easy and painless for everyone involved.
Detailed confidentiality terms that protect your personal and financial data. We adhere to local and international data protection regulations and keep the specifics of your order private, so your school can never learn about your paper from us.
Affordable rates that ensure the best value for money. We realize how tight money can be for students, so we keep our prices as low as possible while still keeping the writers happy and motivated.
If you want to make the most of these and other benefits, start by typing "Help me write my essay" in live chat, and we'll see what we can do for you.
We Handle Any Paper Writing Task for High School, College, and Grad School
One of the most common complaints when it comes to paper writing is a poor writing style, unsuitable for a specific academic level. Fortunately, that never happens to our customers, as we carefully match your requirements with our writers' expertise levels while keeping the rates affordable.
For example, when you come to us asking for a college essay, we'll round up our experts with Bachelor's degrees and above. Similarly, if you want us to handle MBA coursework, we'll match you with a writer who already has their Master's degree. And even doctorate papers, like thesis proposals or research papers, are not beyond our expertise, as our talent pool includes a fair share of PhDs.
So if you think our order form is too complex and your order doesn't need to go beyond "Write essay for me," we ask for your patience. After all, the more details you provide, starting with your academic level, the better we'll be able to help you.
"Type an Essay for Me" Is Not the Only Service We Offer
You've probably found our site when you were looking to pay someone to write your essay. And we will happily take over argumentative, persuasive, narrative, and creative pieces for you. However, the do-my-paper service is not your only option. We have plenty of offers for students who are unwilling to let others take over their work completely. Here are a few viable suggestions that can make your college writing much easier:
Editing works wonders for students unwilling to admit, "I need someone to write papers for me," and looking to improve their writing style. Choose this service if you want actionable suggestions that will instantly improve your chances of getting a higher grade.
Proofreading goes beyond the standard spellcheck and weeds out the smallest grammar, spelling, and style errors. Your professors will appreciate a flawless piece of writing without a single typo. 
Formatting doesn't have to be dull and time-consuming, especially when your reference list exceeds a few dozen sources. If you let our experts take over, you'll save yourself hours and submit a picture-perfect paper.
Paraphrasing is the best choice for fast results when you already have a flawless piece but need it to pass a plagiarism check the second time. Just say, "Help me write my paper based on this sample," and our writers will deliver a perfect replica, capable of fooling Turnitin.
We Employ Expert Academics to Make Your "Write My Paper" Order Perfect
Whether you're an English or a STEM major, you're probably wondering, "Who can write essay for me?" or "Why should I pay someone to write my paper for me when I know nothing about them?" And you're absolutely right about asking these questions. After all, thousands of freelancers offer to write essay online, but you can't know who to trust with your grades and record. To make your life easier, we take over the screening tasks to ensure only the best are hired and have the privilege to write an essay for you.
To get on our team, each writer must:
Provide us with a copy of a college or postgraduate diploma.
Share multiple samples of academic writing across different subjects, topics, and paper types.
Write a paper on a topic of our choosing within 24 hours to demonstrate research and writing skills.
Pass a timed English proficiency test with and score 80+ points.
And once hired, writers must keep their customer feedback rating high. Those who get negative comments don't stay on our team for long.
Although our hiring approach may seem harsh, it's proven its efficiency for writers and students. And we urge you to give our experts a chance to prove they're as good at writing papers as we claim they are.
We Deliver Every "Write My Paper" Order on Time
Timing is critical in the college papers market. An hour's delay can make your submission late and cause you to fail the class. And a drawn-out revision may fry your last nerve and end in a breakdown.
To guarantee your every "write papers for me" order arrives in your inbox on time, we use an efficient communication and time-management approach and train our writers, editors, and proofreaders in beating procrastination and writer's block. 
Still, we urge you to be realistic in your expectations. Research alone would usually take several hours, and writing and finishing touches need time, too. So please give our experts enough time to work on your paper and give yourself enough leeway for a quick review and revision.
Our "Write Essay for Me" Service Is Online and Ready to Help 24/7 
With so many responsibilities, it's not uncommon for students to forget about essays. So if you wake up in cold sweat scrambling for answers to "Can someone do my essay for me asap?" you won't be left to deal with the problem alone.
Our write my paper service never sleeps. The support agents operate round-the-clock through weekends and holiday seasons to ensure you can reach a human manager in your darkest hour and get the answers and support you need.
You can contact our team via:
Simply reach out, and explain your "write my paper" problem, and our managers will help you find a suitable solution. They can also get you in touch with your expert, provide progress updates, and explain our policy clauses and conditions.
We Guarantee Our "Write My Essay" Help Is Private and Confidential
"Can someone do my essay for me without risking my reputation?"
"I'm afraid my school will kick me out if they learn about my order."
If you're familiar with either of these lines of thinking, you're just like any other college student. However, you have nothing to worry about when you pay someone to write your essay for you with our service. We carefully guard the details of your order and do not disclose your personal information to anyone without a court order.
So the only way your professors and school administration can learn about our help is if you tell them, "I pay to write my essay". Without your confession, they'll have no hard evidence. Their accusations and threats will be empty, and you'll get away with buying papers easily, like thousands of our clients before you.
We Keep Working on Your "Write a Paper for Me" Requests Until You're Happy
Reputation is everything for paper writing services. Although no company is safe from accusations, negative reviews, and underhanded rivalry with fellow "write my paper for me" platforms, we strive to keep every customer happy and willing to return.
That's what our satisfaction guarantee is about. Whenever you come asking, "Write my essay online, we take your requirements seriously and ensure the experts fulfill your every instruction. And if you still think our writing could be better, you can order a free revision with your initial "write essay for me" parameters. Your writer will rework your piece according to your comments and return the second draft for your approval within 24 hours. With luck, you'll like it better, and if not, you can repeat the whole process again and again until you're 100% satisfied with your paper.
Ready to Reap the Benefits of Our "Write Papers for Me" Services?
If you're ready to place your first "write my paper" order, welcome to the order form. It's streamlined to guide you through sharing all the information your expert will need beyond your request of "write my paper for me". And if at any point you feel lost, confused, or too tired to deal with our simple "do my essay" order form, reach out to our support team. Call or type something like "I want you to write a paper for me," and they'll respond within seconds to help you complete the order, finalize the payment, and get the first progress update when we assign the best expert to your case.
How can I pay someone to write a paper for me? What are your payment methods??
We accept credit and debit card payments by Visa, MasterCard, Discover, JCB, and American Express. You can use a reliable and secure payment system that keeps your personal and financial information safe to get us to write an essay for you. So you don't have to worry and ruminate, "Is it safe to pay someone for writing my papers online?" After all, it's as safe as getting your next coffee batch on Amazon or paying for your Netflix subscription.
How fast can you write my essay for me?
"Write my essay ASAP!" and "Write my essay, and I need it yesterday!" are two of the most common requests we get from college students. And although we can't trick time and only have 24 hours in our days, we can deliver short pieces in 6 hours and longer assignments—within a day. As long as you don't come asking "Write my research paper in six hours," and are realistic about your expectations, our experts should be able to handle the tightest deadlines. But please account for a preview and revisions not to miss your submission deadline.
Can I talk to the person who'll do my essay for me?
Of course, you can. We realize you're probably thinking, "When I pay someone to write my paper, I want to have a direct line to this person." So all you need to do is log into your account and find the chat tab to ask your questions or provide comments. But please remember that writers may not be available 24/7, as they have research and writing to take care of. If you're thinking "I want round-the-clock access with the person I hired to write an essay for me," you're unlikely to find a writing service that will satisfy your needs.
Can you write my essay for me cheap?
Sure, our rates start as low as $6.99. Despite inflation and global crises, we keep our prices student-friendly. So anyone who comes asking, "write my paper for cheap" or "write my term paper without breaking the bank" will feel welcome and safe in the knowledge they'll get the best value for money. At the same time, we urge you to beware of online frauds promising free results, as every "Write my research paper for me for free" may end in a scam.
Is it legal to use your service and pay someone to write my paper?
Yes, it is legal. Whether you're carefully considering "Can someone do my paper for me?" in the privacy of your own mind or clamoring for assistance with the bold demands of "Write my paper for me now!", you're in the clear until you submit the paper you purchase for grading under your name. Even that isn't illegal in most countries, though it is frowned upon in most schools. It's up to you to decide what to do with the paper you get after we fulfill your order.
Can I pay someone to do my essay after it's done?
Sadly, no. In an ideal world of perfectly honest people, you'd say, "I need help write my research paper", and we'd have it ready for you for free and rely on your generosity. In the real world, our writers, editors, and support managers are real people who like to have a roof over their heads and meals on their tables. Our refund policy keeps you safe, but only your upfront payment protects our writers from scams. So whenever you ask, "Can you write my essay cheap?", we say, "Sure", but we ask you to cover the cost first.
Who will write my paper for me? How do I know they're qualified to handle it?
Every writer on our team holds a degree in one or more majors, possesses years of academic writing experience, and has a solid reputation among our clients. You can be sure that whenever you run asking, "Write essay for me", we'll match you with an expert best suited to handling your academic level, class, and topic. Be safe in the knowledge that we only hire seasoned academics to write papers for you.
How do I choose the best writer to write my paper for me?
You can select a specific expert to deal with your "write my essay" issue or pick a top or pro-level writer. Although either of these options will add to the bottom line, you won't have to wonder, "Who will write my essay?". We recommend selecting one of our premium experts for critical assignments that need a special touch to score top grades and improve your class ranking or GPA. Contact our support team to ask, "Can someone write my paper for me with top results?" to learn more about writer options.
How do I know if you'll make my essay original?
Your every "write my essay" order goes through a plagiarism checker to guarantee originality. After all, our writers know "write my paper" means crafting an original piece from scratch, not rewriting a stale sample found online. But if you want further proof, you're welcome to order an official plagiarism report with a similarity percentage. All it takes is checking the box in the order form or asking a support agent to add it to the bottom line when you come asking, "I need you to write an essay for me."
How can I lower the price when ordering an assignment?
Although we keep our online paper help rates as low as possible, you can play around with the order parameters to lower the price. For example, instead of crying, "I need you to write my essay in 12 hours", set the deadline for two weeks, and your bottom line will be much more affordable. You can also wait for a seasonal promotion with discounts of up to 15% if you're thinking, "I'm in no hurry to pay someone to write my essay."
What do I do if you write my paper for me, and I don't like it?
You can get a revision or a refund, depending on how much your "write my essay for me" order went off track. We know when you pay someone to write your paper you expect the best results, and we strive to follow every instruction to a T when we write a paper for you, but miscommunication can occur. In this case, don't be shy about requesting a free revision or a new writer to rework your assignment. And if you feel the paper is unsalvageable, you may be liable for a partial or full refund.
How do I know you've finished writing my paper?
We'll notify you via email the moment the writer uploads the first draft for your revision. You can then preview it and approve the piece to download an editable file or get it sent for a revision round with your comments about necessary corrections. Besides, you can always request a progress update from your writer or a support manager. Just ask them, "Any progress since I hired you to write my essay for me?". As you see, you don't need to fret, thinking, "How will I know when you write my essay, and it's ready?"
What are you waiting for?
You are a couple of clicks away from tranquility at an affordable price!
Hurricane Idalia
Trump Investigations
Back-to-school Stressors
Pope Draws Criticism
CBS News Live
Managing Your Money
Newsletters
Watch CBS News
Hilary path and timeline: Here's when and where the storm is projected to hit California
By Gina Martinez
Updated on: August 21, 2023 / 7:53 PM / CBS News
Hurricane Hilary moved into Southern California as a tropical storm Sunday evening, bringing heavy rainfall after making its way up Mexico's Baja California Peninsula, where it made landfall late Sunday morning. The storm prompted officials at the National Hurricane Center to issue a tropical storm warning for most of Southern California, marking the first time a tropical storm warning or watch had ever been issued for the region.
Hilary was downgraded again early Monday, to a post-tropical cyclone. The system was expected to dissipate later in the day but still produce heavy rainfall, significant flooding and gusty winds across the Western U.S.
More than half a year's worth of rain fell in the desert city of Palm Springs, California, CBS News correspondent Carter Evans reports. Mount Wilson in Angeles National Forest recorded over 8.5 inches of rain as of 7 a.m. PDT, the top amount reported by the National Weather Service's Los Angeles office. Beverly Hills recorded 4.8 inches, and downtown LA recorded nearly 3 inches.
Latest storm coverage from CBS Los Angeles
Hurricane watches and warnings had been in effect for parts of the Baja California Peninsula, and a tropical storm warning was in place for nearly all of Southern California. By Monday morning, all coastal warnings had been discontinued, but the National Weather Service's Weather Prediction Center said flood watches were in effect for Southern California, northwest Arizona, much of Nevada, southwest Utah, eastern Oregon, western and central Idaho and southeast Washington. A flood watch means flooding is possible in those areas.
LA County officials had advised all residents and visitors on California's Catalina Island to leave as soon as possible ahead of the storm's arrival.
Meanwhile, California Gov. Gavin Newsom issued a state of emergency Saturday for all of Southern California.
A White House spokesperson said that President Biden had been briefed on Hilary and that his team was working "with state and local agencies ahead of the storm." The president and his family are vacationing in Lake Tahoe in Northern California. The president and first lady Jill Biden are slated to travel to Hawaii Monday to survey the destruction from the Maui wildfires .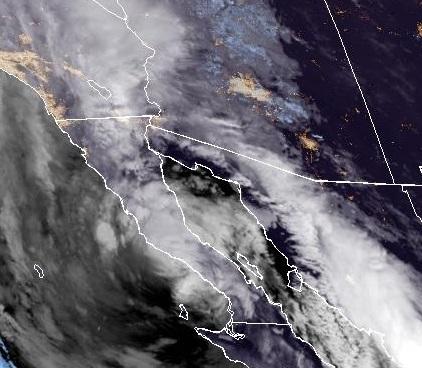 Where is Hilary's projected path?
As of 8 a.m. PDT Monday, Hilary was about 115 miles west-northwest of Elko, Nevada, and racing north-northeast at 24 mph with maximum sustained winds of 35 mph.
The storm made landfall in Mexico's northern Baja California peninsula late Sunday morning.
Widespread "moderate to heavy" rain is expected into early Monday for Southern California, with a high risk of flash flooding that could include "landslides, mudslides and debris flow" in mountains and deserts, according to the National Weather Service office in San Diego .
When will Hilary hit California?
The center of Hilary moved into Southern California on Sunday evening, several hours after making landfall in Mexico's Baja California peninsula.
The hurricane center said at 8 p.m. PDT Sunday that Hilary's north-northwestern track was expected to continue into Monday.
The last time Southern California was hit by a tropical storm was in 1939, before storms were given names, CBS News senior weather and climate producer David Parkinson said. Several storms that had been hurricanes or tropical storms have impacted the state since then, but they had weakened to sub-tropical systems by that time, Parkinson noted.
"It is rare — indeed nearly unprecedented in the modern record — to have a tropical system like this move through Southern California," Greg Postel, a hurricane and storm specialist at the Weather Channel, told CBS News .
Hilary is likely to produce landslides and mudslides in certain areas recently burned by wildfires, and storm surges along parts of the southern Baja Peninsula and the Gulf of California coast, the Weather Channel reports.
"You're looking at a winter-like storm now in the summer in places that are not used to this amount of rain," Parkinson said.
-Alex Sundby contributed reporting.
Los Angeles
Hurricane Hilary
More from CBS News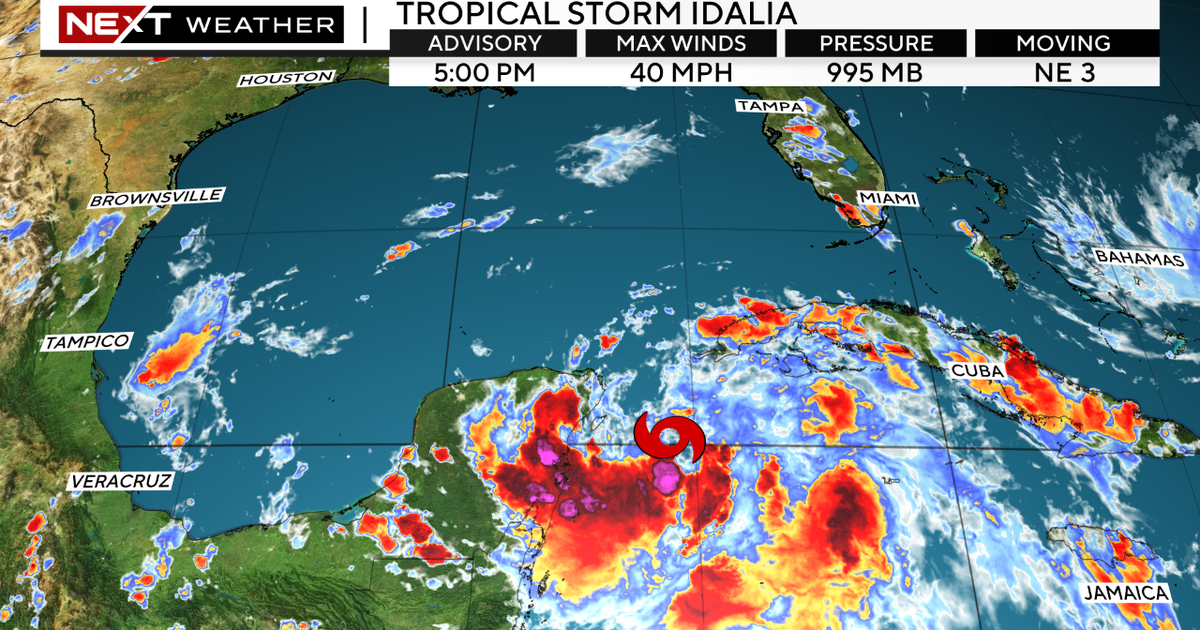 Tracking The Tropics: Hurricane, tropical storm watches issued for Gulf Coast, Dry Tortugas as Idalia nears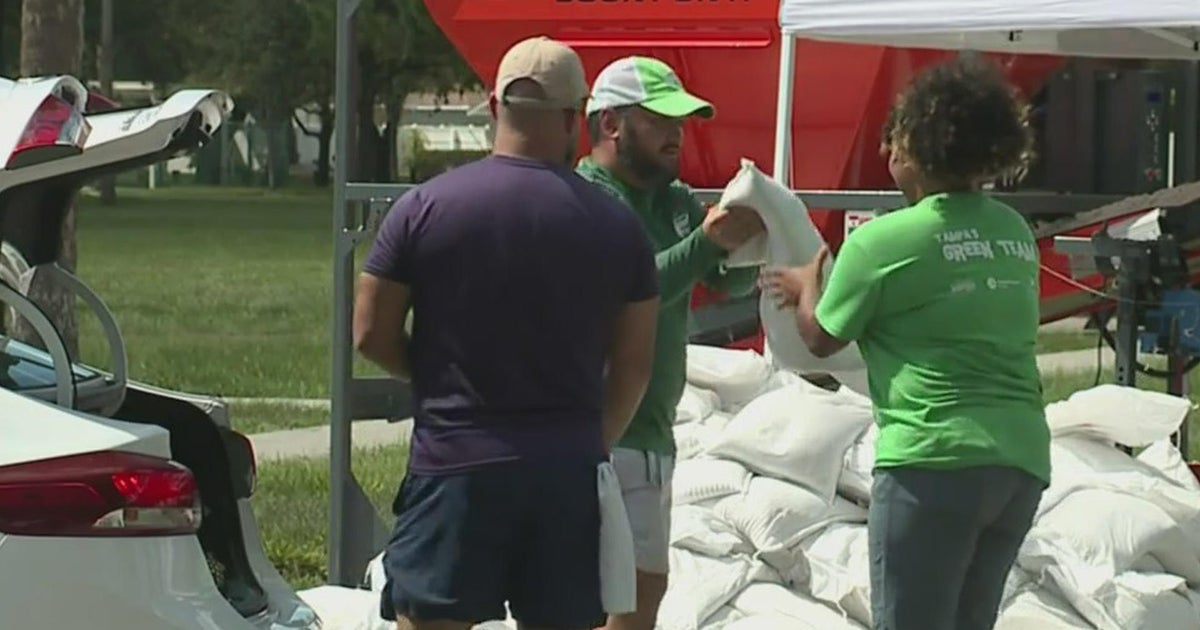 Floridians preparing for expected Hurricane Idalia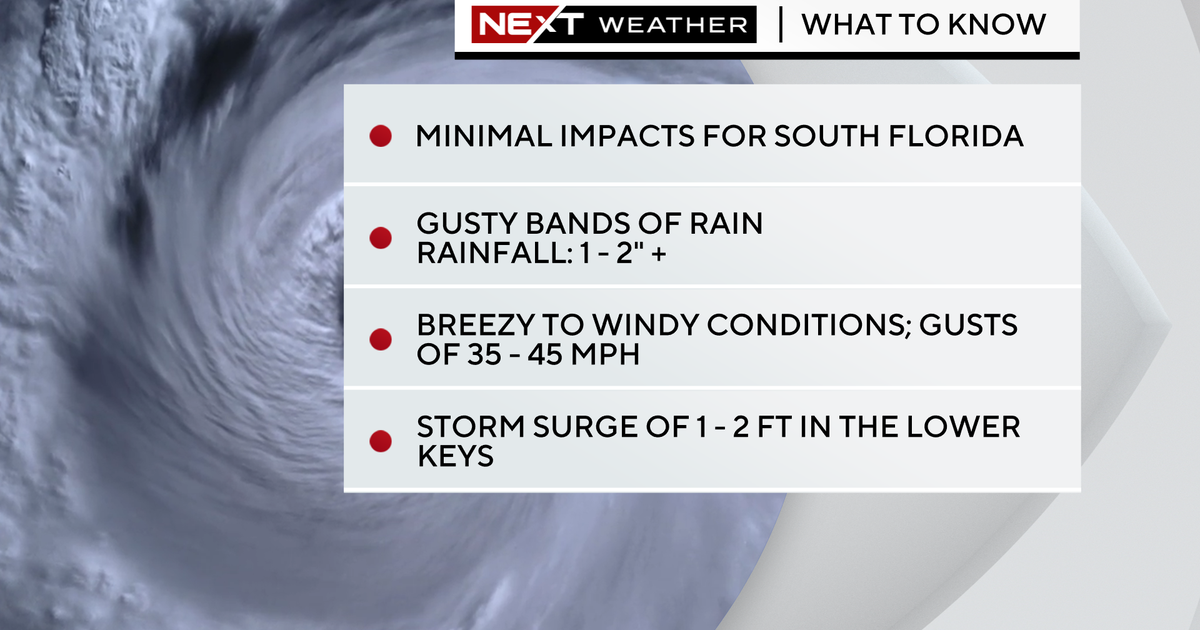 NEXT Weather: Rain squalls, gusty winds from passing Hurricane Idalia
Idalia: florida's gulf coast on alert for intensifying storm.
Toggle navigation
Earlier Conferences
Conference Help
Create an Account
Reset Password
Merge Profiles
Privacy Policy
My Stuff/Registrations
Edit Profile
Change Password
Create New Profile
NeurIPS 2023
Conference Dates: (In person) December 10 - December 16 
Homepage: https://neurips.cc/Conferences/2023/
Call For Papers 
Abstract submission deadline:  May 11, 2023 
Full paper submission (all authors must have an OpenReview profile when submitting) deadline: May 17, 2023 
Supplemental material submission deadline: May 24, 2023 
Author notification: Sep 21, 2023 
Camera-ready, poster, and video submission: to be announced
Submit at:   https://openreview.net/group?id=NeurIPS.cc/2023/Conference
The site will start accepting submissions on April 19, 2023 . 
Subscribe to these and other dates on the 2023 dates page .
The Thirty-Seventh Annual Conference on Neural Information Processing Systems (NeurIPS 2023) is an interdisciplinary conference that brings together researchers in machine learning, neuroscience, statistics, optimization, computer vision, natural language processing, life sciences, natural sciences, social sciences, and other adjacent fields. We invite submissions presenting new and original research on topics including but not limited to the following:
Applications (e.g., vision, language, speech and audio)
Deep learning (e.g., architectures, generative models, optimization for deep networks)
Evaluation (e.g., methodology, meta studies, replicability and validity)
General machine learning (supervised, unsupervised, online, active, etc.)
Infrastructure (e.g., libraries, improved implementation and scalability, distributed solutions)
Machine learning for sciences (e.g. climate, health, life sciences, physics, social sciences)
Neuroscience and cognitive science (e.g., neural coding, brain-computer interfaces)
Optimization (e.g., convex and non-convex, stochastic, robust)
Probabilistic methods (e.g., variational inference, causal inference, Gaussian processes)
Reinforcement learning (e.g., decision and control, planning, hierarchical RL, robotics)
Social and economic aspects of machine learning (e.g., fairness, interpretability, human-AI interaction, privacy, safety, strategic behavior)
Theory (e.g., control theory, learning theory, algorithmic game theory)
Machine learning is a rapidly evolving field, and so we welcome interdisciplinary submissions that do not fit neatly into existing categories.
Authors are asked to confirm that their submissions accord with the NeurIPS code of conduct .
Formatting instructions:  All submissions must be in PDF format. Submissions are limited to nine content pages, including all figures and tables; additional pages containing references are allowed. You must format your submission using the NeurIPS 2023 LaTeX style file which includes a "preprint" option for non-anonymous preprints posted online. The maximum file size for submissions is 50MB. Submissions that violate the NeurIPS style (e.g., by decreasing margins or font sizes) or page limits may be rejected without further review. If your submission is accepted, you will be allowed an additional content page for the camera-ready version. Papers may be rejected without consideration of their merits if they fail to meet the submission requirements, as described in this document. 
Use of Large Language Models (LLMs): We welcome authors to use any tool that is suitable for preparing high-quality papers and research. However, we ask authors to keep in mind two important criteria. First, we expect papers to fully describe their methodology, and any tool that is important to that methodology, including the use of LLMs, should be described also. For example, authors should mention tools (including LLMs) that were used for data processing or filtering, visualization, facilitating or running experiments, and proving theorems. It may also be advisable to describe the use of LLMs in implementing the method (if this corresponds to an important, original, or non-standard component of the approach). Second, authors are responsible for the entire content of the paper, including all text and figures, so while authors are welcome to use any tool they wish for writing the paper, they must ensure that all text is correct and original.
Double-blind reviewing:  All submissions must be anonymized and may not contain any identifying information that may violate the double-blind reviewing policy.  This policy applies to any supplementary or linked material as well, including code.  If you are including links to any external material, it is your responsibility to guarantee anonymous browsing.  Please do not include acknowledgements at submission time. If you need to cite one of your own papers, you should do so with adequate anonymization to preserve double-blind reviewing.  For instance, write "In the previous work of Smith et al. [1]…" rather than "In our previous work [1]..."). If you need to cite one of your own papers that is in submission to NeurIPS and not available as a non-anonymous preprint, then include a copy of the cited anonymized submission in the supplementary material and write "Anonymous et al. [1] concurrently show...").
OpenReview: We are using OpenReview to manage submissions. The reviews and author responses will not be public initially (but may be made public later, see below). As in previous years, submissions under review will be visible only to their assigned program committee. We will not be soliciting comments from the general public during the reviewing process. Anyone who plans to submit a paper as an author or a co-author will need to create (or update) their OpenReview profile by the full paper submission deadline. Your OpenReview profile can be edited by logging in and clicking on your name in  https://openreview.net/ . This takes you to a URL "https://openreview.net/profile?id=~[Firstname]_[Lastname][n]" where the last part is your profile name, e.g., ~Wei_Zhang1. The OpenReview profiles must be up to date, with all publications by the authors, and their current affiliations. The easiest way to import publications is through DBLP but it is not required, see  FAQ . Submissions without updated OpenReview profiles will be desk rejected. The information entered in the profile is critical for ensuring that conflicts of interest  and reviewer matching are handled properly. Because of the rapid growth of NeurIPS, we request that all authors help with reviewing papers, if asked to do so.  We need everyone's help in maintaining the high scientific quality of NeurIPS.  
Abstract Submission: There is a mandatory abstract submission deadline on May 11, 2023 01:00 PM PDT, six days before full paper submissions are due. While it will be possible to edit the title and abstract until the full paper submission deadline, submissions with "placeholder" abstracts that are rewritten for the full submission risk being removed without consideration. This includes titles and abstracts that either provide little or no semantic information (e.g., "We provide a new semi-supervised learning method.") or describe a substantively different claimed contribution.  The author list cannot be changed after the abstract deadline. After that, authors may be reordered, but any additions or removals must be justified in writing and approved on a case-by-case basis by the program chairs only in exceptional circumstances. 
Supplementary material:  Authors may submit up to 100MB of supplementary material, such as appendices, proofs, derivations, data, or source code; all supplementary materials must be in PDF or ZIP format. Supplementary material should be material created by the authors that directly supports the submission content. Like submissions, supplementary material must be anonymized. Looking at supplementary material is at the discretion of the reviewers. The deadline for supplementary material is one week after the main paper.
We encourage authors to upload their code and data as part of their supplementary material in order to help reviewers assess the quality of the work. Check the policy as well as code submission guidelines and templates for further details.
Ethics review:  Reviewers and ACs may flag submissions for ethics review . Flagged submissions will be sent to an ethics review committee for comments. Comments from ethics reviewers will be considered by the primary reviewers and AC as part of their deliberation. They will also be visible to authors, who will have an opportunity to respond.  Ethics reviewers do not have the authority to reject papers, but in extreme cases papers may be rejected by the program chairs on ethical grounds, regardless of scientific quality or contribution.   
Paper checklist: In order to improve the rigor and transparency of research submitted to and published at NeurIPS, authors are required to complete a paper checklist . The paper checklist is intended to help authors reflect on a wide variety of issues relating to responsible machine learning research, including reproducibility, transparency, research ethics, and societal impact. The checklist does not count towards the page limit and will be entered in OpenReview.
Preprints:  The existence of non-anonymous preprints (on arXiv or other online repositories, personal websites, social media) will not result in rejection. If you choose to use the NeurIPS style for the preprint version, you must use the "preprint" option rather than the "final" option. Reviewers will be instructed not to actively look for such preprints, but encountering them will not constitute a conflict of interest. Authors may submit anonymized work to NeurIPS that is already available as a preprint (e.g., on arXiv) without citing it. Note that public versions of the submission should not say "Under review at NeurIPS" or similar.
Dual submissions:  Submissions that are substantially similar to papers that the authors have previously published or submitted in parallel to other peer-reviewed venues with proceedings or journals may not be submitted to NeurIPS. Papers previously presented at workshops are permitted, so long as they did not appear in a conference proceedings (e.g., CVPRW proceedings), a journal or a book.  NeurIPS coordinates with other conferences to identify dual submissions.  The NeurIPS policy on dual submissions applies for the entire duration of the reviewing process.  Slicing contributions too thinly is discouraged.  The reviewing process will treat any other submission by an overlapping set of authors as prior work. If publishing one would render the other too incremental, both may be rejected.
Author responses:  Authors will have one week to view and respond to initial reviews. Author responses may not contain any identifying information that may violate the double-blind reviewing policy. Authors may not submit revisions of their paper or supplemental material, but may post their responses as a discussion in OpenReview. This is to reduce the burden on authors to have to revise their paper in a rush during the short rebuttal period.
After the initial response period, authors will be able to respond to any further reviewer/AC questions and comments by posting on the submission's forum page. The program chairs reserve the right to solicit additional reviews after the initial author response period.  These reviews will become visible to the authors as they are added to OpenReview, and authors will have a chance to respond to them.
After the notification deadline, accepted and opted-in rejected papers will be made public and open for non-anonymous public commenting. Their anonymous reviews, meta-reviews, author responses and reviewer responses will also be made public. Authors of rejected papers will have two weeks after the notification deadline to opt in to make their deanonymized rejected papers public in OpenReview.  These papers are not counted as NeurIPS publications and will be shown as rejected in OpenReview.
Publication of accepted submissions:  Reviews, meta-reviews, and any discussion with the authors will be made public for accepted papers (but reviewer, area chair, and senior area chair identities will remain anonymous). Camera-ready papers will be due in advance of the conference. All camera-ready papers must include a funding disclosure . We strongly encourage accompanying code and data to be submitted with accepted papers when appropriate, as per the code submission policy . Authors will be allowed to make minor changes for a short period of time after the conference.
Contemporaneous Work: For the purpose of the reviewing process, papers that appeared online within two months of a submission will generally be considered "contemporaneous" in the sense that the submission will not be rejected on the basis of the comparison to contemporaneous work. Authors are still expected to cite and discuss contemporaneous work and perform empirical comparisons to the degree feasible. Any paper that influenced the submission is considered prior work and must be cited and discussed as such. Submissions that are very similar to contemporaneous work will undergo additional scrutiny to prevent cases of plagiarism and missing credit to prior work.
Plagiarism is prohibited by the NeurIPS Code of Conduct .
Other Tracks: Similarly to earlier years, we will host multiple tracks, such as Datasets and Benchmarks ,  Competitions , tutorials as well as workshops, in addition to the main track for which this call for papers is intended. See the conference homepage for updates and calls for participation in these tracks. 
Experiments: As in past years, the program chairs will be measuring the quality and effectiveness of the review process via randomized controlled experiments. All experiments are independently reviewed and approved by an Institutional Review Board (IRB).
Financial Aid : Each paper may designate up to one (1) NeurIPS.cc account email address of a corresponding student author who confirms that they would need the support to attend the conference, and agrees to volunteer if they get selected. To be considered for Financial the student will also need to fill out the Financial Aid application when it becomes available.
Amir Globerson, Moritz Hardt, Sergey Levine, Kate Saenko NeurIPS 2023 Program Chairs
Tristan Naumann and Alice Oh NeurIPS 2023 General Chairs
Chandrayaan-3: what to know about India's moon landing mission
BENGALURU, Aug 23 (Reuters) - The Indian Space Research Agency (ISRO) is closing in on an attempt to land a spacecraft on the moon's south pole.
Here are key facts about the Chandrayaan-3 mission.
WHAT IS INDIA'S CHANDRAYAAN-3 MISSION?
The Chandrayaan-3 is aimed at the lunar south pole, a region with water ice, or frozen water, that could be a source of oxygen, fuel and water for future moon missions or a more permanent moon colony.
If it lands successfully, the Chandrayaan-3 is expected to remain functional for two weeks, running a series of experiments including a spectrometer analysis of the mineral composition of the lunar surface.
The Chandrayaan-3 lander stands about 2 meters tall and has a mass of just over 1,700 kg (3,747.86 lb), roughly on par with an SUV. It is designed to deploy a smaller, 26-kg lunar rover.
NASA administrator Bill Nelson told Reuters that the U.S. space agency was "looking forward" to what would be learned from the Indian mission.
WHEN DID IT LAUNCH AND WHAT IS THE EXPECTED LANDING DATE?
The Chandrayaan-3 mission was launched on July 14 from India's main space port in the southern state of Andhra Pradesh.
Since then, it has looped through progressively wider-ranging orbits of Earth, transferred to a lunar orbit and emerged as a focus of national pride and global interest after Russia's failed attempt to beat it to a landing on the moon's south pole.
It will attempt to land there at about 1804 IST (1234 GMT) on Wednesday.
WHAT HAPPENED TO ISRO'S EARLIER MOON LANDING ATTEMPT?
[1/3] A young woman takes a selfie along with a cutout of the Chandrayaan 3 Launch Vehicle Mark-III outside a temple in Mumbai, India, July 14, 2023. REUTERS/Francis Mascarenhas/File Photo Acquire Licensing Rights
India's previous attempt to land on the lunar south pole failed in 2019.
Chandrayaan-2 successfully deployed an orbiter but its lander and rover were destroyed in a crash near where Chandrayaan-3 will attempt a touchdown.
Rough terrain is one of the complications for a south pole landing. ISRO scientists say they have made adjustments that make it more likely the current mission will land successfully. That includes a system to broaden the potential landing zone. The lander has also been equipped with more fuel and sturdier legs for impact.
Russia's first moon mission in 47 years failed over the weekend when its Luna-25 spacecraft crashed into the moon.
A private Japanese space startup, ispace (9348.T) , failed an attempted lunar landing in April.
WHAT DOES IT MEAN IF THE MISSION IS SUCCESSFUL?
There is feverish anticipation and excitement in India over the planned landing with prayers held in temples, mosques and churches, schools marshalling students to watch a live telecast of the event, and space enthusiasts organising parties to celebrate.
A successful mission would make India only the fourth country to successfully land on the moon, after the former USSR, the United States and China, and mark its emergence as a space power, just ahead of national elections next year.
Prime Minister Narendra Modi's government is also looking to spur investment in private space launches and related satellite-based businesses.
India wants its private space companies to increase their share of the global launch market by fivefold within the next decade.
Modi said when the moon mission launched that ISRO was writing "a new chapter in India's space odyssey" and elevating "the dreams and ambitions of every Indian."
ISRO will telecast the landing starting from 1720 IST (1150 GMT) on Wednesday.
Editing by Kevin Krolicki, Bernadette Baum and YP Rajesh; Editing by Angus MacSwan
Our Standards: The Thomson Reuters Trust Principles.
Thomson Reuters
Nivedita writes about the business of space, startups and other developing technology that have the potential to impact the journey of humankind. Previously, she has covered the U.S apparel industry, the Indian tech-startup boom and other market and industry defining stories in her 14 years with Reuters. When not chasing her own stories, she is a desk editor. Contact: +9920455129
India's Skyroot expects to double rocket launches amid Chandrayaan-3's success
Kremlin plays down moon landing failure, says space programme will continue
Chandrayaan-3 rover rolls onto moon's surface as ecstatic India celebrates
India sets September launch date for mission to study the sun
More from Reuters
Indian EV cell maker Log9 flags production hit on delayed visas to Chinese experts
Log9 Materials, India's first lithium-ion battery manufacturer, warned production at its facility in Bengaluru could take a hit from the late arrival of Chinese experts as the New Delhi government delayed the approval of visa applications.
HP dials back profit expectations on PC market slump, China weakness
Explainer: What is India's next space mission after moon landing?
Exclusive: L&T, HAL vetted to bid on India rocket privatisation, source says
Nvidia's forward PE ratio tumbles to lowest in eight months
Officials warn Hurricane Idalia could turn into a catastrophic storm
Hurricane idalia path, timeline: when and where storm will hit florida.
Idalia strengthened into a hurricane early Tuesday and is forecast to intensify quickly into an extremely dangerous major hurricane before making landfall over Florida's Gulf Coast Wednesday, the National Hurricane Center says.
Its path is expected to impact a wide central portion of the state, including cities such as Tampa and Orlando. It's likely to move close to the Carolina coastline on Thursday, after crossing Florida, forecasters said.
Idalia was over the southeastern Gulf of Mexico on Tuesday. As the storm intensified, meteorologists warned that Idalia was expected to bring "life-threatening storm surge and hurricane conditions" to parts of the Gulf coast by Tuesday night, continuing into Wednesday.
As of 2 p.m. ET., Idalia was approximately 240 miles southwest of Tampa. The storm was moving north at 15 mph, with maximum sustained winds accelerating to at least 90 miles per hour, up from 75 mph earlier in the morning and carrying with it higher gusts, according to the National Hurricane Center.
A storm must have maximum sustained winds of at least 74 mph for it to be classified as a hurricane . Once wind speeds reach 96 mph, the hurricane becomes a Category 2.
Idalia's squalls had spread to parts of the lower Florida Keys and the southwestern coast of mainland Florida early Tuesday afternoon. Footage shared on Facebook by the City of Key West showed flooding on the island, with water inundated some streets up to the curb, from the hurricane's outer bands just before noon, at high tide .
Around half of the Idalia models published by the National Hurricane Center project that the storm will make landfall in Florida's Big Bend area, a geographic region that describes the area where the panhandle meets the peninsula and includes Tampa Bay, CBS News senior weather and climate producer David Parkinson said, noting that current estimates suggest the storm could arrive on Wednesday between 7 a.m. and 11 a.m. ET.
Parkinson added that the massive storm surge expected to accompany Idalia's arrival on land "is the primary threat with this storm."
"There is likely a level of people being caught off guard farther south as the storm is just skirting by," he said. "The storm surge may go as far as US19 inland, so there's a lot of area covered by that, even if the coast isn't populated like near Naples. No one alive in these areas has seen flooding this bad there if it hits max potential."
Florida Gov. Ron DeSantis said at a news conference Tuesday that Idalia was expected to hit Florida on Wednesday morning along the state's Big Bend as a major hurricane. DeSantis had said earlier that projections indicated the storm would grow into at least a Category 3 hurricane before making landfall.
"If this storm hits at high tide, storm surge could reach 8 to 12 feet in some areas, so that would be a life-threatening storm surge," DeSantis said.
Forecasters have put communities under a range of severe weather advisories, from hurricane and tropical storm warnings and watches to storm surge warnings and watches.
DeSantis declared a state of emergency in 49 counties and the state mobilized more than 5,000 National Guard members to respond to the storm. Between 30,000 and 40,000 electricity workers would be on hand to restore power after the storm hits, the governor said. Evacuation orders or suggestions were posted in 22 counties as of Tuesday and dozens of school districts across Florida had suspended classes.
🌀 Hurricane Idalia 5 AM EDT 8/29 Update Areas along I-75 are under a Hurricane Warning, and the rest of NE FL & SE GA now under a Tropical Storm Warning. Hurricane/Tropical Storm Warnings mean that Hurricane/Tropical Storm conditions are expected within the next 36 hours. pic.twitter.com/BfZWgtqbeC — NWS Jacksonville (@NWSJacksonville) August 29, 2023
🧵8/29 5am ET: #Idalia is now a hurricane. It will rapidly intensify today and make landfall as an extremely dangerous major hurricane. ⚠️ Preparations and evacuations need to be rushed to completion before sunset today! Conditions rapidly deteriorate tonight. #ALwx #FLwx #GAwx pic.twitter.com/Bulw4hOhkx — NWS Tallahassee (@NWSTallahassee) August 29, 2023
Meanwhile, Hurricane Franklin, to the east over the Atlantic, was churning on a track that's expected to remain off the East Coast.
It was a major Category 4 hurricane early Tuesday packing 140 mph sustained winds and bringing "life-threatening surf and rip currents" along the southeastern U.S. coastline that were expected to "spread northward," the hurricane center said. Franklin "is expected to pass well to the northwest of Bermuda on Wednesday," the center added, and is expected to weaken starting Tuesday afternoon.
Meteorologists rate hurricanes according to the Saffir-Simpson Wind Scale , categorizing storms that fall within Categories 3, 4 or 5 as "major" hurricanes capable of causing "significant loss of life and damage," according to the National Hurricane Center. The categories are based on a hurricane's maximum sustained wind speeds.
Where is Hurricane Idalia going to hit?
Florida's Gulf Coast appears to be in Idalia's sights, putting communities at risk in central parts of the state and up through the panhandle.
The National Hurricane Center has issued hurricane warnings for much of the state's west coast, from Sarasota County through Franklin County in the panhandle. Hurricane warnings were updated Tuesday to include Tampa Bay. Storm surge watches are also in effect for those areas.
"Idalia is forecast to become a hurricane as it reaches the Gulf coast of Florida," the National Hurricane Center tweeted Monday afternoon. "There is a danger of life-threatening storm surge along portions of the Florida coastline."
At his news conference Tuesday morning, the governor noted that meteorologists "have nudged the track a little bit further west over the last 24 hours," placing the potential target area for Idalia's landfall closer to, or directly over, Florida's capital city, Tallahassee, where the briefing was held.
"We were looking at potentially Levy County, I think, yesterday. Today, now, we're looking more at Taylor County," DeSantis said. Levy County encompasses the coastal region just west of Gainesville, while Taylor County sits about 90 miles up the coast toward Tallahassee.
"There are some models that say it could go even further west, so places like Tallahassee ... certainly, you could end up having it hit Tallahassee directly and some of the surrounding area," he continued. "So everyone just remain vigilant, continue to watch, and listen to the local orders that you receive from your local emergency management personnel."
With hurricane preparations underway, DeSantis urged people living in low-lying coastal areas along the Gulf, many of whom are under evacuation notices ahead of Idalia's anticipated arrival, to move to higher ground until the storm passes.
"You run from the water and you hide from the wind. If you're there in that storm surge, you're putting your life in jeopardy when it gets to be that high," the governor said.
A major hurricane has never entered the Apalachee Bay, located just south of Tallahassee where the Florida peninsula meets the mainland U.S., said the city's National Weather Service branch, which called the potential arrival of Idalia "unprecedented" and warned that hurricane "preparations need to be rushed to completion by sunset" on Tuesday.
Conditions were expected to "rapidly deteriorate" after that, the weather service said.
"Hurricane Idalia will likely be an unprecedented event for many locations in the Florida Big Bend. Looking back through recorded history, NO major hurricanes have ever moved through the Apalachee Bay. When you try to compare this storm to others, DON'T. No one has seen this," reads a message posed to the front page of the website for NWS Tallahassee.
As Idalia intensified Tuesday, DeSantis told Florida residents: "There's a huge number of counties that are going to feel impacts from this." He referenced updated computer models from the National Hurricane Center that indicated the storm could impact inland areas as well, including Columbia County and Madison County, which sit near Florida's border with Georgia, between Tallahassee and Jacksonville.
Earlier, the National Weather Service warned , "The risk continues to increase for life-threatening storm surge and dangerous hurricane-force winds along portions of the west coast of Florida and the Florida Panhandle beginning as early as late Tuesday."
As the agency noted, storm surge watches and hurricane watches were in effect for large portions of the Gulf Coast of Florida.
Storm surge could reach up to 12 feet or 15 feet for much of northwestern Florida and into the panhandle, meteorologists warned, while coastal areas as far south as Cape Sable, in the Everglades, and the Florida Keys could see storm surges of up to 2 or 3 feet above ground level.
Storm surge is a rise in water levels caused by hurricane-force winds that push water toward shore and over areas of land that are normally dry, according to the National Oceanic and Atmospheric Administration. This phenomenon is considered the greatest threat to life during a hurricane.
Forecasters also warned that "areas of flash and urban flooding, some of which may be locally significant, are expected across portions of the west coast of Florida, the Florida Panhandle, and southern Georgia Tuesday into Wednesday, spreading into portions of the eastern Carolinas Wednesday into Thursday."
Tropical storm warnings were issued for areas stretching from the Altamaha Sound in Georgia to the South Santee River in South Carolina as of 11 a.m. on Tuesday. A tropical storm watch was in effect for much of the Carolina coast, from the South Santee River up to Surf City in North Carolina.
8/28 10am CDT: There is a danger of life-threatening storm surge inundation from #Idalia along portions of the Florida Gulf Coast where a Storm Surge Warning is in effect, including Tampa Bay & the Big Bend. Residents in these areas should follow advice from local officials. pic.twitter.com/t0s8WghUJu — NHC Storm Surge (@NHC_Surge) August 28, 2023
A hurricane warning means that hurricane conditions are expected somewhere within the boundaries of the warning area, while a hurricane watch means those conditions are possible, according to the National Hurricane Center. Forecasters are urging people in areas under hurricane warnings to prepare for the onset of conditions within the next 12 to 24 hours. People living in areas placed under storm surge watches should prepare for the "possibility of life-threatening inundation, from rising water moving inland from the coastline" over the next 48 hours, the hurricane center said.
There is a possibility of strong and potentially damaging wind gusts from Idalia that could "extend well eastward from the storm's center" once it makes landfall in Florida, the weather service said. Meteorologists added that torrential downpours could also happen in eastern parts of the state, which may be subject to increasing tornado threats as well.
The National Hurricane Center said "a few tornadoes will be possible" along the west-central Florida coast throughout Tuesday, with the tornado threat spreading to the state's Big Bend area by Tuesday night and toward southeastern Georgia and the Carolinas on Wednesday.
When is Hurricane Idalia expected to make landfall?
Idalia is expected to make landfall along the Gulf Coast of Florida on Wednesday.
"We do expect Hurricane Idalia to be a major hurricane that will strike the state of Florida," DeSantis said at Monday's briefing, warning that residents living across Florida's Gulf Coast should prepare for "major impacts" tied to the oncoming storm.
Bookmark our one-stop resource web page for #Idalia info at https://t.co/vddmNEaDQv pic.twitter.com/u9UvTTIKeM — National Weather Service (@NWS) August 28, 2023
Maps of Hurricane Idalia's projected path
Meteorologists are forecasting a continuous northeastern path for Idalia as it grows from a tropical storm into a major hurricane, tracking over the Gulf of Mexico toward the west coast of Florida throughout Tuesday and into Wednesday.
After making landfall along Florida's Gulf Coast, Idalia is expected to continue northeastward over Florida, Georgia and the Carolinas on Wednesday and Thursday, decreasing in strength as it travels.
Will Idalia and Franklin hit Florida at the same time?
Hurricane Franklin is not expected to hit Florida, but it will cause rough surf conditions and rip currents. Officials haven't issued any forecasts suggesting that Franklin will make landfall anywhere along the East Coast.
As Idalia approaches, the National Weather Service has issued tropical storm watches and warnings for parts of eastern central Florida, including Orlando, where residents have been urged to prepare for "local tropical storm conditions by Tuesday night and into Wednesday.
An incoming "long-period swell" in the Atlantic caused by Hurricane Franklin will make the coast susceptible to "high seas, rough surf, an increase in life-threatening rip currents, and beach erosion during high tides during Tuesday and Wednesday," according to the hurricane center.
How hotter oceans lead to more severe hurricanes
Francis Suarez is first GOP candidate to drop out of 2024 race
Biden administration names 10 drugs for Medicare price negotiations
Recommended Stories
Hurricane idalia: how to stay safe around floodwaters left by storm.
As Idalia churned northward of the Gulf of Mexico, it strengthened from a tropical storm to a Category 1 hurricane, with experts forecasting that it will intensify to a Category 3 when it reaches land.
Hurricane Idalia live updates: Evacuations ordered as storm forecast to make landfall in Florida
Idalia strengthened into a hurricane on Tuesday, and officials are warning it could turn into a catastrophic storm as it makes landfall in Florida on Wednesday.
Hurricane Idalia: Here's what to do when you're told to evacuate
Idalia became a hurricane on Tuesday morning as it barreled toward Florida's Gulf Coast, forecast to make landfall on Wednesday morning as the first major hurricane of the season.
Hurricane Hilary: California, Arizona and Nevada prepare for potential flooding as storm approaches
The Southwestern United States is preparing for potentially historic rains from the storm.
Hurricane season is about to peak, and it's likely to be bad
Forecasters are predicting a busy peak Atlantic hurricane season over the next three months, as the summer of climate change-fueled extreme weather continues.
2023 NCAA college football season: How to watch this week's games, full TV schedule, ways to stream and more
Here's how to watch this week's college football games, including Thursday's Big Ten kickoff.
The best personal loan rates for September 2023
The best personal loan lenders offer borrowers the lowest rates and issue funds quickly. Here's how to find the best personal loans to meet your financial goals.
Warner's cooling bra prevents 'swamp boob' — and it's down to $23 (nearly 50% off)
It has a sweat-wicking liner to keep you dry, and its comfy wireless design won't dig into your skin.
These are the best new additions to Free People's online sale section, from maxi dresses to two-piece sets
There's a lot of great stuff to sort through.
Americans are feeling less confident in the economy as gas prices rise
After a hotter-than-expected summer of economic data, consumers weren't as exuberant about the state of the economy in August.
I wear this flattering $30 midi dress all the time, and everybody thinks it's the $250 Réalisation Par dress
Amazon shoppers agree that this floral midi dress is so similar to the $250 Réalisation Par one that you can't even tell the difference.
Some OnePlus smartphones are nearly 20 percent off, hitting record low prices
A pair of popular OnePlus smartphones just went on sale, hitting record low prices for both. The company's flagship OnePlus 11 5G went down from $700 to $600, a savings of nearly 20 percent. The budget-friendly OnePlus Nord N30 5G got even, well, friendlier with a $50 discount, dropping the cost to $250 from $300. If you're shopping for a smartphone, no matter your budget, this is a good time to make the plunge.
Miami Heat issues statement against racism in wake of Jacksonville shooting
Three Black people were killed in the shooting, which authorities say was a racially motivated hate crime.
Yankees release Josh Donaldson amid miserable season
Josh Donaldson hit .142 in 33 games with the Yankees in 2023.
2 fans charged after running onto Coors Field, grabbing Braves outfielder Ronald Acuña Jr.
Ronald Acuña appeared to come away from the incident unscathed in an otherwise outstanding night for the MVP candidate.
House collapse that killed father of Titans CB Caleb Farley caused by natural gas explosion, police say
Farley's father, Robert, was 61.
Carrie Bradshaw's bird headpiece could be yours. Here's how the 'Sex and the City' heroine wore it.
Here's how to see the iconic piece from "And Just Like That..." up close — or even bring it home for a pretty penny.
GM using Google-powered AI chatbots for its OnStar service
GM revealed what it has been up to with Google and its generative AI technology, using AI chatbots to do a number of tasks, even talking to customers via its OnStar in-car concierge.
Twitch just made it a little easier to qualify for the Partner Plus program
Earlier this summer, Twitch offered some good news to streamers frustrated with the platform's default revenue share, which splits earnings between the company and the creator 50/50. With the launch of Twitch's new Partner Plus program, streamers could soon qualify to take home 70% of their earnings instead — but that better deal came with a few pretty major caveats. To qualify for Partner Plus, Twitch requires that streamers maintain a minimum of 350 paid subscribers for three straight months.
A Google-powered chatbot is handling GM's non-emergency OnStar calls
General Motors is taking Google's AI chatbot on the road. The automaker announced today that it's using Google Cloud's Dialogflow to automate some non-emergency OnStar features like navigation and call routing. Crucially, the automaker claims the bot can pinpoint keywords indicating an emergency situation and "quickly route the call" to trained humans when needed. GM says the system frees up OnStar Advisors to spend more time with customers requiring a live human.
Advertisement
'India Is on the Moon': Lander's Success Moves Nation to Next Space Chapter
The Chandrayaan-3 mission makes India the first country to reach the lunar south polar region in one piece and adds to the achievements of the country's homegrown space program.
By Hari Kumar ,  Alex Travelli ,  Mujib Mashal and Kenneth Chang
Hari Kumar and Alex Travelli reported from Bengaluru, India, near the Chandrayaan-3 mission control.
Published Aug. 23, 2023 Updated Aug. 24, 2023
Two visitors from India — a lander named Vikram and a rover named Pragyan — landed in the southern polar region of the moon on Wednesday. The two robots, from a mission named Chandrayaan-3, make India the first country to ever reach this part of the lunar surface in one piece — and only the fourth country ever to land on the moon.
"We have achieved soft landing on the moon," S. Somanath, the chairman of the Indian Space Research Organization, said after a roar ripped through the ISRO compound just past 6 p.m. local time. "India is on the moon."
The Indian public already takes great pride in the accomplishments of the nation's space program, which has orbited the moon and Mars and routinely launches satellites above the Earth with far fewer financial resources than other space-faring nations.
But the achievement of Chandrayaan-3 may be even sweeter, as it comes at a particularly important moment in the South Asian giant's diplomatic push as an ambitious power on the rise.
India Successfully Lands Spacecraft on Moon's Surface
The control room at the indian space research organization erupted in cheers when the chandrayaan-3 spacecraft landed on the southern polar region of the moon..
The altitude is being brought down from 800 meters. And we are nearing and approaching the lunar surface. He hung up a painting for the exact day. He the. People are applauding. From the Secretary department of space and chairman isro Somnath. I'm confident. That all countries in the world. Including those from the Global South. Are capable of achieving such feats. We can all aspire. Part of the moon and beyond.
Indian officials have been advocating in favor of a multipolar world order in which New Delhi is seen as indispensable to global solutions. In space exploration, as in many other fields, the message of Prime Minister Narendra Modi's government has been clear: The world will be a fairer place if India takes on a leadership role, even as the world's most populous nation works to meet its people's basic needs.
That assertiveness on the world stage is a central campaign message for Mr. Modi, who is up for re-election to a third term early next year. He has frequently fused his image with that of India's rise as an economic, diplomatic and technological power.
Mr. Modi has been physically present at mission control for other recent moments in India's space history, including during a successful orbit of Mars in 2014 and a failed moon landing in 2019 where he was seen consoling the scientists and hugging the chief of ISRO, who was weeping.
But the Chandrayaan-3 landing coincided with his trip to South Africa for a meeting of the group of nations known as BRICS . Mr. Modi's face beamed into the control room in Bengaluru during the landing's final minutes, where he was split-screen with the animation of the lander.
"Chandrayaan-3's triumph mirrors the aspirations and capabilities of 1.4 billion Indians," Mr. Modi said when the landing was complete, declaring the event as "the moment for new, developing India."
In a country with a deep tradition of science, the excitement and anticipation around the landing provided a rare moment of unity in what has otherwise been fraught times of sectarian tension stoked by divisive policies of Mr. Modi's ruling Hindu nationalist party.
Prayers were offered for the mission's success at Hindu temples, Sikh Gurdwaras and Muslim mosques. Schools held special ceremonies and organized live viewings of the moon landing, with an official YouTube video of the event racking up tens of millions of views. The police band in the city of Mumbai, India's commercial and entertainment hub, sent a "special musical tribute" to the scientists, performing a popular patriotic song.
"There is full faith," the song, in Hindi, says. "We will succeed."
The Indian mission launched in July, taking a slow, fuel-conscious route toward the moon. But Chandrayaan-3 out-endured its Russian counterpart, Luna-25, which launched 12 days ago. Luna-25 was scheduled to land on the moon on Monday in the same general vicinity as the Indian craft but crashed on Saturday following an engine malfunction.
That India managed to outdo Russia, which as the Soviet Union put the first satellite, man and woman in space, speaks to the diverging fortunes of the two nations' space programs.
Much of India's foreign policy in recent decades has been shaped by a delicate balancing act between Washington and Moscow, but the country is grappling more with an increasingly aggressive China at its borders. The two countries' militaries have been stuck in a standoff in the Himalayas for three years now, and the vulnerability to a threat from China is a major driving factor in India's calculations.
A shared frustration with Beijing has only increased U.S. and Indian cooperation , including in space, where China is establishing itself in direct competition with the United States.
And with the success of Chandrayaan-3, Mr. Modi can reap benefits in leaning into India's scientific prowess to "more confidently assert Indian national interest on the world stage," said Bharat Karnad, an emeritus professor of national security studies at the Center for Policy Research in New Delhi.
The control room in Bengaluru became a joyous scene among the engineers, scientists and technicians of the Indian Space Research Organization.
Speaking after the landing, members of the ISRO leadership who managed Chandrayaan-3 made clear that the failure of their last moon landing attempt, in 2019, was a major driving force behind their work.
"From the day we started rebuilding our spacecraft after Chandaryaan-2 experience, it has been breathe in, breathe out Chandrayaan-3 for our team," said Kalpana Kalahasti, the mission's associate project director.
Chandrayaan-3 has been orbiting the moon since early August. On Sunday, an engine burn pushed the lander into an elliptical orbit that passed within 15 miles of the surface. On Wednesday, as the spacecraft approached the low point of the orbit, moving at more than 3,700 miles per hour, a preprogrammed sequence of maneuvers commenced.
The craft's four engines fired again at the start of what ISRO called the "rough braking" portion of the descent, its speed of fall accelerating. After 11.5 minutes, the lander was just over 4.5 miles above the surface and started rotating from a horizontal to a vertical position while continuing its descent.
The spacecraft stopped to hover about 150 yards above the surface for a few seconds, then resumed its downward journey until it settled gently on the surface, about 370 miles from the south pole. The landing sequence took about 19 minutes.
Chandrayaan-3 is a scientific mission, timed for a two-week period when the sun will shine on the landing site and provide energy for the solar-powered lander and rover. The lander and rover will use a range of instruments to make thermal, seismic and mineralogical measurements.
India and ISRO have many other plans afoot.
Although an Indian astronaut flew to orbit on a Soviet spacecraft in 1984, the country has never sent people to space on its own. India is preparing its first astronaut mission, called Gaganyaan. But the project, which aims to send three Indian astronauts to space on the country's own spacecraft, has faced delays, and ISRO has not announced a date.
The country is also working on launching a solar observatory called Aditya-L1 in early September, and later, an Earth observation satellite built jointly with NASA. India is also planning a follow-up to its recently concluded Mars orbiter mission.
Mr. Somanath has described the current moment as an inflection point, with the country opening its space efforts to private investors after half a century of state monopoly that made advances but at "a shoestring budget mode of working."
"These are very cost-effective missions," Mr. Somanath said after the landing. "No one in the world can do it like we do."
When pressed by reporters about the cost of Chandrayaan-3, Mr. Somanath deflected with laughter: "I won't disclose such secrets, we don't want everyone else to become so cost-effective!"
While ISRO will continue exploring the solar system, the accomplishments of India's private sector may soon garner as much attention. A younger generation of space engineers, inspired by SpaceX , have started going into business on their own. While ISRO's budget in the past fiscal year was less than $1.5 billion, the size of India's private space economy is already at least $6 billion and is expected to triple as soon as 2025.
And the pace of change is quickening. Mr. Modi's government wants India to harness the private sector's entrepreneurial energy to put more satellites and investment into space — and faster.
Up on the moon Vikram and Pragyan were set to get to work, with the rover possibly rolling onto the lunar surface in the coming hours or sometime on Thursday according to Mr. Somanath. The landing site, on a plateau south of the Manzinus crater and to the west of the Boguslawsky crater, is at about the same latitude as the edge of Antarctica on Earth.
To date, spacecraft have successfully landed on the moon closer to the equator. The polar regions are intriguing because there is frozen water at the bottom of permanently shadowed craters. If such water can be found in sufficient quantities and extracted, astronauts could use it for future space exploration.
The lunar south pole is the intended destination for astronauts who could visit the moon as part of NASA's Artemis program, and also for upcoming Chinese and Russian missions. In the nearer term, as many as three robotic missions, one from Japan and two from private U.S. companies working with NASA, could head to the moon later this year.
But in Bengaluru after the launch, Mr. Somanath hinted that India had its eyes on worlds beyond the moon.
"It is very difficult for any nation to achieve. But we have done so with just two attempts," he said. "It gives confidence to land on Mars and maybe Venus and other planets, maybe asteroids."
Hari Kumar is a reporter in the New Delhi bureau. He joined The Times in 1997. More about Hari Kumar
Alex Travelli is a correspondent for The Times based in New Delhi, covering business and economic matters in India and the rest of South Asia. He previously worked as an editor and correspondent for The Economist. More about Alex Travelli
Mujib Mashal is The Times's bureau chief for South Asia. Born in Kabul, he wrote for magazines including The Atlantic, Harper's and Time before joining The Times. More about Mujib Mashal
Kenneth Chang has been at The Times since 2000, writing about physics, geology, chemistry, and the planets. Before becoming a science writer, he was a graduate student whose research involved the control of chaos. More about Kenneth Chang