Life123.com
Home & Garden
Relationships
Celebrations
Master the Five-Paragraph Essay
The five-paragraph essay is one of the most common composition assignments out there, whether for high school or college students. It is a classic assignment because it presents an arena in which writers can demonstrate their command of language and punctuation, as well as their logic and rhetorical skills. These skills are useful not only for classroom assignments and college application essays, but even in the business world, as employees have to write memorandums and reports, which draw on the same skills.
Mastering the five-paragraph essay is doable, and here are some tips.
Components of a Good Essay
The five-paragraph essay lives up to its name, because is has five paragraphs, as follows: an introductory paragraph that includes a thesis, three body paragraphs, each which includes support and development, and one concluding paragraph.
Its structure sometimes generates other names for the same essay, including three-tier essay, one-three-one, or a hamburger essay. Whether you are writing a cause-and-effect essay, a persuasive essay, an argumentative essay or a compare-and-contrast essay, you should use this same structure and the following specifics.
Keys to Introductory Paragraphs
Any introductory paragraph contains from three to five sentences and sets up the tone and structure for the whole essay. The first sentence should be a so-called hook sentence and grabs the reader. Examples of hook sentences include a quote, a joke, a rhetorical question or a shocking fact. This is the sentence that will keep your readers reading. Draw them in.
What Makes a Thesis Statement
The last sentence should be your thesis statement, which is the argument you are going to make in the essay. It is the sentence that contains the main point of the essay, or what you are trying to prove. It should be your strongest claim in the whole essay, telling the reader what the paper is about. You should be able to look back at it to keep your argument focused. The other sentences in this paragraph should be general information that links the first sentence and the thesis.
Content of Supporting Paragraphs
Each of the next three paragraphs follows the same general structure of the introductory paragraph. That is, they have one introduction sentence, evidence and arguments in three to five sentences, and a conclusion. Each one of them should define and defend your thesis sentence in the introduction.
The first body paragraph should be dedicated to proving your most powerful point. The second body paragraph can contain your weakest point, because the third body paragraph can, and should, support another strong argument.
Concluding Paragraph Tips
Your concluding paragraph is important, and can be difficult. Ideally, you can begin by restating your thesis. Then you can recall or restate all three to five of your supporting arguments. You should summarize each main point. If you have made similar arguments multiple times, join those together in one sentence.
Essentially, in the concluding or fifth paragraph, you should restate what your preceding paragraphs were about and draw a conclusion. It should answer the question: So what? Even if the answer seems obvious to you, write it down so that your reader can continue to easily follow your thinking process, and hopefully, agree with you.
A Note on Compare and Contrast
Let's look a little more closely at the compare-and-contrast essay, which is a very common assignment. It can be a confusing one due to the terms used. Comparing two items is to show how they are alike. Contrasting two items is to show how they are different. One way to approach this essay is to make a grid for yourself that compares or contrasts two items before you start writing. Then, write about those characteristics. Do not try to write about both. The name of the essay is actually misleading.
Keep these pointers in mind when you need to write a five-paragraph essay, and your end result will be clear in its argument, leading your reader to the right conclusion. Often, that conclusion is to agree with you, and who doesn't like to be right?
MORE FROM LIFE123.COM
Power Lesson: "This I Believe" Essays
December 4, 2016
Can't find what you are looking for? Contact Us
"Doing homework"  by Predi is licensed under CC BY-ND 2.0
In this power lesson shared by high school English teacher Cynthia Ruiz , students write their own personal statements of belief. The essay pushes students to write about something that matters to them and helps them get to know each other on a deeper level.
I used to assign a "Letter to the Teacher" at the beginning of every year  to get a snapshot of how a student writes while simultaneously learning background information. Being completely honest, this assignment is also an easy way to get the first few back-to-school days started when a 90-minute class period feels like 900 minutes, because everyone is typically on their best behavior and not talking much. Although I enjoy reading the letters, the assignment doesn't lend itself to revising and is written only for a specific, one-person audience.
I know building relationships with students is important and a way to get to know them is through their writing, so I did some research to see what other teachers were trying. I came across the "This I Believe" site  and immediately liked the concept better than an introduction letter for a teacher.
Assignment Guidelines
The first time I assigned a "This I Believe" essay was in the fall of 2014, during the second week of school. I planned it as a year-long endeavor, something we could work on as a distraction from other essays required to prepare for state testing. This past year, I did not assign it until late April; it would be our last major writing task. I wanted to give everyone plenty of time to write but held them to a firm deadline of having four weeks to work.
This time, I crafted my writing guidelines according to  those posted on the NPR site that hosts hundreds of This I Believe essays from around the world. My rubric still has some typical writing conventions, but overall I think it focuses more on student voice than structure. I made it clear that students had a lot of choice regarding both content and format. The biggest restriction came directly from the This I Believe site: a 500-600 word limit. I know a lot of writing teachers are divided when it comes to word count, but I figured it was still better than giving a specific number of required paragraphs and sentences.
One other requirement was that students use at least three "vocabulary devices." This may seem like a restriction, but it actually supported student voice. Over the spring semester, we spent a lot of time reviewing both rhetorical and literary devices (anaphora, hypothetical questions, simile) and I told students to focus on the devices they genuinely felt comfortable using.
Helping Students Choose a Topic
Because the rubric leaves room for a lot of choice, I encouraged students to visit the featured essays site and not only read, but listen to real examples. I wanted them to see that this wasn't just another run-of-the-mill assignment, that what they believe is important and writing is just one way to share those beliefs. I also made it a point to tell them our end goal was to share this essay with their entire class by way of a gallery walk.
After giving students time to explore the site, I had them "rush write" in their notebooks to see what immediate ideas they captured to help start the brainstorming process. Here's the prompt I used:
This I Believe For 2 minutes: List words or ideas that you think about when you think of YOUR LIFE. (Can be feelings, symbols, names, events, etc.)
After students generated this list, I asked them to consider what they wanted to write about and share with others. I wanted them to imagine a larger audience and think outside of meeting my expectations.
For some, deciding what to write about was easy and they began drafting immediately. However, the majority of students struggled not so much with what they believe, but how to write about it. Even though they appreciated having so much choice, they still needed some direction to get started.
We continued the listing strategy by focusing on "most memorables": most memorable events in life so far, most memorable stuffed animal, most memorable friends, family experiences, life lessons learned, and so on. I asked them to focus on why they remember what they remember, and whether or not it impacts any of their beliefs. One student remembered a saying his grandmother always told him that still provides comfort as he's gotten older. Another focused on her family not having a big house when they first moved to America and how she's learned to be satisfied with opportunities instead of possessions. While this strategy helped a lot of light bulbs go off, it didn't work for everyone.
Another strategy I tried was using involved sentence stems: I know I am the way I am today because______. I know I think about things the way I do because _______. I think most people would describe me as ______. I emphasized that these phrases did not have to be included in their final products, but should help generate ideas. I talked with a few frustrated students about this strategy and they told me it made them realize they've never really had to think about themselves in this way, but ultimately, it gave them direction for their essays.
Drafting and Revising
Because of block scheduling, I gave students about a week and a half to complete a working draft, which required having at least two paragraphs of their essay done. I only gave a portion of two to three class periods to actually write in class; students were expected to write on their own time.
On the day drafts were due, I set aside class time for revision. I asked students to refer to the rubric and focus on voice and vocabulary strategies. Questions I told them to consider were: Does this sound like me? Do I talk like this to my friends or family? I gave students the option of reviewing their own essays or partnering up with someone to peer edit. Again, this was the end of the year, so we had already established a pretty firm community of trust in class. I don't know if peer editing would have been as easy had I done the assignment early in the year.
Overall, draft day didn't feel like the usual "revising and editing" days we've had with other essays. Students were very concerned with whether or not they were making sense, if they should add more, or if they were being too repetitive, rather than only being concerned about capitalization, spelling, and grammatical errors.
Sharing the Finished Essays
The culmination of this assignment was when the essays were shared in a gallery walk . The gallery walk is my answer to having students write for a larger audience, and it really helps this essay become about what students have to say instead of just another grade. I can't count how many times I have returned tediously graded essays only to have a kid immediately walk over to the recycling bin and trash it! Sure he read the comments and suggestions I made, or saw the cute smiley face I left by an excellent word choice, but it didn't mean much to him because the paper is graded and finished, and he is now done thinking about it. With a gallery walk, not only are students thinking about what they wrote, but they have the opportunity to think about what their classmates wrote as well.
I printed each essay without any names, and made sure any identifying statements were revised. However, there were quite a few students who said they were proud of what they wrote and had no problem if others knew which essay belonged to them. Because not every student turned in a final copy, I printed additional copies of some completed essays to ensure every student had something to read during our gallery walk, instead of drawing attention to the two or three students who did not finish the assignment.
I placed the essays on different tables throughout the room and allowed students to move around as needed; some chose to stand and read an essay, others opted to sit, while others sprawled out on the floor to read. I played soft music and asked that the room volume stay quiet enough to be able to hear the music at all times. I didn't mind if students were sharing and discussing, and I really wish I recorded the various conversations and comments I overheard that day: "Wow! Did you read this one yet?" "Man. Who wrote this? I might cry. Good tears, though." "This one is life, Ms. Ruiz."
I provided a pad of post-its near each essay and told students to leave POSITIVE feedback for each other. I provided sentence stems to help:
Something I liked…
Something I can relate to/agree with…
Something that surprised me…
Something I want to know more about…
I really think…
I periodically checked to make sure no one was being inappropriately critical or just leaving cute hearts or check marks. I wanted students to think about what they were reading, and understand that feedback is a crucial part of the writing process
After about 40 minutes, each essay had received multiple written comments, looking similar to the picture below:
Overall, the feedback was uplifting and actually created a sense of belonging in each class. Students told me they learned so much about each other that day and were shocked by their classmates' writing. A few said they wished they had written this essay sooner.
Sample Student Work
I was floored by some of the essays I received. Some made me laugh, some made me gasp, some made me cry. Compared to the typical papers I usually assign, this essay allowed my students to not just think about what they were writing but to care about their writing and to be intentional in the language they were using, both in word choice and rhetorical strategies, because it was about what they believe. It is some of the strongest student writing I have ever received as an English teacher.
Here are some sample paragraphs from students who gave me permission to share their work:
From a student who told me he hates school and hates writing.
From a student who by all outward appearances, comes from a traditional family.
From a student battling depression and anxiety.
From a student who missed almost a whole semester but is trying to stay in school.
Although this essay helped end the year with a strong sense of community, I think teachers could easily have students write it at the beginning of the school year or even in January at the start of a new year. I'd love to hear how other teachers have used an essay like this in their classes. ♦
Have you taught a lesson or designed a learning experience we should feature in Power Lessons? Send a full description of your lesson through our contact  form and we'll check it out!
What to Read Next
Categories: Instruction
Tags: English language arts , lesson planning , power lessons
39 Comments
Cynthia and Jennifer, Thank you for sharing this Power Lesson; it's one I plan on "borrowing" for sure in January. I love the connection built during the gallery walk. I can imagine this being truly powerful for all students. Well done!
I LOVE this!! I will use this in the Spring with my students. The excerpts in the blog post were so personal. I hope the students realize what a gift they shared.
Tonya, I agree. I'm always so grateful when students are willing to let us see their work here!
I love this assignment. I use it every semester with Public Speaking students, following a similar brainstorm and drafting process. Since the assignment comes from a radio program, my students audio record themselves, and our celebration of the work happens through hearing each student read the essay. Very powerful hearing their voices!
Ruth, thanks so much for taking the time to share this idea. I'm sure lots of teachers will love how audio enriches this assignment.
Thank you for sharing the students' samples. Writing is such a great way to express oneself and when you make it personal students are engaged. ❤️ it! I am thinking about adding it as my last assignment for my 3rd graders!
Thank you for sharing, especially the students' work samples.This will help inspire my students to share important details about their lives. Might I also recommend an excellent book I purchased used recently: Reading, Writing and Rising Up (by Linda Christensen)
I like this writing strategy. Last week I started something similar with my Arabic students. In groups of 3 to 4 students, they wrote stories (Brainstorm, first draft…) They started writing their final draft(with illustrations and drawings) on the butcher paper. On Monday, they will hang it on the wall and they will give each other feed back wile walking and reading each other's essays. The problem with the foreign languages students writing is that they have brilliant ideas in English, but they cannot express them in Arabic or French… My questions is the following: Is there a way to adapt this writing strategy to World Languages students with taking into consideration the limited students' language levels.
I love this assignment. I use at the end of the year with my seniors. I tell them to focus on a belief that they have formed over their past years of school and that will guide them as they make steps on their next journey — college, military, work, etc. Every year I am awed by the thought and pride they take in it. Their voices shine through the papers. The emotions, ranging from joy to sadness or humor to regret, overtake their essay making each both personal and universal. I also always write one that I individualize for each class and how they have shaped or firmed one of my own beliefs.
I love this, especially as a way to "re-enter" in January! I hope that I can use it effectively with my middle schoolers. Thank you so much for sharing this!
YES!! This was my first lesson in my first year of teaching and it completely set the tone for the rest of the year. The work I received from eleven year olds blew my mind, and I even submitted(with their permission) a few pieces to be published because they were that deep. Bravo to this I believe essays & sharing lessons like this with other educators.
Did you find that you had to add in any scaffolds/support for students? I want to try this with my 7th graders who really struggle with writing and getting started with ideas.
This looks like a fabulous project and one I am keen to try out next semester.
I, too, have been doing this assignment for a few years now. It is my favorite assignment of the year. I teach 8th grade English and I have my students share their essays aloud. We sit in a circle and listen to each student share his/her belief. It is powerful. We laugh. We cry. We learn. Having students write for an audience of their peers is challenging for them, but so rewarding in the end.
This looks great for January. I noticed that the This I Believe website has a high school curriculum for sale for $20. Has anyone used it? Is it worth it? Necessary?
This reminds me of an assignment I had in high school. It was called our "Capstone," and was a year-long process (12th grade). We first chose three things that were important to our lives: a person, a place, and an event. Over the first semester we wrote about these in three separate papers. Then come second semester we had to connect them with a metaphor, and put together a 20 minute presentation that connected everything. It really allowed students to get creative while expressing what was most important to us.
Do you happen to have an example of this still? It sounds AWESOME and I would love to do it with my 8th graders!
Your students' essays are beautiful, authentic and inspiring, as I am sure your teaching is. Thank you for sharing.
Thanks for the lesson. I like this idea for journaling too!
A brilliant idea! Thanks!
Thanks for sharing and including student work examples. Essays like this are a great way to get to know students at a deeper level and could also make a good college entrance essay!
Thank you for sharing this. Inspirational and heartfelt writing from young people.
This is so inspiring and beautiful. Thank you so much, both of you for sharing this power lesson. I was lookibng for a writing task muy ss could include in their e-Portafolio. Can't wait to try it!! Thank you again!!
I know this might be simplistic, but could you share more about the vocabulary devices?
Hi, April! For the vocabulary devices, I'm referring to adding similes, metaphors, hyperboles, imagery, etc. We usually practice devices like anaphora and asyndeton in my advanced classes, so those can also be used. One of my favorite lines this year was: "I mean, I thought a step stool would do the job but instead it was like climbing a 20 foot ladder just to finish my goal…" We talked about how using a vocab device is more powerful than "I worked really hard." Hope that helps! Cheers!
This is sooooo great!! I love it!!!!!
I love this. Has anyone tried it at the start if the year? Are students willing to write about such personal experiences and beliefs with a teacher and classmates that they don't know well?
Hi Lizzie! I work for Cult of Pedagogy, but I'm replying as a teacher. I teach college level freshman comp and I started my previous semester with this essay. Because it was the beginning of the year, I didn't do a gallery walk; it was more of a practice assignment to get used to the flow of papers and feedback. They had to bring in a rough draft for in-class workshops, so I made sure they knew a few of their classmates would be reading what they wrote. For extra credit, I offered them the chance to record their paper as a "podcast" and post it on YouTube. I was blown away by how in-depth most of them went! In fact, I'm starting my fall semester with it again.
I love this assignment in the spring for senior English. Generally, kids are appreciative that we're doing the final writing assignment about something that is 'real world legit'. I've always been impressed by their level of attention (and attendance),as our gallery walk happens on the last day of their English class in June.
Hi! This looks like a fantastic lesson and I would love to try it with one of my English classes. I noticed that your writing guidelines link is no longer available. Is there anyway I could get this information? Thanks Kelsey
Hi Kelsey! Thanks for letting us know about the link. This was a guest post and we will be happy to reach out to Cynthia to see if she has a current link to the writing guidelines. If so, we'll get that updated on the post as soon as we can. Thanks again!
I was wondering about the guidelines as well. I teach in China and we are out of school right now for Chinese New Year, so I would love to have this when we return in February. Thanks for your help!
Hi Karen & Kelsey! I wanted to follow up on your request for the guidelines to let you know that Jenn no longer has access to them. If you haven't already done so, Jenn recommends to check out the writing guidelines posted on NPR. I hope this helps!
I teach a course called Theory of Knowledge. One of the concepts we study is 'faith' as a way of knowing or gaining knowledge. I remember the "This I believe" series on the radio and then NPR. I have my students read several of the essays from the website and a few I copy from one of the books published. Then, they brainstorm and write their own essays. This spring, right before the Covid shutdown, one of my students committed suicide. I had returned his essay to him only days before; he'd written about the importance of love and relationships in life. Being able to share his essay with his mother and brother (who I had also taught) was a gift for all of us. I think the inspiration to have students write these essays was somehow a preparation for this sad experience. I like the suggestions here and may use the sentence stems to help those who struggle to get started.
Hello! I want to say that I had some difficulties in writing essays and statements. When I entered college, the first thing I encountered was writing a quality application.
thanks for sharing, this is really useful information for me!
thanks for sharing informative!
This looks like an amazing lesson plan and although it is late in the year I will try to use it. could you please send the grading rubric you used?
Hi, there! Because this post was written so long ago,we have unfortunately lost touch with the author, Cynthia Ruiz. From what we understand, she is no longer in the classroom. However, you may be able to connect with her on Twitter by clicking on the Twitter icon at the top of the post underneath Cynthia's name.
If you are looking to create your own rubric, the section of this post called Assignment Guidelines links to the NPR website where Cynthia found the writing guidelines that she used as a basis for her own. In addition, there is another Cult of Pedagogy post on the single-point rubric , which you might find useful. I hope this helps!
Leave a Reply
Your email address will not be published.

Want to create or adapt books like this? Learn more about how Pressbooks supports open publishing practices.
31 "This I Believe" Essay
The history of 'this i believe'.
by Tanya Matthews
This I Believe is an exciting media project that invites individuals from all walks of life to write about and discuss the core beliefs that guide their daily lives. They share these statements in weekly broadcasts on NPR's Morning Edition and All Things Considered .
The series is based on the 1950's radio program This I Believe , hosted by acclaimed journalist Edward R. Murrow. Each day, some 39-million Americans gathered by their radios to hear compelling essays from the likes of Eleanor Roosevelt, Jackie Robinson, Helen Keller and Harry Truman as well as corporate leaders, cab drivers, scientists and secretaries — anyone able to distill into a few minutes the guiding principles by which they lived. Their words brought comfort and inspiration to a country worried about the Cold War, McCarthyism and racial division.
Eventually, the radio series became a cultural phenomenon. Eighty-five leading newspapers printed a weekly column based on This I Believe . A collection of essays published in 1952 sold 300,000 copies — second only to the Bible that year. The series was translated and broadcast around the globe on the Voice of America. A book of essays translated into Arabic sold 30,000 copies in just three days.
[The NPR series This I Believe can be read and heard here . In addition, the website and organization This I Believe houses thousands of essays written by famous people, such as the ones mentioned above, and everyday people like you and me.]
As a college student in 2020, you are faced with turbulent politics, socioeconomic issues, and ethical dilemmas that will challenge you to take a stand and contribute to the local, national, and global conversation around you. The purpose of this writing task is not to persuade you to agree on the same beliefs. Rather, it is to encourage you to begin the much more difficult task of developing respect for beliefs different from your own. Fifty years ago, Edward R. Murrow's project struck such a chord with millions of Americans. It can do so again today…with you.
Video Resources for Generating Ideas
Dan gediman on writing a "this i believe essay".
Read Cecelia Munoz's essay "Getting Angry Can Be a Good Thing" referred to in the previous video here .
"This I Believe" Essay with Animation
"This I Believe" Essay Ideas
Prewriting Activity
1) analyze others' statements.
Consider the following statements, written in response to the question What Have You Learned About Life? Highlight any sentences that resonate with you. Talk about them with a partner or group, explaining why. 1. I've learned that when I wave to people in the country, they stop what they are doing and wave back. – Age 9 2. I've learned that if you want to cheer yourself up, you should try cheering someone else up. – Age 14 3. I've learned that although it's hard to admit it, I'm secretly glad my parents are strict with me. – Age 15 4. I've learned that if someone says something unkind about me, I must live so that no one will believe it. – Age 39 5. I've learned that there are people who love you dearly but just don't know how to show it. – Age 42 6. I've learned that you can make someone's day by simply sending them a little note. – Age 44 7. I've learned that the greater a person's sense of guilt, the greater his or her need to cast blame on others. – Age 46 8. I've learned that no matter what happens, or how bad it seems today, life does go on, and it will be better tomorrow. – Age 48 9. I've learned that regardless of your relationship with your parents, you miss them terribly after they die. – Age 53 10. I've learned that making a living is not the same thing as making a life. – Age 58 11. I've learned that life sometimes gives you a second chance. – Age 62 12. I've learned that whenever I decide something with kindness, I usually make the right decision. – Age 66 13. I've learned that it pays to believe in miracles. And to tell the truth, I've seen several. – Age 75 14. I've learned that even when I have pains, I don't have to be one. – Age 82 15. I've learned that every day you should reach out and touch someone. People love that human touch—holding hands, a warm hug, or just a friendly pat on the back. – Age 85 16. I've learned that I still have a lot to learn. – Age 92
2) Compose Your Own Statement
Write down a sentence that expresses what YOU have learned about life. Maybe it is similar to one of the statements above; maybe it's completely different. Whatever it is, write it down.
3) Freewrit e
Now free-write about your sentence. Include at least two examples / experiences that you have had that support why you think this way.
Personal Statement/Philosophy: ______________________________________________________________________________________________________________________________________________________ Why do you believe in this statement? ______________________________________________________________________________________________________________________________________________________ Name two experiences that you had that would support the statement: _______________________________________________________________________________________________________________________________________________________________________________________________________________________________________________________________________________________________________________________________________________________________________________________ What does this say about yourself or your personality? _________________________________________________________________________________________________________________________________________________________________________________________________________________________________ After your life experience, how have you come to the conclusion that this should be your statement? How have your beliefs changed, if at all? ____________________________________________________________________________________________________________________________________________________________________________________________________________________________________________________________________________________________________________ How has the event effected your relationship with a person, place, or object? _________________________________________________________________________________________________________________________________________________________________________________________________________________________________ How does your statement apply to you today? (How you view yourself & society) ______________________________________________________________________________________________________________________________________________________
SAMPLE STUDENT ESSAYS
Sample #1: america's beauty is in its diversity.
written by Alaa El-Saad, high school student, as heard on NPR's Tell Me More (2009)
America is built on the idea of freedom, and there is no exception for Muslim women. I believe in the freedom of religion and speech. But mostly, I believe it's OK to be different, and to stand up for who and what you are. So I believe in wearing the hijab.
The hijab is a religious head covering, like a scarf. I am Muslim and keeping my head covered is a sign of maturity and respect toward my religion and to Allah's will. To be honest, I also like to wear it to be different. I don't usually like to do what everyone else is doing. I want to be an individual, not just part of the crowd. But when I first wore it, I was also afraid of the reaction that I'd get at school.
I decided on my own that sixth grade was the time I should start wearing the hijab. I was scared about what the kids would say or even do to me. I thought they might make fun of me, or even be scared of me and pull off my headscarf. Kids at that age usually like to be all the same, and there's little or no acceptance for being different.
On the first day of school, I put all those negative thoughts behind my back and walked in with my head held high. I was holding my breath a little, but inside I was also proud to be a Muslim, proud to be wearing the hijab, proud to be different.
I was wrong about everything I thought the kids would say or even do to me. I actually met a lot of people because of wearing my head covering. Most of the kids would come and ask me questions—respectfully—about the hijab, and why I wore it.
I did hear some kid was making fun of me, but there was one girl—she wasn't even in my class, we never really talked much—and she stood up for me, and I wasn't even there! I made a lot of new friends that year, friends that I still have until this very day, five years later.
Yes, I'm different, but everyone is different here, in one way or another. This is the beauty of America. I believe in what America is built on: all different religions, races and beliefs. Different everything.
Sample #2: The Essentials to Happiness
written by Alexxandra Schuman, high school student, as heard on The Bob Edwards Show (2013)
As a child, I was generally happy; singing and dancing to my favorite songs; smiling and laughing with my friends and family. But as far back as second grade, I noticed a "darkness," about me. I didn't enjoy engaging in many things. I didn't relate to my peers in elementary school because they appeared so happy, and I didn't have that ability to achieve happiness so easily.
In middle school things in my life began to get even worse. I began withdrawing from everything I once enjoyed; swimming, tennis, family. I hated going to sleep knowing I had to wake up to another day. I was always tired. Everything was horrible. Finally, midway through eighth grade, I was told I had a chemical imbalance; diagnosed with clinical depression and put on medication. It took months for me to feel the effects of the medication.
When I began to feel happy again, is when I realized that I had to take the responsibility for getting better myself, rather than relying on medication and therapy alone. Aristotle said, "To live happily is an inward power of the soul," and I believe that this quote describes what I had to do to achieve happiness. Happiness is a journey. Everyone seems to need different things to be happy. But I believe people are blinded from what truly makes one happy.
Growing up, we're encouraged to be successful in life; but how is success defined? Success and happiness are imagined now as having a lot of money. It is so untrue. Recently I went to Costa Rica and visited the small town of El Roble. I spent the day with a nine-year old girl named Marilyn. She took me to her house to meet her parents. It was obvious that they were not rich; living in a small house with seven children. The house was cluttered but full of life. Those who have decided that success and happiness comes from having money and a big house would be appalled at how utterly happy this family from El Roble is. People say that seeing things like that make you appreciate what you have, but for me, it made me envy them for being so happy without all the things I have.
"The essentials to happiness are something to love, something to do, and something to hope for," a quote from William Blake sums up what I believe people need to realize to be truly happy in life. People need love; I feel they need their family and their friends more than anything in the world. People need work to do, something to make them feel they are making a difference in the world. People need to know that more good is to come in the future, so they continue to live for "now" instead of constantly worrying about the bad that could come. And most importantly people need to know that happiness is not something that happens overnight. Love and hope is happiness.
Sample #3: Find a Good Frog
written by Delia Motavalli, high school student, as heard on The Bob Edwards Show (2013)
I believe in finding a good frog. It seems that all throughout childhood, we are taught to look for a happily ever after. "And they all lived happily ever after"; isn't that the conclusion to many children's films? When I was a kid I always thought of that as magical; but now really it just seems unrealistic. And it teaches us that what we want is a fairytale like they have in the storybooks. We all want to be Cinderella who gets swept off her feet by the hot prince; we want to live in the royal castle, right? But I don't think that's necessarily a good thing for us to seek. Now I'm not saying I believe in being pessimistic, but I do believe in being realistic; it's something I got from my mom.
My mother and I always have our best conversations in the rain. We sit in the car, neither of us wanting to brave the rain to get to the house. So we sit. We watch droplets race down the windshield, listen to the rain strike the roof of her little blue Honda, and feel the heater on full-blast rushing at our feet (just the way we like it). I don't know why, but sitting in the car, we always talk more than normal. There was one rainy day when my mom told me something that is going to stick with me forever. Earlier that day she and my dad had been arguing about something; I can't remember what. So she said, "Don't spend your life looking for Prince Charming. Instead, find yourself a really good frog."
At the time, I found this thought really disheartening. Who wants to think that you'll never find Prince Charming? You'll never get to be Cinderella? Another thought that struck my mind: if my mom says there's no Prince Charming, then what's my dad? A frog? I asked her, and she replied with, "Of course! If he were Prince Charming, he wouldn't snore, would be able to cook, and we would never argue. But you know what? He's a damn good frog." Of course, being young, I didn't think of the meaning behind what she was saying. I was too busy thinking of it literally, visualizing my mom as a princess and my dad in frog form.
But a few years later, I understand the value of my mom's words. You can't expect everything to be perfect. Let's be completely honest; if you wait your whole life for your prince with flowing hair, statuesque features, and a white horse, you're going to be lonely. I think that the point of finding a good frog is you accept something that's great, flaws and all. It's so easy to be picky. You can find the one tiny thing that's wrong, and that one tiny thing is what you can't get your mind off of. But in life, we can't afford to wait years in vain for perfection. So I think that a good frog, an amazing frog, the best frog you can find is what we're really looking for in this world. Don't laze through life waiting for a happily ever after, because I don't think you'll be very happy with the outcome.
Examples from the 'This I Believe' Website
Be Cool to the Pizza Dude by Sarah Adams
They Lived Their Faith by Charles Henry Parrish
Returning to What's Natural by Amelia Baxter-Stoltzfus
The Birthright of Human Dignity by Will Thomas
Remembering All The Boys by Elvia Bautista
I Am Still The Greatest by Muhammad Ali
A Goal Of Service To Humankind by Anthony Fauci
My Life Is Better by Abraham
Give Me a Waffle by Brenda
The Little Things by Sophie Crossley
You can also browse thousands more This I Believe essays by theme .
Prefer to Listen to Get Inspiration?
Check out This I Believe's Podcast Series
4) Drafting
Assignment guidelines + suggestions and tips for drafting.
1. While the examples you've been given can serve as a model, it is essential that each of you write about a personal belief or philosophy that you feel strongly about. 2. Tell a story. Personal experiences are the corner stone of a good essay. Your story doesn't have to be a heart breaker or even a major event, but it must be something that has affected how you think, feel, and act. List your personal experiences that you intend to use as evidence below: 3. Be concise. Avoid repetition. This essay should be between 500 – 650 words. When read aloud, it should take roughly four minutes. 4. Name your belief. It is essential that you can name your belief in a sentence or two. Focus on one belief only. This is your thesis. Write it here: 5. Be positive. Avoid preaching or persuading. You aren't trying to change the way others think or act. Write about what you believe, not what you don't believe. 6. Use the first person. Speak for yourself. Avoid using we or you. 7. Let your voice shine. Use language that sounds like you. Read it aloud as your revise. Keep making changes until your essay sounds like you and captures the essence of your belief.
5) Peer Review
Once you have written your first draft, arrange for your essay to be edited by a peer, using the following Peer-Editing Checklist: Writer's Name: ________________________________________________ Peer Editor's Name: ________________________________________________ Use your PENCIL or PEN (NOT red or green) to make corrections. Remember, this essay is a work in progress. You are not done writing! Look for ways to improve what you've already written. Tick each step if it has been completed. _____ 1. Read the paper backwards, one sentence at a time. Check for spelling errors. Use a dictionary, a friend, or a spell checker to find the correct spelling. _____ 2. Check for capitalized proper nouns and the first word of each sentence. _____ 3. Skip a line between each paragraph. _____ 4. Every sentence should have end punctuation. _____ 5. Check commas. Are they only used for compound sentences, a list of items, an introductory word or phrase, direct address, setting off interruptions, separating adjectives, or in dates? Do you need to add commas? Make sure you do not have commas separating complete sentences (i.e. comma splice errors that create run-on sentences). _____ 6. Apostrophes are used only for contractions and to show ownership. _____ 7. The use of more complex punctuation (dashes, hyphens, semi-colons, parentheses, etc.) is done correctly. _____ 8. Have you used commonly mixed pairs of words correctly? Check these: they're/their/there, your/you're, it's/its, a/an, to/too/two, are/our/hour, and others. _____ 9. Read the paper backwards one sentence at a time. Check for sentence fragments and run-ons and correct them. _____ 10. Did you stay in present tense (such as is, am, do, take, know, etc.) or past tense (such as was, were, did, took, knew, etc.) throughout the entire essay? _____ 11. Did you stay in first person (I, me, my, we, us, our) or third person (he, him, she, her, they, them, their) throughout the entire essay? _____ 12. Was there adequate use of specific details and sensory details? Were the details clear and relevant to the statement? _____ 13. Is the overall purpose/philosophy clear? _____ 14. Does the conclusion make you go, "Wow!" "Cool!" "I never thought about it that way," or any other similar reaction? Other suggestions for the overall content of the piece: ____________________________________________________________________________________________________________________________________________________________________________________________________________________________________________________________________________________________________________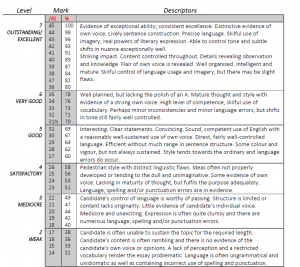 This I Believe by Tanya Matthews is licensed by CC-BY-SA
"This I Believe" Essay Copyright © 2020 by Liza Long; Amy Minervini; and Joel Gladd is licensed under a Creative Commons Attribution-ShareAlike 4.0 International License , except where otherwise noted.
Share This Book
Models of Excellence
The center for high-quality student work.
This I Believe - Emma
School: Springfield Renaissance School
City/State: Springfield , MA
Grade(s): 10
Format(s): Essay
Subject(s): English Language Arts
Type(s): Argument/Opinion
Writing Assignment Description
Tenth-grade students at the Springfield Renaissance School in Springfield, Massachusetts, as part of their English Language Arts class, created This I Believe essays. The format for This I Believe essays has a long heritage, beginning with a radio program in the 1950's with that name, hosted by journalist Edward R. Murrow. National Public Radio has continued the tradition of hosting famous and unknown citizens to write and orally present short essays that capture personal stories and personal beliefs, carrying on a tradition of celebrating narratives and promoting respect and appreciation for the beliefs of others.
The students in this classroom worked together, using models, peer critique and teacher critique, to craft these essays to share with the school community.
How This Writing Can Be Useful
Demonstrates a format that could be used in any classroom
Addresses a topic of common concern for both teachers and students
Excellent example of a real life experience expressed in a meaningful tone
Relevant Resources
Common core state standards.