About Michelle Waters
Curriculum Vitae
Tools I Use
Podcast Episodes
How To Be Our Podcast Guest
Member Login
Member Helpdesk
Support Portal
Resource Partners
Writing Partners
Certificate Verification
How To Contribute
by Michelle Boyd Waters, M.Ed.
Essays Every High School Student Should Read
December 4, 2016 in Pedagogy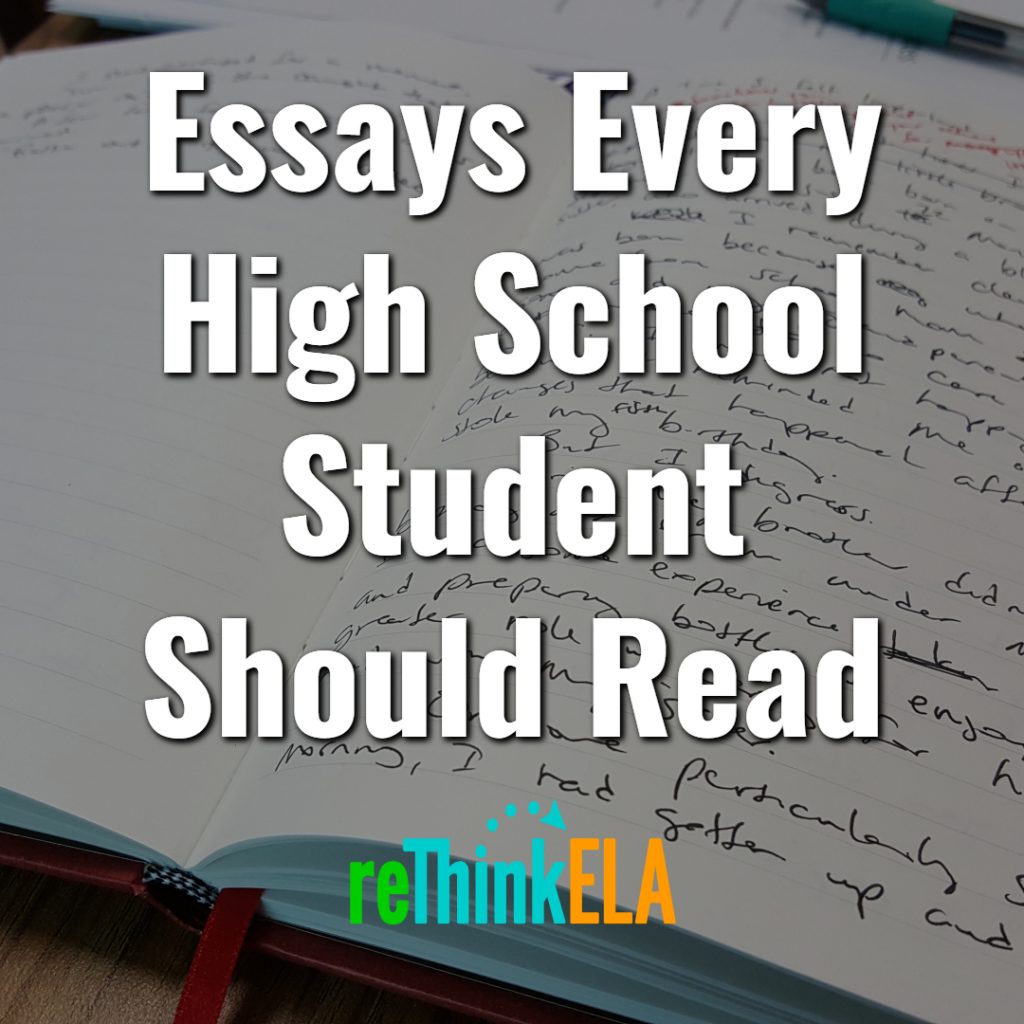 One of the most important goals of any English class should be to help students learn how to express themselves to an audience — how to tell their own stories, how to provide much-needed information, and how to convince others to see things from a different perspective.
Below are some essays students can read, not only to help them see how such writing is done in the real world, but also to learn more about the world around them.
Need a #mentortext for student essays? Check out these exemplars for personal narrative, argumentative, and expository essay writing. Click To Tweet
Note : This is a living list. I will continue adding to it as I find important essays and articles, and as my readers make suggestions.
If You Think Racism Doesn't Exist by Jordan Womack | Lesson Plan
A 17-year-old Oklahoma author details incidents of discrimination he has faced within his own community. Brief, yet impactful, the author's authenticity strikes readers at their core and naturally leads the audience to consider other perspectives.
Facebook hack 'worse than when my house burned down' says teacher by Michelle Boyd Waters, M.Ed.
When a hacker destroyed my Facebook account and I couldn't find a way to reach out to Facebook, I decided to use my story, voice, and platform to shed light on a situation faced by people around the world. This can serve as a mentor text for students writing personal narratives on shared experiences in the context of current events.
Letter from a Vietnamese to an Iraqi Refugee by Andrew Lam
Vietnamese lecturer, journalist, and author Andrew Lam offers advice in this letter to a young Iraqi refugee he sees in a photograph on the Internet.
Allowing Teenage Boys to Love Their Friends by Jan Hoffman
Learn why early and lifelong friendships are as vital for boys as they are for girls and what happens when those friendships are fractured.
Chris Cecil: Plagiarism Gets You Fired by Leonard Pitts Jr
The Miami Herald columnist and 2004 Pulitzer Prize for Commentary winner castigates a Georgia newspaper editor for plagiarizing his work. This column would go great with this followup article from The Boston Globe: Ga. Editor is Fired for Lifting Columns .
Class Dismissed by Walter Kirn
The author of Lost in the Meritocracy postulates that getting rid of the high school senior year might be good for students.
Complaint Box | Packaging by Dylan Quinn
A high school junior complains about the impossible-to-open packaging faced by consumers of everything "from action figures to zip drives."
Drowning in Dishes, but Finding a Home  by Danial Adkison
In this 2014 essay, a teenager learns important lessons from his boss at Pizza Hut.
How to Tame a Wild Tongue by Gloria Anzaldua
An American scholar of Chicana cultural theory discusses how she maintained her identity by refusing to submit to linguistic terrorism.
Humble Beast: Samaje Perine by John Rohde
The five-time Oklahoma Sportswriter of the Year features the University of Oklahoma's running back.
In Praise of the F Word by Mary Sherry
An adult literacy program teacher argues that allowing students to fail will actually help them.
The Joy of Reading and Writing: Superman and Me by Sherman Alexie
A Native American novelist recounts his experience loving reading and finally writing in spite of a culture that expected him to fail in the "non-Indian world" in order to be accepted.
Lane's Legacy: One Final Ride by Keith Ryan Cartwright
A heartbreaking look back at the hours before and the circumstances surrounding Lane Frost's untimely death, followed by reflections on his rise to fame — before and after death.
Learning to Read by Malcolm X
The 1960s Civil Rights leader writes about how educating himself in prison opened his mind and lead him to become one of the leading spokesmen for black separatism.
Learning to Read and Write by Frederick Douglass
A former slave born in 1818 discusses how he learned to read in spite of laws against teaching slaves and how reading opened his eyes to his "wretched condition, without remedy."
Learning From Animal Friendships by Erica Goode
Scientists consider studying the phenomenon of cross-species animal friendships like the ones you see on YouTube.
Losing Everything, Except What Really Matters by Dan Barry
After a 2011 tornado destroys a house, but spares the family, a reporter writes about what's important.
The Marked Woman by David Grann
How an Osage Indian family in Oklahoma became the prime target of one of the most sinister crimes in American history.
Meet Mikey, 8: U.S. Has Him on Watch List by Lizette Alvarez
Read about what happens if you happen to share a name of a "suspicious person" on the U.S. No-Fly List.
Newly Homeless in Japan Re-Establish Order Amid Chaos by Michael Wines
After the tsunami that resulted in nuclear disaster in 2011, a reporter writes about the "quiet bravery in the face of tragedy" of the Japanese people.
No Ordinary Joe by Rick Reilly
Why in creation did American Football Conference's 1981 best young running back Joe Delaney jump into that pit full of water that day, even though he couldn't swim?
Politics and the English Language By George Orwell
Animal Farm and 1984 author, Orwell correlates the degradation of the English language into multi-syllabic drivel and the corruption of the American political process.
Serving in Florida by Barbara Ehrenreich
The Nickel and Dimed: On (Not) Getting By in America author tells about her experiences attempting to survive on income of low-paying jobs.
Starvation Under the Orange Trees by John Steinbeck
John Steinbeck, who later authored the fictionalized account of Okies in California, The Grapes of Wrath, first wrote this essay documenting the starvation of migrant workers in California during the Great Depression.
To Fall in Love With Anyone, Do This by Mandy Len Catron
Is falling in love really a random event, or can two people "love smarter?"
We'll Go Forward from this Moment by Leonard Pitts
The 2004 Pulitzer Prize for Commentary winner pens a column chronicling the toughness of the American family's spirit in the face of the September 11, 2001 World Trade Center attacks. He wrote the column one day after the attacks.
What's Wrong with Black English? by Rachel L. Jones
Jones, a student at Southern Illinois University in the 1980s, wrote this piece for Newsweek. In her essay, Jones adds her story and perspective to the debate over Black English.
Explore highly relevant issues & practice reading comprehension through short essays written for authentic audiences. #litchat Click To Tweet
Related topics: Mentor Texts , Teaching Writing
About the author
Michelle Boyd Waters, M.Ed.
I am a secondary English Language Arts teacher, a University of Oklahoma student working on my doctorate in Instructional Leadership and Academic Curriculum with an concentration in English Education and co-Editor of the Oklahoma English Journal. I am constantly seeking ways to amplify students' voices and choices.
A wonderful list of essays! I have neglected to teach essays as literature (only as student writing samples before we began work on an essay, after a novel). I'm looking forward to using these!
Thank you very much! I'd love to hear (or read) your feedback on the selections. Your input can help other teachers decide which essays to teach their students.
This list looks really great. Unfortunately, the first two links I chose were not working. One took me to a professors homepage and the other never opened.
Thank you for letting us know. I checked the "If you think racism doesn't exist" went to the WordPress.com site where the author wrote his article and "Letter from a Vietnamese to an Iraqi Refugee" went to the Huffington Post article. Is it possible that your school web filter is blocking WordPress and Huffington Post?
Thank you for this. I am teaching a summer class that prepares 8th graders for high school essay writing. Trying to find a way to make it more creative and interesting, even interactive. I like the essays. If you have ideas about specific ways to use them, beyond reading and discussion, I would love to hear them.
You're welcome! I think additional activities would depend on who your students are, their interests, and which essay(s) you plan to use. Perhaps if you join our RTE Facebook group and tell us about your kids and the essay you want to use, we can devise some activities to help them engage. Check us out here .
Comments are closed.
Thank you for your interest in our company.
Unfortunately, we are not hiring writers now due to low season.
We will be glad to review your application in the future.

Make sure there's no plagiarism in your paper
Write your essays better and faster with free samples
Generate citations for your paper free of charge
Useful Tips On How To Write A Short Essay
Updated 16 Sep 2022
Whether you're a high school student or a freshman at Harvard, your teachers will definitely give you numerous writing tasks. If the assignment involves short essay format, you might feel happy at first. It seems like a simple task, doesn't it? An hour or two and that's it. But the truth is, short essay writing can be way more complicated than long paper assignments.
Learning how to write a short essay is important because it will help express one's thoughts succinctly and clearly. In real life, including in class or when performing job functions, few of us have an option of waxing poetic. Knowing how to talk shortly and directly, both on paper and orally, is essential, just as replying to a prompt fully in as few words as possible. This way, you'll become a sharp communicator, which is an essential skill in every profession. So, how to start a short essay?
What Is Short Essay Format?
The main feature of short essay writing is that students must put all their ideas and arguments into a limited amount of space. Usually, short essays take between 200 and 500 words, depending on the topic and teacher's requirements. So, at first, select good topic and find sources that would be relevant. Generally, there should be just between two and five paragraphs in your essay. Despite such mini length, though, conveying the essence of prompt clearly is vital.
For example, one's picked a 'Should capital punishment be abolished in the USA?' topic. It's very common, there are tons of materials dedicated to this issue, but instead of being helpful, it only complicates everything. You should focus on selecting the most relevant bits of information to make your short essay wholesome. It means that you should learn how to filter and sort through all data you come across as well as structure them properly.
Fortunately, there are easy ways of how to write a short essay.
Writing a Short Essay
Whether you were assigned to write descriptive, argumentative or  narrative essays of a short size, there are some basic requirements that you should follow. Let's take a look at all steps involved in the process of short essay writing.
Finding relevant sources is one of the most important tasks. The good news is, since essay is short, you will normally need just a few sources, about two or three. They might be articles from the respectable US journals or books, such as the ones published by Sage Publications. Pay close attention to their date — the more current all sources are, the better, and make sure they're peer-reviewed. Read an abstract or a summary of the work you've found. Does it sound like something that will be useful? Remember, each source must actually contribute something to short essay.    
How to write a short essay without making sense of all ideas first? It's impossible, so think of what you'd like to explore in particular. In short essays, stay as focused as you can. Each of your sentences must be precise and on-topic. For that, it's important have to have a clear idea of what you're going to write about.  
Outline is the next logical step after brainstorming. You've come up with all ideas, now it's time to write them down so as not to lose direction once you start typing. Having an outline is a must, especially if you were assigned a broad topic. Threat of chaotic thoughts is very real here, so before you start working, write down all arguments and possible counterarguments. Dwell on your final goal and decide what information you are going to cover in each paragraph.
Read Also: How to Make an Essay Longer
If you've completed the previous steps, writing won't be hard. You have an outline, you have sources you're going to use, now just follow the former and add the latter! Don't forget that you're writing a short essay, though. Be brief and concise, cover all points quickly but succinctly. 
Editing and proofreading are vital part of your short essay writing. You should read what you wrote to make sure that it sounds good and nothing is rushed or unclear. Writing process is, first of all, the process of creation, and even if your ideas are perfectly expressed, big amount of both grammatical and orthographic mistakes will result in you getting low mark. Prevent it by proofreading your essay; if possible, check it with grammar checkers. Since the essay is of mini length, you won't have to read for long, so be extra meticulous.
Try our all-in-one writing tool
Check grammar, readability, and plagiarism
Cite sources & rephrase text automatically
Now that we've seen how to write a short essay, there is another question that must be addressed. What is short essay structure?
Components of a Short Essay
The standard five-paragraph short essays have specific structure: introduction (1 paragraph), thesis, main body (3 paragraphs), and conclusion (1 paragraph). This helps your work be elaborately structured and easier to comprehend.
First impression matters, even if you're writing a short essay. The purpose of introduction is to attract your readers' attention and make them interested, so your aim here is to create a hook that will intrigue the audience. Introduction in short essays should be within 5 sentences — you must make it concise, informative, and catchy. In the first sentence, make a claim about the urgency of the problem; persuade the audience that your essay is worth reading. Now you know how to start a short essay.
It is the last sentence of introduction. It must be focused on the main problem you're planning to explore and contain a claim that you're going to prove. So, if your topic is too broad or simple, focus on something more specific. Thesis must be debatable and it should motivate the opponents to argue with your position. In addition, everyone should be capable of figuring out your central idea just by reading this argumentative claim. So, if it's unclear, rephrase it until it is.   
Good structure of standard short essays has particular 5–paragraph format. Three of them must be devoted to the main body, which contains your key ideas along with supporting evidence or facts. It is easier to read a paper where main points are divided into paragraphs according to micro-topics. Put the strongest argument in the first paragraph and support it with the appropriate facts.
Arguments where supporting info is less effective should be placed in descending order. It will give your short essay a great advantage, even more so if your evidence contains quotations. Don't forget to cite them according to the formatting requirements, though! To make your text cohesive, use conjunctions and linking words. That will make a flow of your narration logical because all ideas will appear gradually, changing smoothly from one into another.
Present results of analysis in the final paragraph. Here, show how ideas from the main body support thesis statement, which you should paraphrase. Conclusion isn't a simple summary of work, it's synthesis. You must reply to the question raised back in introduction. Your aim is to provide target audience with a new view on the subject, so if the first sentence of introduction should have drawn readers' attention, last sentence of conclusion should make them satisfied with what they have read.
Six Tips For Successful Writing
Writing can be tough in general, but academic writing is a sphere of its own, with a set of specific quirks. There are different rules about how to create great fictional story for everyone and how to write a short essay for your professor, for example. Let's look at the list of six tips for effective academic writing.
Choose a topic you're interested in. This is key to crafting an interesting, thoughtful essay that all readers will enjoy. If you want to know about something and if you have personal investment in a topic, you'll definitely achieve success because you'll be a part of your own audience. You'll be sure to choose the most interesting facts. Passion is always evident in writing, even if it's an academic paper, and it will bring you better results than if you're to choose something just because you know it's popular.
Know target audience. Don't forget who your audience is. It depends on the task, so make sure you identify people who will be reading such an essay before starting writing. If a professor is this primary audience, then they already have some idea about your topic, meaning that recapping the basics isn't necessary. In other cases, starting with something broader is better to avoid confusing target readers.
Read. Academic writing means that you have to possess certain knowledge. Research chosen topic before writing first paragraph. Read the text from the sources you've selected at least partly to gain in-depth ideas for your own short essay.
Avoid distractions. Writing essays while watching TV show to make the process a little more interesting might seem tempting, but unless you're very experienced writer, don't do that. Focus on writing an essay entirely. This way, you'll be able to finish it pretty soon as nothing will distract you, and your content will be specific and on-point.
Don't give up. It might feel like writing is getting too difficult and finishing this essay is simply impossible. There are no ideas that could be still used, all inspiration has left long ago, and many much more interesting and engaging tasks are waiting, beckoning closer. Taking a break is great at this point, but giving up entirely?  Definitely not. Relax for some time if it's necessary for restoring balance, but then continue working. Feeling proud and accomplished in the end of such work is going to be the best reward. Same applies in situations when one's essay comes back graded poorly. It's upsetting, sure, but it doesn't mean putting efforts isn't worth it. Sooner or later, persistence will pay off and it'll be reflected in all future grades you get.
Use online editing/proofreading services. Students are often sure that their short essay writing is flawless, but they are still likely to have made some mistakes. Typos can be nasty, and if someone has just finished writing an essay, these small issues might be easily overlooked even during re-reading process. That's why it's better to entrust your text to online grammar checkers. Another option entails using EduBirdie's editing and rating services so you wouldn't miss anything.   
Read also:  Process Analysis Paper : Writing Rules
Writing The Best Short Essays
Short essay writing is not a difficult task. If you pick an idea you like, research it, and develop an outline, you're already half done. Just remember general rules of how to write a short essay and it's likely that a great mark is already in your pocket! Some problems might still occur, though, for a variety of reasons. You might be too exhausted to research and write anything or simply have some other plans. If so, our essay maker team will help you manage your time better by offering to write a paper for you.
EduBirdie guarantees the best results because we cooperate only with the professionals who've undergone strict screening process. Our essay writers ' profiles are open for all our clients, so just look through them and pick the one you like! We provide direct communication option, so our staff will reply to all possible questions right away. Whether you think of ordering college-level short essay or you're interested in asking a writer to work on a more complex project, it doesn't matter.
We will deliver your essay on time, with the highest quality you could ask for. If for some reason you aren't satisfied, you can always ask for revision. Only then will money be released to writer, so you don't risk anything. Fill in the order form now and relax. We know how to write a short essay. We won't let you down, and we'll make sure your professor is impressed.
Try EduBirdie
Was this helpful?
Thanks for your feedback, related blog posts, how to write an essay introduction: practical tips to improve your writing.
To create high-quality academic papers, learners should know their structure and have exceptional writing skills to produce a compelling essay intr...
How to Write a Perfect Body of an Essay: Best Tips
Most students struggling with essays on any topic may have the same questions about the structure, formatting, and methods to use when writing thei...
Receive regular updates, discounts, study guides and more
You have subscribed to EduBirdie news.
Thanks for subscribing!
Check your inbox to verify your email.
The Electric Typewriter
150 great articles & essays: interesting articles to read online, life & death, attitude by margaret atwood, this is water by david foster wallace, why go out by sheila heti, after life by joan didion, 30 more great articles about life, 20 more great articles about death, the book by patrick symmes, shipping out by david foster wallace, death of an innocent by jon krakauer, the place to disappear by susan orlean, 50 more great articles about travel, words and writing, on keeping a notebook by joan didion, everything you need to know about writing by stephen king, how to talk about books you haven't read by pierre bayard, where do you get your ideas by neil gaiman, 15 more great essays about writing, short memoirs, explicit violence by lidia yuknavitch, seeing by annie dillard, call me loyd by david owen, three by david sedaris, 50 more great short memoirs, a few words about breasts by nora ephron, the american male at age ten by susan orlean, the comfort zone by jonathan franzen, tennis, trigonometry, tornadoes by david foster wallace, 50 more great articles about growing up, the female body by margaret atwood, why women smile by amy cunningham, what do women want by daniel bergner, 30 more great articles about women, maxed out by evan wright, revelations about sex by alain de botton, safe-sex lies by meghan daum, the biology of attraction by helen e. fisher, 50 more great articles about sex, the women's movement by joan didion, bad feminist by roxane gay, what the hell am i (and who the hell cares) by neko case, 5 more great articles about feminism, what is a man by tom chiarella, the end of men by hanna rosin, 10 more great articles about men, linguistics/language, what the f*** by stephen pinker, english is not normal by john mcwhorter, a linguistic big bang by lawrence osborne, 15 more great articles about linguistics, pigeon wars by jon mooallem, violence of the lambs by john j. sullivan, 25 more great articles about animals, quitting the paint factory by mark slouka, nickel and dimed by barbara ehrenreich, shop class as soul craft by matthew b. crawford, 40 more great articles about work, here is new york by e. b. white, downtown is for people by jane jacobs, the city solution by robert kunzig, 25 more great articles about cities, science & technology, how life (and death) spring from disorder by philip ball, on being the right size by j. b. s. haldane, a star in a bottle by raffi khatchadourian, how the first gravitational waves were found by nicola twilley, 100 more great science & tech. reads, the environment, the fate of earth by elizabeth kolbert, state of the species by charles c. mann, death of a mountain by erik reece, 30 more great reads about the environment, climate change, losing earth by nathaniel rich, global warming's terrifying new math by bill mckibben, the new abolitionism by christopher hayes, 25 more great reads about climate change, the tinkering of robert noyce by tom wolfe, creation myth by malcolm gladwell, mother earth mother board by neal stephenson, 50 more great articles about computers, the internet, forty years of the internet by oliver burkeman, a nation of echo chambers by will leitch, the long tail by chris anderson, 50 more articles about the internet, m by john sack, blackhawk down by mark bowden, hiroshima by john hersey, 25 more great articles about war, to have is to owe by david graeber, the austerity delusion by paul krugman, the blind side by michael lewis, 50 more great articles about money, the hinge of history by joan didion, how the news took over reality by oliver burkeman, masters of the universe go to camp by philip weiss, 30 more great articles about politics, does it help to know history by adam gopnik, 1491 by charles c. mann, a history of violence by steven pinker, the worst mistake in history by j. diamond, 25 more great articles about history, crime & punishment, the caging of america by adam gopnik, the crooked ladder by malcolm gladwell, cruel and unusual punishment by matt taibbi, 20 more great articles about crime, the body in room 348 by mark bowden, true crime by david grann, the art of the steal by joshua bearman, 20 more great true crime reads, notes of a native son by james baldwin, how to slowly kill yourself and others in america by kiese laymon, time and distance overcome by eula biss, 25 more great essays about race, the last meal by michael paterniti, if you knew sushi by nick tosches, consider the lobster by david foster wallace, 35 more great articles about food, thresholds of violence by malcolm gladwell, we are all confident idiots by david dunning, fantastic beasts and how to rank them by kathryn schulz, what is the monkeysphere by david wong, 50 more great articles about psychology, love & relationships, love by lauren slater, masters of love by emily esfahani smith, this is emo by chuck klosterman, 25 more great articles about relationships, what makes us happy by joshua shenk, money happiness. qed. by bill mckibben, the real roots of midlife crisis by jonathan rauch, 15 more great articles about happiness, success & failure, the art of failure by malcolm gladwell, the fringe benefits of failure, and the importance of imagination by j.k. rowling, what drives success by amy chua and jed rubenfeld, 10 more great articles about success, health & medicine, an epidemic of fear by amy wallace the score by atul gawande, what's killing america's black infants by zoe carpenter, 35 more great articles about health, mental health, the epidemic of mental illness by marcia angell, adventures in depression by allie brosh, surviving anxiety by scott stossel, 20 more great articles about mental health, the moral instinct by steven pinker, not nothing by stephen cave, the greatest good by derek thompson, 10 more great reads about ethics, getting in by malcolm gladwell, learning by degrees by rebecca mead, building a better teacher by elizabeth green, 20 more great articles about education, the string theory by david foster wallace, the istanbul derby by spencer hall, the kentucky derby is decadent and depraved by hunter s. thompson, 50 more great articles about sport, seduced by 'perfect' pitch by l. anderson, one more time by elizabeth margulis, why music from the economist, 35 more great articles about music, the arts & culture, inhaling the spore by lawrence weschler, death by harry potter by chuck klosterman, a one-man art market by bryan aappleyard, 35 more great articles about the arts, fx porn by david foster wallace, flick chicks by mindy kaling, the movie set that ate itself by michael idov, 15 more great articles about movies, see also..., 100 great nonfiction books, 50 great documentaries, subscribe to our email newsletter.