I nfographics
Show AWL words
Subscribe to newsletter
What is academic writing?
Academic Style
What is the writing process?
Understanding the title
Brainstorming
Researching
First draft
Proofreading
Report writing
Compare & contrast
Cause & effect
Problem-solution
Classification
Essay structure
Introduction
Literature review
Book review
Research proposal
Thesis/dissertation
What is cohesion?
Cohesion vs coherence
Transition signals
What are references?
In-text citations
Reference sections
Reporting verbs
Band descriptors
Show AWL words on this page.
Levels 1-5:     grey  Levels 6-10:   orange 
Show sorted lists of these words.
Any words you don't know? Look them up in the website's built-in dictionary .
Choose a dictionary .  Wordnet  OPTED  both
Discussion essays Considering both sides of the argument
Discussion essays are a common form of academic writing. This page gives information on what a discussion essay is and how to structure this type of essay. Some vocabulary for discussion essays is also given, and there is an example discussion essay on the topic of studying overseas.
What are discussion essays?
Many essay titles require you to examine both sides of a situation and to conclude by saying which side you favour. These are known as discussion or for and against essays. In this sense, the academic meaning of the word discuss is similar to its everyday meaning, of two people talking about a topic from different sides. For a discussion essay, a balanced view is normally essential. This makes discussion essays distinct from persuasion essays , for which only one side of the argument is given. When writing a discussion essay, it is important to ensure that facts and opinions are clearly separated. Often you will examine what other people have already said on the same subject and include this information using paraphrasing and summarising skills, as well as correct citations .
The following are examples of discussion essay topics.
Examine the arguments for and against capital punishment.
Schools should teach children not only academic subjects but also important life skills. Discuss.
What are the advantages and disadvantages of technology in the classroom?
Although the structure of a discussion essay may vary according to length and subject, there are several components which most discussion essays have in common. In addition to general statements and thesis statement which all good essay introductions contain, the position of the writer will often be stated, along with relevant definitions . The main body will examine arguments for (in one or more paragraphs) and arguments against (also in one or more paragraphs). The conclusion will contain a summary of the main points, and will often conclude with recommendations , based on what you think are the most important ideas in the essay. The conclusion may also contain your opinion on the topic, also based on the preceding evidence.
An overview of this structure is given in the diagram below.
Discussion vocabulary
When summarising the stages in a discussion or in presenting your arguments, it can be useful to mark the order of the items or degrees of importance. The following words and phrases can be used.
First..., First of all..., The most important...
Second..., In the second place...
Finally..., Lastly...
The following can be used when introducing your opinion.
There is no doubt that...
I believe that...
One of the main arguments in favour of/against X is that...
It is important in English writing, including academic writing, to use synonyms rather than repeating the same word. The following are useful synonyms for 'advantage' and 'disadvantage'.
advantage: benefit, a positive aspect/feature, pro (informal)
disadvantage: drawback, a negative aspect/feature, con (informal)
Example essay
Below is an example discussion essay. Click on the different areas (in the shaded boxes to the right) to highlight the different structural aspects in this essay.
Title: An increasing number of students are going overseas for tertiary education. To what extent does this overseas study benefit the students?
Most people spend around fifteen years of their life in education, from primary school to university study. In the past, students only had the opportunity to study in their own country. Nowadays, however, it is increasingly easy to study overseas, especially at tertiary level. Tertiary education, also called post-secondary education, is the period of study spent at university. As the final aspect of schooling before a person begins their working life, it is arguably the most important stage of their education. While there are some undoubted benefits of this trend, such as the language environment and improved employment prospects , there is also a significant disadvantage, namely the high cost . The first and most important advantage of overseas study is the language learning environment. Students studying overseas will not only have to cope with the local language for their study, but will also have to use it outside the classroom for their everyday life. These factors should make it relatively easy for such students to advance their language abilities. Another important benefit is employability. Increasing globalisation means that there are more multinational companies setting up offices in all major countries. These companies will need employees who have a variety of skills, including the fluency in more than one language. Students who have studied abroad should find it much easier to obtain a job in this kind of company. There are, however, some disadvantages to overseas study which must be considered, the most notable of which is the expense. In addition to the cost of travel, which in itself is not inconsiderable, overseas students are required to pay tuition fees which are usually much higher than those of local students. Added to this is the cost of living, which is often much higher than in the students' own country. Although scholarships may be available for overseas students, there are usually very few of these, most of which will only cover a fraction of the cost. Overseas study therefore constitutes a considerable expense. In summary, studying abroad has some clear advantages, including the language environment and increased chances of employment , in addition to the main drawback, the heavy financial burden . I believe that this experience is worthwhile for those students whose families can readily afford the expense. Students without such strong financial support should consider carefully whether the high cost outweighs the benefits to be gained.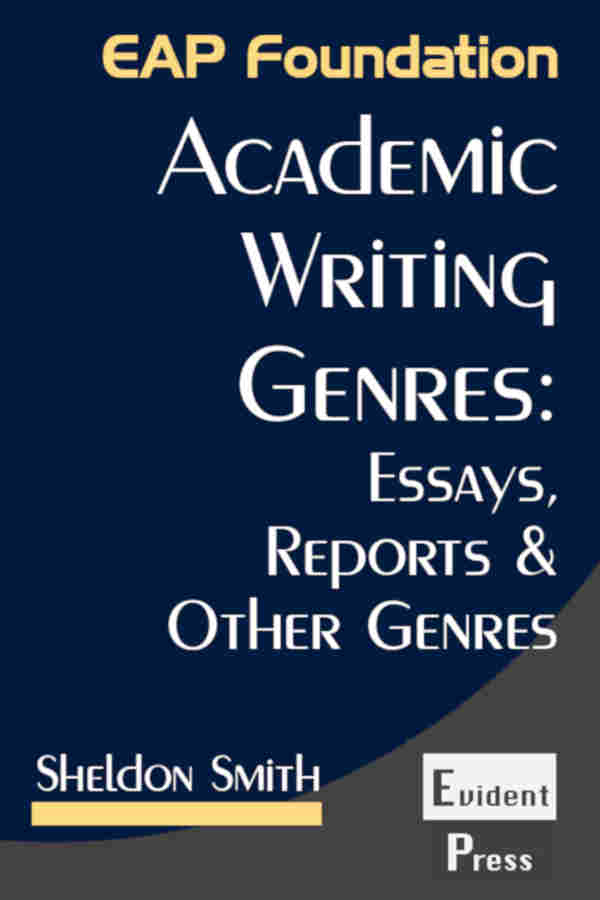 GET FREE EBOOK
Like the website? Try the books. Enter your email to receive a free sample from Academic Writing Genres .
Below is a checklist for discussion essays. Use it to check your own writing, or get a peer (another student) to help you.
Bailey, S. (2000). Academic Writing. Abingdon: RoutledgeFalmer
Cox, K. and D. Hill (2004). EAP now! Frenchs Forest: Pearson Education Australia
Jordan, R.R. (1999). Academic Writing Course. Cambridge: CUP
Roberts R., J. Gokanda, & A. Preshous (2004). IELTS Foundation. Oxford: Macmillian
Next section
Find out how to write persuasion essays in the next section.
Previous section
Go back to the previous section about different essay types .

Author: Sheldon Smith    ‖    Last modified: 16 January 2022.
Sheldon Smith is the founder and editor of EAPFoundation.com. He has been teaching English for Academic Purposes since 2004. Find out more about him in the about section and connect with him on Twitter , Facebook and LinkedIn .
Compare & contrast essays examine the similarities of two or more objects, and the differences.
Cause & effect essays consider the reasons (or causes) for something, then discuss the results (or effects).
Discussion essays require you to examine both sides of a situation and to conclude by saying which side you favour.
Problem-solution essays are a sub-type of SPSE essays (Situation, Problem, Solution, Evaluation).
Transition signals are useful in achieving good cohesion and coherence in your writing.
Reporting verbs are used to link your in-text citations to the information cited.
Have a language expert improve your writing
Run a free plagiarism check in 10 minutes, generate accurate citations for free.
Knowledge Base
Research paper
How to Write a Discussion Section | Tips & Examples
How to Write a Discussion Section | Tips & Examples
Published on August 21, 2022 by Shona McCombes . Revised on July 18, 2023.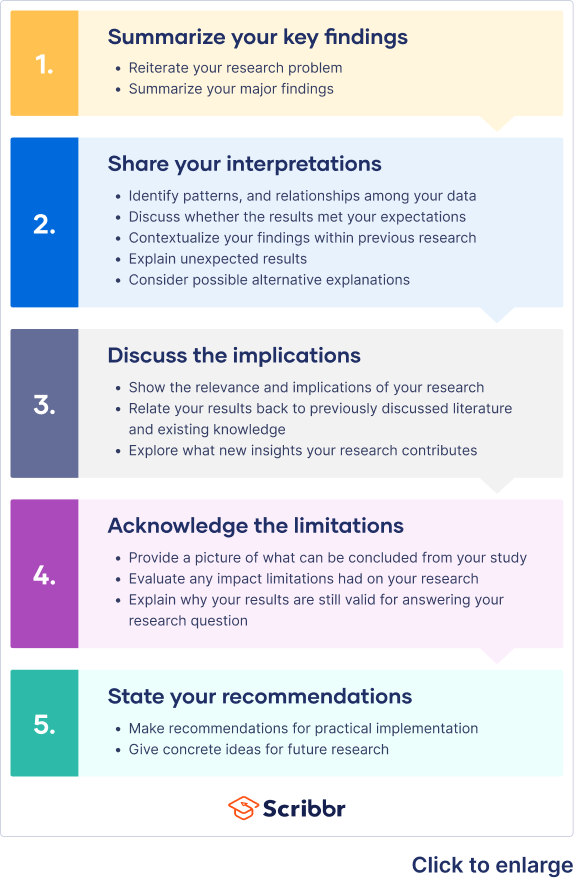 The discussion section is where you delve into the meaning, importance, and relevance of your results .
It should focus on explaining and evaluating what you found, showing how it relates to your literature review and paper or dissertation topic , and making an argument in support of your overall conclusion. It should not be a second results section.
There are different ways to write this section, but you can focus your writing around these key elements:
Summary : A brief recap of your key results
Interpretations: What do your results mean?
Implications: Why do your results matter?
Limitations: What can't your results tell us?
Recommendations: Avenues for further studies or analyses
Table of contents
What not to include in your discussion section, step 1: summarize your key findings, step 2: give your interpretations, step 3: discuss the implications, step 4: acknowledge the limitations, step 5: share your recommendations, discussion section example, other interesting articles, frequently asked questions about discussion sections.
There are a few common mistakes to avoid when writing the discussion section of your paper.
Don't introduce new results: You should only discuss the data that you have already reported in your results section .
Don't make inflated claims: Avoid overinterpretation and speculation that isn't directly supported by your data.
Don't undermine your research: The discussion of limitations should aim to strengthen your credibility, not emphasize weaknesses or failures.
Scribbr Citation Checker New
The AI-powered Citation Checker helps you avoid common mistakes such as:
Missing commas and periods
Incorrect usage of "et al."
Ampersands (&) in narrative citations
Missing reference entries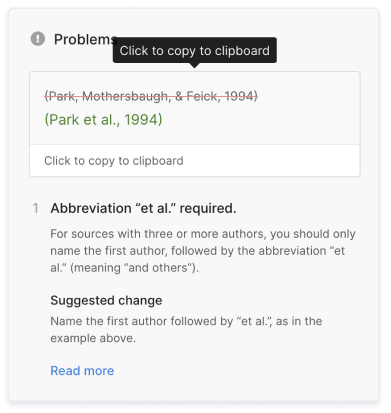 Start this section by reiterating your research problem and concisely summarizing your major findings. To speed up the process you can use a summarizer to quickly get an overview of all important findings. Don't just repeat all the data you have already reported—aim for a clear statement of the overall result that directly answers your main research question . This should be no more than one paragraph.
Many students struggle with the differences between a discussion section and a results section . The crux of the matter is that your results sections should present your results, and your discussion section should subjectively evaluate them. Try not to blend elements of these two sections, in order to keep your paper sharp.
The results indicate that…
The study demonstrates a correlation between…
This analysis supports the theory that…
The data suggest that…
The meaning of your results may seem obvious to you, but it's important to spell out their significance for your reader, showing exactly how they answer your research question.
The form of your interpretations will depend on the type of research, but some typical approaches to interpreting the data include:
Identifying correlations , patterns, and relationships among the data
Discussing whether the results met your expectations or supported your hypotheses
Contextualizing your findings within previous research and theory
Explaining unexpected results and evaluating their significance
Considering possible alternative explanations and making an argument for your position
You can organize your discussion around key themes, hypotheses, or research questions, following the same structure as your results section. Alternatively, you can also begin by highlighting the most significant or unexpected results.
In line with the hypothesis…
Contrary to the hypothesized association…
The results contradict the claims of Smith (2022) that…
The results might suggest that x . However, based on the findings of similar studies, a more plausible explanation is y .
As well as giving your own interpretations, make sure to relate your results back to the scholarly work that you surveyed in the literature review . The discussion should show how your findings fit with existing knowledge, what new insights they contribute, and what consequences they have for theory or practice.
Ask yourself these questions:
Do your results support or challenge existing theories? If they support existing theories, what new information do they contribute? If they challenge existing theories, why do you think that is?
Are there any practical implications?
Your overall aim is to show the reader exactly what your research has contributed, and why they should care.
These results build on existing evidence of…
The results do not fit with the theory that…
The experiment provides a new insight into the relationship between…
These results should be taken into account when considering how to…
The data contribute a clearer understanding of…
While previous research has focused on  x , these results demonstrate that y .
Receive feedback on language, structure, and formatting
Professional editors proofread and edit your paper by focusing on:
Academic style
Vague sentences
Style consistency
See an example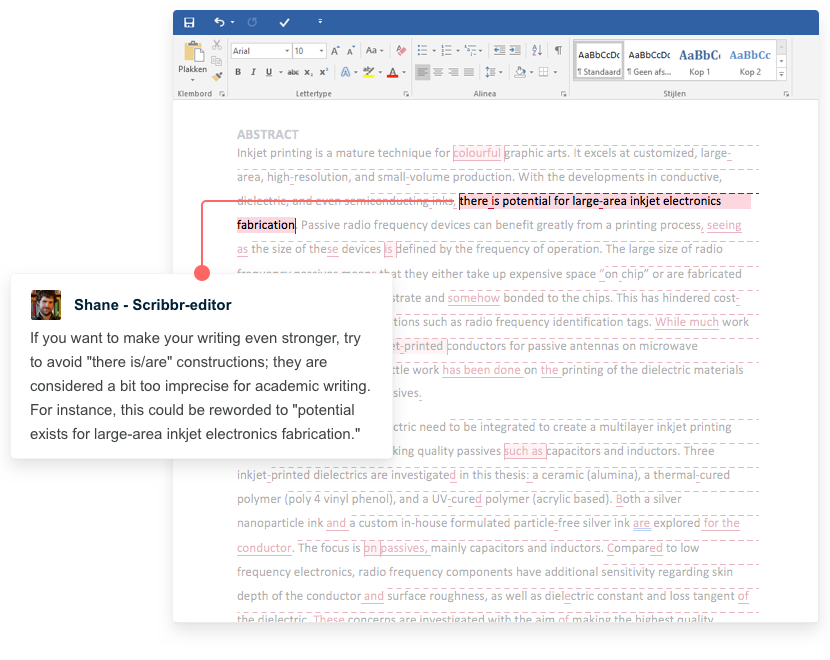 Even the best research has its limitations. Acknowledging these is important to demonstrate your credibility. Limitations aren't about listing your errors, but about providing an accurate picture of what can and cannot be concluded from your study.
Limitations might be due to your overall research design, specific methodological choices , or unanticipated obstacles that emerged during your research process.
Here are a few common possibilities:
If your sample size was small or limited to a specific group of people, explain how generalizability is limited.
If you encountered problems when gathering or analyzing data, explain how these influenced the results.
If there are potential confounding variables that you were unable to control, acknowledge the effect these may have had.
After noting the limitations, you can reiterate why the results are nonetheless valid for the purpose of answering your research question.
The generalizability of the results is limited by…
The reliability of these data is impacted by…
Due to the lack of data on x , the results cannot confirm…
The methodological choices were constrained by…
It is beyond the scope of this study to…
Based on the discussion of your results, you can make recommendations for practical implementation or further research. Sometimes, the recommendations are saved for the conclusion .
Suggestions for further research can lead directly from the limitations. Don't just state that more studies should be done—give concrete ideas for how future work can build on areas that your own research was unable to address.
Further research is needed to establish…
Future studies should take into account…
Avenues for future research include…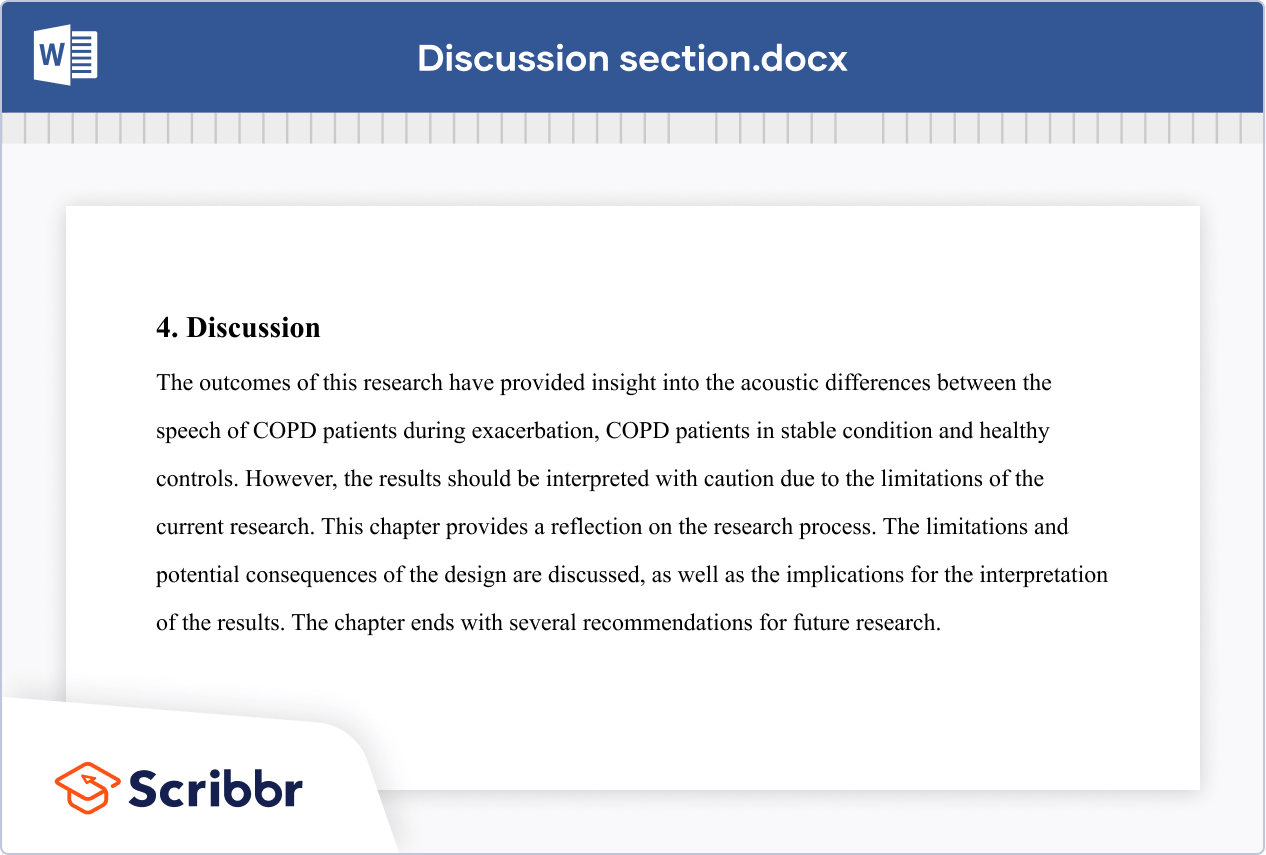 If you want to know more about AI for academic writing, AI tools, or research bias, make sure to check out some of our other articles with explanations and examples or go directly to our tools!
Research bias
Anchoring bias
Halo effect
The Baader–Meinhof phenomenon
The placebo effect
Nonresponse bias
Deep learning
Generative AI
Machine learning
Reinforcement learning
Supervised vs. unsupervised learning
 (AI) Tools
Grammar Checker
Paraphrasing Tool
Text Summarizer
AI Detector
Plagiarism Checker
Citation Generator
In the discussion , you explore the meaning and relevance of your research results , explaining how they fit with existing research and theory. Discuss:
Your  interpretations : what do the results tell us?
The  implications : why do the results matter?
The  limitation s : what can't the results tell us?
The results chapter or section simply and objectively reports what you found, without speculating on why you found these results. The discussion interprets the meaning of the results, puts them in context, and explains why they matter.
In qualitative research , results and discussion are sometimes combined. But in quantitative research , it's considered important to separate the objective results from your interpretation of them.
In a thesis or dissertation, the discussion is an in-depth exploration of the results, going into detail about the meaning of your findings and citing relevant sources to put them in context.
The conclusion is more shorter and more general: it concisely answers your main research question and makes recommendations based on your overall findings.
Cite this Scribbr article
If you want to cite this source, you can copy and paste the citation or click the "Cite this Scribbr article" button to automatically add the citation to our free Citation Generator.
McCombes, S. (2023, July 18). How to Write a Discussion Section | Tips & Examples. Scribbr. Retrieved September 26, 2023, from https://www.scribbr.com/dissertation/discussion/
Is this article helpful?
Shona McCombes
Other students also liked, how to write a literature review | guide, examples, & templates, what is a research methodology | steps & tips, how to write a results section | tips & examples, what is your plagiarism score.
A Beginner's Guide to IELTS
Common Grammar Mistakes [for IELTS Writing Candidates]
Writing Correction Service
Free IELTS Resources
Practice Speaking Test
Select Page
IELTS Discussion Essays [Discuss Both Views/Sides]
Posted by David S. Wills | Jun 14, 2021 | IELTS Tips , Writing | 0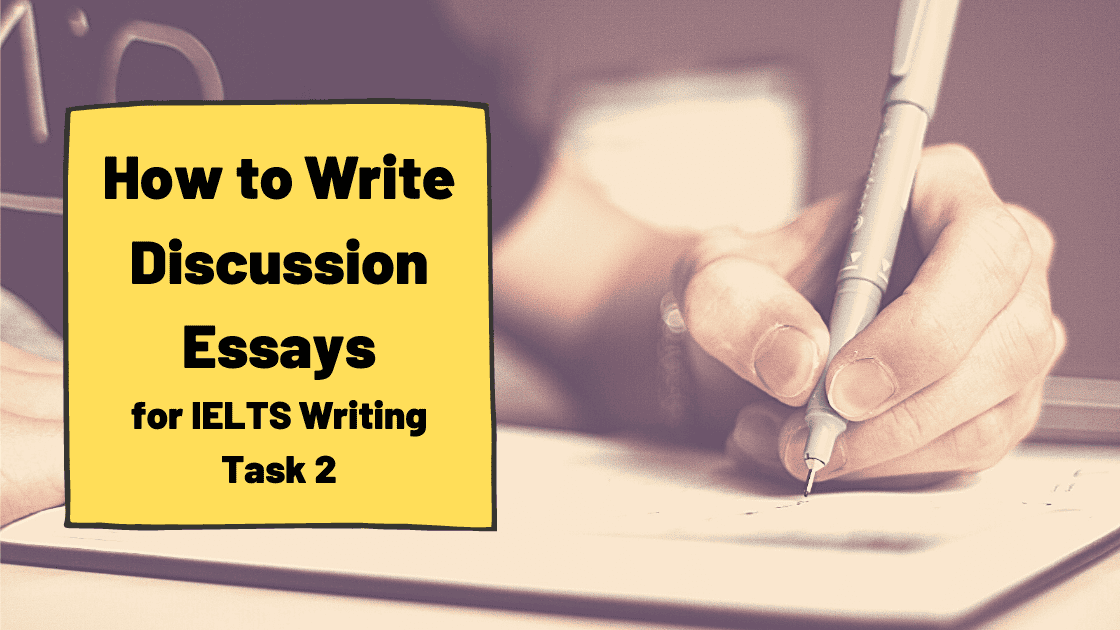 In this lesson, I'm going to explain what an IELTS discussion essay is and how you can write a good one. I will talk about structure and content, as well as looking briefly at discussion essay thesis statements, which many people find tricky. I've also written a sample essay, which you can find at the bottom of this page.
What is a Discussion Essay?
As the name suggests, a discussion essay is an essay that discusses things! More specifically, it is a type of IELTS writing task 2 essay that requires you to look at two different points of view . You can easily recognise these essays by the following phrase:
Discuss both views and give your opinion.
Sometimes it is phrased a little differently. It might say:
Discuss both sides and give your opinion
Discuss both points view and give your opinion
The important thing is that these all mean the same. When you see any of these, you know that you need to write a discussion essay. Importantly, this instruction tells you that you need to do two things:
Discuss both views (there will have been 2 views mentioned in the previous sentence(s))
Give your opinion (i.e. state which view you agree with)
If you failed to do either of these things, you would not have satisfied the basic criteria for Task Achievement .
Example Discussion Essay Questions
Here is a list of 5 discussion essay questions either from the IELTS exam, reportedly from the IELTS exam, or from reputable publications that have copied the IELTS question style. (Not that you absolutely should avoid fake IELTS questions when practising.)
Some people say that parents should encourage their children to take part in organised group activities in their free time. Others say that is important for children to learn how to occupy themselves on their own. Discuss both views and give your own opinion.
Some people prefer to spend their lives doing the same things and avoiding change. Others, however, think that change is always a good thing. Discuss both views and give your opinion.
Some people feel that manufacturers and supermarkets have the responsibility to reduce the amount of packaging of goods. Others argue that customers should avoid buying goods with a lot of packaging. Discuss both views and give your opinion.
Some people believe that higher education should be funded by the government. Others, however, argue that it is the responsibility of individuals to fund their higher education. Discuss both views and give your opinion.
Some people believe that it is important for children to attend extra classes outside school, while others believe that they should be allowed to play after school. Discuss both views and give your own opinion.
You can see in these questions that there is a similar pattern. In each case, the question phrase ("Discuss both views and give your own opinion") is the same and in the previous sentence or sentences, there are two opposing views. This, then, makes "discuss both views" questions a sort of opinion essay .
How to Answer IELTS Discussion Questions
First of all, it is important when answering any IELTS task 2 question that you read the question carefully so that you understand it, then provide an answer that directly responds to the question, following its instructions carefully.
As discussed above, you are required to do two things: 1) Discuss both views, and 2) Give your own opinion. You absolutely must do both of those. It doesn't really matter what your opinion is or whether you give equal weighting to both sides of the argument. Instead, you must cover both sides and also give some sort of opinion. (It is important, though, according to the marking rubric , that you are consistent in your opinion.)
Your answer of course should be structured carefully so as to present your ideas in a thoroughly logical way that is easy for your reader to interpret. I almost always use a four-paragraph structure in my essays, but some people prefer to use five paragraphs in this sort of essay. The difference would look like this:
You might be wondering why I have given my opinion in the body of the five-paragraph essay but not in the four-paragraph essay. Well, actually I would give my opinion in the body of both. However, my opinion would be more subtly woven into the text of the four-paragraph essay. I personally find this to be a better method, but it is equally possible that you could write an amazing five-paragraph essay. That issue is discussed further in this video:
Discussion Essay Thesis Statement
In academic writing, a thesis statement (sometimes called an essay outline ) is the part of the essay where you insert your opinion. It typically comes at the end of the introduction and guides the reader by explaining your opinion on the issues that have been introduced.
But do you really need to provide one in such a short essay? Well, a 2018 study into successful IELTS essays concluded that thesis statements were "obligatory" – i.e. you absolutely do need one. In fact, that study found that thesis statements appeared in 100% of successful IELTS discussion essays! Therefore, we can conclude they are very important.
Because a discussion essay will tell you to "Discuss both views and give your opinion," you must introduce the two views and then give your opinion in the introduction. Here is an example:
Introductory paragraph:
In some parts of the world, children are forced to go to cram schools and other facilities of extracurricular learning, but many people believe that this is unfair and that they should be allowed to enjoy their free time instead. This essay will look at both perspectives and then conclude that it is indeed unfair.
My first sentence clearly introduces two different ideas:
Children should do extra classes
Children should not do extra classes
Note how I have successfully used synonyms to avoid repeating anything from the question. I have also framed the issue in a new way so that I am not just paraphrasing. (You can learn why paraphrasing is not always helpful here .)
My second sentence is the thesis statement. In this sentence, I outline what the essay will do ("look at both perspectives") and then give my opinion ("it is unfair"). This is a simple but effective thesis statement.
Thesis Statement Advice
Your IELTS discussion essay thesis statement should do two things:
Tell the reader what the essay will do
Present your opinion
Because this is a formal essay, it is best not to be too personal. Instead of saying "I will…" or "I think…" it is better to say "This essay will…" Here are some simple templates that you can follow most of the time:
This essay will look at both sides and then argue that…
This essay will discuss both views but ultimately side with…
Just make sure to avoid being overly vague. You are required to give your opinion consistently throughout the essay, so don't say "This essay will look at both sides and then give my opinion ." It is not really the best approach because the examiner wants to see that you can be consistent in presenting an opinion. That is clearly stated in the marking rubric. For band 7, it says:
presents a clear position throughout the response
It could be concluded, then, that your opinion is not clear from the start and so you have not done enough to warrant a band 7 for Task Achievement.
Body Paragraphs
As I mentioned above, there are really two main approaches you could take to the body paragraphs:
Discuss one view per paragraph and incorporate your opinion into each.
Discuss one view per paragraph and then have another for your opinion.
I suppose there is also a third option:
Compare and contrast the two viewpoints in each paragraph.
This last one may be a little harder to do successfully without jeopardising your score for Task Achievement or Coherence and Cohesion , but advanced candidates may find it useful.
Remember that there is no single perfect formula for an IELTS essay. That's not how languages work and that's not how IELTS works. Different people could come up with different ways to present a successful essay. The most common essay structures are mere guidelines for particularly useful methods of approaching an essay.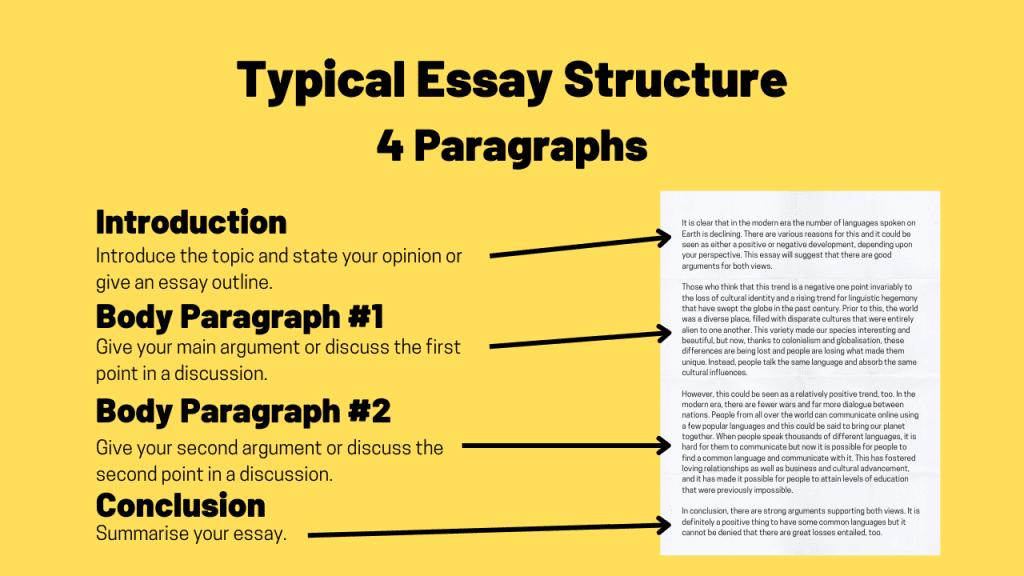 Does a Discussion Essay Have to be Balanced?
Because the question says "Discuss both views," it is quite logical to think that you must provide some degree of balance, but you certainly don't need to give equal weighting to both sides. Remember that you are also going to give your opinion, so if you come down strongly on one side of the issue, it might be odd to give equal attention to both.
If you do feel very strongly about one side, you might want to present your discussion of the other side as quite negative. However, IELTS is a thinking exam as well as an English exam and an intelligent person can always look at both sides of an issue and explain – at the very least – why someone might believe a thing that is different to his own view. This seems quite important, but there is nothing explicitly mentioned in the marking rubric.
I would suggest that if you think a two-sided issue is basically one-sided (i.e. you strongly disagree with the other view), you should still write one or two sentences about why people believe that and then devote the rest of your essay to disputing their view.
Another approach is to write BP1 as a very short paragraph that explains why people might think one thing, but then have BP2 as a very long paragraph that debunks the opposing view and then explains why the other is correct.
(You can read more about IELTS essays and balance here .)
Sample Answer
Here is my full sample answer to the above question about whether or not children should be made to do extracurricular activities:
In some parts of the world, children are forced to go to cram schools and other facilities of extracurricular learning, but many people believe that this is unfair and that they should be allowed to enjoy their free time instead. This essay will look at both perspectives and then conclude that it is indeed unfair. In countries like South Korea, most children are made to go to an array of cram schools outside of regular school hours. Their parents do this in order to give their child a better future because it helps the child to learn more and thus gives them the academic advantages needed to apply to the best universities or jobs in future. These schools often provide children with an advantage over their peers because they improve their foreign language or math skills more quickly, and thus the children who do not attend these schools might have comparatively poor grades. However, whilst this attitude may result in better academic performance, it is certainly not good for the mental health of these children. It is no coincidence that places like South Korea have the highest rates of suicide among their young populations. The fact is that children are not equipped to spend fourteen or sixteen hours per day in classrooms, memorising facts and figures. In a sense, it is a form of child abuse. Children should be allowed to go home and spend time with friends and family to build social skills. They should be allowed to occupy themselves in order to become more creative and learn how to understand their own mind instead of being trained to repeat what they are told. In conclusion, it is understandable that some parents want their children to go to extra classes, but this is damaging to children and they should be given the freedom to play and socialise outside of regular school hours.
In BP1, I have looked at the topic of cram schools (ie the side of the argument in favour of extra lessons). I explored why parents might want their kids to do this and show the supposed benefits. Note that I never embraced any of these benefits. I was careful to use language that distanced these ideas from my own opinion, which was the opposite, so I said "Their parents do this in order to…"
In BP2, I looked at the opposite side. I was careful to make sure that my first sentence linked to the previous paragraph, highlighting that the benefits are quite minor compared to the drawbacks. All of my sentences here justify my position, which is that it is cruel to force these extra lessons on children.
My conclusion ties all of this together. The first clause references BP1 and the second summarises the main argument in BP2.
You can find two more sample essays here:
A discussion essay about sports facilities
A discussion essay about sports abilities
About The Author
David S. Wills
David S. Wills is the author of Scientologist! William S. Burroughs and the 'Weird Cult' and the founder/editor of Beatdom literary journal. He lives and works in rural Cambodia and loves to travel. He has worked as an IELTS tutor since 2010, has completed both TEFL and CELTA courses, and has a certificate from Cambridge for Teaching Writing. David has worked in many different countries, and for several years designed a writing course for the University of Worcester. In 2018, he wrote the popular IELTS handbook, Grammar for IELTS Writing and he has since written two other books about IELTS. His other IELTS website is called IELTS Teaching.
Related Posts
How to Describe a Photo (IELTS Speaking)
September 4, 2017
Don't Say Delicious! How to Really Talk About Food
March 23, 2017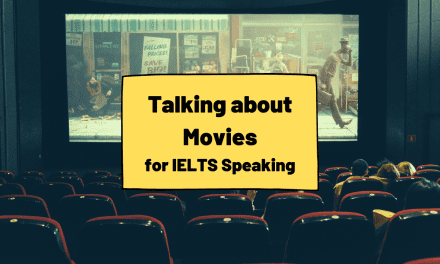 Talking About Movies for IELTS
November 28, 2017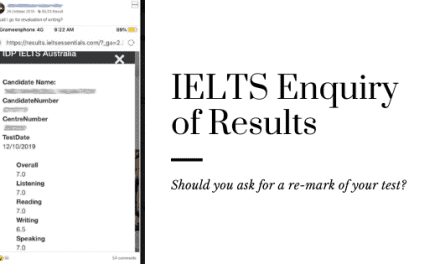 Should You Request a Re-mark for IELTS?
January 27, 2020
Leave a reply Cancel reply
Your email address will not be published. Required fields are marked *
This site uses Akismet to reduce spam. Learn how your comment data is processed .
Download my IELTS Books
Recent Posts
Past Simple vs Present Perfect
But vs However
A Complete Guide to Modal Verbs
How to Improve Your Spelling
How to Use Pronouns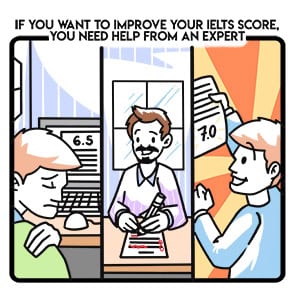 Recent Comments
Emily on Interpersonal Skills Essay [IELTS Writing Task 2]
reena on IELTS Speaking Partners
Alex Case on But, While, Whereas = Not the Same
SoundofText on Common IELTS Topics: Technology
mustansir on How to Improve your IELTS Writing
Lesson Plans
Model Essays
TED Video Lessons
Weekly Roundup

IELTS Writing Task 2: Discussion Sample Essay
Today we're going to look at a discussion essay IELTS sample that's considered Band 9. This Band 9 scored essay matched the pattern for the "discussion" type of Writing Task 2 question. Discussion essays are sometimes also called "discuss both sides" essays. In this kind of essay, you will be presented with two statements of opinion that oppose each other. You will then be asked to "discuss both sides" of the debate, and to give your own opinion. For more information on this and other question types, including tips, tricks, and general advice for the discussion essay question type, see Magoosh's full guide to IELTS Writing Task 2 question types .
Discussion Essay IELTS Sample: Band 9
The essay below is a band 9 model IELTS essay, patterned after Magoosh's IELTS Writing Task 2 Template .
IELTS Writing Discussion Essay Practice Question
Some people seek a lot of advice from family and friends when choosing their career. Others feel it is better to choose a career more independently. Discuss both views and give your opinion. Give reasons for your answer and include any relevant examples from your own knowledge or experience.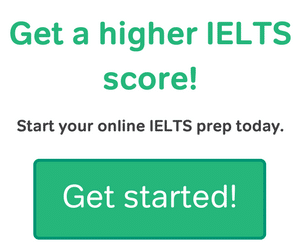 Write at least 250 words.
Discussion Essay IELTS Sample Band 9 Response
Choosing a career can be a challenging process. It can be difficult to say whether this decision should be made alone, or made with input from loved ones. In my opinion, it is best to find one's career independently, with no more than a small amount of advice from family or friends. Below, I will explain why I feel that we must ultimately face career decisions on our own.
Getting career guidance input from loved ones can be confusing rather than useful. Family and friends likely have different careers, and thus give different, conflicting advice. Suppose, for instance, that your father is a teacher, your mother is an accountant, and your best friend is a nurse. They have all made very different career decisions, and only have knowledge on their respective careers. Different people will likely only steer you to their careers, without giving good advice on your own best path.
In contrast, focusing on one's own preferences and skills provides a clearer path to the right career. After all, individuals have the best knowledge of their own abilities and interests. As an example, if someone has gone to university to study biology, they will know more about biology careers than a family member or friend who does not have that same kind of training. Ultimately, your career must be built on your own training and experience, not the training and experience of others.
For the reasons I've outlined above, I really do believe that career decisions are a matter of personal knowledge. Other people, even trusted family and friends, simply cannot understand your career the way you can. To select your field of work wisely, you must face this important decision alone.
Scorer Commentary (Discussion IELTS Essay Sample, Band 9)
The score report below is based on the official IELTS Writing Task 2 rubric . This report also looks very similar to the Magoosh IELTS essay scoring service .
Overall Band Score: 9
What was done well in the essay:
At 283 words, this essay exceeded the 250 word minimum. (This is very important for getting full points!)
Each part of the task was fully addressed. Both sides of the issue were discussed in the first and second body paragraphs. Moreover, reasons and relevant examples were included.
Each paragraph had its own clear topic sentence and supporting details, with explanations of the details, and summarization of the most important ideas.
Transitional language was used to clearly tie in all paragraphs to clear main ideas from the introduction and conclusion.
Vocabulary and grammar were used clearly and fluently. There were no serious errors in grammar or word use; word choice and sentence structure varied and avoided significant repetition.
More Model Essays for IELTS Writing Task 2
Would you like the see model essays for the other common IELTS Writing Task 2 question types as well? Magoosh has you covered! Just click the links below.
Advantage/Disadvantage Essay
Two-Part Question Essay
Causes/Solutions Essay
Agree/Disagree Essay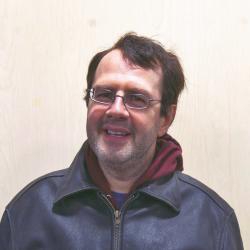 David is a Test Prep Expert for Magoosh TOEFL and IELTS. Additionally, he's helped students with TOEIC, PET, FCE, BULATS, Eiken, SAT, ACT, GRE, and GMAT. David has a BS from the University of Wisconsin-Eau Claire and an MA from the University of Wisconsin-River Falls. His work at Magoosh has been cited in many scholarly articles , his Master's Thesis is featured on the Reading with Pictures website, and he's presented at the WITESOL (link to PDF) and NAFSA conferences. David has taught K-12 ESL in South Korea as well as undergraduate English and MBA-level business English at American universities. He has also trained English teachers in America, Italy, and Peru. Come join David and the Magoosh team on Youtube , Facebook , and Instagram , or connect with him via LinkedIn !
View all posts
More from Magoosh
5 responses to "IELTS Writing Task 2: Discussion Sample Essay"
Contractions must be avoided because they are a sign of informal writing style. Whereas essay's should be written in formal way.
You are correct that contractions shouldn't be used in the formal Task 2 essay. However, note that they can be used at times, such as in IELTS Speaking or in Task 1 if you are asked to write an informal letter.
Happy studying!
Greetings, and thank you for this model essay. I wanted to ask a question relating to the discussion essay's addressing of the task. Since the two views are 1) Some people think it is beneficial to ask for advice from friends/loved ones, and 2) others think that it is better to do so alone, why isn't the 2nd paragraph addressing the benefits but instead talks about how it can be confusing? Isn't a discussion essay's structure supposed to be something like this:
2nd paragraph: Reasons people believe asking for help to decide for a career is good 3rd paragraph: Reasons people believe doing it on your own is good Conclusion: Giving your own opinion
Thank you for your time!
Good question! The short answer is that both approaches work! The directions are simply to "discuss both views," but you don't have to provide support for both sides. You can also discuss the problems or issues with one side, as this essay has done. Does that make sense? I'd suggest reviewing more sample essays to get a better sense of this.
Hope this helps, and best of luck to you!
Leave a Reply Cancel reply
Your email address will not be published. Required fields are marked *