14 Essay Hacks That Will Make Writing an Essay a Breeze
Essay hacks can make the process of writing a great essay just that little bit easier.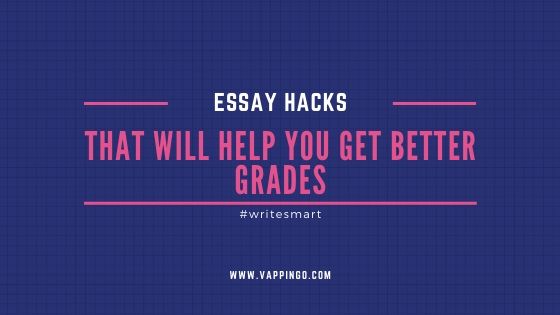 Here are some tried-and-tested tricks and hacks that will help you write a grade-A paper.
14 Brilliant Essay Hacks
1) use wikipedia… but smartly.
Our online essay editors will be quick to tell you that Wikipedia isn't exactly the most reliable or credible source for essay material. However, if you're a bit smart about it, you can use Wikipedia to get great results.
The hack is to use Wikipedia to find useful sources as opposed to citing it as a source in itself.
Let's say you're writing an essay on Kant's Theory of Freedom. Simply perform a search on the Philosophy of Freedom on Wikipedia and scroll down to the bottom. You'll be presented with a ton of relevant sources you can then target in your research. Suddenly, finding useful sources became so much easier!

2) Use Google Scholar
Don't use the standard Google browser for your academic work and essays; use Google Scholar instead.
Google Scholar is an index of scholarly and peer-reviewed publications. By using the Google Scholar search engine, you limit the search results to academic works and, as such, avoid reams of irrelevant or unreliable sources.
Unfortunately, many of the articles that are indexed on Google Scholar are not free to access; however, it can help you find the titles of articles and papers that will be useful for your essay, and you can subsequently look them up in your university library.
3) Conduct Backward Searches
So now you've got with the program and are using Google Scholar instead of the standard Google search engine, you can exploit this essay hack to its maximum potential by using the backward search function.
Let's say we're writing an essay on the theme of time in Romeo and Juliet.
Simply perform a search on the topic of interest, "theme of time in Romeo and Juliet," and you'll be presented with a list of clickable links you can reference to find content and articles that have cited that source.
This provides a really useful way of finding sources that have been used for similar research purposes to your own, which can be useful for two main reasons. First, it can help you find additional information sources. Second, it can give you confidence that a given source is relevant to your paper.

4) Use Google Scholar's Cite Function
So, we've already established that Google Scholar is a great search engine for finding useful information sources for your paper. But did you know you can also use it to help you compile your bibliography?
Simply click on the cite button (currently denoted by double quotation marks) that appears below the listing you want to add to your bibliography, and a new window will open with a range of citation options.
Choose the style guide you wish to follow, and the correct citation format will be generated for you. You can then copy and paste this into your reference page.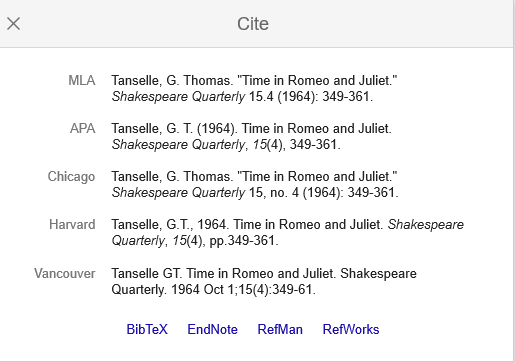 5) Manage Your Time Using the Pomodoro Technique
Don't attempt to write a full paper in one sitting. In addition to being incredibly mind-numbing, focusing on one task for a long time without taking a break will lead to poor output.
Set a timer for 25-minutes. Once that point is reached, take a five-minute break from your computer or reading to stretch your legs, get something to drink, use the bathroom, or fix yourself a snack.
After five minutes, get back to work for a further 25 minutes.
Rinse and repeat until your essay is finished.
6) Nail the Introduction
The introduction is quite possibly the most important paragraph in your entire essay.
If you get that right, you'll be a long way toward your goal of writing a great essay.
For practical tips to help you master the fine art of the introduction, check out our guide to writing an introduction .
7) Remove Distractions
If you're easily distracted by applications such as Facebook and Instagram, try using an app that will prevent you from accessing the sites you regularly waste time on so you can concentrate on your paper. ColdTurkey (for Windows) and SelfControl (for Mac) will block the websites you list so all distractions are automatically removed.

8) Nail the Thesis Statement
If you want to write an essay that impresses, make sure you write a succinct and compelling thesis statement. Check out our guide to writing a thesis statement for further information.
9) Work in the Cloud
There's nothing worse than your computer breaking hours before a deadline or a power cut, meaning you suddenly lose all your work. Work in the cloud using applications such as Google Office Docs 365 or iCloud and you'll never have to run the risk of suddenly losing all your work again. What's more, using a mobile device, you can work from anywhere in the world at any time.
10) Make Zotero Your Best Friend
If you're a student, Zotero could well be the best essay hack you'll ever discover. You can use it as a Firefox plugin to find and store references or as a Word plugin that automatically interacts with all the information you have saved in Firefox to insert automatic citations in your paper at the click of button. Another click, and Zotero will even create your bibliography for you. Referencing and citations simply couldn't get any easier.
11) Use Evernote to Keep Track of Things
If you're writing a large essay or performing an extensive study for your dissertation or thesis, you can use Evernote to take ongoing notes, keep track of your diary, and store important articles that you may want to access at a later date. The app automatically updates on an ongoing basis, so everything you write will be stored in the cloud. What's more, as Evernote automatically syncs the stored content across your devices, you can quickly and easily pick up where you left off, even if it's on a different computer.
12) Avoid Meaningless Words
If you want to ensure your essay reads well and comes across as scholarly and succinct, make sure you avoid using meaningless words in your paper. Check out our guide to words you shouldn't use in an essay .
13) Talk, Don't Type
If your typing skills are not quite up to the mark, Dragon voice recognition software can help you to efficiently translate your thoughts into text. Simply dictate the words you want to use, and they will be translated into text-based language. Dragon can be particularly useful when you want to quickly and easily get your thoughts down in text form.
14) Ask Someone to Peer Edit Your Paper
When you have spent hours working on an essay, you may no longer be able to see the wood for the trees. That's where peer editing can come in handy. Ask a friend or family member to peer edit your essay and he or she will be able to spot any errors you've missed, provide constructive feedback on how it can be improved, and even point out any areas you haven't taken into consideration.
Got any useful essay hacks to share? Leave a comment and let us know.
2 thoughts on "14 Essay Hacks That Will Make Writing an Essay a Breeze"
Pingback: Editing an Essay the Easy Way in 2023
Pingback: The Secrets to Writing Amazing Argumentative Essays - Vappingo
Comments are closed.
How It Works
Prices & Discounts
How to Make an Essay Longer Than It Really Is: 9 Hacks that Work
Table of contents
How often have you finished writing your essay and run a word count check to realize you're way behind the required word count?
If anyone's been there, they'll know that feeling of absolute disappointment -- when you're close to the finish line yet so far.
Word counts matter because they create a level-playing field for all students. They ensure that every student is given the same number of words to make their point.
One of the most common challenges students face is the inability to meet the desired word count, especially in the case of long-form essays or research papers .
So, if you're wondering how you can make your essay longer than it is, we tell you what you should and should NOT do to meet the word count.
9 Hacks to Make an Essay Longer than it is
" What else can I write about? "
How often have you asked yourself this question after writing your entire paper?
You're not alone -- writing 5,000-word essays is tricky. Sometimes you feel you've exhausted your points, but the word count has a different story to tell.
Here are nine legitimate hacks to make your essay longer and meet the word limit.
1. Refer to the scoring rubric
" But I've already done that.. "
Nope. You need to give it another go.
You would have read the prompt and scoring rubric once before beginning your essay, but when you're at a stage when you have to lengthen your essay, it helps to go back and re-read them to see if you've missed out on anything.
Go line-by-line -- look into every criterion and trace it back to your essay. Does it cover every specification mentioned in the rubric?
Pay attention to detail and strive to identify gaps that you can address in order to add further value to your essay and make it longer in the process.
2. Identify additional sources
It's true that the more research material you read, the more fodder you'll find for your essay. Hence, if you're looking to make your essay longer, it's a good idea to identify additional sources of information and implement them in your essay.
Remember the research you did in the initial stages? Go back to it and look for additional research material in the form of online articles, journals, encyclopedias, research studies, and more that could help.
3. Describe what you want to say
Descriptive writing is an effective way to lengthen your essay while making it more robust. As the name suggests, descriptive writing refers to describing concepts or ideas in vivid detail.
Don't just stop at short phrases; describe what you're trying to say to illustrate your point, and put forth the message clearly.
While writing descriptively, it's a good practice to paint a picture that appeals to all five senses -- sight, touch, smell, taste, and hearing.
Even though this might not be possible in every scenario, keep this hack in mind and use it wherever appropriate to increase the word count.
Here's an interesting video by eHow Education on how to become a descriptive writer
4. Include examples
Using examples while writing essays is perfect practice. It helps you write more clearly and put forth your point while strongly backing up your arguments and adding credibility.
Apart from that, this practice also lends to the word count.
Examples can explain information that isn't common knowledge, reinstate an argument, highlight a concept, or even draw differences.
So, try and use examples in the form of real-life scenarios, paraphrasing, quotations, and even metaphors wherever possible. Here are some phrases you can use to introduce examples:
For example
For instance
According to [insert author's name]
As stated by [name of the author or study]
5. Include statistical data
Numbers are robust and provide practical tools to support your claims or persuade the reader. Read your essay and find sentences that can be strengthened with statistical data.
What's important is ensuring they're relevant to the topic, add value to the essay, and let readers interpret it with ease.
As data generally stems from existing studies or research material, ensure you only include data from credible sources, as its absence is sure to do more harm than good.
6. Insert illustrations
Why submit text-heavy essays when you can insert illustrations and make them meatier (and longer)?
You can use illustrations in the form of images, screenshots, graphs, infographics, and charts to strengthen your argument. The idea is to illustrate your point with greater precision, so ensure you only insert relevant illustrations.
Don't forget to add a crisp caption explaining what the image is about and citing the original source.
7. Write well-formatted paragraphs
Your essay is made up of smaller, coherent paragraphs that are meant to offer a unified reading experience. Just the way an essay is made up of an introduction , body, and conclusion, each individual paragraph also comprises three elements:
the topic or leading sentence
supporting sentence
concluding sentence
So, while re-reading your essay to make it longer, make sure every paragraph has these three elements.
8. Use transition words
A good writer can transition from one point to another while keeping readers engaged. That's precisely what you need to aim for while writing college papers.
However, this trick also comes in handy when trying to make your essay longer.
Words or phrases used to link sentences are referred to as transition words. Some examples include:
Additionally
Even though
Generally speaking
These phrases create links between your sentences, making them seem unified and coherent while adding to the reading experience. They give examples, emphasize, compare, draw conclusions, or summarize.
9. Avoid contractions
Why say 'can't' when you can say 'cannot'? Why say 'isn't' when you can say 'is not'?
While contractions are common in speech and even informal writing, such as blog posts, it's better to avoid contractions while writing academic papers unless you're quoting something that originally includes contractions.
This might seem like a minor step but using this hack (along with the others) will get you closer to the word count.
Here's What You Should NOT Do to Make Your Essay Longer
While these were legitimate hacks, there are instances when students resort to desperate measures to lengthen their essays.
Let's face it- your teachers have come across hundreds of essays, and they can spot foul play well when they see it.
So, here are three mistakes you should avoid at all costs if you're trying to make your essay longer.
1. Play with fonts and spacing
You might think you can cheekily increase the font size from 12 to 14, use a larger font or increase the line spacing and make your essay appear longer but hey, stop right there.
This isn't going to get you anywhere.
2. Use the 'period' trick
The period trick is about replacing all periods (.) across your essay with one of larger font size and wondering if professors notice the period trick. Guess what they do. So, please don't do it.
3. Spell out numbers
The age-old trick of writing ten thousand instead of 10,000 is not a good idea either. Remember: the golden rule of writing states that small numbers ranging from one to ten should be spelled out, and more significant numbers should be written in numerals.
So, unless specified in the formatting guidelines, don't make the mistake of spelling out all your numbers.
Make your Essay Longer: The Takeaway
Yes, it's not a good feeling when you get to the end of your essay and have to go over it again just because you did not meet the word limit.
But you instead take this additional step than submit a half-baked essay that falls short of the required word count? Doing this indicates that you're not adhering to instructions and is sure to impact your final score.
So, follow these nine hacks and make your essay longer than it is through legitimate means. If you're stuck and need additional guidance, contact Writers Per Hour.
Our team of expert writers is here to help you submit original papers that meet the word count and are well-written.
Last edit at Jul 27 2023
Stefani Holloway
Stefani is a professional writer and blogger at Writers Per Hour . She primarily contributes articles about careers, leadership, business, and writing. Her educational background in family science and journalism has given her a broad base from which to approach many topics. She especially enjoys preparing resumes for individuals who are changing careers.
What does your service do?
Do you have free essay samples?
How much does it cost?
How to order my essay?
Share this article
Sign up and get 20% off on a custom paper
By entering your email above you agree to receive our periodical marketing emails. We do not sell or share your personal information.
Thesis Writing Service
Marketing Plan Writing Service
Case Brief Help
Do My Accounting Assignment
Buy Persuasive Essay
Buy Non Plagiarized Essay
Urgent Essay Writing Service
Extended Essay Writing Service
Write My Scholarship Essay
IB IA writing service
Fast Essay Writing Service
Pay Someone to Write My Paper
Help With University Essays
Analysis Essay Writing Service
Write My Argumentative Essay
Do My Coursework
Do My Case Study
Professional Business Plan Writers
Homework Writer
Capstone Project Writer
Hire Creative Writers
Professional Dissertation Writer
MBA Essay Writer
Buy Personal Statement
Write My Philosophy Paper
Write My Psychology Paper
Hire Research Paper Writer
Do My Research Paper
Buy Research Proposal
Paper Editing Service
Write My Book Report
Write My Essay Please
Write My Speech
Write My Annotated Bibliography
Write My Lab Report
Write My Literature Review
Write My Assignment
Buy a Paper for College
Write My Discussion Post
Tok Essay Writing Service
Buy Biology Paper
Do My Powerpoint
Do My Math Problems
Starting a Business
Growing a Business
Business News
Science & Technology
Money & Finance
Green Entrepreneur
Subscribers For Subscribers
Store Entrepreneur Store
Spotlight Spotlight
United States
Asia Pacific
Middle East
South Africa
Copyright © 2023 Entrepreneur Media, LLC All rights reserved. Entrepreneur® and its related marks are registered trademarks of Entrepreneur Media LLC
7 Writing Hacks Every Writer Must Know Want to write better and quicker? These tips and tricks from the pros will help make the process much easier.
By Jonathan Small • Feb 20, 2023
Anyone who tells you that writing is easy is probably using ChatGPT .
The truth is being a good writer is a challenging skill to master. It takes practice, discipline, creativity, and a willingness to experiment and screw up.
But you can use certain tried-and-true hacks to be a more productive and effective writer. Whether you're struggling with writer's block or feel like you're really bad at it, try implementing these strategies to make the words fly off the page.
Related: This Is What 300 Writers Say Made Them Successful
1. Write every day
Writing takes practice. Carving out some time to write every single day, even if it's just for 10 or 15 minutes, will inevitably improve your writing. Think of it like working out. The more you train, the stronger you become.
Before writing, give yourself a goal for what you want to accomplish in your 10-minute session. This could be an email to an important client, an essay, a piece of fiction, or a love letter. It doesn't matter what it is or if it's good, as long as it gets you in your seat writing something down.
2. Write for concentrated periods of time
Many writers swear by the Pomodoro Technique . This involves breaking up your writing time into small, focused intervals or "pomodoros," typically 25 minutes each, followed by short breaks.
Why is this effective? The Pomodoro Technique helps fend off procrastination by forcing you to do it for short periods of time rather than long stretches, which can be intimidating. It also helps you manage your time better by scheduling your writing time and breaks==
One bonus tip: Silence all social media, email, phone, and web browsers during your pomodoros to avoid distraction. It's only 25 minutes — you can do this!
3. Read more
At the risk of sounding like Captain Obvious, you can't be a good writer unless you read good writing. That's sort of like trying to be a good tennis player but never playing tennis.
Reading can be difficult in our hyper-distracted world, with Instagram posts and TikTok videos vying for our attention. Last year a Gallup Poll found that U.S. adults read roughly two or three fewer books per year than they did between 2001 and 2016.
But reading well-written books and articles can help broaden your vocabulary and expose you to different writing styles and techniques. By reading good writing, you will learn much from what you take in, like osmosis. Your grammar will improve, your word choice will get smarter, you'll have better ideas, and you'll have an overall appreciation for writing.
4. Be done, not perfect
"Done is better than perfect," professional freelance writer, David Hochman, told me on my podcast Write About Now . Hochman has written thousands of stories for different publications, and his advice to aspiring writers is to stop worrying so much about your content.
"Don't agonize over getting it perfectly," he says. "It will not happen, especially if you're the final judge. Sometimes the simple act of just finishing something is enough.
To hear my entire interview with David about writing hacks, check out the podcast below.
5. Write first, edit later
It's a rookie mistake to edit yourself while you write. Professional writers know the best technique is to let it flow in the first draft, getting your ideas on the screen without worrying about perfection. Later, you can go back and edit.
When you focus on writing without stopping to edit, you allow your creative side to take the driver's seat, generating ideas you may not have thought of otherwise. You also avoid getting bogged down in the details such as stopping to do a "quick" internet search, which takes you down a non-productive rabbit hole for 2 hours.
Related: Want to Be a Better Writer of Books and Essays? Start by Avoiding These Common Writing Mistakes.
6. Show don't tell
One hack that will make your writing stand out from the pack is providing good, sensory details that allow the reader to experience the story rather than simply being told what's happening. It's more effective to show what's happening in a story than simply telling them.
For example, rather than writing, "the room was a mess," you might write something more descriptive like, "Dirty clothes were strewn across the floor and papers and books were scattered across the desk."
Or as Anton Chekhov, a much better writer than me, once said: "Don't tell me the moon is shining; show me the glint of light on broken glass."
Related: Ken Follett's Secret Formula for Writing Success
7. Avoid overused or filler words
Good writing is concise. Avoid using unnecessary words that might confuse your readers. A good hack is to go through your writing after it's finished and slash and burn any words that don't add to your argument. Here are some common culprits:
"Very": This word is often used to add emphasis, but it can be vague and imprecise. Instead, try using a more specific adjective to convey the same meaning.
"Just": This word is often used to downplay the importance of something, but it's often just unnecessary.
"Really": Just like "very," this word is often used to add emphasis, but it can be imprecise. Try getting ride of it or using a more specific adjective or verb to convey the same meaning.
"So": Whenever you write so, especially at the beginning of a sentence, ask yourself if it would be just as good without "so."
"Moreover; Furthermore; Hence; Therefore" Unless you're writing a thesis that requires formal, academic language, avoid using puffed-up words that make your writing stiff and boring. Try to write more like you're talking to a friend.
Don't beat yourself up
Remember, writing is hard—even the best writers complain about it. Ernest Hemingway once said, "There is nothing to writing. All you do is sit down at a typewriter and bleed."
Do your best and learn from your mistakes.
And don't let ChatGPT do all the work for you.
Entrepreneur Staff
Editor in Chief of Green Entrepreneur
Editor's Pick Red Arrow
Lock Its First Year, This Startup Struggled to Get 75 Clients. Five Years Later, They Have 18,000. Here's How They Did It .
I Sold My House to Work Remotely on a Cruise Ship for 3 Years — and I May Stay Aboard Even Longer. Here's What My Life Will Look Like.
Lock Think You Screwed Up? These 6 Business Leaders Share Their Big Mistake — and Lesson Learned .
This Founder Walked-On to a Top College Basketball Team in the '90s. Today, He and Drew Brees Are Bringing the 'Walk-On Mentality' to Franchising .
Lock Do Unplug Days Lead to Productivity? The Answer May Surprise You .
Here's the Secret to Growing Your Small Business , According to Execs at UPS, Airbnb, Mastercard, and Other Big Brands
Related Topics Red Arrow
Most popular red arrow, tech ceo, 26, found dead in suspected murder.
Pava LaPere founded EcoMap Technologies in December 2018.
Video: Jack in the Box Employee Shoots at Customer Over Alleged Missing Curly Fries, Family Files Lawsuit
Newly-released footage shows the 2021 incident.
Levi Strauss CEO Says His 'Biggest Regret' Is Not Firing More People Sooner: 'I Held On to Somebody Longer Than I Should Have'
Charles Bergh will step down as CEO of Levi Strauss next year.
Hey, CEOs: Stop Dating Your Employees and Trying to Cover It Up
Just some friendly advice.
This State Just Replaced New York as the Country's Second Most Valuable Housing Market
A recent report by Zillow found that Florida has edged out New York as the second most valuable housing market in the U.S., while California is still No. 1.
Sorry, Point-Lovers—Buying With a Credit Card Can Be Costly For Small Businesses
"Swipe fees" — charges imposed on merchants for processing card payments — can add up for small businesses, with some saying it's their third largest expense.
Successfully copied link
lol Badge Feed
win Badge Feed
trending Badge Feed
Browse links
© 2023 BuzzFeed, Inc
Consent Preferences
Accessibility Statement

18 Simple Essay Hacks Every Student Needs To Know
Turn off Netflix for starters.
BuzzFeed Staff 1. Start with a good quote for inspiration. A killer quote can give credibility and purpose to your introduction , or it can provide the major mic drop to conclude the essay with. A great quote can also help give you purpose as you write, even if you end up editing it out of the final draft.
2. Try the Pomodoro technique .
Pomodoro is a time management technique that breaks your work time into 25-minute bursts. After each burst, you get a five-minute break to stretch your legs, make a cup of tea, etc. Then you go again.
There are many different apps for both iOS and Android, or you can use websites like Tomato Timer , which has a simple interface and desktop notifications (pictured).
3. Block out distracting notifications. Freedom is an app for Mac and Windows that turns off your internet connection for a set amount of time, giving you a distraction free window without Facebook, Twitter, and email notifications disrupting your flow.
Use it in conjunction with your Pomodoro timer in 25-minute bursts, and use your five-minute break to see how many favourites your "#AmWriting" tweet got.
4. Block out distracting noises. Ambient sounds like white noise create a buffer between your ears and your immediate environment, blocking out distractions without overwhelming the senses. There is a list of great apps and websites that generate sounds here .
5. Use Wikipedia to find sources, not answers.
Academic papers and studies can be hard to search for. The footnotes at the bottom of Wikipedia pages are a rich source for relevant studies to read on your chosen subject, providing they aren't hidden behind a paywall.
6. Recover lost files in Word.
7. or just use google docs .. Google's cloud-based Docs is formatted similar to Word or Pages, but every word you type is autosaved. Unless you go out of your way to delete a specific file, you'll never lose your work again. And you can access and edit it from any machine.
If you're not a fan of Google, try Evernote for a cloud-based app with dozens of great features.
8. But if you are using Word, at least use this shortcut to find better words.
9. sharpen your sentences by cutting unnecessary words., 10. never ever double space after a period. ever. ever..
J Jacobs @jjacobsorg Nothing Says Over 40 Like Two Spaces after a Period! http://t.co/5x4xjrxqny 02:47 PM - 03 May 2015 Reply Retweet Favorite
This is a hangover from the days of typewriters. You are not using a typewriter, so don't do it. If you're using a typewriter then cut that shit out, hipster.
11. Get up and walk around. Stretching your legs will get the blood flowing, even if you just stroll around the room or downstairs to get some water.
Even better, get some fresh air. Walk outside a moment, or crack open a window.
12. Get out of the house. Go to a café or library. A change of scenery can help motivate you to get some work done. Some find the ambient bustle of a coffee shop helps them focus, and it's near impossible to procrastinate in a library. The studious masses will encourage concentration, and you won't be short of a source or two for your essay.
13. Write your first draft by hand. A pen in your hand means you can scribble notes and thoughts as you think of them without having to organise them on the page.
Once you've done a rough draft, type it into your computer. You'll edit as you transcribe.
14. If you don't like traditional word processors, try a clean writing enviroment like IA Writer .
IA Writer offers a clean, distraction-free interface that lets you focus on your words. You can export into a Word doc, and it will sync to Dropbox or iCloud. Perfect if you like a clean, minimal, and clutter-free screen.
15. If you're working on a longer essay, try using Scrivener to organise your thoughts . Scrivener is the opposite of IA Writer– it does everything. It will help you structure your essay, keep track of what you've written, move segments around, and much more. If you're writting a dissertation-length essay, Scrivener might just save your mind . It even has a clean writing interface.
16. Use Wordle to generate a cloud of your most used word to help avoid repetition.
17. when editing, change the font to something with a serif, and print it out.. Printing the essay will help highlight errors you missed on screen, and a serif font is easier on the eyes.
18. Paste your essay into Google Translate and hit the speaker icon to hear it read aloud. This will help you improve the flow of your writing, and pinpoint any errors with spelling or grammar.
And if all else fails...
David Martinez @martinezd__ Good tips for miss gills essay 04:50 PM - 03 May 2015 Reply Retweet Favorite
Share This Article