Communication
Entertainment
Environment
Race And Ethnicity
Recreation And Sports
Social Issues
Environmental Management Essay
Essay preview.
ENVIRONMENTAL MANAGEMENT
Environmental management and sustainability have been recent important issues in the hospitality industry. The hotel industry, as a main sector of the hospitality industry, has benefited from environmental initiatives through improving corporate image and increasing resource and energy efficiency. Among various environmental issues that have been addressed in the hotel industry, managerial influence on environmental management is rarely investigated.
The purpose of this study was to examine the current state of environmental management in the hotel industry. Further, this study also determined a relationship between top managers' personal environmental attitudes and organizational involvement in environmental management practices. To achieve the purpose of this study, this study examined currently adopted green practices, top managers' environmental attitudes, and their perception of advantages derived from environmental management.
Hotels that participated in this study showed greater involvement in energy management, water conservation, and waste management practices than hotels examined by previous research in different geographical areas. The results of this study showed a correlation between top managers' environmental attitudes and organizational involvement in environmental management. It was also found that top managers' environmental attitudes were positively related to their perceived advantages of environmental management. These findings present various managerial and theoretical implications for related organizations and hotel management companies.
The hotel industry should keep promoting green hotel practices to reduce negative impacts on the valuable environment and increase operational efficiency. In order to promote environmental management in the hotel industry, related organizations, governments, and stakeholders need to focus on raising top managers' environmental awareness as well as providing information on successful cases of environmental management.
INTRODUCTION TO ECO FRIENDLY ACTIVITIES ADOPTED BY HOTELS
Sustainability and environmental management have become one of the most critical management issues facing companies in a wide range of industries as well as hospitality firms as a result of growing environmental awareness among consumers, governments and social groups and employees. Reflecting this large scale trend, a number of research initiatives have been made to address these emerging issues in the hospitality industry context. The focus has been on identifying environmental management initiatives some green hotels have been making (e.g. Kirk, 1995; Mensah, 2006; Bohdanowicz, 2005; Stipanuk, 1996; Iwanowski & Rushmore, 1994). Growing consumer awareness and attitudes toward environmental issues and green products and services have been explored by some researchers (Manaktola & Jauhari, 2007; Gustin & Weaver, 1996). The identification of motivations for going green has also been the focus of a host of studies (e.g. Tzschentke, Kirk, & Lynch, 2008; Bohdanowicz, 2005; Tzschentke, Kirk, & Lynch, 2004). In spite of a wide range of literature on environmental issues in the hospitality context, little research has been conducted to explore why some hotel companies come into the spotlight through their pro-environmental initiatives while others do not, and what factors affect the mode and posture of hotel companies' responses to environmental issues. This study will look for an answer to these questions by examining the relationship between top managers' environmental attitudes and corporate environmental activities. This research will primarily examine managers' personal environmental attitudes and environmentally-friendly practices hotel companies are currently implementing, and identify how general managers' world view concerning the environment affects integration of environmental issues into operations in hotel companies. This chapter will identify problems, and state the research purpose and questions. The second chapter will present a review of the literature in the following areas: environmental management in the hotel industry, environmental attitudes and behavior, and organizational theories highlighting top managers' role in organizational mechanisms for responding to the external environment. Chapter three will present the research methodology, while analysis of the data will be presented in chapter four. Finally, chapter five will make discussion of findings, conclusions, summarize the present research, and suggests directions for future research. The World Commission on Environment and Development (1987) and International Hotels Environmental Initiative (IHEI) (1992) started acting as a catalyst for greening hospitality practices (Kirk, 1998; Tzschentke et al., 2004). Since then, many hotel companies have participated in the green initiatives and adopted a pro-environmental policy. It has been reported that many hotels have taken advantage from their environmental initiatives through responding to customers' increasing environmental concerns (Manaktola & Jauhari, 2007; Gustine & Weaver, 1996), thereby enhancing corporate image, and achieving a high level of energy and resource efficiency (Kirk, 1995; Iwanowski & Rushmore, 1994). An important question is what determines hotels' environmental activities and commitment? Much previous research across a range of disciplines has attempted to identify forces that motivate and encourage firms to respond to environmental issues. Stakeholders such as customers, local communities, government agencies, and public interest groups are considered relevant parties that affect environmental decision-making and actions, which in turn, have impact on the stakeholders (Banerjee, 2002). Organizational capabilities and the availability of resources to implement a proactive environmental management strategy also largely influence managerial decision-making (Banerjee, 2001; Lee & Rhee, 2006). Some research has pointed out that managerial perceptions of various environmental issues such threats and opportunities associated with environmental issues have impacts on corporate environmental responses (Banerjee, 2001; Lee & Rhee, 2006). Other research efforts have been made to identify management's perceived motivations to go green in the hospitality context (Kirk, 1998; Tzschentke et al., 2008). They include financial benefits, improved stakeholder relationships (Kirk 1995, Iwanowski & Rushmore, 1994; Tzschentke et al., 2004), and ethical concerns (Tzschentke et al., 2008). These motivations to go green are inevitably determined by the way top managers see the environmental issues as well as various internal and external factors that are relevant to their organizations as "managers' personal values can be a motivating factor" for corporate social responsibility (Heminway & Maclagan, 2004, p.36). In addition, given that "corporate environmentalism is the recognition of the importance of environmental issues facing the firm"(Banerjee, Lyer, & Kashyap, 2003, p. 106), firms within a common industry context tend to implement similar environmental management strategies since they have similar situational contexts such as relationships with stakeholders and government regulations (Sharma, 2000). However, some studies have also argued that corporate environmental management strategy can be different among companies operating within the same industry which has similar social, regulatory, and public policy contexts (Hart & Ahuja, 1996; Russo & Fouts, 1997; Sharma & Vredenburg, 1998). What makes that difference? This research will seek an answer to this question, focusing on managers' environmental attitudes and corporate environmental behaviors. Further, it is found that green practices among small lodging operations are mainly driven by owner-managers' ethical concerns about the natural environment (Tzschentke et al., 2004). This implies that top managers' attitudes toward environmental issues might be directly linked to and affect hotels' response to those issues. Plentiful empirical evidence has suggested that psychological factors such as individual values and environmental attitudes underlie environmentally conscious behaviors (e.g. Stern and Dietz, 1994; Stern, Dietz, Kalof, and Guagnano, 1995). Considering that organizational mechanisms for interpreting the business environment, processing information and establishing goals cannot be separated from involvement with individuals with these attributes (Daft & Weick, 1984), top managers' individual environmental attitudes therefore can be the basis of interpreting environmental issues facing their organizations and one of the deciding factors that determine corporate environmental behaviors. This research is needed because little empirical research has been conducted to examine the relationship between top managers' personal environmental attitudes and corporate environmental behaviors in the hotel industry. Theoretically, as an organizational application of attitudes-behaviors theories, this study will also try to determine if individuals' psychological variables that guide behaviors in a certain manner can predict organizational activities. Further, in an attempt to verify the relationship between the top managers' attitudes, perceived advantages of environmental management, and corporate environmental activities, this study will provide interest groups with a better understanding of determinants of environmental management initiatives in the hotel industry, and thereby suggest a way to promote hospitality firms to be eco-friendly and socially responsible.
ENVIRONMENTAL MANAGEMENT IN HOTEL INDUSTRY
The hospitality industry has been traditionally considered one that does not have a great impact on the natural environment compared to such industries as gas and oil, and other consumer product manufacturing industries. However, the hotel sector, in particular, one of the main business sectors in the hospitality industry, generates much more negative environmental impacts than the public perceives, consuming a vast amount of local and imported non-durable goods, energy and water, as well as emitting a large amount of carbon dioxide (Kirk, 1998; Bohdanowicz, 2006). As an emerging business strategy in the hospitality industry, environmental management has been attracting much interest from industry practitioners as well as scholars.
Main drivers of going green
Attempts to identify main motivations and incentives to implement environmentally friendly practices in hotel companies have been made to enhance understanding of corporate environmental decision-making and directions of environmental management in the hotel industry. Much previous research has identified the main forces that determine green initiatives of hotel companies, and seemed to reach a consensus on them. The extent of significance hotel managers place on given driving forces however has been different in some degrees because the hotel managers have different situational contexts such as local government regulations, overall social concerns about environmental issues, and characteristics of their establishments. Kirk (1998) examined hotel managers' perceived benefits of environmental management. The items measuring the managers' perceived benefits of environmental management are: increased profitability, enhanced customer and employee satisfaction, improved relationships with the local community, help with public relations, and a marketing advantage over competitors. The results suggest that hotel managers in the U.K displayed a moderate level of agreement on overall benefits of environmental management. The most significant benefits were the potential for improved public relations and better relationships with local communities. Bohdanowicz (2005) conducted a large scale study examining environmental management in over 600 European hotels and found that reducing operating costs is the most significant driver for the hotels to implement environmental initiatives, followed by demands from customers and improved hotel image. Mensah (2006) investigated green practices and hoteliers' perceived aims in Ghana, and found that providing a safe and healthy environment, quality service in clean environment, and reducing costs of environmental hazards were some of the main objectives of environmental initiatives. Tzschentke et al (2008) found that European hotels, in particular owner-managed small lodging operations, are mainly driven by ethical as well as economic considerations. Economic benefits have been considered one of the most visible advantages coming from environmental initiatives. A vast amount of industry literature has highlighted economic benefits of environmentally friendly practices as one of the main drivers of going green, and related environmental organizations have provided quantitative evidence of cost savings. Marriott International, for example, currently has 211 Energy-Star-rated hotels in its system. Those hotels have 35 percent less energy use than average buildings (Marriott International, 2007). The InterContinental hotel Chicago O'Hare also utilizes 100 percent renewable energy credits from wind as well as a green roof that helps reduce cooling costs, and saves 40 percent on energy costs through the use of LED lights (Esposito, 2008). Much academic research has also found the economic benefits through greater resource efficiency are one of the most frequently cited and significant drivers to implement environmental management (Iwanowski & Rushmore, 1994; Bohdanowicz, 2005; Kirk, 1995, 1998; Mensah, 2006). Financial advantages over competitors through green initiatives are, however, somewhat questionable. As a proxy of competitive advantage through environmental management, objective financial performance data were collected, and the relationship between the economic performance and the degree of environmental management commitment was examined in the Spanish hotel context (Cortes, Azorin, Moliner, & Gamero, 2007). No significant impact of the environmental commitment on the financial performance was observed. Researchers however pointed out that the application of environmental management is very recent in the destination analyzed, and a longitudinal research is needed to get more reliable results about the relationship between the two variables. Much research in general industries emphasizes improved stakeholder relationships as one of the most significant external forces that drive corporate environmental initiatives (Banerjee, 2001; Lee & Rhee, 2006). Some research in the hotel industry also presented empirical evidence that environmental initiatives are driven by stakeholder influence, such government, customers, and nongovernmental organizations (NGO). Managerial perceptions of stakeholder relations concerning environmental issues however vary according to the countries where the research is conducted. Kasim (2007) identified main drivers of and barriers to environmental management in Malaysian hotels. As an exogenous driver, government's regulatory forces are considered one of the most deciding factors for Malaysian hotels to adopt environmental management. Local government organizations, for example, provide the hotels with guidelines of environmental management and attempt to include environmental management into the hotel rating systems. On the other hand, Bohdanowicz (2005) identified demands from customers as the second most influential incentives for hotel managers to adopt environmentally friendly practices in the European hotel industry. This indicates that hoteliers are increasingly aware of the customers' increasing concerns about the natural environment and corporate social responsibility, and their environmental purchasing trends. In a similar vein, Manaktola and Jauhari (2007) examined customers' attitudes toward gr...
Welcome to the website of "Knowledge to All" Foundation with ID No. 206464034 - a non-profit in public benefit registered in the European Union. Our activities strive to empower knowledge, creative writing and critical thinking. © 2021 "Knowledge to All" Foundation with ID No. 206464034. All Rights Reserved.
Free Samples
Premium Essays
Editing Services Editing Proofreading Rewriting
Extra Tools Essay Topic Generator Thesis Generator Citation Generator GPA Calculator Study Guides Donate Paper
Essay Writing Help
About Us About Us Testimonials FAQ
Studentshare
Environmental Studies
Environmental management article
Environmental management article - Essay Example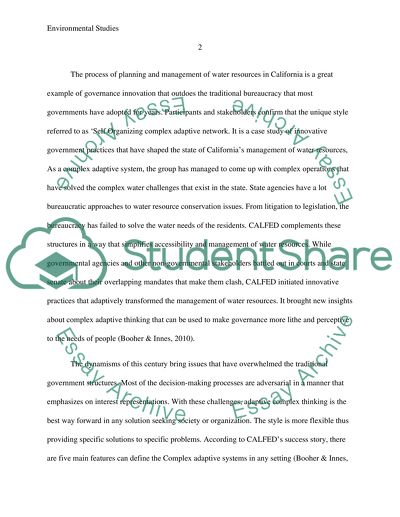 Subject: Environmental Studies
Type: Essay
Level: Masters
Pages: 1 (250 words)
Downloads: 2
Author: danielle32
Extract of sample "Environmental management article"
Environmental management article The process of planning and management of water resources in California is a great example of governance innovation that outdoes the traditional bureaucracy that most governments have adopted for years. Participants and stakeholders confirm that the unique style referred to as 'Self Organizing complex adaptive network. It is a case study of innovative government practices that have shaped the state of California's management of water resources, As a complex adaptive system, the group has managed to come up with complex operations that have solved the complex water challenges that exist in the state.
State agencies have a lot bureaucratic approaches to water resource conservation issues. From litigation to legislation, the bureaucracy has failed to solve the water needs of the residents. CALFED complements these structures in a way that simplifies accessibility and management of water resources. While governmental agencies and other non-governmental stakeholders battled out in courts and state senate about their overlapping mandates that make them clash, CALFED initiated innovative practices that adaptively transformed the management of water resources.
It brought new insights about complex adaptive thinking that can be used to make governance more lithe and perceptive to the needs of people (Booher & Innes, 2010). The dynamisms of this century bring issues that have overwhelmed the traditional government structures. Most of the decision-making processes are adversarial in a manner that emphasizes on interest representations. With these challenges, adaptive complex thinking is the best way forward in any solution seeking society or organization.
The style is more flexible thus providing specific solutions to specific problems. According to CALFED's success story, there are five main features can define the Complex adaptive systems in any setting (Booher & Innes, 2010). They include a large number of interconnected agents, dynamic interactions with vast exchange of information, non-linear interactions, an open system behavior, and resilient system that maintains viability and is sustainably dynamic.ReferencesBooher, D. E., and J. E. Innes. 2010.
Governance for resilience: CALFED as a complex adaptive network for resource management. Ecology and Society
Cited: 0 times
Copy Citation Citation is copied Copy Citation Citation is copied Copy Citation Citation is copied
CHECK THESE SAMPLES OF Environmental management article
Environment and behavior, science and policy for sustainable development, biomedical instrumentation and technology by nestor damasco, recreational land use, assessing and managing asthma: a global initiative for asthma update by pruitt and lawson.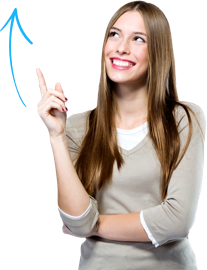 TERMS & CONDITIONS
PRIVACY POLICY
COOKIES POLICY
Do a more advanced search »
Conflicting Environmental Management Tools : Grazing of Semi-natural Grasslands vs. Wetland Conservation
Author: Gunilla Reisner ; [2013]
Keywords: biodiversity ; institutionalism ; rational choice ; environmental support ; Agri-Environmental Schemes ; environmental objectives ;
The study explores the possibility of conflicts between conservation of wetlands and semi-natural grasslands in the county of Stockholm. Both habitats are important to protect from a biodiversity perspective. The species rich semi-natural grasslands have been created by agricultural practices like grazing and mowing. At the same time, wetlands have diminished due to earlier drainage in order to increase the area of arable land. Both habitats are incorporated in the Swedish Environmental Objectives and are parts of the EU's Agri-Environmental Schemes (AES), where farmers get financial support to maintain or restore valuable habitats.
Wetland conservation/restoration often requires raised water tables, but also maintenance with cattle grazing in certain areas. On the other hand, raised water tables can act as hinder for grazing animals and lead to conflict situations. Using a mixed method approach, this study scrutinized if the use of different management tools can result in conflicts between actors and objectives. The study is based on a literature review, interviews and the use of Geographical Information Systems (GIS). Institutionalism and the Institutional Analysis and Development framework are used to analyze and evaluate the situation in the county of Stockholm.
The quantitative results reveal that 12,8 % of all semi-natural grasslands of high biological value intersects with wetlands. However, these areas are maintained with environmental support to a larger extent than semi-natural grasslands outside wetlands. This indicates there is no conflict between wetland and semi-natural grassland conservation, a perception shared by authorities. From farmers' perspective the situation is described differently, rule compliance for environmental support is hard to obtain specifically in wet areas. Increased dialogue between authorities and farmers rather than harsh inspections would be preferable as the county of Stockholm needs more farmers and grazing cattle to maintain biologically important habitats.
Grazing in wetlands is needed from a biodiversity perspective but can at the same time disturb the wetlands functioning of nutrient reduction. There is a risk of authorities prioritizing water quality in front of biodiversity in conflicting situations. Water, as a common-pool recourse, is surrounded by stricter regulation and also easier to monitor.
Searchphrases right now
Carina Gisela Theresé Portin
Authentication.
Niklas Wahlström
advantages of having a car
Samuel Gammenthaler
Narrative communication
intensive care unit
Partner Management
Popular searches
advantages and disadvantages of plastic recycling
Statutory Audit
importance of Dams
advantages of newspaper
literature review of online shopping
importance of perception ORGANIZATION
literature review program management
thesis law it
emerging issues in international marketing
website framework
challenges in project management
popular essays yesterday (2023-05-27)
Risk factors in newborns for large waist to height ratio at 1, 2 and 3 year follow up
GMock, a Component Testing Framework for gRPC-oriented Services
The "hidden" motivations of (un)sustainable laundry practices: A case study at a shared laundry facility in Sweden
Mutational analysis of the csgD mRNA leader: search for a mode of regulation
Successful Adult Learning Principles in Non-Academic Articles, Organizations, and Academic Theory
Implementation of visualizations using a server-client architecture : Effects on performance measurements
Single-hole sonic logging - A study of possibilities and limitations of detecting flaws in piles
Requirements for improving Contemporary e-tourism Information systems in terms of customer satisfaction
Balancing Normative and Pragmatic Considerations in Foreign Aid : A Case Study of Swedish Aid and its Focus on Democracy and Human Rights
Simulation of CamDrum for Shock Absorbers
Popular complementary terms: advantages, disadvantages, thesis, role of, example, importance, trend, impact, case study.
See yesterday's most popular searches here . Essays.se is the english language version of Uppsatser.se .