Home — Essay Samples — Government & Politics — United States Army — The United States Army: On Accountability In The Military

The United States Army: on Accountability in The Military
Categories: Army Army Values United States Army
About this sample

Downloads: 102
Table of contents
Time-honored american traditions that are still practiced today, the importance of accountability in the army, works cited.
Why does the Army stress accountability so much?
What adverse actions can happen to an organization when a Soldier fails to be accountable?
What are the benefits of accountability and how they benefit the Army?
How I can exercise accountability more efficiently in the future?
What have l learned throughout this experience?
Army Doctrine Publication 6-0: Mission Command. (2019). Headquarters, Department of the Army. https://armypubs.army.mil/epubs/DR_pubs/DR_a/pdf/web/ARN17980_ADP%206-0%20FINAL%20WEB.pdf
Army Regulation 600-20: Army Command Policy. (2019). Headquarters, Department of the Army. https://armypubs.army.mil/epubs/DR_pubs/DR_a/pdf/web/ARN20608_R600_20_FINALWEB.pdf
Cline, J. C. (2013). Accountability: The key to driving a high-performance culture. Wiley.
Converse, P. D. (2004). Accountability and the Army. Army Magazine, 54(12), 39-43.
Duncan, G. J., & Brooks-Gunn, J. (Eds.). (1997). Consequences of growing up poor. Russell Sage Foundation.
Heinonen, J., & Alanen, P. (2015). Accountability and the quest for responsible leadership. Journal of Business Ethics, 126(3), 437-450.
Laver, J. H., & Sergent, J. (2013). Leadership accountability in a complex world. Routledge.
McEwen, J. A., Tomlinson, J., & Koss, F. K. (2008). Maintaining accountability for the Army profession: The requirement for collective responsibility. Parameters, 38(1), 84-98.
Pierce, J. L., & Aguinis, H. (2013). The too-much-of-a-good-thing effect in management. Journal of Management, 39(2), 313-338.
U.S. Army. (2020). Army Values: Loyalty, duty, respect, selfless service, honor, integrity, personal courage. Retrieved from https://www.army.mil/values/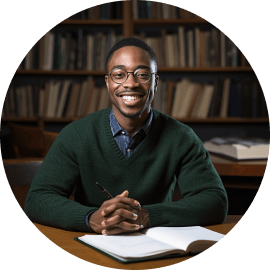 Cite this Essay
Let us write you an essay from scratch
450+ experts on 30 subjects ready to help
Custom essay delivered in as few as 3 hours
Get high-quality help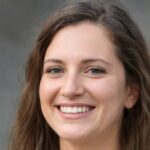 Verified writer
Expert in: Government & Politics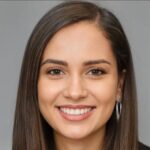 + 120 experts online
By clicking "Check Writers' Offers", you agree to our terms of service and privacy policy . We'll occasionally send you promo and account related email
No need to pay just yet!
Related Essays
1 pages / 379 words
1 pages / 624 words
1 pages / 401 words
1 pages / 537 words
Remember! This is just a sample.
You can get your custom paper by one of our expert writers.
121 writers online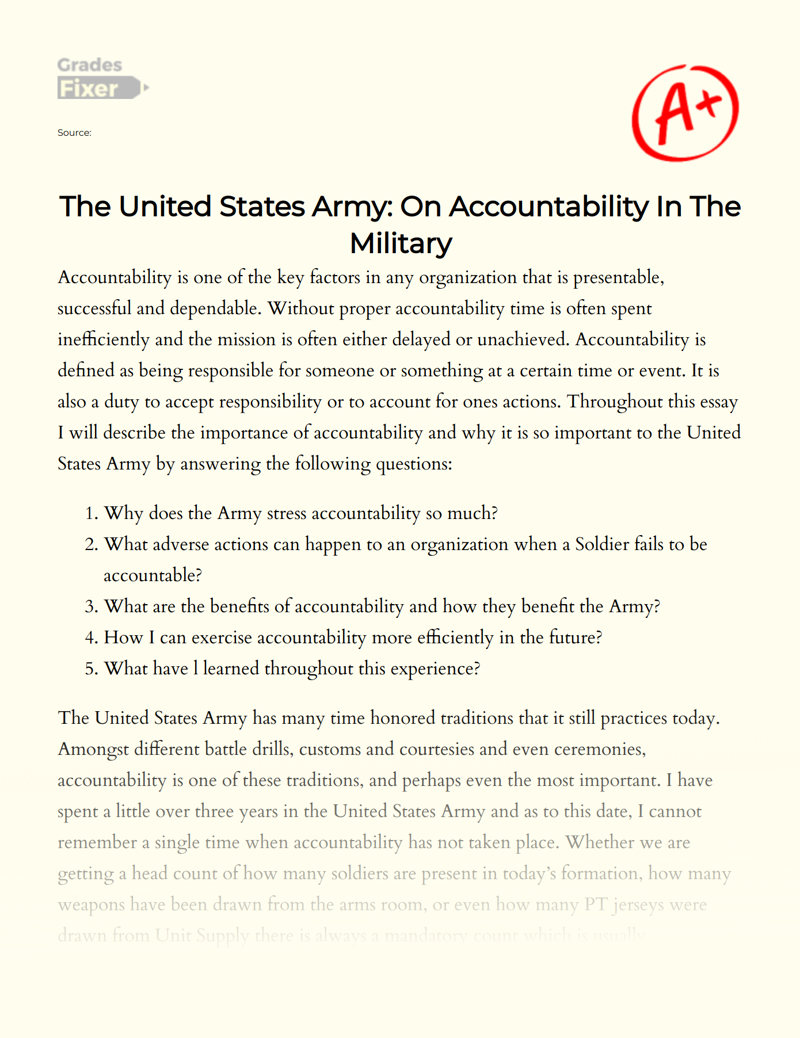 Still can't find what you need?
Browse our vast selection of original essay samples, each expertly formatted and styled
Related Essays on United States Army
Operation Anaconda, conducted in early March 2002, stands as a significant chapter in the War in Afghanistan. This essay provides an in-depth analysis of Operation Anaconda from an air power perspective, highlighting the [...]
Sexual assault and sexual harassment can be damaging, both mentally and physically. If either is committed within a unit, it creates a hostile work environment. This creates a lack of trust throughout the Army and diminishes the [...]
The term 'diversity' has commonly been used to describe the variations in characteristics among two or more individuals; it can cover visible (for instance, age, gender, race) as well as invisible (for instance, knowledge, [...]
The purpose of this essay is to outline why sexual harassment and sexual assault still take place in the Army. Many people look at sexual harassment assault response prevention (SHARP) at the lowest level. What I mean by [...]
As the Vietnam War progressed, the American military was sent to aid in preventing the spread of communism. In Amy Phan's collection of short stories We Should Never Meet, many Americans view their flying to South Vietnam to [...]
Headquarters, Department of the Army. (2016). Army Doctrine Publication (ADP) 6-0: Mission Command. Washington, DC: U.S. Government Publishing Office.Franks, T. R. (2004). American Soldier. Harper Perennial.Mikolashek, P. J. [...]
Related Topics
By clicking "Send", you agree to our Terms of service and Privacy statement . We will occasionally send you account related emails.
Where do you want us to send this sample?
By clicking "Continue", you agree to our terms of service and privacy policy.
Be careful. This essay is not unique
This essay was donated by a student and is likely to have been used and submitted before
Download this Sample
Free samples may contain mistakes and not unique parts
Sorry, we could not paraphrase this essay. Our professional writers can rewrite it and get you a unique paper.
Please check your inbox.
We can write you a custom essay that will follow your exact instructions and meet the deadlines. Let's fix your grades together!
Get Your Personalized Essay in 3 Hours or Less!
We use cookies to personalyze your web-site experience. By continuing we'll assume you board with our cookie policy .
We can help you get a better grade and deliver your task on time!
Instructions Followed To The Letter
Deadlines Met At Every Stage
Unique And Plagiarism Free
Accountability and the Leadership in Army
Introduction and the army leadership model, accountability to superiors and subordinates, accountability to peers and oneself, accountability to the country, video voice-over.
The dictionaries define accountability as "an obligation or willingness to accept responsibility or to account for one's actions." In the Army, accountability is a broader concept. It is essential for the leader since it enables all the requirements that the Army Leadership Model presents. Without accountability, the leader will not be able to introduce these elements into their work. The Army leadership model is a combination of requirements set for the Army leaders (Army Publishing Directorate, 2019). Consisting of Attributes and Competencies, it informs the leaders on what they have to be, do, and know. Attributes include character, presence, and intellect, while Competencies are leading, developing, and achieving. These characteristics are essential for a good leader. However, they would not be attainable without accountability, the key element. The purpose of this essay is to describe five main ways in which a soldier can be accountable in the Army: accountability to superiors, subordinates, peers, oneself, and the country.
The first aspect is accountability to superiors, which means being able to execute tasks without constant supervision. That may differ for Soldiers on basic combat training (BCT) and advanced individual training (AIT). Soldiers undergoing the first type of activity might need guidance because they do not yet know about the Army service. However, soldiers who have completed AIT, have more skills and freedom to take charge of certain tasks. This will allow for a soldier's development as a leader. The second important point is accountability to subordinates. Being a leader in the Army means teaching, coaching, and counseling other Soldiers. Therefore, a leader must ensure that a relationship with associates is developed, which will allow for effective work and problem-solving. The commander is responsible for everything the unit does or fails to do. Therefore, a commander must be accountable to subordinates to ensure their welfare.
Another aspect is holding peers accountable, as well as being responsible to them. The leaders have the duty to do the right thing while being loyal to their peers. It takes a strong character and courage to discuss the issues that may arise because of the peers' mistakes. Proper communication will also provide an environment where leaders encourage each other to be more involved and committed. Being clear about one's expectations and values will help to establish accountability in relationships with peers. The next aspect discussed here is accountability that leaders must hold to themselves. The Army needs people who are responsible for their own actions and mistakes, and who understand their strengths and weaknesses. It is the leaders' duty to ensure that they are the best leaders they can be. In case there is a lack of specific skills or knowledge, the leader has to get the necessary training. Being proficient, they will be able to provide help to their subordinates and peers when the latter need it.
Above all, the leaders have to remember their responsibility to the country. It is important to teach the leaders that serving in the Army means being accountable to the U.S. people and the Constitution (Army Publishing Directorate, 2020). Every Soldier must learn how to apply loyalty, duty, selfless service, and other army values. All these allow creating a foundation for further improvement and a positive climate in the units. In addition, leaders who are accountable for the causes mentioned above experience personal growth and improved performance. Accountable leaders are seen as dependable and strong Soldiers and Commanders. They are punctual, competent, and try their best to do the right thing at the right time and place. Accountability allows to gain peers' trust and respect, as well as set an example for them to follow. Viewing their leader as a role model, Soldiers will adopt similar behavior patterns.
All this allows the conclusion that accountability is a crucial factor that contributes to the Army leaders' growth. Regardless of the rank, every Soldier and Leader can and must learn accountability. The main way to do it is through experience, and the Army provides that experience. Leadership skills that Soldiers develop in a unique military environment have proven to be the strongest and the most sustainable. Serving in the military, Soldiers learn to be more self-aware. Every upgrade in rank gives them more privilege as well as more responsibility. The leader can implement all the components of the Army Leadership Model properly only if they apply accountability. Learning how to be accountable to superiors, subordinates, peers, oneself, and the country can provide valuable experience. It is impossible to overestimate the outcomes of such attitudes. Among them are improved performance, increased competency, better management skills, soldiers' involvement, and commitment.
Army Publishing Directorate. (2020). AR 600–20 Army Command Policy.  Web.
Army Publishing Directorate. (2019). Doctrine Publication ADP 6-22 Army Leadership and the Profession.   Web.
Cite this paper
Select style
Chicago (A-D)
Chicago (N-B)
DemoEssays. (2023, June 28). Accountability and the Leadership in Army. Retrieved from https://demoessays.com/accountability-and-the-leadership-in-army/
DemoEssays. (2023, June 28). Accountability and the Leadership in Army. https://demoessays.com/accountability-and-the-leadership-in-army/
"Accountability and the Leadership in Army." DemoEssays , 28 June 2023, demoessays.com/accountability-and-the-leadership-in-army/.
DemoEssays . (2023) 'Accountability and the Leadership in Army'. 28 June.
DemoEssays . 2023. "Accountability and the Leadership in Army." June 28, 2023. https://demoessays.com/accountability-and-the-leadership-in-army/.
1. DemoEssays . "Accountability and the Leadership in Army." June 28, 2023. https://demoessays.com/accountability-and-the-leadership-in-army/.
Bibliography
DemoEssays . "Accountability and the Leadership in Army." June 28, 2023. https://demoessays.com/accountability-and-the-leadership-in-army/.
The Foundations of Army Leadership
The Intelligence War in the Gulf
Servant Leadership and Followership in the Army
Foundations of Army Leadership
Strategic Initiatives in Security
Accountability and Communication in the US Army
"U.S. Airstrikes Target Iran-Backed Militias in Syria…": Summary
Military Leadership: The Role of Communication
Army Leadership Foundations
The Role of Military Force Today
Guide to Writing
Baby Thesis
Thesis Topics
Dissertation
Research Paper Topics
Sample Argumentative Essays
Letter Writing
Privacy Policy
Essay on Accountability in the Army
Accountability in the army refers to how things are being managed by the soldiers and who is being held responsible for all the actions, keeping records of documents, responsibility, weapons, appointments, meeting deadlines, arriving at work on time. In the morning formation of army significant information and responsibilities are shared and labeled.
If the accountability is lacking then the basic information would be missing as well for instance how will we be able to know where the soldiers are at in case of emergency formation, how many weapons are being used or how much weapons we are possessing things like this. Everyone has a lot of expectations from soldiers and they must be capable of fulfilling those expectations and any kind of misconduct or bad impression will not be acceptable from them.
Of course, they are only human and it is a human nature to make mistakes as long as they will not make those mistakes their habit then it is fine although if it has become a habit of them to cause problems then serious actions would be taken after all they are the leaders and they must act like one.
Being accountable also involves being at the right place at the right time with the right gears and uniform for emergency tasks. Soldiers have a lot on their plates already and if one is asking as why things like being late in formation, missing their appointments for any particular reason is taken so seriously then the answer to that is, soldiers are trained with hardship there is physical training, training with weapons and basic survival techniques that are taught to them but besides these they are trained in their personal life also, they are on duty in their personal life as well.
It helps them become even more better as the qualities that are used by them in their personal life are also being utilized in their work life which is also for their benefit for instance being late for formation, appointment or for any other matter is not considered good whether in the army or anywhere else.
Soldiers must behave responsibly, show discipline to their upper management and follow the rules and orders that are being told to them. Discipline, responsibility it all cannot be taught by books and journals this is what you learn from the experience and from your fellow and above ranks.
Following the orders is a very important task for a soldier as it ensures that everyone is aware of the same situation and increases the efficiency of the work. Discipline army is the one who creates a military, the army does not exist without discipline. Discipline and accountability are significant in everyday life.
To sum up everything that has been stated so far, accountability makes sure that all the soldiers are working concerning the same goal. One acts responsible for their actions when he is aware of the detrimental consequences that might occur to his job due to his irresponsible, not-so good behavior.
Share this Post to Help Fellow Students
Useful Posts For Students
20 Best Laptops For Students
How I Won Eiffel Scholarship to Study For Free
16 Online Degree Programs From Top Universities
Should I Consolidate My Federal Student Loan?
8 Best Tablets For Students
Leave a Reply Cancel reply
Your email address will not be published. Required fields are marked *