IELTS Books
Speaking Part 1
Speaking Part 2
Speaking Part 3
Multiple charts
Opinion Essays
Discussion Essays
Problem Solution Essays
Advantages & Disadvantages Essays
Double Question Essays
Formal Letter
Informal/personal Letter
Semi-formal Letter
Describe your dream job
You should say:
what qualification or experience you would need for this job
what the job would involve
what you think the most difficult thing about the job would be
and explain why it is your dream job
Sample Answer:
Today I am going to talk about my dream Job for the future. I am going to tell you what the job is, the sort of experience and qualifications I might need to do it, then what it involves including what might be the most difficult thing about the job. I think it will be pretty obvious why it is my dream job, but I'll explain that too. My dream job would be to be a travel writer
Travel writers are often self-employed. They travel the world to interesting places and then write magazine, newspaper and internet articles about their experiences. In terms of qualifications, I think that's less important than having a portfolio of examples of your work that show you are a really good writer. Having said that, possibly qualifications that provide a good basic level of English language are useful, and maybe even creative writing or journalism courses might help you to build confidence and develop a writing style
To do this job you have to be willing to go to lots of new places. You also need to be able to write fluently and in different styles for different publications. Travel writers must be very flexible, as you might need to go to difficult or uncomfortable places and to travel at short notice
The most difficult part of the job? Well, it's not very well paid, so often travel writers need to have another job a well, because, unfortunately, you can't really make a living out of this type of work. Also, even if you are successful, it would be quite an unsettled way to live, it would be hard to maintain friends and pursue hobbies if you are moving around all the time … mind you, I think that would be a small price to pay to be part of such a fantastically interesting and stimulating profession
The reason I would like to do this job so much is that I love going to new places. For example, earlier this year I got to go to Vietnam to work as a TEFL teacher, that was a new and wonderful experience for me. I would so enjoy telling other people what it was like and encouraging them to go on an adventure of their own. I also like communicating ideas in writing, it would be wonderful to make a living out of the two things I enjoy most – travel and writing
Unfortunately, there are very few opportunities to make a living as a travel writer, so I think it might have to stay as my dream Job, rather than my actual job! Even so, I think it is important to have a dream, because otherwise how can you ever have a dream come true
Leave a Reply Cancel reply
#1 ielts app, most popular 24h, describe a television programme you watched and did not enjoy.
Describe your dream job!
Describe your dream job! You should say-
what is it?
Where did you hear it from?
How long do you want to do it?
Would you recommend this job to others?
Well, every living human being and every working professional has this dream to be in the topmost position in his company or to work in a multinational company. Well, I differ a bit over here in this time of coronavirus pandemic. I just came across a brilliant opportunity, but I have to tell you a bit of background of it in 2020 December. It was frustrating for me because I was overloaded with work and had some family problems.
So I decided to end the breath and meditation workshop, which is conducted by a non-profit organisation called the art of living. So basically, I enrolled and attended their three days workshop after attending a workshop this thought a noble thought I must say came to my mind that if I were allowed to do whatever I like, I would prefer to be a teacher in the art of living these teachers are helping human beings across the globe to improve their state of mind and to get the Peace of Mind, so this is my dream job. I would love to do that first as I come from well to do background financially, so it would not be challenging for me to leave my job and chase my dream. My wife is also working in a very reputed organisation and has an outstanding designation.
So it is not challenging for me to leave my job. Secondly, I have also started working towards achieving my dream. I have also consulted views of the art of living teachers and how they became part of living teachers, so they have also guided me to follow specific guidelines to become a teacher. Before that, the professionals have to be assessed that I would be able to commit certain hours in a day as service. So in this way, I would not only suffice my needs, but I will also serve the humanity my Gran father always used to tell me that we should always have that courage to return to society whatever they have given to us, so certainly I would love to do this job to guide people in their lives and to take them out of their problem and bring smile on everyone's face.
Follow-Ups Describe your dream job!
1. is money important in choosing a job.
Well, money is an element that is driving this world crazy, and indeed we should consider money while choosing a job. If it is not satisfying, we should not be doing that job because monetary advantages are everything at the end of the month.
2. What are the challenges employees are facing with the work from the home trend?
Haha, for this question, I can write an essay because I have been working from home since 2019 December as I'm working as a professional, so basically, there are no time limits when I used to go into office there were certain time limits for me that I check in at 10:00 AM and I checkout at 7:30. Still, since work from home is established now, there are no time limits for me. Secondly, there are no salary hikes as such companies are giving us excuses that we are already working from home and saving a lot because we don't need to wear fancy clothes as well as we don't need to travel so we are saving a lot that's why they didn't give hike in the previous year that's what work from home is damaging in this time of coronavirus pandemic.
3. Is working from home more beneficial than working from the office?
Well, as far as I am concerned, I will go with a hybrid approach where certain teams can meet in the office if required, but if it is not required and if someone is sitting back in their village or hometown, then they should not be called office having said that he or she is doing their job perfectly.
4. In what way it is beneficial?
Yes, work from home is beneficial in many ways. I can tell you many things about it firstly we can work from anywhere like just in the previous month my father was not doing well in my village. Hence, I travel to my village via train and stay there for a month. Having said that wherever you travel you need to have a strong and reliable Internet connection, secondly it saves a lot of money in terms of transportation. You don't need to buy formal or casual clothes to wear in the office third. The most important thing is whenever a female candidate is giving born to a child. She will be able to take care of her or him for a longer duration as maternity leave in India I just nine months, so with the help of work from home, she will take care of her children for a long time is preferred by her.
5. what are the disadvantages of working from home?
As mentioned earlier there are many ways when work from home is not beneficial firstly there are no time limits secondly companies are giving fewer hikes because they are throwing excuses as employees are saving a lot in terms of accommodation and transportation thirdly we cannot code in it with our team members frequently we used to do in the office fourthly and most importantly I would say that I missed the office culture like meeting the colleagues green treating I'm having lunch with having a team meeting or going on lunch together, so there are a lot of disadvantages of not going to the office and sitting back at your home and doing the job.
Follow Us on IELTSFever Instagram for more updates and the latest test tasks.
Also, Read Talk About a Time When You Changed Your Opinion
Click to share on WhatsApp (Opens in new window)
Click to share on Pinterest (Opens in new window)
Click to share on Facebook (Opens in new window)
Click to share on Tumblr (Opens in new window)
Click to email a link to a friend (Opens in new window)
Click to share on LinkedIn (Opens in new window)
Click to share on Twitter (Opens in new window)
Click to share on Reddit (Opens in new window)
Click to share on Telegram (Opens in new window)
Click to share on Pocket (Opens in new window)
Click to print (Opens in new window)
Pages Content
About The Author
IELTS FEVER
Leave a comment cancel reply.
Your email address will not be published. Required fields are marked *
Notify me of follow-up comments by email.
Notify me of new posts by email.
IELTS Mentor "IELTS Preparation & Sample Answer"
Skip to content
Jump to main navigation and login
Nav view search
Cue Card Sample
Describe your dream workplace - cue card # 681, ielts speaking part 2: ielts cue card/ candidate task card., describe your dream workplace..
what it would look like
what facilities it would have
where it would be
IELTS Cue Card
Candidate Task Card
IELTS Materials
IELTS Bar Graph
IELTS Line Graph
IELTS Table Chart
IELTS Flow Chart
IELTS Pie Chart
IELTS Letter Writing
IELTS Essay
Academic Reading
Useful Links
IELTS Secrets
Band Score Calculator
Exam Specific Tips
Useful Websites
IELTS Preparation Tips
Academic Reading Tips
Academic Writing Tips
GT Writing Tips
Listening Tips
Speaking Tips
IELTS Grammar Review
IELTS Vocabulary
IELTS Cue Cards
IELTS Life Skills
Letter Types
Privacy Policy
Cookie Policy
Copyright Notice
HTML Sitemap

Describe what you think would be the perfect job for you / What is your dream job – IELTS Speaking Cue Card Sample Answers
Updated On Sep 12, 2023
Limited-Time Offer : Access a FREE 10-Day IELTS Study Plan!
0.0.1 Describe what you think would be the perfect job for you/What is your dream job?
1 Sample Answer 1
2.1.1 Related Cue Cards
This article contains the Describe what you think would be the perfect job for you  Cue Card Sample Answers.
During Part 2 of the IELTS Speaking test, you will have exactly one minute to prepare and speak on a specific topic. This is the IELTS cue card task. You can learn how to speak clearly and successfully by reviewing sample answers.
This IELTS cue card gives you an opportunity to share one of your opinions on a perfect job for you.
Practise IELTS Speaking Part 2 by referencing the Cue Card Sample Answers below.
Before you start, take a look at the introduction to Speaking Part 2 below! 
Check out more Work/Study – Cue Cards .
For more Cue Cards, take a look at IELTS Speaking Part 2 | Topics, Questions and Samples Answers .
Describe what you think would be the perfect job for you/What is your dream job?
You should say:
What job it would be
What you would do in this job
And explain why you think this would be the perfect job for you
Sample Answer 1
Here is the Describe what you think would be the perfect job for you/What is your dream job? Sample Answer 1
Being a part of the millennial generation, albeit, with an old-school soul, I believe in discovering new opportunities and grabbing chances as and when they come. So, when it comes to my professional life, the job that I would really like to do is of a founder or a CEO.
Spending years refining my skills, communicating with like-minded people and learning ceaselessly, I believe I have acquired enough self-confidence to handle an empire of my own. Anyway, there is nothing more attractive than self-confidence. By being a founder or a CEO, I would like to run a service-based company. For the past few years, I have been learning the tips and tricks of digital marketing. And, owing to several companies turning toward internet establishment, it is apparent that this domain has a bright future. So, I would like to run a digital marketing company.
I am strongly fervent toward building a brand out of my own sheer hard-work and zeal. There is a legacy I wish to create. Thus, keeping this in mind, I consider building connections with startups and established organisations is one of the best ways to do so. Anyway, while doing so, I would get to expand my abilities and skills to serve them better. Also, I believe that I have good leadership skills to handle a growing and thriving team.
Sample Answer 2
Click on the audio to listen to the sample answer for Describe what you think would be the perfect job for you/What is your dream job? below read out loud.
Pay attention to the intonation and pronunciation of the words to maximize your Speaking score.
Being a girl living in my 20s, I strongly believe that I should choose a right path for my career. In my opinion, a good career is not only a job that can offer me a good income to afford my living, but is enjoyable as well. That's why I think a job in Marketing field will suit me well.
I had spent a great amount of time on defining my strengths and weaknesses as well as asking for advice from other people. After that, I came to the conclusion that my outstanding skill is writing which I have an inborn talent for. Since I was at the age of 8, I was found out to be gifted in Literature by my teachers. They contributed a lot to developing my set of skills. During years of study, majoring in literature, I was often considered to be among the best students. Along with my writing skills, I think I will utilize my analytic skills and creativity which I acquired after years of studying at my university to dig into customer's behaviors, then, develop a good campaign to get more customers for our company.
Additionally, I am strongly passionate about Marketing. Therefore, I began to work in this field quite early, since I was a freshman . Those working experiences provide me basic knowledge and skills of Marketing as well as strengthen my belief that this job would suit me.
Even though I have gained a lot of experience and knowledge of Marketing and I am currently working in Marketing department of Fast-moving Consumer Good company, I still have a long way to go before knowing it inside out. I also hope that I can be good enough to get some promotion in near future.
Here are the vocabularies for "describe what you think would be the perfect job for you/What is your dream job" with examples:
Come to a conclusion : to reach a decision. Eg: We talked for a long time but never came to any conclusion.
Outstanding : clearly very much better than what is usual: Eg: It's an area of outstanding natural beauty.
Inborn talent (phrase): existing from the time someone is born | natural or instinctive Eg: I have an inborn talent for singing
Acquire/pick up a skill (phrase): develop a skill.
Dig into: try to understand more about something Eg: As digging more into Math, I gradually fall in love with this subject
Utilize: to use something in an effective way: Eg: Vitamins come in a form that is easily utilized by the body.
A long way to go (phrase): to need to do a lot more before you are successful Eg: I still have a long way to go before fulfilling my dream to become a yoga teacher.
Know inside out (phrase): master something, know something well
Related Cue Cards
Describe something that you want to learn more
Describe An Educational TV Programme That You Have Seen
Describe Your Study Room
Describe a School you have Studied In
Explore More Work/Study Cue cards >>
Start Preparing for IELTS: Get Your 10-Day Study Plan Today!
Nafia Zuhana is an experienced content writer and IELTS Trainer. Currently, she is guiding students who are appearing for IELTS General and Academic exams through ieltsmaterial.com. With an 8.5 score herself, she trains and provides test takers with strategies, tips, and nuances on how to crack the IELTS Exam. She holds a degree in Master of Arts – Creative Writing, Oxford Brookes University, UK. She has worked with The Hindu for over a year as an English language trainer.
Explore other Cue Cards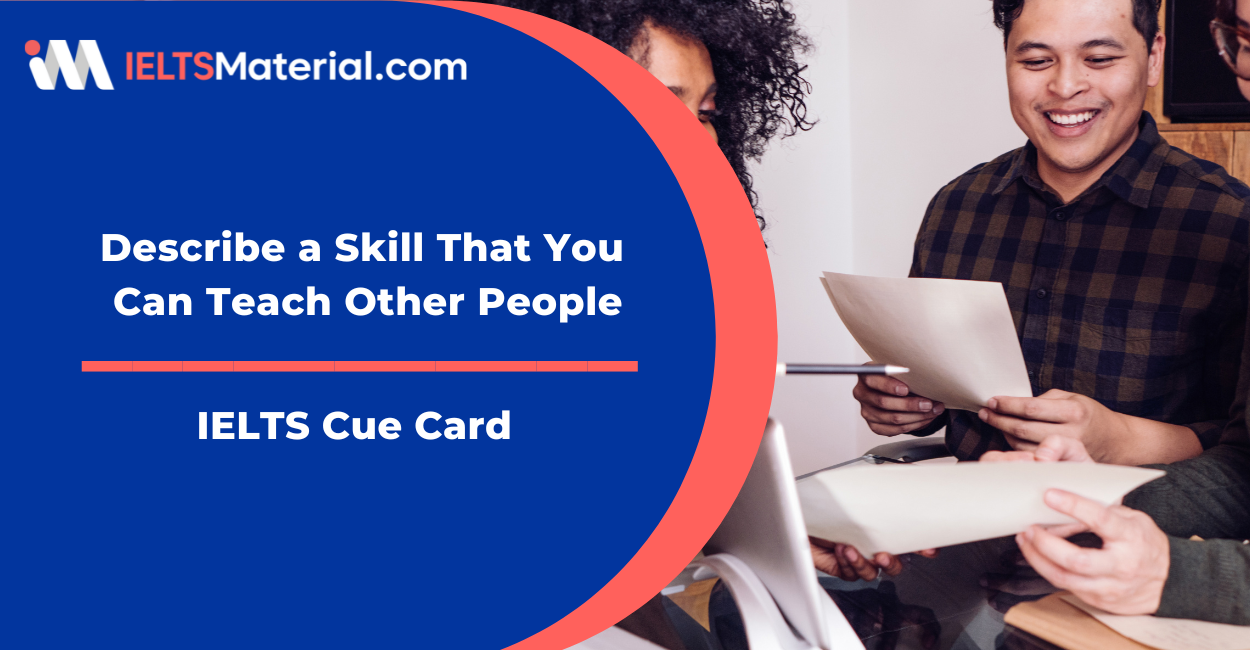 Janice Thompson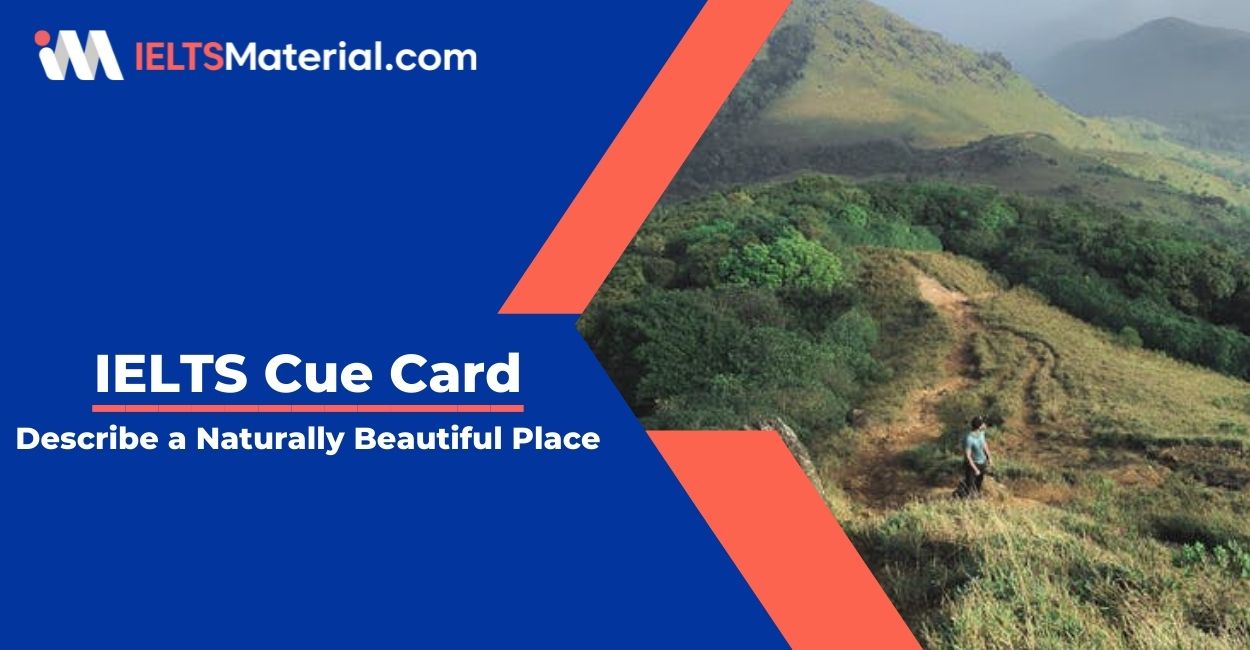 Post your Comments
Recent articles.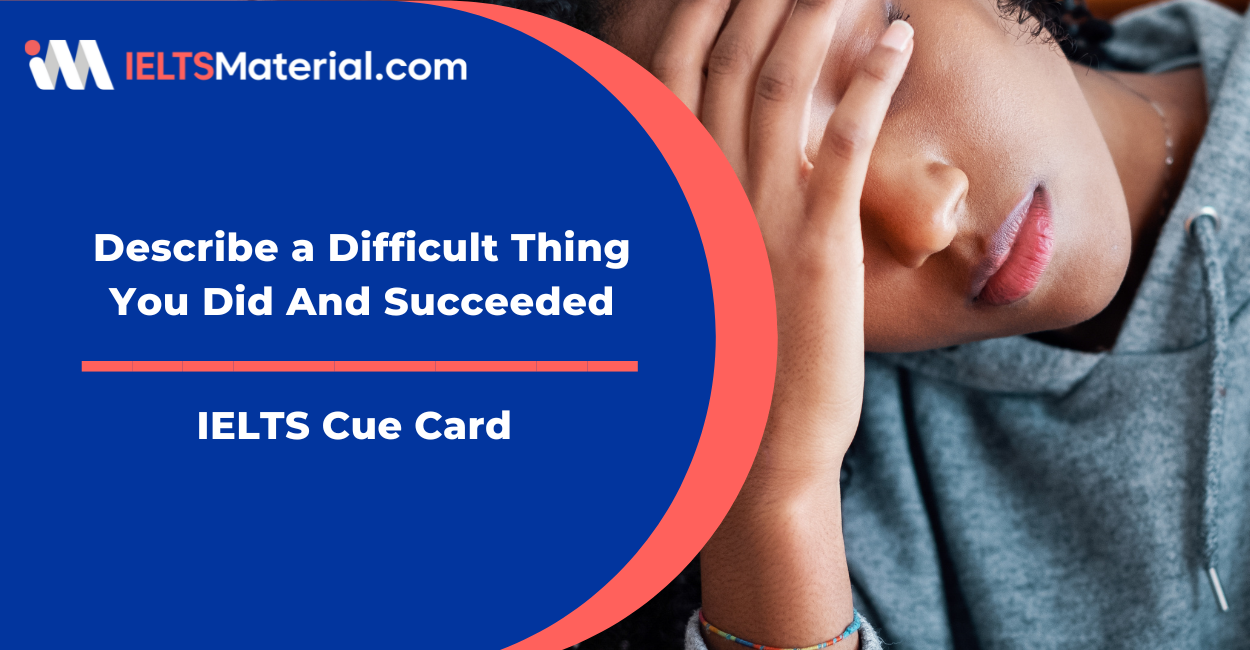 Nehasri Ravishenbagam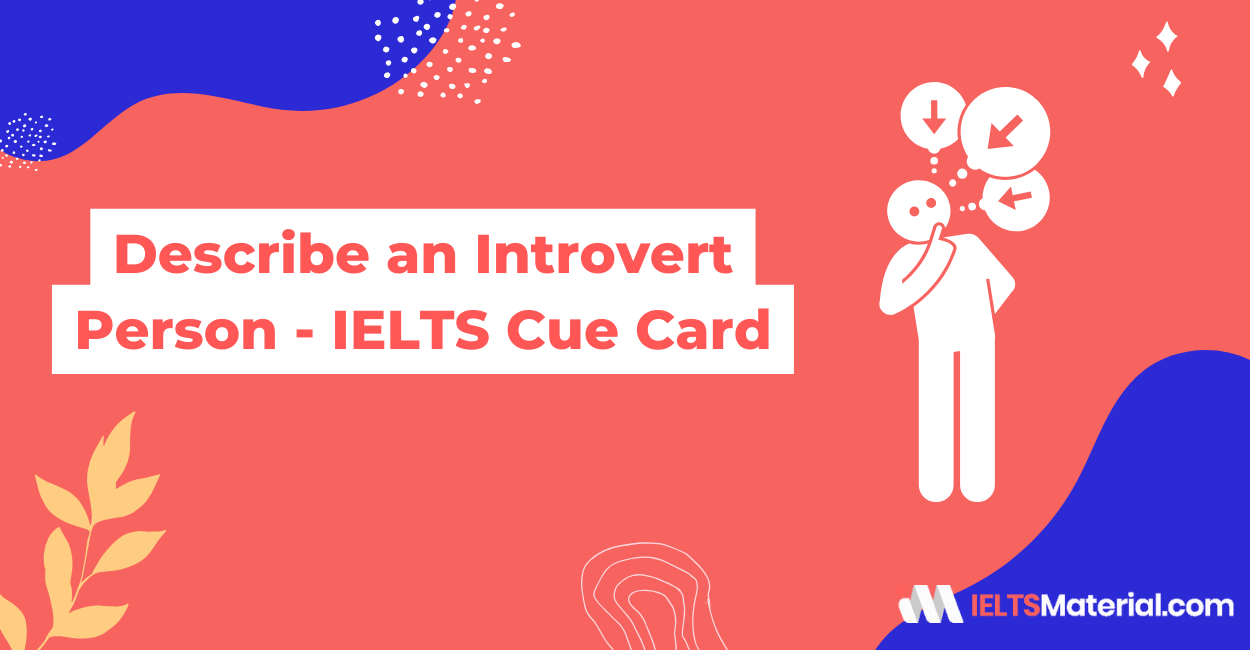 smruthi das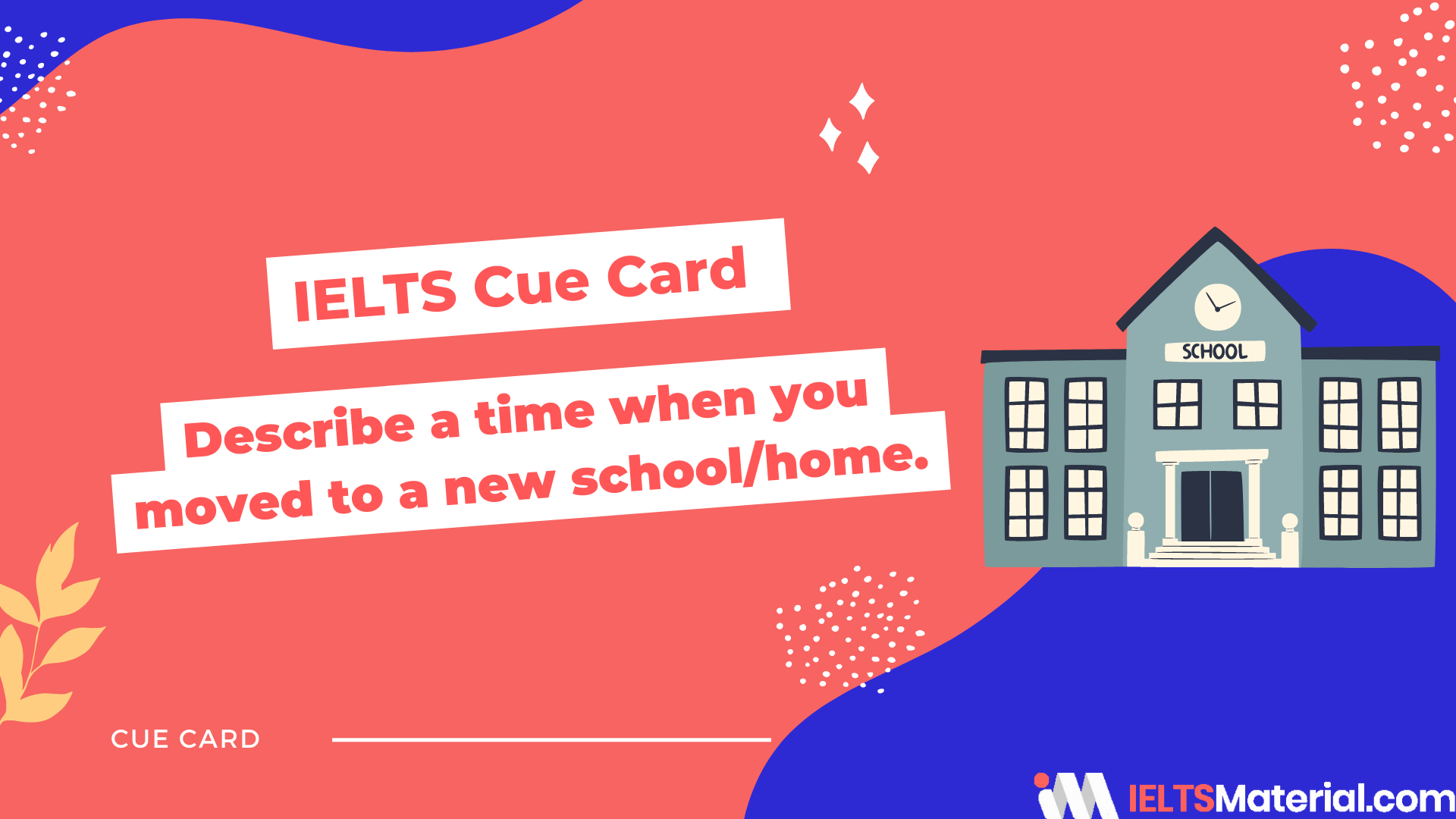 Raajdeep Saha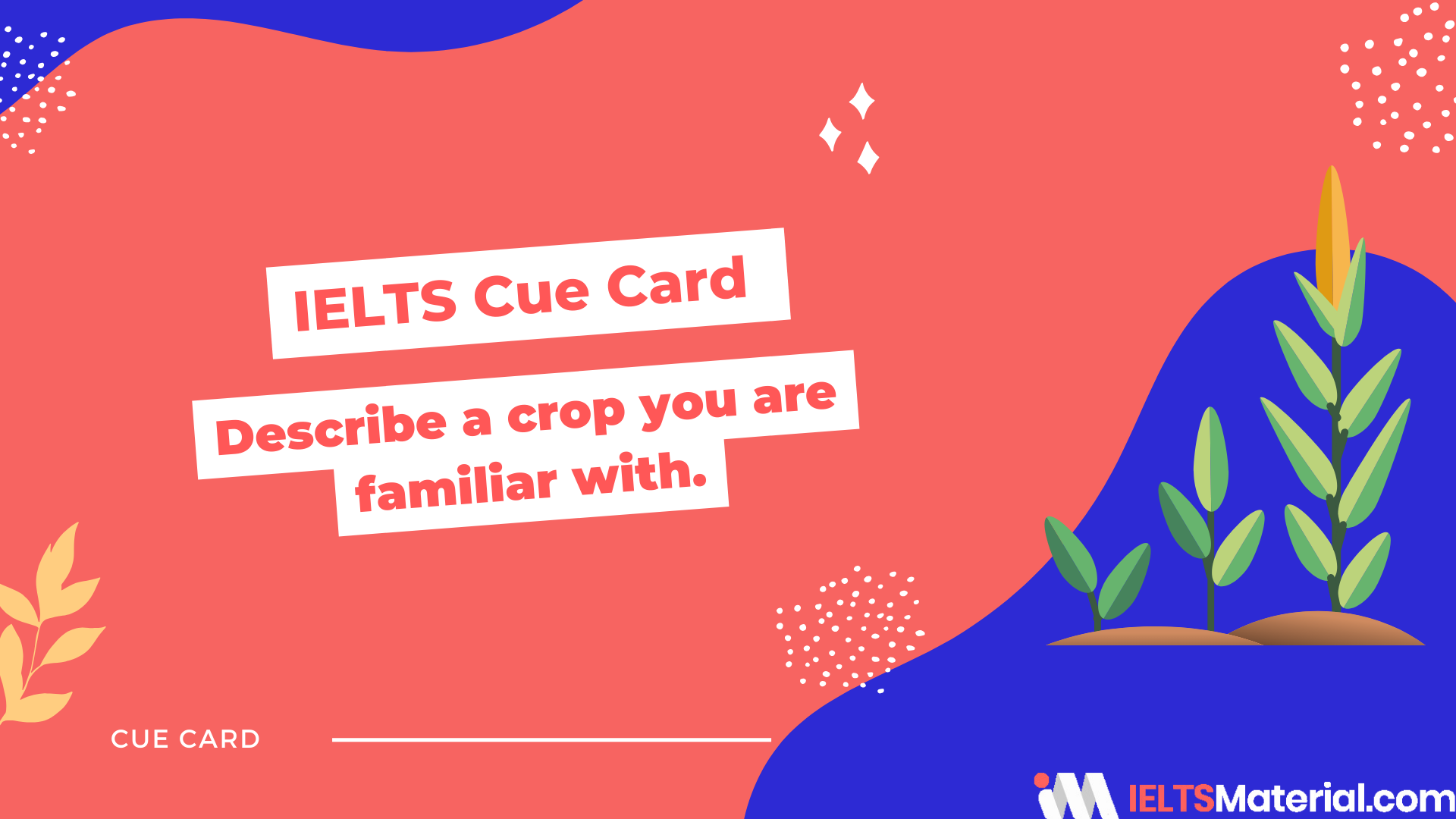 IELTSMaterial Master Program
1:1 Live Training with Band 9 Teachers
4.9 ( 3452 Reviews )
Our Locations
E210, HustleHub Tech Park, 1, 27th Main Rd, ITI Layout, Sector-I, HSR Layout ,Bengaluru ,Karnataka ,India - 560102
Gurgaon City Scape
Capital The City Scape 4TH Floor Sector 66 Gurgaon - 122018
Gurgaon BPTP
BPTP Centra One, 5th Floor Golf Course Extension Road, Next to Emmar Digital Greens, Baharampur Naya, Sector 61 Gurugram, Ghata, Haryana - 122102
Godrej Genesis 15th floor 1509 Salt lake Sector 5 Kolkata - 700091
The Executive Zone Shakti Tower 1, 766 Anna Salai Thousand Lights Chennai - 600002
Reliance Humsafar, Door No. 8-2-618/2/201, Road No.11, Banjara Hills, Hyderabad - 500034
Redbrick Offices Limited 802, Grande Palladium , 175 CST Road - 500034
Which exam are you preparing?
Have you taken test before?
Get free eBook to excel in test
Get support from an Band 9 trainer
Already Registered?
Great Going!
Get a free session from trainer
Select a date
Select a time (IST Time Zone)
Mark Your Calendar: Free Session with Expert on