Effective Attention Getters for Your Essay with Examples
Whether you're trying to enroll in college or submitting a scholarship application, your essay has to be super appealing. Pressed for time, most admissions committees will only glance at the first paragraph to decide whether the piece is worth a read. Since nobody can guarantee your submission gets considered, it's up to you to ensure it will amuse the reader.
So how do you write the perfect attention-grabber and impress the college admissions counselors? How can you make your work stands out from the crowd? Below you can find good attention-getters for essays to help you write a compelling introductory paragraph that makes the audience want to read on.
What Are Attention Grabbers in Essays?
The so-called attention-grabbing technique has a simple purpose. It must catch the reader's interest from the very beginning. Hence, you need sentences that make a good essay introduction and attempt to stir the audience and show your ability to weave words.
For instance, an amusing fact, personal experience, or a joke can do the job. Whatever strategy you use, don't forget that using random quotes or anecdotes won't work. Your intro must lead to the main thesis or introduce an opposing argument you're about to refute.
The Importance of Good Attention Grabbers for Essays
Also known as "grabbers" and "hooks," these elements always go in the first paragraph. Often, they make the first two or three sentences of the intro. At this point, ensure you include compare and contrast transition words to make sentences run smoothly in a coherent whole.
But why do you need an attention-getter? What impact does it leave on the reader? Here are a few reasons.
To convince the reader to go until the end of your work and not give up after the first few lines.
To tell the audience that you're a skillful writer who knows how to use an intriguing opening.
To encourage people not keen on the subject to get on the bandwagon.
To invoke the curiosity of whoever's considering the paper.
To inform that you're exposing something rare, not just another chore.
Different Types of Attention Grabbers for College Essays
Several attention-grabbing openings can achieve the same effect. The most compelling introductory lines include posing a question, storytelling, sharing fascinating statistics, and rhetorical generalizations. Below, we list examples of attention-getters for essays to help you get on the right foot.
Whatever method you choose, you can't go wrong. Hooks go interchangeably in almost any written piece. However, if you have writer's block, refer to a  reflective essay writing service to get the ball rolling. These experts can assist you in drafting a relatable and highly appealing attention-getter.
Use a Quotation
Using a quote when writing an essay will make it credible and intriguing. This strategy engages the emotional side of readers and connects them to your wording. To start strongly, find a quotation by a famous author or expert related to your topic. Use it wisely to support the thesis and demonstrate that your research is thorough. Besides conveying your thoughts eloquently , quotes move and speak to people with timeless words.
Examples of a Quotation
If you want to present yourself as a creative and artful soul, begin your paper with: "Einstein once said: Logic will get you from A to Z; imagination will get you everywhere."
Similarly, if you wish to come across as a hard-working and trustworthy student, say: "Samuel Johnson claimed that what we ever hope to do with ease, we must first learn to do with diligence."
Use Shocking Statistic
Another way to capture the audience is to introduce a striking figure or data relevant to the topic. Avoid facts that everyone is aware of and pick something surprising. Moreover, when writing conclusion paragraph for your essay , you may end with some projected statistics from trusted sources. This hack is excellent for informative or technical papers.
Examples of Attention Grabbers with Shocking Statistics
"According to tech schools, girls get outnumbered 6 to 1 by boys when it comes to enrolling in computer science classes."
"The latest research shows that the human body contains ten times more bacteria than cells."
Ask a Question
Posing a question at the beginning is an effective method to compel your reader. However, you must know the audience well to create an intriguing formulation that stimulates critical thinking. In addition, the intro query should direct the reader to read the paper and find the answer. Hence, avoid posing questions that are too general and don't impress the target recipient.
Introductory Question Hooks
"Have you ever been so keen on a course that you spent the entire summer working to afford it?"
"Do you feel that each photograph, regardless of its high-quality, reduces the reality it represents?"
Tell an Anecdote
Share an experience that makes your life journey unique and relates to the essay's purpose. By doing so, you will engage your reader emotionally. Often, considering a  descriptive essay writing service can help you transform your chronicle into an attention-grabbing hook. Alternatively, a well-crafted fictional account can evoke the same emotional response.
Example of a Real Event
"The day I met my Science teacher in middle school changed my life for the better. And not because she encouraged me to pursue a career as a geneticist. The encounter was something you'd never expect. As my dad approached the building, he hit another car on the side, and guess who was inside? My new Science teacher."
Use Storytelling
Why not start the essay with a story or a good joke and steer away from complicated concepts? Everybody loves well-written stories because they raise interest and leave a trace. Yet, connecting the narrative with what follows next is critical to the main theme of the assignment. Finally, this approach is ideal for admission applications but not for more formal academic papers.
Example of a Great Story
"Lightings stroke hard, and the rain was attacking the roof, drowning any words we tried to pronounce. I'd expected to play the guitar and show the company my latest song, but the universe prevented whatever I attempted to do that night."
Use Rhetorical Generalizations
Consider issuing a statement to serve as a pathway into the main argument. Conversely, if you doubt your writing skills, hire a  website to write an essay to get you admitted into college. These professionals know how to use a generalization that introduces your thesis statement in a way that challenges people to contemplate the topic.
Ideas for Rhetorical Generalizations
"Who wouldn't agree that higher education is the most reliable ticket to self-fulfillment?"
"Recycling is undoubtedly the most efficient method to attain sustainability."
Using any of these attention getter examples will pave your path to success. However, it's not just the opening that needs to get polished to perfection. You may quickly spoil the first impression if the rest of the essay abounds with irrelevant information or contains grammatical errors and typos. This can be avoided if you get a professional essay writing service . So, getting help is a good option.
You May Also Be Interested In
What if you were assigned such a task? How to avoid common mistakes and get…
People can learn about things that they have never seen before by reading or listening…
What Is An Introduction Paragraph Of Essay And Why Is It Important? Each of us…
The Function of the Transition Words Many things distinguish an average paper from a great one. Achieving greatness…
Always Ready to Help
Running out of time.
Type to search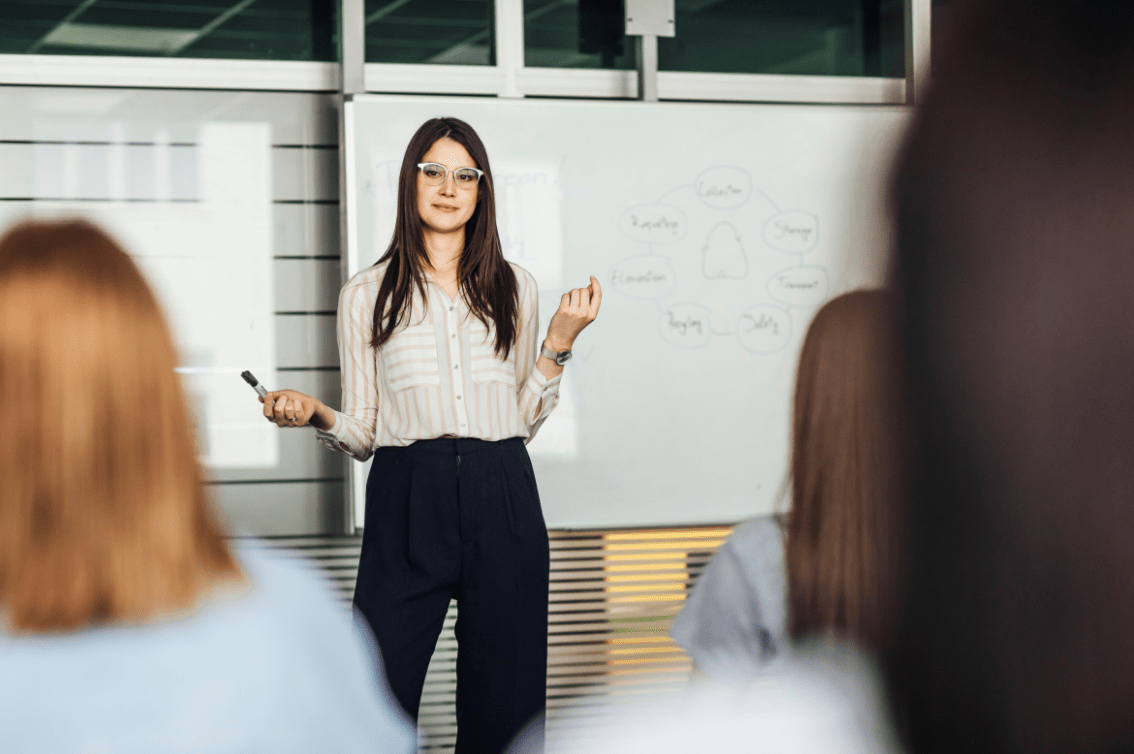 Good Attention Getters for Speeches with 10+ Examples!
I like building and growing simple yet powerful products for the world and the worldwide web.
Published Date : December 17, 2020
Reading Time :
There are days that you might be having trouble grabbing your audience's attention during a speech , especially if your speech is too lengthy for the average attention span of an individual.
It's essential to be prepared when planning a speech , as you will have to draw your audience's attention instantly.
The first minute of your speech will leave the most impression. Good attention getters for speeches can immediately catch an audience's attention, while a poor one will turn an audience against the speaker.
People don't usually tune into speeches in the middle, so you have to catch their attention right from the beginning and have a list of attention getters for speeches to use.
In this article, you can get good attention getters for speeches that will be your ticket to being a speaker that people would find interesting. There are also different types of attention getters for speeches you can choose from to suit your speech topic.
What are Attention Getters For
An attention-getter is intended to intrigue the audience members and inspire them to listen attentively for several minutes. There are countless options for attention getters for speeches.
Most importantly, in your audiences' mind, an attention-getter can generate excitement and persuade them that the speech would be informative and useful.
Your attention-getter wording should be refined and practiced. Be sure to understand your speech 's mood/tone; assess the suitability of humor, emotion, aggressiveness, etc.
Not only should the words draw attention from the audience, but to let the audience know that you are a competent speaker who is prepared for this address, the delivery should be smooth and confident.
Watch how to write attention getters for speeches:
Why It's Important to Include Attention Getters in Your Speech
The primary role of attention getters for speeches is to gain your audience's attention and make them interested in what you have to say.
One of the most significant errors made by inexperienced speakers is to presume that people listen automatically.
While many audiences can be respectful and not talk while speaking, it is an entirely different challenge to listen to what you say.
If you do not have the audience's attention at the beginning, as you continue talking, it will only become more challenging to do so.
The first few lines of a speech are intended to attract and hold the attention of the audience.
Attention getters for speeches are for the audience to listen to the rest of your whole speech . Your attention getter should help the audience understand and reflect on your subject.
It might be helpful to ask yourself these questions when choosing attention getters for speeches:
What is the best one for the occasion?
Who's going to be my audience?
What's my speech 's topic?
What is the speech 's purpose?
What am I comfortable to say?
There are three ways to maximize your potential on grabbing your audience's attention:
Spend time strategizing
Design your attention getter
Practice delivering your attention getter
Different Types of Attention Getters for Speeches
Before getting in front of people to deliver your speech , you should know how to leave an impression on the audience. There are different types of attention getters for speeches to choose from that can help you poke your listeners' interest.
Here are the four key points that you should consider in choosing a type of attention getters for speeches:
Watch this tutorial on attention getters for speeches:
The fact that listeners like funny speeches are reasonably obvious. However, the secret to a successful attention grabber is to use humor important to the subject.
Humor is another successful way of attracting the attention of an audience. When used correctly, humor is an excellent weapon for attention getters for speeches.
However, without the proper practice and knowledge of using attention grabbers, you can turn the audience against you very quickly if you do not wield the sword carefully.
You just need to know the audience by using satire and consider what they would find funny. Using any sort of humor that the audience either does not find amusing or finds offensive is one of the biggest mistakes a speaker can make.
Here are funny attention getters for speeches examples that you can choose from:
Jokes (e.g., inside jokes)
Funny True Stories
Delivery (e.g., imitating a voice from a famous character)
Using references as attention getters for speeches can make your audience feel more inclined to connect a specific reference to your speech .
References allow the audience to freely think about facts and statements related to your speech topic. Targeting a connection to your audience would also make them feel involved in your speech .
Here is what you can do with the different types of references for attention getters for speeches:
Bold Statements
When you start with a bold statement, the energy and enthusiasm you use will trigger your listeners to be immediately lured to your speech . They will pay careful attention to how you back up the assertion in your statement.
This type of attention getters for speeches often comes in the form of figures and unusual facts. The purpose of good attention getters for speeches is to use a statistic that shocks the audience and engages them in your subject.
A lot of people push the thought of using statistics away as attention getters for speeches. Most of them would think that it's not very interesting and will overwhelm or underwhelm the audience. However, they can really shake things up when used correctly.
Starting with a question usually ensures that the audience is engaged by presenting a response either literally or rhetorically.
Make sure you pause before using a question to allow the audience a chance to let it sink in. Give your audience a break to let them think about the problem that you have just posed.
You will typically use a rhetorical question when raising a question to open a speech , the kind you don't expect a response to. Your listeners, however, will probably try to react to this mentally.
It is not enough to use only one or two questions, though. If used alone, it is better to use a set of questions. Questions are usually paired with another presentation strategy.
Analogies can be associated with something fresh and distinct that the audience knows and understands.
It would be best if you used an analogy to demonstrate a connection between your speech 's subject – something new and different for the audience and something your audience knows.
Analogies can be efficient because they use the audience's thoughts, knowledge, and values to establish a link to your speech topic and you as a speaker. Analogies generate connections between you and the audience.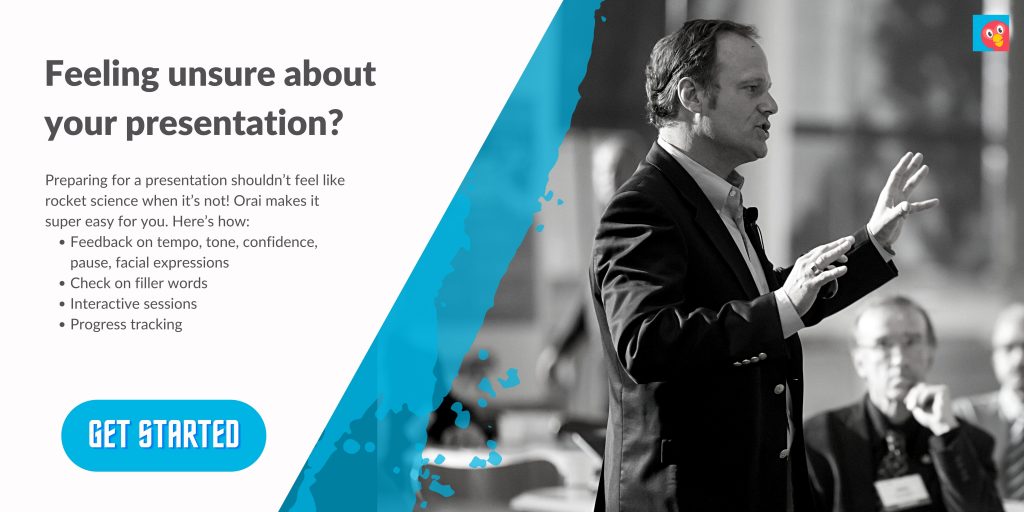 List of Attention Getters for Speeches
Quotations are the simplest, but if not done well, they can come off as cliche. Short stories may be more intimate and appear to increase trust. A humorous attention-getter can also loosen up the right crowd.
The attention getter should not be eclipsed for a minute, so do your best to keep it short and sweet.
The following must be present for good attention getters for speeches:
Win the attention of the viewer.
Set up some reputation or relatability.
Outline the speech 's thesis.
Give a justification for the viewer to listen.
Clear transition into the speech 's body
Top 10 Good Attention Getters
There are a lot of good attention getters, but we narrowed it to the top 10 attention getters for speeches that will surely make your audience lend you their ears:
A lot of people enjoy a good laugh. Jokes are on the top of the good attention getters for speeches list.
You not only create a bond with the audience by telling a good joke early in the speech , but you also inspire them to listen with the promise of more laughter.
Always make sure the joke isn't insulting and that the rest of the expression suits you well. It can really hamper your stage's morale and ruin the rest of your speech if you make a terrible joke.
Make sure you write jokes that are perfect for the crowd you're trying to discuss. In this case, there is no one-joke-fits-all.
Inside jokes are the best way to make the audience feel like they have a customized speech , depending on the setting.
2. Usage of Common Ground
The good attention getter for speeches is a direct reference to the audience. In this case, something special about the audience uses the common ground to make them interested in the speech 's substance.
3. Intriguing Facts
Another one from the list of attention getters for speeches is quickly catching an audience's attention and revealing a fascinating fact or astonishing statistic first.
Try to pick a fact relevant to the subject you're addressing, which can solve your audience's dilemma.
4. Rhetorical Question
Asking a rhetorical question is more of a test for the audience. It's like a test to make your listener's mind answer, even if it's just a rhetorical question.
It would help your audience feel involved and tune in to your topic if you asked an excellent rhetorical question.
5. Response Question
A response question is a question that is supposed to be answered by the audience in some way. For example, if they've done anything in the past, you could ask your audience to lift their hands.
It will create more of a voluntary response from the audience. Additionally, it can also be considered as more interactive in the list of attention getters for speeches.
6. Visualization
Visualization is another crucial thing to consider for good attention getters for speeches. You can try and introduce a scene with your words to your audience.
You can send your audience a visual picture instead of making them decode graphs and figures or associate a relatable emotion with your abstract concept.
Using instructions accompanied by descriptive terms such as "imagine" or "picture this" practically works with any speech subject using imagination.
7. Startling Statement
You can create a position for yourself to stress the importance of your message until you surprise your listeners with this type of attention getters for speeches.
Starting with this type of attention getter for speeches can help pique your audience's interest. Make sure to create the right balance between your statement and your message after.
8. Captivating Story
Your audience would want to know what happened next and how things turned out just by starting with an engaging story.
Direct them through a captivating story so that they are on the edge of their seats always, excited to learn what happens next.
You can create a story or a true story like something unique that happened to you or someone else.
9. Quote from Someone Famous
Another impressive good attention getter for speeches is to quote anyone famous in the opening of your speech .
When you know that it's someone the audience loves, your audience will immediately be drawn to listen.
You must carefully choose the source of the quote and make sure it relates to your speech .
10. Personal Experience
Attention getters for speeches about yourself create a connection with you and your audience by sharing a piece of your experience with them. It would help them get to know you more as a speaker.
Likewise, it is also vital to consider building a bridge that can make your audience want to know more about what you can share with them.
Watch this video to learn about good attention getters for speeches:
How to Practice Good Attention Getters for Speeches
Many people think that their core content is adequate to get the attention of the listener.
However, the chances are that the listener would already be distracted by getting to the main message without a strong introduction.
Public speaking is an art form of persuasion, and along with writing good material, you will need to be aware of the technical aspects that make a great speech .
It would help if you learned how to deliver it after planning your speech and selecting from your list of attention-getters for speeches.
The way you introduce yourself and your voice makes your presentation or breaks it. Watch how you can improve your speech content and delivery:
Two features you want to represent are excitement and trust. Talk properly and highlight the points that you want the crowd to take with them.
Even if you are anxious , respectfully introduce yourself, understand your subject, and create an optimistic and energetic atmosphere.
Here are ways on how you can improve your speech delivery:
Smile: Smile at your audience, and they'll smile back!
Enthusiasm : The audience will return the energy that you will give.
Create a connection : Find common ground with the audience and use it.
Compliment and acknowledge your audience : Make your audience feel appreciated.
Honesty: Avoid any fake news or baseless information.
Watch this video on affordable ways to rehearse your speech the right way:
It is crucial to be prepared when you have to give a speech in front of an audience, no matter how big or small. Who would want an audience not to tune in when you still have something to say, right?
Attention getters for speeches will help you pique your audience's interest through their different types and examples. Of course, you must match your attention getter with your speech , so it doesn't sound out of the blue for your listeners.
Ask yourself some questions and create a speech that will surely lure your audience to properly listen to your speech . You can also download the Orai App to help you practice that perfect speech that catches your audience's attention. Start your free trial today, available on the app store.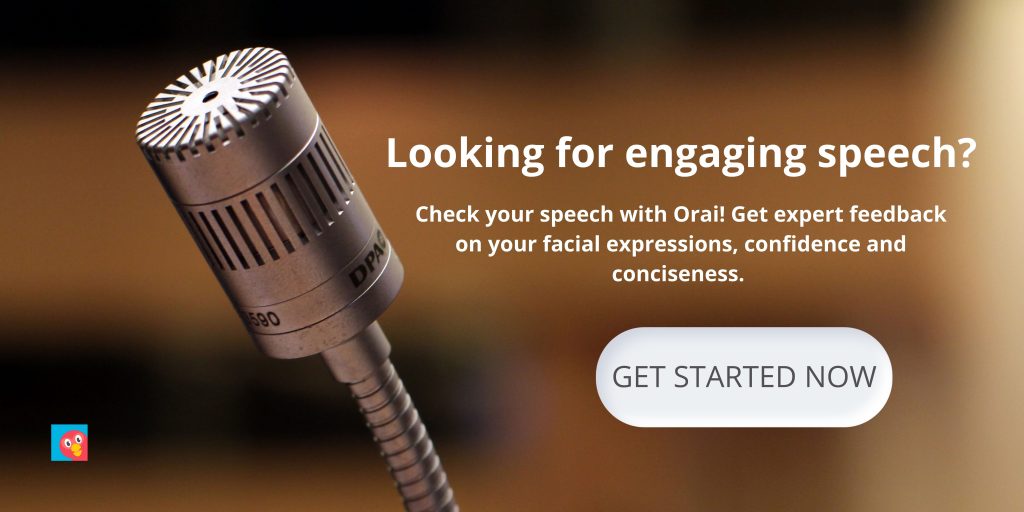 You might also like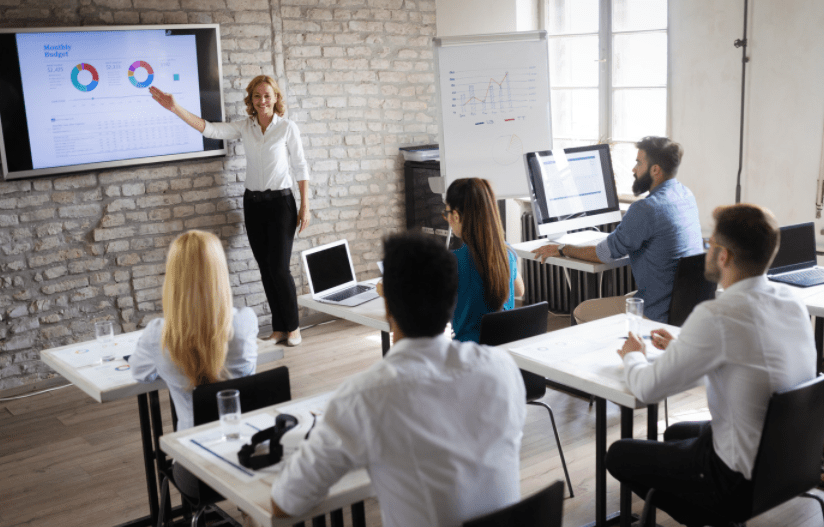 Presentation Software: PowerPoint Alternatives
2023 Complete Guide to Presentation Templates 📊
Master Public Speaking
Free Attention Grabber Generator for Students
Struggling to write a hook that can really attract your reader's attention? Worry no more! We present to you our free AI-powered attention grabber generator.
To use the free attention grabber generator, follow these 3 simple steps :
Choose a hook type.
Select your assignment type.
Write your topic into the empty field.
Press "Generate."
Get a unique hook that will definitely light a spark in the hearts of your potential readers!
🔥 The Perks of Our Generator
⚓ What Is an Attention Grabber?
🤩 Types of Attention Getters
✍️ Essay Hook Examples
🔍 References
🔥 the perks of our attention grabber generator.
What makes our attention grabber generator so great? Well, there are many things that distinguish it from the rest! Check them out: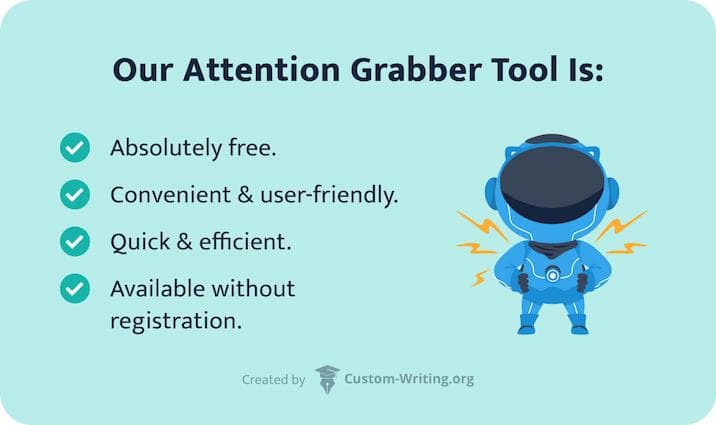 An attention grabber is a catchy sentence that piques readers' interest and makes an introduction intriguing. It's usually located in the first line or paragraph of a text.
All forms of writing need hooks. Research papers, narrative essays, and literary texts all benefit from a well-written attention grabber .
Purpose of Hooks in Essays
A hook aims to attract the reader and motivate them to focus on your paper and read it till the end. A great hook will ensure that your reader remains attentive to your writing, immersing them in your narrative or arguments fully.
The best hooks draw as much interest from the audience as possible. They typically do so by placing the reader in the heart of a dramatic action or arousing curiosity. This effect can be achieved by asking a fascinating question, telling an anecdote, or addressing an important problem.
🤩 Attention Grabber Types
Like a skilled fisherman who chooses the perfect bait for each kind of fish, you need to know which type of hook will get the most attention from your readers.
There are a few different types of hooks that you can use:
An anecdote hook.
Statistics hook.
A question hook.
Descriptive hooks.
Joke hooks.
Keep reading to learn more about them!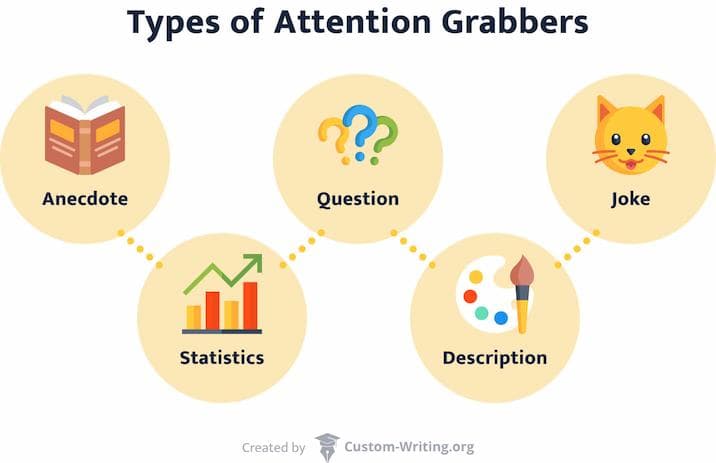 How to Make the Story Attention Grabber
A personal narrative, an anecdote describing what happened to someone else, or an autobiographic story can successfully attract the reader's attention. The main requirements are:
It should be related to the essay's subject.
It must make the readers curious about what will happen next.
How to Use Statistics as an Attention Grabber
Statistics and shocking facts can do a great job of catching your reader's attention . They offer reliable information on your chosen topic and impress the audience with your expertise right at the beginning of your essay.
Keep in mind that you must present information that is verifiable and true, as well as intriguing.
The Question Attention Grabber
Another classic way to pique a reader's interest is to introduce a captivating question. Readers will be compelled to read your material carefully when it starts with a question that interests them. Just make sure to answer it somewhere in the text!
Descriptive Attention Grabber
A well-written description of a scene or an exciting situation can raise interest even from the coldest readers. If you plan to use a descriptive hook, you might have to make it slightly longer. A proper description usually requires going into detail, so make sure that your word count allows that.
Joke Attention Grabbers
Telling jokes in your hook is another notable way to lighten the mood of your readers and make them more engaged. If you plan to use this type of attention grabber, do it responsibly and avoid joking around too much. We also don't recommend using this type of hook in academic writing or formal essays.
✍️ Essay Hook Examples for Inspiration
If you're looking for hooks on various topics, look no further! Here are some curious hook examples that will definitely boost your inspiration. We also recommend you check out our free attention grabber generator to get even more creative hooks for your essays.
Hook for Social Media Essay
As you can see, this particular example uses a thought-provoking question. It states the problem and proposes to start a discussion. It's an excellent way to start an essay.
Hook for Abortion Essay
This example uses startling statistics to show the reader why it is important to look deeper into the topic of abortions.
Hook for Great Gatsby Essay
This example starts with a question that fits perfectly with the topic.
Hook for Romeo and Juliet Essay
The example above uses a quotation to strengthen the impact on the reader. It's also taken from the literary work that the essay is about.
And with that, we conclude this article. Don't hesitate to use our free attention grabber generator if you want to get a perfect hook or just boost your inspiration!
We recommend you also try our sentence rewriter and essay conclusion generator .
❓ Attention Grabber Generator FAQ
❓ what is a good hook sentence for an essay.
Here's an example of a good hook sentence: "Every day, technological progress changes the face of the Earth. The proof of this is the human-related extinction of numerous species over the past 200 years. However, technology can also help us conserve endangered species."
❓ What is an attention grabber?
An attention grabber is the first sentence the reader sees in a text. An attention grabber can be a question, quote, piece of statistics, a short anecdote, or even a joke.
❓ What are some good attention-getters?
A good attention grabber must be short and catchy but also logical and based on facts. For example: "American Statistical Association claims that each fifth American citizen dies from smoking-related health issues."
❓ What is a strong opening sentence?
A solid opening sentence usually begins with a catchy, motivating, or even controversial statement. It can be formulated as a question, quote, or narrative. For example: "Humanity has seen many crises. We've conquered the plague, avoided a nuclear catastrophe, and now we're looking for a way to solve another major issue—a problem of global warming."
The Attention-Getter: The First Step of an Introduction: University of Minnesota
Hooks and Attention Grabbers: George Brown College
Attention Getters: Grand Valley State University
5 Types of Attention Getters in Essays: Classroom
AI Content Shield
AI KW Research
AI Assistant
SEO Optimizer
AI KW Clustering
Customer reviews
The NLO Revolution
Press Center
Help Center
Content Resources
Facebook Group
Practical Attention-Getter Examples That'll Engage Your Audience
Table of Contents
The first few seconds of your speech will determine whether or not your audience will give you their attention. This is why you should begin with attention-grabbing openings. Attention-getter examples include stories, quotes, and questions that persuades an audience to listen.
Conveying a powerful message is important, but equally important is your ability to hook your audience instantly. An attention-getter can do this for you. This guide will look at a list of attention getters and how you can use them to gain your audience's attention .
Attention Getters: Importance in Speeches
An attention-getter is a phrase or statement that typically opens a speech and aims to grab the audience's attention. Such statements captivate the audience, pique their curiosity, and suggest that the speaker has something insightful to convey.
When you use attention getters in your speeches, you minimize the chances of the audience tuning out, losing focus, or even half paying attention.
An attention-getter establishes credibility, gives the audience a reason to listen, and creates a clear transition into the main subject of discussion.
7 Effective Attention-Getter Examples
Attention getters are typically a speaker's opening statement that gets the audience's attention. They strongly influence the audience's focus on what the speaker is saying. Here are some attention getters that have proved effective in hooking an audience.
1. Rhetorical Question
Using a rhetorical question in your speech can cause your audience to lean forward in their chairs and listen closely to you. The best way to use a rhetorical question is to ask a question that your audience would want to hear answered.
Questions are a great way to create curiosity and stir up interest. You invite the audience to interact and engage with you by posing a question. Questions will get your audience thinking and even taking sides.
2. Bold Statement
Bold statements can be a powerful attention-getter for your speech. By proclaiming something powerfully, you catch the audience's eye and make them pay attention to you. A bold statement is a great way to convey your passion, stress the importance of an issue, and draw attention immediately.
When you make a bold statement with the correct body language, you will exude the kind of power that will make you noticeable. Shock-value statements such as "I almost died yesterday" can keep your audience engaged.
Humor is a great attention getter because it is a brilliant way to break up lengthy speeches and relieve tension in uncomfortable situations. It also puts everyone at ease by bringing laughter to otherwise dry and complex addresses.
Humor is one of the best ways to open your audience's minds and boost your effectiveness as a speaker. However, you can only make your audience laugh with good humor.
You must understand your audience to know what kind of joke works for them. Focus on creating a humorous text that is appropriate for your audience.
4. Shocking Statistics or Facts
Most people believe that statistics is boring and, when incorporated into speeches, will make the audience disinterested. Using statistics and facts correctly can make your address more interesting for the audience, just like any attention-grabbing statement or rhetorical question can.
The key is to incorporate shocking and intriguing statistical information or piece of data without going extreme.
For example: "Did you know that more than 36 million U.S. adults cannot read above a third-grade level?" By intriguing your audience, you create a space to emphasize the importance of your message.
5. Dramatize Scenes
While statistics are suitable for speeches, too many of them can make your audience bored. Instead of making your audience understand graphs, give them a visual image or associate a relatable emotion with an abstract idea.
By painting a picture of your message, you appeal to your audience's emotions and allow them to imagine what you're saying. Begin with phrases like "imagine" or "picture this," followed by descriptive words. Try "imagine millions of individuals being killed yearly due to the indoor air pollution we cause." Instead of "four million premature deaths are caused by indoor air pollution yearly."
6. a Good Story
Good stories make for a great speech. Many speakers have turned to stories to inspire, inform, and entertain an audience. Unlike data, which lacks human-interest when overused, stories are always engaging. Stories can also evoke an emotional response from anyone in the audience.
Mind-blowing relatable stories that entirely change an audience's view on an issue are always great to tell. After all, you want to leave your audience with a wholly new perspective.
It's great if your story has some lesson or mirroring. You could tell a personal story that relates to your topic. Stories are a great way to connect with an audience, not just at the beginning of your speech but in the body.
Quotes are another aspect of speaking that adds an element of interest. Quoting someone can be a great way to draw the audience in, especially if the quotes are eye-catching and exciting. A great quote can be the "hook" to the rest of your speech and help the audience take an interest in what you're saying.
Use a quote relevant to your discussion topic, and double-check the source to avoid misquoting the person.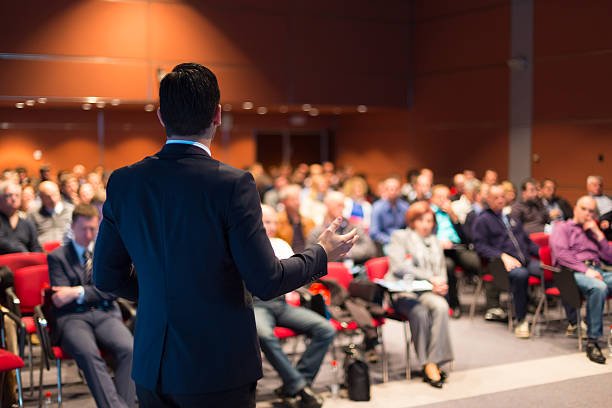 Attention getters are the basis for a compelling speech. Without them, your audience will most likely tune out. You have to give your audience a reason to listen to you. By incorporating attention-getting elements in your speech, you will undoubtedly entice more of your listeners to pay attention to what you have to say.
Try on the attention-getter examples listed above and see how captivated your audience will be.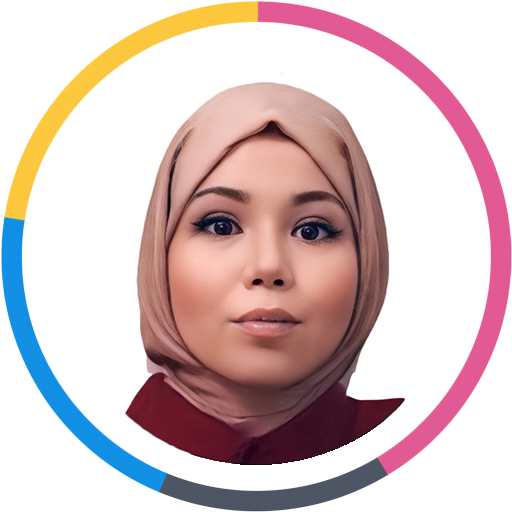 Abir Ghenaiet
Abir is a data analyst and researcher. Among her interests are artificial intelligence, machine learning, and natural language processing. As a humanitarian and educator, she actively supports women in tech and promotes diversity.
Explore All Hook Writing Articles
Guide to writing an interesting expository essay introduction.
A good expository essay begins with an introduction that piques the interest of the reader. The expository essay introduction is…
Discover the Top Creative Story Introduction Examples
Are you an aspiring author dreaming of becoming the likes of Stephen King or Suzanne Collins? Would you like to…
Creative and Powerful Sentence Starters for Essays
It can't be said enough, first impressions matter. And it goes the same for essays because your starter sentences will…
Most Important Parts of an Essay Introduction
The introduction is often one of the most important sections in a paper. It creates a sense of what the…
7 Effective Ways to Start a Sentence
There are different ways to start a sentence and convey your message effectively to the readers. Being aware of the…
Six Social Media Hooks to Boost Engagement
To get the most out of your marketing strategy, you should consider using social media hooks to improve your engagement…

Free Essays
Citation Generator
"History of halloween informative speech" Essays and Research Papers Halloween Informative Speech
Halloween is a year event that is celebrated every year on October 31.As we all know Halloween is just around the corner. This is time for kids to have an opportunity to dress up in their favorite character etc. going from door to door for candy. So' people try their best to impress there kids with their wonderful decorations. Some people go out on Halloween to make kids happy and amazed. On Halloween kids go up to doors saying trick or treat and they will receive a piece of candy.Its not just
Premium Halloween Christmas English-language films
Halloween is celebrated on October 31. On this day' Americans wear special costumes to celebrate and partake in festivities. It is celebrated by the young and old without generation gaps. As seen from this general image of Halloween ' it is very easy to tell that Halloween is loved here in USA. In the USA' Halloween was a lot of fun and exciting' and Americans looked well-prepared for it far in advance. However' it was not as huge as what I expected before I came here because (1) Halloween is a general
Premium Halloween United States Christmas
anything about Halloween ? Have you asked yourself about why in the actual times it is celebrated? or maybe what it meant when it was first celebrated? What it means and why it was celebrated in the first place? Even better' how does the Halloween celebrated in the actual times differ from the one celebrated at first? Halloween is a day celebrated on the night of October 31st' and its word ( halloween ) comes from the old and ancient expression "all hallows eve". Halloween ´s timeline Halloween ' as an ancient
Premium Halloween Spirit Earth
Halloween is here and the people out there must be tensed and confused on deciding the Gifts. Well' stop fretting. We are here to help you out and to aid you in your decision. When it comes to buying gifts' it is very imperative to consider the interests of the other person who is going to bestowed with the offerings. The traditional Halloween which was pretty inconvenient celebration with people vandalizing the properties' has now evolved to be a fun celebration involving only Costumes and
Premium Halloween Horror film English-language films
Halloween ' also known as Allhalloween' All Hallows' Eve or All Saints' Eve' is a yearly celebration on the 31st of October' the eve of the Western Christian feast of All Hallows' Day. It starts the three-day worship of Allhallowtide' the time in the ritualistic year dedicated to remembering the dead. Many scholars believe it is a Christian holiday' however it is widely observed by both Christians and non-Christians. To celebrate' children dress up in costumes and ring stranger's doorbells soliciting
Premium Halloween Christianity Day of the Dead
Upon a time there was a dog who could talk on Halloween night only. On Halloween this dog would turn into a werewolf and could also talk and haunt people. So I am going to tell you the story of of this dog / werewolf thing on Halloween of 2017' New Orleans' LA Once upon a time there was this kid named Jimmy and he had a pet dog named Jerry. Jimmy and Jerry were on the couch in Jimmy's house. Jerry was the best dog Jimmy could ever have until Halloween night when Jimmy discovered Jerry could talk
Premium English-language films American films Family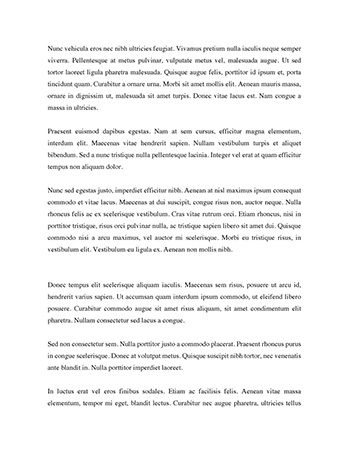 Informative Essay On The History Of Halloween
13' 2016 Informative Essay Specific Purpose: To inform my audience of the history of Halloween . Thesis Statement: The most superstitious holiday' Halloween ' can be divided into its history ' tradition' and its evolution. Introduction Halloween is a time where you dress up' decorate' watch scary movies' scare others and eat as much candy until you get sick. Do you believe that's what it's really about? If you said no you are correct. Don't be discourage' because I believed Halloween was the
Premium Halloween Witchcraft Salem witch trials
history of halloween
Hailey Hause COMM 130 The Culture of Halloween OUTLINE FORMAT FOR SECOND MAJOR SPEECH ( Informative Speech with Visual Aids) I. Introduction: A. Attention Getter: Halloween is one of the world's oldest and most celebrated holidays. B. Topic Link: The holidays connection to it's origins have mostly fallen by the wayside' and a number of new American traditions have developed. C. Thesis Statement: Going from what the meaning of Halloween is in America today and looking back at it's roots
Premium Culture Day of the Dead Halloween
Halloween History
History of Halloween Close to $7 billion dollars is what consumers spent on Halloween costumes' candy' and decorations in 2011. When the temperature starts to drop' the leaves turn different colors and the sun sets earlier little by little each day' fall is the perfect season to celebrate Halloween . Millions of children dress up and go to strangers doors begging for candy. Have you ever wondered where this strange and unique tradition originated from? -- The three most important points of Halloween
Premium Halloween Earth Europe
The History of Halloween Halloween is an ancient festival' which has its roots in the Celtic festival of Samhain (Sah-ween)' this was when the Celts (the ancient inhabitants of Great Britain) celebrated their New Year and the day they believed that the souls of those who had died that year progressed to the underworld. It was said to be a night when ghosts' demons and witches roamed the earth and people tried to placate them with offerings of nuts and berries.  Nowadays these offerings are more
Premium Halloween
American films
Christianity
Christmas carol
Day of the Dead
English-language films
Haunted house
Horror film
Salem witch trials
History of hapkido
History of henry fayol
History of hip hop
History of hospitality industry in egypt
History of human resource management and stages of its development in the philippines
History of human services
History of hvac r
History of ias 38
History of ifrs
History of illegal downloading
Free Samples and Examples of Essays, Homeworks and any Papers
Absolutely free
Perfect homeworks
Fast relevant search
No registration and Anonymous
Informative Speech – Halloween
Filed Under: Reports
April Chabot
Bruce Hummer
COMM154-E04
Due: 11/12/14
Informative Speech Outline
Specific Purpose: To inform my audience about the History of Halloween and why it's a contradiction.
I. Introduction
A. Attention Getter – "A man must consider what a rich realm he abdicates when he becomes a conformist." ~Ralph Waldo Emerson
B. Introduce Topic – To simply do something because it's what everyone else is doing without knowing the reasons why they're doing it, is conformity. You might understand the term conformity when used as "sheeple" in the political world. Those who go with the growd, just because. Halloween and Religion seem like two natural opposites – good and evil brought to life.
C. Establish Credibility – In most things I'm a non-conformist. I trust no one and nothing without questioning and understading everything. I question everything even if it seems simple on the surface. Far too often I have found most things are not what they seem, and Religion and Holidays are no exception.
D. Preview Central Idea – The term Holiday was originally used to reference Holy Days that were celebrated and remembered with some form of ceremony or worship. Halloween, originally a day of rememberence for the recently deceased and their spirits that returned to earth on the eve of the new year, has become something celebrated by just about everyone, in many cultures, and across many religions, but most notibly in the US where it has become yet another commercialized event, causing people to spend money they might not otherwise spend, to eat food that offer no nutrition at all, and in excess at that, and to go against the number one safety measure your parents drilled into your heads – NEVER TAKE CANDY FROM STRANGERS!! This has become so acceptible in modern religious practices that it's been given a new name "Trick-Or-Trunk". This is an event sponsored by religious elders, held on church grounds, outside in the parking lot, out of the trunks of cars and more often than not, the costumes that are worn do not promote religious purity and goodness, but the very evil the religion is supposed to protect them from.
The Term Paper on Prayer In School Religion Religious People
Religion in Our Society: Everyday Ritual of Life In our time of progress and technological evolution, it is hard to imagine more powerful force, except nuclear weapon, maybe, to destroy the universe. However, humans invented machines and guns, became strong and defensive against each other, but not against their beliefs and morals. It is very easy to destroy a building if you have a rocket ...
Transition to main points – In order to fully understand how this seemingly innocent day of celebration, creativity and self expression is a contradiction, we need to look at several things.
II. Body – summary of main points / personal view
Transition to origins
When did this holiday begin and why? Was it of pagan origins or is there something more behind Halloween's history? How should Religions view this day in general? To understand these questions further, we need to go back to the roots of Halloween.
1. Celtic Origins
a. Halloween's origins date back to the ancient Celtic festival of Samhain (pronounced sow-in).
The Celts, who lived 2,000 years ago in the area that is now Ireland, the United Kingdom and northern France, celebrated their new year on November 1. This day marked the end of summer, the harvest and the beginning of the dark, cold winter, a time of year that was often associated with human death.
b. Celts believed that on the night before the new year, the boundary between the worlds of the living and the dead became blurred. On the night of October 31 they celebrated Samhain, when it was believed that the ghosts of the dead returned to earth.
c. In addition to causing trouble and damaging crops, Celts thought that the presence of the otherworldly spirits made it easier for the Druids, or Celtic priests, to make predictions about the future. For a people entirely dependent on the volatile natural world, these prophecies were an important source of comfort and direction during the long, dark winter.
The Term Paper on Public Holidays And Celebrations
Great Britain is a country of customs and traditions. A lot of them have very long histories. Some of them are funny, some are strange. But they all are interesting and they are an essential part of the British way of life. There are fewer public holidays in Great Britain than in other European countries. They are the days when most of offices and shops are closed and people don't need to go ...
d. To commemorate the event, Druids built huge sacred bonfires, where the people gathered to burn crops and animals as sacrifices to the Celtic deities. During the celebration, the Celts wore costumes, typically consisting of animal heads and skins, and attempted to tell each other's fortunes. When the celebration was over, they re-lit their hearth fires, which they had extinguished earlier that evening, from the sacred bonfire to help protect them during the coming winter.
2. Halloween & Religion
a. By 43 A.D., the Roman Empire had conquered the majority of Celtic territory. In the course of the four hundred years that they ruled the Celtic lands, two festivals of Roman origin were combined with the traditional Celtic celebration of Samhain. The first was Feralia, a day in late October when the Romans traditionally commemorated the passing of the dead. The second was a day to honor Pomona, the Roman goddess of fruit and trees. The symbol of Pomona is the apple and the incorporation of this celebration into Samhain probably explains the tradition of "bobbing" for apples that is practiced today.
b. Around AD 600, Pope Boniface IV created All Saints' Day, and Pope Gregory III later moved this holiday to November 1 in an effort to give a Christian alternative to this pagan celebration.5 (answersingenesis.org)
Christians who did not want to celebrate pagan festivals celebrated something of positive spiritual value—in this case honoring the saints and martyrs. With the overwhelming expansion of Christianity in Europe, All Saint's Day became the dominant holiday.6 (answersingenesis.org)
On May 13, 609 A.D., Pope Boniface IV dedicated the Pantheon in Rome in honor of all Christian martyrs, and the Catholic feast of All Martyrs Day was established in the Western church. Pope Gregory III (731–741) later expanded the festival to include all saints as well as all martyrs, and moved the observance from May 13 to November 1. By the 9th century the influence of Christianity had spread into Celtic lands, where it gradually blended with and supplanted the older Celtic rites.
c. In 1000 A.D., the church would make November 2 All Souls' Day, a day to honor the dead. It is widely believed today that the church was attempting to replace the Celtic festival of the dead with a related, but church-sanctioned holiday. All Souls Day was celebrated similarly to Samhain, with big bonfires, parades, and dressing up in costumes as saints, angels and devils. The All Saints Day celebration was also called All-hallows or All-hallowmas (from Middle English Alholowmesse meaning All Saints' Day) and the night before it, the traditional night of Samhain in the Celtic religion, began to be called All-hallows Eve and, eventually, Halloween.
The Essay on Catholic Church
Dorothy Day was a journalist, social activist, and a devout Catholic and preacher of the Catholic way of life. In her later years, she also became a preacher of the nonviolent way of living. She started a newspaper, the Catholic Worker to teach the Catholic way of life to people. She led a movement of noncooperation and civil disobedience to teach pacifism to the people. In this essay, I am going ...
A couple hundred years later, the Roman Church made November 2 All Souls Day to honor the dead. This may well have been influenced by the continued persistence of the day of the dead by the ancient Irish, Scots, and others in Europe. Standing against this, many Protestant Christians celebrate October 31 as Reformation Day in honor of reformers such as Martin Luther, John Calvin, and others who spearheaded the Reformation in the 1500s. (answersingenesis.org)
In fact, the current name of "Halloween" originates from the day before All Saint's Day, which was called "All Hallow Evening"; this name was shortened to "All Hallow's Eve" or "All Hallow's Even." The name changed over time and became "Hallowe'en." (answersingenesis.org)
d. It should be obvious from a Christian perspective that many modern practices of Halloween and days of the dead have evil intent (e.g., 1 Corinthians 10:20).
There has been considerable paganism that has been associated with Halloween over the years. Even evil acts such as vandalism, fires, destructive pranks, pretending people are something they are not by dressing up (and particularly by the glorification of sensuality, death, and demons) are in strong opposition to the fruit of the Spirit (Galatians 5:19–23).
So, a word of caution must be given to Evangelicals who promote some of the questionable modern practices of Halloween.
If anything, an alternative in opposition to Halloween should be offered by Christians. Psalm 24:1 points out that everything belongs to the Lord. Therefore, there is no reason to let Satan have Halloween. It is not his day in the first place! (answersingenesis.org)
3. Trick-or Treating
a. The American Halloween tradition of "trick-or-treating" probably dates back to the early All Souls' Day parades in England. During the festivities, poor citizens would beg for food and families would give them pastries called "soul cakes" in return for their promise to pray for the family's dead relatives.
The Essay on Unhealthy foods vs. Healthy foods
Unhealthy foods vs. Healthy foods Exhausted, cranky, or easily distracted? This could be partially due to the types of foods you are eating. The lack of healthy food choices in schools or the costly spending for a healthier food option at work is becoming a problem. The majority of schools and work places mainly offer unhealthy foods to their students and employees which I think is not right. ...
b. The distribution of soul cakes was encouraged by the church as a way to replace the ancient practice of leaving food and wine for roaming spirits. The practice, which was referred to as "going a-souling" was eventually taken up by children who would visit the houses in their neighborhood and be given ale, food, and money.
c. The tradition of dressing in costume for Halloween has both European and Celtic roots. On Halloween, when it was believed that ghosts came back to the earthly world, people thought that they would encounter ghosts if they left their homes. To avoid being recognized by these ghosts, people would wear masks when they left their homes after dark so that the ghosts would mistake them for fellow spirits. On Halloween, to keep ghosts away from their houses, people would place bowls of food outside their homes to appease the ghosts and prevent them from attempting to enter.
Transition to lost traditions
B. Lost traditions/beliefs – Many of these obsolete rituals focused on the future instead of the past and the living instead of the dead. In particular, many had to do with helping young women identify their future husbands and reassuring them that they would someday—with luck, by next Halloween—be married.
1. In 18th-century Ireland, a matchmaking cook might bury a ring in her mashed potatoes on Halloween night, hoping to bring true love to the diner who found it.
2. In Scotland, fortune-tellers recommended that an eligible young woman name a hazelnut for each of her suitors and then toss the nuts into the fireplace. The nut that burned to ashes rather than popping or exploding, the story went, represented the girl's future husband. (In some versions of this legend, confusingly, the opposite was true: The nut that burned away symbolized a love that would not last.)
3. Another tale had it that if a young woman ate a sugary concoction made out of walnuts, hazelnuts and nutmeg before bed on Halloween night she would dream about her future husband.
The Essay on Thanksgiving Day
The holiday of Thanksgiving is a tradition started by the Pilgrims and Indians. Together they shared the fruits of the newly settled America. Thanksgiving Day is a communal celebration marked as a sense of gratitude people feel for all the good things in life. This is done by offering prayers, gifting your near and dear ones. Its origin can be traced back to the 16th century when the first ...
4. According to some accounts, the Halloween supper has featured a roast fowl or even meat, but as the day before a Holy Day of Obligation in the Catholic Church, Halloween has traditionally been a day of abstinence from meat. The dishes most associated with Halloween in Ireland—colcannon, champ, and boxty—are all made from root vegetables and earthy harvests such as potatoes and cabbage. Champ is mashed potatoes, frequently with leeks, and served with a pool of melted butter in the top. Colcannon is potatoes and cabbage. Boxty is mashed potatoes mixed with grated raw potatoes, onion, and cabbage, which are then boiled, cut into portions and fried. (encyclopedia.com)
5. These traditional foods are emblematic of Halloween for many in Ireland. Sometimes, portions were left out for the fairies. In an article published in 1958, K. M. Harris quotes a man who recalls his mother putting salt on the head of each child to prevent them from being taken away by the "wee people" on Halloween. He also recounts her placing a thimble-full of salt on each plate. If the salt fell down that person would die in the next twelve months. These beliefs indicate the continued association of food with the supernatural, and perhaps echo the "old" new year's day of Samhain in the idea that what happens on this night affects the next twelve months. (encyclopedia.com)
C. Cultural Similarities (all from answersingenesis.org) – Although many affirm that Samhain was the origin of modern-day Halloween, it is significant to note how many cultures throughout the world have celebrated a "day of the dead" (often with sacrifices), occurring at the end of summer and fall. There seem to be too many parallels to call these similar celebrations a coincidence.
1. For example, in the Americas there is the Mexican Day of the Dead (El Día de los Muertos) that goes back to the ancient festival of the dead celebrated by Aztecs and the more-ancient Olmec. This was likely where the Guatemalans got their Day of the Dead.
2. Brazilians also celebrate Finados (Day of the Dead).
Bolivia has the Day of the Skulls (Día de los Natitas).7
3. In Asia, there are similar festivals. For example, the Chinese celebrated the Ghost Festival, which was a day to pay homage to dead ancestors. The Japanese celebrated something similar called O-bon or merely Bon. Even Vietnam has a variant of the Ghost Festival called Tet Trung Nguyen. In Korea, there is Chuseok or Hankawi, in which deceased ancestors are ritualized. In Nepal, there is the cow pilgrimage called Gia Jatra to honor the recently deceased. In the Philippines, there is the Day of the Dead (Araw ng mga Patay), where tombs are cleaned and repainted. The list goes on and on (see reference 5).
The Essay on Mardi Gras Galveston Celebration Community
Mardi Gras, literally "Fat Tuesday," has grown in popularity in recent years as a raucous's ome times hedonistic event. Buts its roots lie in the Christian calendar, as the "last hurrah" before Lent begins on Ash Wednesday. That is why the enormous ends abruptly at midnight on Tuesday. There are well-known season-long Carnival celebrations in Europe and Latin America, including Nice, France; ...
4. The annual Jewish holiday of the Day of Atonement (Yom Kippur) is celebrated in the fall, usually September or October.8 But it is distinctly different in purpose. It is not in honor of the dead. Rather, it deals with soul searching, repentance, and is a time of great sacrifice for the sins of the people (Leviticus 23:27–28).
So, there is some cross over, but God instituted this date.
Transition to Halloween in America
D. Halloween in America
1. Celebration of Halloween was extremely limited in colonial New England because of the rigid Protestant belief systems there. Halloween was much more common in Maryland and the southern colonies. As the beliefs and customs of different European ethnic groups as well as the American Indians meshed, a distinctly American version of Halloween began to emerge. The first celebrations included "play parties," public events held to celebrate the harvest, where neighbors would share stories of the dead, tell each other's fortunes, dance and sing. Colonial Halloween festivities also featured the telling of ghost stories and mischief-making of all kinds. By the middle of the nineteenth century, annual autumn festivities were common, but Halloween was not yet celebrated everywhere in the country.
2. In the second half of the nineteenth century, America was flooded with new immigrants. These new immigrants, especially the millions of Irish fleeing Ireland's potato famine of 1846, helped to popularize the celebration of Halloween nationally. Taking from Irish and English traditions, Americans began to dress up in costumes and go house to house asking for food or money, a practice that eventually became today's "trick-or-treat" tradition. Young women believed that on Halloween they could divine the name or appearance of their future husband by doing tricks with yarn, apple parings or mirrors.
3. In the late 1800s, there was a move in America to mold Halloween into a holiday more about community and neighborly get-togethers than about ghosts, pranks and witchcraft. At the turn of the century, Halloween parties for both children and adults became the most common way to celebrate the day. Parties focused on games, foods of the season and festive costumes. Parents were encouraged by newspapers and community leaders to take anything "frightening" or "grotesque" out of Halloween celebrations. Because of these efforts, Halloween lost most of its superstitious and religious overtones by the beginning of the twentieth century.
4. By the 1920s and 1930s, Halloween had become a secular, but community-centered holiday, with parades and town-wide parties as the featured entertainment. Despite the best efforts of many schools and communities, vandalism began to plague Halloween celebrations in many communities during this time. By the 1950s, town leaders had successfully limited vandalism and Halloween had evolved into a holiday directed mainly at the young. Due to the high numbers of young children during the fifties baby boom, parties moved from town civic centers into the classroom or home, where they could be more easily accommodated. Between 1920 and 1950, the centuries-old practice of trick-or-treating was also revived. Trick-or-treating was a relatively inexpensive way for an entire community to share the Halloween celebration. In theory, families could also prevent tricks being played on them by providing the neighborhood children with small treats. A new American tradition was born, and it has continued to grow. Today, Americans spend an estimated $6 billion annually on Halloween, making it the country's second largest commercial holiday.
III. Conclusion
Summarize main points, purpose and view.
———
Works Cited
"History of Halloween." History.com. A&E Television Networks, n.d. Web. 11 Nov. 2014.
Hodge, Bodie. "Halloween History and the Bible." Answers in Genesis. Network Solutions, LLC, 29 Oct. 2013. Web. 12 Nov. 2014.
Image 1: D4doddy, Digimaree. Samhain Bonfire. Digital image. Ancient Samhain Ritual. N.p., n.d. Web. 12 Nov. 2014. .
Image 2: Ritual De Samhain (NOCHE DE DIFUNTOS CELTA).
Digital image. Cosas De Meiga (Libreria Escuela Tarot).
Meiga, 26 Oct. 2012. Web. 12 Nov. 2014. .
Similar Papers
Festivals and celebrations in malaysia.
... the festival. To celebrate the Chinese version of Valentine's Day, young ... traditional "white Christmas", the celebrations carry on with a ... members. Hungry Ghost Festival Observed among the Chinese, the festival commemorates ...
Short Speech on the Republic Day
... festivals like Republic Day, Independence Day, Gandhi Jayanti and others are celebrated with great patriotic fervour. Now-a-days they have been declared National Holidays, ... come to witness the Republic day celebration at India Gate. Pipe railings ...
Chinese Moon Festival
... holidays that are celebrated together with family, like Thanksgiving, Christmas and Independence Day. In China, we also have family reunion days and the Moon Festival ... you need several things for the celebration, so visit your local Chinatown to ...
Mid-Autumn Festival Lantern
... known as children's festival, because … . This is one of the most popular Vietnamese holiday which is celebrated on the 15th day of the 8th ...
Iranian Literary Arts Festival
... Festivals are usually done to celebrate traditions and cultures of certain places in order to preserve and maintain its significance. The festival ... With this celebration, it shows ... days of their community. Reference Iranian Literary Arts Festival. ...

Want to create or adapt books like this? Learn more about how Pressbooks supports open publishing practices.
9.2 The Attention-Getter: The First Step of an Introduction
Learning objectives.
Understand the different tools speakers can use to gain their audience's attention.
Name some common mistakes speakers make in trying to gain attention.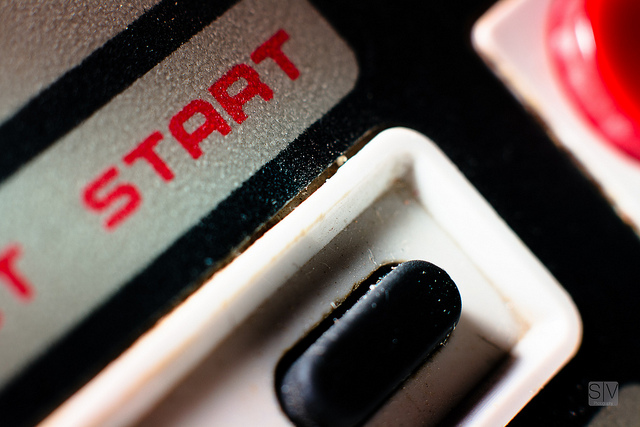 Stephen Velasco – IMG_1422 – CC BY-NC 2.0.
As you know by now, a good introduction will capture an audience's attention, while a bad introduction can turn an audience against a speaker. An attention-getter is the device a speaker uses at the beginning of a speech to capture an audience's interest and make them interested in the speech's topic. Typically, there are four things to consider in choosing a specific attention-getting device:
Appropriateness or relevance to audience
Purpose of speech
First, when selecting an attention-getting device, you want to make sure that the option you choose is actually appropriate and relevant to your specific audience. Different audiences will have different backgrounds and knowledge, so you should use your audience analysis to determine whether specific information you plan on using would be appropriate for a specific audience. For example, if you're giving a speech on family units to a group of individuals over the age of sixty-five, starting your speech with a reference to the television show Gossip Girl may not be the best idea because the television show may not be relevant to that audience.
Second, you need to consider the basic purpose of your speech. As discussed earlier in this text, there are three basic purposes you can have for giving a speech: to inform, to persuade, and to entertain. When selecting an attention-getter, you want to make sure that you select one that corresponds with your basic purpose. If your goal is to entertain an audience, then starting a speech with a quotation about how many people are dying in Africa each day from malnutrition may not be the best way to get your audience's attention. Remember, one of the basic goals of an introduction is to prepare your audience for your speech. If your attention-getter differs drastically in tone from the rest of your speech (e.g., dying in Africa when you want your audience to laugh), the disjointedness may cause your audience to become confused or tune you out completely.
Your third basic consideration when picking an attention-getting device is your speech topic. Ideally, your attention-getting device should have a relevant connection to your speech. Imagine if a speaker pulled condoms out of his pocket, yelled "Free sex!" and threw the condoms at the audience in the beginning of a speech about the economy. While this may clearly get the audience's attention, this isn't really a good way to prepare an audience for a speech about bull and bear markets. Not every attention-getter is appropriate for a given topic. Instead, a speaker could start this speech by explaining that "according to a 2004 episode of 60 Minutes, adults in the United States spend approximately $10 billion annually on adult entertainment, which is roughly the equivalent to the amounts they spend attending professional sporting events, buying music, or going out to the movies" (Leung, 2004). Notice how effective the shocking statistic is in clearly introducing the monetary value of the adult entertainment industry.
The last consideration when picking an attention-getting device involves the speech occasion. Different occasions will necessitate different tones, or particular styles or manners of speaking. For example, a persuasive speech about death and dying shouldn't be happy and hilarious. An informative speech on the benefits of laughing shouldn't be dull, dreary, and depressing. When selecting an attention-getter, you want to make sure that the attention-getter sets the tone for the speech.
Now that we've explored the four major considerations you must think of when selecting an attention-getter, let's look at a range of different attention-getters you may employ. Miller (1946) discovered that speakers tend to use one of eleven attention-getting devices when starting a speech. The rest of this section is going to examine these eleven attention-getting devices.
Reference to Subject
The first attention-getting method to consider is to tell your audience the subject of your speech. This device is probably the most direct, but it may also be the least interesting of the possible attention-getters. Here's an example:
We are surrounded by statistical information in today's world, so understanding statistics is becoming paramount to citizenship in the twenty-first century.
This sentence explicitly tells an audience that the speech they are about to hear is about the importance of understanding statistics. While this isn't the most entertaining or interesting attention-getter, it is very clear and direct.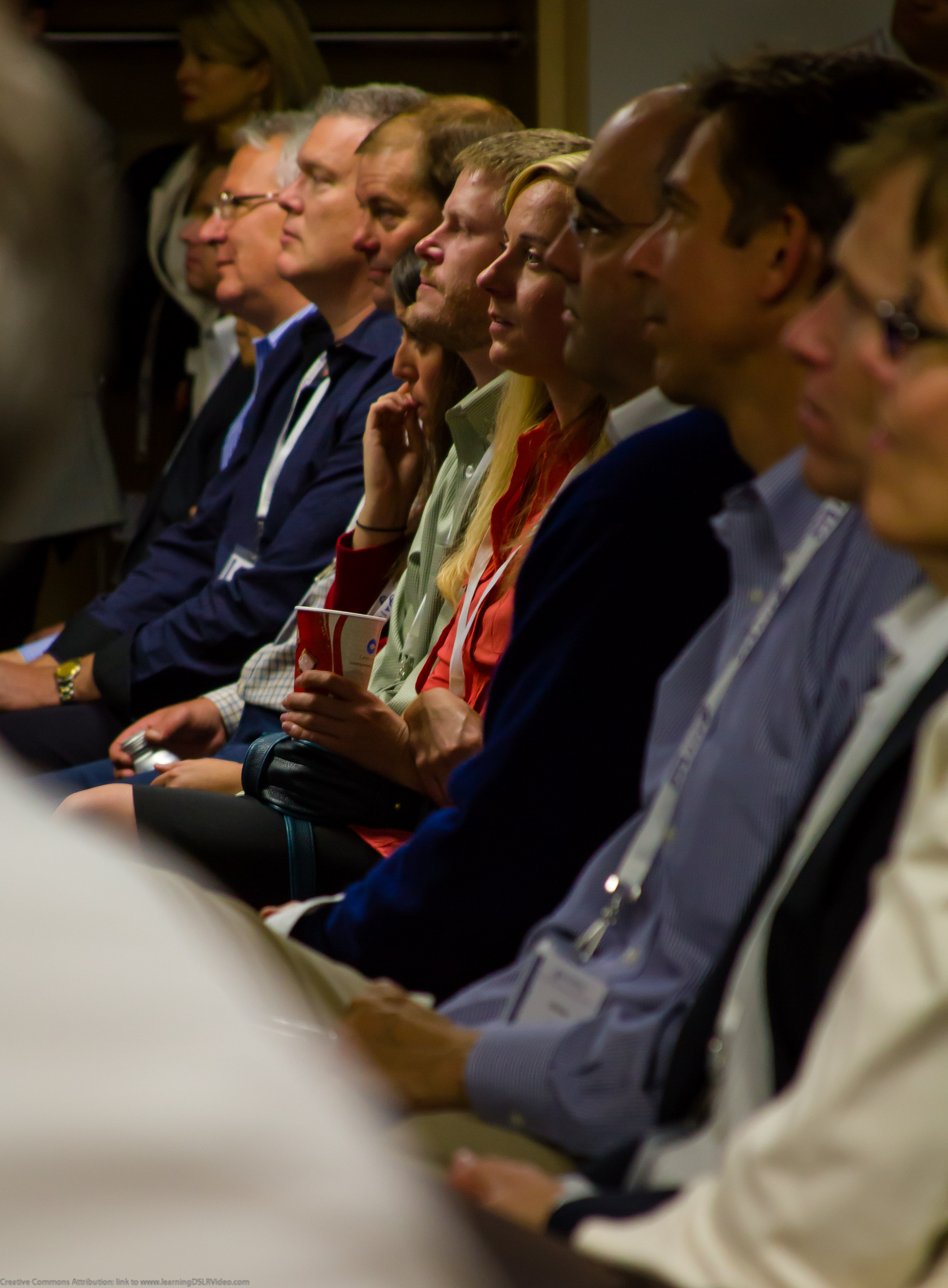 Dave Dugdale – Attentive Audience – CC BY-SA 2.0.
Reference to Audience
The second attention-getting device to consider is a direct reference to the audience. In this case, the speaker has a clear understanding of the audience and points out that there is something unique about the audience that should make them interested in the speech's content. Here's an example:
As human resource professionals, you and I know the importance of talent management. In today's competitive world, we need to invest in getting and keeping the best talent for our organizations to succeed.
In this example, the speaker reminds the audience of their shared status as human resource professionals and uses the common ground to acknowledge the importance of talent management in human resources.
Another way to capture your listeners' attention is to use the words of another person that relate directly to your topic. Maybe you've found a really great quotation in one of the articles or books you read while researching your speech. If not, you can also use a number of sources that compile useful quotations from noted individuals. Probably the most famous quotation book of all time is Bartlett's Familiar Quotations ( http://www.bartleby.com/100 ), now in its seventeenth edition. Here are some other websites that contain useful databases of quotations for almost any topic:
http://www.quotationspage.com
http://www.bartleby.com/quotations
http://www.moviequotes.com
http://www.quotesandsayings.com
http://www.quoteland.com
Quotations are a great way to start a speech, so let's look at an example that could be used for a speech on deception:
Oliver Goldsmith, a sixteenth-century writer, poet, and physician, once noted that "the true use of speech is not so much to express our wants as to conceal them."
Reference to Current Events
Referring to a current news event that relates to your topic is often an effective way to capture attention, as it immediately makes the audience aware of how relevant the topic is in today's world. For example, consider this attention-getter for a persuasive speech on frivolous lawsuits:
On January 10, 2007, Scott Anthony Gomez Jr. and a fellow inmate escaped from a Pueblo, Colorado, jail. During their escape the duo attempted to rappel from the roof of the jail using a makeshift ladder of bed sheets. During Gomez's attempt to scale the building, he slipped, fell forty feet, and injured his back. After being quickly apprehended, Gomez filed a lawsuit against the jail for making it too easy for him to escape.
In this case, the speaker is highlighting a news event that illustrates what a frivolous lawsuit is, setting up the speech topic of a need for change in how such lawsuits are handled.
Historical Reference
You may also capture your listeners' attention by referring to a historical event related to your topic. Obviously, this strategy is closely related to the previous one, except that instead of a recent news event you are reaching further back in history to find a relevant reference. For example, if you are giving a speech on the Iraq War that began in 2003, you could refer back to the Vietnam War as way of making a comparison:
During the 1960s and '70s, the United States intervened in the civil strife between North and South Vietnam. The result was a long-running war of attrition in which many American lives were lost and the country of Vietnam suffered tremendous damage and destruction. Today, we see a similar war being waged in Iraq. American lives are being lost, and stability has not yet returned to the region.
In this example, the speaker is evoking the audience's memories of the Vietnam War to raise awareness of similarities to the war in Iraq.
Another device you can use to start a speech is to tell an anecdote related to the speech's topic. An anecdote is a brief account or story of an interesting or humorous event. Notice the emphasis here is on the word "brief." A common mistake speakers make when telling an anecdote is to make the anecdote too long. Remember, your entire introduction should only be 10 to 15 percent of your speech, so your attention-getter must be very short.
One type of anecdote is a real story that emphasizes a speech's basic message. For example, here is an anecdote a speaker could use to begin a speech on how disconnected people are from the real world because of technology:
In July 2009, a high school girl named Alexa Longueira was walking along a main boulevard near her home on Staten Island, New York, typing in a message on her cell phone. Not paying attention to the world around her, she took a step and fell right into an open manhole (Whitney, 2009).
A second type of anecdote is a parable or fable. A parable or fable is an allegorical anecdote designed to teach general life lessons. The most widely known parables for most Americans are those given in the Bible and the best-known fables are Aesop's Fables ( http://www.aesopfables.com ). For the same speech on how disconnected people are with the real world because of technology, the speaker could have used the Fable of The Boy and the Filberts:
The ancient Greek writer Aesop told a fable about a boy who put his hand into a pitcher of filberts. The boy grabbed as many of the delicious nuts as he possibly could. But when he tried to pull them out, his hand wouldn't fit through the neck of the pitcher because he was grasping so many filberts. Instead of dropping some of them so that his hand would fit, he burst into tears and cried about his predicament. The moral of the story? "Don't try to do too much at once" (Aesop, 1881).
After recounting this anecdote, the speaker could easily relate the fable to the notion that the technology in our society leads us to try to do too many things at once.
While parables and fables are short and entertaining, their application to your speech topic should be clear. We'll talk about this idea in more detail later in this chapter when we discuss how to link your attention-getter explicitly to your topic.
Startling Statement
The eighth device you can use to start a speech is to surprise your audience with startling information about your topic. Often, startling statements come in the form of statistics and strange facts. The goal of a good startling statistic is that it surprises the audience and gets them engaged in your topic. For example, if you're giving a speech about oil conservation, you could start by saying, "A Boeing 747 airliner holds 57,285 gallons of fuel." You could start a speech on the psychology of dreams by noting, "The average person has over 1,460 dreams a year." A strange fact, on the other hand, is a statement that does not involve numbers but is equally surprising to most audiences. For example, you could start a speech on the gambling industry by saying, "There are no clocks in any casinos in Las Vegas." You could start a speech on the Harlem Globetrotters by saying, "In 2000, Pope John Paul II became the most famous honorary member of the Harlem Globetrotters." All four of these examples came from a great website for strange facts ( http://www.strangefacts.com ).
Although startling statements are fun, it is important to use them ethically. First, make sure that your startling statement is factual. The Internet is full of startling statements and claims that are simply not factual, so when you find a statement you'd like to use, you have an ethical duty to ascertain its truth before you use it. Second, make sure that your startling statement is relevant to your speech and not just thrown in for shock value. We've all heard startling claims made in the media that are clearly made for purposes of shock or fear mongering. As speakers, we have an ethical obligation to avoid playing on people's emotions in this way.
Another strategy for getting your audience's attention is to ask them a question. There are two types of questions commonly used as attention-getters: response questions and rhetorical questions. A response question is a question that the audience is expected to answer in some manner. For example, you could ask your audience, "Please raise your hand if you have ever thought about backpacking in Europe" or "Have you ever voted for the Electoral College? If so, stand up." In both of these cases, the speaker wants her or his audience to respond. A rhetorical question , on the other hand, is a question to which no actual reply is expected. For example, a speaker talking about the importance of HIV testing could start by asking the audience, "I have two questions that I'd like you to think about. How many students on this campus have had sexual intercourse? Of those who have had sex, how many have been tested for HIV?" In this case, the speaker does not expect the audience to give an estimate of the numbers of students that fit into each category but rather to think about the questions as the speech goes on.
Humor is another effective method for gaining an audience's attention. Humor is an amazing tool when used properly. We cannot begin to explain all the amazing facets of humor within this text, but we can say that humor is a great way of focusing an audience on what you are saying. However, humor is a double-edged sword. If you do not wield the sword carefully, you can turn your audience against you very quickly. When using humor, you really need to know your audience and understand what they will find humorous. One of the biggest mistakes a speaker can make is to use some form of humor that the audience either doesn't find funny or finds offensive. Think about how incompetent the character of Michael Scott seems on the television program The Office , in large part because of his ineffective use of humor. We always recommend that you test out humor of any kind on a sample of potential audience members prior to actually using it during a speech.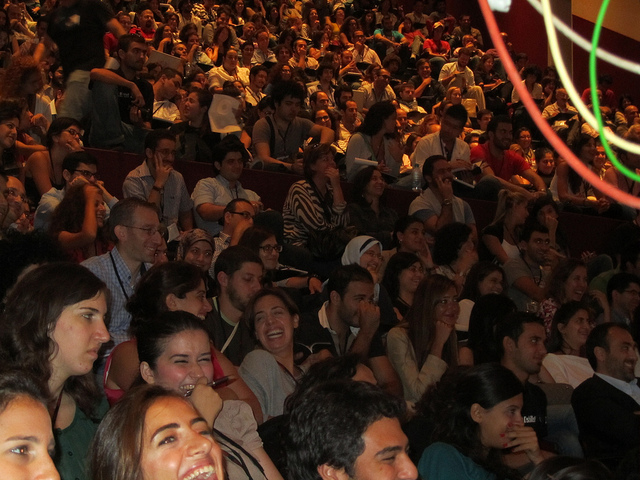 Thinkmedialabs – Audience laughing – CC BY-NC 2.0.
Now that we've warned you about the perils of using humor, let's talk about how to use humor as an attention-getter. Humor can be incorporated into several of the attention-getting devices mentioned. You could use a humorous anecdote, quotation, or current event. As with other attention-getting devices, you need to make sure your humor is relevant to your topic, as one of the biggest mistakes some novices make when using humor is to add humor that really doesn't support the overall goal of the speech. So when looking for humorous attention-getters you want to make sure that the humor is nonoffensive to your audiences and relevant to your speech. For example, here's a humorous quotation from Nicolas Chamfort, a French author during the sixteenth century, "The only thing that stops God from sending another flood is that the first one was useless." While this quotation could be great for some audiences, other audiences may find this humorous quotation offensive (e.g., religious audiences). The Chamfort quotation could be great for a speech on the ills of modern society, but probably not for a speech on the state of modern religious conflict. You want to make sure that the leap from your attention-getter to your topic isn't too complicated for your audience, or the attention-getter will backfire.
Personal Reference
The tenth device you may consider to start a speech is to refer to a story about yourself that is relevant for your topic. Some of the best speeches are ones that come from personal knowledge and experience. If you are an expert or have firsthand experience related to your topic, sharing this information with the audience is a great way to show that you are credible during your attention-getter. For example, if you had a gastric bypass surgery and you wanted to give an informative speech about the procedure, you could introduce your speech in this way:
In the fall of 2008, I decided that it was time that I took my life into my own hands. After suffering for years with the disease of obesity, I decided to take a leap of faith and get a gastric bypass in an attempt to finally beat the disease.
If you use a personal example, don't get carried away with the focus on yourself and your own life. Your speech topic is the purpose of the attention-getter, not the other way around. Another pitfall in using a personal example is that it may be too personal for you to maintain your composure. For example, a student once started a speech about her grandmother by stating, "My grandmother died of cancer at 3:30 this morning." The student then proceeded to cry nonstop for ten minutes. While this is an extreme example, we strongly recommend that you avoid any material that could get you overly choked up while speaking. When speakers have an emotional breakdown during their speech, audience members stop listening to the message and become very uncomfortable.
Reference to Occasion
The last device we mention for starting a speech is to refer directly to the speaking occasion. This attention-getter is only useful if the speech is being delivered for a specific occasion. Many toasts, for example, start with the following statement: "Today we are here to honor X." In this case, the "X" could be a retirement, a marriage, a graduation, or any number of other special occasions. Because of its specific nature, this attention-getter is the least likely to be used for speeches being delivered for college courses.
Key Takeaways
In developing the introduction to your speech, begin by deciding upon a statement to capture the audience's attention.
Attention-getters can include references to the audience, quotations, references to current events, historical references, anecdotes, startling statements, questions, humor, personal references, and references to the occasion.
Make a list of the attention-getting devices you might use to give a speech on the importance of recycling. Which do you think would be most effective? Why?
You've been asked to deliver a speech on the use of advertising in children's media. Out of the list of ten different possible attention-getting devices discussed in the chapter, how could you use four of them to start your speech?
Aesop (1881). Aesop's fables . New York, NY: Wm. L. Allison. Retrieved from http://www.litscape.com/author/Aesop/The_Boy_and_the_Filberts.html
Leung, R. (2004, September 5). Porn in the U.S.A.: Steve Kroft reports on a $10 billion industry. Retrieved from http://www.cbsnews.com .
Miller, E. (1946). Speech introductions and conclusions. Quarterly Journal of Speech, 32 , 181–183.
Whitney, L. (2009, July 13). Don't text while walking? Girl learns the hard way. CNET News Wireless . Retrieved from http://news.cnet.com/8301-1035_3-10285466-94.html
Stand up, Speak out Copyright © 2016 by University of Minnesota is licensed under a Creative Commons Attribution-NonCommercial-ShareAlike 4.0 International License , except where otherwise noted.
Share This Book
EXPLORE Coupons Tech Help Pro Random Article About Us Quizzes Request a New Article Community Dashboard This Or That Game Popular Categories Arts and Entertainment Artwork Books Movies Computers and Electronics Computers Phone Skills Technology Hacks Health Men's Health Mental Health Women's Health Relationships Dating Love Relationship Issues Hobbies and Crafts Crafts Drawing Games Education & Communication Communication Skills Personal Development Studying Personal Care and Style Fashion Hair Care Personal Hygiene Youth Personal Care School Stuff Dating All Categories Arts and Entertainment Finance and Business Home and Garden Relationship Quizzes Cars & Other Vehicles Food and Entertaining Personal Care and Style Sports and Fitness Computers and Electronics Health Pets and Animals Travel Education & Communication Hobbies and Crafts Philosophy and Religion Work World Family Life Holidays and Traditions Relationships Youth
EDIT Edit this Article
PRO Courses Guides New Tech Help Pro Expert Videos About wikiHow Pro Upgrade Sign In
Browse Articles
Learn Something New
Quizzes New
This Or That Game New
Train Your Brain
Explore More
Support wikiHow
About wikiHow
H&M Coupons
Hotwire Promo Codes
StubHub Discount Codes
Ashley Furniture Coupons
Blue Nile Promo Codes
NordVPN Coupons
Samsung Promo Codes
Chewy Promo Codes
Ulta Coupons
Vistaprint Promo Codes
Shutterfly Promo Codes
DoorDash Promo Codes
Office Depot Coupons
adidas Promo Codes
Home Depot Coupons
DSW Coupons
Bed Bath and Beyond Coupons
Lowe's Coupons
Surfshark Coupons
Nordstrom Coupons
Walmart Promo Codes
Dick's Sporting Goods Coupons
Fanatics Coupons
Edible Arrangements Coupons
eBay Coupons
Log in / Sign up
Education and Communications
Writing Techniques
How to Write an Attention Getter
Last Updated: June 18, 2023 References
This article was co-authored by Stephanie Wong Ken, MFA . Stephanie Wong Ken is a writer based in Canada. Stephanie's writing has appeared in Joyland, Catapult, Pithead Chapel, Cosmonaut's Avenue, and other publications. She holds an MFA in Fiction and Creative Writing from Portland State University. There are 9 references cited in this article, which can be found at the bottom of the page. This article has been viewed 351,119 times.
Attention-grabbing introductions can draw your reader in and encourage them to keep reading. They help to set the tone and establish the narrative voice early on in an essay, a paper, or a speech. Grab the reader's attention by opening with a quote or fact. Asking a question or presenting a strong statement can help keep your reader engaged. You can also use storytelling to get their attention and draw them in.
Opening with a Quote, Definition, or Fact
For example, you may pick a bold quote from a play by Shakespeare you are discussing to open the essay so your reader is drawn in. You may write, "Early in the play Hamlet by William Shakespeare, the troubled prince notes: 'This above all: to thine own self be true.' Themes of identity and self-hood appear many times throughout the play."
Always cite any quotes you use in your introduction using the proper citation style, according to your instructor's requirements for your paper or essay.
For example, you may write, "In Shakespeare's Othello , love is not blind, it is all seeing. As Othello notes, 'For she had eyes and she chose me.'"
For example, you may write, "Every year, 25,000 people die due to drunk driving in the United States" or "One in five women will be raped in the United States."
For example, you may write, "When the city gentrifies an area, it renovates and improves a neighborhood so it conforms to middle-class tastes." Or you may write, "When an area is gentrified, it becomes more refined and polite for some, but not all."
Beginning with a Question or Statement
For example, you may use a question like, "What if we lived in a world where women were not constantly under threat of violence?" or "Why shouldn't everyone have access to free healthcare in America?"
For example, rather than start with a question like, "Have you ever thought about the consequences of your actions?" you may rephrase it as, "Why is it important to consider the consequences of our actions?"
For example, you may write, "Shakespeare's Othello is a play about the doomed nature of love and the power of desire." Or you may write, "Drunk driving is an epidemic in America that seems to only get worse every year."
For example, you may write, "I believe our country needs to acknowledge fundamental issues in its democracy" or "From my perspective, there is no need to have multiple political parties in a democracy."
For example, you may write, "Right-wing conservatives believe immigrants are to blame for many of the issues facing America today. I am going to explore how and why this position is flawed."
For example, you may write, "I am been fascinated with death since I was 16" or "There is no greater joy to me than an empty bed where I can be alone, away from the world."
Using Storytelling
For example, you may write, "The other day in the supermarket, I heard a child talking to his mother. 'Why aren't we getting the ones with marshmallows in them?' he demanded, pointing at the boxes of cereal. He threw a tantrum in the aisle until his mother relented, throwing the sugary cereal into their cart. Standing in the aisle, watching the child, I couldn't help but think about how children's diets are becoming more and more unhealthy."
For example, you may take a fact about drunk driving and write a short story like, "The young driver cranks up the stereo and grins as he thinks about the fun he had at the house party, plenty of cold beer and shots of whiskey. Suddenly, a tree appears ahead. He's swerved off the road and it's too late. The police later find him dead in the car due to driving while under the influence."
For example, if you are writing about eating disorders in fashion, you may describe your own experiences with body image. You may write, "Flipping through my mother's fashion magazines, I learned at a young age that being skinny was glamorous and desirable. This "fact" would haunt me into my teenage years, as I struggled with my weight and body image."
Community Q&A
You Might Also Like
↑ https://www.grammarly.com/blog/how-to-write-a-hook/
↑ https://writingcenter.unc.edu/tips-and-tools/cliches/
↑ https://www.csuchico.edu/slc/_assets/documents/writing-center-handouts/how-to-write-an-introduction.pdf
↑ https://www.georgebrown.ca/sites/default/files/uploadedfiles/tlc/_documents/hooks_and_attention_grabbers.pdf
↑ https://courses.lumenlearning.com/wm-publicspeaking/chapter/types-of-introductions/
↑ https://courses.lumenlearning.com/boundless-communications/chapter/introduction/
↑ https://owl.purdue.edu/owl/general_writing/academic_writing/essay_writing/narrative_essays.html
↑ https://www.esu.edu/writing-studio/guides/hook.cfm
↑ https://www.indeed.com/career-advice/career-development/attention-getters-for-speeches
About This Article
Reader Success Stories
Apr 17, 2018
Did this article help you?
Rezza Aulia
Feb 26, 2018
Apr 12, 2018
T. J. Turner
Nov 7, 2016
Featured Articles
Trending Articles
Watch Articles
Terms of Use
Privacy Policy
Do Not Sell or Share My Info
Not Selling Info
Don't miss out! Sign up for
wikiHow's newsletter
We're sorry, this computer has been flagged for suspicious activity.
If you are a member, we ask that you confirm your identity by entering in your email.
You will then be sent a link via email to verify your account.
If you are not a member or are having any other problems, please contact customer support.
Thank you for your cooperation

Home » Writers-House Blog » 5 Best Attention-Getters for Your Essay
5 Best Attention-Getters for Your Essay
College admissions committees cannot guarantee that they will read every applicant's essay. First, admissions counselors don't have enough time. Secondly, they may decide not to read your essay after taking a glance at the first few sentences. At the same time, if admissions counselors are not sure whether or not they should accept you, your essay may determine their decision. Thus, we recommend that you get their attention right from the beginning, creating an impressive introductory paragraph that will make your readers want to read more. Experts from writers-house.com prepared this list of the best attention-getters for you.
An anecdote should be related to your story. If you start your essay with an anecdote, you'll be able to get an emotional reaction from your readers, which is a great way to engage the audience. If your readers can relate to the anecdote, they can relate to your essay as well, which makes them more likely to enjoy reading it.
A good question can also grab attention and engage your readers. It's also a great way to make them think about something important. Don't choose questions that require a simple answer ("yes" or "no"). Instead, choose a question that will introduce your readers to the topic. For example, you may ask "why?" and lead your readers to the thesis statement that provides the answer.
Quotes are effective attention-getters that also make your essay more credible. We suggest that you choose a quote from an expert on the topic of your essay. In addition, you should make sure that the quote supports your thesis statement. Such an essay hook will demonstrate that you've researched your subject. It can also be used to convey your ideas in an emotional way, which will help you create a strong introduction.
Sometimes, a good joke can quickly engage your readers and create the right mood. Obviously, this type of essay hook is a nice choice if you write an essay on some positive topic. A joke can also help you make your essay entertaining and tell your reader that they shouldn't take it too seriously. Make sure that your joke isn't controversial or offensive.
Shocking Statistic
Another way to grab your readers' attention is to provide an impressive statistic that is directly related to the topic of your essay. This is a great approach for persuasive essays because your readers may get shocked by the fact that they don't know something important about the issue. Obviously, statistical facts also work great with informative essays and various types of technical writing.
Leave a Reply
Be the First to Comment!
Place your order
Essay Writer
Essay Writing Service
Term Paper Writing
Research Paper Writing
Assignment Writing Service
Cover Letter Writing
CV Writing Service
Resume Writing Service
5-Paragraph Essays
Paper By Subjects
Affordable Papers
Prime quality of each and every paper
Everything written per your instructions
Native-speaking expert writers
100% authenticity guaranteed
Timely delivery
Attentive 24/7 customer care team
Benefits for return customers
Affordable pricing
Attention Getter Generator
Get a catchy attention getter in 4 steps:
Choose the hook type that you want.
Type in your essay's topic.
Push the "Get an attention getter" button.
Get your perfect attention grabber just like that!
✨ Our Tool's Benefits
👀 What Is an Attention Getter?
🔥 Types of Hooks
❤️ Helpful Tips
🔗 References
✨ attention getter for essays: our tool's benefits.
Getting unique hook examples to boost your inspiration has never been easier! AssignZen's hook generator has many unique features that you'll definitely appreciate. Here's why you should choose our tool instead of others:
Not sure why you need a perfect hook in your essay? Or maybe you want to learn more about attention getters? Keep reading this article!
A hook is essentially the text's first sentence that captures the reader's attention. It's usually located in the opening sentence of an essay. It can either state the primary idea or function as an introductory sentence before the main narrative.
Reasons to Use an Attention Getter
There are many reasons why using an attention getter will take your essay to the next level:
It sparks interest and curiosity in the reader.
It makes your essay memorable and helps it stand out among others.
It establishes the mood, style, and voice of your writing.
It provides context or background information that leads to your essay's main argument.
🔥 Types of Attention Getters
Did you know there are several diferent types of hooks? Each type is suitable for specific situations and texts. In addition, by using various attention-getting techniques, you can cater to different learning styles and make your essay more accessible to a broader range of readers.
The 4 main types of attention getters are:
Attention Getters for Different Purposes
As you already know, each hook type suits specific texts. In this next segment, we will discuss which attention getters to use with which assignments to get the best outcome.
Attention Getter for an Argumentative Essay
Argumentative essays aim to engage the reader in a discussion. An attention getter for this essay type can be a powerful tool to capture the reader's interest and establish credibility. By presenting compelling evidence in a thought-provoking question or a surprising fact , you can pique the audience's curiosity and make a persuasive impact.
Attention Getter for a Narrative Essay
Narrative essays tell a story. As you can guess, the most suitable hook in this case is the anecdotal type .
Attention Getter for an Informative Essay
Informative essays aim to tell the readers about something. Your aim with the hook would be to create interest. That's why the best choice here would be statistical and question hook types .
Attention Getter for a Research Paper
Research papers are generally more complex than essays. In this case, a hook of almost any type can fit. We recommend starting with statistics and quotation hooks .
Attention Getter for a Literary Analysis
Literary analysis generally requires a more creative approach than other essay types. That's why quotation and question hook types are the most appropriate options.
Attention Getter for a Speech
If you're writing a text for an informative speech, you need a hook that will quickly grab the attention of many diverse people. Generally, a quotation or question hook will do the trick, but you can also use shocking statistics to actualize the topic effectively.
❤️ Writing a Catchy Attention Getter: Helpful Tips
Finally, we present to you the most helpful tips to make your hooks perfect!
Now you know everything necessary for making a great attention grabber for your text. Make sure to use AssignZen's hook generator to speed up the process! This groundbreaking tool will be a great help even for a seasoned writer.
❓ Attention Getter Generator FAQ
❓ how do you make an attention grabber.
It's pretty easy to make a good attention grabber. Just think of a sentence that can be catchy, informative, and related to your main topic's problem. You can use any hook, should it be a question, a quote, a personal story, or a shocking statistic.
❓ What is a hook generator?
AssingZen's hook generator is a free tool that creates attention getters for essays or research papers. All you should do is choose the desired hook type and state your topic in the generator's parameters. After that, you'll receive a perfect hook that you can use however you want.
❓ What is a good attention grabber for an essay?
A good attention grabber must be catchy, informative, and connected with the topic. Here's an example of a great hook for an argumentative essay: "In recent days, many influential people have asked themselves: can we create a world under a single government?"
❓ What is an example of an attention getter in an essay?
Here're a few good examples of catchy hooks:
Everyone knows that committing a crime is a punishable act. But were there situations where committing a crime has helped society?
According to the most recent statistics, 53% of marriages in the US end in divorce.
How to Write a Hook: East Stroudsburg University
How to Write a Hook to Captivate Your Readers: Grammarly
Hooks & Grabbers: Las Positas College
Attention Getters: Grand Valley State University
The Attention-Getter: The First Step of an Introduction: University of Minnesota
College essay writing help for students
Essay formats
Elementary School expository essays
Pathos, ethos and logos
Choosing a fair essay writing agency
Informative paper prompts
How to start and end a college essay
How to create a persuasive speech
Non-Plagiarized Essays Online
Undergraduate essay topics
Writing companies
Child labour in India
The Future City
Concerns For The Future
Global change: South Africa
Apartheid in South Africa
Sickle-cell Disease
Сharacter type comparison
A paper on parents' responsibility
Persuasive writing
Descriptive papers
What makes a good conclusion
Avoiding grammar mistakes
Composing a paper in 2 hours
Paraphrasing paper techniques
7 tips on editing
Organizing your outline
4-paragraph essay tips
Crafting an analysis essay
Choosing argument topics
Where to begin when writing an essay
Analyzing and comparing
Buying essay
Tips and ideas for perfect essay
Coming up with a good essay
Writing a proper thesis statement
Informative essay writing
Definition essay on death penalty
Composing an essay about poverty
Alcoholism&treatment interventions
Sexual&reproductive health
Comparison essay example
Technology and the brain
Hijabs and Muslim Women
The Great Gatsby
Spousal abuse
The Old Man And The Sea
Ancient Egypt
First African American Mayor
US in international relations
Strategic purchasing
Ethical & legal issues today
Business leadeship
Globalization
Prostitution
American revolution
TAM promoting
Media law in Egypt
An effective paper writing guide
Most Popular Types of Essays
Useful advices on buying online help
Basic entrance essay writing
Tips & Samples for your essay
Comparison and contrast exploratory essay
Analysis essay writing hints
College&high-school writing distinctions
Informative essay about early pregnancy
Buying customized essays online
Controversial paper topics
Tips on Writing Personal Essay
Changes in ideology role: paper sample
Adele - essay example
Social issues in The Great Gatsby
We are a group of bookworms and nerds who are extremely good in writing essays of all kinds.
Academic articles
Essay model: hope in the apocalypse
The value of an editing part
Using a legitimate term papers topics
Reason&Outcome paper topics
Cheap paper writing assistance
Creating a strong essay foundation
Write for us
If you are a smart college student, professional essay writer or just an academic enthusiast, you are welcome to join our friendly team.
Halloween is a night of costumes, fun and candy which happens only once on 31st October every year. Halloween celebration provides people with an opportunity to dress up in a scary manner. People have choice where to attend celebration, go trick-or-treating or remain haunted in houses. Every age group has a role to play in Halloween. Halloween tradition and celebration has got rich ancient religious beliefs, stories and history.
17% OFF on your first order Type the code 17TUDENT
Origin of Halloween Festival
Halloween celebration was established over two thousand years ago in Celtic Ireland by farmers. Initially, the Halloween festival was known as Samhain by the Celtic farmers which meant end of summer. This was a time to forget about the summer and hope for a productive winter. Celts believed that October 31st was the specific day when the season of death came into contact with life season and thus allowed dead spirits to rise among the living.
During Halloween festival, Celtic farmers gave sacrifices and build big bonfires to chase away dead spirit in hopes for healthy crops that following year. Celts would as well wear masks and dress up in skins of animals so as to masquerade themselves as spirits. Christianity developed into dominant religion in the eighth century. In order to snoop away paganism believes in Celts, a Christian pope named first of November as "All Hallows Day" or "All Saints Day." However, although the Celts acknowledged the festival, they still kept on their tradition and after a short while, the so called All Hallows Eve was changed into present Halloween.
Halloween Festival in United States
It was until the nineteenth century when Halloween made its way to United States of America. The rise of potato famine led to billions of unfortunate Celtic farmers and their families together with their cultural practices to move to the United States. This resulted to numerous changes in the festival. The animal skins dressed up were changed to costumes and Jack-O'-Lanterns replaced the big bonfires. However, the festival kept its traditions.
Nowadays, Halloween has become famous in the entire world, specifically in United States of America. Halloween has established itself as one of the most profitable festivals of the year. The day generates billions of dollars every year through selling of costumes, decorations, candy and even films with themes of Halloween.
The Halloween festival has undergone various changes over two thousand years ago. Despite all these changes, the fundamental basics developed by the Irish farmers have been persisted.
All rights reserved © sierra-arts.net - 2023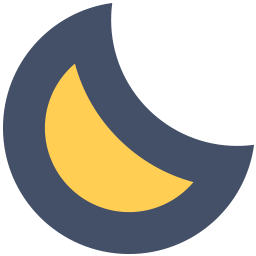 How to Write a Halloween Essay
Halloween Essay: Trick or Treat Your Tutor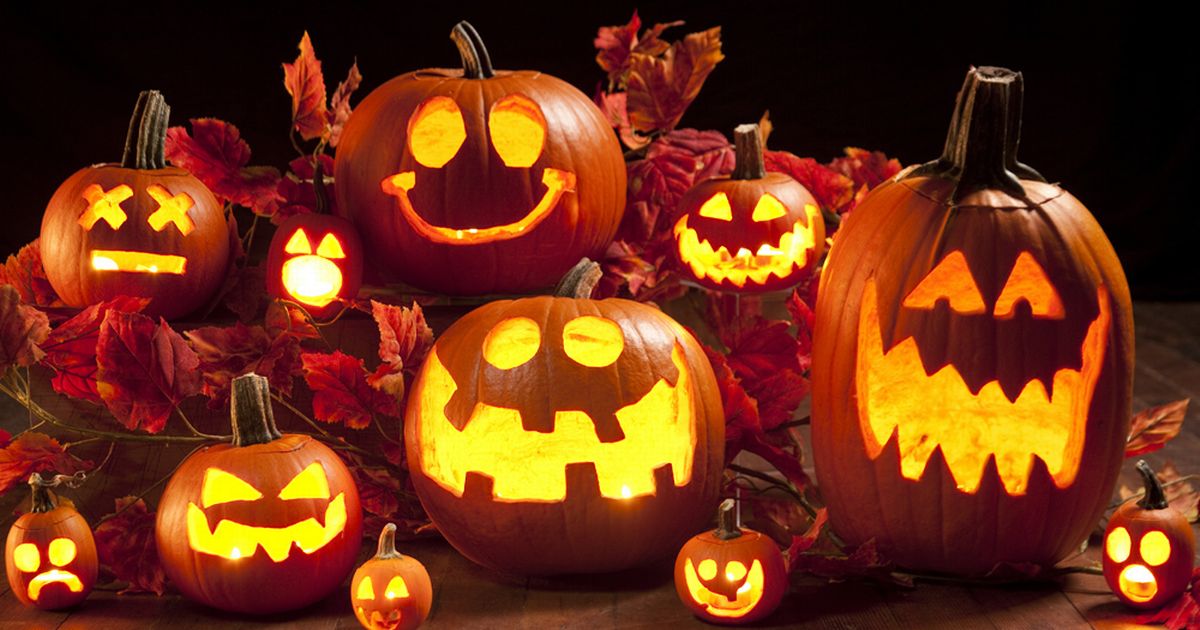 Halloween Essay: What it is All About?
Mistakes to avoid in your essay on halloween, how to write halloween essay effectively, halloween essay by a professional.
Halloween is the time when people celebrate their lives and honor the dead. It is an amazing holiday that helps fight your fears, get away from your problems, and just have fun with your friends and family. Halloween is one of the most popular holidays both among kids and adults and is celebrated on 31st, October. Halloween essay is not just about costumes and fun but about customs and symbolism.
Halloween is a perfect celebration time and absolute opposite to all winter holidays such as New Year's Eve and Christmas. Various groups of people like to celebrate this holiday in their own way but some features are common and can be seen in all countries where this holiday has its history.
In your Halloween essay you can tell about people honoring their dead relatives. Most of us love this time, we love wearing ridiculous costumes and party, while kids tricking their neighbours. One needs to provide a proper research for essay writing about Halloween and our experts will share  some tips about this type of assignment for free.
Lots of students often forget about one important thing. It is important to identify the tense of your essay on Halloween. Decide if you will use either past or present tense. Use it through the entire paper.
Analysis is more important than the plot
It is not always a good idea to build your Halloween paper around a scary or fan story. Your main topic should have some analytical perspective. This is an essay but not a narrative one.
It is easy to come up with various ideas for your Halloween party . But it is not an easy task to write your Halloween paper. Fortunately, there are lots of interesting topics related to this holiday, all you need to do is just to check few of our tips before you start writing:
Imagine you are writing to a pen pal
This one is hard to connect to your main thesis . If you never had a pen pal it is easy to imagine you have one. Now you are writing him or her a letter telling your Halloween story. The main thing to imagine is the fact that your friend lives in the area where this holiday is not popular or even unknown.
Just tell some general facts about the celebration and customs. There is no need to explain all the details, just describe the overall mood and purpose of the holiday. Here are few tips to consider:
Tell a bout the history of the holiday ;
Describe what a pumpkin carving looks like;
Count All Hallows' Eve celebration stages;
Describe what costumes people like to wear and how they are decorating their houses;
Mention some party organization facts.
Tell a spooky tale
This is often the easiest way to start and proceed with your Halloween paper. The best way is not to retel some well-known story but to come up with your own. Good stories about Halloween always have dead people, ghosts, cemeteries, witches, and magic in their plot.
Of course, you can base your story on a personal experience. Do not forget to include various details and describe the atmosphere as it will make your paper more interesting. If you do not have nothing interesting enough, you can tell about your previous year All Hallows' Eve celebration.
This is a great time of the year. The celebration itself is some sort of a masquerade and religious rituals. It is a time to honour your relatives, visit your friends, and just be happy that you are alive and well.
And sometimes there is just not enough time to party, especially if you are a student. You just do not have time to deal with all that academic assignments . Here is a perfect chance to check services provided by professional writers . It is the easiest way to get a paper done and save some time for yourself.
Those tips our experts have prepared in this article are useful enough to be considered as your main guide for this type of an assignment. Also, you are free to experiment and try your own methods. Our professional writers are always ready to help you out anytime.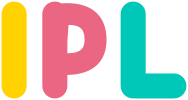 Argumentative Essay On Halloween
My movie argument: the nightmare before christmas.
What about when the director of this film specifically had the movie come out in October. In the end of this movie the main character Jack Skelington decided he was the pumpkin king and was happy for his holiday, Pumpkins are apart of Halloween.
My Pumpkin Narrative
"Only 5 more days until Halloween", screamed Abigail. I can not wait until it is Halloween because I feel like it is going to be one of the best ones yet. My brother, Adam and I had made plans to carve a pumpkin because I have wanted to do one for a long time. I asked my mom, Caroline, when we could carve one and she said,"You can do some today only if you finish your homework." Ok I said and I better get started on my homework.
Halloween Informative Speech
On October 31 every year we celebrate a holiday known as Halloween. Celebrating consists of traditional activities such as: trick-or-treating, haunted houses, dressing up as your favorite character, carving jack-o-lanterns. There's tons of fun stuff to do on Halloween, but there's tons of history behind it as well.
Today I will be talking about the holiday we call Halloween. Halloween is where we all dress up in costumes and get candy from houses on the thirty first of October. Here are three things about halloween.
Salem Witch Dbq Essay
In today's society witches are usually linked with Halloween. Kids envision witches flying across a moonlit sky on broomsticks and having slinky black cats as pets. Evil cackling, pointy hats, bubbling cauldrons, and ugly physical appearances spring to mind. All of this is in good fun and people open their doors and give little witches candy and smiles. There is no fear. However, in 1692, the idea of witchcraft sparked a crisis of community fear when hysteria and fear of witches broke out in 1692 in colonial Salem, Massachusetts. When Puritans first settled into Massachusetts, their goal was to create a perfect religious society that worshipped as purely as possible. Neighbors looked to each other for evidence of a pure soul and conformity
Analyzing The Poem 'An Ode To Halloween'
An Ode to Halloween As the leaves fall off the colorful trees, Fluttering to the ground with a slight breeze, They make barely a sound, Like a feather as it hits the ground, Bright colors, yellow, orange, and red, Like the feeling on Thanksgiving after being well fed, The leaves fall in a pile, one by one, And mark the time when summer is done, The leaves bring color to the crisp air, Bringing happiness, which can be rare, Appreciate the beauty of each leaf, As the departure will bring
Carved Pumpkins Informative Speech
Tomorrow we begin the month of October. October gives us a full month of colorful autumn and ends with the spooky day of Halloween. There are people who enjoy this holiday especially children and those who think it a pagan event. Personally I have always enjoyed Halloween just for the fun of it with nothing other than that. A kind of autumn celebration with carved pumpkins, colorful leaves and the ghosts and ghoulies just for fun. That is how I look at Halloween. Unfortunately here in Latvia they are not into this holiday and only children at school dress up but afterwards don't go trick or treating and young adults enjoy going a bit crazy in the pubs in Riga.
Halloween Vs Dia De Los Muerto Essay
What do you think of when you think of October? Black cats? Witches? Many people think of Halloween, but that is not the only holiday in this month. Two very important holidays take place in this month: Halloween and Dia de los Muertos. These are very different holidays, but have multiple similarities. People all around the world celebrate both of these occasions.
Teal Pumpkin Project Paper
With Halloween approaching, the Teal Pumpkin Project aims to promote awareness of the severity of food allergies and inclusion for children whose food allergies preclude them from trick-or-treating.
Halloween Persuasive Essay
One of the most-awaited moments of the year is right here once again. Dim neighborhoods are brightened by ghastly smiles of Jack-o '-lanterns in communities where the breeze is also slowly getting colder and the leaves that have fallen off of pines give each step a crunch. In a few days, children dressed like pirates, princesses, ghouls, and little monsters will be knocking on doors requesting goodies and several other goodies.
Essay On Madea Halloween
"A Madea Halloween" movie will be funny, scary, and dramatic. I believe people should go watch this movie because Tyler Perry has a background for making funny and dramatic movies.
Day Of The Dead Vs Halloween Essay
Although Day of the Dead and Halloween seem similar on the surface, they are tremendously different due to their way of celebrating with foods, decorations, and preparations. The more you learn about both holidays, the more you can see their differences. Not only are they celebrated on different days, but they are celebrated in different ways by many different people.
Teal Pumpkins Research Paper
Recently, teal pumpkins have been popping up around neighborhoods that are notorious trick-or-treating spots. While these teal pumpkins are unique and eye catching, they also have a secret meaning. A meaning that could help save your child's life.
Argumentative Essay On Dia De Los Muerertos
Dia de los Muertos is very different from Halloween because of the way they celebrate, the way they decorate, and its culture and origin. They may seem similar from the outside, but as you learn about them you thinking might change.
Informative Speech: Why You Should Today Celebrate Halloween?
Attention Getter: I'm sure you have all heard the children's rhyme that goes trick or treat, smell my feet, give me something good to eat.
More about Argumentative Essay On Halloween
Related topics.
English-language films
Horror film
Halloween costume
Trick-or-treating History of Halloween - Informative Speech Essay
Compare and contrast halloween and day of the dead.
Halloween is the point at which you cut Jack o' Lanterns out of pumpkins, design the house with a ghoulish topic, parties, and go trap or treating way to entryway wearing ensembles. Halloween is praised by both kids and grown-ups. Kids spruce up in
Day Of The Dead And The Halloween And Day Of The Dead
The catholic, mexican holiday, Day of the Dead and the very westernized holiday Halloween may seem very alike with their traditions and themes, but in retrospect, they are very different and have very different origins. Halloween and Day of the Dead happen at the same time, end of October and beginning of November. The background of these two holidays are very spiritual and they have an interesting story of how the Halloween and day of the dead was created. In this essay, I will be talking about the how Halloween and Day of the Dead are celebrated , the origins of Day of the Dead and Halloween, and decorations and celebrations of Day of the Dead and Halloween. Both Day of the Dead and Halloween deal with spooky traditions but they are very different than the stereotypical thought that they are just weird, scary holidays but after reading some background to these two holidays, many people realize there is a lot more to Halloween and Day of the Dead.
The As A Cosmological Myth
Halloween is believed to come from Celtic rituals. The Celts lived over 2000 years ago, and were found in the United Kingdom, Ireland, and France. The Celts celebrated
Halloween Costumes Essay
Borrowing from Irish and English traditions, Americans began to dress up in costumes and go house to house asking for food or money. Over time this tradition turned in to today modern "trick or treating". In the late 1800s, America turned Halloween into a holiday more about community and neighborly get-togethers than about ghosts, and witchcraft. As the centuries changed Halloween parties for both children and adults became the most common way to celebrate the day. Parties focused on games, foods of the season and festive costumes. Parents were encouraged by newspapers and community leaders to take anything "frightening" or "grotesque" out of Halloween celebrations. Because of these efforts, Halloween lost most of its superstitious and religious overtones by the beginning of the twentieth century (Kammen).
The catholic holiday, Day of the Dead and the holiday Halloween may seem very alike with their traditions and themes, but, they are very different and have very different origins. Halloween and Day of the Dead happen at the same time, end of October and beginning of November. The background of these two holidays are very spiritual and they have an interesting story of how the Halloween and day of the dead was created. In this essay, I will be talking about the how Halloween and Day of the Dead are celebrated , the origins of Day of the Dead and Halloween, and decorations and celebrations of Day of the Dead and Halloween. Both Day of the Dead and Halloween deal with spooky traditions but they are very different than the stereotypical thought that they are just weird, scary holidays but after reading some background to these two holidays, many people realize there is a lot more to Halloween and Day of the Dead.
Gender Stereotypes In Mean Girls
These traditions were connected with the lower class at the time and so they were also connected with crime, rowdy behavior and other stereotypes the upper class believed about the poor. Of course people who were part of the upper class did not like this and by the 1870s they had turned Halloween into a holiday to make children into "good American citizens." Halloween was now targeted towards children and because of that families were encouraged to celebrate it at home where food, games and other entertainment would have adult supervision. By doing this children were expected to understand the values society holds, while also learning about their proper gender roles. At this point we are able to start to see how Halloween became so heavily influenced by gender roles/stereotypes and how that led to the over-sexualized holiday it is now. Trick or treating and wearing Halloween costumes became popular in America around the 1920s and by the 1950s children's costumes were extremely reflective of their sex. (Bannatyne.) Girls were dressed as princesses and angels while boys were army men, hobos and so on. However, as cute and adorable as this is or may have been, this creates a very thick line between genders. When that line is present it is alluding to children that
Informative Speech On Greek Culture
[3]During, Samhain (sow-in), the tribal people would pay tribute to their conquerors and then the ancient mounds might reveal the magnificent palaces of the gods of the underworld. differences as well. Basically, both the festival of Samhain (sow-in) and our present day Halloween involved costumes and they were both celebrated in the fall. The differences, however, outnumber the similarities. Costumes had change from a disguise that was terrifying to the eye and fearful to costumes made in a factory somewhere that is sometimes at an outrageous price. Girls costumes have changed the most, they used to cover your whole body to something skimpy and ridiculous. For example, a sexy Donald Trump costume….it even sounds ridiculous. In Conclusion, Halloween has changed over the years but some traditions have remained the same but not for the same
history of halloween
C. Thesis Statement: Going from what the meaning of Halloween is in America today and looking back at it's roots, it has evolved dramatically. And just recently we have been seeing a comeback from one of those roots, but do we know it's real cultural significance?
Halloween-Informative Speech : The History Of Halloween
First is the history of Halloween all according to a 2017 article from LiveScience by Benjamin Radford. Around 2,000 years ago in the United Kingdom Ireland, and the northern part of France the people called the Celts started this holiday. They called it Samhain back then instead of Halloween. November 1st marked their new year which resulted in them celebrating on October 31st. The New Year brought wintertime which to them meant death. On the night before winter which was October 31st, they believe that the spirits of the Dead came back. They wore costumes, put on bonfires, burned crops and sacrificed animals. When the Romans
A Compare And Contrast Essay About Christmas And Halloween
There's smiles on everyone's faces, cheers fill the air, and excitement is bursting from its seams. There are continuous ways and examples of how a celebration can change someone's emotions, which can vary greatly. The anticipation and joy that celebrations bring are what make them renown and familiar with everyone throughout the entire world. Christmas and Halloween are just simple examples that bring the well-known reactions everyone looks forward to. Christmas is the so called, "best time of the year," and Halloween is known to be, "spookified fun and unique." Christmas and Halloween are similar and different in many ways including: their history, their traditions, and their meanings throughout cultures.
Research Paper On Dia De Los Muerertos
In recent years, this holiday has been gaining more and more attention in the US. However, the growth in popularity hasn't necessarily led to a growth in understanding of the holiday. Some people still associate it with the incredibly commercialized Halloween, but it is much more meaningful than that for those that celebrate it.
Dia De Los Muertos Research Paper
Halloween for many Americans means dressing up as an animal, famous star, cartoon, etc. and going trick-or-treating with their family or friends. However, not many people know the meaning behind Halloween. It is always celebrated on October 31st no matter what day it lands on. Many people do not know the tradition of Halloween and where it came from. In fact, I did not know either until my High School teacher told me that Halloween came from Ireland. The purpose of dressing up is so that the spirits and demons cannot recognize human beings. Many people thought the dead would arise that day and that's why people used masks to distinguish themselves. In addition, trick-or-treating was a way to give candy, food, or money, but throughout the years it has changed. People trick-or-treat to receive candy or get tricked, which is always fun for children and even adults. People have a choice of either staying in their homes and just give candy to people who knock on the door or receiving candy. If the light of the front door is on or the house is decorated, then it is a sign that you can knock on their door. On Halloween Jack-o-Lanterns is believed that he tricked the devil, and when he died he was rejected in heaven and hell; for that reason, he roams our world and we represent him by carving pumpkins. Halloween dealt with spirits
Argumentative Essay On Halloween
Halloween: the holiday where as kids we couldn't wait to go door to door to achieve the golden goal of a full bag of candy. Halloween soon turns into a question mark for teens; in an instant, there is a change of when it is 'appropriate' to go trick-or-treating and when you should just move on. Are you the one who thinks Trick-or-treating is lame or the one who still walks around your neighborhood every year -- no matter how many dirty looks you may get. What teenagers decide to do on Halloween varies: going to a party, passing out candy, staying home are a few popular options. Throughout my highschool experience I have been able to witness and experience all different types of halloteens, each with their own traits.
Halloween, The Commercialization Of Candy And Costumes
Furthermore, there are many traditional rituals and superstitions associated with Halloween. Since the ancient Celts thought the nonliving roamed the earth, they created costumes out of animal pelts to ward off evil spirits. Fortunetelling and the utilization of large bonfires for sacrifices and purification were also early customs. After the Christianization of the holiday to commemorate saints and martyrs, the same festivities, bonfires, and guising remained, but October 31st was renamed All-Hallows Eve. This inevitably turned into Halloween. Similar to European traditions, America's Halloween has also evolved throughout the years. Halloween's recognition was originally restricted in colonial America due to its non-Christian beliefs and practices, and it was practiced at a more local level. According to an online source, "The first celebrations included 'play parties,' public events held to celebrate the harvest, where neighbors would share stories of the dead and tell each other's fortunes, dance, and sing" ("History of Halloween"). Festivities were akin to European traditions, but also included ghost stories and pranking. Beginning in the twentieth century, Halloween
Halloween Essay
Halloween, a holiday many of us know and love. A day when we celebrate together with our friends, family, neighbors and community. We go from door to door collecting candy, sweets and much more, racing on who can approach the most houses or who can collect the most candy in the group. It is all fun and games when trick or treating, and it has evolved into so much more than from the past. As years pass by, we celebrate this holiday annually, but of everything we've taken in from being children through our teen and adult years, do we truly know the background of Halloween Day?